Being bulky or heavy doesn't mean you can't enjoy a comfortable bike ride. No need to give up cycling just because of bike seat discomfort. Now you can lose weight, stay fit, and have fun cycling!
What you need is a bike seat for the overweight. These are specially designed bike seats with great cushioning to bear your weight without going flat.
After considering many bike seats on the market, we've come to the conclusion that the TONBUX Bicycle Seat is our top pick. This wide seat takes the first spot because of good cushioning, shock-absorbing properties, endurance, ventilation, and flexibility.
Read More: 7 Best Gel Bike Seat Covers
Scroll down to see the most comfortable bike seats for overweight people.
Best Overall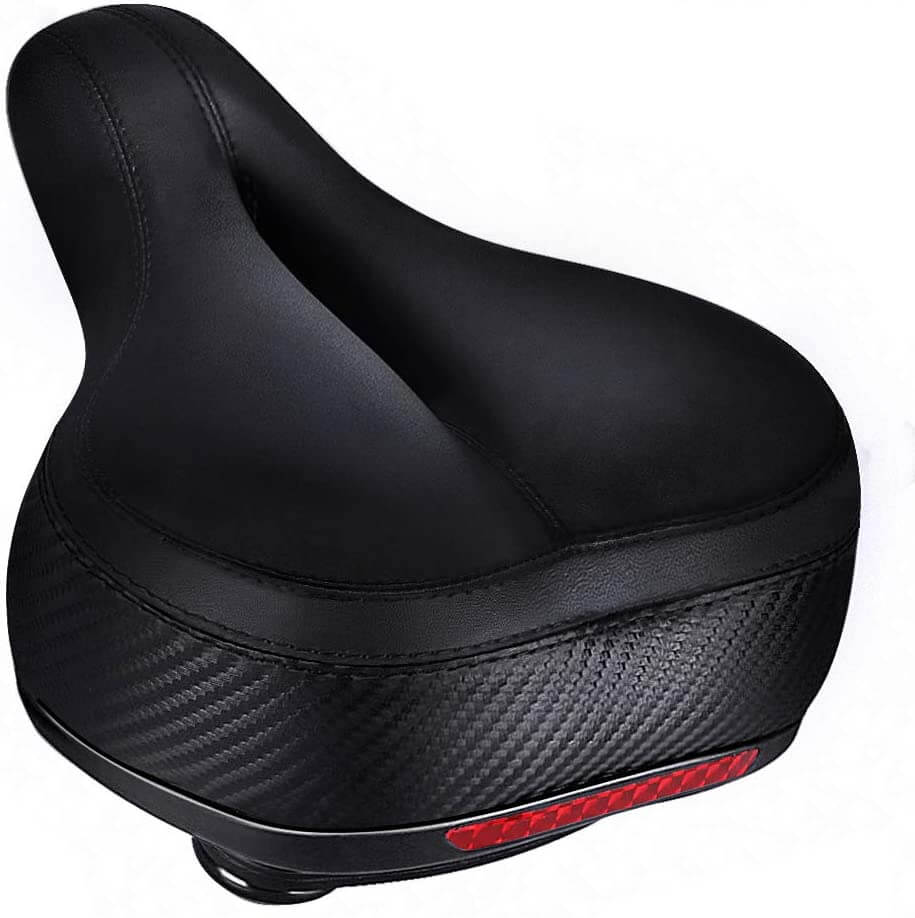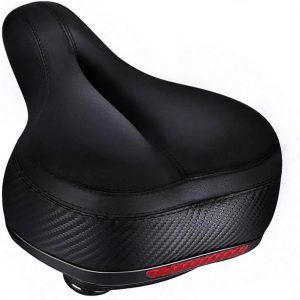 If you need the most comfortable bike seat that can easily handle your wait, the TONBUX bicycle seat is the solution. Made from unique memory foam gel padding, this seat is designed to give superior comfort. The seat doesn't harden or migrate with age!
Thanks to its ergonomic design, it features a soft long nose, nature. Unlike saddles with ordinary padding, the pressure is distributed over the entire contact surface reducing peaks by up to 50%.
An overweight person can easily move thighs without any obstruction while riding. There's a thickened pad in the rear while the edge is round and soft; great cushioning for longer bike rides.
TONBUX seat retains the original shape and allows for complete heat dissipation and air circulation. No more sweaty buttocks! It keeps you dry and cool.
Outdated bike seats use anti-vibration sprung but TONBUX has dual shock-absorbing rubber ball pad. Shocks stay contained within the gel foam, they aren't transferred to the rider's body. Wear-resistant, anti-scratch, and smooth microfiber surface in combination with a reflective around the seat, this bicycle seat will be the perfect choice for heavy people.
Pros
Cons:
Most popular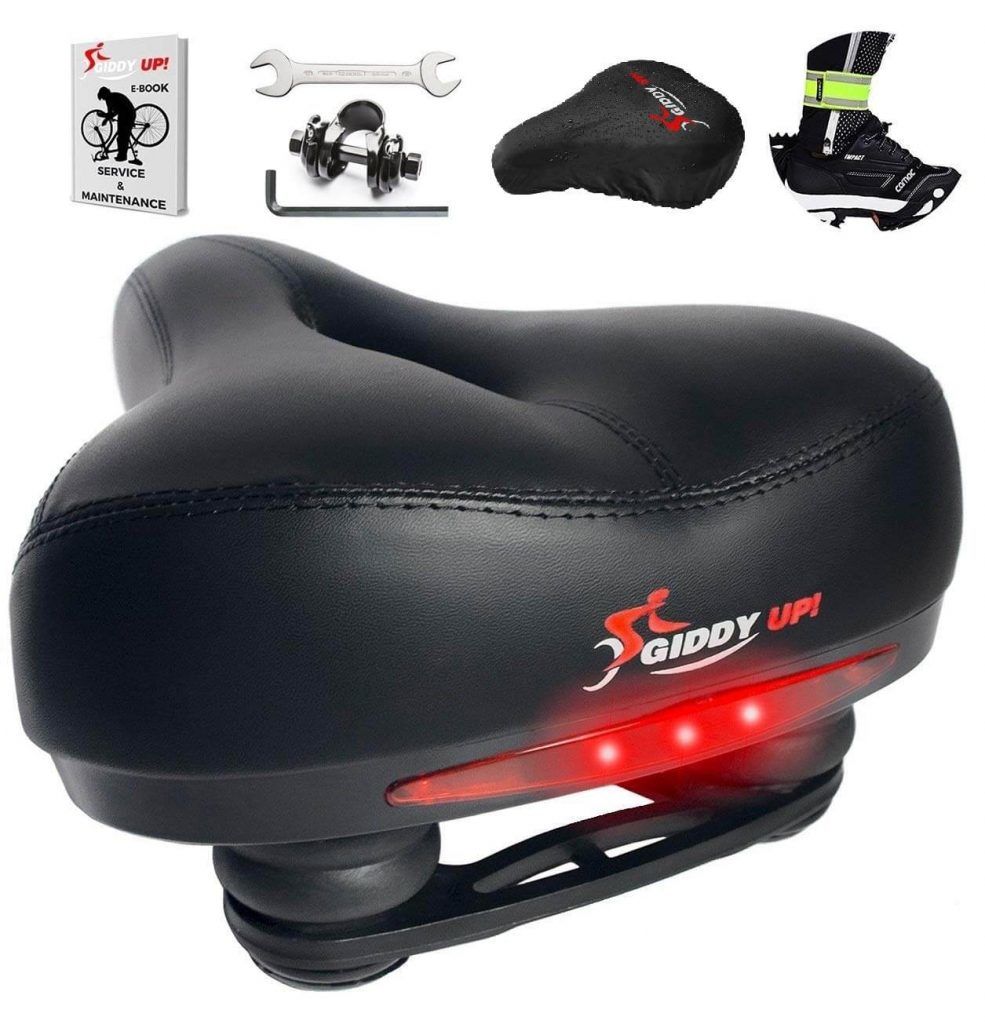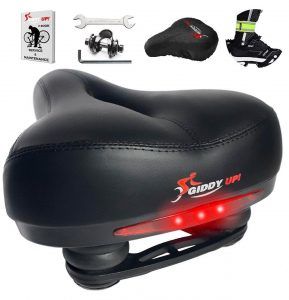 If you're a heavy person, Giddy Up bike seat can be an amazing option to have a comfortable ride without hurting your butt.
Ordinary bike seats have regular foams but this seat uses slow rebound memory foam with double filling. In addition to comfort, you'll have a smooth and safe ride.
Thanks to the shock-absorbing; 2 rubber balls under the seat absorbs all kinds of shocks on a bumpy trail. For the rider's safety, the seat features an LED taillight and reflective band.
PVC leather surface is non-slip, wear-resistant, and completely waterproof. To enhance durability, you'll also be provided with an additional protective cover.
So, your bike seat always remains in perfect shape. So easy to install, this universal fit system attaches to any bicycle model.
With 11″ x 8.3″ x 4.3″ size, this wide seat is a good choice for all riders regardless of weight or height.
Pros
Dual shock-absorbing ball
Cons
Poor Tail light batteries
Most Comfortable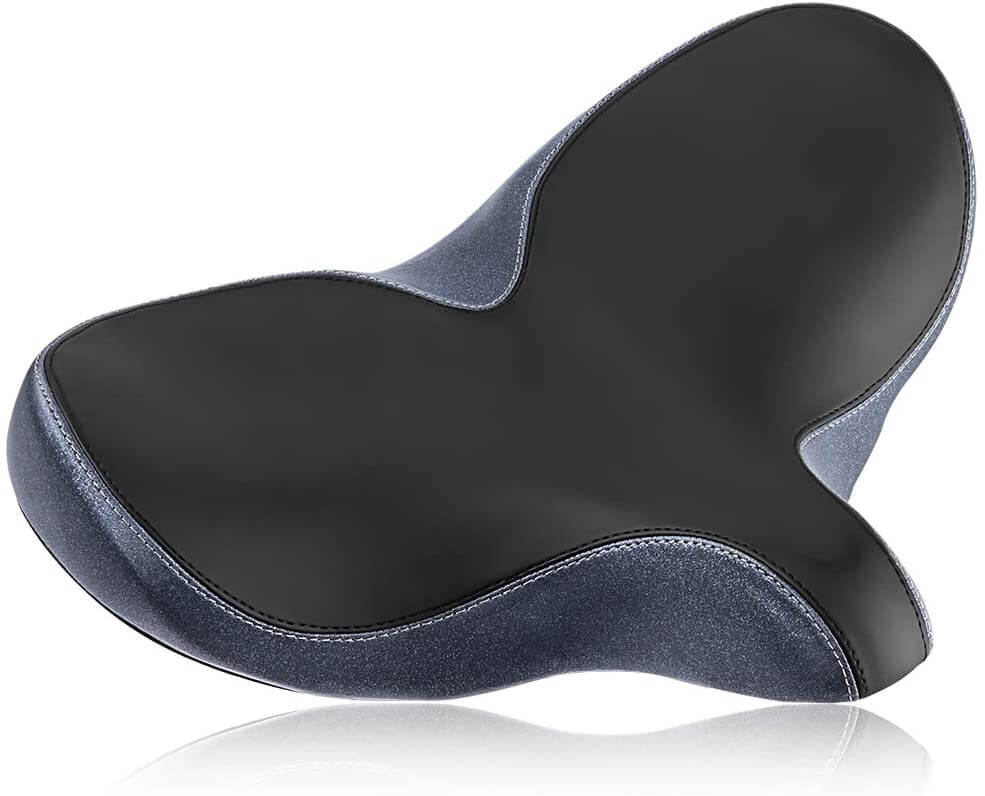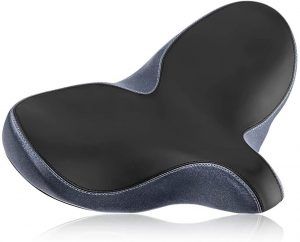 Looking for the most comfortable saddle seat for a bicycle? The answer is YLG oversized bike seat. As the name suggests, this seat is specially designed for large or overweight cyclists.
The wide bike saddle is padded high-density elastic memory and gel foam to reduce pressure. Plus, the unique wing-like super-soft arc design enhances the force area while improving your butt force area for comfortable long-distance riding experience.
A double stainless steel spring damping ball offers a strong and stable shock-absorption effect. Since the rider's safety is first priority, seat back features a special type of reflective tape to ride safely at night.
Breathable design keeps the skin fresh and dry to avoid sweat. Also, you don't have to worry about riding on rainy days; the PVC leather seat surface is waterproof.
Pros:
High-density foam padding
Universal mounting system
Cons:
Highest Compatibility With Different Bikes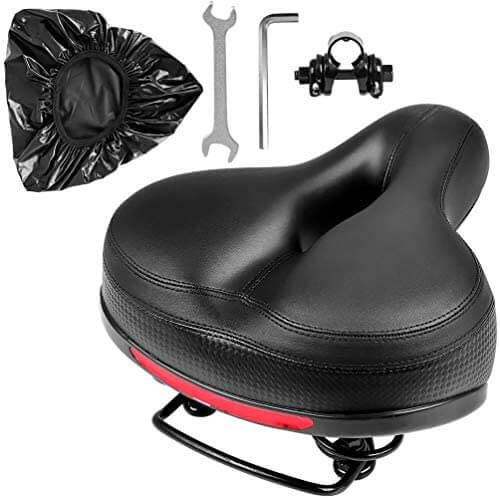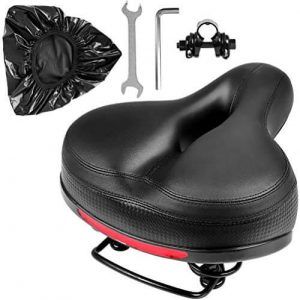 A comfortable user-friendly seat to alleviate the pain caused by bike saddle! This Puroma bicycle saddle – another option for the best bike seats for overweight- is an 8.5 extra-wide seat with a deep central hollow design. It not only increases breathability but also helps heat release.
Soft foam cushion with a streamlined design reduces friction while thick cushion provides Ischium position support.
2 steel springs are damper to absorb bumps and offers better shockproof performance. This also supports the bike seat's cushion.
Besides, a night reflective strip is a great safety feature for riding at night time. You also get a waterproof seat cover to use during rainy days. Compatible with 2 different seat types; double-track seat tube and clip seat tube. It fits all types of bikes including mountain, road, racing, etc.
It comes with a rail clamp and wrench, so you need not worry about installation.
Pros:
Cons:
Best for a Long Ride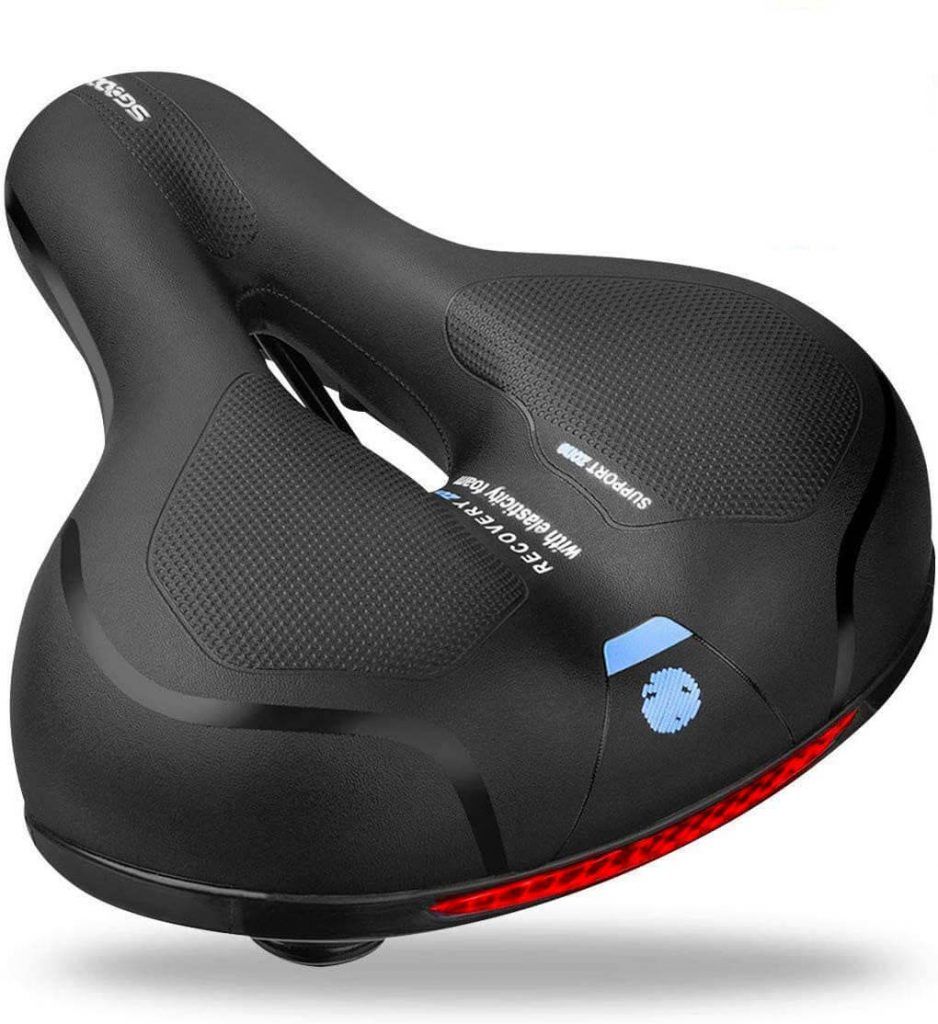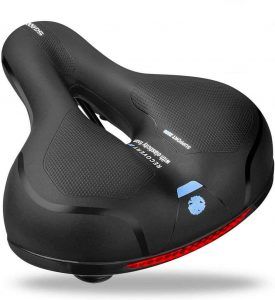 The rider's weight position on the bike seat is key to a comfortable ride. That's why the SGODDE bike seat features a deep groove design. Valley carved down the length of the saddle distributes weight on sit bones.
This ergonomic design allows for better blood flow through the neurovascular bundle. It aids in reducing numbness in an overweight rider's soft tissue areas by keeping all weight on sit bones.
Dual-elastomers shock suspensions allow for a comfortable shock-free ride even on unleveled roads. The polypropylene bottom shell adds to durability and strength to support a heavy person's weight.
Built-in high-density and slow rebound memory elastic sponge will give you the extra comfort you need. Moreover, the wide bike seat features abrasion-resistant tough PU leather upper that's smooth and soft.
This 8.2'' wide and 10.2'' long bicycle seat with double-stoving features a reflective warning design at the rear to keep the rider visible at night.
Pros:
Cons:
Reflective stickers peel off easily
Best for Cruiser/City Bike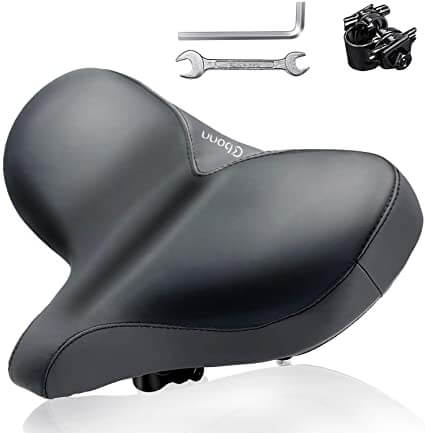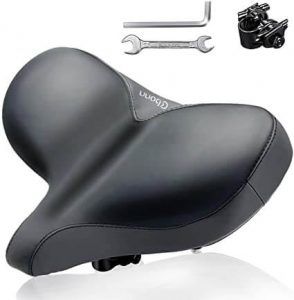 Oversized people who want to ride a bike comfortably should consider the OKBONN bike seat. This oversized 13" wide and 6.3'' thick saddle features built-in thick high-density foam padding to give you a huge comfort boost.
Thanks to wide wing design with a short nose! It fits your hips perfectly without causing saddle sores. This amplifies the butt force area to maximize your riding comfort even if you're obese.
Best of all, the seat has a unique concave ventilation channel in between to reduce pressure and allow breathability. The upper is made from scratch-proof and non-skid PU leather that is safe for rainy days as well.
A strong shock-proof system: high-elastic shock absorber steel rails, shock absorption spring dual, and double springs for unexpected shocks.
Pros:
Dual springs for shock-absorbing
Cons:
High Quality and Most Affordable Price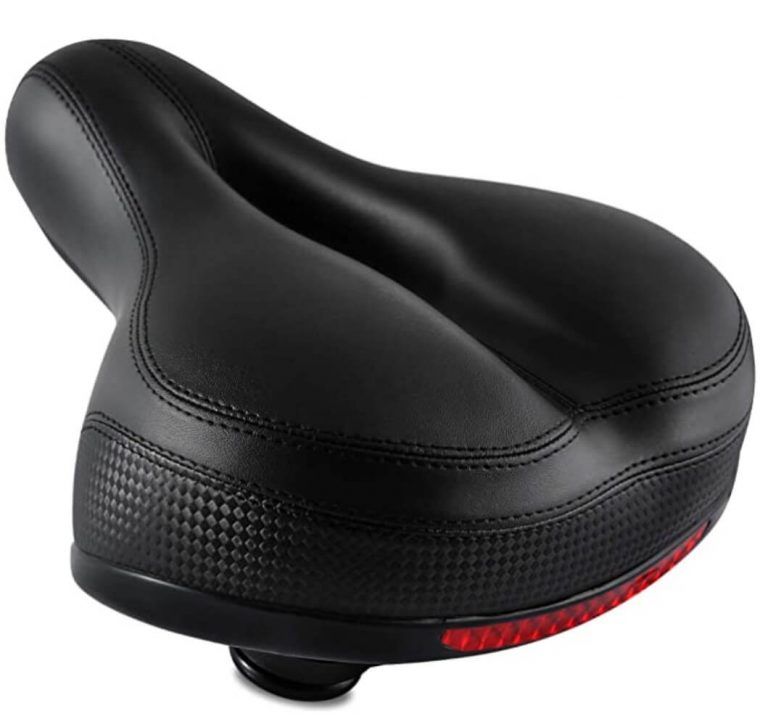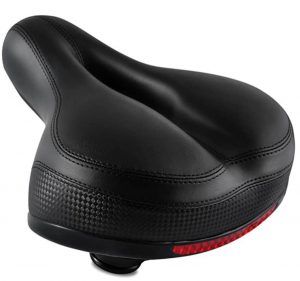 If you're searching for a budget-friendly yet comfortable and reliable bike seat, look no further than IPOW comfort bike seat.
This unisex bike saddle is 3.5'' thick, 7.5'' wide, and 9.8'' long; perfect dimensions for any overweight cyclist. Thanks to the ergonomic design; the narrow front and wide rear end offer more seat area to the rider.
Plus, the high-density thicken memory foam padding offers great comfort and support even for long-distance riding. This keeps pressure off your soft tissue to prevent fatigue and pain.
Not to worry about bumpy uneven roads or cracks! It has a special anti-vibration shock-proof rubber balls under the seat. This new anti-shock system protects you from the sharpness of cracks and bumps in the pavement.
The IPOW seat features a high-elastic suspension steel bow paired with a detachable rail clamp. Talking about its user-friendly design; the seat has a breathable hollow or cutout in the center. This not only relieves pressure from sensitive areas but also reduces sweaty distress.
The best part is that the seat upper made of artificial leather is wear-resistant and waterproof with 6 layers of stitching. Plus, there's a red reflective warning strip at the rear end for night safety.
Pros
Compatible with all bikes
Cons:
How to choose the most comfortable bike seats for overweight poeple?
An uncomfortable, hard, or flattened bike saddle can turn any bike ride into a painful nightmare. The saddle is the main contact point between rider and bicycle. That's why it's important to follow some of the guidelines to choose the best fit for you.
Bodyweight is an important factor when choosing your bike seat. The pressure on your back is directly proportional to your weight.
Your weight rests on your Ischial tuberosities or sits bones when you ride a bike. They're positioned differently for different riders as the amount of weight distribution differs depending on the sitting angle and bike geometry.
What defines a comfortable bike seat for the overweight is the width, foam type, and how it's designed.
Racing bike seat has little or no padding to save on weight while recreational saddles come with extra padding. A big wider saddle with foam padding is most preferable for heavy overweight riders.
Keep one thing in mind that thickly padded seats are typically designed for leisure and town bikes for short tours with sitting in an upright position. Those bike seats with extra cushioning are not intended for long-distance tours. Some brands are also introducing 3D mesh padding on top of saddles.
Buying an expensive seat doesn't always mean it's going to padded or cushy. Gel or memory foam padding that doesn't deform overtime is always a good option for overweight riders.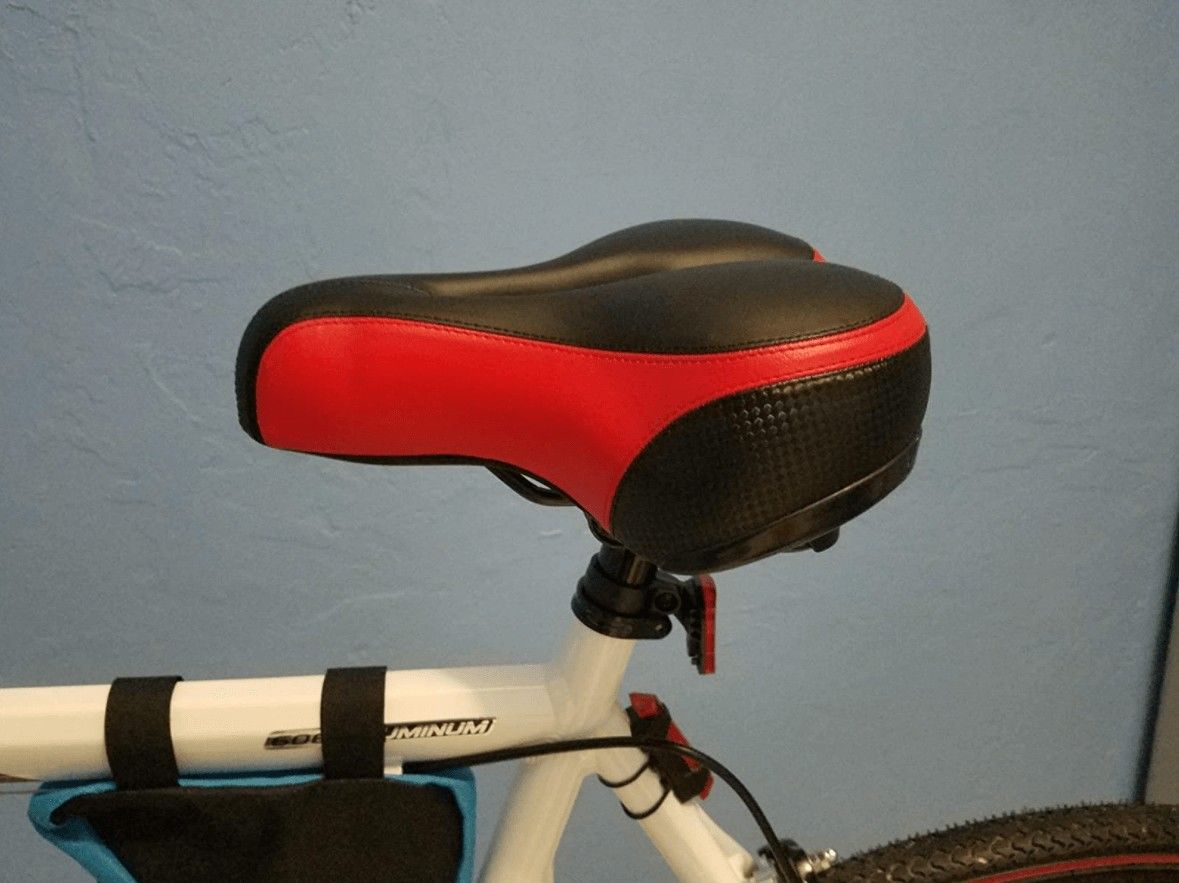 Bike saddles come in varying designs and shapes. Center channels or cutout designs have become a very popular feature for bike seat as it relives pressure to the perineum for men and soft tissues for women cyclists.
It also allows for ventilation. Opt for a seat design that doesn't cause numbness and increase blood flow to your important regions. An alternative to cutout design is a seat with a relief channel in the middle.
More transition curve creates less interference for your thighs when pedaling. This reduces chafing. A narrow flat saddle is not a good choice for overweight people.
A shorter nose allows you to sit with pelvis rotated further around that can open up your hip angle and engage powerful muscle groups for better glute activation.
Read More: 9 Best Comfortable Bike Seats For Women
Width plays a great role in defining a comfort saddle for your bike. Make sure your butt has a nice comfortable platform to rest on. There are many different lengths and widths to choose from. Choose saddle width based on your accurate sit bones to ensure maximum comfort and support.
Sit bones are basically the spot where most of your body weight rests in a sitting position. If you have a big heavy bum, a wider seat will be great.
Rails form the underside of the saddle. The lighter the rails, the more expensive the bike seat is. Titanium or carbon rails are more comfortable than rigid firm steel or manganese chrome alloy.
Choose the saddle rails that have the strength to support your weight easily. Titanium is a much stronger option than stainless steel rails.
Carbon or carbon impregnated shells are lighter and offer little shock absorption as well.
As the seat cover is the visible part, it should be of the material that is able to endure scuff. Numerous saddles use synthetic materials, however, there are covers made of real leather.
Conclusion
The winner certainly is TONBUX Most Comfortable Bicycle Seat due to its incredible stability, cushioning, and unique dual shock-absorbing properties. The TONBUX bike seat provides excellent pressure relieving benefits and better weight distribution of bulky riders. This reduces stress on the pubis, prostate, and Ischial sit bones. Maximum comfort while remaining as good as day one!
YLG Oversized Comfort Bike Seat is our runner up when it comes to bike seats for the big guys. YLG seat weight capacity of more than 200lbs and can comfortably accommodate a 6-feet tall person. It's extra-wide with gel-foam padded, shock-absorbers, and safety features offer comfort and safe ride to an overweight cyclist.