Riding a women's mountain bike sounds adventurous. It's not just a hobby but a gateway to stay fresh all day. Plus, it helps you keep a work-life balance as you stay calm and relaxed. So, if you're on a tight budget and confused about choosing a bike, here we have a detailed buying guide.
After evaluating between the best women's mountain bike under $500, I have decided that Marlin 4 by Trek stood out from the list as the top rated mountain bike for your budget.
Read More:
Best Women's Mountain Bikes Under $500
Highest rated women mtb under $500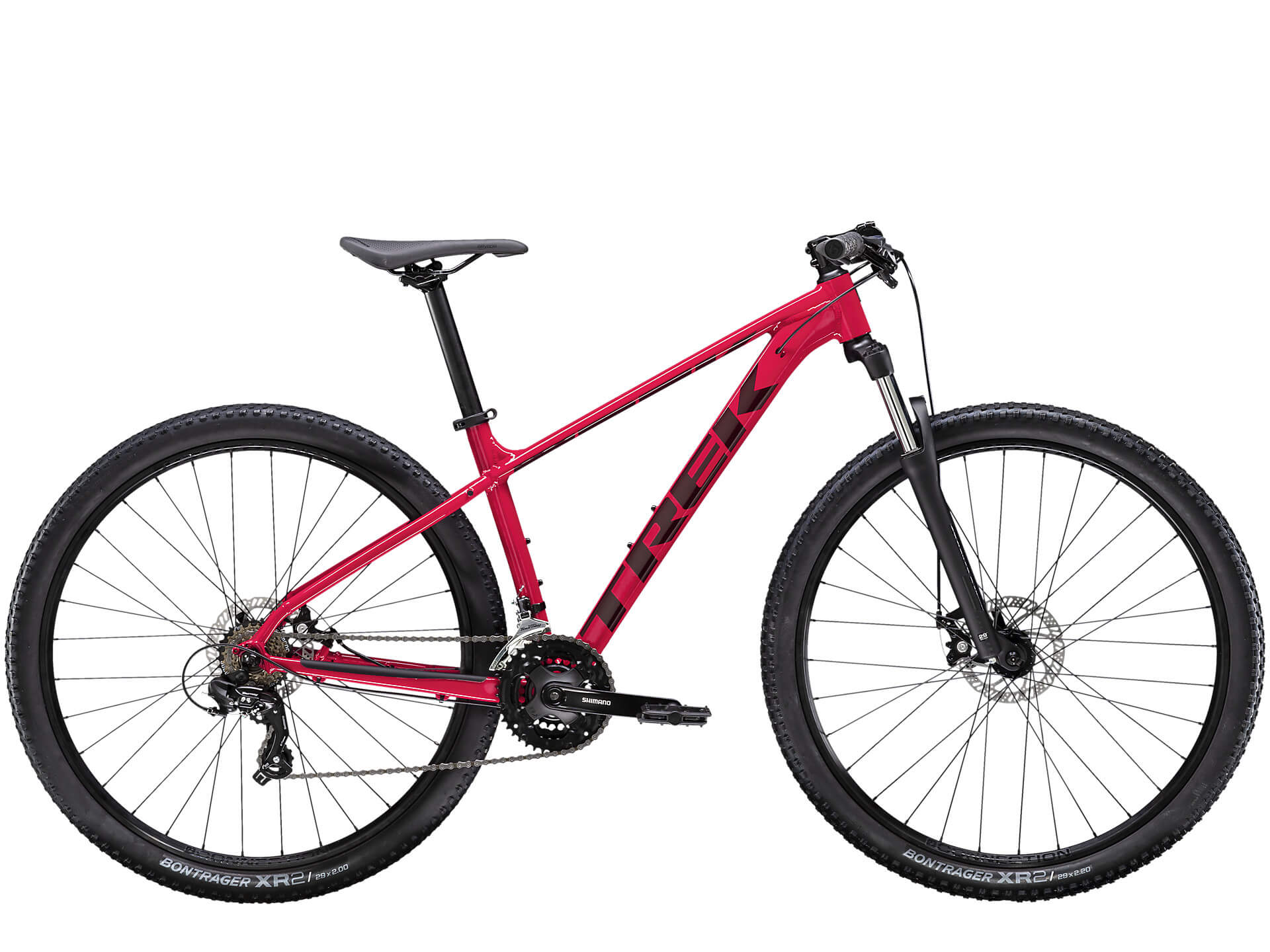 Want to relish trail riding? You should look for Trek Marlin 4 women mtb under $500 to fulfill your biking desire. I do like the way how it comes with premium quality knobby tires to assure a powerful grip on edgy tracks and muddy trails.
More to this, these tires offer float on loose and sandy materials that make you unstoppable on your journey. Marlin 4 can be adjusted up to 21 speeds to give you complete control over your wheels. Also, it's a lightweight bike with an Alpha Aluminum frame for excessive durability.
It's a beginner women's bike with exciting features, such as disc brakes, front suspension, rack mounts, and fenders.
Pros
Affordable bike with cool features for all women bikers
100fmm SR Suntour XCE-28 fork for maximum performance and smooth handling on different terrains
Extremely durable frame made with Alpha Silver Aluminum
21 gears to adjust the speed that offers complete control
Double-wall rims for high strength
Tektro brakes with 27.5/29 inches x 2.20 inches tires
Available in matte Anthracite and Magneta colors
Attractive design and appearance
It doesn't require expensive maintenance
Cons
It's a bit difficult to customize Marlin 4 especially when it comes to configuring the bike's comfort level during long rides
Some components are unsuitable for experienced bikers due to their entry-level nature
The fork lockout feature is absent
Best for beginners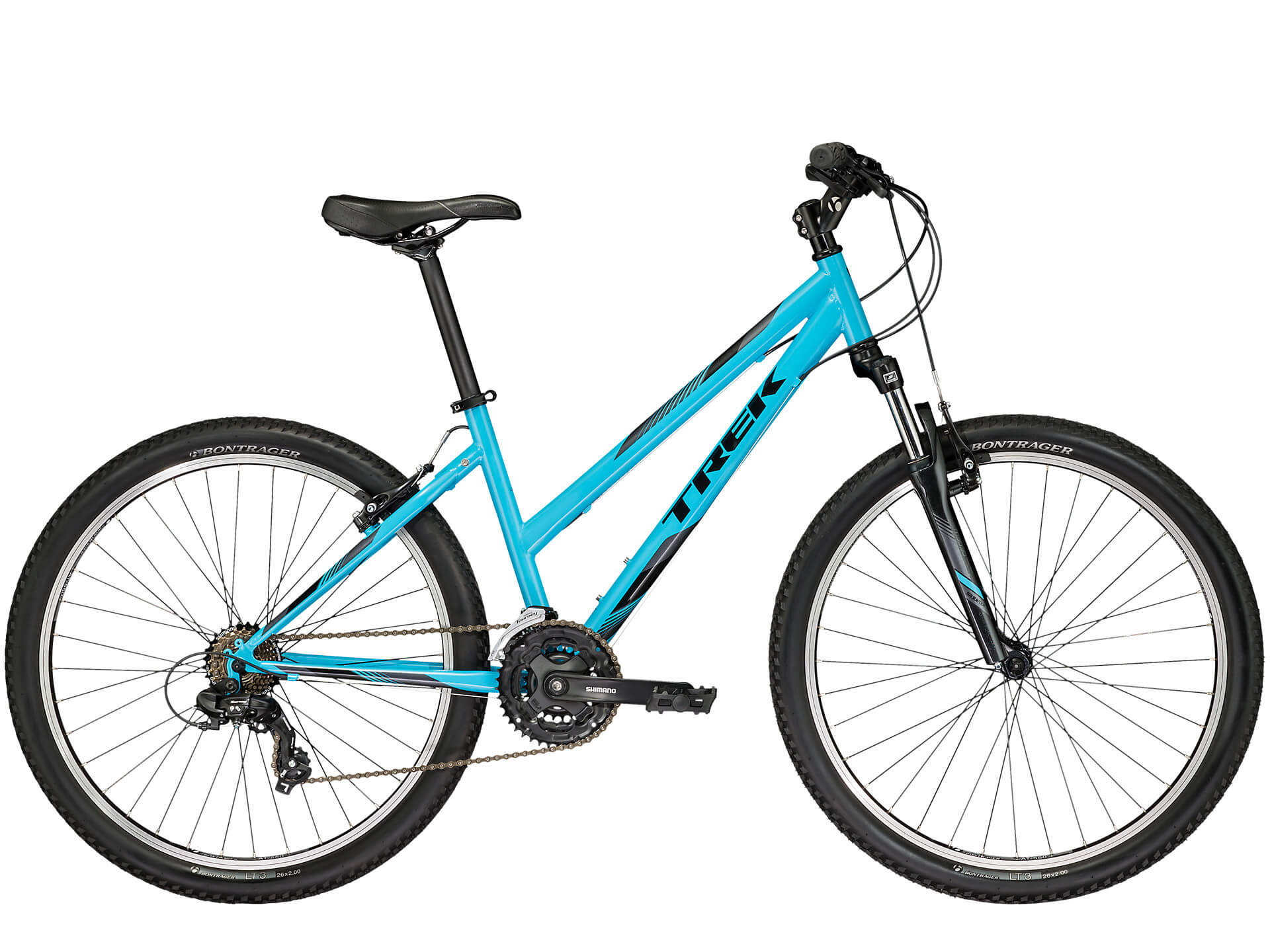 Trek 820 Women's is another low-priced women bike that took my attention. It is a long-lasting and versatile mountain bike that allows you to ride for hours without any intervals. So if you're planning to get a bike for some off-road ventures, this could be an inexpensive treat.
The Trek 820's gearing system and suspension are reliable enough to ride on high steeps, flat pavements, bumpy trails, and even on hastened downhill pathways. This women's bike includes Bontrager LT3 knobby tires and AT550 Bontrager rims to assure outstanding and smooth ride all the time.
Also, it comes with nylon pedals that saves you from putting that extra effort on your pedals as you ride on the uphill surface.
Pros
820 Women is an ideal beginners mountain bike that comes at an economical price
It has a solid frame that offers smooth riding all year round
With great comfort-level, the bike is also lightweight and easy to carry whenever required
Reliable braking mechanism for enhanced safety
Cons
The bike is unfit for intermediate-level mountain bikers
Advance-level riders might require replacing tires and derailleurs to experience a high-grade ride
Riders might often need to update some essential components excluding
Improper gear shifter placement (on left handle) that pushes the chain off the spokes
820 has tight shocks with no adjustments that result in rough rides on slopes
No color choice (available in sky blue)
Most Comfortable Riding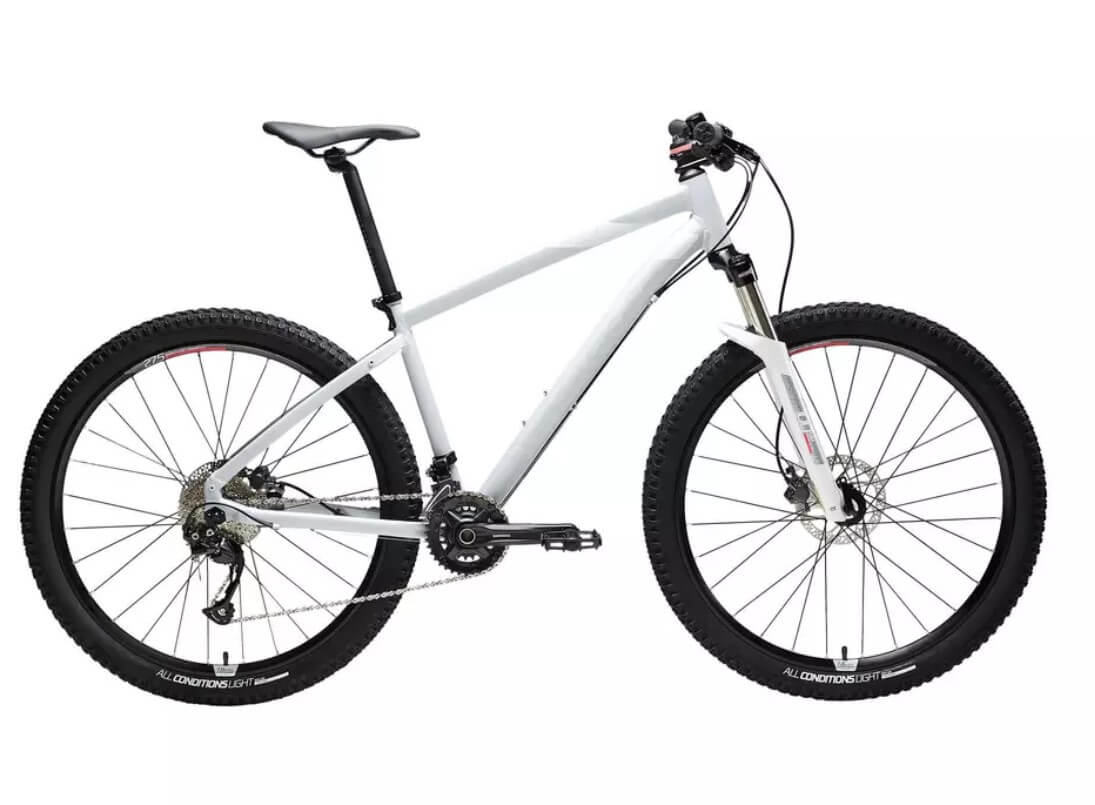 Made in France but adored worldwide, the ST 540 Rockrider is designed after extensive research on female anatomy and bone structure. This woman MTB has a Comfort Geometry Frame (CGF) that is manufactured with 100% aluminum to offer flawless controllability.
On checking the bike, I even noticed that the frame seems pretty comfortable that keeps your back straight. That's a plus point because if you ride this bike, you can expect zero neck pain.
Additionally, there's an option to adjust the suspension's hardness up to 45 kg body weight. Female riders can also play with 18 different speeds and 2 easy-to-use quick shifters.
Pros
This mountain bike has an anatomic design that suits best for women bikers
It has a 100mm adjustable hydraulic forks and disc brakes
St 540 allows riders to relish 18 different speed levels
Full directional control due to powerful handlebar and wide 27.5-inches wheels
One-step fork locking system with flexible saddle adjustment
Cons
Drivetrain could have been better
The soft braking system with no immediate response (I recommend upgrading the brakes as soon as you receive the order)
Low saddle quality that would cause the rider to change it instantly (It ripped off when I practically reviewed the bike for the first time)
Poor after-sales service
Read More: 5 Best Mountain Bikes Under $600
Smoothest Gear Shifting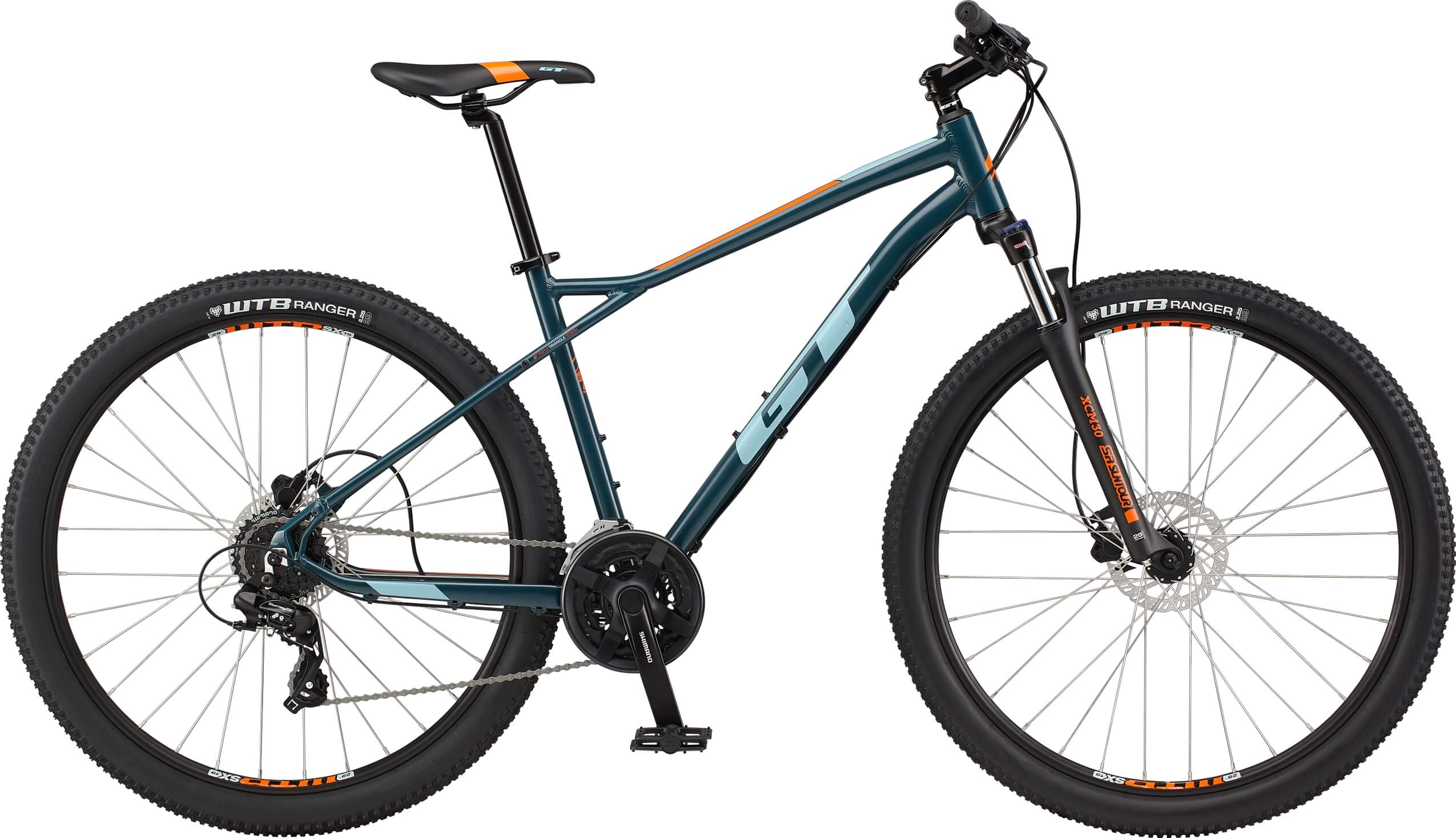 GT Aggressor Expert 29 is an excellent women's hardtail mtb whether you're a seasonal biker or an enthusiast who loves to spend most of her time on wheels. It has a Triple Triangle 6061-T6 Aluminum frame for extra strength and 80mm coil suspension along with hydraulic preload and lockout.
Also, the bike comes with Tektro hydro-brake discs that allow you to stop the bike immediately and safely, even if there's a wet track. Expert 29 has 24 speeds and the quick-gear shifting feature permits bikers to utilize it to the fullest.
Pros
Hardtail bike that offers fast and enjoyable rides
It's a lightweight bike with a comfortable frame
Reliable and solid manufacturing that works fine on rough trails
Double-walled rims for high performance and weight balance
Cons
A heavy fork that causes trouble when biking on inclined terrains
This bike has an average tire quality that produces minimum traction on rocky surfaces
A spongy braking system that requires excessive pressure on steep slopes
Thin tires and plastic pedals which needs a quick replacement
The front derailleur appears to be composed of the lowest quality
Narrow handlebar and traditional design
Lightest Weight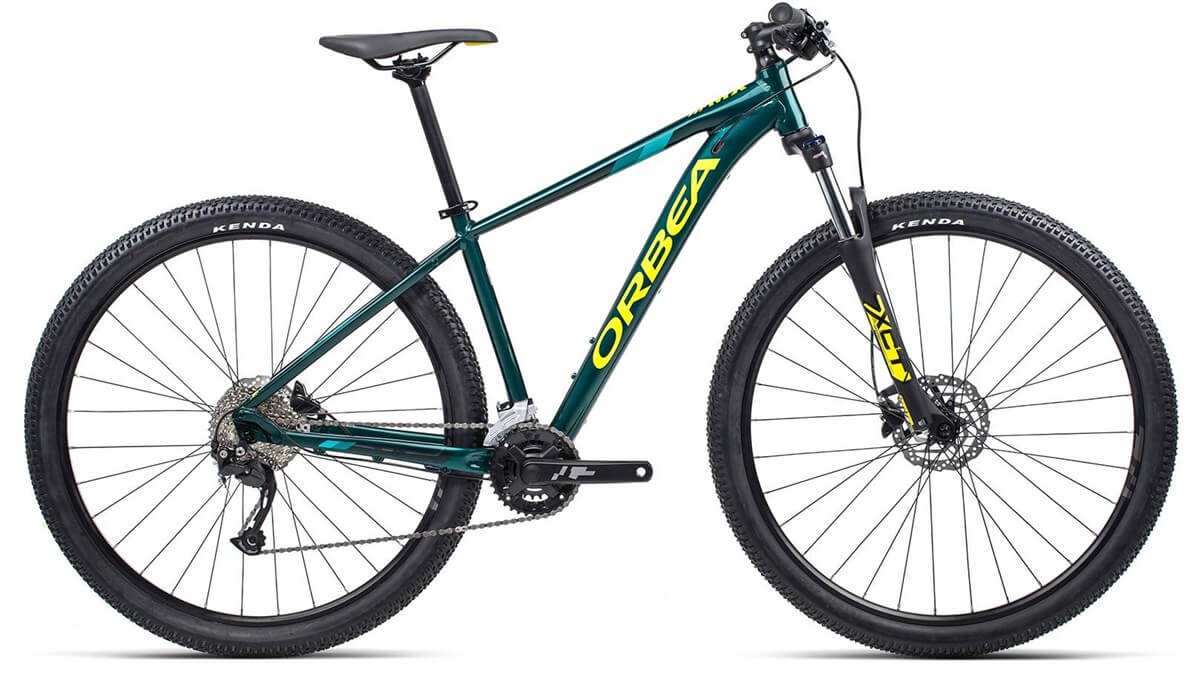 Orbea MX 40 is a boon for the newbies. It's a low-maintenance mountain bike, equipped with hydraulic brakes to smoothly stop the ride on some unstable and inclined trails. It's a lightweight mountain bike made with an aluminum frame through smart tubing.
That means all the extra material has been removed during the manufacturing process to make it. Orbea MX 40 is loaded with a 100mm travel, coil-spring suspension. Plus, you might adore the Shimano drivetrain as it allows you to ride over rough terrains, gravels, and steep uphill. I know its not a much common drivetrain, but it's captivating.
Pros
Low-maintenance and optimum performance due to hydraulic brakes
Frame tubing for lightweight and easy-to-carry on slopes, rocky terrains, and other rough surfaces
The bike comes with internal cabling to make sure it looks neat and clean
Multiple mounting points to adjust racks
Changeable derailleur and easy to setup
Sealed BB bearings and headset
Cons
Expect little efforts when riding on slopes
Difficult to repair cables or install any new component due to the internal cabling system
Although it is designed using the frame tubing system, it's still heavy
Lack of strong paddle grip and slipperiness that calls for using silicon covers
Things to Consider When Choosing a Women's Mountain Bike
"Hey! Why bikes have a gender?"
"Can't a woman ride a man's bike?"
These are a few out of thousand questions I have seen like a million times.
Well yes! Bikes do have a gender in terms of structure, designing, and load-bearing capability. Secondly, of course, women are free to ride unisex and men mountain bikes. Still, it's better to go for the right kind.
So when you're looking for a women's mountain bike, try to look for the following things:
Not in all cases, but naturally, men are taller than women. On average, a woman is 5 feet tall. That's why women mountain bikes are made according to their height. So it's smart to look for the bike with a curved top tube. It would help you straddle the mountain bike effortlessly.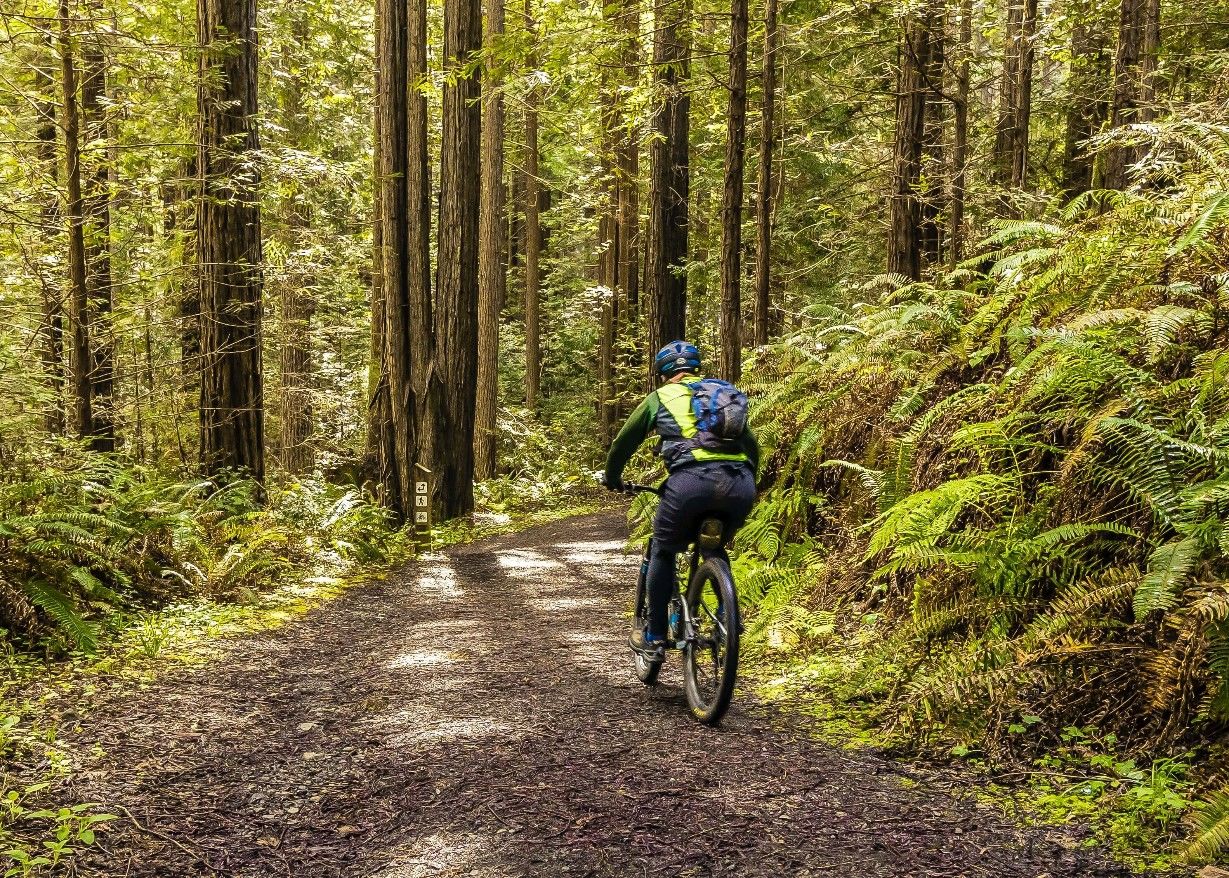 Also, as women mountain bikes come in different sizes (small, medium, large, and extra-large), therefore, try to pay attention to the sizes to grab the one that goes with your body structure.
I remember once I bought a bike without bothering about the size, and trust me, ladies, it was a pain in the back. And I certainly don't want you to go through such misery.
Most women weigh less as compared to men. Therefore, it's better to strike for a women mountain bike with an adjustable rear shock and front fork according to your weight. Remember! The correct suspension means a smooth ride and powerful traction. And both factors are prerequisites to an excellent women mountain bicycle.
Saddles play a vital role in providing comfort when riding a mountain bike. However, as women normally possess broader sitting bones than men, so a wider saddle tends to be calmer.
Reached late on this point but women mountain bikes used to come in a limited color variety. And the most prominent ones I found are pink, purple, and blue. However, due to increased demand, manufacturers are extending their color range. So, pick the one that seems most attractive to you.
Why You Should Use a Women's Mountain Bike?
I find countless reasons to start biking. However, the most satisfying benefits of using a women's mountain bike are:
Muscle Building and Body Toning
When I started riding a mountain bike, I felt toned muscles. I was feeling way more strength in my body. And guess what? I was scoring in stamina. Ladies! You might feel that too. Why? Because I have trained a few women bikers and they reported the same positive body changes. Also, it strengthened the trunk area.
So in a sense, mountain biking is a transcendent way to have a toned body and powerful buttocks, legs, and thighs. Moreover, it enhances body coordination as you face and react to unexpected bumps and terrains.
Want to put off stress to taste freedom and tranquility? Keep paddling your mountain bike. Since age 10, biking has been my favorite thing to do, especially when I felt lonely, sad, or just not ready for the day.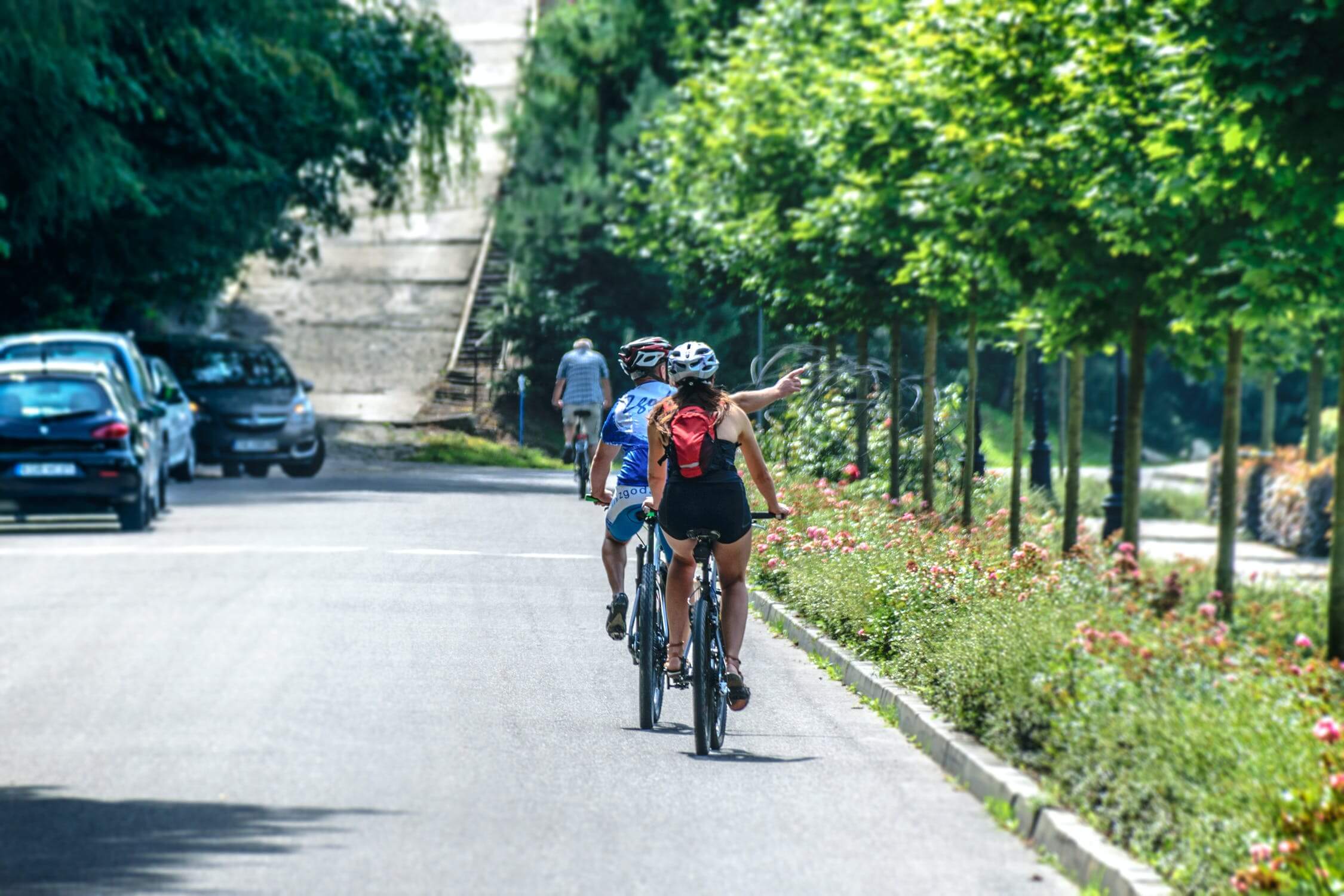 You can try yourself someday. A few miles ride can lead you to a beautiful spot with natural scenery and a wide blue sky. Just the perfect place to be when suffering from stress. And wait for the magic. You will feel light and back on your feet.
Mountain biking has helped me relieving stress, so it might help you too.
Those two wheels can be your heart's caretaker.
According to the National Institutes of Health, cycling has numerous cardiovascular benefits and the most essential one is saving from heart strokes. And as published in National Health Care Provider Solution (NHCPS), Prude University's research reveals that 20 miles cycling per week can reduce heart disease risks by 50%. Likewise, Economic Times suggests that cycling is the best aerobic exercise that keeps your heart sound. (1), (2), (3)
Now I won't ask you for 20 miles, but you can begin with at least 2. And who knows you might be the next diehard mountain biker.
No way cycling could bore me. And I guess you would love to explore the bold uphill too. And if you're biking with friends then expect loads of happiness on your way. Contrarily, you might also savor unearthing new corners on your own.
How to Take Care of Your Mountain Bike for Durability?
Taking care of your mountain bike is the best way to increase its life. So want to know how I maintain my MTB? Well, the tips below might help you sustain on your women's mountain bike for a very long time. I practice them regularly and they never let me down.
Neither it costs a fortune nor does it take an entire day to clean your women's MTB. Sparing a few minutes with a smooth clean cloth would help you clean your bike's structure. And most importantly, it will prevent the bike from corrosion due to a moist atmosphere, and harsh weather conditions. I use a microfiber cloth and it works fine, so you can give it a try.
Tip 2: Use Biodegradable Cleaners
Try to use branded and good quality MTB cleaners and apply them to different parts. For instance, start with the frame then cover the chainrings. Once done, use the cleaner on pedals, saddle, breaks, and the rest of the structure.
Now, this is the most vital tip to keep your bike durable. You should check your brakes, wheels, and cables consistently. Or at least, right before going out for a bike trip. Try to make sure that they are working as they should be. Moreover, lubricate your chain and other drivetrain components. Also, pay attention to the rims to assure robust performance on hilly terrains.
And one more thing, don't forget to tighten any loose screws because safety is a priority.
Precautions When Using the Women's Mountain Bike
I am always fascinated, as well as, extremely possessive when it comes to riding a mountain bike. In the previous section, I have given a few basic but essential tips for women's mountain bike maintenance. So now I suggest following a few 'DON'Ts' to assure your MTB's durability, performance, and most importantly, your safety
DON'T Spend Too Much Time in Water
I know it sounds fun to splash water with your mountain bike. But too much interaction could cause corrosion and damage your bike's structure.
DON'T Make Saddle Your Home
If there's a slope or an uphill that seems way too dangerous, then don't risk your life riding on them. Instead, carry your bike and continue paddling when you think it is safe.
This one is super important. I see many riders paddling their MTBs while wearing jeans and tees. But believe it or not, such clothes can reduce your performance and you might face terrible challenges because of thick fabrics. So it's better to go for proper sports attire to assure comfort each time you paddle.
DON'T Rely on the Front Brake
This is another biggie. There's a reason why there are two brakes, isn't it? So just don't use the front one, as it might not stop your tires on slippery or rocky terrains. So it's sensible to use the rear brake more often. But again, try not to overuse it. Instead, press it lightly to make sure your back wheel doesn't get locked. Oh! And start doing it before reaching the stopping point.
Last but not the least, concentrate on the track.
I know biking is fun, and the excitement is multiplied 10 thousand times when there are friends to ride with. But please don't swap your focus and always move with 100% surety and confidence. Otherwise, it's okay to return to a safety zone.
Final Thoughts
Being fit is an ingredient to enjoy a happy and healthy lifestyle. However, the day-to-tasks and tough routines just can't allow women to be regular gym-geek.
But apart from having a full plate, you should think of ways to stay healthy. And what could be the best possible way to achieve this goal than riding the best women's mountain bike under 500.
And as you've seen the list, and as I mentioned earlier in the article, Trek Marlin 4 might fit all your needs. It is a budget-friendly women's mountain bike with fabulous hallmarks and extraordinary performance.
Therefore, it could be your best adventure-buddy in the long run.