Trunk-mounted bike racks are a popular choice among many bikers as a bike transport solution. They're simple, easy to use, and have wide vehicle compatibility. Not to mention, they're also very secure.
A good example of this is the Allen Sports Premier Trunk Mounted Bike.
The aforementioned bike rack is our pick for the best trunk bike rack on the market today. It features a simple yet sturdy design with near-universal vehicle fit.
It also has a patented quick snap set-up that makes it easy to use. Meanwhile, the dual-compound tie-downs protect and secure your bikes during transport.
Of course, it's not the only trunk bike rack worth considering
Read More:
To learn more about how to choose the best trunk mount bike racks, read on these detailed reviews below.
Best Overall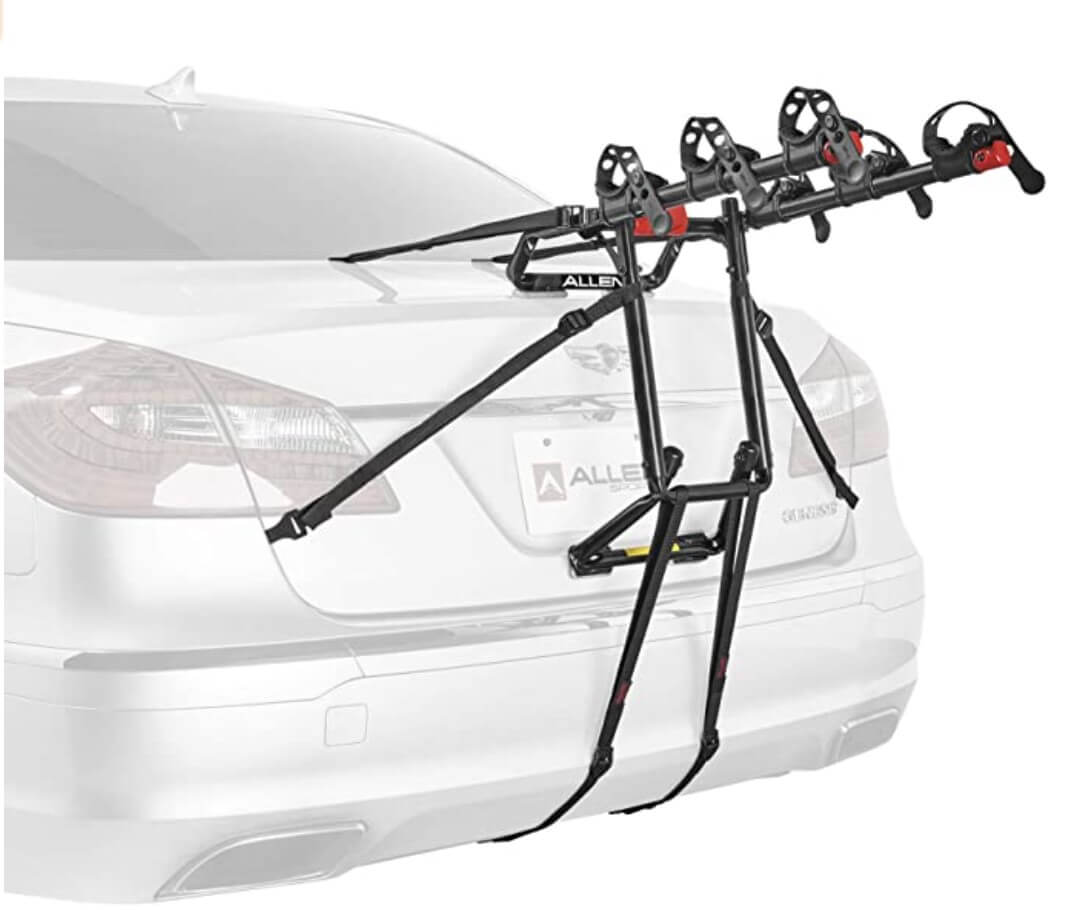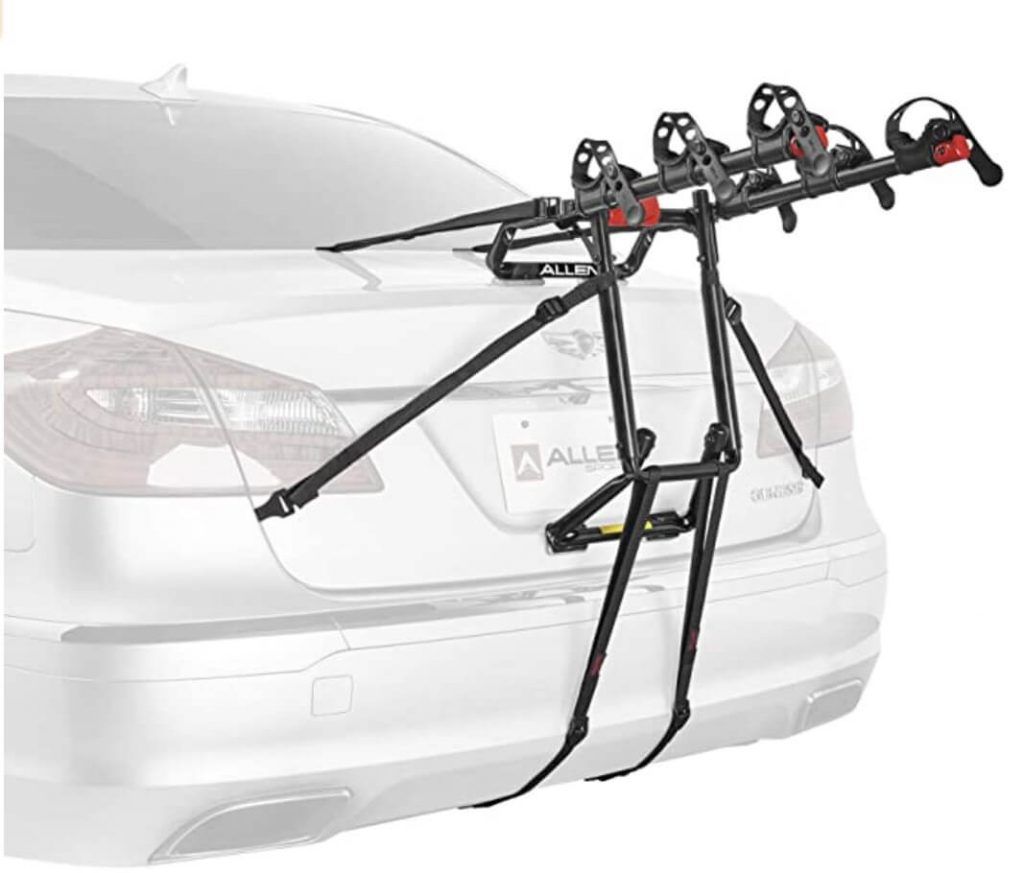 Available in 2-bike, 3-bike, and 4-bike configurations, the Allen Sports Premier Trunk Mounted Bike Rack is a solid rack. It has a patented design that makes it easy for even just one man to set it up for use and disassemble it for storage.
What stands out is that the rack doesn't compromise safety or durability for ease of use.
The basic two-bike setup, for example, uses 12-inch carry arms to let you secure up to 2 bikes with a total weight capacity of 70 pounds.
This rack doesn't just keep your bike secure either. It comes with extra padding to minimize any damage to your car's paint. It's also very well constructed. Once installed, it won't make any kind of noise or squeaks, even with a bike loaded.
Also, speaking of installation, this rack has another patent-pending design. This allows it to fit on the trunk of pretty much any car.
All in all, the rack is near without flaws. It's easily the best overall bike rack on the market today.
The only issue we would raise without sounding like we're nitpicking is when it's used on SUVs and crossovers.
If you're not exactly on the tall side, installing and secure the bikes isn't easy. Removing presents the same issue as well. Ladies' bikes also don't always naturally fit.
However, tube adapter bars are available if needed. Also, you might damage your SUV if the rear-end has spoilers.
Pros:
Very solid construction quality
Comes with extra padding for added car paint protection
Minimal creaking and/or swinging
Cons:
Difficult to use for shorter individuals
Could damage rear-end spoilers on some SUVs and/or crossovers
Side note: Besides trunk-mounted bike racks, you can read the article of best hitch bike racks review to learn more about another type of bike rack.
Most Popular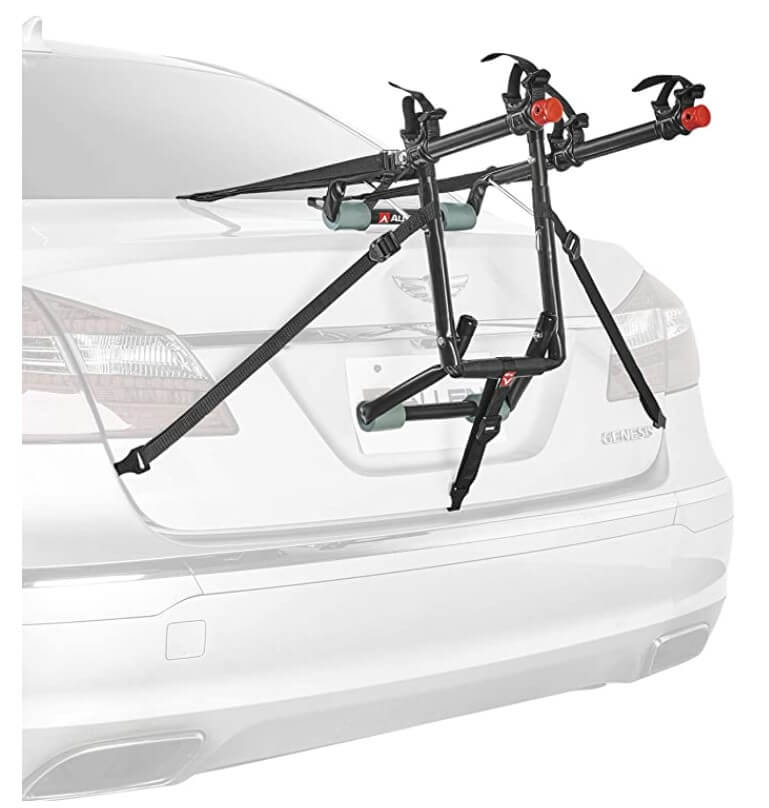 The Allen Sports Deluxe 2-Bike Trunk Mount Rack is the more popular and more affordable relative of the Premier.
The Model 102DN-R, in particular, is the latest variant.
Similar to its more expensive siblings, the Deluxe comes in 3 different sizes. The most common, the 2-bike rack style, also has the same 70-pound weight limit.
It even uses the same patented design that lets it fit on pretty much any kind of vehicle. It arguably has the same amount of padding for car paint protection and the same easy set-up as well.
So, what's the difference? Why is the Model 102DN-R more popular?
Well, for starters, it's far more affordable.
Basically, this is ideal for bikers who don't mind the lack of an anti-sway system.
But, make no mistake, even though the Model 102DN-R doesn't have an anti-sway system, the patented tie-down system is secure enough to hold your bike in place with minimal vibration despite the road conditions.
Pros:
Affordable
Comes pre-installed for easy installation
Backed by a lifetime warranty
Has two additional side straps for added security
Cons:
No anti-sway system
Non-adjustable arms
Best for 3 Bikes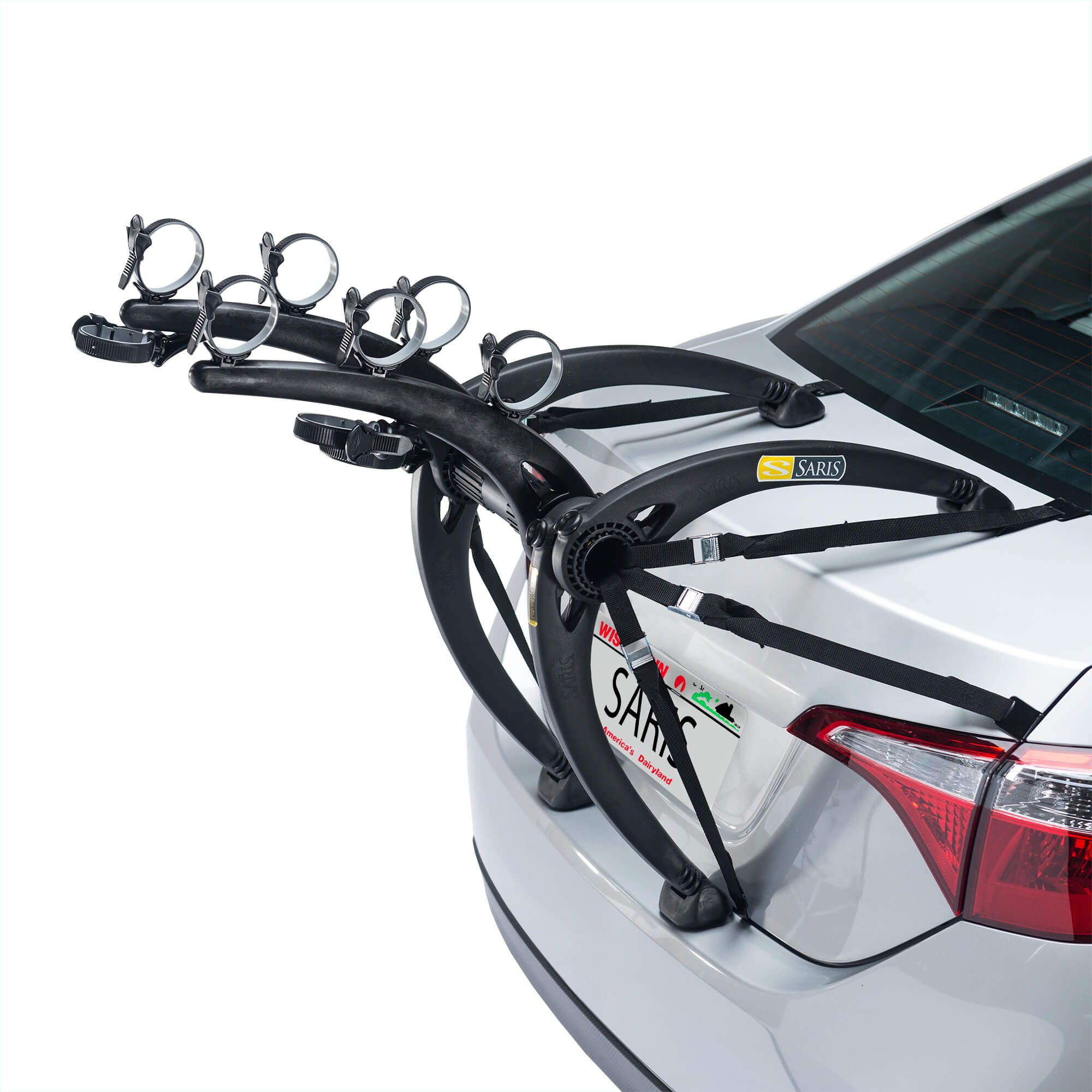 Versatile, adaptable, lightweight, and durable, the Saris Bones Trunk Bike Rack Carrier is the kind of bike rack that you'll want to keep your bikes safe.
What really sets this bike rack apart is that you can install it in multiple areas of any vehicle. This includes the area around the license plate and the rear windshield.
The rack also has a solid foundation that can carry as much as 105 pounds. This is thanks to the combination of frame supports and tension straps keeping things stable.
Speaking of stability, the 12-inch support arms are all fully adjustable without tools.
The center spline design allows you to adjust the position of the narrow arms and legs quickly enough to allow you to mount even full-suspension bikes easily.
This rack is made out of a lightweight molded plastic that actually inspires more confidence than its other steel-made competition. The material is lightweight and durable enough to feel stable, even in rougher roads and higher speeds.
Just make sure that you follow the instructions properly and not forget to add more support to the exposed metal strap ends. You can use bungee cords or electrical tapes. This is to ensure that the straps don't end up scratching the surface of your vehicle.
Pros:
Better aerodynamics and support compared to its competition
Built-in cradle makes for easy set-up
Lightweight
Fully adjustable arms and legs
Cons:
Not a good fit for bikes with unconventional frame designs
Best for 2 Bikes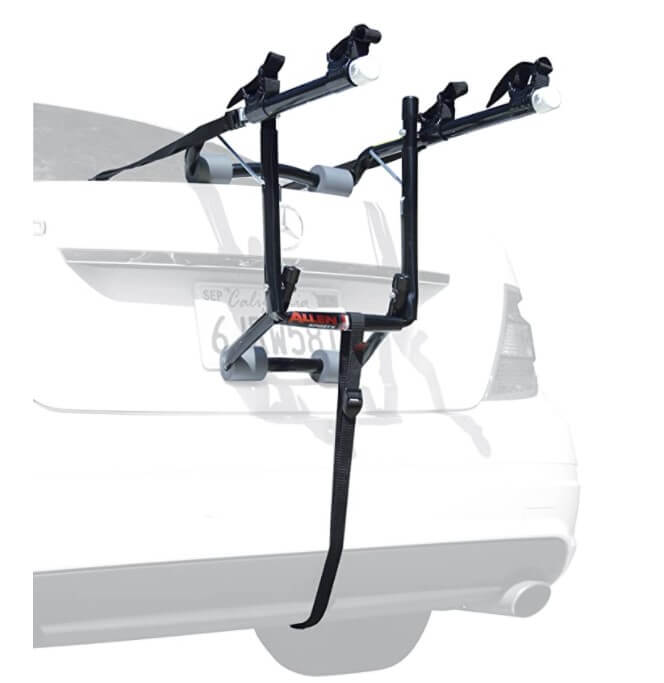 The older model of the Allen Sports Deluxe 2-Bike Trunk Mount Rack, the Model 102DB, remains a popular choice among beginners and even seasoned riders.
One good reason for this is simple.
Yes. That's it.
The simplicity of installation, removal, and usage, as well as the affordable price point, makes the Model 102DB the quintessential bike rack for people who just want a trunk mount that can keep their bikes safe and sound as they travel to-and-fro their desired trails and routes.
Pros:
Beginner-friendly
Preinstalled and ready to use out of the box
Low asking price
Side straps help improve lateral stability in corners
Cons:
No anti-sway system
Straps could be more durable
Most Sturdy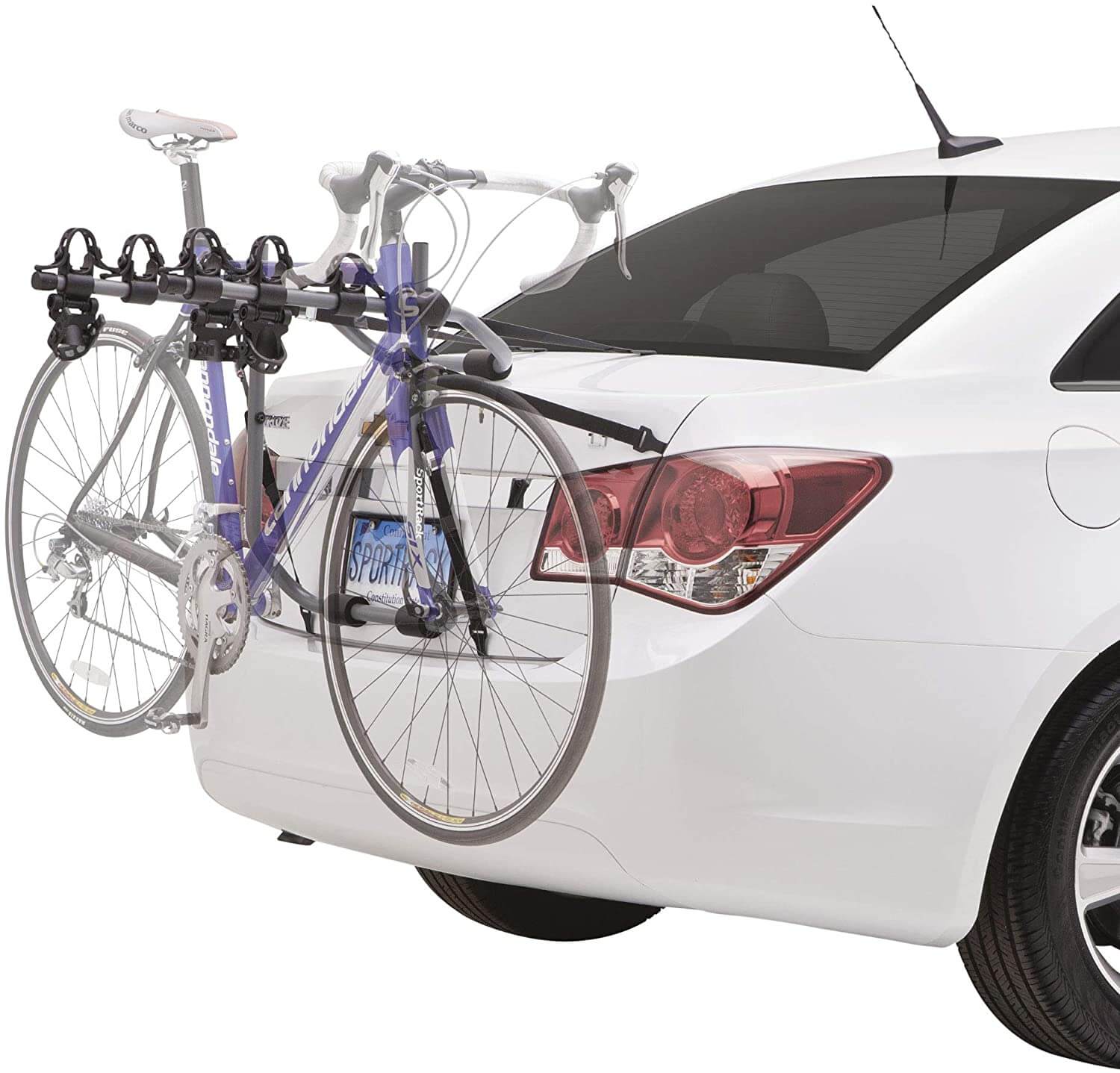 Available in two-bike and three-bike configurations, the SportRack Pursuit Anti-Sway Trunk Mount Bike Rack is as sturdy as they come. It features an anti-sway stability cradle with soft rubber cradles and straps, as well as additional padding.
All of them combine to help protect your bike or your car from falling or any unnecessary contract and/or scratches. Because of its tool-free mounting design, this rack is easy to install and remove. It also conveniently folds for easy storage.
Sturdy as it is, we do recommend using additional reinforcement for long road trips. Especially if you're on the expressway for a long time or plan on tackling extremely rough roads.
Adding bungee cords and making sure that you secure the straps of the knot help guarantee that the straps don't loosen.
Outside of that slight issue, this is the best trunk mounted bicycle rack as far as sturdiness goes.
Pros:
Anti-sway cradles
Fully adjustable
Tool-free mounting
Folds flat for convenient storage
Cons:
Wheels have a tendency to extend off of the vehicle side
Easiest Installment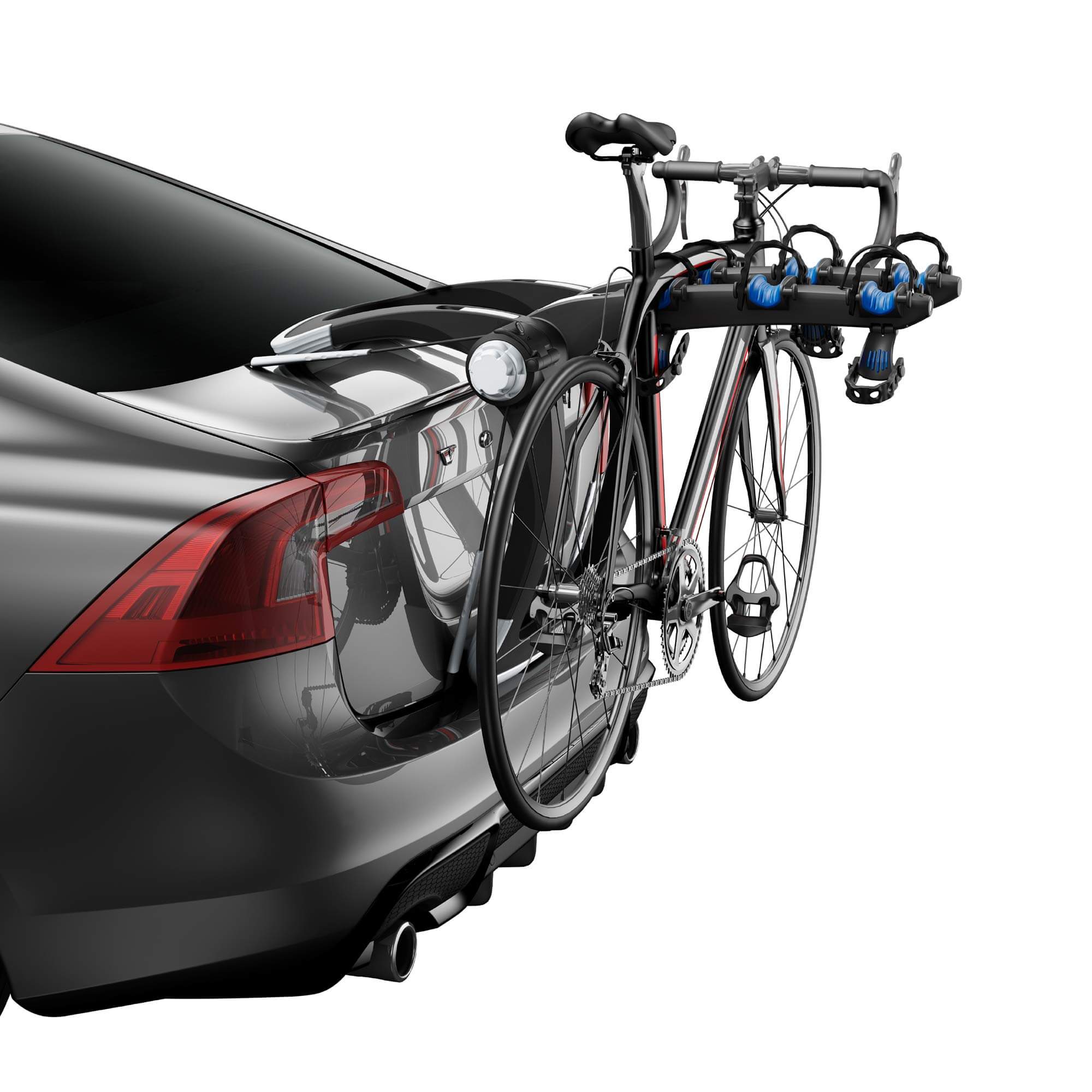 Being easy to install comes at a price premium with the Thule Raceway Pro Trunk Bike Rack.
With 2-bike or 3-bike accommodations, this rack comes with a double-lock mechanism. This means that you can lock the bike to the rack and the rack itself to your vehicle.
The rack comes with ratcheted locking cables, as well as molded rubber pads for scratch-prevention. Additionally, it features road dampening technology, as well as NoSway cages.
Both combine to help improve road impact absorption and to minimize any kind of bike-to-bike contact.
Perhaps more importantly, this rack boasts the highly-touted patented FitDial feature that helps ensure that it fits perfectly on any vehicle.
All in all, this bike rack is easy to install and has wide compatibility. You'll have no problems mounting a children's bike on it.
You'll also have no worries about mounting your bike and running at high speeds with this bike rack. Those features make this bike rack well worth its high asking price.
The only issue we see here aside from the price is that it's a little heavier than most bike racks.
Pros:
FitDial guarantees vehicle fit
No bike-to-bike contact
Simple installation and use
Absorbs road impact quite well
Cons:
Most Adjustable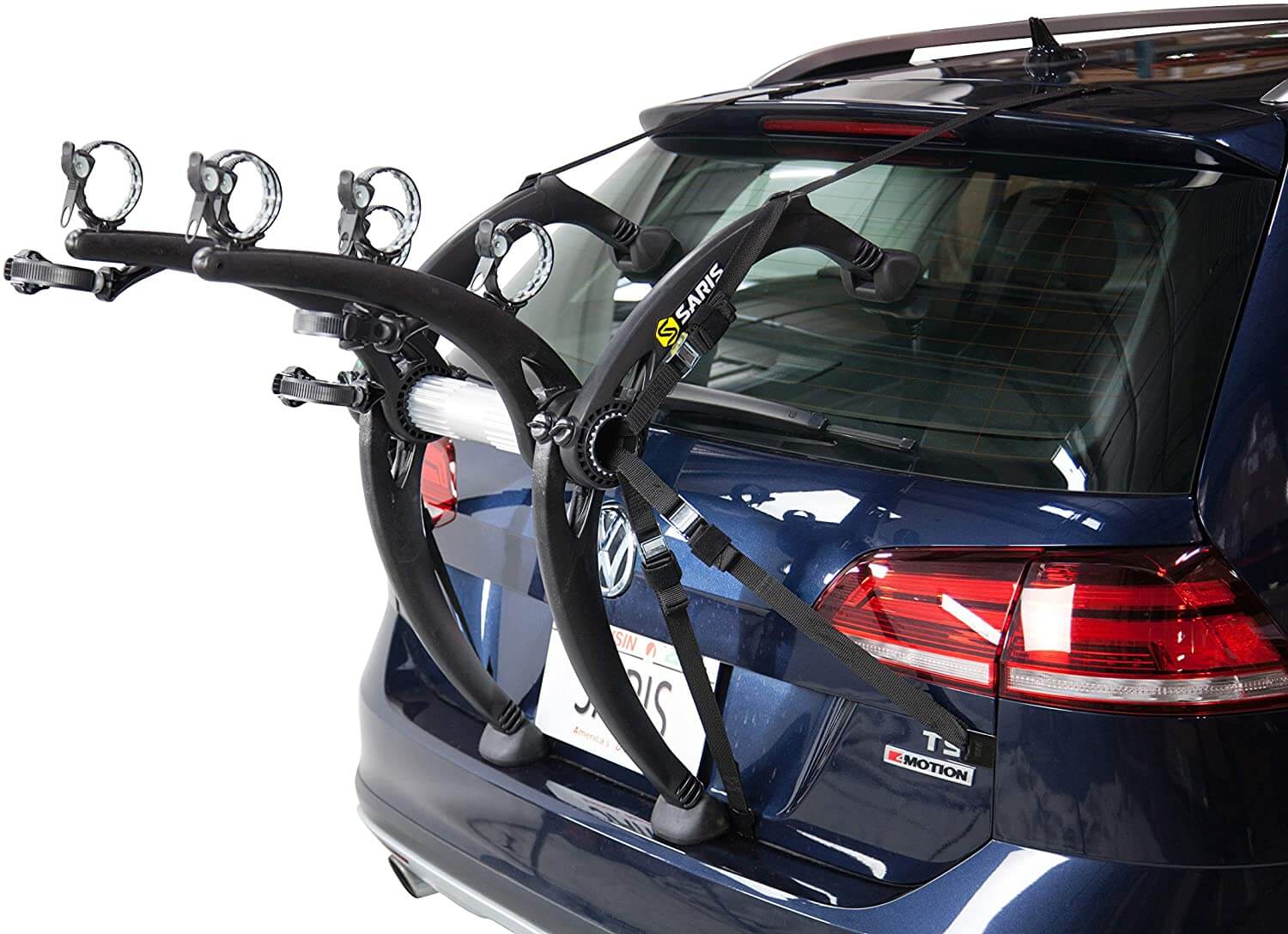 The upgraded version of the classic Bones model from Saris brings a modern styling with it. A new attachment system that allows for compatibility with nearly every sedan, hatchback, and SUV on the market.
Yes, before you ask, this includes vehicles that have spoilers. This means that it solves a common issue among truck-mounted bike racks.
What this essentially means is that you can probably fit the Saris Bones EX Trunk Bike Rack Carrier on your current car. More importantly, it'll probably have no problems fitting on the next one that you plan on buying as well.
Mind you, it doesn't sacrifice security and stability for compatibility.
If properly installed, the ratchet straps can hold two bikes of up to a total of 70 pounds with little to no movement. This helps prevent the straps and the bike from making dings, scratches, and scrapes on the vehicle paint.
But, perhaps, more importantly, the straps release just as quickly as well. Lightweight due to its injection-molded plastic construction, this rack is also rust-resistant with a lifetime warranty.
The best part is that this rack is environmentally friendly. It's made of 100% recycled plastic.
Pros:
Made out of 100% recycled plastic
Lightweight and compact
Compatible with a wide range of vehicles
Secure easy-to-install and easy-to-remove clamps
Cons:
Expensive
Will make accessing the trunk or tailgate difficult if not impossible
Frequently Asked Questions
How Do I Choose the Right Trunk Bike Rack?
There are numerous factors to consider when choosing a trunk bike rack, including: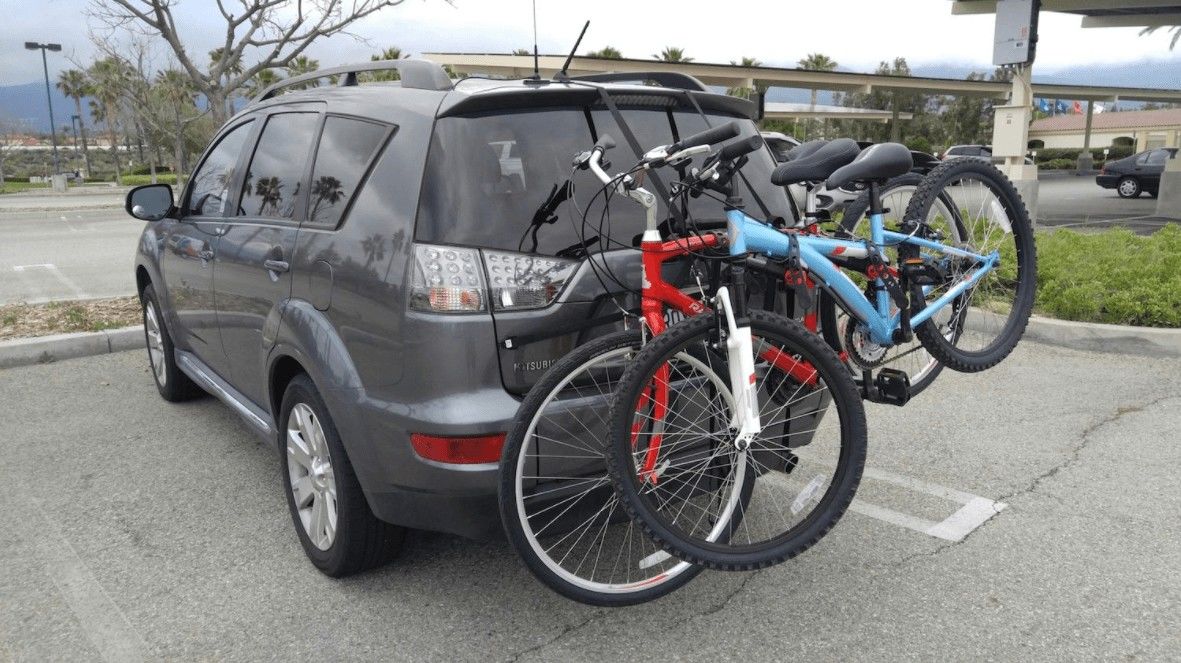 3-bike trunk bike racks are a safe choice even if you only plan on mounting two bikes on your bike rack.
The main reason for this is, because, sometimes, depending on the design of the mounted bikes, there is a possibility that they'll get in the way of each other in a 2-bike rack. This is not good. Even slight bumps at high speeds can cause the bikes to touch each other even more. But, with a 3-bike rack, there's a lot more space and room between each bike.
If you want to play things safe, try buying a bike rack from a place that will let you return it or will offer free fittings.
This way, if the rack can comfortably fit enough bikes, then you're good. If not, you can return the rack and purchase a larger size.
Factors such as the weight of the bike, the size of the wheels, and the frame material all determine which bike rack best fits your needs.
For example, if you use a combination of women's bikes and men's bikes, know that you might need to use an accessory to make a lady's bike fit securely on the rack. Similarly, if you plan on fitting a tall adult bike and a small child's bike, something with more versatility like the Thuleway Raceway Pro Trunk Bike Rack might better suit your needs.
TLDR; the collection of bikes you have and plan on using will impact your bike rack needs.
Most bike racks are made out of steel. The best ones are made out of either injection-molded or nylon.
Though these are more expensive materials to work with, they make racks that are lighter without sacrificing durability. This also adds rust-resistant and makes the rack available in a wider variety of colors.
The main reason why you bought a bike rack is to keep your bike safe during transport. This is why it's important that the bike frame can properly secure your bike. Otherwise, it could get damaged from even small knocks and bumps.
The ideal trunk-mounted rack comes with weight supports, additional padding, secure straps, and anti-sway measures.
Other features designed to keep the bike secure during transport are also important.
In general, rear-mounted bike racks can fit on just about any car. The only problem is the installation process.
Trunk-mounted bike racks are notoriously difficult to attach and install, as well as keep attached. However, the best trunk bike rack solves these issues using a combination of added design features.
What are the Different Types of Trunk Bike Racks?
A fixed-design bike frame is easy to set-up but a bit hard to adjust and often have compatibility issues with certain bikes or vehicle designs.
Adjustable bike racks are ideal if you have an awkward vehicle design. It's also a good choice if you prefer something that you can adjust for more bike capacity or better bike positioning during transport.
Just keep in mind that adjustable bike racks usually have limited weight capacity and are harder to set-up.
Folding bike racks are usually more expensive. They sacrifice weight capacity. In return, they are quieter and take up significantly less space. They're also easier and more convenient to store. Most are even designed to fit inside a typical vehicle's trunk.
What are the Benefits of Using Trunk Bike Racks?
Trunk bike racks are easier to set-up and make it easier to remove bikes from the rack. It's also easier to find trunk bike racks for smaller vehicles compared to hitch- and roof-mounted bike racks.
Modern trunk bike racks also come with added safety features for added protection of your bike during transport. This includes additional padding, weight supports, and anti-sway features, among many others.
Conclusion
It's a toss-up between the Allen Sports Deluxe 2-Bike Trunk Mount Rack and the Allen Sports Premier Trunk Mounted Bike Rack as the best trunk bike rack.
Both bike racks give you a lot of value for the money. Whichever you choose, you'll end up happy with your purchase. But, if you prefer getting the better bang for your buck, we'll have to go with the Premier. The added price premium comes with easy-fold arms and upgraded rubber straps for better security.
If money is not an issue, feel free to make the jump to the Saris Bones EX Trunk Bike Rack Carrier.
The pricier bike rack installs fast. It also comes with a lock and cables instead of just straps. This makes making adjustments easier and results in a more stable and secure hold on your bike while on the road.
Of course, any single one of the other products we recommended makes for excellent purchases as well.
Furthermore, the article comes with enough important tips to help make sure that you know how to choose the best trunk bike rack for your money.