The truck bed was built to carry loads. This is why so many think that it's perfectly okay to load a bike on top of it as it is. But, without proper preparation, using your truck bed to transport your bike is not as safe as it looks — both for your bike and your truck.
This is a problem solved by having a truck bed bike rack.
The Swagman PICKUP, for example, might not look like much, but it's a lifesaver if you frequently take your bike with you. Meanwhile, if you're the sort to carry multiple bikes per trip, the Fox Racing Large Tailgate Cover has enough room for as many as six bikes.
Read More:
As an added bonus, a good pickup truck bike rack comes with added features. The most common is a hitch that you can use to hook up a camper or a trailer.
With that said, scroll down below to find the best truck bed bike rack for your next ride.
Fork Mounted
Best Overall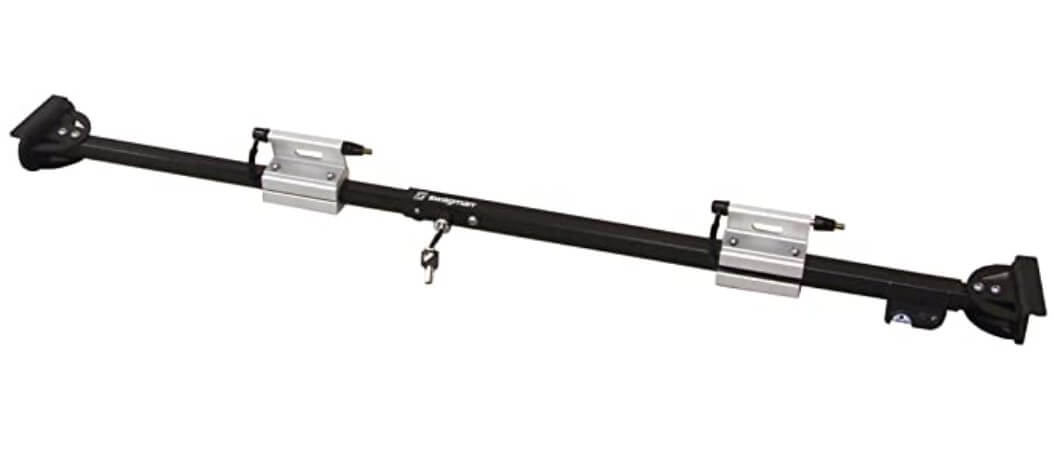 Don't let the unassuming look of the Swagman PICKUP fool you. Many consider it as the best on the market.
Adjustable and easy to install, you can put the PICKUP on any truck bed without taking longer than five minutes. To prevent scuffing and scratches, each mounted end of the car comes coated with rubber.
The quick-release handle then makes the PICKUP easy and simple to adjust. It clunks and locks into place to keep your bike safe during transport.
Because it is a fork style mount, this fork mounted bike rack can keep your bike safe and stable regardless of the terrain.
Just make sure that you slide the fork blocks into its proper positions.
Perhaps the best part about the PICKUP is not that just it's easy to use, it also doesn't require any tools for one bike to fit. Also, if you need to halt two bikes, all you'll need is the Swagman tool and the Allen key to adjust the fork locks.
Made out of high-quality stainless steel, the PICKUP is guaranteed to last.
For further peace of mind, Swagman offers a lifetime warranty for the PICKUP.
Pros:
Near-universal and seamless fit
Doesn't need a bed liner
Easy installation
Versatile
Cons:
Fit and stability issues with certain bike types
Best for Those on a Budget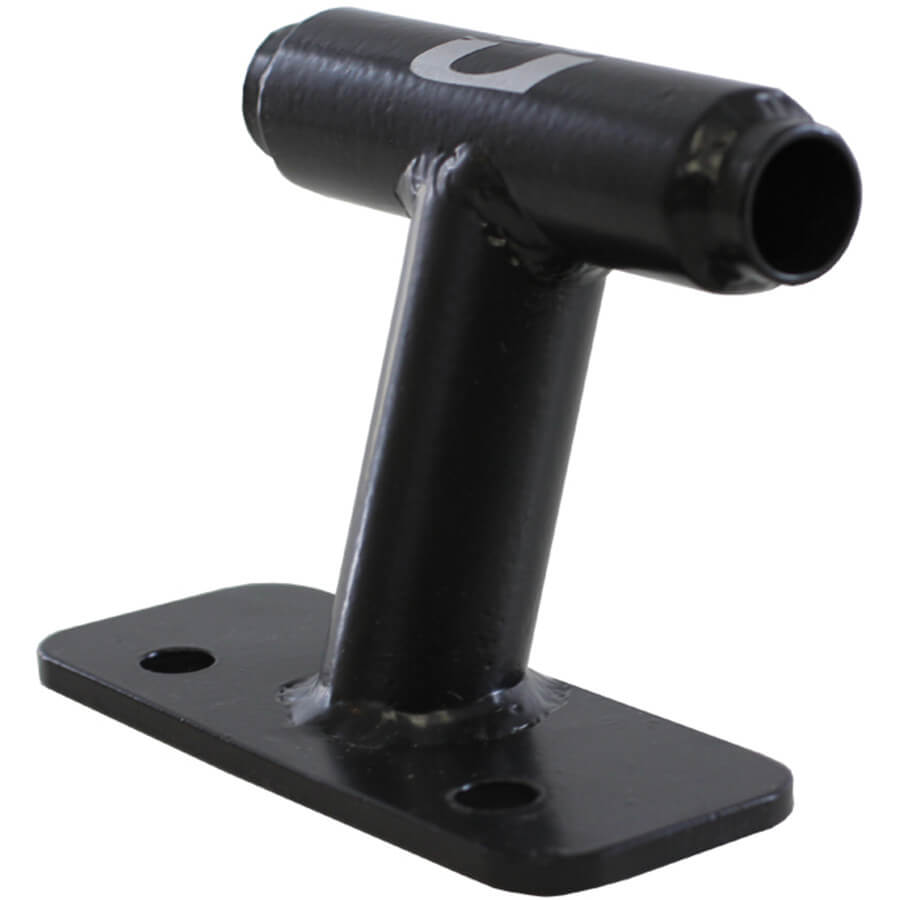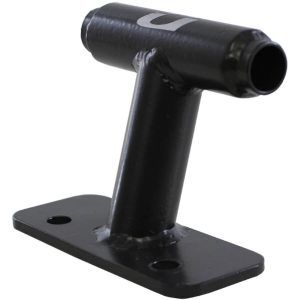 The Kuat Dirtbag Truck Bed Mount is proof that, sometimes, the best things in life can come cheap.
This fork mount truck bed bike holder is a simple solution for those looking for ways to carry a single bike. Sure, it's not perfect. It can't fit bikes that don't have a 15mm axle front wheel skewer.
However, if the bike is compatible, it provides a very secure hold. More importantly, it's simple to install.
The best part is that it comes with detailed instructions.
The instructions will teach you how to mount and use the bike rack, as well as where to drill the right holes.
For durability, it's made out of sturdy steel and coated with a black powder for all-weather resistance.
The Dirtbag Truck Bed Mount is covered by Kuat's lifetime warranty.
Pros:
Secure and firm hold
All-weather resistance
Sturdy steel construction
Cheap
Cons:
Compatibility is often an issue
You'll have to drill holes on your truck bed
Easiest to Install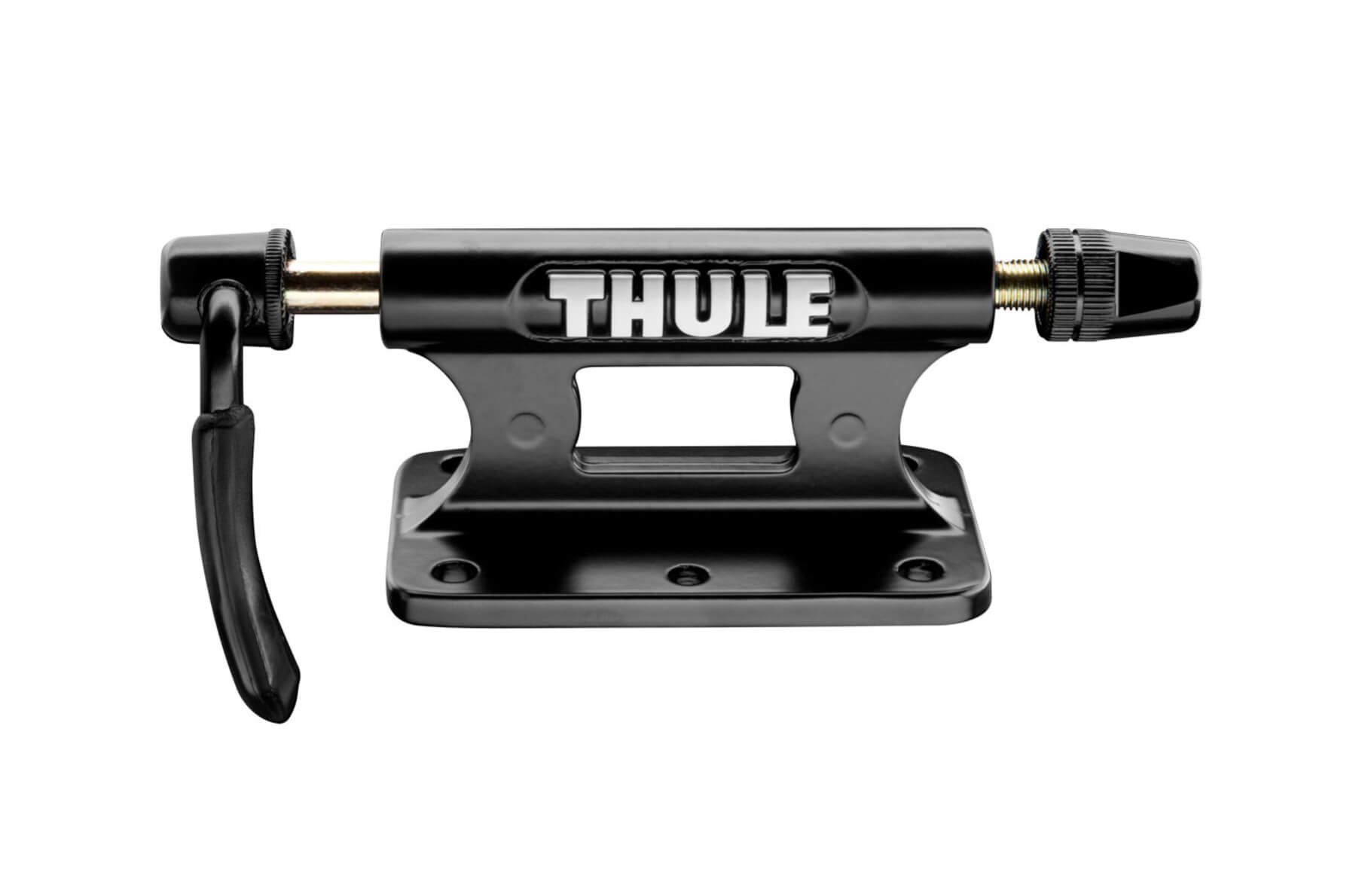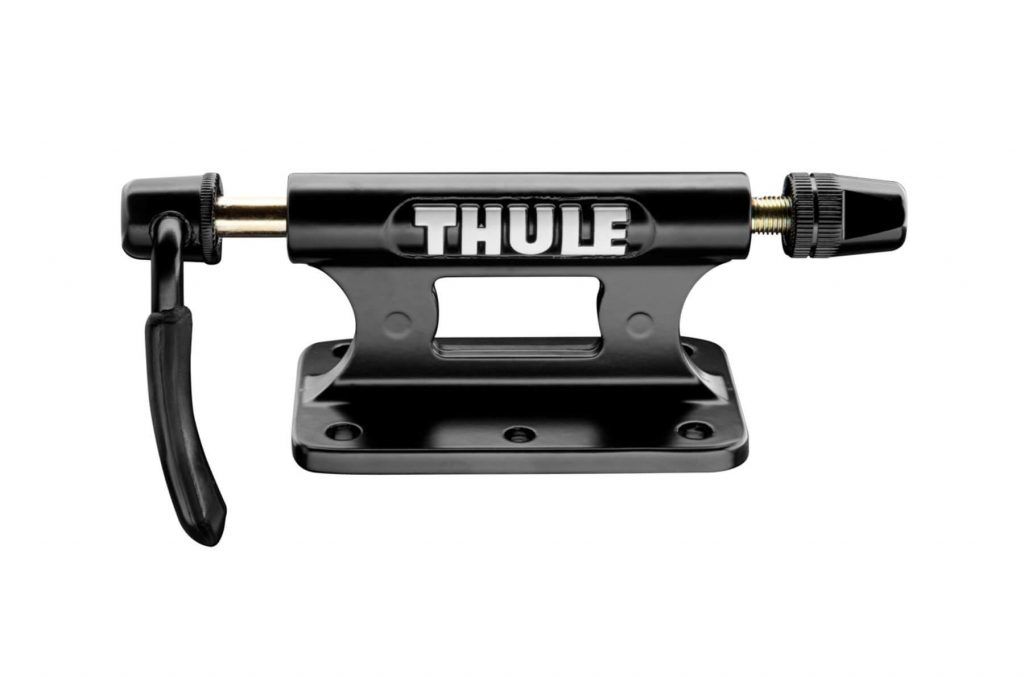 Most pickup truck bike carriers are easy to install. Even those that require tools. But, the Thule Low Rider Bike Mount, is, by far, the easiest for installment.
This permanently mounting bike rack fork is made out of heavy-duty metal that's resistant to corrosion.
This bike rack is equipped with a quick-release 9mm fork mount skewer. This helps give you the confidence that you need to rest easy knowing that your bike is as secure as can be during transport.
The bike mount is also designed for compatibility with any bike that has a standard 9mm axle.
Lastly, the Thule Low Rider Bike Mount is backed by Thule's limited lifetime warranty.
Pros:
Can be installed in any flat vehicle surface
Secure and stable support
Corrosion-resistant material
Has pass-through hole for cable locks
Cons:
Permanent mounting
Won't work with bikes with a through-axle mount without an adapter
Best For Maximizing Space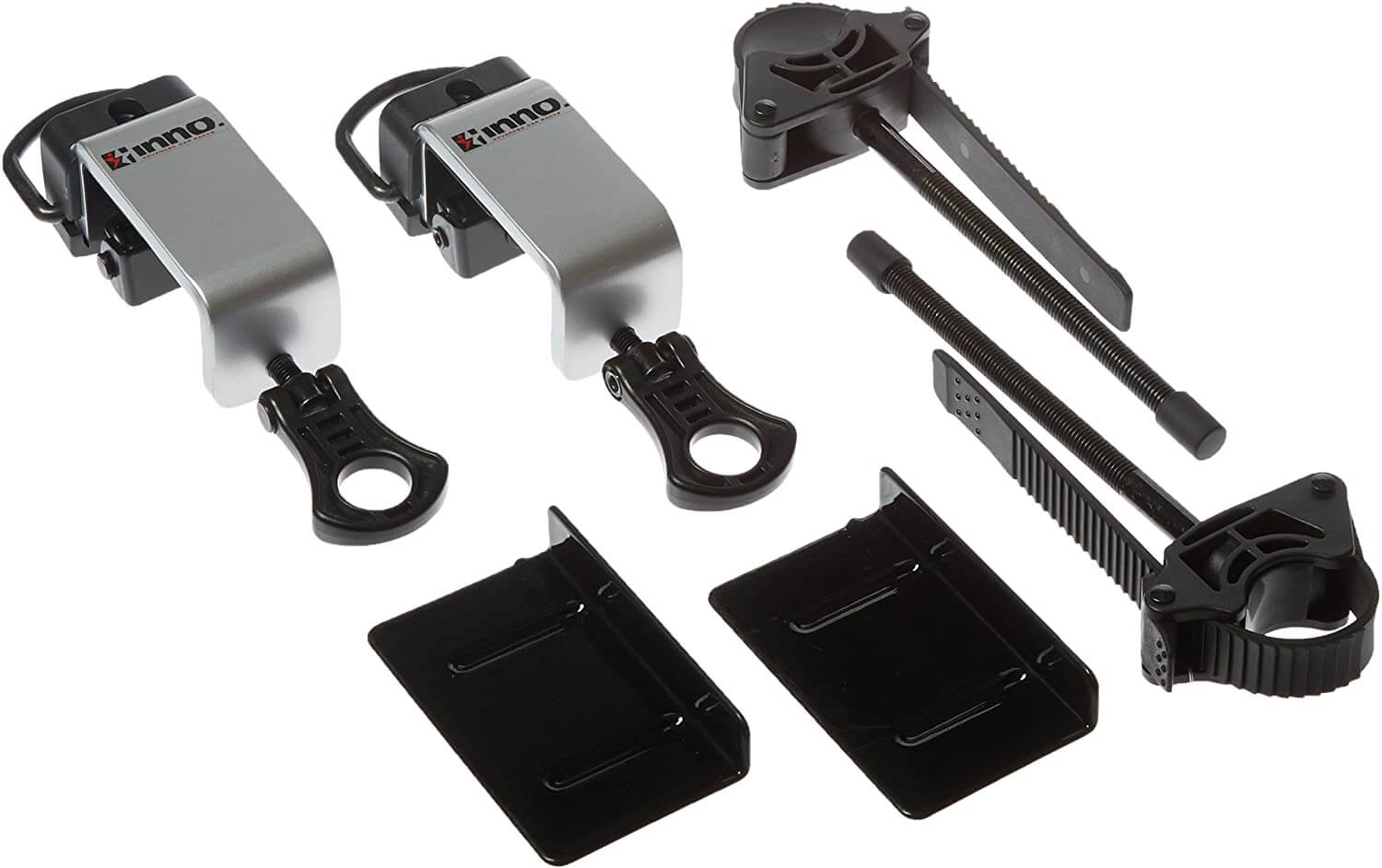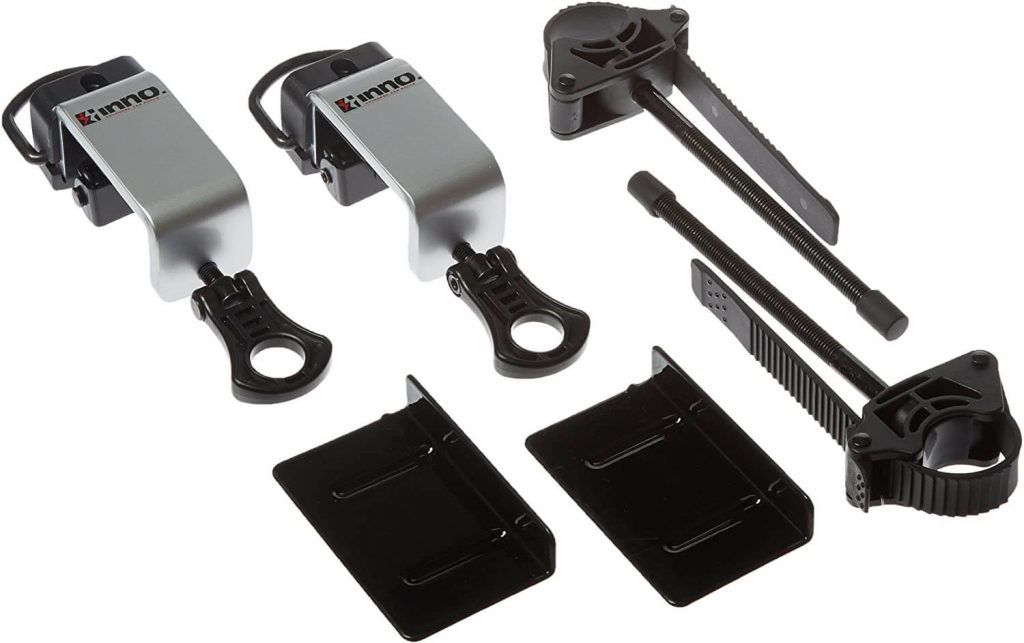 The usual truck bed bike stand can only fit one bike. Sometimes, you can fit two if you don't mind a tight squeeze.
However, if you want to maximize space and compatibility with multiple bikes, then we recommend the INNO RT201.
But, before anything else, we'd just like to commend this unique truck bed. It is very easy to use. You'll only need to attach the hardware over its side rails. After that, you're free to attach your bike.
Each package includes ratcheting holders and D-ring clamps for the railings.
Because of this design choice, you can fit a bike and the holder inside the truck bed while still having plenty of space. You can even fit another bike on the opposite side using the other clamp included in the package.
However, this bike is not perfect. It can only fit one bike per side, so you can't carry more than two at a time. Not to mention, the rack isn't compatible with larger or smaller bikes. Stability during transport is also a known issue.
Even if you securely tighten the clamps before going on the road, you can expect your bike to move around a bit, especially on rougher roads.
Still, it's an excellent solution for multiple bikes or if you need to maximize space.
Pros:
Space-saving design
Can comfortably hold two bikes
You can leave the rack on your truck
No drilling required
Cons:
Bikes tend to move around during transport
Tailgate Pad
Best Overall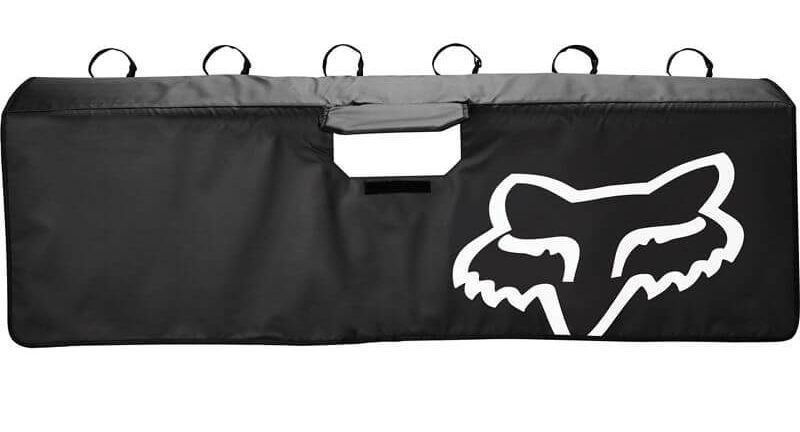 Why mess with your truck's bed liner when you can use your truck's tailgate, right?
When it comes to tailgate pads, the Fox Racing Large Tailgate Cover is the best truck bed bike rack.
This tail pad is equipped with premium padding. This allows for optimal protection for both your bike and truck from scuffing, scratches, dents, and more.
It even comes with a flap so that you won't have to remove it to access your tailgate handle, and with six webbing straps, this tailgate cover nor your bikes won't go anywhere.
And, yes, we said bikes, because this bed bike rack can hold up to six standard bikes.
Pros:
Available in a smaller size
Can fit as many as 6 bikes
Compact
Six webbing straps for added security
Generous padding
Cons:
Velcro loops tend to fallout
Best for Mountain Bikes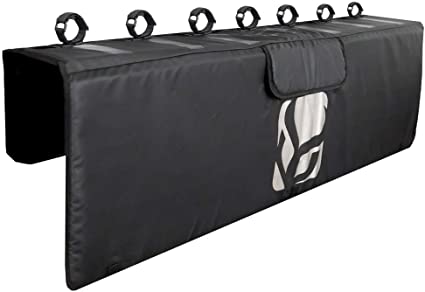 Because of their larger wheels and bulkier frames, mountain bikes tend to have special needs when it comes to mounts.
That's where the Demon Tailgate Pad for Mountain Bikes comes in.
This tailgate pad is specifically designed for bikes built for climbing up mountains and rolling down slopes. It's equipped with a ¾-inch foam pad and a heavy-duty vinyl outside cover. Plus, the underside is ultra-soft. This makes for complete and total protection of your bikes, as well as that of your truck's tailgate.
The tailgate pad is also equipped with a flap for easy tailgate handle access. It even comes with a mechanical tool pocket. You can use this to store all of your trail equipment.
The Demon Tailgate Pad for Mountain Bikes is also equipped with both web cinch straps and velcro bike frame holders for optimal security.
Pros:
Can hold up to 5 bikes
Thick padding with an ultra-soft underside
Convenient tool pocket
Affordable
Cons:
You might have to secure the rear bike tires with additional ropes for better stability during transport
Best For Full-Sized Trucks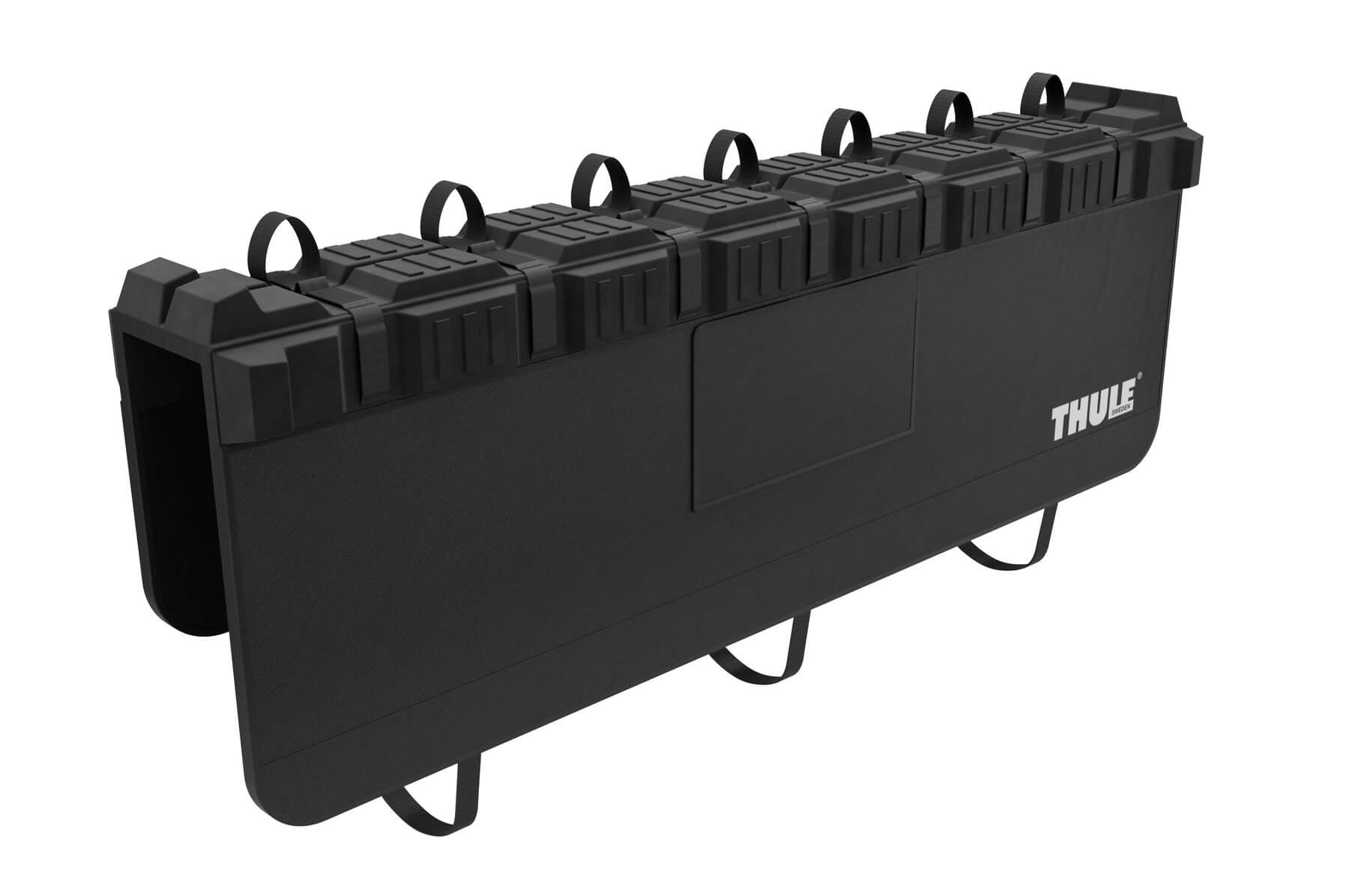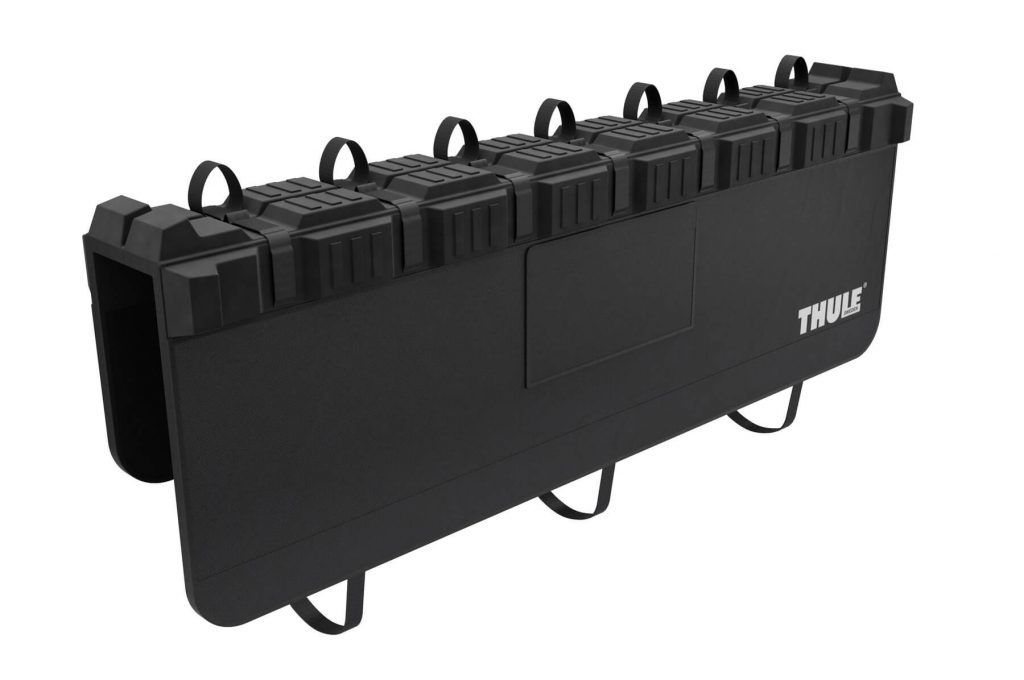 You'll need to have a full-sized truck if you want to carry a lot of bikes, but even if you had one, not all bike racks can accommodate that.
Thankfully, the Thule GateMate Pro can.
The best truck bed bike rack for 7 bikes, the GateMate Pro is made out of durable and heavy-duty vinyl. It also comes with generous amounts of padding. In total, it can fit as many as 7 bikes comfortably with little risk of rubbing.
The knock blocks found on the GateMate Pro prevent the bikes from sliding onto each other while the strap anchors are conveniently placed in integrated points for added security. It also has nylon straps to help you fasten it even more tightly to your truck's tailgate.
As a bonus, the GateMate Pro comes with mesh pockets for your tools and gears.
Pros:
Soft fleece underlining
Can fit up to 7 bikes
Made out of heavy-duty vinyl
Mesh tool pocket
Cons:
Might block backup camera
Best for Smaller Trucks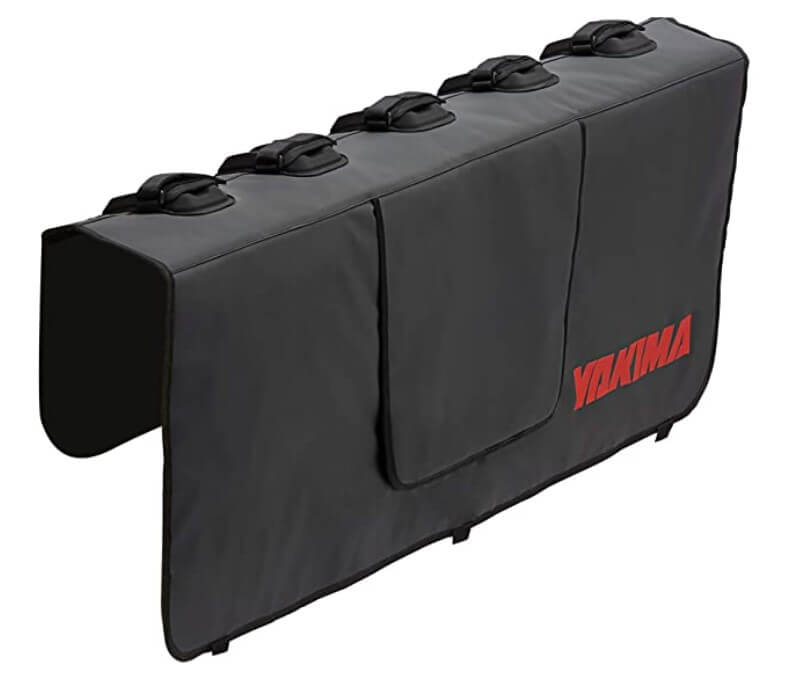 The YAKIMA Gatekeeper Tailgate Pad is pricier than the other large tailgate pads on our list. However, for those willing to pay the premium, you do get what you paid for, and more.
This tail pad is durable and well-made. It uses a nylon fabric that can hold up to all sorts of weather conditions.
It also has a microfleece liner on the backside for ample protection of your tailgate. Meanwhile, the nylon straps and ladder hooks all guarantee that the tailgate pad stays secure and safe on the truck bed.
As for your bikes, the gatekeeper comes with velcro straps and even cushioned cradles. It also has a latch flap that you can stow away so as it doesn't cover your truck's backup camera.
If you need something larger, you can also get a larger version of the Gatekeeper.
Sans the price, there's no reason not to get yourself this tailgate pad.
Pros:
Virtually weatherproof material
Cushioned cradles
Compatible with backup cameras
Cons:
Best Premium Choice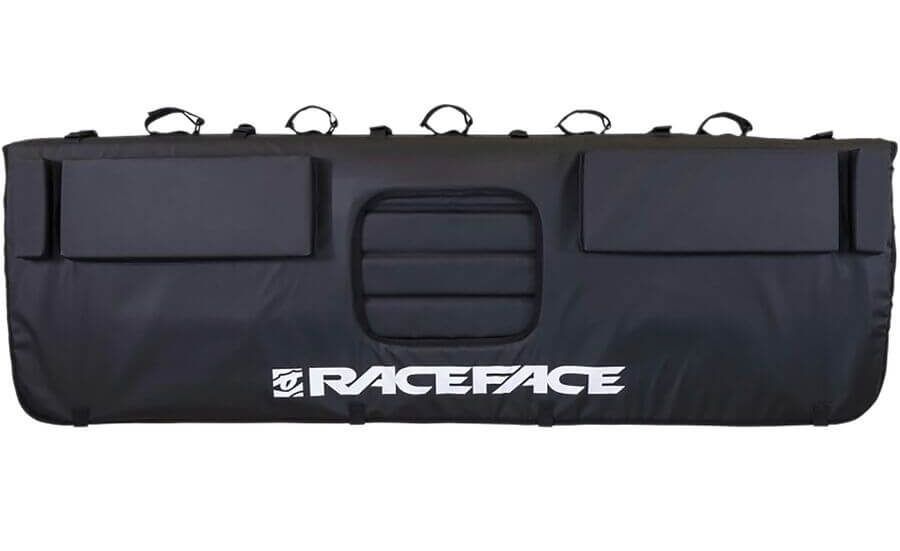 The Race Face T2 Tailgate Pad is, so far, the most expensive truck bed bike rack on our list.
Is it the best? Well, that depends. But, if you can afford it, there's a lot of reasons why you should go for it and not for other more affordable options.
The follow-up to the popular Race Face Tailgate Pad, the T2 takes whatever made the original successful and made it better while addressing its issues.
For example, it comes with velcro frame straps and molded foam bumpers for all-around protection for both your bike and your truck. There are an additional four straps at the bottom as well to help secure the tailgate pad onto the tailgate.
At the same time, the six adjustment straps in between the frame fasteners guarantee a tight, versatile, and customizable fit.
The T2 does away with the rear camera flap with a removable velcro panel that also makes it easier to access the latch of your tailgate.
More importantly, the T2 is even more durable than its predecessor. It uses an all-new PVC tarpaulin outer fabric over the 600D cover of the original, which is a much more durable fabric and more comfortable as well.
While being expensive isn't enough to be the best truck bed bike rack, the T2 does warrant its high asking price.
Pros:
Convenient removable velcro panel
Multiple adjustment options
Extensive padding between the truck and the bikes
Cons:
Wheel Mounted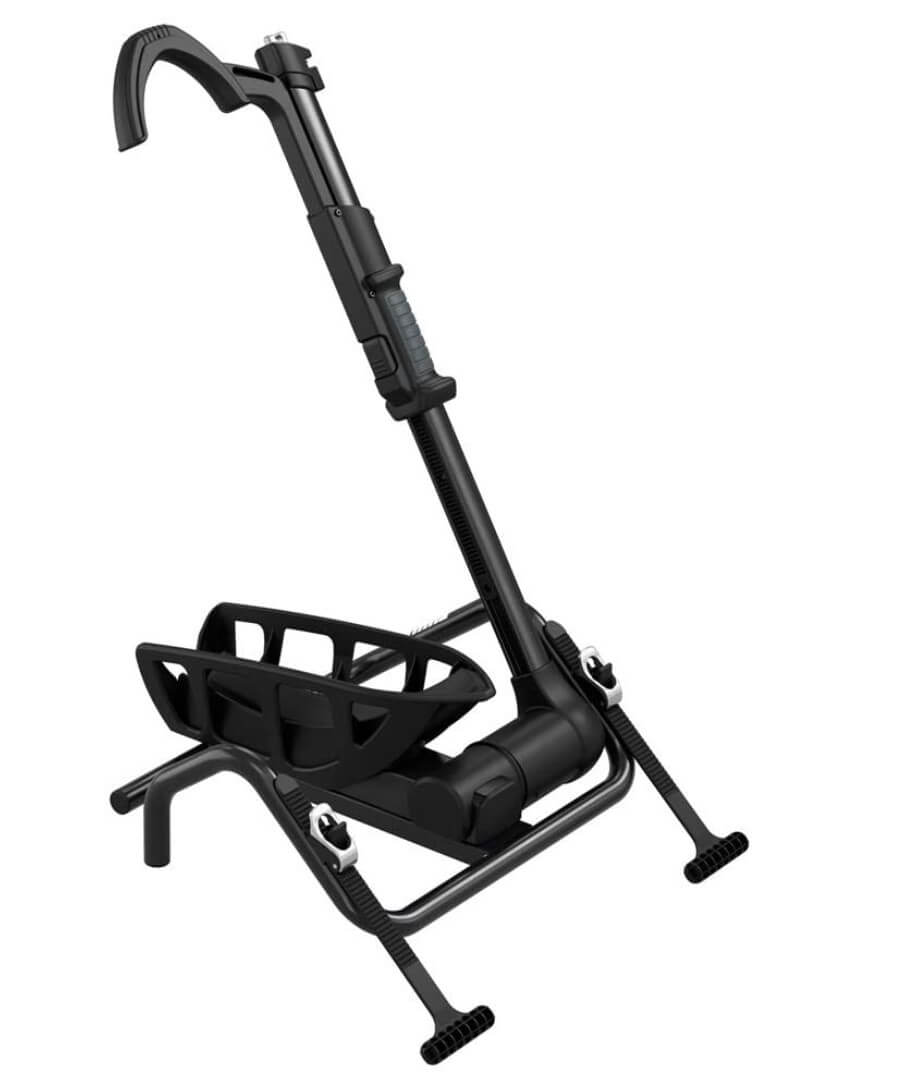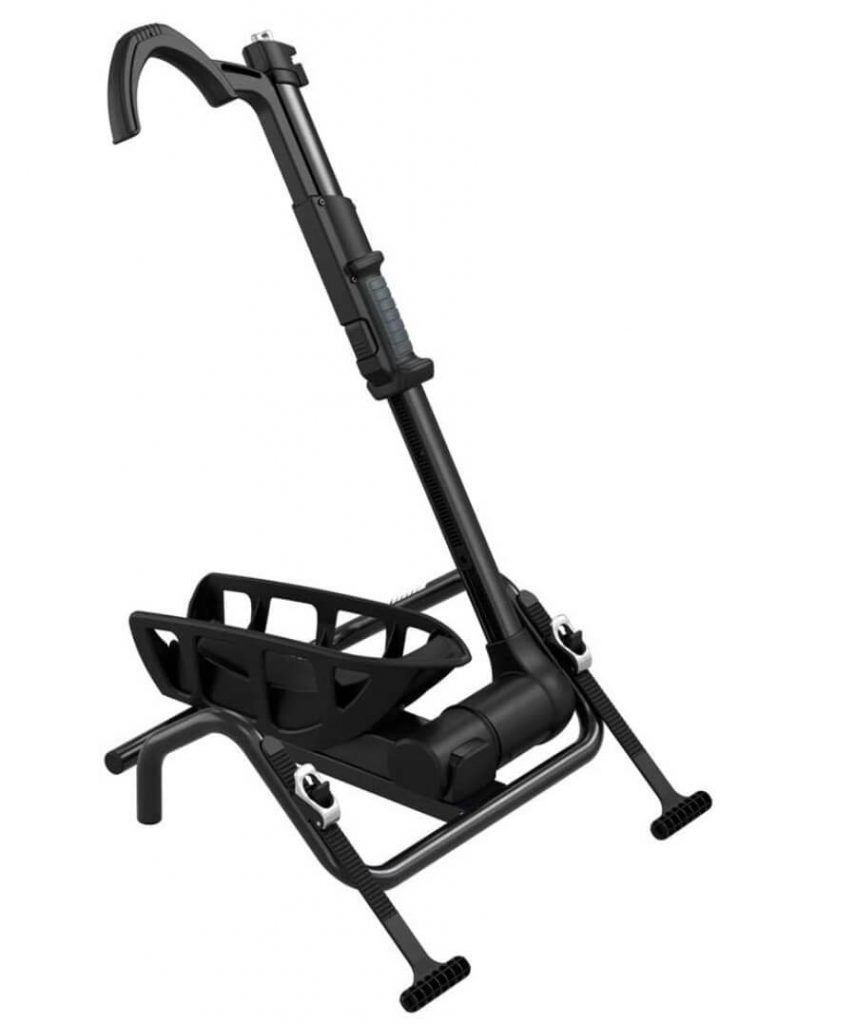 The Thule Insta-Gater Pro Truck Bed Bike Rack is another winner for the famed rack manufacturers.
The Insta-Gater isn't just cleverly named. It's also well-designed.
By using a padded hook to secure the front wheel of your bike onto the rack, it's able to keep any contact with your bike's frame at an absolute minimum. But, that's not all. You can mount this on top of your truck's bed without the need for additional tools.
All you need to do is to place the mounting brackets of the frame in between the tracks found on your truck's bed and tailgate and that's it.
For medium-sized trucks, you can install as many as two Insta-Gaters, while larger trucks can easily accommodate three. Wheel size also isn't an issue. This is because the Insta-Gater can fit bikes of any wheel size as long as it's below 29 inches.
The Insta-Gator essentially has any avid biker is looking for in a truck bed bike rack, except, well, for an affordable price.
Pros:
Keeps frame contact to a minimum
No need for hand tools for installation
Can install multiple racks on one truck
Secure and safe lock
Cons:
Expensive mount for only one bike
How to Buy the Best Truck Bed Bike Rack
Buying a truck bed bike rack is the best way to protect your bike and your truck. However, you can't just buy the most expensive bike rack out there. Not to mention, the word "best" is a relative term.
With that said, the best way to know what the best truck bed bike rack for you is to know what the different types out there are.
Namely, there are three types of truck bed bike racks.
These are: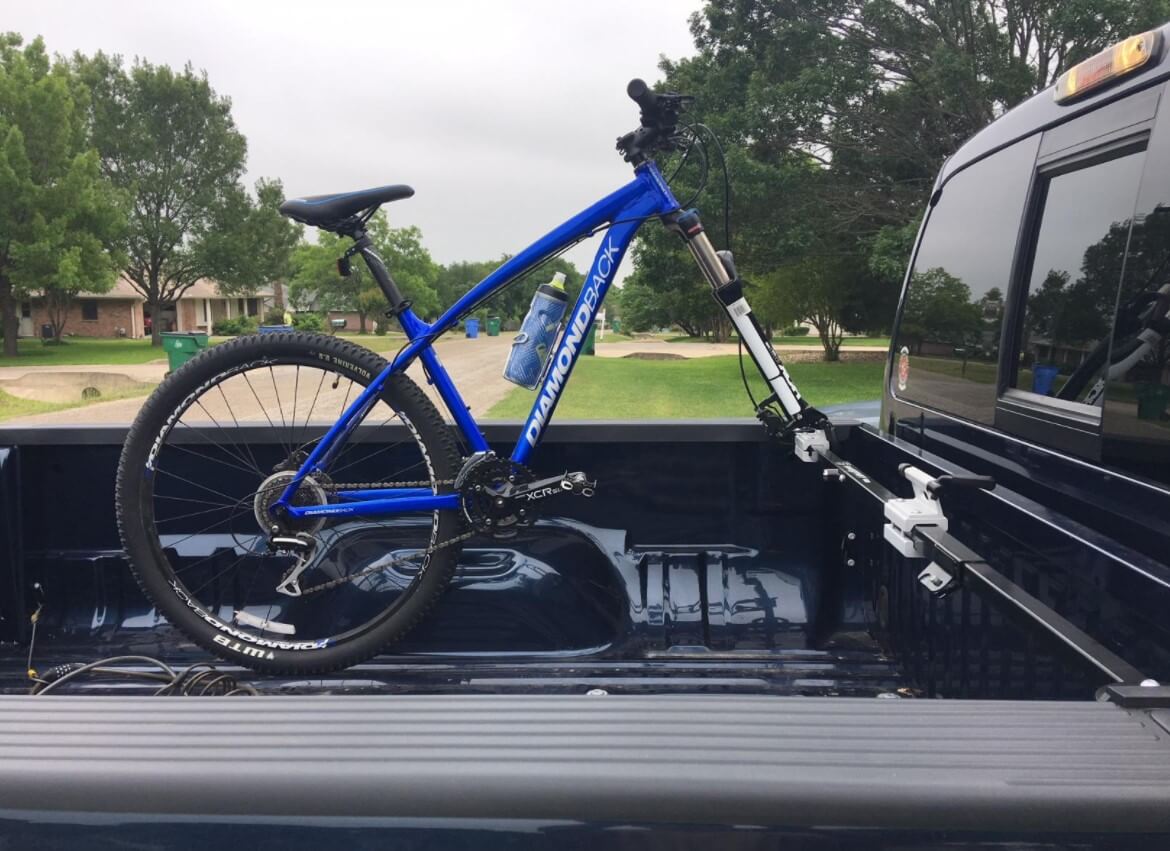 As the name suggests, fork mounted truck bed bike mounts secure your bike through the fork.
A huge advantage of fork-mounted bike racks is that they are the most secure and stable option. Your bike's frame will be extremely safe if they're locked onto these mounts. Also, these systems often have lower profiles, allowing you to mount your bikes safely without the need for much help.
For all their advantages, fork-mounted bike racks aren't perfect.
The main issue with fork mounts is that they don't always work with some bikes. In particular, bikes with disc brakes and thru-axles won't fit without making extensive and expensive adjustments.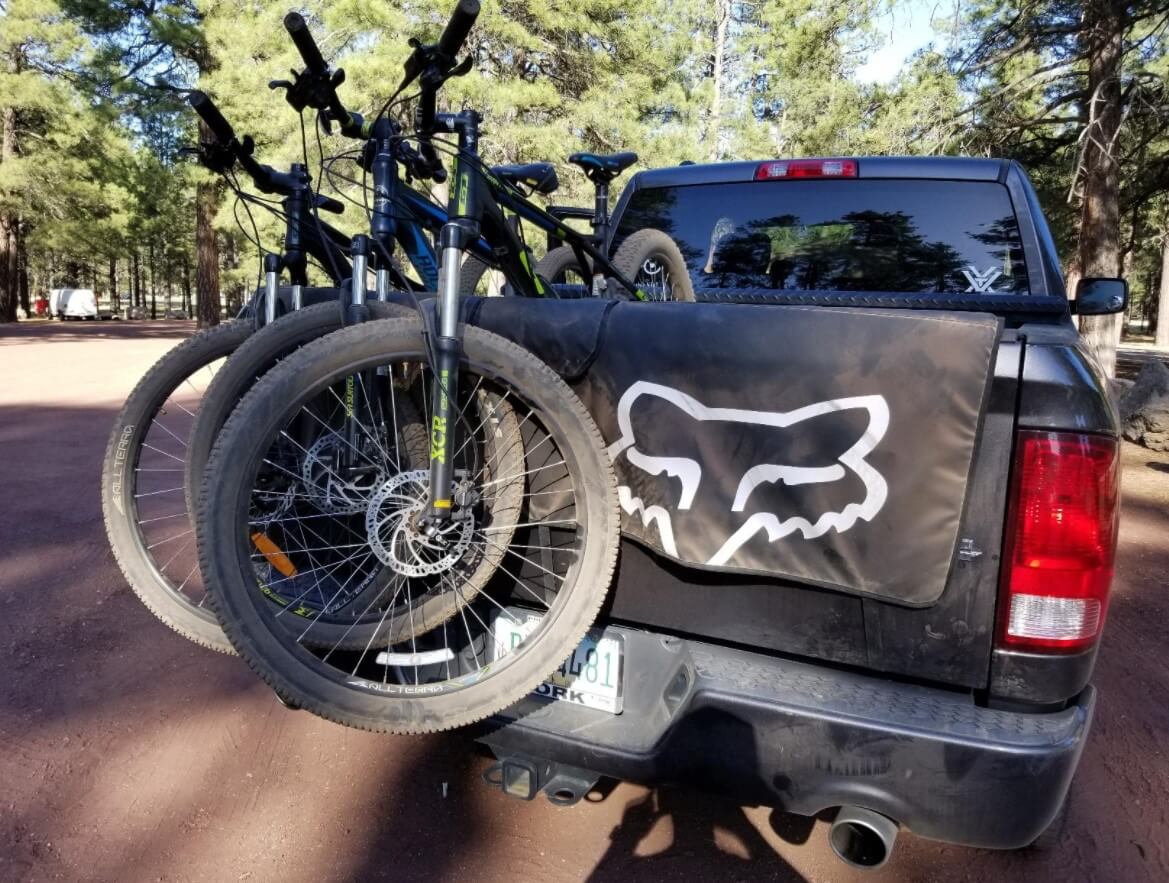 Tailgate pads are a quick, easy, and convenient way of transporting, not just one, but multiple bikes on your truck's bed. This is especially useful if you have multiple bikes out with you when you're out hitting the trails.
Because of their extensive padding, tailgate pads provide protection both for your bikes and for your truck.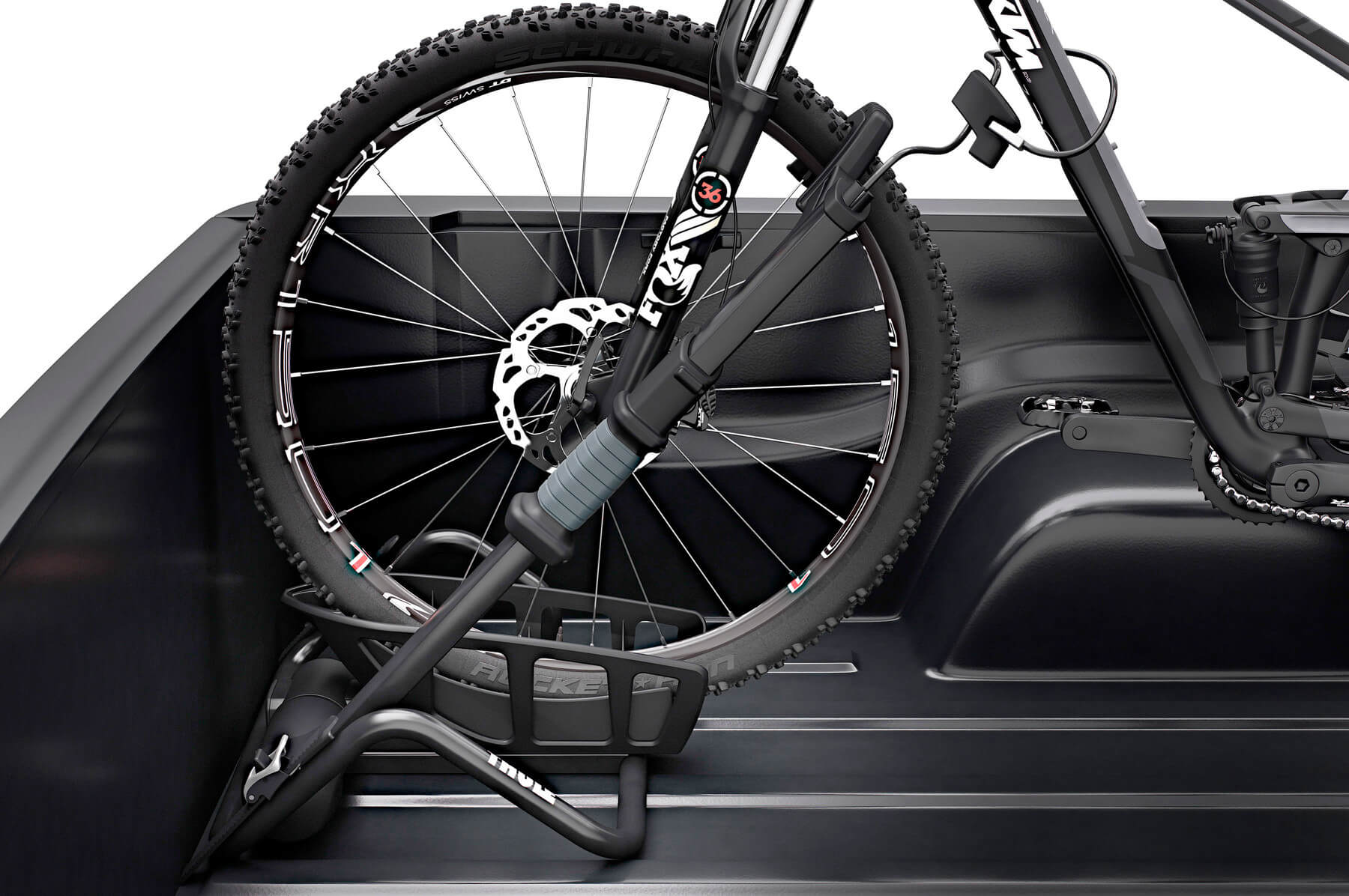 Wheel-mounted bike racks are an excellent alternative to fork-mounted bike racks since they're much more convenient to use. You can even install some wheel-mounted racks on your own without the need for additional help nor tools.
Are Truck Bed Bike Racks a Good Choice?
If you have a truck and you want to mount your bike on it, truck bed bike racks are an excellent choice.
Naturally, the main advantage of having a bed bike rack is it makes taking your bike/s everywhere much more convenient. But, one understated advantage is that the additional foaming doesn't just protect your bikes, it also protects your truck from scratches and dings. This is especially true for tailgate pads.
Truck bed bike racks are also designed to help maximize space on your truck bed so you can store other things on the bed other than the bike.
Another main benefit is that truck bed bike racks can be used to service bikes.
For example, you can use a tailgate pad as a pseudo cover that you can place on the floor to see if something is wrong with your bike. You can also fork-mounted and wheel-mounted bike racks to hold your bike in place while you service it.
Conclusion
If we were to single out what we think is the best truck bed bike rack from our list, we'd have to go with the Thule Insta-Gater Pro Truck Bed Bike Rack.
The wheel-mounted bike rack might be expensive, but it's a price worth paying for. You get a lot of features for your money. This includes the ability to mount multiple truck bed bike racks if you need more space. Also, the fit is secure and tight without requiring additional tools for installation.
There are other alternatives too if you want.
A good example is the Fox Racing Large Tailgate Cover if you prefer tailgate pads. Meanwhile, Swagman PICKUP if you want a more cost-effective solution. But, if you want to get the most value out of your money and plan on transporting multiple bikes at a time, the Demon Tailgate Pad for Mountain Bikes is another good choice.