Getting the best tailgate bike pad is one of the most cost-effective ways to safely transport multiple bikes on your truck.
A good example of a good truck tailgate bike pad is the Fox Racing Large Tailgate Cover. It is a simple, affordable, and easy-to-use bike pad.
Admittedly, it lacks some "premium" features found on more expensive bike pads. However, it does its job of protecting both your bike and your truck from damage well enough.
Read More:
Scroll down below to know more about this tailgate bike pad and other tailgate pads we recommend.
Best Overall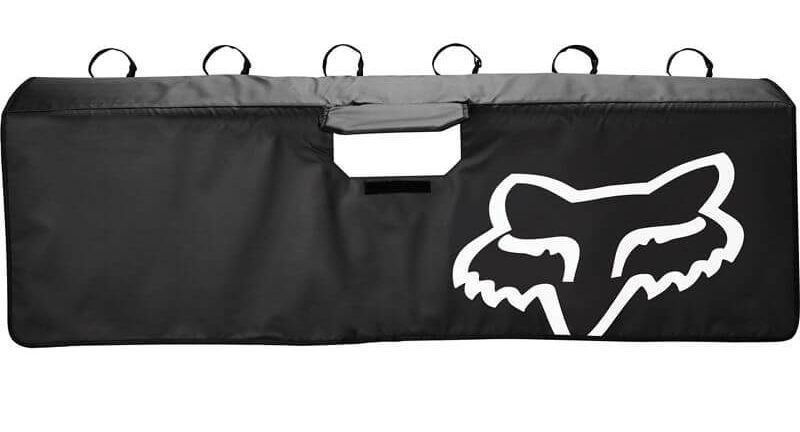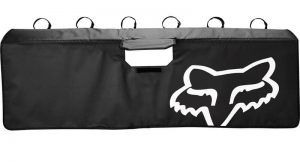 The Fox Racing Large Tailgate Cover is the best example of how it's sometimes best to keep things simple.
The lack of flashy features and looks is a bummer. At least, until you take a look at the affordable price point. The value of this tailgate bike pad goes up even further once you try installing it.
The traditional feed-through buckle design, along with its three straps, means that anyone can install it, even without help.
As for the padding itself, the material is coated and water-resistant. Also, more importantly, it has a secure hold on the bikes, with user-friendly and adjustable straps.
This is especially important as this helps you find the optimal position for your bike depending on its shape and size.
The lack of separation bumpers and anti-theft measures are huge downsides to this tailgate bike pad. But, hey, it has an attractive price point and a 6-bike capacity, so any compromises are understandable.
Pros:
Easy to install
Competitive pricing
User-friendly
Cons:
No premium or flashy features
Runner-Up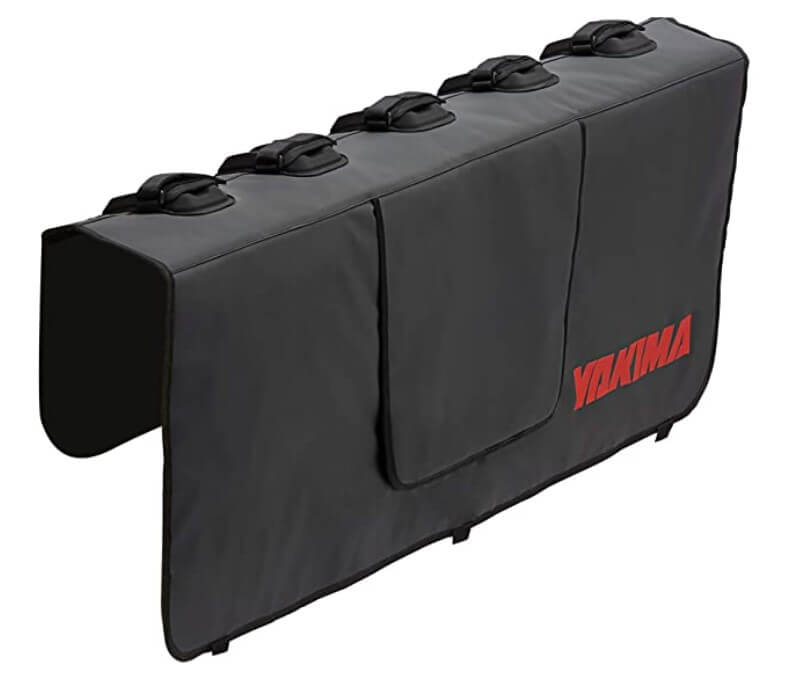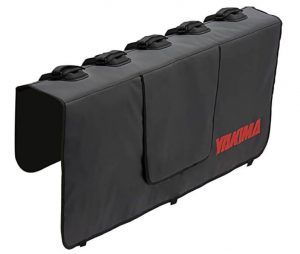 The YAKIMA, Gatekeeper Tailgate Pad for Compact Truck Beds is an excellent alternative to our top choice.
Another advocate of keeping things simple, this tailgate bike pad doesn't even attempt to upend the status quo. Instead, it merely meets the bare necessities. Although those looking for premium features might not like that, for most people, this is enough.
"Straightforward" and "simple" are two words best used to describe this bike pad.
With enough space for up to five bikes, this bike pad is an excellent value. It has molded downtube bumpers for protection and the padded straps help affix your bikes without damaging them nor the truck bed.
Also worth noting are the thicker and wider webbing straps, as they don't tend to flop or move around, especially when you're driving.
An underrated feature of this tailgate bike pad is its gigantic tailgate handle opening. It should work on just about any tailgate handle conversation.
As a bonus, the outer material is made out of a burly coated nylon. It's weather-resistant and appears to be able to withstand its fair share of abuse.
All in all, this tailgate bike pad is a solid if expensive choice.
The biggest issue with this bike pad is how, at this price point, some would prefer something with a bit more premium features.
Pros:
Large tailgate handle
Simple
Broad and thick straps
Cons:
Read More: Best Hitch Mounted Bike Racks
Best Premium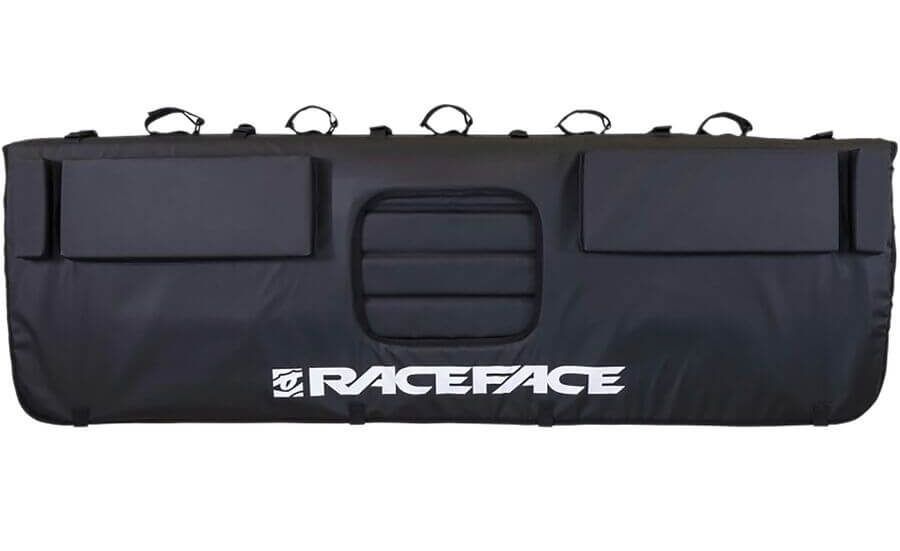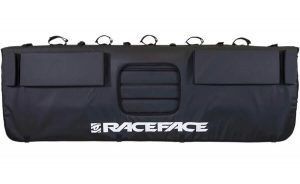 The Race Face T2 Tailgate Pad is the best choice for those willing to pay for more.
Arguably the best raceface tailgate pad yet, the sequel to their original tailgate bike pad comes with notable upgrades. This includes being made out of a weatherproof burly PVC tarpaulin material.
The said material is described to be capable of withstanding mud and grim, as well as the sun.
This tailgate bike pad also comes with an adjustable tailgate window. This innovative feature lets users adjust the handle position opening. In doing so, they can make room for the tailgate handle and backup camera without affecting the covered area of the tailgate pad.
The tailgate pad also comes with 6 padded straps that you can adjust freely to give your bike the most secure hold possible. In addition to this, the raised bumpers help provide better support for your bike's frame.
Meanwhile, the exterior part of the pad has larger pads for added fork stanchion protection.
Capable of holding as many as 6 bikes, this tailgate bike pad also comes with large grommets that lets you lock the pads to your truck bed.
All in all, this expensive tailgate bike pad is worth the money. It combines high-quality construction with an expensive set of user-friendly features.
Pros:
Adjustable tailgate handle flaps
Large grommets
Weatherproof
Multiple paddings for optimal protection
Cons:
Read More: 7 Best Trunk Mount Bike Racks
Best for Unique Attachment System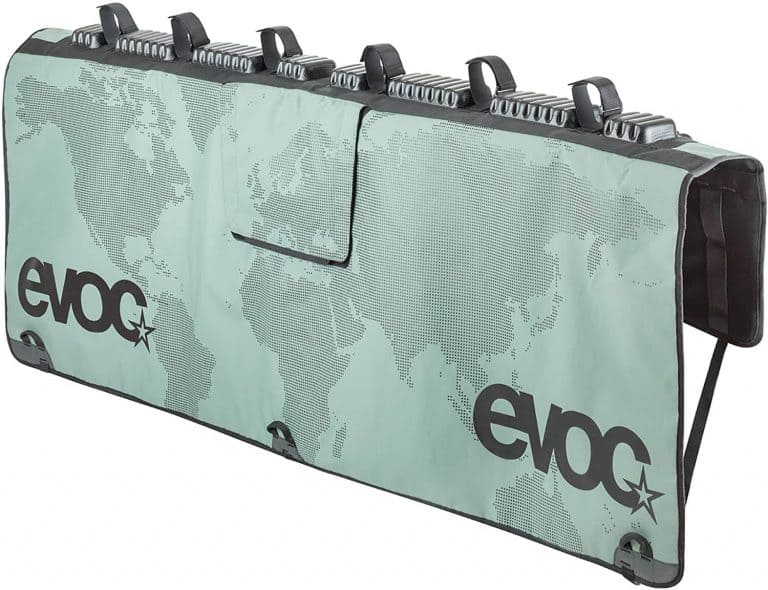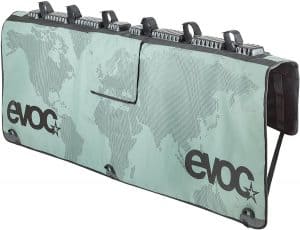 Don't let the simplicity in the name of the EVOC Tailgate Pad fool you. EVOC delivers once again with its now-signature unique and high-quality line of products.
This tailgate bike pad is made out of a PU-coated 600-weight Denier material for all-weather use. Although this gives it a bit more heft compared to others, that's actually a good thing.
In addition to making it feel more solid, the added heft means that it's less likely to flop and move around.
This tailgate bike pad also comes with molded separation blocks and down tube straps. These combine to deliver a very safe and secure hold of any loaded bikes.
Just be careful with the down tube straps. You can't exactly secure them to the pads. If not in use and not secured properly, they could get stolen. In worse cases, they might even fall off while you're driving.
Another thing you'll notice with this tailgate bike pad is that it uses a unique attachment system. It can take some time to get used to its metal hook system.
However, once you get used to it, you'll see that this design choice makes it easier to install and remove the tailgate bike pad compared to others.
Pros:
Highly resilient against mud, dirt, and grime
Unique attachment system
Secure and stable hold
Cons:
Loud graphics aren't for everybody
Small handle flap
Best for those on a Budget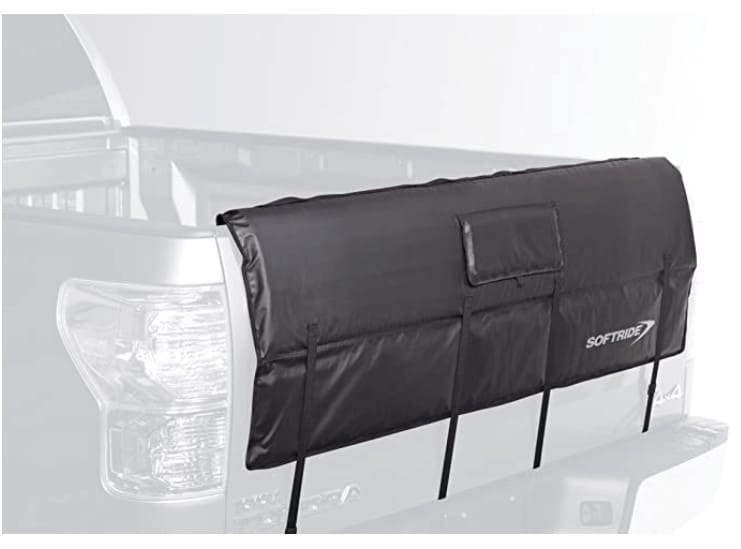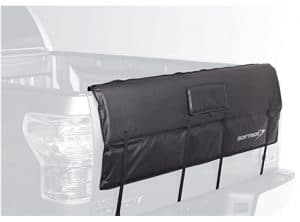 Normally, lower-priced tailgate bike pads aren't worth the money. They provide very minimal protection for both the truck and loaded bikes to be worth it. However, the Softride 26461 is an exception to this.
Despite its low asking price, this tailgate bike pad can still carry up to six bikes. It also doesn't skimp on bike or truck bed protection.
In addition to the rugged nylon straps for a secure hold, this tailgate bike pad comes with heavy-duty foam padding. This helps provide added protection for both the bikes and the vehicle.
On top of the nylon daisy chain, you also use four Softwraps to secure your bikes to the tailgate bike pad.
Pros:
Easy to use
Convenient tailgate release access
Heavy-duty construction
Low asking price
Cons:
Might be too small for most trucks
Best for Mountain Bikes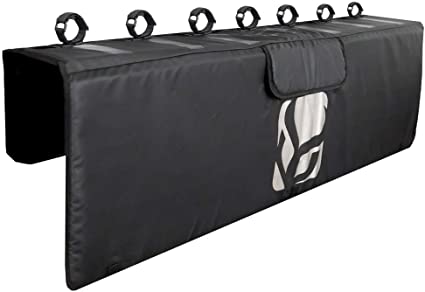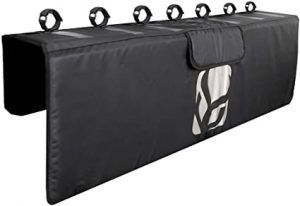 If your ride of choice is a mountain bike, we recommend getting yourself the Demon Tailgate Pad for Mountain Bikes.
Now, just because it's in the name itself doesn't mean that it's already worth buying. You can be sure that this is a tailgate bike rack pad that was specifically designed for mountain bikes.
This includes an impressive size, secure straps for the bike frame, as well as a tool pocket, and a 7-bike capacity.
As for the pad itself, it's made to withstand all kinds of weather conditions and use. The exterior is heavy-duty vinyl. Meanwhile, the interiors are ultra-soft fabric and there's a 3/4-inch foam filling cushioning the bikes. This guarantees that the bikes stay in their respective places all the time.
The handy access flap means that you don't have to remove the pad at all and the Velcro-trimmed web cinch straps guarantee a proper hold.
As a bonus, the reflective panel on the logos makes sure that you're visible even at night.
Pros:
Logo-embellished reflective panel
Affordable
Fits up to 7 bikes
Generous foam padding
Cons:
Best for Durability


Simple, easy to use, and most important of all, durable.
That's what the Dakine Pickup Pad DLX is.
This large tailgate bike pad is fitted with individual bike anchors that allow it to securely hold as many as 7 bikes. It is also made out of 1000D recycled polyester, complete with UV weather coating for added all-weather protection. Not to mention, it has an easy-access flap for the tailgate handle for convenience.
For added vehicle protection, these tailgate bike pads come with a fleece lining backing up the polyester textile. The four web cinch straps then guarantee that the pad stays in place, regardless of the road conditions.
As a bonus, the manufacturers designed this 60-inch wide bike pad to give you a clear view of what's behind you via the rear-view camera.
Pros:
Individual bike anchors
Holds as many as 7 bikes
Supports back-up cameras
All-weather protection
Cons:
Read More: 10 Best Garage Bike Racks
Best for Large Size Tailgate Pad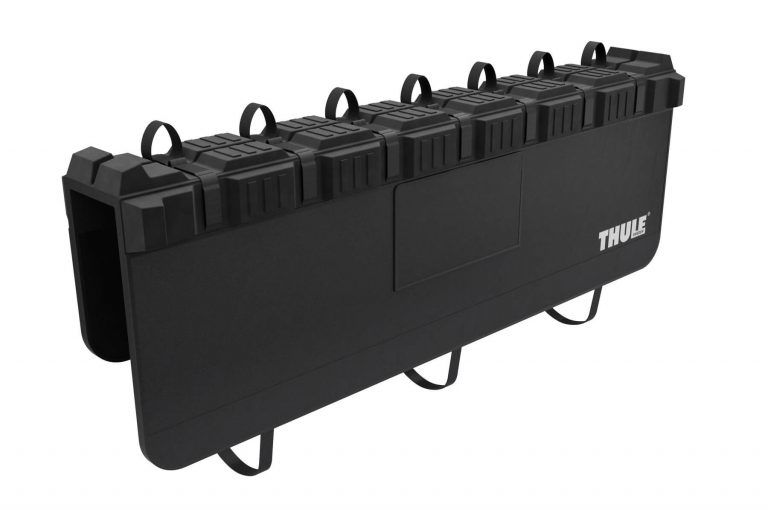 For larger trucks, the Thule GateMate Pro Full Size is a good choice. The flexible and adjustable padding supports several tailgates, especially larger ones.
Meanwhile, it has a large handle opening that supports backup cameras. Also, with its integrated bike separation and multi-position strap anchors, bikes will stay in place even on rougher roads and terrain.
The heavy-duty vinyl then provides optimal protection for both the bikes mounted and the pick-up you're installing this tailgate bike pad to.
A welcome surprise is its inside-facing mesh pockets. You can use this to store your bike gear.
So long as you're willing to pay the premium and you need a large sized tailgate bike pad, it's hard to beat what Thule's offering brings to the table.
Pros:
Flexible and adjustable padding
Made for heavy-duty use
Inside-facing tool mesh pocket
Back-up camera support
Cons:
Might be too big for most standard truck tailgates
High asking price
Best for Ease of Use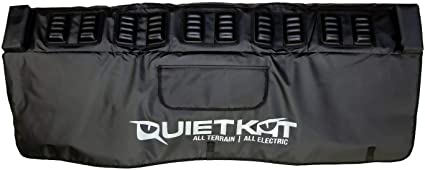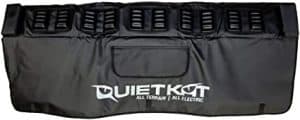 The QuietKat STG Pickup Truck Tailgate Pad takes being user-friendly to a whole other level.
This tailgate bike pad is pretty much universally compatible. The attached straps are compatible with most pickup tailgates, regardless of size. But, make no mistake, a universal fit isn't the only reason why we recommended this tailgate bike pad.
In addition to its ease of use, another strength of this tailgate bike pad lies in its utilization of QuietKat's very own STG technology.
This feature allows this tailgate bike pad to provide maximum tailgate and bike protection. It uses a combination of high-density foam and double-stitched seams to achieve this.
This tailgate bike pad is also weather-proof and has divided slots that support as many as 5 full-sized bikes.
Pros:
Proper and secure bike placement
Built-in bike dividers
Convenient Velcro window opening
Easy installation and removal
Cons:
Best for those on a Budget (Alternative)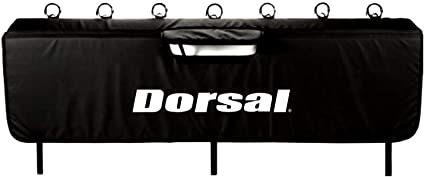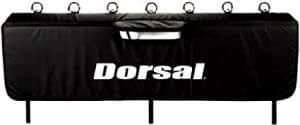 Are you looking to save money? Then look no further than the DORSAL Sunguard Tailgate Pad.
While we won't recommend this for someone who uses their truck to load bikes a lot, it's a good choice for occasional use. It comes with 3/4-inch foam padding and is covered with heavy-duty woven nylon exterior covers, as well as an ultra-soft underside for tailgate paint protection.
You also get a tailgate handle access flap that lets you open the tailgate without having to remove the tailgate bike pad.
Pros:
Cons:
Not easy to install
Quality control issues
Tailgate Bike Pad Buying Guide
Tailgates come in handy for people who shuttle multiple bikes frequently but don't want a permanent solution. They're relatively quick and easy to install. They also provide ample protection for both the bikes and the pick-up truck.
However, choosing the right tailgate bike pad isn't easy.
Below are a couple of factors that you should consider if you want to get the best tailgate bike pad for the money.
Bike Capacity
Bike capacity isn't as big of an issue with tailgate bike pads compared to other kinds of bike racks or mounts.
The main reason for this is that most of them can carry four or five bikes comfortably. However, it's another story if your truck is the vehicle of choice for your squad. In that case, you'll want to get a tailgate bike pad that has a 6- or 7-bike capacity.
Features
All the tailgate bike pads we recommended come with some form of securing straps. They act to help keep the bikes stable and secure while you're out on the road. This is especially true if and when you drive through rougher roads.
The best ones come with additional straps and tabs for additional bike security and stability.
To secure your bikes to the pad, the pad has to be attached properly to the truck's tailgate first.
A common feature among most tailgate bike pads is a ladder-lock buckle. This works well in most cases. However, some manufacturers change the design. This is to make the strap easier to secure and remove while also minimizing any excess webbing.
Molded foam bumpers and separation pads are excellent additions found on some tailgate bike pads. This is because these grooves act as a place for bike frames to rest so they don't move around.
By design, most tailgate bike comes with thin players of padding inside the pad itself. However, some have thicker padding compared to others.
Durability
The better the materials used, the longer a tailgate bike pad will last despite constant use.
The best tailgate bike pad is made out of high-quality materials. This guarantees that it will last for years, even when it's constantly fully loaded.
Material
One thing in common that the tailgate bike pads we recommended have is an underside with soft lining material. This is to prevent the bike pad from scratching your tailgate once it's mounted.
Another common feature in high-quality tailgate bike pads is that they are made to withstand all sorts of weather.
Polyurethane and vinyl rubberized coatings are considered more weather-resistant.
Size
Tailgate pads usually come in two sizes: small and large.
Small-sized tailgate pads typically support only three to four bikes, but some can support more. They're better-suited for small to mid-sized trucks. Meanwhile, if you have a full-size truck like the Ford F-15 or a Nissan Titan or a Toyota Tundra, we recommend getting a large-sized tailgate bike pad.
Once you choose the right size, make sure that the bike capacity is a bit more than what you need.
You'll never know when you might have to carry the bikes of stranded riders.
Conclusion
If you think that these tailgate bike pads are the same, you're not alone. They all look very similar and have roughly the same set of features. However, if you look closely enough, there are some differences. This includes a difference in the level of protection, material quality, as well as ease of installation and removal.
With that said, the Fox Racing Large Tailgate Cover is a good example of a no-frills tailgate bike pad. It's simple, straightforward, and easy-to-use. Even though it doesn't have that many premium features, it feels solid and should last long.
If, however, you got a bit more money to spare, go with the Race Face T2 Tailgate Pad or the Thule GateMate Pro Full Size.
These are premium-priced tailgate bike pads. They come with a lot of features. However, if you don't need the said features, you might just end up wasting your money.
Read More: