If you are searching for the best bike rack for the whole family, swing away hitch bike rack is the perfect choice. In this article we will break down our top 8 the swing away bike rack to help you determine what is the best for you.
All the products we list below have the excellent quality, heavy-duty function, versatile and superior design and moreover, they worth every penny like Thule Apex XT Bike Hitch Rack. To obtain more information about platform and hanging bike rack, read our buying guidance below the list.
Read More:
Best Overall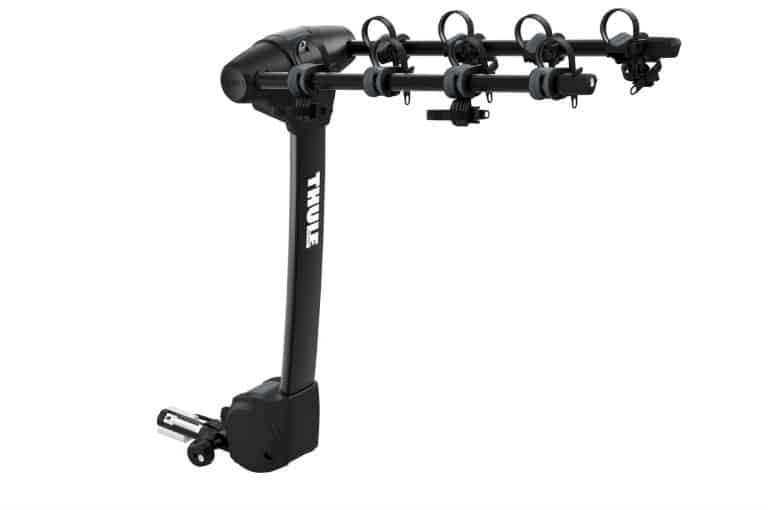 Thule is a reputable brand and Thule Apex XT Bike Hitch Rack is one of their outstanding products and it is also our favorite one in our list.
The premium hanging hitch bike rack is able to transport up to 4 bikes with 150 Ibs in total in a compact package. It includes anti – sway cradles, ratcheting cradle straps and a bike lock which provide superior bike protection. Moreover, the cradle is designed to have 7" spacing between each bike, so scratching of bikes is free.
Tool – free installation helps users put up together easily and quickly and the rack swing away allow us access the rear of vehicle with no challenge even when it loaded full bikes.
Bike arms can fold down smoothy when it not in use. This rack is the good idea for a wide variety of bike size and frames styles even women's bike and children's bike.
Pros:
Safe and secure
Stability
Easy to use
Sturdy
Access the rear of vehicles.
Cons:
Runner-up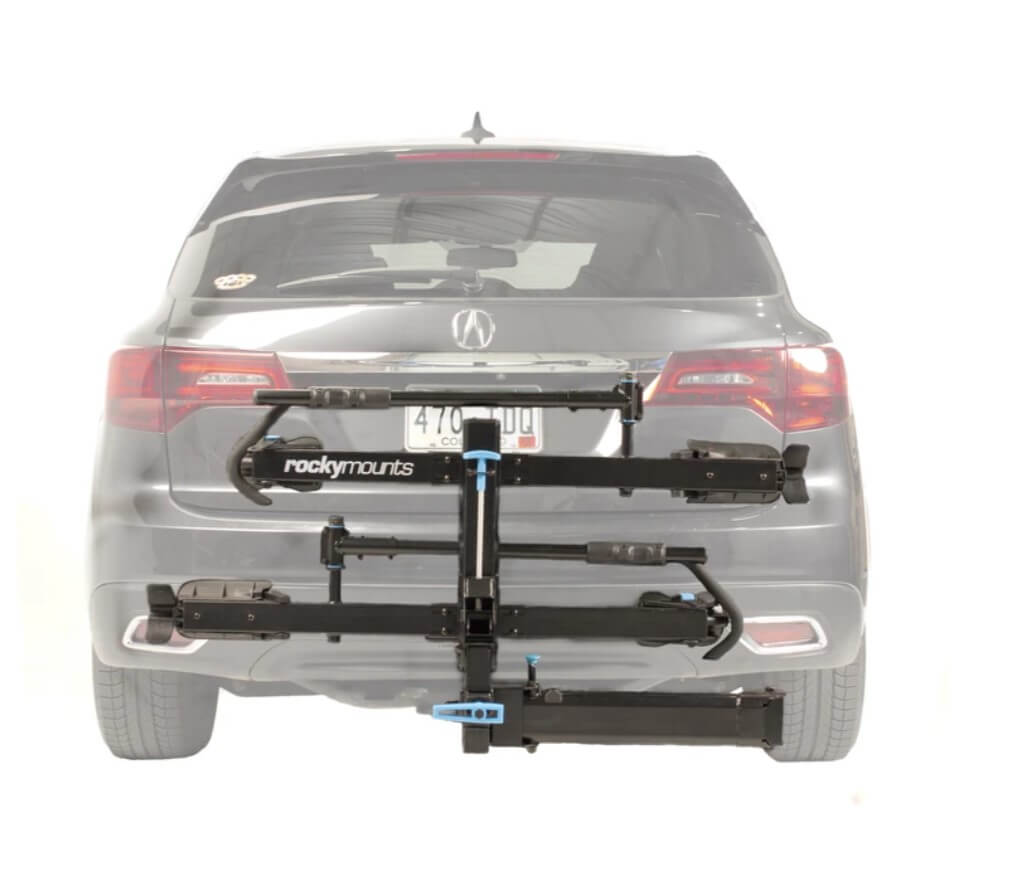 Among various competitors are equipped extra feature in the same category, RockyMounts BackStage is the leader. Although the price of this platform hitch rack is expensive, in long term it saves money. It has a good-looking design, a good quality and most of basic functions as Thule Apex XT Bike Hitch Rack.
The BackStage is the first swing away platform hitch rack on the market that swing out 180 degree. It is easy to fit perfectly with truck, SUV or camper van. BackStage is a two-bike rack only and this let the wheels of bikes lie on the bike rack, secure bicycle by front wheel.
Many customers love this rack and feel super convenient because it is easy to use, even with the bikes on it. You will experience the comfort trips without worry about the bikes move out of the rack while driving, even on bumpy roads due to locking hitch pin, cable lock, keyed alike.
Another special feature of this item is it folds flat against the vehicle, and tilts down 30 degree to allow for hatch access.
Pros:
user- friendly
super solid
security
Cons: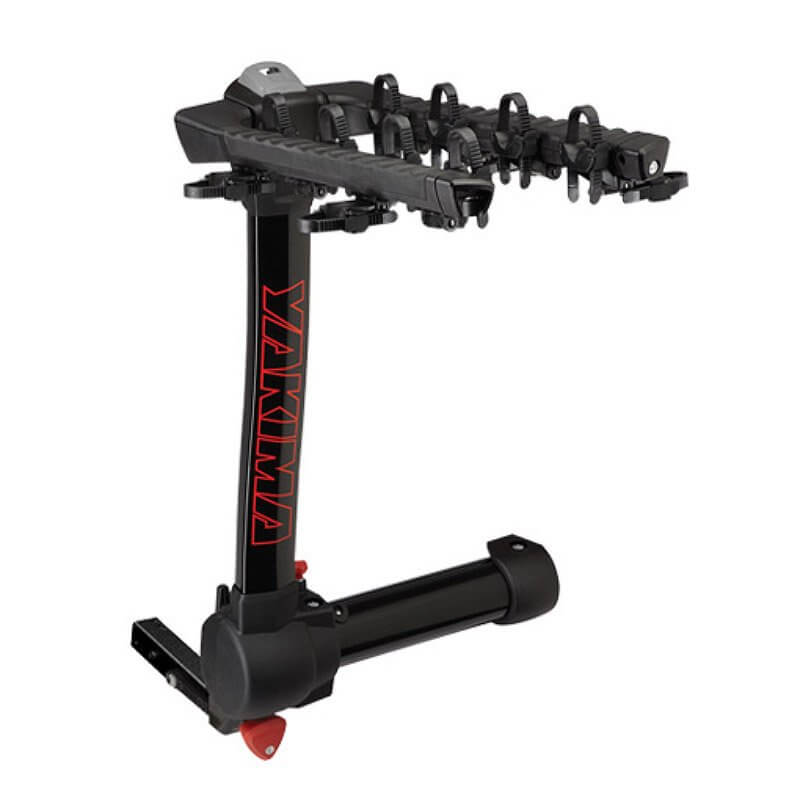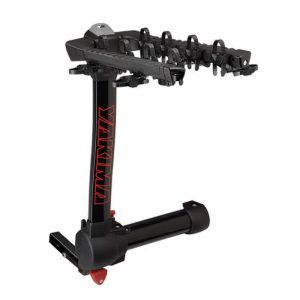 When you are looking for a bike rack that would last a lifetime and have ability to carry all bikes of your family, Yakima – Full Swing could be the one.The Yakima rack fits as a variety of bike frames so it is suitable for every member of your family. It also swings away with one touch, for easy and quick access to your back door of your car, truck or SUV whenever you need.
This carrier is designed with full padded arms which provides ultimate bike's protection and fold down when not in use. Moreover, your purchase included Zero- hassle Zip Strips secure the bike to the rack to enhance the protection incredibly regardless of bumps or rain.
Unlike other products, you can easily and quickly install and remove this one before and after every outing. That's one of the top advantages.
However, customers need to pay extra fee for additional adapter to use this rack for woman's bike and child's bike. And it weights a 75 pound so installing it or removing it from vehicle may be challenging with limited strength.
Pros:
easy assembly,
heavy-duty,
solid,
security
Cons:
warranty is not transferrable and does not cover rust
need adapter for woman's bike or child's bike, heavy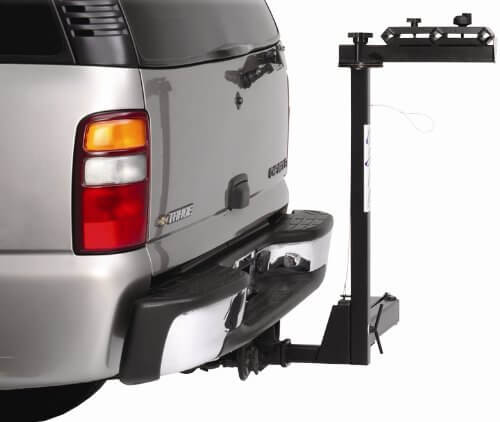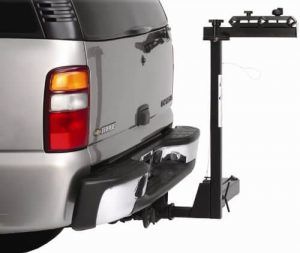 Surco released Surco DBR400 to provide a versatile, sturdy and well-engineered bike rack for riders on a tight budget. Comparing all the function of Surco DBR400 to its price, this is a great deal. The fact that is much cheaper than its more famous competitors.
The best thing about this rack that is the bike rack swings completely out of the way allowing full access to the rear of the vehicle. The swing part of this rack works well and easy to use.
Bikes are securely gripped in a non- scratch padded channel with the lock security holds the bikes locked to the rack. The swing away carrier manufactured from a heavy- duty steel with a durable black powder coat finish that built a solid bike rack.
Some customers reviewed that the bolts of the rack are unnecessary but this is the reason you leave your bike in the rack with no threading from thieves.
Besides advantages, this carrier also has some hard features like it takes time to assemble and needs more locks or straps to keeps the bikes do not move when driving.
Pros:
Cons:
not fit to any bikes,
quite hard to install.
MaxxHaul is the manufacturer that is famous for their MAXXHAUL 70210, which is another smart choice for those are on tight budget.
The rack made of steel so it securely transports up to 4 bikes and it also adjust a variety types of bike cradles thanks to hook and loop strap. Furthermore, it has light, compact design to transport and storage effortlessly and that absolutely helps you save time and energy on installing or removing this bike rack.
Swing down feature allows you easy access to rear of vehicle like other swing bike carriers.
However, this rack just fits to some types of vehicle so remembering to check more details in MaxxHaul's website
Pros:
good price,
light weight,
solid, compact design
Cons:
Not for use on RV's, campers and fifth wheels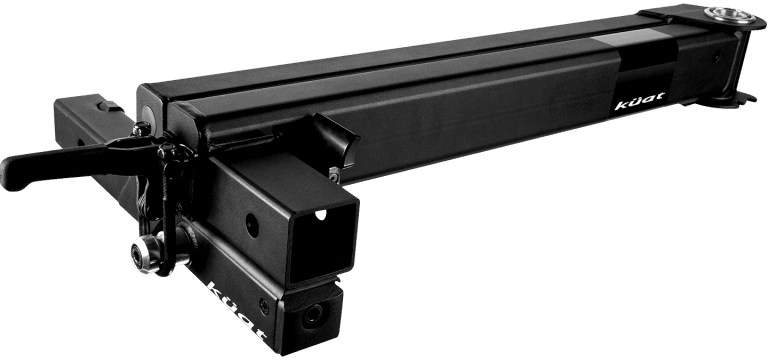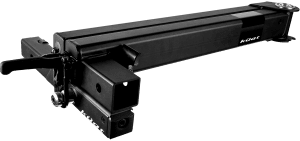 One another our favorite product comes from Kuat and it is Kuat Pivot. This bike rack against other competitor in term of incredible performance and price.
The Kuat Pivot carries the maximum of 250Ibs, which is nearly two times higher than other platform bike racks but its weight is not too heavy when it compares to the same kind products.
You would assemble the Kuat Pivot 2 by following the clear instruction or contacting to their careful customer services. The swing mechanism is easy and smoothy to use with bikes on the rack.
Moreover, they also offer you a hitch extender that will reduce your hitch's overall capacity by 50 percent and eliminates the risk of your handlebar tapping rear door on rough roads.
Pros:
Heavy-duty,
security,
easy to use
Cons:
Limited lifetime warranty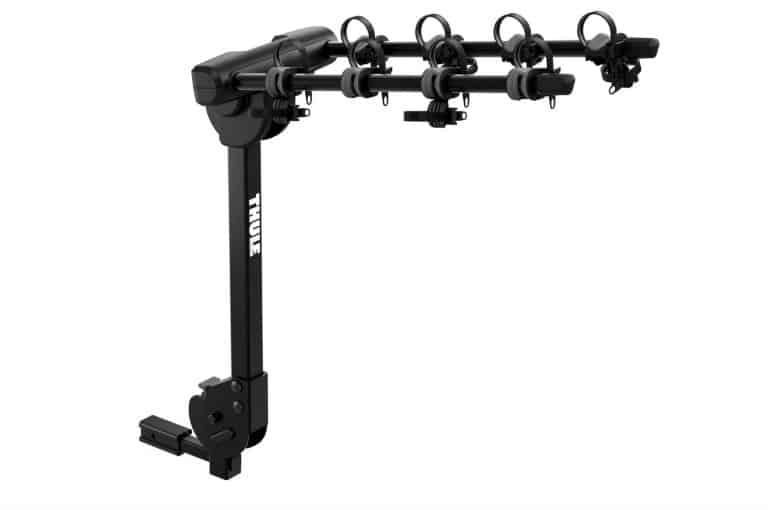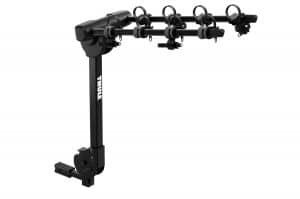 Another well performance item from Thule is Thule Camber that shares various outstanding properties like its brother – Thule Apex XT Bike Hitch Rack.
This hanging hitch-mount bike carrier for 4 bikes although hanging 4 adult size bikes on it would require a Tetris expert.
This Thule is solid and can be adjusted to fit various bike frames. The 7" spacing between bikes and integrated anti-sway cradles provide for safe, secure transport and prevent bike to bike contact.
The rack is designed to tilt away for rear of vehicle accessing and it is easy and efficiency to use. When it is not in use, the dual folding arms functions will be very useful and convenient.
Several things that customers should be careful that the plastic straps get stuck sometimes and woman's bike and kid's bike may not fit perfectly.
Pros:
secure and safe
dual folding arms
easy to use
Cons:
plastic straps
quite heavy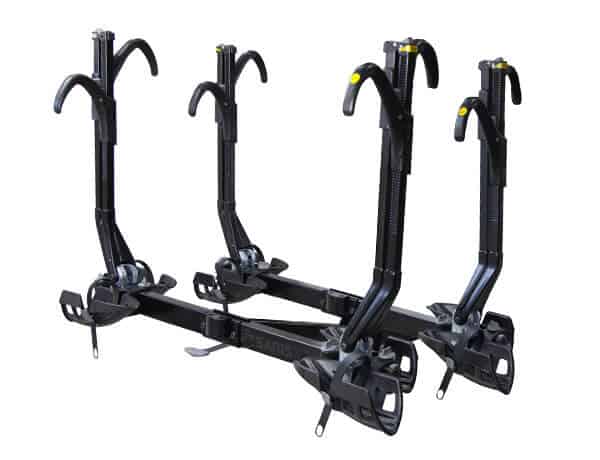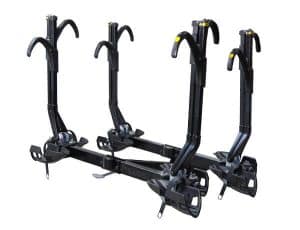 Last but not least, a bike rack we suggest you is Saris Superclamp. This superior rack is the one for the riders who are looking for lightweight rack but still be heavy-duty. With only 35Ibs and max capacity up to 120Ibs, the Saris complete perfectly all its duty.
SuperClamp will please you by robust construction, eye- catching style and compact design. The tilting feature allows hatch access, even when fully loaded, and fold down when not in use.
This swing away rack includes locking hitch pin to lock the rack to your car and locking cable to lock the rack to bikes. It also has straps for extra security.
The SuperClamp platform rack promises all bikes a truly secure ride without touching bike's frame.
Pros:
easy to install
lightweight
Cons:
the locking cable is a bit short
What To Consider When Buying A Swing Away Bike Rack?
Before you decide to buy a bike swing away carrier for your vehicle, it would be great when you gain some main aspects of a bike rack. Therefore, you might recognize the best one for you.
There is an extensive range of swing away racks but only two types of carriers are available on the market.
Platform hitch bike rack
Hanging hitch bike rack
A platform rack is a bike rack where your bike's wheels rest on the bike rack whereas the hanging rack is one in which the frame rests on the bike rack.
Installing or removing the hanging takes less time and effort than the platform. But you should check information of the hanging rack carefully because it does not fit as many different bike styles or you need add an adapter or locks to use it well. In contrast, the platform one suitable for various bike style and less contact to your bikes.
Counting the number of bikes and the total weight of bikes before having a bike carrier is necessary. Most of swing away bike racks are heavy- duty so this category is perfect option for a family.
Read More: 9 Best 4-Bike Hitch Racks
All the swing away bike racks have their own a max number of bikes they can load and the maximum of weight per each bike. They are two different numbers so you should calculate carefully to pick the suitable one. For instance, if a rack for 4 bikes with max weight capacity is 150Ibs and max weight per each bike is 37.5Ibs, it enables you to bring 4 bikes and each bike has max weight is 37.5Ibs. Even though you just have two bikes, but one is heavier than 37.5Ibs so you can not use that rack to carry that bike.
You don't want to worry about your bikes or your car while you are driving, therefore, you should take the one gives you the great value for your money and time.
Another way to increase the protection to your bikes and vehicle is back up safer lock or other protective parts from the same manufacturers.
All the production I mentioned above made of steel to carry heavy weight and to be solid and strong regardless of bumps roads or bad weather but this metal leads to rust. In case you want to avoid corrosion so you may be satisfied with the product used black powder coat finish to resist oxidation such as Surco DBR400 or Kuat Pivot 2 Swing Away Hitch Extender for Bike Racks .
The final verdict
Hopefully, the basic information I gave above is helpful for you.
Most people are seeking a bike rack with the best performance and a reasonable price so Thule Apex XT Bike Hitch Rack might be the convincing option. If you want to save money but still own the outstanding product then the MAXXHAUL 70210 or Surco DBR400 can be your choice. In case you are considering the best resistance bike rack carrier so the Kuat Pivot 2 Swing Away Hitch Extender for Bike Racks is a great deal.
This is the top 8 bikes swing away carrier we offer to you. You will have various types of bike rack to choose up to your preference so make sure you will spend time and money wisely and buy the right one.