Bringing a 6 inches surfboard to the beach by your bicycle has never been easy as it is now- with a surfboard bike rack. A highly compatible rack with your bike and surfing board is being considered to be a good one.
We have listed the 9 best surfing bike racks below, which bases on the most important factors of compatibility. This is to provide you an overall look at the one you need.
Come first to our choice is Moved By Bikes MBB brand. The company produces mainy two styles which are MBB Longboard Rack and MBB Shortboard Surfboard Rack.
With a history of nearly a decade, the lightweight and sustainable surfboard rack for bikes give you the best convenience ever.
Read More:
Best Long Board Bike Rack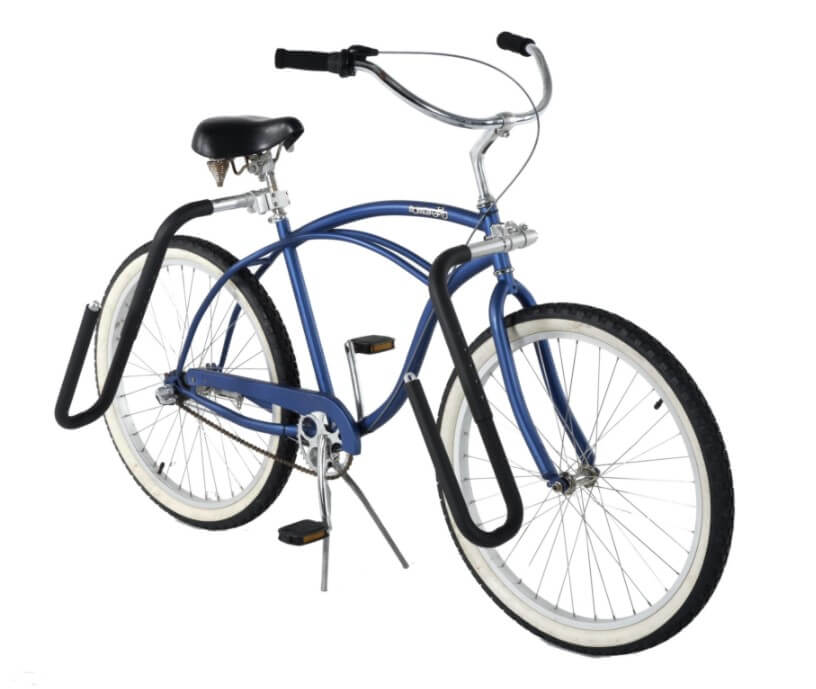 As its name, Moved By Bikes Longboard Rack is extremely useful for transporting the large and extra-large sized surfboard. You may not be only keen on surfing, but also be a fan of stand-up paddleboarding. And then carrying those ones up to 25 pounds is not a problem for you with this surf rack.
There are two U-shaped bars, in which one bar connects to the head tube while the other fix to the rear rack or seat post. This divides the heaviness of the board for both arms equally.
Receiving almost 5 stars from customers, the rack releases you from complicated installation. The quick-release bars for instant setting and removal. it takes you only about 10 minutes for doing this. Quick store when not in use.
The manufacturer also puts attention on frequent exposure to seawater of the rack. That's why aluminum and stainless steel are the surfing bike rack's materials, which helps prevent rust and oxidation. Therefore, this also protects your priced bike.
Last but not least, the MBB rack also won the users' hearts with a feature loop made on the rack ends for dog leash. So that you can enjoy so much fun with your lovely pets on the beach.
Pros:
Suite oversized boards, up to 12 feet
Loops for dog leash
Cons:
Best ShortBoard Bike Rack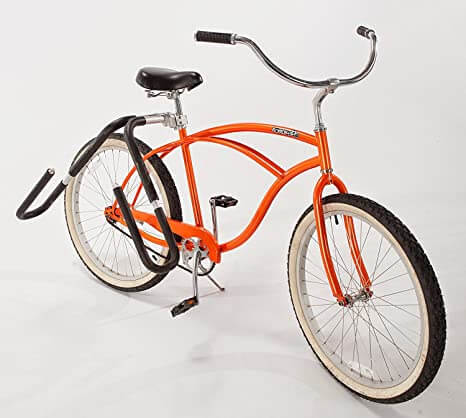 MBB Shortboard Surfboard rack is another ideal model for small and medium-sized surfboards. Including skimboards. With a lower price compared to the long version. We recommend this for surfboards up to 7 inches in length.
Easily remove and reattach a bike with simple accessories in the box. The surf bicycle rack encompasses mainly two L-shaped bars and two U-shaped bars. These lightweight bars attach to each other by simple push-buttons, which are the unique feature of the brand.
There are the preassembled assemblies in a plastic bag that helps you shorten the time for installation. If you have a carrier, you can take advantage of it by mounting the rack.
You don't have to worry about your head tube's size or style. Because there are fully necessary accessories in the box. In case you have an extra-large head tube or a front basket, just simply disassemble some rubber covers or adjust the direction of the clamps.
Pros:
Lightweight
Easy assemble
Works with all type of shortboard
Cons:
Board longer than 7 inches must be excluded
Best for Security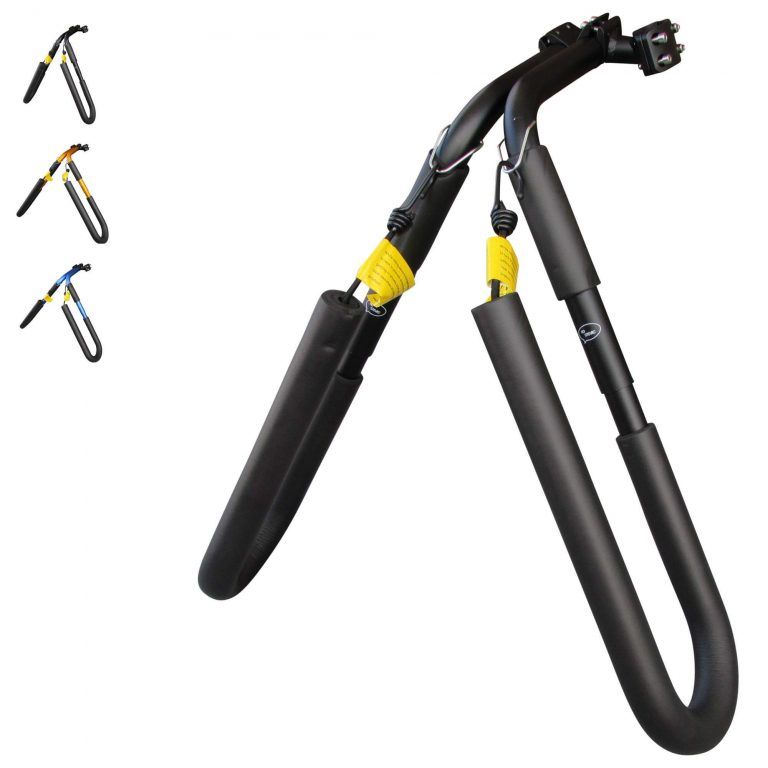 Another ideal choice for carrying a surfboard up to 8 feet in length is Ho Stevie! Surfboard Bike Rack. At the first look, you can recognize several similar features with MBB Shortboard Rack. There are also two U-shaped arms attached to the seat post.
With this design, they are appropriate for safely transporting your surfboard with almost all types of bikes. We can name some such as Beach Cruiser, Road Bike, Mountain Bike, BMX Bike…etc.
Ho Stevie! Surf Rack also guarantees the protective function. Especially from the saltwater attacks on your bike. With strong aluminum construction, it can release you from the worry of chipping off the paint as other normal racks do.
A difference in Ho Stevie! Rack is the addition of foam and bungee cords. To prevent dings and scratches when driving, foam cover around arms and bungee cords wrap around your surfboard.
Moreover, the surf bicycle rack provides adjustable carrier arms which aim to fit perfectly for the surfboard and the bike. These also reduce obstruction by rotating them inward or quick removal when not in use.
Pros:
Adjustable carrier arms
Easy assemble with one tool
Cons:
Maximum board length to 8 feet
Best for Affordable Surf Bike Carrier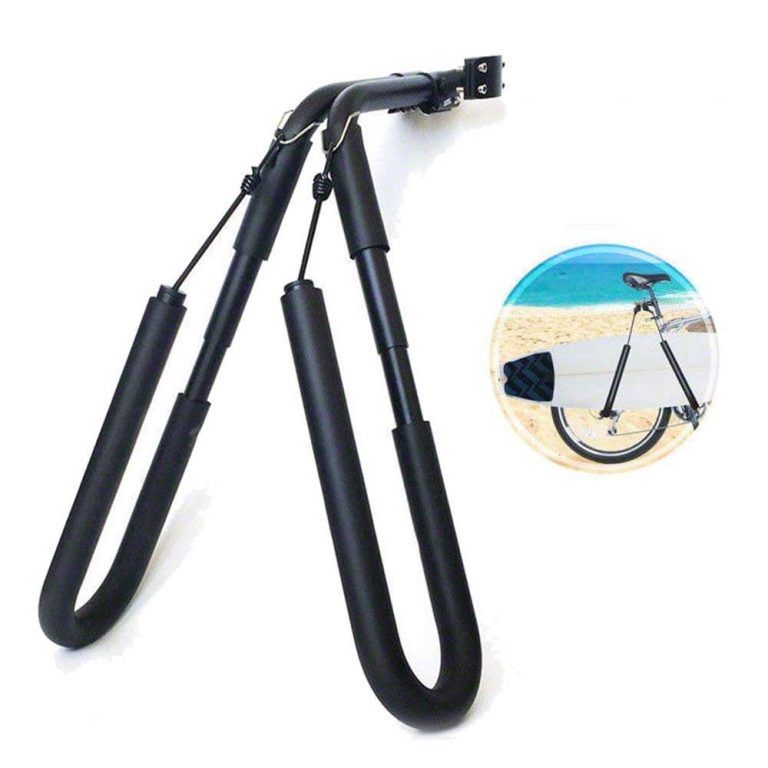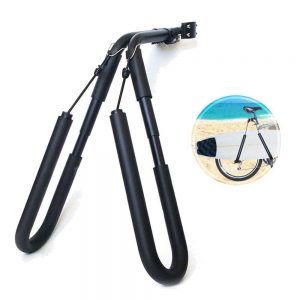 Lixada AU Stock Surfboard Rack has a rather compact design for its tube diameter is only 2.8 centimeters. So they fit in your palm. This product is another solution for your budget. They provide you a similar style holder for a short type of surfboard, skimboard, or kiteboard.
There are telescopic free up and down cylindrical tubes. They support the assembly much more simple and handy. And the tubes join together to form the U-shaped arms which hold your sports board firmly. Rubber strings with wire hanging hooks enhance the keeping force in the surfboard.
The rack is also light with an aluminum structure. Whereas padded soft foam is for protection purposes of bumpy roads. You can adjust the length of the U-shaped arms from 40 up to 90 centimeters for many carrying intents.
Pros:
Cheap
Lightweight with aluminum material
Weight capacity up to 20 kgs
Cons:
Mounting to seat post limits 25 to 35 mm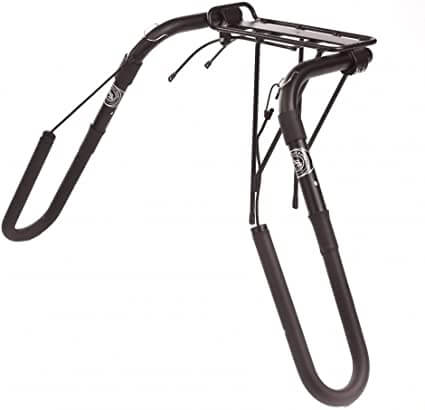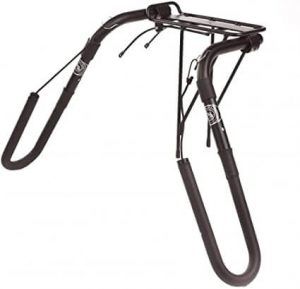 This surfboard bike rack costs a bit higher than its former counterparts. It is due to there is a bicycle rear seat in the fabrication. This model broadens the distance between two U-shaped bars. This means it supports more weight and length of the surfboard.
Therefore, the rack integrates well with different racks of configurations and sizes. And must include the one that is up to 10 feet long and 4 inches thick. Carver Surfboard Bike Rack also offers you a chance to release the pressure of your personal bag. In which you put stuff like towels, sunscreen, swimwear, gown…etc.
The reason is you can put them on the rear seat and tie them with bungee cords. 6061 TIG welded alloy and paddled aluminum are the mandatory features to protect the bike from corrosion or oxidation.
Pros:
Fit all bike types
Take advantages of bike holes
Carry up to 10 feet longboard
Cons:
Arms could be easily stolen
Best Rear-Mounted Longboard Bike Rack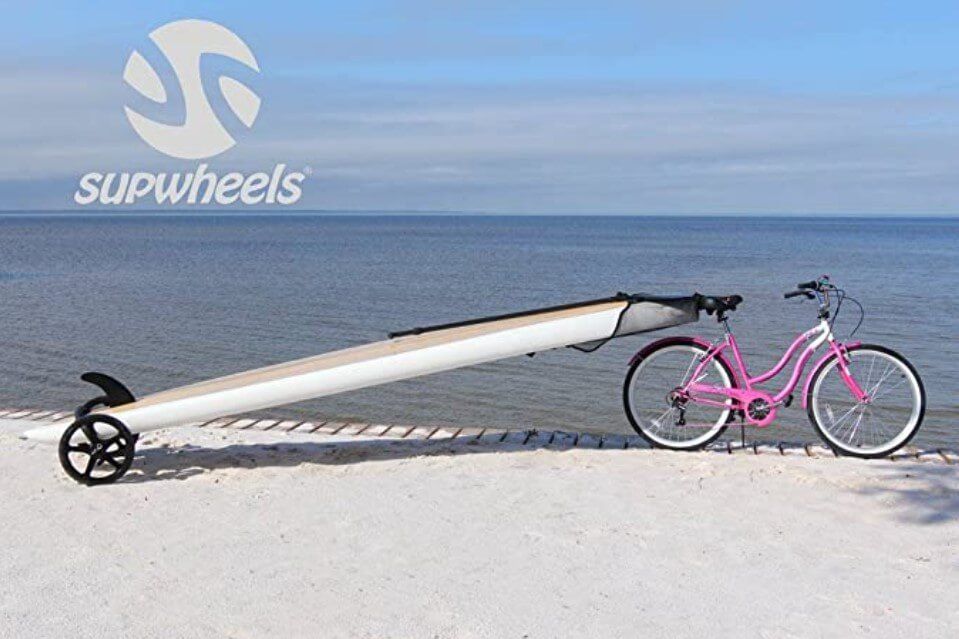 For many people, counterbalance is a big problem while cycling. That's exactly what SUP Wheels Evolution brings the best solution for you. You will immediately know how to maneuver the components that fit well with your bike and your board.
Basically, there is a net and a wheel in the package. Put your surfboard on the wheel then fit it with the rubber strings over the fin. The net will take on the mission of keeping the board firmly into your bike seat.
Because of this distribution, the majority force put on the 7-pound carrier. The surfer not only frees his hand for a drink but also lightens the load on pedals. The rack is good for hard boards, touring, race, and all-around SUP boards.
Another striking point in this way of operation help reduces the risk of dropping your board. Because you put the board horizontally on the wheel, not vertically. You can even drive your board on the beach sand for the reason of rolling wheels.
Pros:
Freehand to hold phone
Balance force on muscle
Roll on the beach sand easily
Cons:
Take time for maneuvering
Limit some tailpiece shape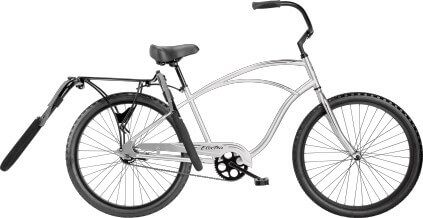 Although Electra Longboard Surf Bike Rack could bring you a similar outlook as other longboard surf. It is really helpful in reducing space when traveling. Imagine you need to move something else to another position, like, for example, a heavy electric guitar. When you are back home, you are out of guitar but only the rack.
The design of rotate carrier arms offers you a storage solution and easy install as well. With no extra tools included, what you need to do is just assembling within the package.
A clamp with a double circular tray will help you connect the seat post with two alloy removable arms. Just tighten them with bolts with an included hex wrench. The total weight of the surf rack is only 7 pounds but its carrying capacity is up to 55 pounds. This gives you a lightweight and comfortable feeling.
All hardware is rust-resistant to wet conditions. Therefore, you do not have to worry about a seawater attack. Instead of bungee cords, the rack uses 15 mm straps to secure your board, usefully remove when not needed.
Pros:
Multitasks are involved
Easy handling
Lightweight and fit hand
Cons:
Max board length: 10 feet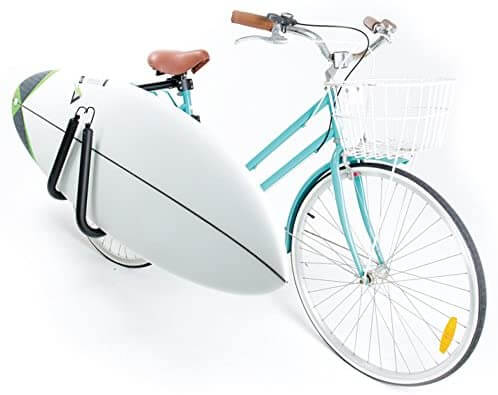 Another popular choice for surfers that ease their anxiety with their bike type. Onefeng Sports Surfboard works all types of bikes, even it is a Beach Cruiser, a Road Bike, or a Mountain Bike with or without suspension.
Onefeng may not be the first brand you think of when deciding to buy a bike rack for your expensive surfboard. Nevertheless, it is a great solution for an affordable one. You don't have to be afraid of material or fabrication.
Made of sturdy aluminum, it guarantees anticorrosion against salt environments such as rust. Foam covered arms also protect your surfboard from dings or scratches. For the easy installation aspect, I must say the rack performs well its duty with no tools required, but only simple clamps in the hardware.
Once you have done your assembling, you can easily adjust the length of the U-shaped arms. The purpose is to fit with the surfboard or other heavy kinds of stuff via a push button. Tie surfboard by bungee cords and firmly hold things by hooks.
Pros:
Affordable price
Easy installation
Fits most bike types
Cons:
Mounting to seat post limits 25 to 35 mm
Best Scooter Rack for Surfboard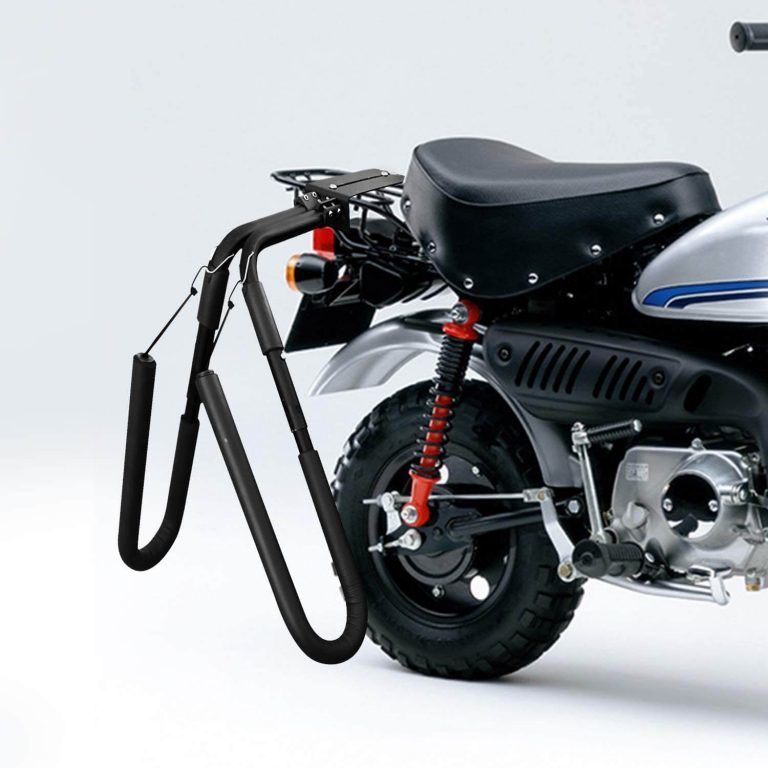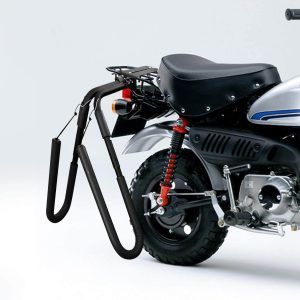 Onefeng also offers an intelligent solution for Scooter or moped rack for secure carrying surfboard. While driving at a fast speed, a scooter rack must be reliable for safety, convenience, and heavier weight bearability as well. Then, Onefeng should be a good choice for you.
Installation of the scooter rack is also easy as a bike rack, even though it might take more time. Technically, there are two stainless arms connected together with a special clamp.
Because normally, the scooter does not have a seat post, therefore there is a rectangular metal piece soldered with that clamp. You will mount that rectangular-shaped clamp to the rear cargo seat via two bolts. Screw them with the included hex wrench.
After loading your weighty board, just simply tie it certainly with rubber strings and hooks. Aluminum construction is anodized into the color to prevent rust and corrode.
Pros:
Sturdy fabrication
Anticorrosion with anodized aluminum
Cons:
Take time for maneuvering
Things To Consider When Buying Surfboard Bike Rack
Easy installation must be the first consideration
Before purchasing a bike rack, you must consider how easy installation of the rack. In general, it is not so tricky for users to assemble a surf bike rack or even a scooter rack. Nevertheless, some types of bikes have holes or advantaged points which help you to increase convenience.
In order to enhance the precision, it is recommended that you should check structural elements. For instance, the bike rack type has push-button quick-release bars. That will keep the metal holding arms stay at the fixed position while the telescopic arms have a flexible rotation.
Side note: When traveling by car, you can consider buying a bike rack to carry your bike to the beach. Learn to choose the best bike racks here.
A good bike rack is lightweight. A rack should be lighter than 7 pounds so that it reduces putting more pressure on your pedals. Sometimes, when not in use, it will give you a free feeling while cycling.
You should consider the compatibility between the rack with the types of surfboard. For example, some rear-mounted surfboard racks have a limited horizontal of the wheel, so it uses for only less than 15 inches of board tail.
Even board tail shapes are included in consideration. Some SUP does not allow the board with a more specific tail shape like wide plastic board or wide square tail boards.
Your surfboard's length is strict in the decision of purchasing a shortboard or a longboard bike rack. Sometimes, the oversized board up to 10 feet could cause trouble or damage for you when on the road.
Moving on the street may cause dings and scratches on your expensive surfboards. That's why you must care about the sturdiness of the system. The rack has to have arms with padded foam. In the joining points, it is worth examining carefully whether they have rubber cushions or not.
Nowadays, the prestigious surfboard bike rack brands add more additional parts. For example bungee cords with hook- ends, or the push button arms design which aims to improve certainties.
Contemplating more about the sturdiness factor of a bike rack, you should be aware of environmental elements. Such as wind resistance or protection against corrosion.
Conclusion
Moved By Bikes MBB Longboard Rack is absolutely great for a super longboard, reaching the length of the board up to 10 feet. It provides you security when balancing the gravity of the board for both front and back bike axes. Made of stainless steel and anodized aluminum, your bike is safe from the sea environment.
The short version of the same brand Moved By Bikes MBB for Shortboard Bike Rack is still an excellent choice for surfers who own the board which is less than 8 feet. The brand guarantees corrosion and rust resistance features for both styles. The MBB surfboard bike racks release you from the worry of complicated installation.
For the rear-mounted SUP bike rack, I would recommend SUP wheels evolution. An affordable solution for hand free and counterbalance. And if you have a scooter or a moped, Onefeng Sports Surfboard Scooter is a smart one.
Read More: