Space is a commodity when it comes to going on trips with your recreational vehicles. The longer you are on the road, the more space you want to be dedicated to valuable stuff inside. Bikes aren't exactly a priority in such cases.
Luckily, having the best RV bike rack installed helps solve this problem. A good example is the Let's Go Aero Jack-It Double Bike Carrier System.
This dedicated bike rack fits most bike frames, as well as travel and cargo trailers. It also features a PowerTower frame design that protects the tongue jack from damage caused by impact.
Read More:
Using this RV bike rack, you're able to free up space on the rear hitch or cargo area of your travel trailer for other necessities.
Of course, this is not the only RV bike rack on the market worth recommending.
Below is a list of all the best racks for camper vehicles on the market, as well as additional tips on what to look for in an RV bike rack.
Best Overall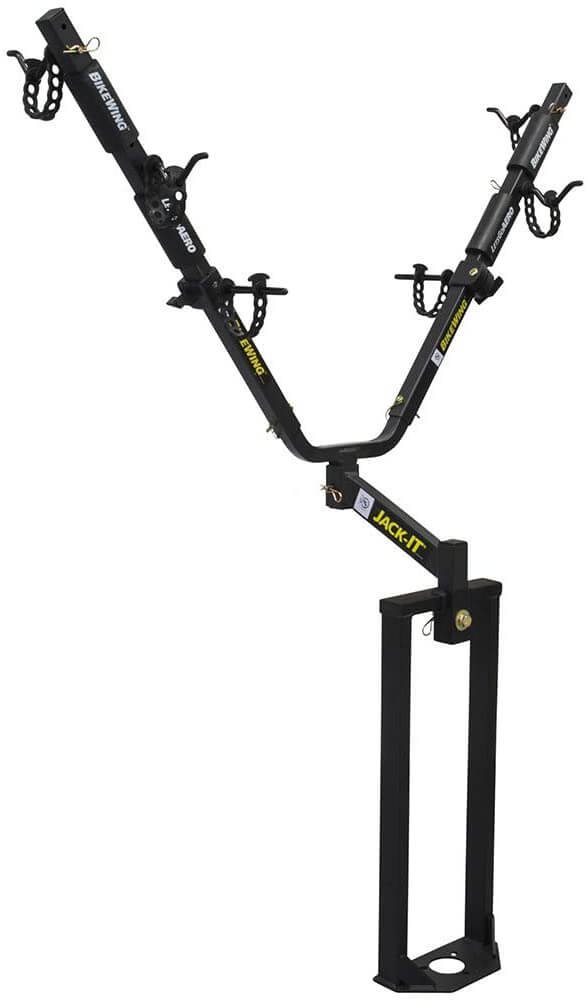 What are the most common issues with RV bike racks? The lack of protection from impact? Incapable of holding more than one bike? Compatibility? How about not being able to see the bike rack when driving?
Those are all problems that are solved by the Let's Go Aero Jack-It Double Bike Carrier System.
The Jack-It uses an innovative and patented frame design that protects it and the tongue jack from impact. At the same time, the design choice allows it to fit on most A-Frame travel and cargo trailers.
Multiple bikes is also not a problem for the Jack-It. It can hold as many as two bikes. The best part? It does so by the wheels.
It also has adjustable wheel cradles with SwayStop straps. This means that it's safe and secure. Meanwhile, the foam bumpers help keep your bike's frame away from potential damage.
The Jack-It is also space-efficient. It installs over the tongue jack. Because of this, it frees up space on your rear hitch and cargo space.
Pros:
Space-saving design
Excellent impact protection
Safe and stable hold
Makes rear hitch and cargo space available
Cons:
Poorly-written instruction manual
Pricier compared to the competition
Best for Bumper Mount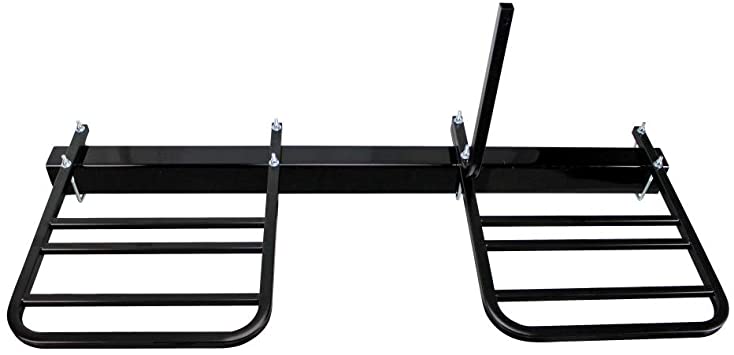 The Quick Products QPRBM2R RV Bumper-Mounted bike rack is the best RV bike rack for 4-inch to 4.5-inch square RV bumpers.
This RV bike rack features an adjustable mounting design. This lets it fit any bicycle length.
Meanwhile, it is made out of an all-steel material with a corrosion-resistant powder coat. This guarantees that it will last for a long time despite being exposed to the weather.
Thanks to its adjustable mounting, it can fit a lot of bicycles. However, it is not compatible with bikes with fat tires. Bikes with wheels over 29 inches also won't fit, as well as bikes that weigh more than 30 pounds.
But, as long as your bike fits the specifications, there shouldn't be a problem. The bike rack even comes with slotted tire wells with a stabilizer post. These combine to create a secure and supportive anchor where you can fasten your bikes.
Pros:
Easy to install
Sturdy all-steel construction
Customizable width
Secure and stable hold
Cons:
May not be compatible with bikes with 29" or larger tires
Possible rubbing against RV
Limited to 30 pounds per bicycle
Best for Hitch Mount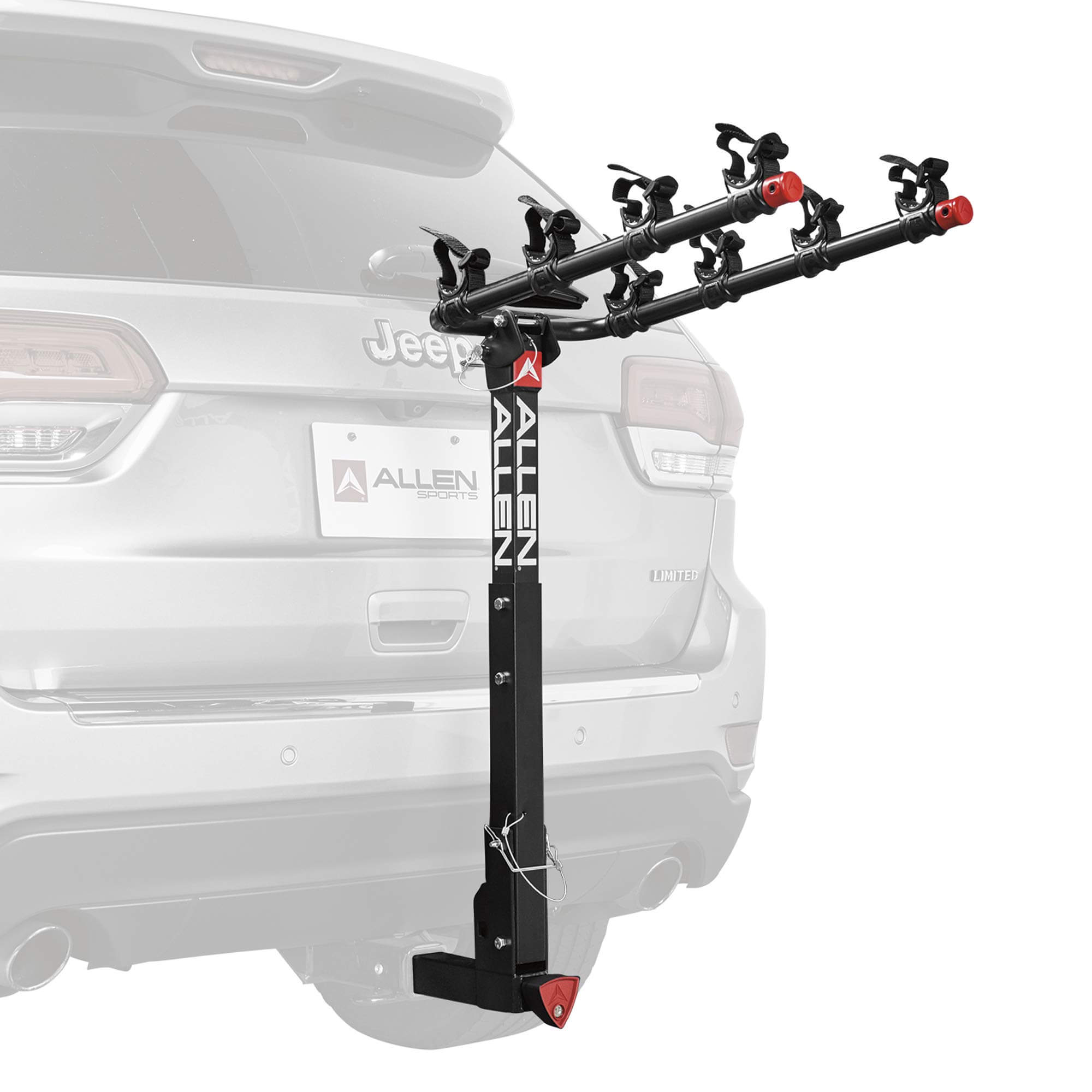 The best RV bike rack for hitch mount is also the best for transporting multiple bikes.
The Allen Sports 4-Bike Hitch Racks for 2-Inch Hitch supports up to 4 bikes. It's designed to mount directly to the trailer's hitch. The 4-bike model, in particular, fits on 2-inch receiver hitches.
This RV bike rack comes with its own set of locks and keys. It also has a 360-degree padded cradle that allows it to accommodate pretty much any kind of bike.
Meanwhile, the individual tie-downs make sure that each bike-mounted receives ample protection.
As a bonus, you can also fold the arms out of the way when the rack is not in use. They're also easy to tilt back whenever it's time to use them.
Pros:
Holds up to 4 bikes
Excellent value for the money
Comes with locks and keys
Foldable arms
Cons:
Potential rubbing among mounted bikes
Read More: 7 Best Rear Bike Racks
Best for Ladder Mount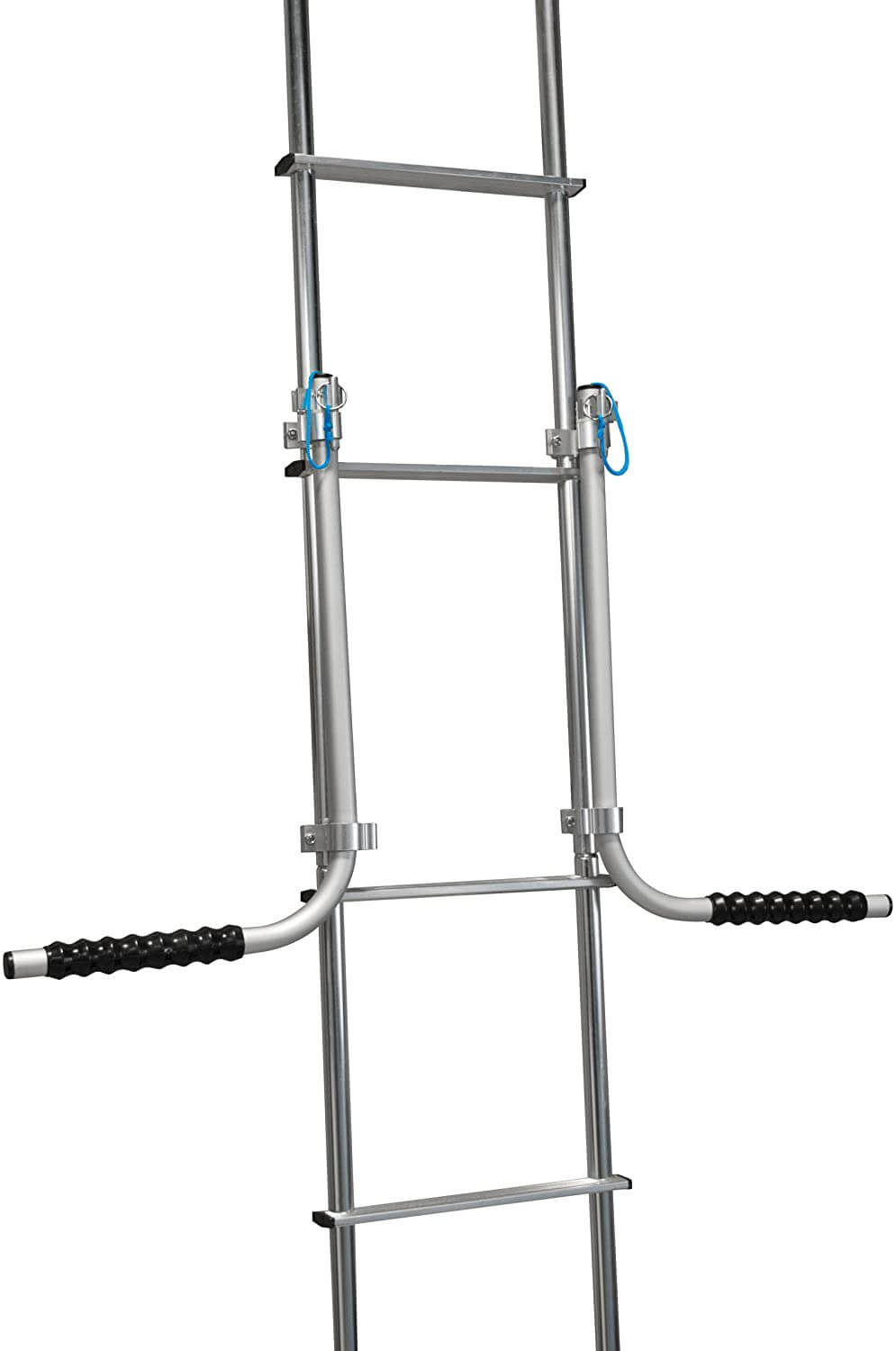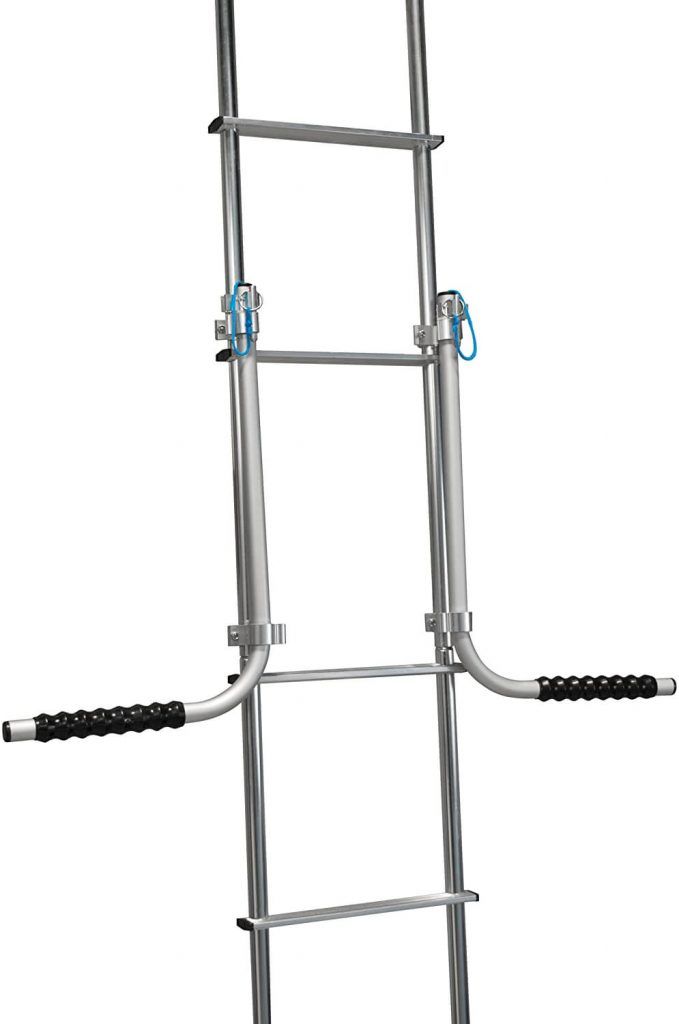 Ladder mount racks are pretty versatile. You can use them for transporting and storing all sorts of stuff on your RV.
The Thetford 40830 RV Ladder Mount System is a good example of this.
This ladder mount bike rack features aluminum construction. It's this material choice that gives it durability without weighing heavy.
Yet, at the same time, it has a 50-pound maximum load.
It is held securely onto your RV using metal brackets and screws. It comes with an 85-inch nylon strap that guarantees a secure and tight hold on your stuff. It can safely mount more than just bikes.
You can tie down chairs, totes, and more, using the nylon strap.
Pros:
Versatile
Well-built
Lightweight
Cons:
Challenging fit and installation
Easiest to Install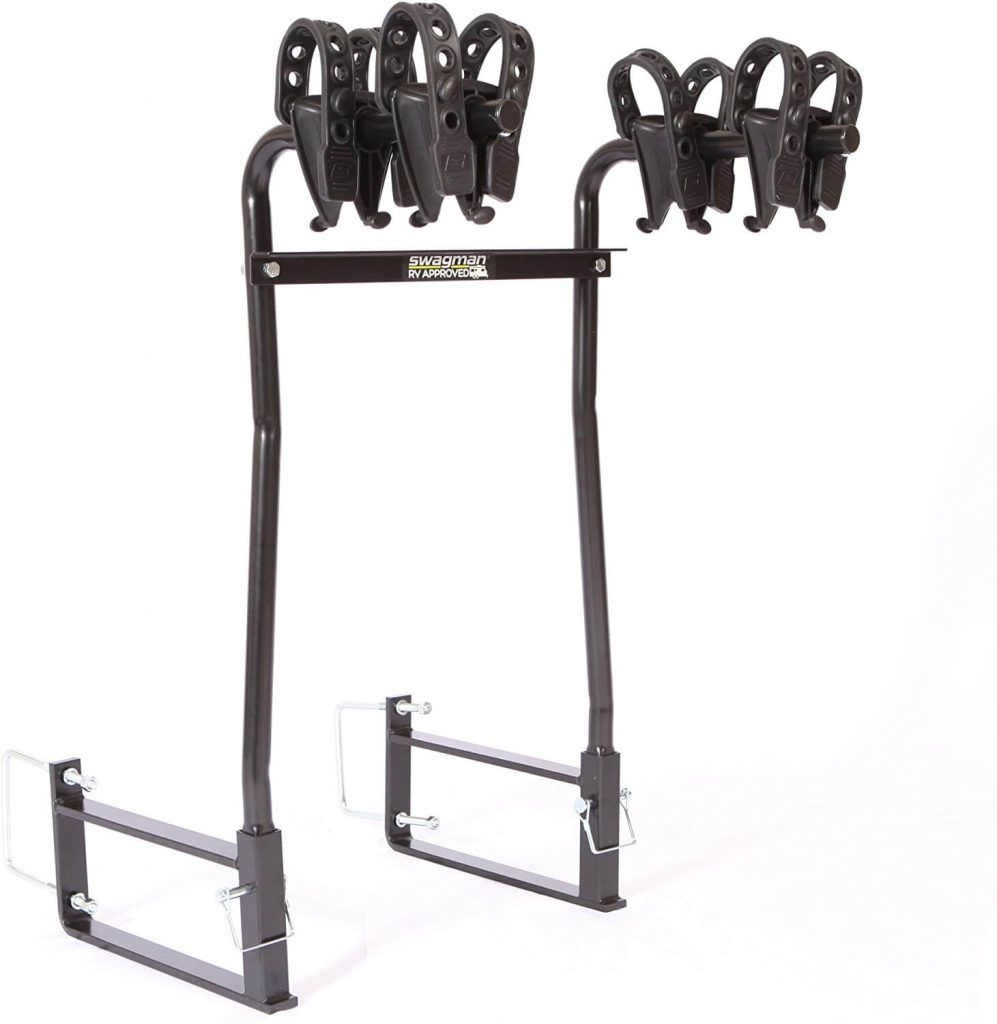 The Swagman RV Approved Around the Spare Delux bike rack solves a common problem among RV owners. It's designed to mount around your camper's spare tire.
This means that, even if you have a spare tire in the way, you won't have trouble fitting this bike rack. Naturally, if you don't have a spare tire, you can still use this as you would any other bumper-mounted rack.
Installation is a breeze with this camper bike rack. You won't have to go through a lot of hassle to put this on your RV.
Then, once it's mounted, you can rest easy knowing that your bikes are as safe as they can be. This bike rack has anti-sway cradles with durable rubber straps to minimize bike-to-bike contact.
This bike rack is also made to last. The material is rust- and corrosion-free. This means that this bike rack can withstand all sorts of weather conditions.
The only issue we see with this bike rack is its 60-pound total weight limit. Because the average mountain bike weighs 29 pounds, mounting two is a tight fit.
Pros:
Anti-sway cradles with rubber straps
Corrosion- and rust-resistant
Fair pricing
Designed to fit around spare tires
Cons:
Best for Lightweight Bike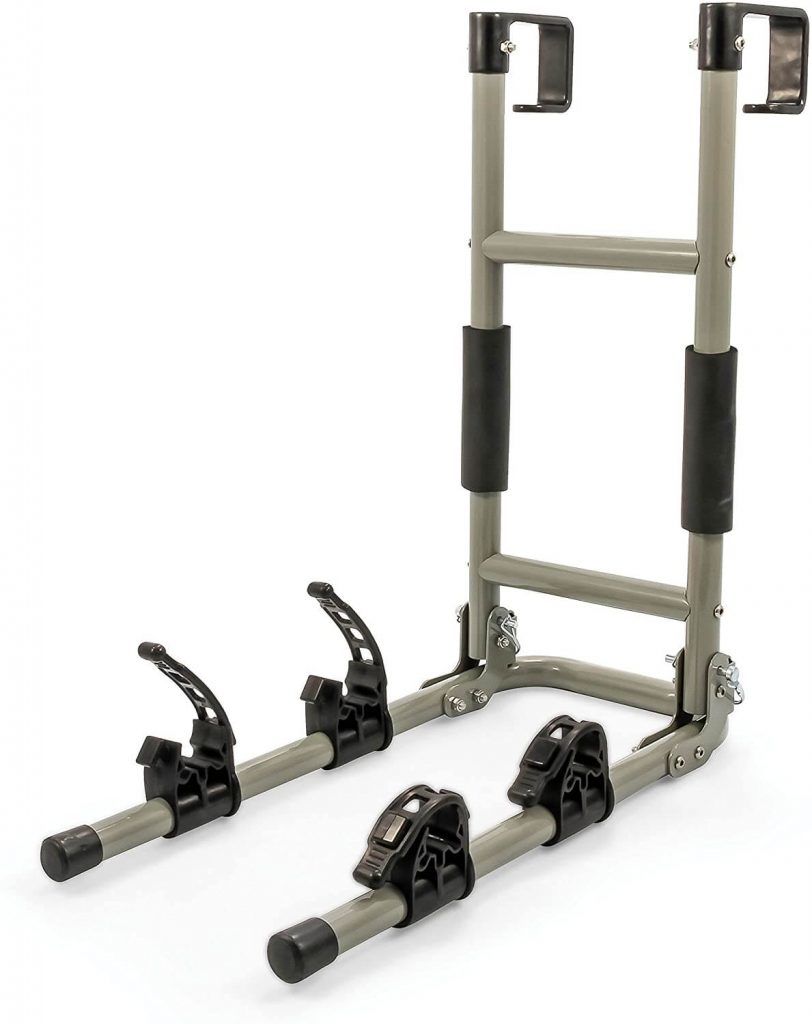 Most people don't need a heavy-duty RV bike rack. They just need something that works for what they need. In such cases, the Camco RV Radder Mount Bike Rack works quite well.
This isn't the bike rack you need if you want to carry 60-pound loads all of the time. The maximum combined weight rating is 60 pounds, but we recommend not pushing it.
Although, if your bikes are lighter, then that shouldn't be a problem. But, for standard bikes, two can get quite heavy and it's in these cases where this bike rack tends to have issues with.
With that said, as long as you keep things light, this bike rack is a great purchase. It's affordable and fits on most standard RV ladders.
It also has a form fit cradle with bonus straps that affords it a secure hold on your bike.
Finally, when you're not using the bike rack, you can fold it for easy storage. This is great if you're going to leave your RV somewhere and want to make sure that the ladder isn't stolen while you're out riding.
Pros:
Foldable
Cheap
Detailed instruction manual
Cons:
Quickest Removal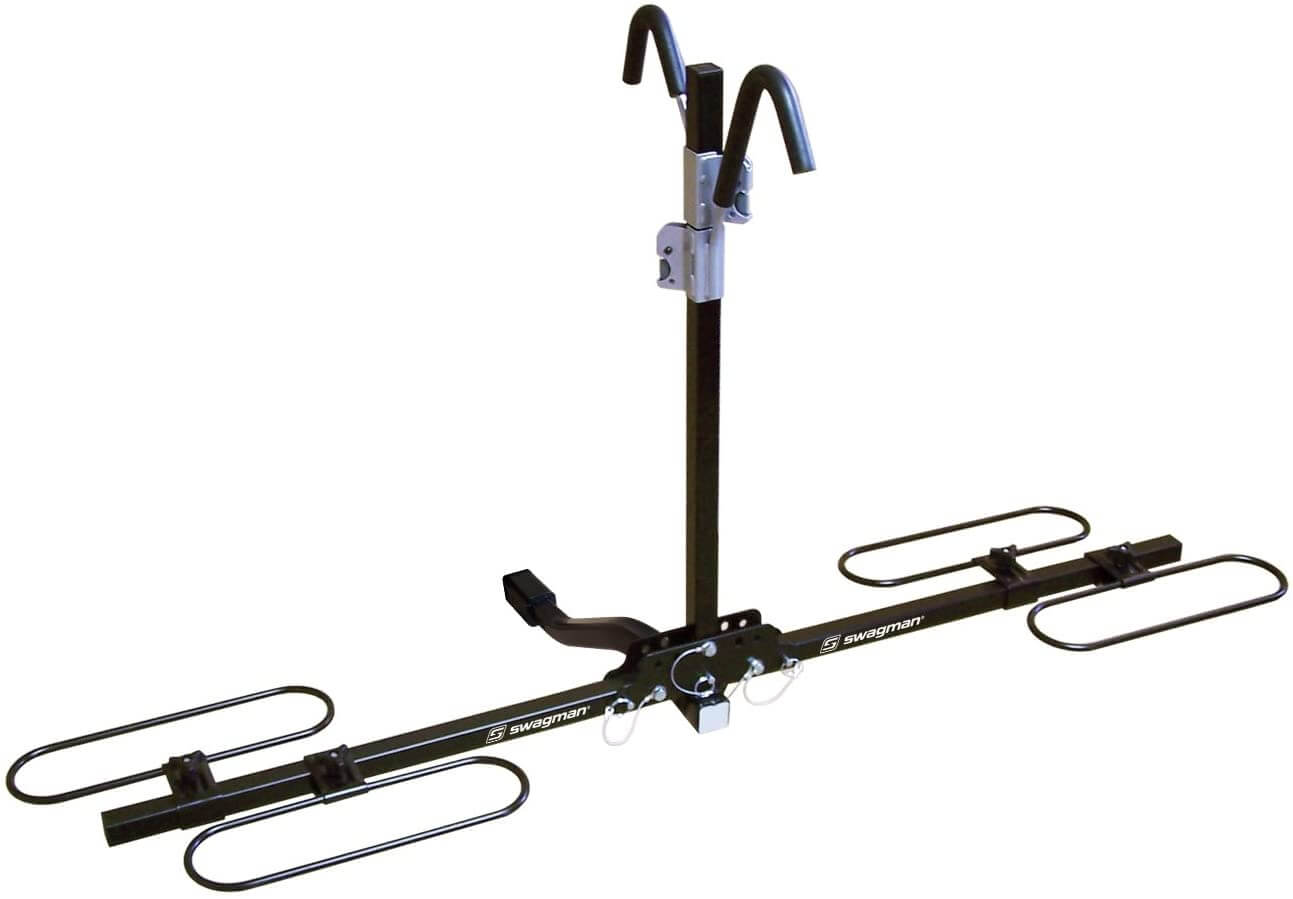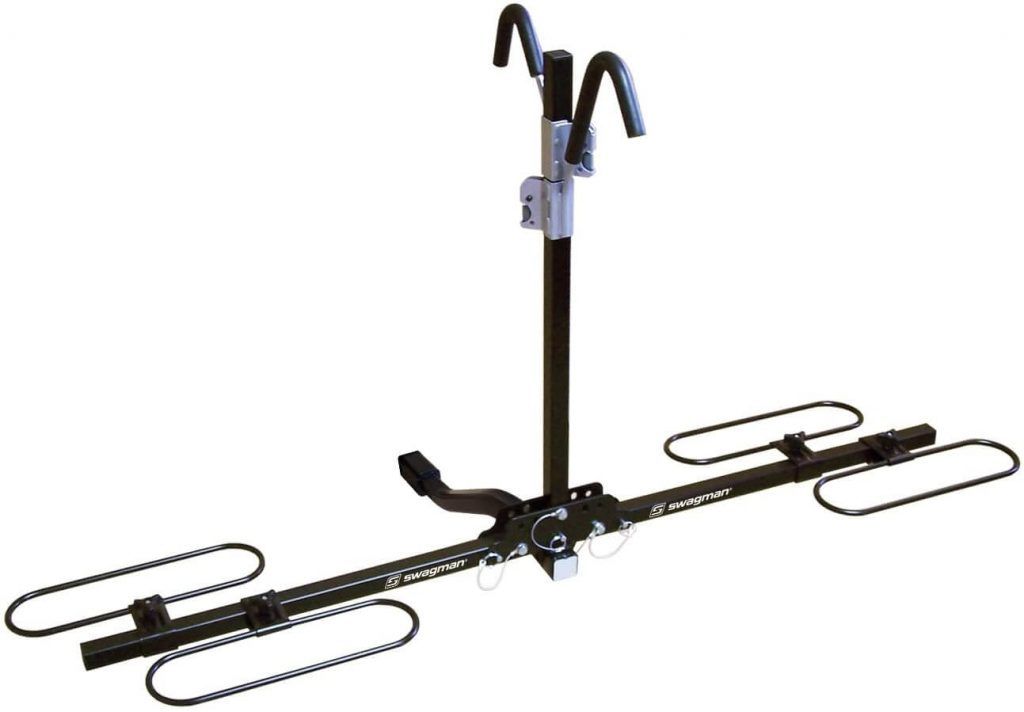 Carrying heavy 35-pound mountain bikes is no problem for the Swagman XC2 Hitch Mount Bike Rack. In fact, as long as the wheel size isn't larger than 29 inches, the XC2 shouldn't have trouble mounting it.
The sturdy steel material gives it the necessary strength to hold that much weight. More importantly, it comes with a built-in anti-wobble hitch device for added stability.
What's even better is that mounting heavy bikes is just a bonus for the XC2. Its main selling point is how convenient it is to install, remove, and store.
The XC2 will only take a couple of minutes to assemble. Then, once you're finished using it, you can fold it and keep it inside the RV or your garage.
It can also be installed either as a bumper-mounted or hitch-mounted rack. This gives you multiple options as far as mounting goes.
As a bonus, the XC2 is backed by a lifetime warranty. Naturally, you wouldn't want to use this. But, it pays to have a little bit of insurance for when things don't go according to plan.
Pros:
Backed by a lifetime warranty
Easy to assemble
Versatile mounting options
Foldable
35-pound maximum weight capacity
Cons:
Best for 4-4.5-inch Welded Steel Bumper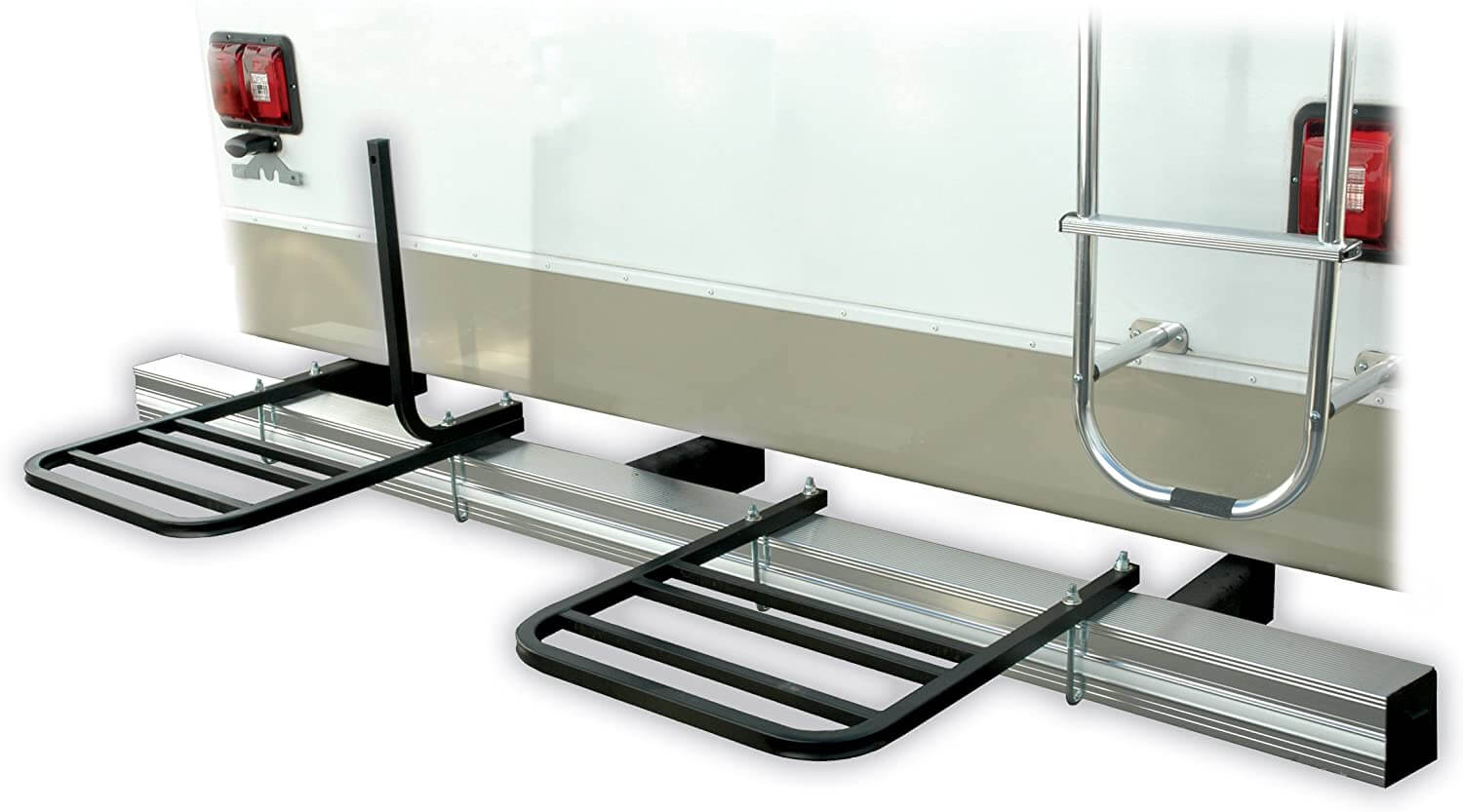 If you prefer to mount your bike rack to your steel bumper, then look no further than the Swagman RV Approved 2-Bike Bumper Rack.
This motorhome bike rack supports up to 2 bicycles at 30 pounds each. It uses 6.5-inch and 8-inch long steel bolts that are drilled around 4-inch to 4.5-inch square RV bumpers for a secure hold.
The heavy-study all-steel construction material comes with a black paint finish and a corrosion-resistant powder coat.
Affordable and effective, this bike rack is perfect as long as you're okay with drilling holes onto your bumper.
Pros:
Heavy-duty construction
Simple
Specifically designed for RV use
Affordable
Cons:
You'll have to drill holes onto your bumper
Best for Security Features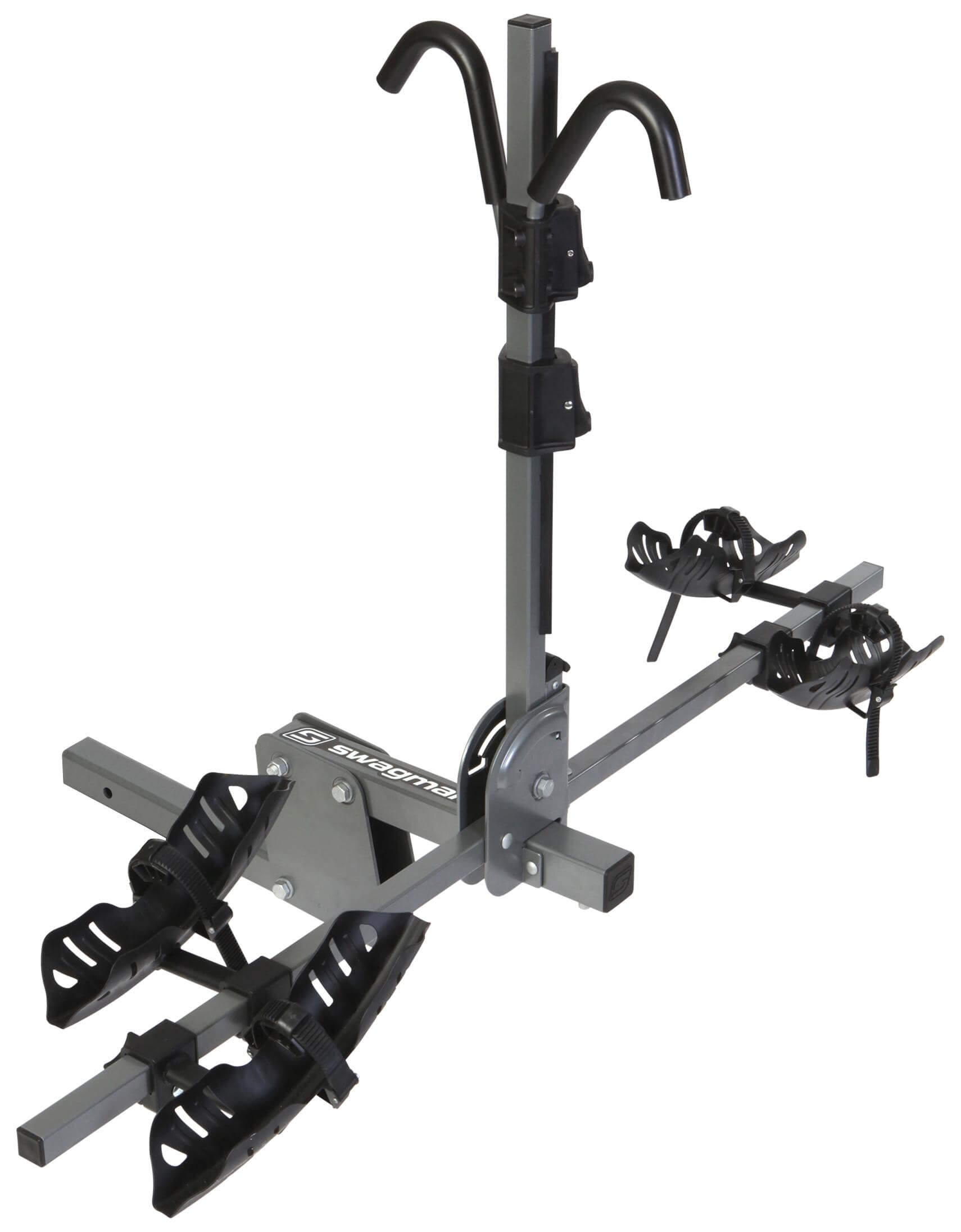 The best things in life don't come cheap. A good example of that is the Swagman Dispatch RV Approved.
Our last recommendation is a strong contender for the best RV bike rack on the market. The main reason for this is its RV-approved design and maximum 45-pound load capacity.
This, by far, makes it the only RV bike rack on our list of recommendations built to withstand such heavy loads.
With its premium price also come with premium features. Case in point, you can fold down the upright mast of the Dispatch to save space.
It also comes with sliding wheel trays for easier adjustments. It even has padded hooks to protect your bike and/or your RV. Plus, it ships with its own hitch lock and security table for maximum security.
What also sets the Dispatch apart is the threaded hitch pin. It's this pin that's responsible for minimizing movement during transport. As a result, your bike stays safe and silent while you're out driving on the open road.
Pros:
45-pound maximum weight capacity
Silent
Convenient to use
Premium-quality construction
Cons:
Fits only two bikes
Expensive
RV Bike Rack Buying Guide
In this guide, we'll cover the different types of racks and what makes one kind of rack well-suited for a particular use.
RV Bike Rack Types
In general, there are three different types of bike racks used for RVs.
They are as follows: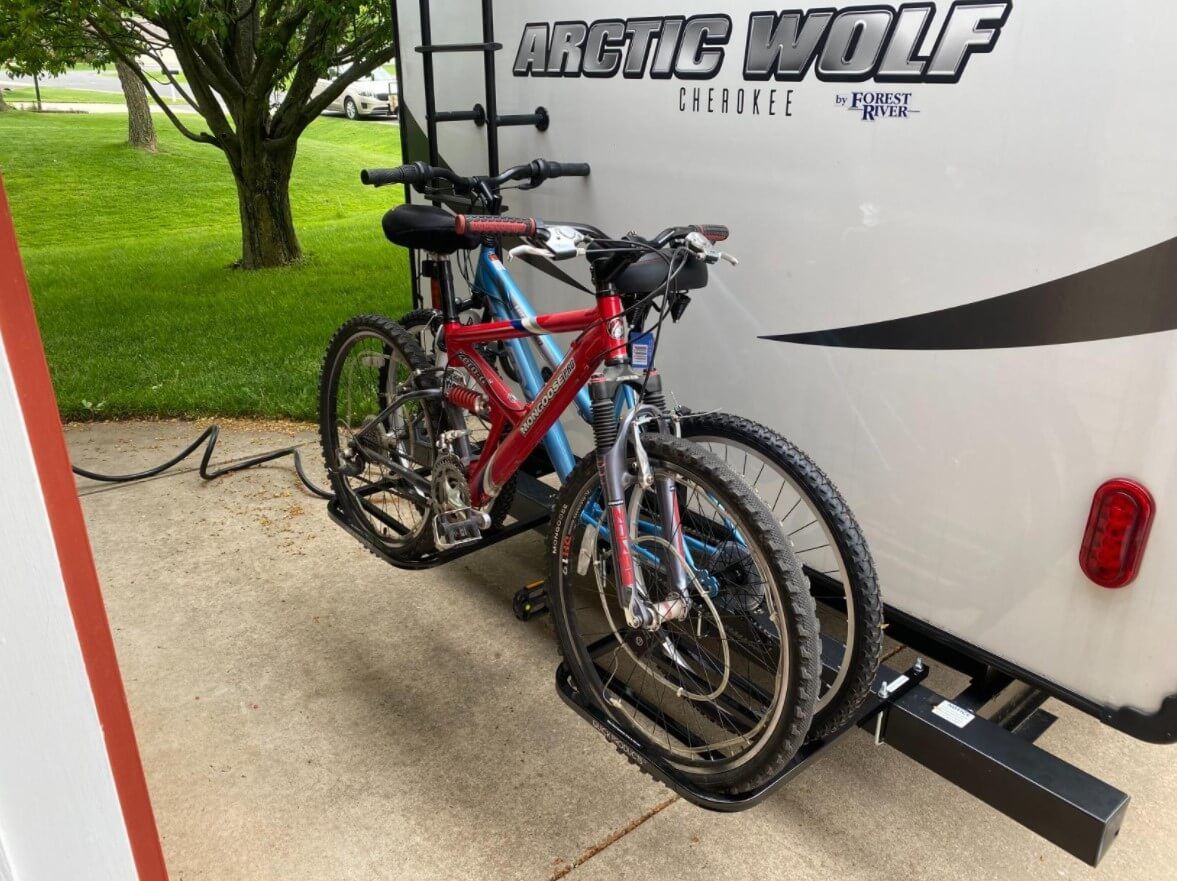 As the name suggests, bumper mounts use the bumper of an RV for support.
Bumper mounts are ideal for keeping the mounted bikes out of view. However, this comes at a disadvantage.
Because the bikes are out of view, it's difficult to see how they are doing while you're out on the road. Not to mention, bumper mounts will only fit on RVs with welded and steel bumpers.
Of course, you could try to figure out how to mount a bumper-mounted bike rack even if your RV doesn't have those. It's just that we don't recommend doing so for safety purposes.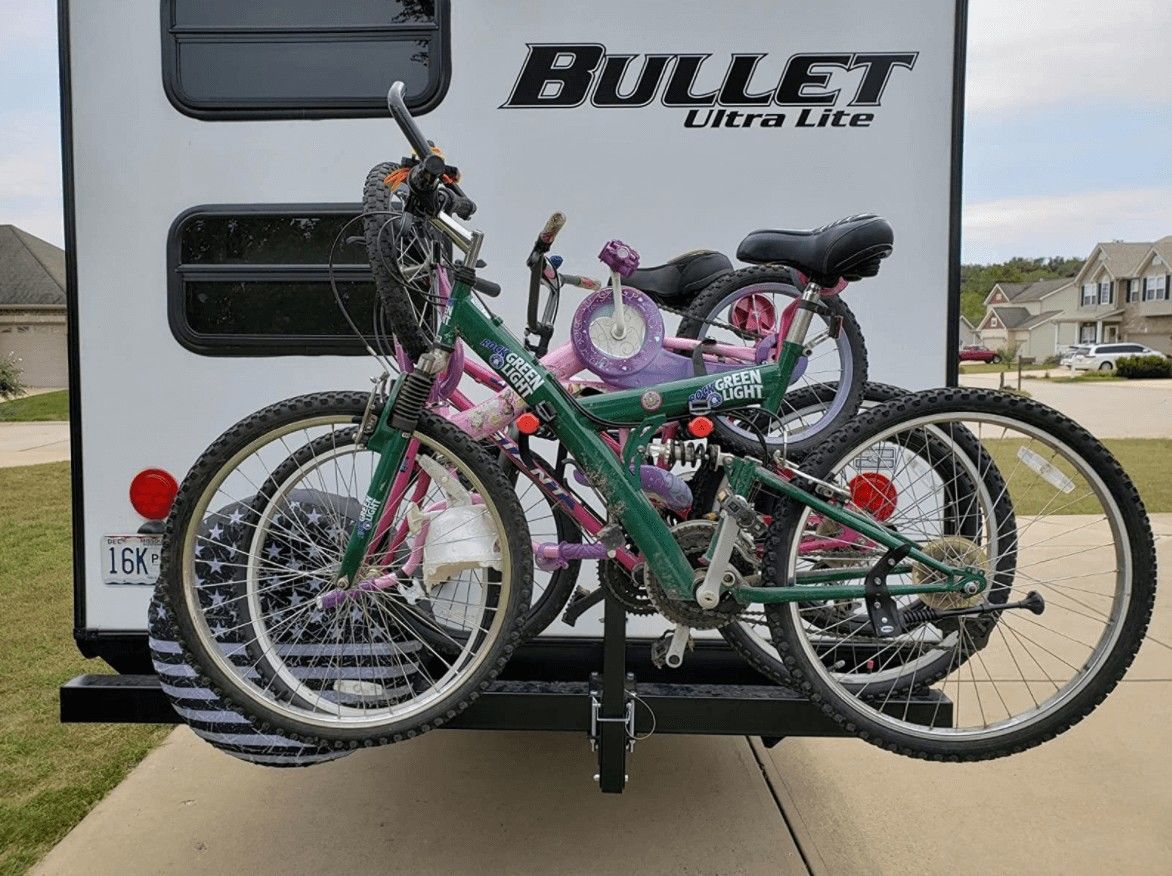 Hitch mounts make the use of the hitch of an RV or pretty much any vehicle that has a hitch. Because of this versatility, hitch mounts are a great solution for those who'd like a hitch mount that they can use on multiple vehicles.
What's great about hitch-mounted RV bike racks is that most of them are designed for convenience. Most are as easy to install and put-up as they are to remove.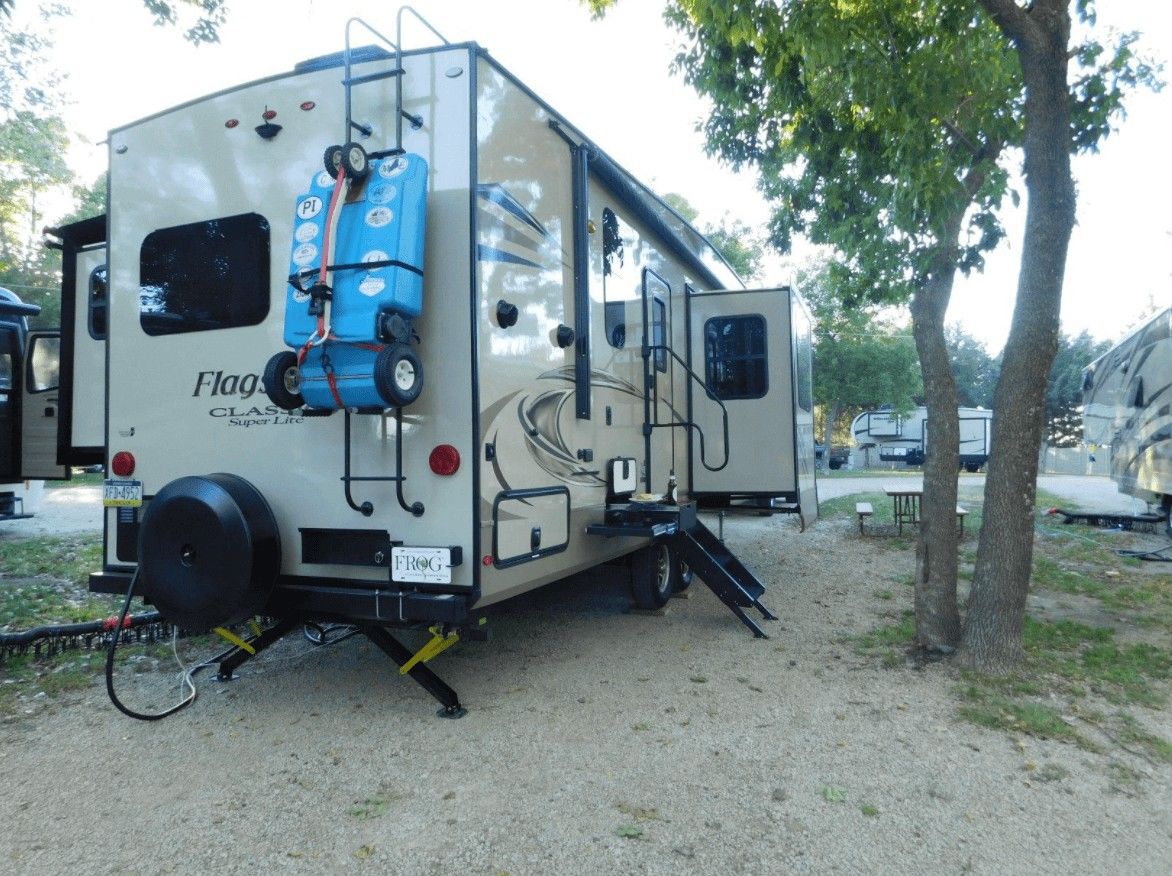 Ladder mounts hung flush against the side or the rear of a motorhome. Because of this, these mounts hung bikes in rows and support them from their wheels.
This is great for saving space, but it makes ladder-mounted racks a rather divisive choice. Not a lot of people like how "unsecured" bikes look when hung from the rear or side of the RV.
By design, ladder mounts can't really support a lot of weight. They're best for mounting one or two lightweight bikes.
Conclusion
Getting the best RV bike rack should be a lot easier for you now.
If money is not an issue, then we've got two great choices for you. Our top pick, Let's Go Aero Jack-It Double Bike Carrier System, should meet all of your needs and expectations in a bike rack. But, if it's not enough, the Swagman Dispatch RV Approved is an excellent premium choice.
For something less expensive and still arguably just as good, the Swagman RV Approved Around the Spare Deluxe Bike Rack is a good alternative.
All in all, you should find the right RV bike rack in our list of recommendations. If you don't, then, at the very least, you'll have learned how to separate the good RV bike racks from the bad ones.