When you need to carry your bikes with you on your car, you'll want to keep things as safe as possible. This is why we recommend something like the Yakima FrontLoader Upright Bike Mount.
This roof bike rack fits on just about any vehicle and is compatible with all kinds of bikes. This includes bikes with fat tires and skinny tires.
It's even compatible with bikes with weird suspension set-ups, thru-axles, and more. Plus, because of the way that it's designed, the rack will hold your bike securely without touching any painted bike surface for minimal scratches.
Read More:
But, even though we think that this is the best roof bike rick, we also have other recommendations too.
Scroll down below to find the best cartop bike racks on the market today.
Best Overall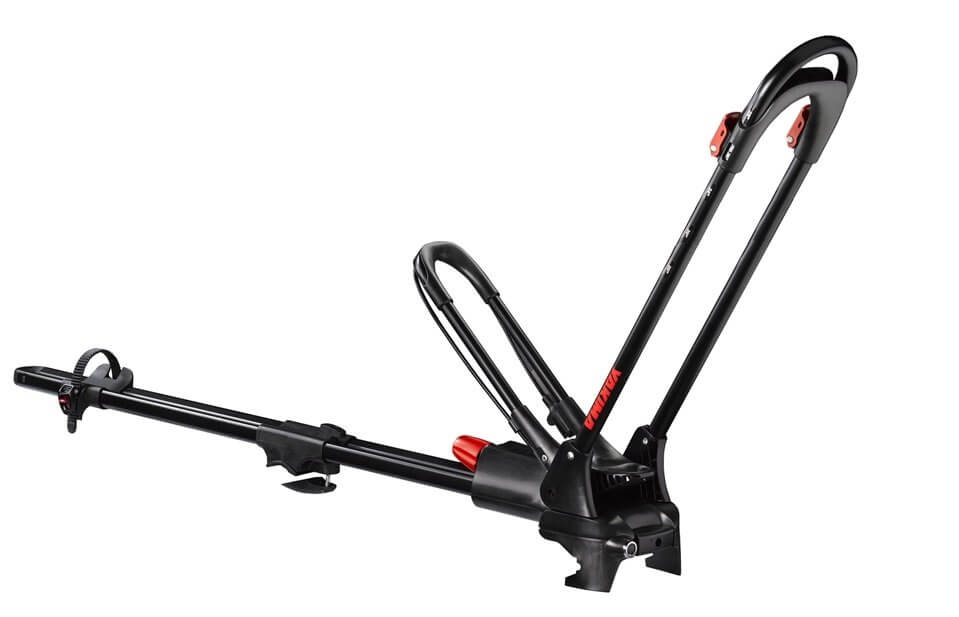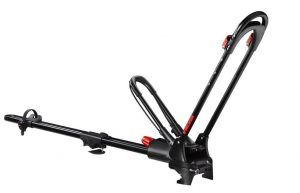 The Yakima FrontLoader Upright Bike Mount can only hold 1 bike. That's not all. However, what it lacks in bike capacity, it makes up for with compatibility. The roof bike rack can hold pretty much any kind of bike and crossbar. More importantly, it's designed to hold bikes securely and conveniently without scuffing the paint.
This ceiling bike rack does away with the need to remove bike front tires. All you need to do is mount the front tires of the bike to the frame's mount.
You also won't have to worry about fit, as already mentioned. This roof bike rack can fit tires ranging from 20 to 29 inches and as wide as 3 inches.
With that said, one of the biggest issues with this bike rack is how difficult it is to get your bike to it. This means that it's not exactly for shorter rides.
Unless, of course, you're willing to get through that whole hassle for a quick ride or two. But, for longer rides, it's perfect. This is especially true if you have to go through multiple rocky and difficult terrain.
Pros:
Safe and secure hold
No need to remove front tires to mount
Near-universal compatibility
User-friendly
Cons:
Makes it difficult to load heavy bikes
Best for Suction Power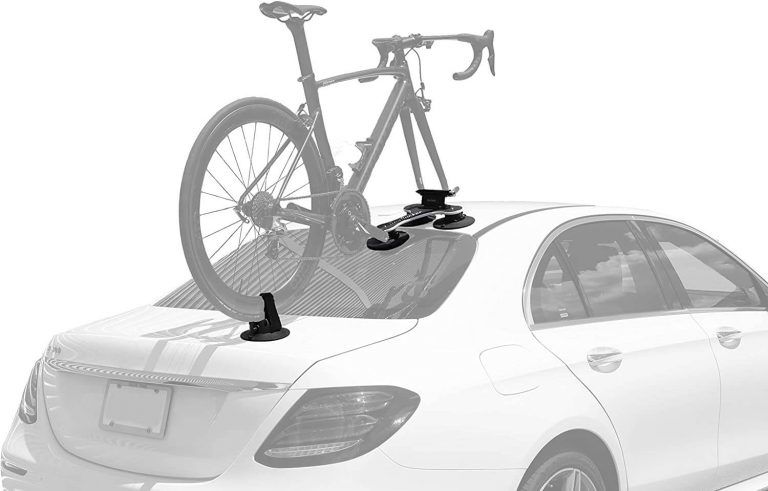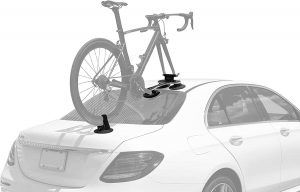 The SeaSucker Talon is one of the more unique bike racks for cars roofs. This is mainly because of how it mounts. It uses heavy-duty vacuum mounts to attach to vehicle roofs. This makes it easy to mount on top of basically any kind of car out there, regardless of size.
Of course, this comes at a premium price. However, upon closer inspection, the Talon could be the more affordable option. This is because you won't need to buy a base crossbar system anymore.
At the same time, using suctions means that it's just as easy to remove as it is to attach.
What this also means is that you can remove this ceiling bike rack whenever you want. This is perfect for when you're using a rental car. This is also great if you just don't want the roof bike rack on top of your car all the time.
As for stability and security, you don't have to worry about that. Each mount is pull rated at over 210 pounds. This guarantees the safety of your bike, regardless of road conditions.
In fact, for added peace of mind, you'll want to know that the SeaSucker was properly tested. It was the only rack tested at the Tour De France that's made in the USA.
Unfortunately, there's a bit of a problem. Because of the strong suction power of the mounts, the car's roof might flex underneath.
This is especially true at high speeds or when you go through rough roads. This is because those times are usually when bikes experience the most vibration when mounted.
Pros:
Easy installation and removal process
No need for a base crossbar
Sticks on just about any car
Powerful suction
Cons:
Best For Those on a Budget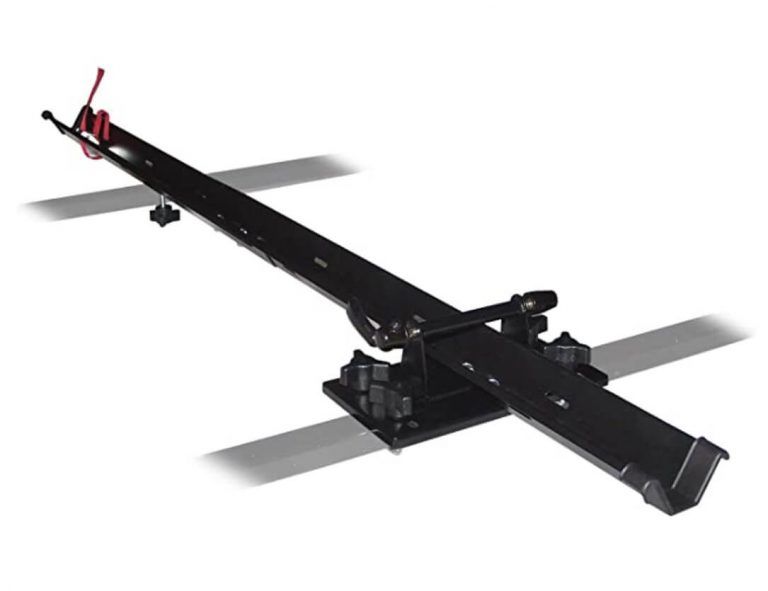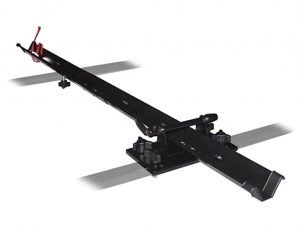 Rooftop bicycle racks are usually expensive. The Swagman STANDARD Fork Mount Rooftop Bike Carrier is not most roof bike racks.
Whereas other ceiling bike racks are glad to charge you hundreds of dollars, this rack doesn't even break past the hundred-dollar mark.
Not even close. But, despite its affordable price, it's actually quite good. It's capable of providing a secure and tight fit for 1 bike. This is mostly thanks to the fork mount blocks with 9mm Quick Release skewers.
This bike rack was also designed to fit on top of most vehicle sizes and types. It's also very easy to assemble and install. You won't need to go out and buy or get additional tools.
The instruction manual is all you need. However, mounting a bike is a different story.
But, then again, that's a small price to pay for something so affordable.
Pros:
Cheap
Detailed instruction manual
Secure and tight hold
Solid build quality
Cons:
Makes mounting bikes a real chore
Best Fork Mount Bike Rack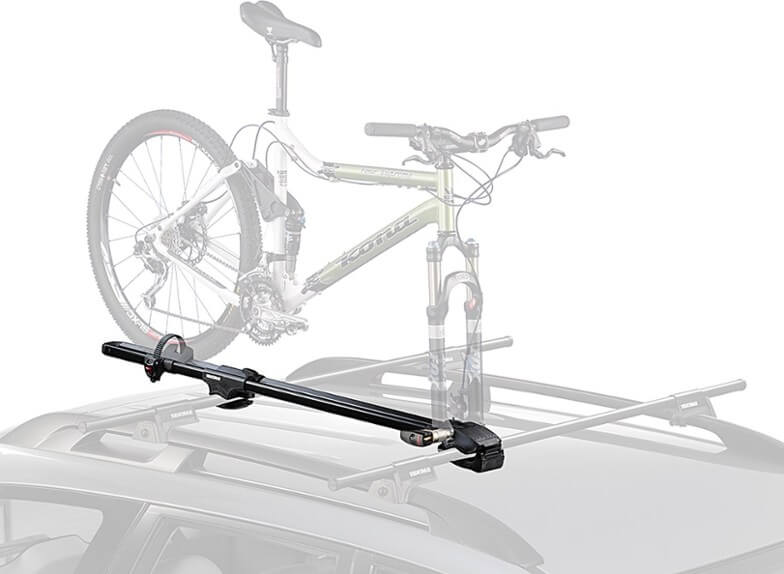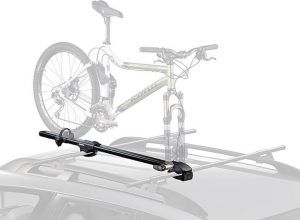 The Yakima Universal ForkLift Bike Rack is pretty self-explanatory. It's a bike rack mounted on the rooftop of your car and clamps on the front fork of your bike. However, unlike other fork-mounting bike racks, this one separates itself due to a number of factors.
For one, it's easy to install. Second, it can accommodate a wide variety of bikes. Even those with bike forks with disc brakes.
Then, it has a sliding tray, which makes slotting in the rear wheel easy and simple. Also, thanks to the design, which includes a lockable skewer and integrated adjustment knob, you won't need both hands to operate it.
You can also mount this rack on top of almost every vehicle with minimal modifications if at all. It'll fit just fine on square crossbars, flat crossbars, and even round crossbars.
Pros:
Quick-release fork
Clamps to any crossbar type
Stable hold
User-friendly
Cons:
You'll need adapters for thru axles
No lock cores
Easiest to Install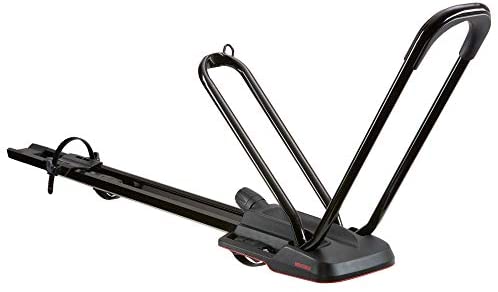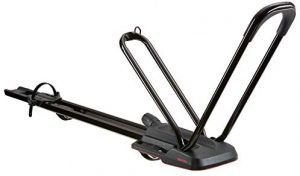 The Yakima – Highroad Wheel-on Mount Upright Bike Carrier might just be the best no-fuss roof bike rack. It features a simple yet sleek design that's capable of carrying and securing any kind of bike. This includes bikes with wheels up to 29 inches, as well as 23mm bike tires up to 4-inch tires with little to no problems.
Because of the low profile tray, there's minimal interference with the hatch. This removes the need for taking off wheels and any chances of making contact with the bike frame.
Also, what makes this the best roof bike rack for SUV vehicles is how it's easy to use and adjust. It comes with a TorqueRight tightening knob for easy adjustment.
Yakima also sells optional 2 SKS locks that lets you secure your bike to the mount and the mount to the rack.
All in all, this is an excellent option. It gives you access to the rear of your car and doesn't scratch your bike's frame. But, of course, it's not perfect.
It's not exactly easy to load your bike onto this roof bike rack. Also, because it's heavy, and made even heavier with a bike, expect your vehicle's gas mileage to go down a bit.
Pros:
Adjustable
Simple design
Minimal operational noise
No need to remove bike front wheels
Cons:
Best Versatility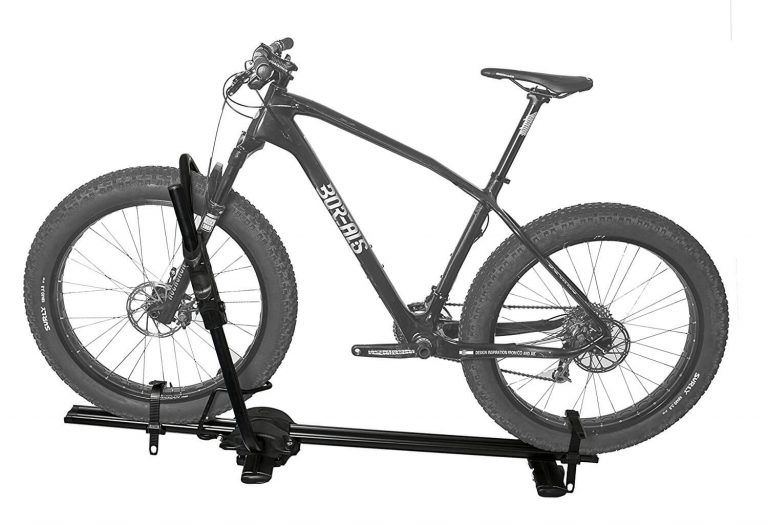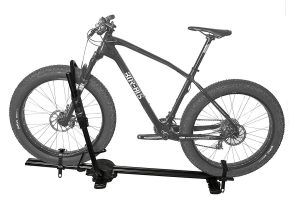 The Rocky Mounts TOMAHAWK is the one roof bike rack to rule them all.
We say that because it can literally mount any bike and on any crossbar. It can fit bikes with tires as wide and thick as 5 inches. The best part? You don't have to remove any wheel from your bike at all.
Mounting bikes on the TOMAHAWK is just as easy as unloading them. The small nub helps keep the wheel straps out of the way.
It also has an arm that offers added grip without touching the bike frame. Then, once you need to unload the rack itself, all you need to do is to squeeze the release button real tight.
What also makes the TOMAHAWK unique is its material. It is made out of a corrosion-resistant lightweight aluminium. For further protection, the manufacturers coated the material with a black powder finish.
The streamlined, low-profile design also makes height clearance issues less likely while also minizing wind noise when you're on the road.
If there's one issue that needs pointing out with the TOMAHAWK is the rattling sound. This gives off the impression that it's not as well-built or has a secure of a hold on bikes. But, this is far from true. It's just that the rattling noise is noticeable and can get quite annoying,
Pros:
Low profile
Holds anything from kids bikes to fat bikes
Universal crossbar compatibility
Cons:
Installation takes a bit of time
Best Lightweight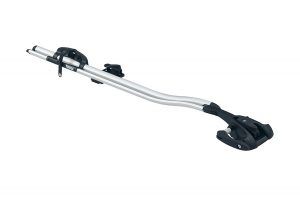 Weighing just 5.5 pounds, the Thule Outride Fork Mount Bike Carrier is one of the lightest roof bike racks around. But, make no mistake, it doesn't sacrifice functionality just to weigh less.
Admittedly, it's a bummer that you have to remove the front wheels to secure the bike. However, there are benefits to this.
Plus, if it's any consolation, it does have an adjustable axle cramp rack and a quick-release wheel strap. The two combine to make installing the front tire and the rear wheels pretty much a one-man operation.
The minimalistic design also makes this bike rack sit lower when on top of your car. This minimizes its effects on the aerodynamics of your vehicle. In fact, it's hardly noticeable. This means that you won't have to worry about mounting and unmounting it after every biking trip you go to.
Perhaps the only real con here is that it can damage carbon fork dropouts, so they're a no-go.
Pros:
Lightweight
Minimal air drag and road noise
Excellent on-road stability
Hardly noticeable without a bike mounted
Cons:
No locking mechanism
Might damage carbon fiber fork dropouts
Best For Those on a Budget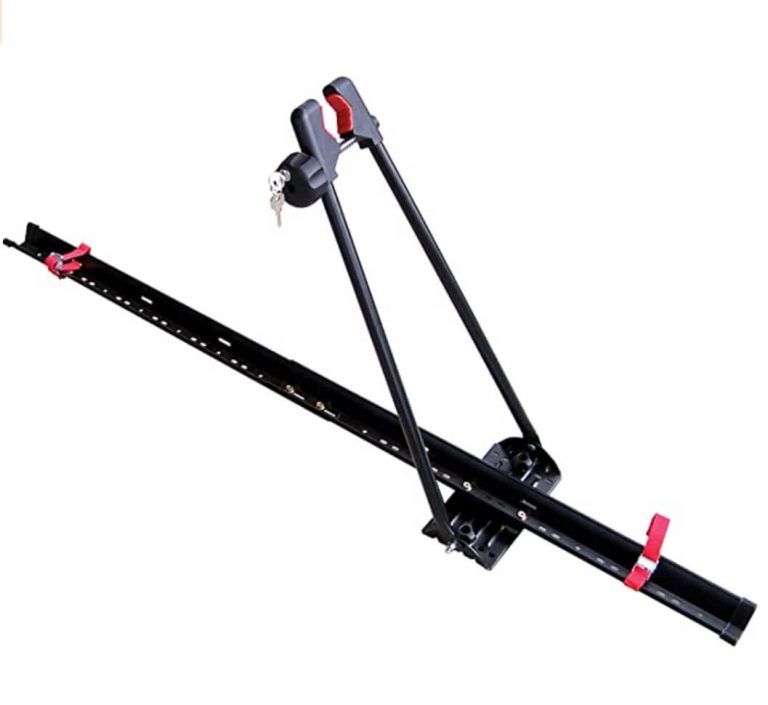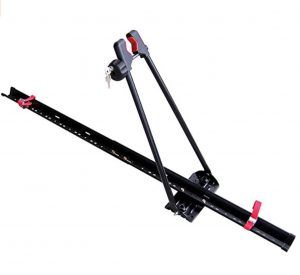 Swagman strikes gold once again. This time, it's with the Swagman UPRIGHT Roof Mount Bike Rack.
This minimalistic roof bike rack is one of the lightest bike racks on our list at just 5 pounds. Paired with its low asking price, it's only natural it comes with a couple of flaws.
The most noticeable, by far, is its rather flimsy build. Although it can hold your bikes and mount onto your car securely, holding it makes you feel otherwise.
Perhaps, this is by design. Because, even though it might feel cheap to hold, it doesn't look its price. The sleek design looks perfect on just about any vehicle you mount it to.
Speaking of mounting, installing the UPRIGHT takes no longer than a couple of minutes. Then, once you want to mount your bike, you don't have to remove the front wheels anymore.
It'll fit bikes up to 35 pounds with 3-inch wide bars. The rack then holds the bikes down down using a combination of tie-down straps and its very own locking feature.
Pros:
Light on the wallet
Weighs just 5 pounds
Easy installation
Cons:
Best Budget-Friendly Suction Cup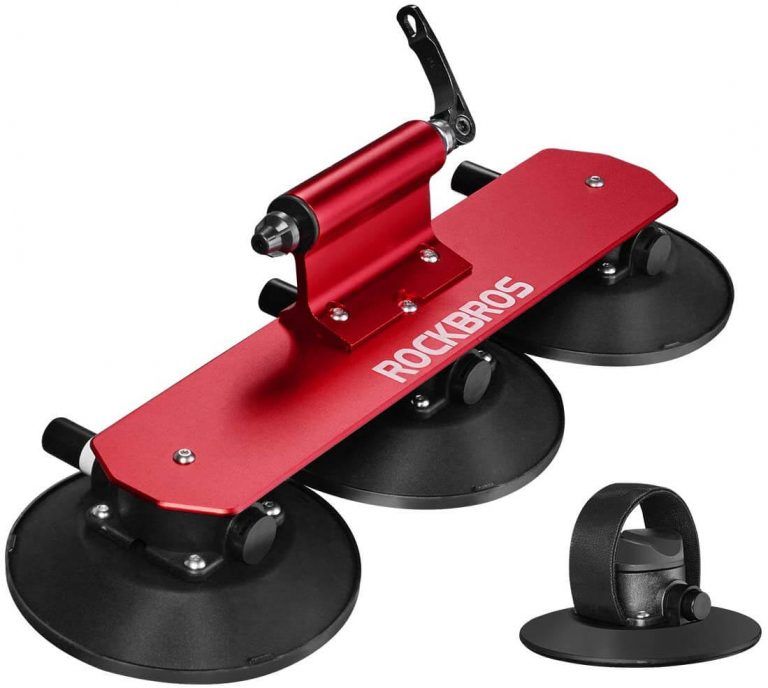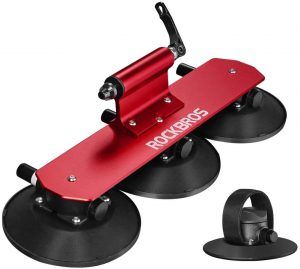 Not everyone can afford to spend an arm and leg on their bike racks. This is true even if it comes with added novelty of using a bike rack that mounts using suction cups.
However, so long as you've got a bit of money, it is possible to enjoy using this convenient mounting method without breaking the bank.
The best example is the ROCK BROS Sucker Bike Rack.
The suction cups make putting the rack and taking the rack off easy. It also helps that the instructors are actually properly worded.
Plus, the cups are designed to make sure that putting it on and taking it off won't scratch your car's paint. Then, once mounted, it has a quick-release mechanism for the front fork and an adjustable strap for the rear wheels.
To help lessen the load of the rack on your vehicle, this carrier is lightweight. At the same time, it can fit securely hold all sorts of bikes. This includes everything from road bikes to trail bikes to mountain bikes and more.
All in all, this is a budget-friendly option if you want to travel with your bike with ease.
Pros:
Available in 3-bike configurations
Weighs very little
Crank strap
Quick and easy mounting
Cons:
Tends to lose suction over time
Roof Bike Rack Buying Guide
Getting the best roof bike rack can make life so much easier for cyclists. However, knowing which ones are the best and which ones are not can get tricky.
This is what we're here to help with.
Bike Rack Type
There are three types of bike racks used by cyclists. There's the trunk-mounted, the hitch-mounted, and the roof-mounted.
Roof bike racks are typically the most expensive bike racks. However, they are arguably the most versatile. You can use them to mount more than just bikes.
This is especially useful for sedans and other vehicles traditionally not lauded for their storage space. Or, rather, the lack thereof.
Using a roof rack, you can bring more than just your bike. Plus, they're easy to install, and arguably easier to remove.
Also, if you're selling your vehicle, some buyers might prefer that the vehicle already have a roof bike rack set-up. Because of this, it might be possible to sell your car/s faster just because it has a roof bike rack.
Another benefit is that, because they're mounted all the way up, they won't obscure your vision of your vehicle's rear.
Unfortunately, mounting bikes on roof racks can be hard on the body. Not everyone has the strength needed to carry their bikes all the way up.
You'll also have to make modifications to your vehicle to fit a roof bike rack. Keep this in mind.
If your car doesn't have a hitch or roof crossbar, trunk mount bike racks are the next best thing.
The good thing about trunk mounts is that they will fit pretty much on any vehicle. There are no modifications to the vehicle necessary.
Also, putting it on the trunk and taking it off won't take longer than a few minutes. But, this comes at a compromise. Because it's secured using straps, its hold on mounted bikes isn't as secure and as stable.
Hitch mount bike racks are an excellent alternative to roof bike racks. They hook up to either 1.5- or 2-inch hitch receivers and can offer protection for your bikes during transport.
However, a huge downside is that they mount directly onto the rear side of your vehicle. This can make it difficult to back up into parking spots and put your vehicle at a higher risk of accidents.
The main advantage hitch-mount bike racks have over roof bike racks is how easy it is to load bikes onto them. This is mostly because of design. Since they're not as high up, you don't have to exert as much effort to mount your bike or take it down.
Bike Capacity
The thing with roof bike racks is that most can only fit one or two. The ones that can support more are rare and more of an outlier.
However, this isn't a bad thing. This is because most vehicles can support having multiple roof bike racks installed. This means that you can still carry multiple bikes.It's just that it will cost you a lot more since you'll have to buy multiple bike racks.
Security
Stealing bikes off of racks isn't a new problem. It's happened before and will continue happening in the future.
To prevent yourself from being a victim of bike theft, get yourself a bike lock and learn how to lock your bike properly. At the very least, you should have a lock for your bike to the rack and another one for the rack itself to your vehicle.
You can supplement this with dash cams and making sure that your car's security system is working.
Installation
Roof rack types generally take a long time to assemble, install, and attach. This is especially true when compared to other types of bike racks.
The best roof bike rack is the one that can be installed on your own. It's a huge bonus if the bike rack comes with all of the necessary hardware. Or, better yet, doesn't need you to remove the front wheels just so that you can mount your bike.
Unloading Process
The process of unloading bikes and mouting bikes on a roof bike rack should be simple and easy. The best ones have a quick-release clamp for the front wheels or tires and straps for the rear wheels.
Conclusion
The Yakihima FrontLoader Upright Bike Mount is the best roof bike rack, by far. It's backed by a lifetime warranty, is easy to mount and remove, and it has near-universal fit. The fact that it's competitively priced is just an added bonus at this point.
If versatility is more miportant to you, the Rocky Mounts Tomahawk is a viable alternative. It can fit bikes with tires as wide as 5 inches, as well as children's bikes.
If you've little budget left for your roof bike rack, the Swagman STANDARD Fork Mount Rooftop Bike Carrier is the best choice. It's not jam-packed with features, but it works.
It can safely and securely mount on your car and transport your bike. Plus, it's affordable, which means that you can't really complain much about its shortcomings.
All in all, it should be easier for you to find the best roof bike rack by now.
If you can't find the right one on our list, then you should be able to find one on the market using our tips.