There's this common belief that you can't get an excellent entry-level road bike under $1000, which is far from true. I guess you come here as you are looking to have your first budget-friendly road bike or just upgrading from a cheap $500 road bike.
Sure, at this price point, you won't be getting yourself a feather-light carbon body and wheels with similarly high-end brakes, chain, shifters, and more. But, unless you're racing the Tour De France, you don't really need those.
The truth is, for most people, the best road bikes under $1000 are more than enough.
Below are five bikes that we recommend below or at the $1000 price point, including some useful tips and information on how to choose a proper road bike. Comparing to other bikes in the list, Trek Domane Al 2 is the best choice for this budget as it is light, stable, sleek and easy for anyone to get started with the first road bike.
5 Best Road Bikes Under $1000 That You Can Buy Today
Best Overall Road Bike Under $1000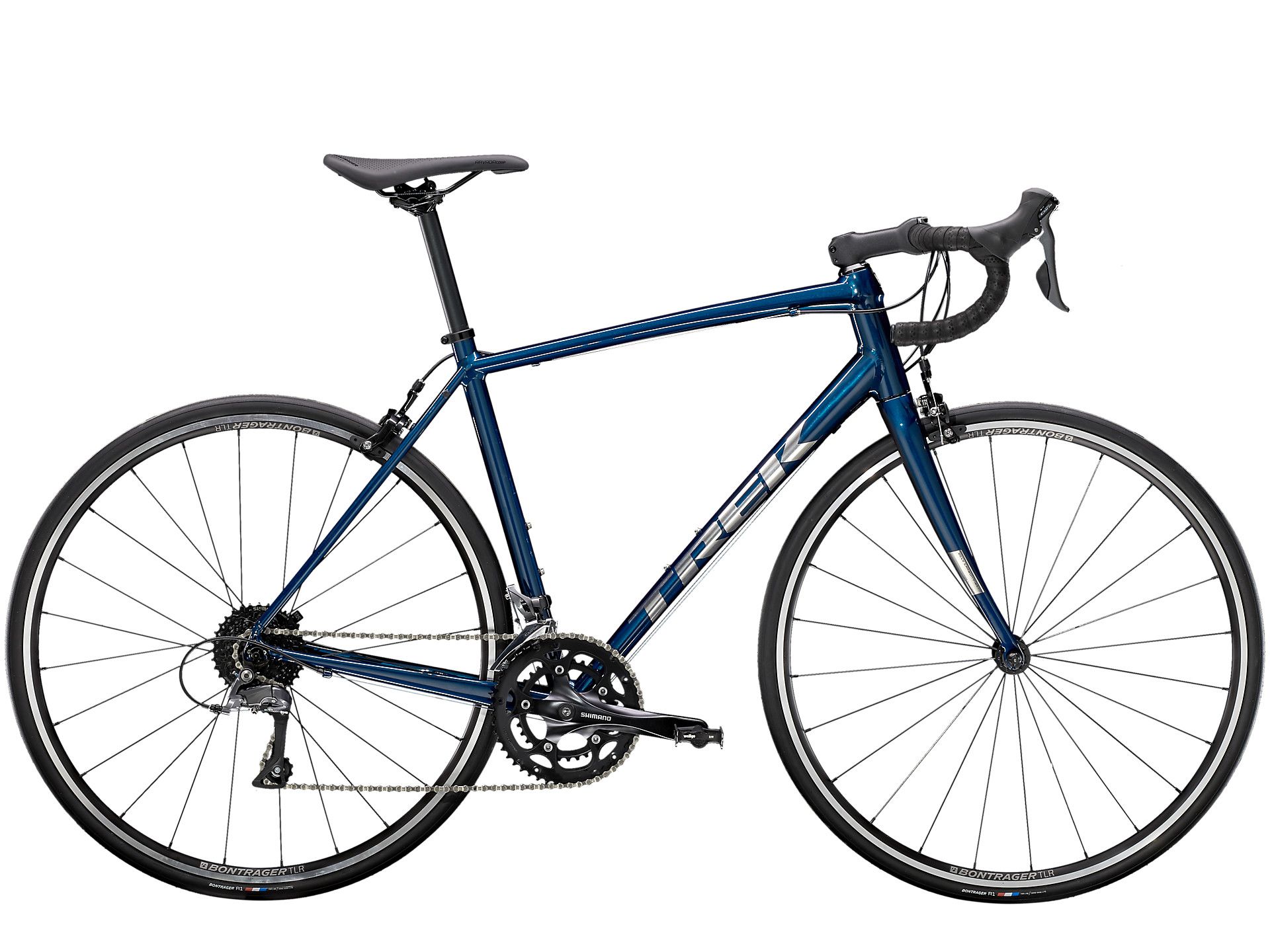 It's difficult to argue against the value that the Trek Domane AL 2 brings to the table with how many proverbial boxes it checks. And more importantly, how few red flags it raises.
The alloy frame pairs nicely with the carbon fork, creating a relatively smooth and comfortable ride, regardless of distance. You also get tubeless-ready rims for the price, so you're good to go as far as replacing it with better tires. As an added bonus, Trek machined the rims to make braking smoother.
Smooth as the brakes are, they bite firmly and provide more than enough stopping power even at high speeds. You'll reach quite easily thanks to how crisp and light the shifters go through the Shimano drivetrain.
Trek even thought of adding a convenient location for additional accessories, such as a computer mount and a frame pocket for speed sensors.
Stable, accurate, and responsive, it's hard to find better at the $1000 price point for both men & women. For female riders, check out the article on best road bikes for women as you want to look for a premium option.
Pros:
Tubeless-ready wheelset
Added ride comfort thanks to the vibration-damping carbon fork
Fun and spirited ride
Cons:
Plenty of riders prefer mechanical disc brakes over the dual-pivot calliper rim brakes that the bike comes with by default
Most Comfortable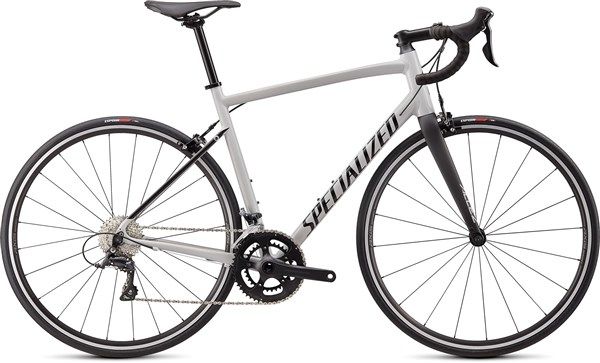 Referring to the lightweight alloy frame as "aggressively thin-walled", the latest version of the popular bike series, the Specialized Allez E5 Sport, is a whole pound lighter compared to previous models.
The Allez is equipped with a carbon fork for improved handling and cornering. Meanwhile, the combination of the eight-speed drivetrain, as well as the 50/34t chainring and the 11-32 Sunrace cassette, allows you to pick up the pace when you need to enjoy some more wind on your face during your daily commutes or weekend rides.
Speaking of weekend rides, riding all day on the Allez is not an issue.
Thanks to its more relaxed geometry that caters more towards endurance-style rides, the Allez feels just as comfortable to ride on after hours of riding as it would for a quick five-minute trip to the store.
On top of it all, the economical and lightweight Tektro rim brakes do their jobs quite nicely, which is what arguably allows riders to enjoy a lightweight roadie at such an attractive price point.
Pros:
The beginner-friendly 8-speed Shimano Claris drivetrain has the same quality feel as that of Shimano's more expensive groupsets
Class-leading lightweight alloy frame
Geared for comfortable rides without sacrificing comfort nor speed
Cons:
Equipped rim brakes don't perform as well compared to disc brakes
Best for Remote Outings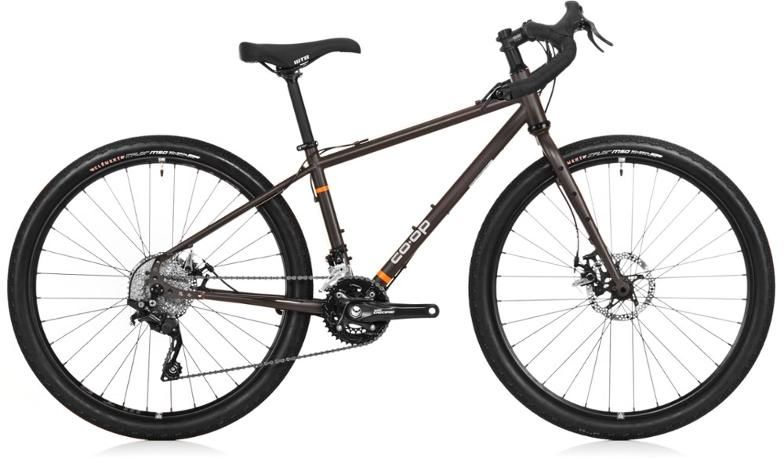 It is the unfortunate reality for many riders that they don't really get to enjoy riding on paved roads most of the time.
For most people living all over the world, long paved roads are a treat. Most of the time, it's a combination of bumpy gravel, potholes, uneven roads, with smooth and paved tarmac far and few in between. Because of this, most road bikes don't make for an ideal ride, which is where the Co-op Cycles ADV 3.1 comes in.
The durable double-butted Chromoly steel frame and fork, as well as the 20-speed Shimano Deore, are all noteworthy at this price point. Still, it's the 650b x 50mm rubber tires that really seals the deal for this road bike.
Bumpy gravel and off-road paths are easy picks for the Co-Op Cycles ADV 3.1.
In addition to this, this all-around road bike comes equipped with cable-actuated TRP Spyre mechanical disc brakes for supreme stopping power.
Yes. You're getting disc brakes at this price point. With a tapered head tube and tubeless-ready wheels, you'll have no trouble keeping this bike in the long-term as it's compatible with numerous upgrade paths.
Pros:
Built for comfortable rides on gravel, uneven roads, as well as on paved tarmac
Equipped with cable-actuated dual-piston Promax brakes instead of rim brakes
Comes with a free tune-up for 6 months or 20 hours of use, whichever comes first, courtesy of REI
Wide 50mm tires with clearance for even more width
Cons:
Heavy steel frame
A bit too expensive for most people
Read More: 5 Best Endurance Road Bikes Under $2000
Best for Gravel Ride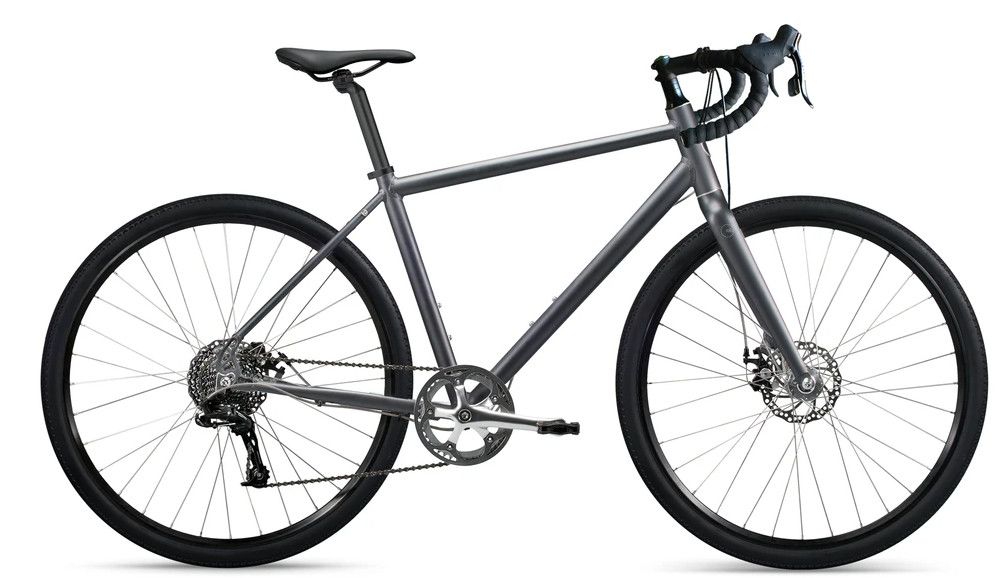 The A:1R from Roll Bicycles definitely lives up to the "Adventure Road Bike" in its name.
Whereas other top road bikes can handle the occasional gravel and off-road paths, the A:1R lives and breathes for it. This is thanks to the combination of the 700c or 650b wheels and 40mm tires. This allows it to handle even slightly technical and off-road terrain while allowing you to handle paved roads with ease.
Speaking of off-road, the SRAM X5 1×10 drivetrain comes with a single trigger shifter, helping minimize maintenance costs while maximizing gear range. Although it pairs with the 10speed 11-36T rear cassette and the single 34T front chainring for a more climb-oriented ride, the A:1R doesn't necessarily fall all that flat, or to so speak, when riding on flat terrain.
If you're the type who wants to conquer both off-road and paved surfaces, then take a close look at the A:1R Adventure Road Bike.
Pros:
The 40mm tires are just the ideal size for gravel without losing you too much speed or acceleration on paved roads
Perfect for on- and off-road rides
Versatile
Cons:
Paved road performance feels lacking compared to the competition
Best for Tackling Hills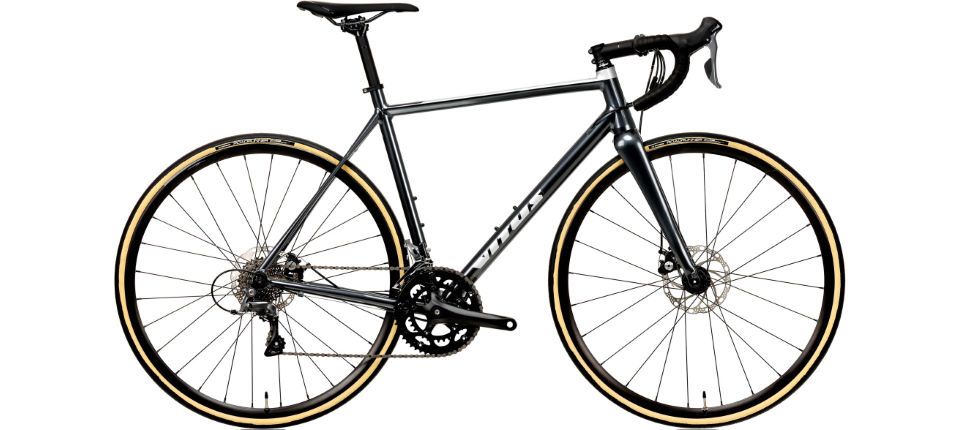 Wiggle CRC's in-house brand, Vitus, has consistently delivered riders value-packed offerings at affordable price points.
The Vitus Razor Disc Road Bike is not an exception.
The Razor borrows the same geometry as its brother, the Zenium, albeit in a budget-friendly package. To that end, the Razor exchanges the Zenium's more expensive carbon frameset and fork with a more economical double-butted alloy frame that's paired with a carbon fork with an alloy steerer.
The narrow seatstays leaves nothing wanted in terms of comfort, while the chainstays can accommodate wider tires.
By default, the Razor comes with 700c x 28mm tires, which inflates to around 30mm, give or take. This makes it the ideal size for daily use without sacrificing too much performance, as you're going to encounter more than just smooth and paved roads anyway.
Admittedly, the Razor isn't perfect. Its ride comfort is one of the firmest in its class. It's also relatively heavy. But, at the same time, it's also a smidge more affordable compared to some of the competition.
With that said, the Razor is an attractive all-around package that looks amazing thanks to its 28mm tires.
Pros:
Comfortable ride for daily and long commutes
28mm tires with enough clearance for added width
Solid components and feature set
Cons:
Non-cartridge, mechanical disc brakes are a step down in terms of performance and durability
What Can You Expect in a $1000 Road Bike?
Now, before everything else, we feel it's important to remind you that you shouldn't expect to do some racing with these $1000 or sub-$1000 bikes.
Sure, you could technically race in these bikes. People have done it before. They certainly do look the part. In fact, some of the best road bikes under $1000 might even share certain components with pure race bikes. However, these bikes are simply built differently compared to the more expensive, competition-oriented bikes. (1), (2)
The materials, manufacturing, customization, and everything else, just aren't the same.
As such, we've learned that it's best to take a lot at the bikes at this price point as a learner's tool.
You might not want to race on these bikes, but you can. And, perhaps, more importantly, these bikes a perfect gateway to a healthier, more active form of transportation, and maybe, eventually, racing.
Are $1000 Road Bikes Not Good?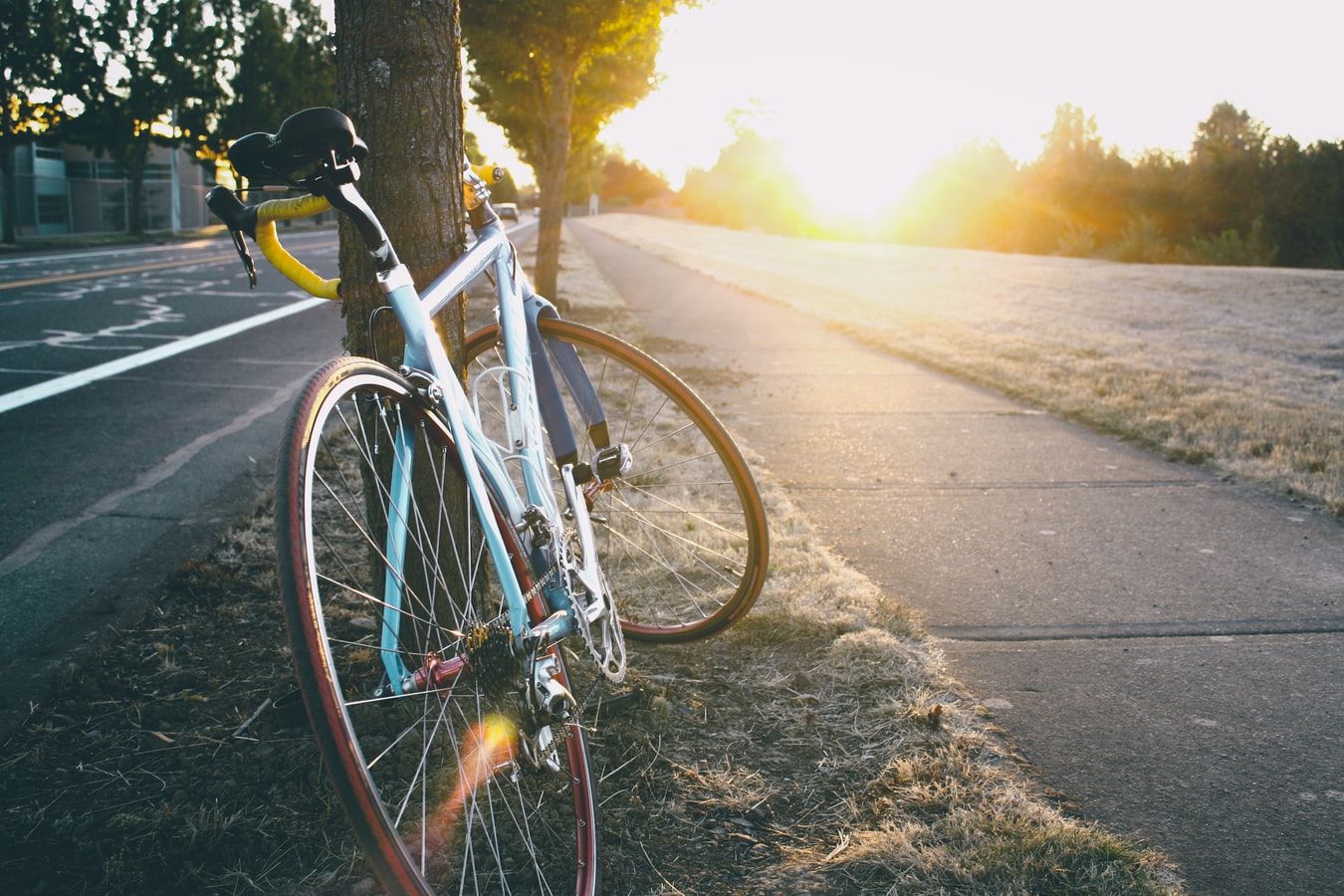 Now, this isn't to say that $1000 road bikes aren't any good. On the contrary, they're perfect for most people.
Whether it's adding a bit more zip to your daily commutes or getting a more enjoyable and reliable riding partner for your weekend rides, $1000 road bikes will do pretty much whatever you need them to do and whenever you need them to do it.
So, what can you expect from bikes at this price point?
You're pretty much stuck with your bike frame from the day that you bought your bike. Other parts, like the wheels, chain, and cassette, you can easily swap them out once you've gotten a better idea on what you want and prefer. However, your frame will stay, most likely, until you get yourself a new bike.
At the $1000 price point, you'll have a choice of either aluminium, otherwise known as alloy, and steel bike frames.
Alloy bike frames are light, stiff, and durable, but they make for a punishing ride. This is why a lot of people mitigate this by pairing their alloy bike frames with a carbon fork. Doing so can help make the harsher ride commonly associated with alloy bike frames less of an issue, resulting in a more comfortable ride.
On the other hand, steel bike frames are naturally more durable and forgiving.
If speed is what you prefer, we definitely recommend alloy bike frames. However, if you're looking for durability and comfort, you might benefit more from a steel bike frame.
Unfortunately, hydraulic disc brakes haven't made their way down to the $1000 price point just yet. However, mechanical disc brakes have become rather common in bikes under $1000 and we highly recommend them.
Although rim brakes do still exist, they're starting to become less popular. The added noise coupled with its inferior stopping power compared to disc brakes, whether mechanical or hydraulic, have made the few advantages of using rim brakes a moot point for most bicycle riders today.
Just keep in mind that, if you plan on going with disc brakes for your bike, you'll need to have a frame that's built for it.
"Strong. Light. Cheap. Pick two"
This famous quote by Keith Bontrager applies to bike parts, in general, but most manufacturers seem to spend the least on wheels the most. (3)
This isn't to say that the wheels you get at the $1000 price point are bad. It's just that, when you can, we do recommend that you swap them out with something substantially better once you have a better idea on what to expect from your bike going forward.
As a general rule of thumb, you'll want to get the nicest pair of wheels that you can afford.
Manufacturers usually make the more expensive wheels by hand. They use better materials following higher quality standards. This results in a lighter weight and much better durability. The former is significantly important. This is because lighter wheels let you ride and accelerate faster while putting in less of an effort.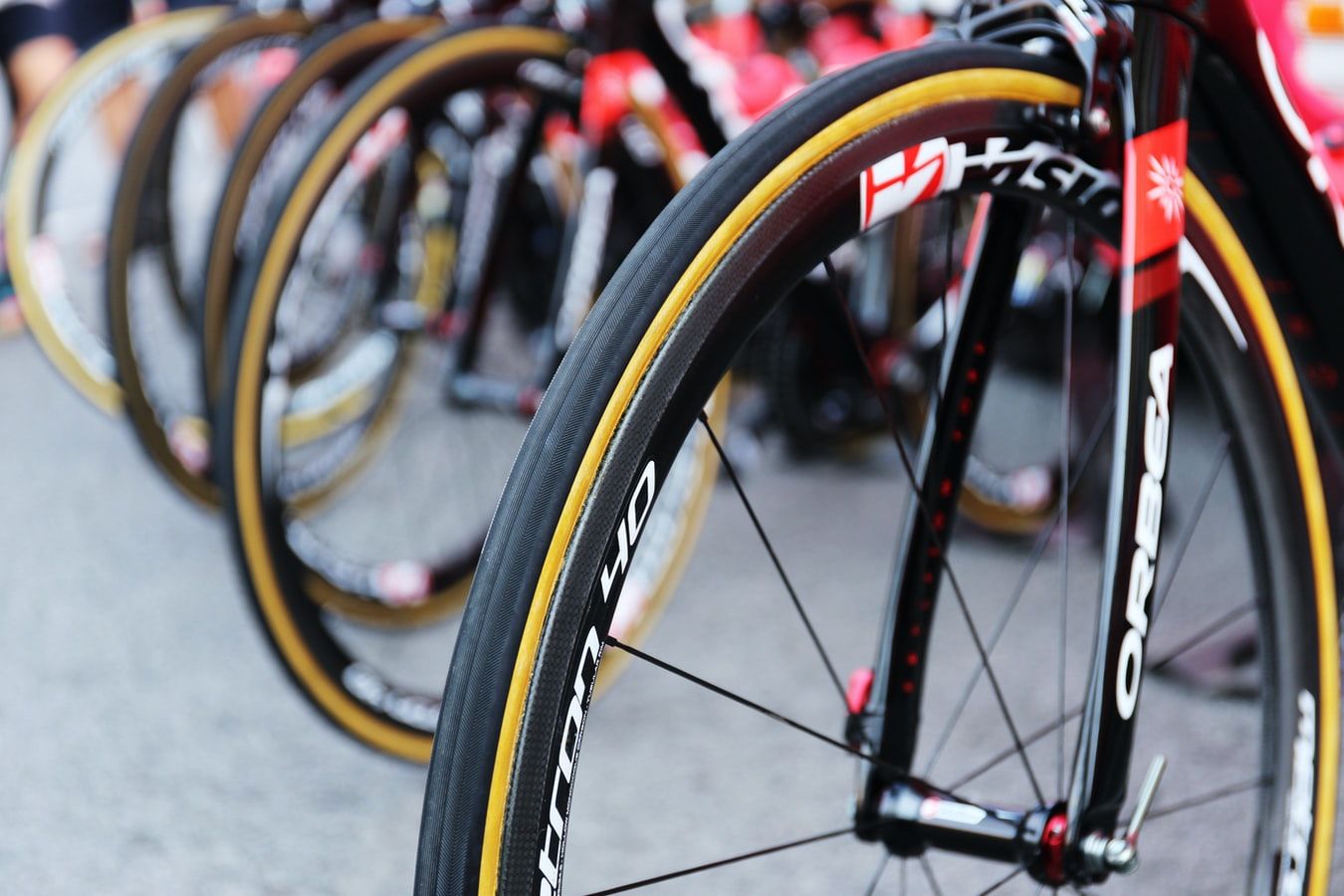 If possible, always go with the widest tires that your bike can support.
As the first point of contact of your bike to the ground, your bike's tires play a significant role in how your bike rides. The wider the tires, the less fear you have of running flat. Wider tires also have a better grip on rougher road surfaces. Also, while you do have to give up some weight on wider tires, the pros far outweigh the cons for a road bike.
Thankfully, you'll find 25mm and 28mm tires in plenty of bikes at the $1000 price point.
Most bikes selling for around $1000 usually don't come with pedals. If, and when, they do, they're usually not that good.
Regardless of whether your bike comes with pedals or not, we recommend buying your own as soon as possible. Go clipless, if you can, because these bike pedals let you generate more speed and force. But, you should take a look at mountain bike style pedals if you're looking for something more tuned to daily commutes.
Flat pedals aren't half-bad either, especially if you don't want to buy a new pair of footwear specifically for biking alone.
Final Thoughts
Make no mistake. There aren't any losers on the road bikes we recommended.
You'll end up happy and contented, regardless of which of these 5 best road bikes under $1000 you end up buying. However, if we were to single out the best among the rest, we'd have to go with the Trek Domane AL 2.
Backed by one of the most reputable name brands in the biking industry, Trek's sub-$1000 offering benefits from the trickle-down effect of its more expensive siblings and comes with everything you could reasonably need in a road bike at the $1000 price point.
For a "relaxed" and comfortable ride, the Specialized Allez E5 Sport should beat out the others for longer distances. On the other hand, if you prefer to sacrifice a bit of paved road performance for off-road use, it's a bit of a toss-up between the Co-op Cycles ADV 3.1 and the A:1R Adventure.
Either way, both should work just fine for those technical terrains and climbs you plan on conquering over the weekend.
Lastly, for climbing, there really isn't a better option out there than the Vitus Razor Disc.