Bike inner tube not only holds air, but it also affects tires rolling resistance, prevent punctures, and make your bike light and fast.
So if you want to enhance bike performance in terms of reliability, speed, and robustness, it's worth checking out the best road bike tubes.
After considering almost all road bike tubes in the market, we think that Continental Race 28 700×20-25c Bicycle Inner Tubes is our best pick for the Presta valve.
This takes a clear lead because of their thinner, lighter construction, durability, low rolling resistance, and ability to fit standard road bike tires.
Scroll down to know about more options available for the best bicycle inner tubes.
Presta Valve
Best Overall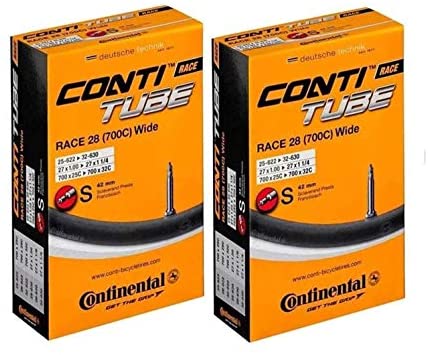 Continental is a leading brand for automobile equipment and 4th largest manufacturer of bike tires around the world, we really believe that Race 28 (700C) is a top-quality bike inner tube.
Lightweight and thin; this means the tube will roll better than the heavy-duty ones. Thanks to lower rolling resistance! We believe these tire tubes are an ideal choice for a regular cyclist.
This Race 28 tube fit 700 diameter wheel size that has a width between 20 to 25c.
Also, puncture-protection isn't any less with this standard tube. Each tube is tested with a 100% quality control inspection for durability.
It features a threaded 42mm Presto valve with a unique removable valve center design.
Although other lighter tubes are expensive, this pair of road bike tube is budget-friendly.
Since they're made of high-quality butyl rubber, the tubes will hold the air pressure without any leakage. Another good thing is that tubes come with tire levers, so changing tubes is easy.
Pros
Great for long-distance riding
Lightweight
Thin rubber for low rolling resistance
No heat-up or blowouts with faster speed
Cons
Some find them hard to install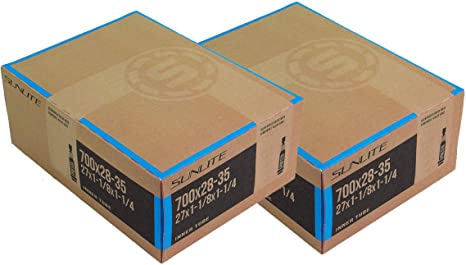 If you suffer from pinch flats when riding a road bike, we think Street Fit 360 bike tube can help with the punctures.
This inner road bike tube comes with the standard threaded 42mm presto valve with a removable core. However, there are 32mm and 60mm sizes also available to match your rim size.
The bike tube fits all 700c tires with a width ranging from 28 to 35. Not just for road bikes, these inner tubes are known to work for all bicycle genres regardless of any brand.
This is the main reason we've included the Street Fit 360 tube in our best bicycle inner tubes list.
Made of notch-quality butyl rubber but still at a very affordable price; the tubes are light and thin to lower the rolling resistance.
This means that a cyclist who prefers fast riding will greatly benefit from these puncture-resistant inner tubes.
Plus, you get 4 super-sturdy bike tire levers by Gorilla force to fix your flat tires in a few minutes.
Pros
High-quality inner tubes
Threaded presto valve
Easy installation
Thin and lightweight
Cons
60mm valve is non-threaded
Read More: 10 Best Mountain Bike Tubes
Best Heavy-Duty Tube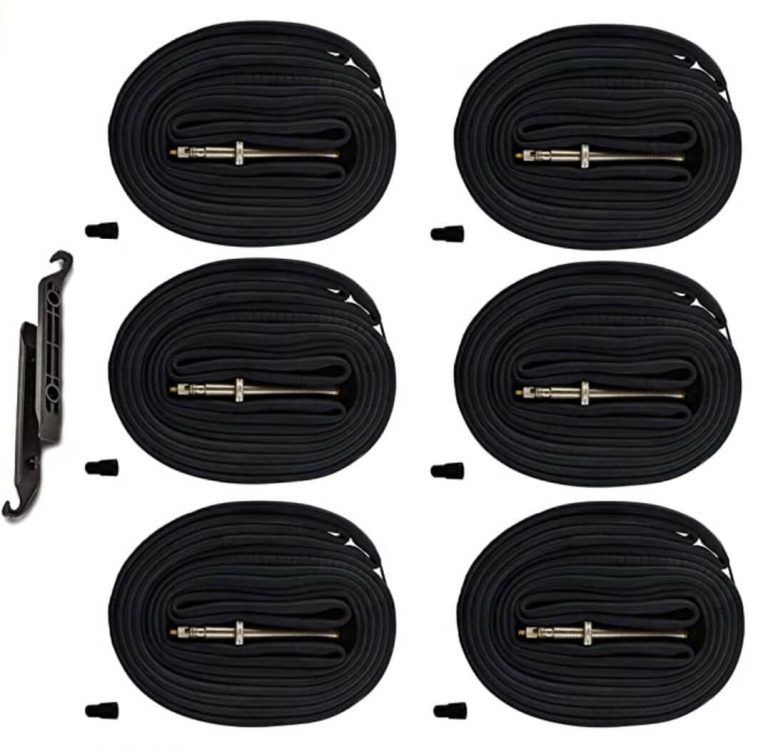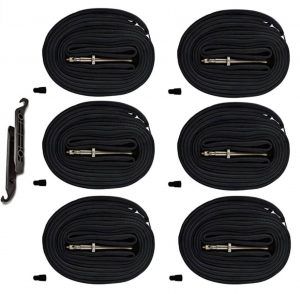 Looking to add comfort to your road biking trip? We feel that AR-PRO 28 inner tubes are built for this purpose. 700×20-25c means the tube fits 700c road bike tires that are from 20 to 25mm wide.
The inner tube is made from thick heavy-duty butyl rubber that not only prevents punctures and pinch flats but also absorbs shocks and bumps.
We believe this is a great comfort feature as the rider won't feel any force. Thanks to the extra-thick tube wall. Plus, this also makes it capable to withstand and maintain high PSI well.
Unlike other cheap-quality valve materials, AR-PRO uses a reinforced brass Presto valve of 80mm length and larger stem. Great, because you won't require valve extenders!
Another safety feature is the use of weather-proof rubber. Besides, the AR-PRO bike tube is designed as explosion-proof. An airtight seal is created immediately even if your tire gets punctured.
This prevents any destruction or damage ensuring the rider's safety.
Free 2 tire levers provided will make installation or replacement of tire tubes easy and quick.
Pros
Extra-thick wall
Withstands high pressure
Weather and explosion-proof
Reinforced brass Presto valve
Cons
Best Value for Money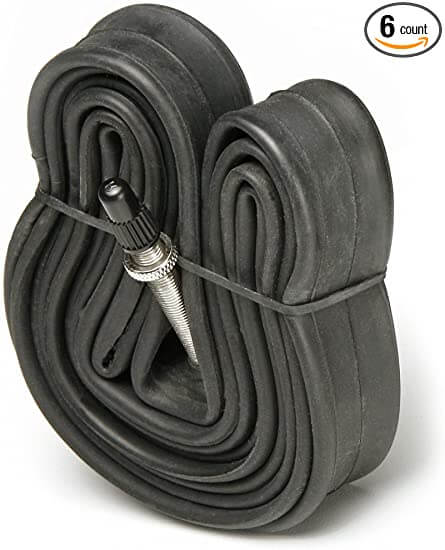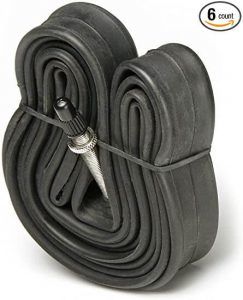 This Velo inner bike tube comes in a pack of 6 tubes at a very affordable price. We suggest Velo inner tube for your road bike because it's made from premium-quality butyl rubber yet so lightweight and thin.
Each tube weighs only 120 grams; this means you'll have less rolling resistance and can enjoy a faster ride more comfortably.
The tube fits road tires of 700C size with a width from 18-25C
Less thick doesn't mean the tube is not durable. When tested for long-distance riding, it's proven that long-lasting butyl rubber used results in fewer pinch flats.
So, you are likely to get fast-rolling tires that can resist punctures.
Pros
Durable butyl rubber
Fits standard road bike wheel
Lightweight
Presto valve; no adapter needed
Cons
Schrader Valve
Best Overall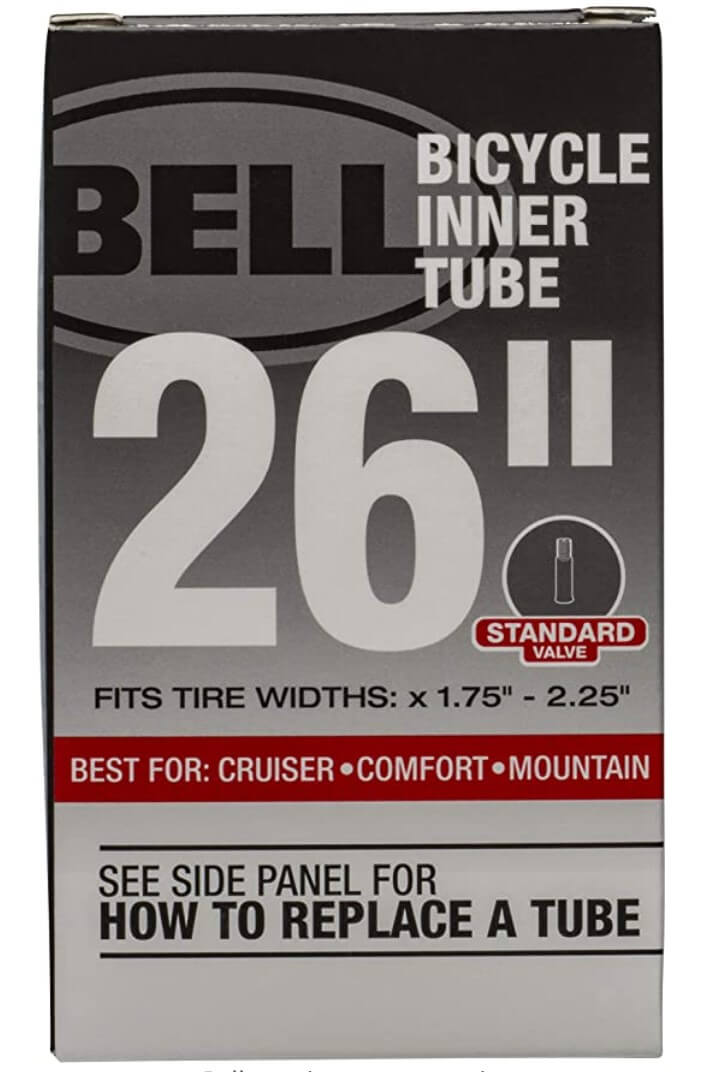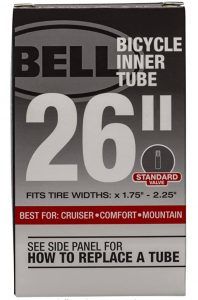 Bell is a renowned brand for selling high-quality bike tubes to fit nearly any tire size. So, we've selected the Bell inner tube because of reliability. It uses a short sturdy 35mm valve with a dust cap called Schrader or the standard valve.
Made from cured mold high-quality rubber, the tube withstands higher pressures without blowing out. Besides, this aids in puncture-protection. The tube perfectly fits inside all 26″x1.75-2.25″ road bike tires.
They are available in 2 choices; a standard which is pretty good for most cycling conditions, and a self-sealant tube. Self-sealing is a great feature as it instantly seals up to 1/8″ holes even when you're riding.
These tubes have liquid self-sealant inside that acts as an additional flat protection layer. So this is an excellent safety as well as a puncture-proof trait of Bell bike tubes.
Pros
35mm Schrader valve
Resists high pressure
Explosion-proof
Puncture-resistant
Cons
The valve stem a bit tight
Best for Durability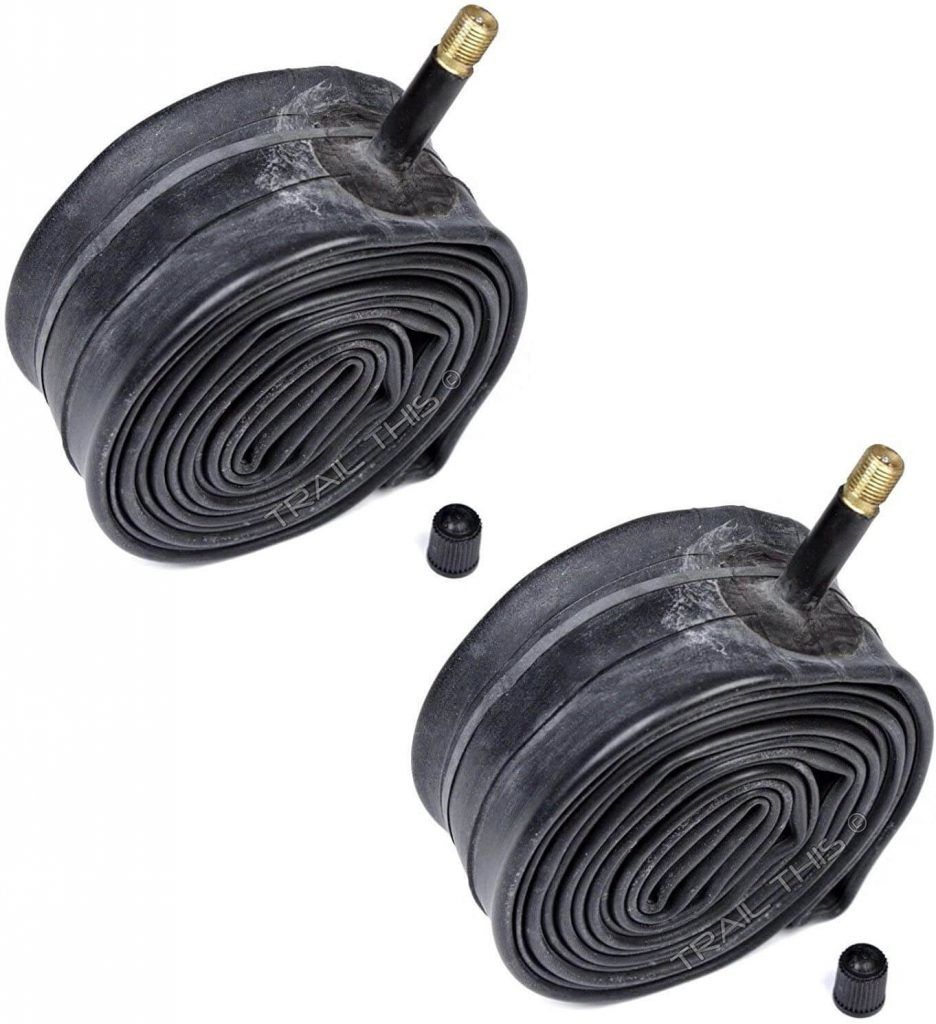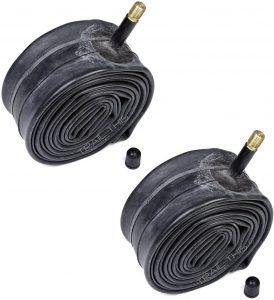 You can also trust Kenda inner tubes for your road bike tires. Designed to make your riding journey more comfortable and stress-free, this pair of tubes are made of durable rubber.
A top-grade natural rubber compound prevents air leakage while offers steadfast durability under the roughest riding conditions. So we believe there's the least possibility of experiencing a pinch flat.
Made in Taiwan, these tough tubes have a thickness between 2.3-2.4mm. Kenda inner tubes are made specifically for all those bike riding situations where you can't afford the risk of a flat tire.
They fit well on standard 26″ x 1.9-2.125″ road bike tires and hold high air pressure.
Moreover, this pair of Kenda tube features premium-quality robust Schrader valves and metal valve stems. They offer high-class road bike tubes you need at a price you can afford.
Pros
Durable thick natural rubber
Robust Schrader valve
Metal valve stem
Flexible and puncture-resistant
Cons
Best for Various Size Options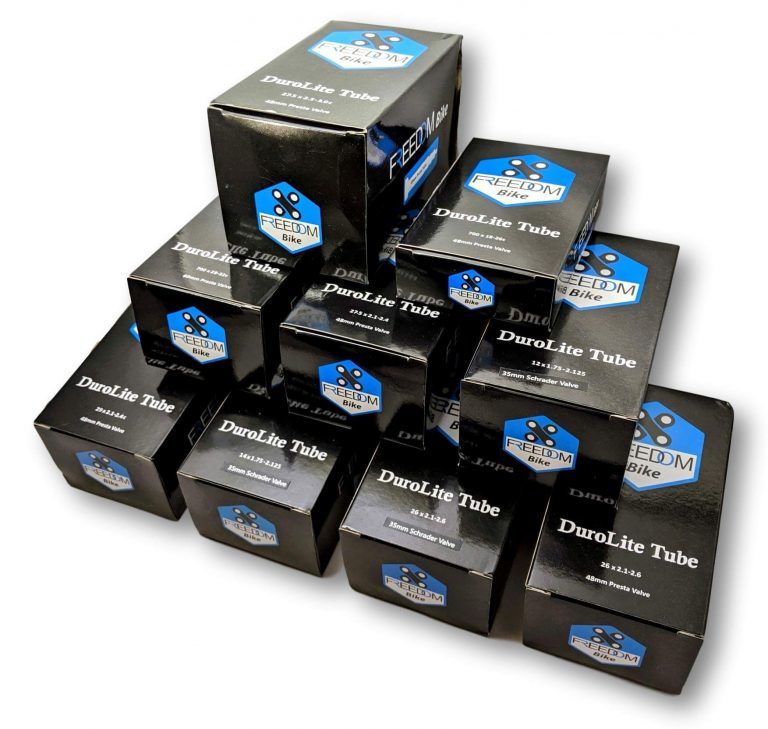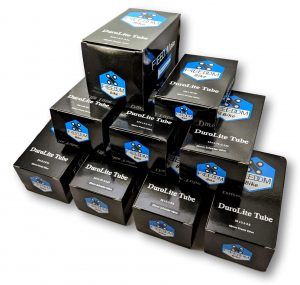 The DUROLITE bicycle tubes are available on a wide range of roads as well as mountain bike wheel sizes. So finding the right size for your bike tire won't be an issue.
Not just sizes; they also offer 2 valve options to choose from; a threaded 60mm long presto valve and a 35mm shorter Schrader valve.
This makes it suitable for both training wheels and racing wheels.
Each DUROLITE tube is constructed from top-grade butyl rubber compound and weighs around 110-120 grams only. As a result, these tubes are puncture-proof, flexible, and lower rolling resistance for fast-speed riding.
Pros
Various size options
Presto and Schrader valve choice
Light and durable
High-quality rubber compound
Cons
Bike tire levers not included
Road Bike Tube Buying Guide
In order to pick a proper road bike tube depending on cycling needs, you must consider some of the important aspects before making a purchase.
Tire size
Know your road bike tire size for which you need to buy the inner tube. Tire size is printed on the tire's sidewall markings. For example, a common road bike tire 700 x 32 tire size indicates wheel diameter (first number) and width (second number).
When it comes to choosing inner tube size, it's important to make sure that the inner tube and tire size match. The inner tube comes in a range of widths as they can stretch, so pick the one that has the same diameter.
Secondly, your bike tire's width should fall into the width range of the tube.
Valve type
The main types of valves are Presta and Schrader valve.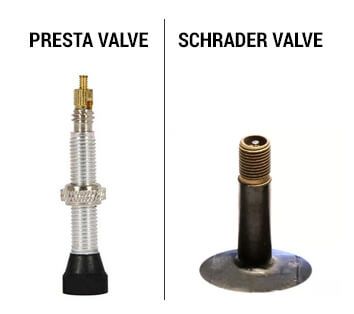 Presta valve is a more common choice for the road bike inner tubes. It's thin, slender, narrow, and made from metal. The valve stem is opened by unscrewing the knurled nut on top.
A Presta valve seal upon the tube's inside air-pressure. The major advantages of the Presta valve for road bike are
Lighter
Doesn't involve check valve for closure
Easy to pump
Requires a small hole in the rim due to the smaller diameter of the Presta valve.
Not only do you have two different options for valves, but you also have a choice for different lengths of the Presta valve. They come in a wide variety of lengths for deep-section wheels; 32, 48, 60, and 80mm.
A 40mm deep-section rim requires a valve of about 60mm length.
It's thicker than the Presta valve and normally found on the majority of car tires. Unlike Presta, the same 32mm length Schrader valve is used with almost every wheel.
It features a threaded outer wall to accept the air-pump head and is usually enclosed in rubber with a dust cap.
There's a spring-loaded center pin to manage airflow. This type of check-valves only allows unidirectional airflow; the tube needs pressure on the center pin to allow air inside. Benefits of the Schrader valve includes:
Robust
Easily removable core
Simple to use with spring closure
Higher tire pressures
Materials
Most bike inner tubes are made of butyl rubber with varying thickness. Latex is another rare material for inner tubes for less rolling resistance.
The major drawback is its expensive, leaks air, and prone to blowouts due to high heat build-up.
Thickness and weight
Though inner tubes can be of the same size but differ in thickness. The benefit of a thicker tube is puncture-resistance; fewer pinch flats with thick rubber.
Extra-thick 2-3mm thorn resistant tubes are fully puncture-proof but add a little rotational weight and rolling resistance. However, if you prefer cycling at high speeds, a heavy-duty inner tube isn't a good choice.
Running heavy-duty tubes at high speed causes tire heat volume to increase dramatically leading to tube deterioration.
Standard thickness inner tubes filled with sealant is another effective way to avert flat tires. Conversely, a thin lighter inner tube offers fast speed by dropping rolling resistance.
It also allows for as little heat build-up as possible due to less friction and cooling down quickly. However, these lighter inner tubes are more prone to punctures.
There are ultra-light tube options for riders to reduce wheels rotational weight for climbing and flat-road biking.
Conclusion
The clear winner for the Presto valve tube is the Continental Race 28 700×20-25c Bicycle Inner Tubes due to its light thin rubber design; puncture protection, low rolling resistance for fast riding with hardly any flats.
For Schrader valve tubes, our best recommendation is Bell Standard and Self Sealing Bike Tubes. Approved by expert riders, these bell tubes are tougher, durable, self-sealing, and have a more robust valve.
A good-quality road bike tube is ideal for little rolling resistance. It's the best insurance against pinch-flats or snake bite. Enjoy a more comfortable ride!