Bikes can be major money investments, so it is no brainer that adding the best rear bike rack will make its value go higher. However, with hundreds of bike rack options out there, finding the best one for you can be a challenge.
If this is your case, then you are on the right page. We have spent a hundred hours researching the best rear bike racks in the market to create a shortlist of the best options. We have concluded that the Topeak Explorer Rack is the best choice because of its durability and affordable price.
Rear More:
If you want to know the other excellent rear bike rack options, continue reading best rear bike racks under various categories.
Best Overall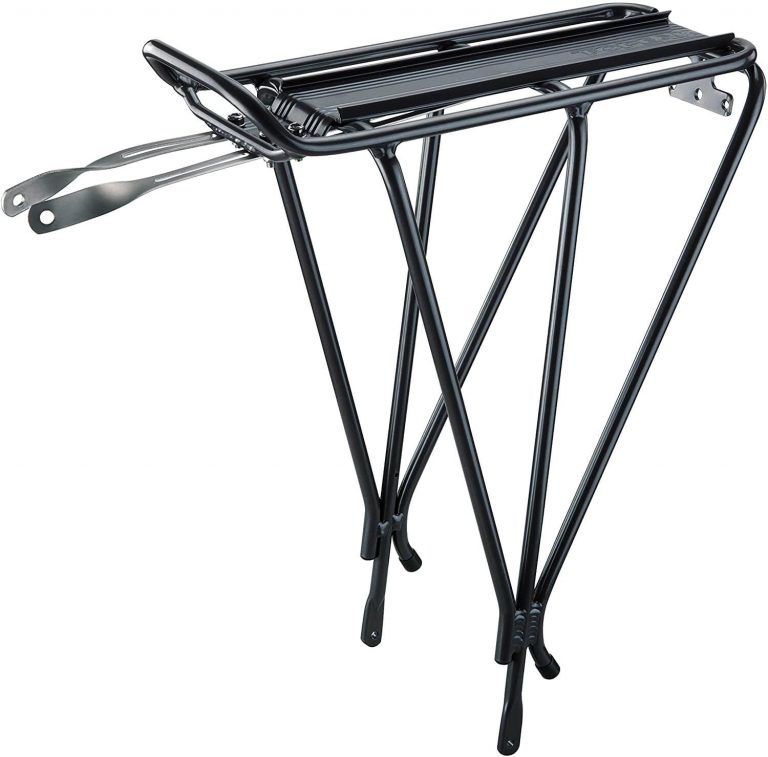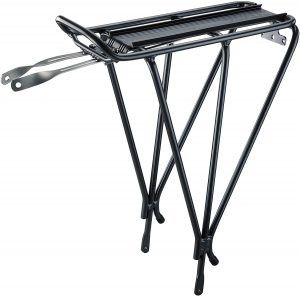 The Topeak Explorer rack is a favorite among amateur and professional bike riders. It is undeniably strong and durable at a very low price, which is why it is the best overall pick in this list.
It features a 6061 T6 aluminum construction that is both light and durable. This feature prevents this rack from distorting the balance of your bike. The fitting bracket hollow tube is also made off the same material, which is why this rack only weighs 1.50 pounds.
This best bike rear rack can accommodate upto 55 pounds of cargo. It also has a braze-on mounting type making it compatible with most bikes out there.
Furthermore, you can buy this bike rear rack with or without spring. The spring variant is perfect if you intend to put cargo directly on the rack. If you plan on using bags or panniers, opt for the no spring option, which is cheaper.
Pros:
Compatible with most bikes
Durable construction and material
Cons:
The mounting straps are a different color
Best for Disc Brakes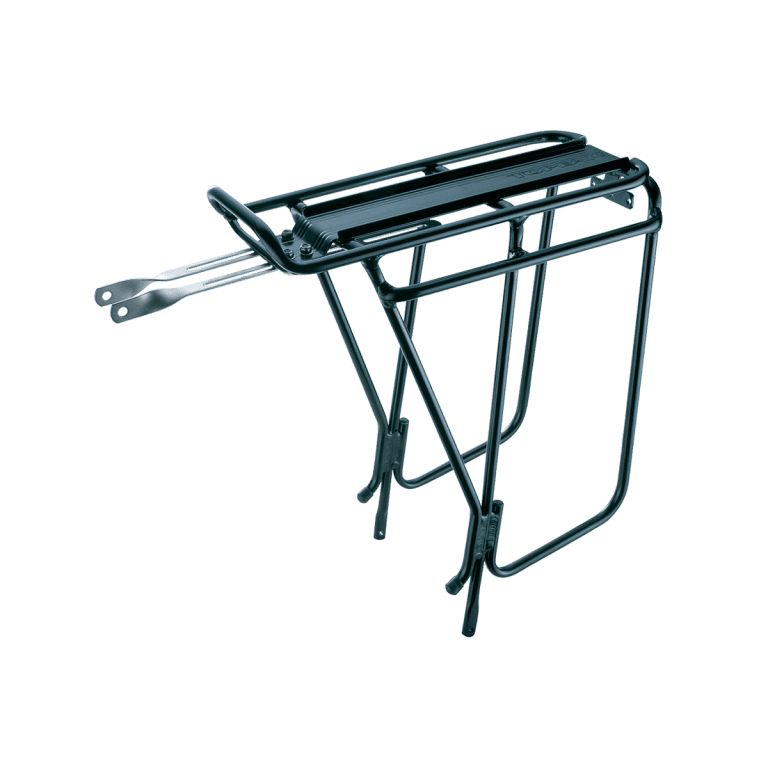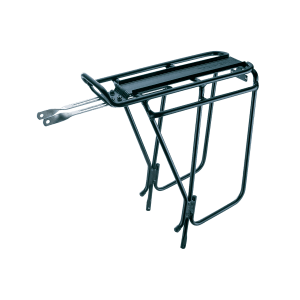 If you have a disc brake bike, this commuter bike rack might just be what you are looking for. It is specifically designed for disc brake bikes and made compatible with the RX QuickTrack system.
The most notable feature of this rear bike rack is its construction. The main priority during the construction process was the reinforcement of vital support points for added durability.
To further make this rack more sturdy, Topeak Superior Tourist Tubular used 6061 aluminum material. This rear bike rack is only 1.6 pounds, so it will not affect your bike's balance that much.
It also has features such as a taillight mount, redlite mount, and solid fender top. These provide you with versatile mounting options. Since it has the RX QUICKTrack system, placing trunk bags and rear baskets will be no hassle at all.
It can carry upto 55 pounds of cargo in terms of capacity, whether directly placed on the rack or using panniers and bags. It also has a sleek design that does not take away with the overall aesthetic of your bike.
Pros:
Made of high-quality material
Reenforced support points
Mounting hardware already included
Cons:
Does not fit wheels that are over 29 inches
Best Quick-release Rack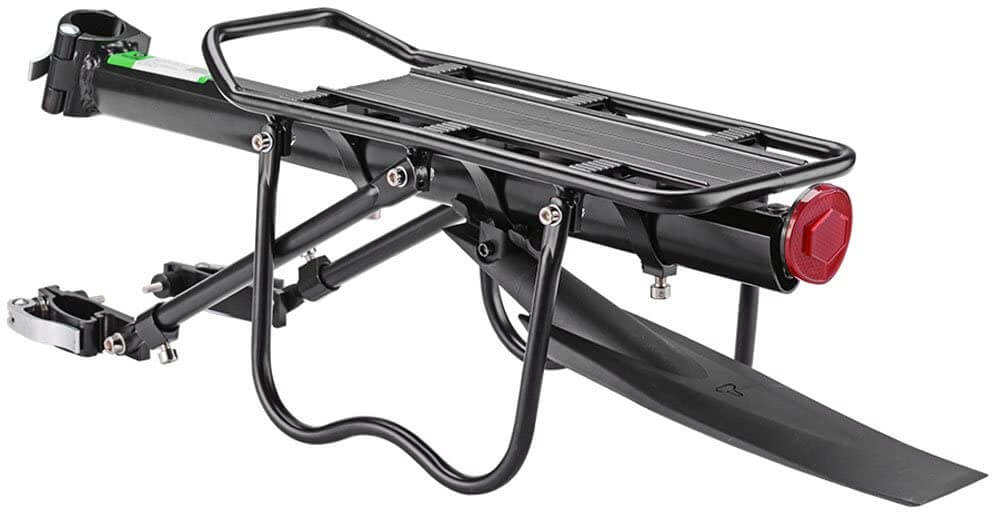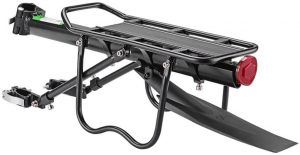 When it comes to the quick-release mechanism, the ROCKBROS Bicycle Cargo Rack is among the best. This mechanism allows this quick release bike rack to be easily mounted on the seat post. The removal process of this rack is also very straightforward.
Furthermore, its quick-release mechanism allows you to adjust the bike seat height without any problems. You will find this feature very useful if multiple people use your bike at varying heights.
Aside from its quick-release mechanism, it also has a fender underneath the bike seat. This fender protects your panniers or bags during rainy days or when the road is muddy.
Its sidebars are also designed to have the "W" shape. This design prevents scratches or damages on the bag that you will mount on the rack.
In terms of capacity, this one is also among the most heavy-duty options on this list. It can carry between 110 pounds to 165 pounds worth of cargo.
Pros:
Efficient quick-release mechanism
Cons:
No instruction for installation included
Most Adjustable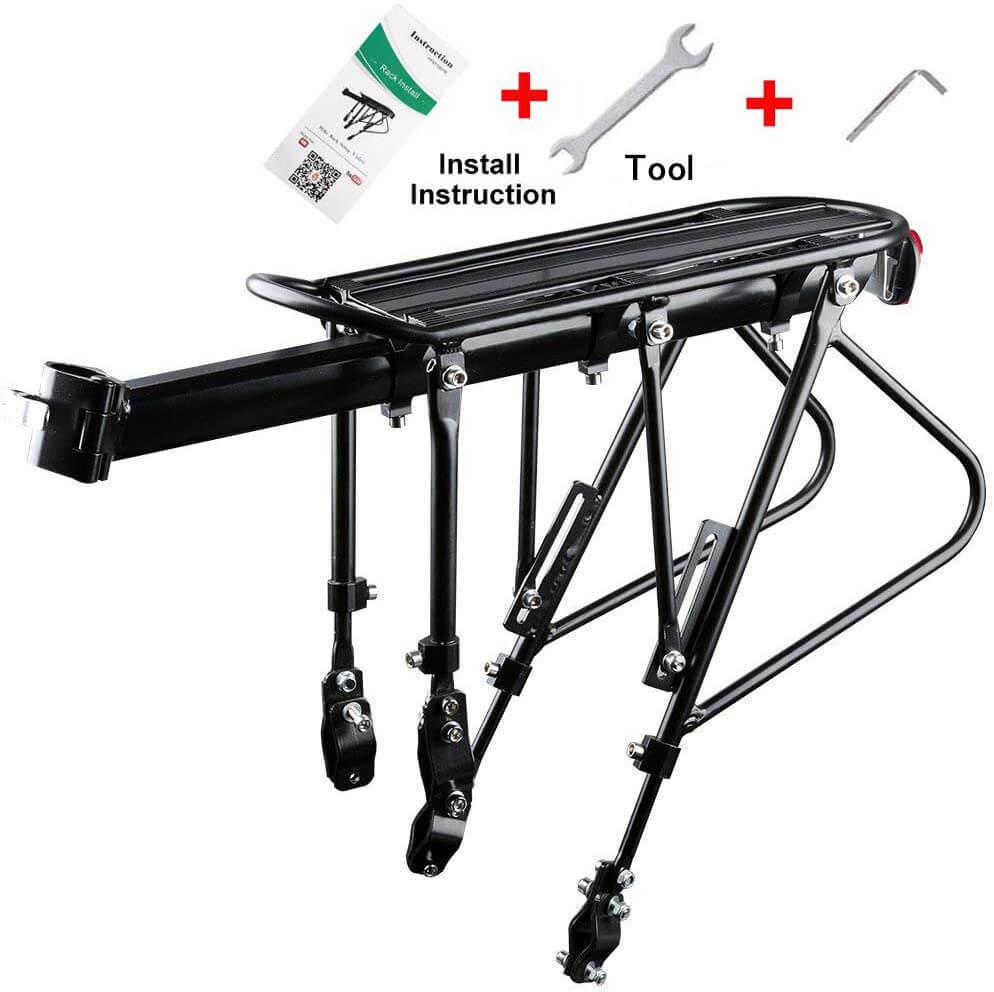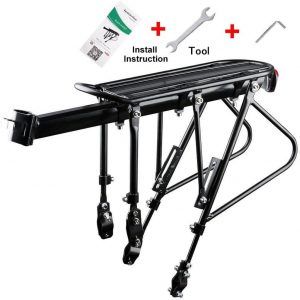 If you are looking for a heavy duty rear bike rack that offers adjustability, then the West Biking Bike Carrier Rack is the best choice for you.
It has an adjustable shelf that enables you to adjust the height and back stent. With this, you can strap the cargo securely on the rack without any problem. It can also help improve your comfort while riding despite having a cargo.
Another nice feature of this rear bike rack is its solid aluminum alloy construction with steel load-bearing. As you already know by now, aluminum alloy is an excellent and reliable material for rear bike racks because it is durable and lightweight. However, what sets this rear bike rack apart from others is its steal load bearing.
Its steel load-bearing enables it to carry twice as much cargo than other rear bike racks. It has the capacity for 140 kilos to 180 kilos. This makes it an ideal rack if you intend to go on long rides, or you need to carry plenty of gear and equipment.
In terms of compatibility, this rear bike rack has no problem. It can fit 20-inch to 29-inc bicycles, whether they are fat bikes, mountain bikes or road bikes.
Another feature that this bike has is it's 90 days money-back guarantee. This enables you to try this product to your heart's content without any risk on your pockets.
Pros:
Installation tools already included
Cons:
Brackets tend to chip the bike's paint
Best for Heavy Loads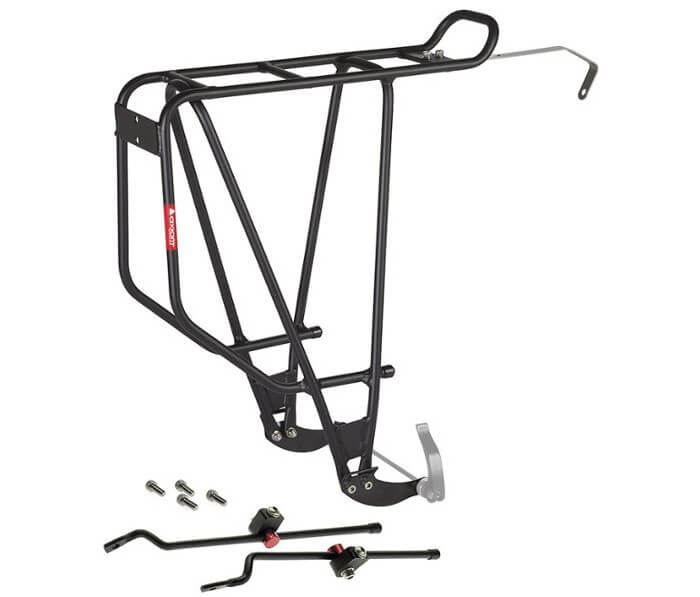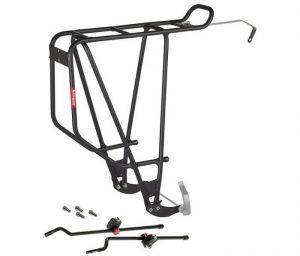 The Axiom Cycling Gear Streamliner the best option for heavy loads on this list. It helps improve the aerodynamics of your bike. This is very important because large cargo affects the balance and ride quality of a bike.
Furthermore, the Axiom bicycle luggage rack also helps improve your bike's handling. It strategically positions the cargo close to the center of the bike. It also has versalock brackets. This feature provides compatibility with bikes that have mounting challenges.
The product itself is only 710 grams. It is lightweight because of its aluminum construction. Despite that, it has a weight capacity of around 110 pounds.
It also has an anti-scratch coating to protect it from corrosion. This will allow the rack to last longer despite the changing outdoor environment.
The installation of this rear bike rack is also very straight forward. The instruction and tools are already included in the package. You can also buy a standard quick-release skewer for this rack for more convenience. However, you will need to pay extra for that.
Pros:
Compatible with almost any type and size bicycle
Extra anti-scratch coating
Multiple mounting options
Cons:
Does not include seat post clamp
Easiest to Install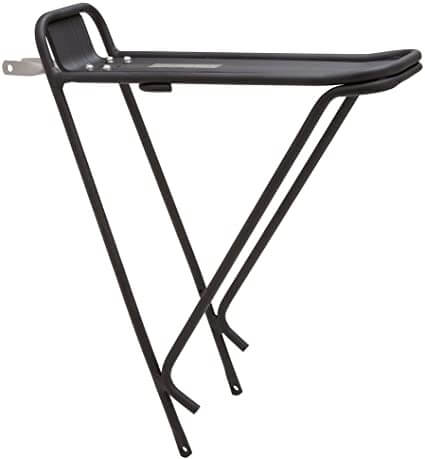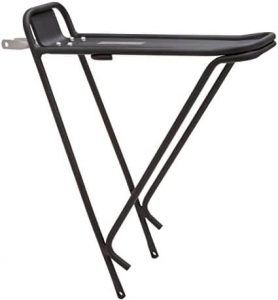 By far, the Planet Bike Eco is the easiest rack to install on this list. This is because it has a wide range of adjustability for straightforward installation. It can fit upto 29 inches bikes.
Another reason why it is part of the best list is its 6061 aluminum construction. Bigger rods are in this rack to accommodate more weight. The weight capacity of this rack is 55 pounds.
Aside from that, it also has open side rails. This enables it to maximize heel clearance even if there are bags attached on the bike.
Pros:
Durable material and construction
Cons:
Not compatible with bikes with disc brakes
Most Budget-friendly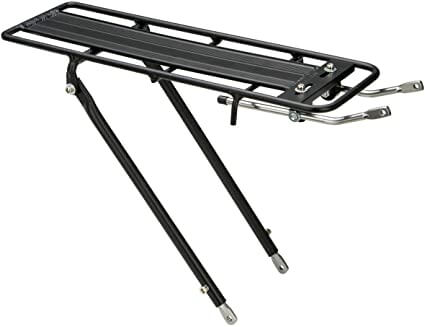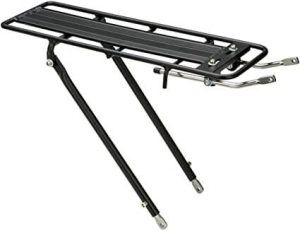 The Schwinn Mounted Bike rack offers incredible value for money. What makes it very lightweight and durable is its aluminum construction. It also has an extra powder-coated finish. It adds protection against rust and a classier finish.
Furthermore, this rear bike rack is very easy to install. It is also compatible with 26-inch and 27-inch frames.
Pros:
Cons:
Installation instructions are in Chinese
How to Choose the Best Rear Bike Rack
First and foremost, before even looking for the best back bike rack, you must first identify whether your bike is compatible with it.
To know that, check if your bike has a braze-on mount because that is the necessary prerequisite of rear bike racks. If your bike does not have a braze-on mount, it is still possible for you to use a rear bike rack, but you will need a metal C clip.
Now that it is over with, here are the different factors to consider when buying a rear bike rack: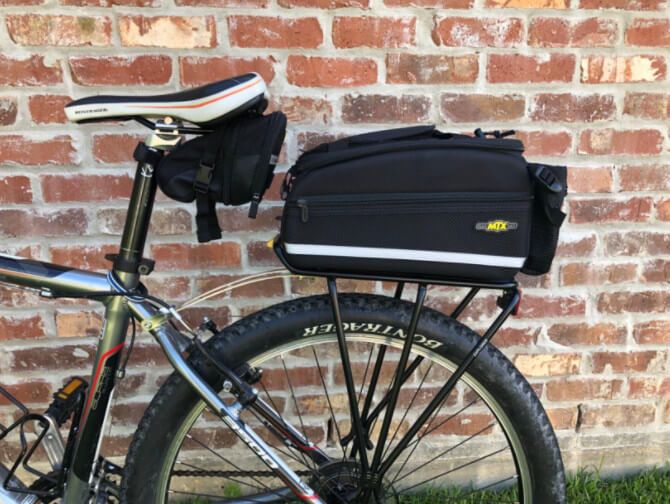 It is important to determine how much cargo you will be loading on your bike's rear rack before deciding to purchase one. The minimum capacity of the best bike cargo rack is around 55 pounds.
It is ideal to avoid cargo that does not push the rack to its limits because it might affect your bike's aerodynamics. If you intend to load plenty of gear and equipment, opting for racks that can accommodate more than 110 pounds and above is the best choice for you.
Design is an important aspect of your rack. Ensure that it does not affect the bike's aerodynamics and does not damage the spokes and tires.
Furthermore, it must provide you with maximum foot clearance, even if you will attach panniers or bags on the rack.
Another important factor to consider is installation. Most rear bike racks have braze-on mounting. Make sure to check the mounting type of the rack first and its compatibility with your bike.
If your bike is not compatible with braze-on mounting, you may need to purchase C clips to make it fit. Some manufacturers already include C clips on the rear bike rack package.
The outdoor environment can damage the bike racks over time. Due to that, materials that are corrosion resistant are excellent choices. A good example of this type of material is high-grade aluminum. It is also lightweight, so it does not affect the overall balance of your bike.
Side note: Learn more about the bike racks that you can use to carry on your car on a family trip.
What's the Best Way to Use Rear Bike Racks
The main benefit that you will get from installing a bike rack is that it enables you to carry cargo securely. There are three main ways on how you can achieve this benefit using rear bike racks. Here are they:
By Placing Cargos Directly on the Rack
Racks that have spring enables you to put cargo directly on the rack platform and clamp it securely. This is the best way to use a rear bike rack if you are carrying raincoats, a sweater, or anything that is light and small.
Another way of using rear bike racks is with baskets. Baskets provide plenty of room for groceries and other items that are quite heavy.
Panniers are bags specifically made for bikes. It can provide you with 40 to 60 pounds of container space. Using panniers on the rear bike rack is an excellent idea during the winter season or rainy days because it protects your cargo from getting wet.
Final Verdict
Obviously, the clear winner in this roundup is Topeak Explorer Rack. The durable material, excellent construction, and its overall design aid the aerodynamics of the bicycle. It is very reasonably priced, too, making it a perfect choice.
The Axiom Cycling Gear Streamliner Disc DLX Rear Bike Rack takes the spot as a runner thanks to its large and heavy-duty capacity. The only downside is that it is a little more expensive than the explorer rack.
So, there you have it. Those are the best rear bike rack that suit various requirements and price ranges.