The handlebars of your mountain bike take a lot of beating. This is why it helps if you get it a mountain bike grip (mtb grip).
The best mtb grips give you a better grasp of your bike's handlebar for improved handling. Some are even designed to encourage proper ergonomics and minimize cramping, as well as hand pain. They even make your bike look more stylish to ride on.
The Ergon – GE1 Evo are a good example of this.
10 Best Mountain Bike (MTB) Grips
Best Overall Mountain Bike Grips


The Ergon – GE1 Evo Ergonomic are the best-looking mountain bike grips out there. But, that's not all. It's not just all form.
It's also shaped in a unique and attractive way. Its shape encourages a naturally angled riding form. Additionally, the core and rubber are designed specifically to provide more cushion and minimize vibrations.
Both sides are easy to install and the angle markings let you dial in the exact twist for proper ergonomics. It also looks polished with the clamps facing in the same direction, which is upwards.
You won't notice it just by looking at it. You'll have to ride it to feel. However, after a while with these grips, you'll notice how comfortable it is to ride your bike is now.
You'll have very little hand pain or arm pump issues with these ergonomic mountain bike grips.
For added comfort, the GE1 is also available in an "upgraded" form that makes the grips softer. However, the softer rubber grips are not as durable., so keep that in mind. You can also opt for a "slim" version if you don't like how thick it is. This grip works well with a hardtail or full suspension mtb. This article have an in-depth hardtail mountain bike reviews in case you're interested.
Pros:
Stand out aesthetics
Ergonomic
Unique shape
Grippy and tactile feel
Cons:
Rubber could be more durable
Limited color options
Best for Thickness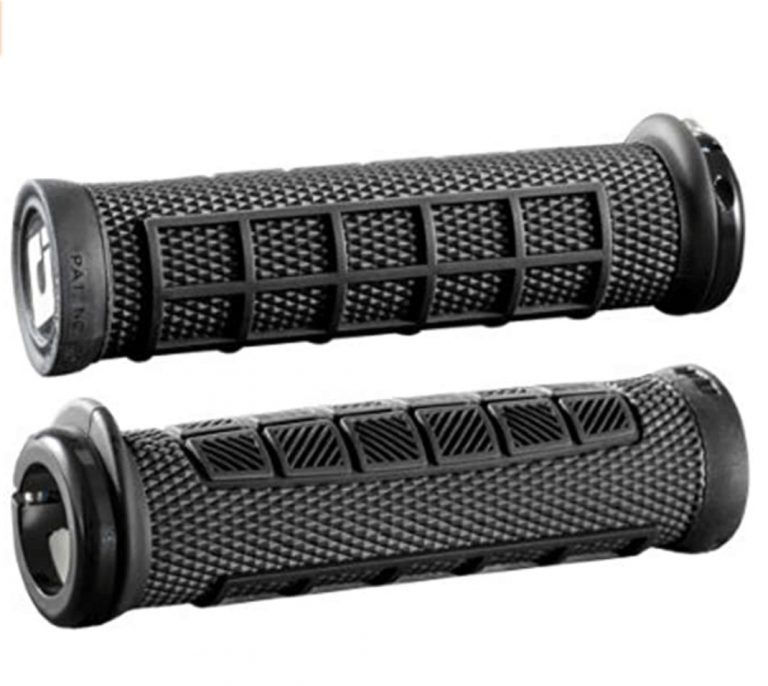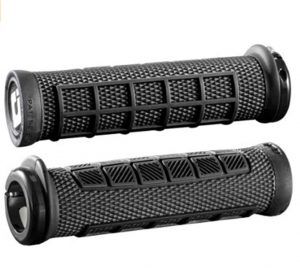 Whether it's for better comfort or ergonomics, some people just prefer thicker bike grips.
One of the best MTB grips in terms of thickness and comfort is the Odi Elite Pro. Mind you, it's not just thicker all over. It's thicker in all the right places.
This means that it won't mess with the ergonomics. Instead, the additional padding conforms with your hands as you ride without making you feel the added bulk.
The half-waffle pattern front grip design helps add control and improves handling. At the same time, the alternate pattern goes from smooth to sharp.
This design choice allows the texture to improve your control over your bike. You'll get better traction because of it. But, it alternates in a way that it won't cause any irritation on your hands, even without gloves.
For those with sore hands or prefer thicker paddings, the ODI Elite Pro gets you all the benefits of having fatter padded grips with minimal added bulk.
Pros:
Available in numerous color options
Easy installation
Forgiving and comfortable feel
Cons:
Feels a bit too expensive
Best Budget-Friendly


Bike grips are a preference thing. Some just ride better with thicker grips. The opposite of this is also true, as some people just prefer thinner grips.
If that's you, then consider getting the Bontrager XR Trail Comp.
The material is a lightweight type of nylon. It comes with CoreLock clamps for a tight and secure grip on your handlebar. Meanwhile, because of its finned surface pattern, you get better control and grip of your bike with added comfort as well.
Although the tread and rubber compound is not thick, it's optimized properly to give you the best comfort and control possible.
It also has a single-clamp design for maximum grip surface. This makes your bike easier to steer and more predictable, especially on rougher and more technical roads.
To top it all off, the 3mm M4 bolts help make the grips more strip-resistant while improving the hold.
Pros:
Easy to install, adjust, and remove
Durable
Firm yet plush feel
Affordable
Cons:
Textured grips can cause hand blisters
Best for Comfort


Just as the same suggests, the Extra Chunky are thick.
The 34mm diameter is noticeably thicker than what other bike grips can offer, even the supposedly thicker ones. Yet, at the same time, they're lighter than most too. The Extra Chunky weighs just 80 grams, which is pretty light.
Lightweight and thick, these grips will make riding trails so much easier on your hands. It's also 100% silicone. This material choice is great because it guarantees that the grips stay firm and don't slip around, regardless of the weather.
Also, because they're latex-free and resistant to extreme weather, these mountain bike grips will last for a while before needing to be replaced.
Pros:
Available in 5 different colors
Competitively priced
Light and thick
Cons:
Best for Ergonomic Design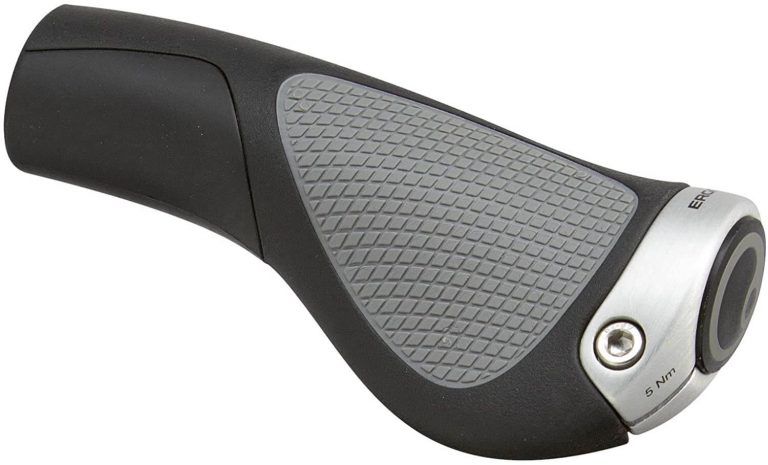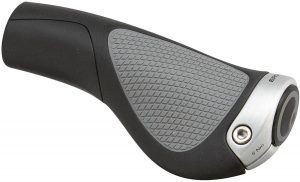 If not for the GE1, the Ergon – GP1 Ergonomic would've been our picks for the best mountain bike handler bar grips.
The GP1 is what made ergonomic handlebar grips so in demand. It sports a "winged grip" design that pretty much eliminates all the common pains associated with riding bikes. This includes numbness in the fingers, sore forearms and wrists, and hand pain. The design also helps provide proper support to the hands and wrists to relieve pressure.
For added comfort, you can adjust the fit of the grips. It has an adjustable forged aluminum clamp. You can easily readjust the grips as you please. The clamp is also compatible with carbon bars and doesn't need to be twisted anymore once tightened.
The high-quality TÜV-certified rubber compounds materials guarantee that the bike grips will last long. However, for added peace of mind, the grips are backed by a limited 2-year warranty. This covers any defects in the workmanship of the grips and the materials.
Pros:
Minimizes palm soreness and numbness after long rides
Tested for long rides
Stylish
High-quality construction
Cons:
Best for Various Color Options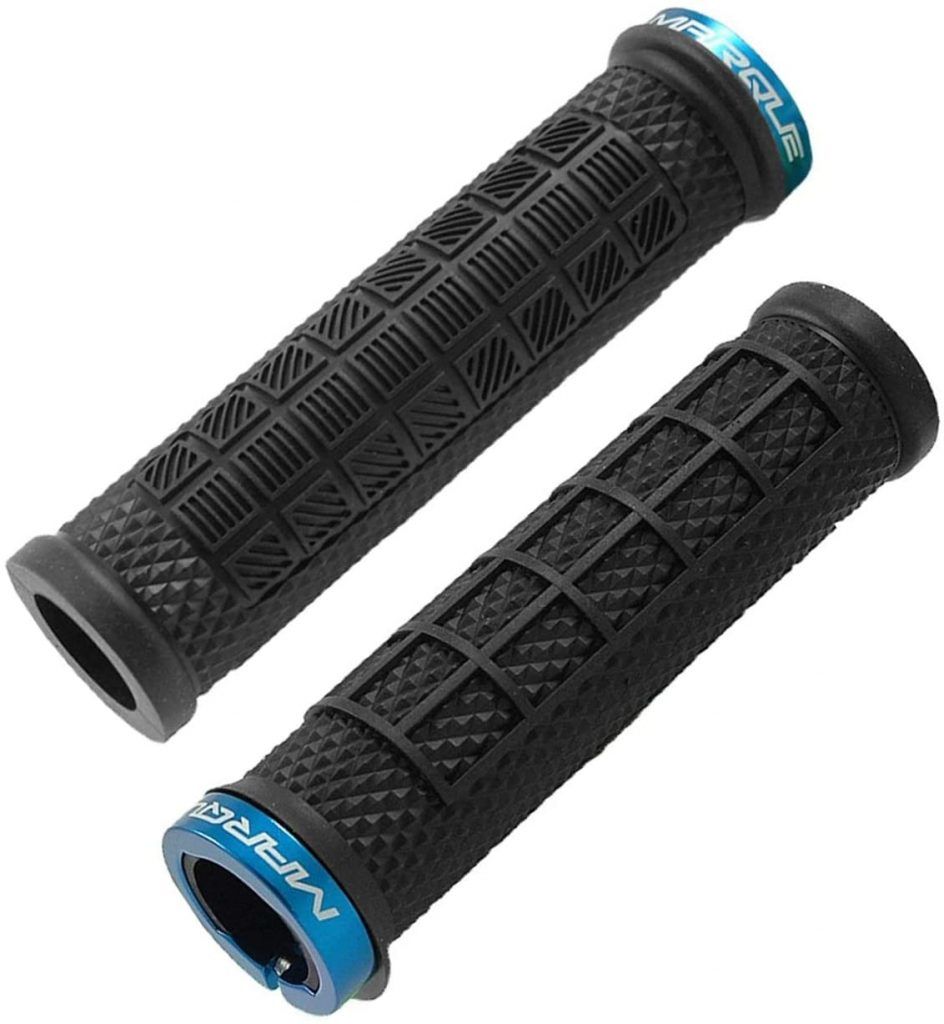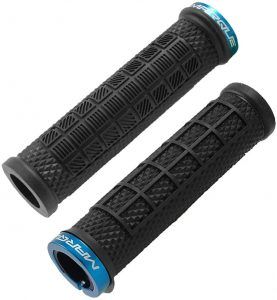 Let's face it. Not everyone wants the most comfortable mountain bike or the most ergonomic one. Some cyclists prefer a grip that makes their bikes look significantly better without sacrificing function so much.
The Marque Grapple is available in 13 different colors. Plus, its low profile and slim design help make the handlebars of your bike look sleek and stylish. However, the Grapple isn't just all about looks. It's also quite functional. The unique grip pattern, for example, lets you handle your bike more confidently, especially on rougher roads.
You also won't sacrifice comfort too much with the Grapple. It uses a tacky TPR rubber material that absorbs most of the shock and vibrations that come with riding. This helps significantly reduce fatigue and pressure.
As a bonus, the Grapple is also pretty lightweight.
Pros:
Lightweight
Universal fit
Securely locks in place
Available in 13 different colors
Cons:
Best for Wider Grips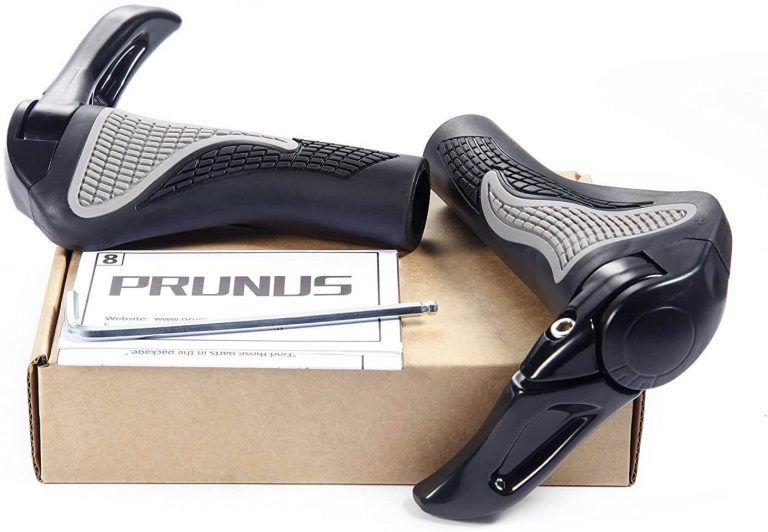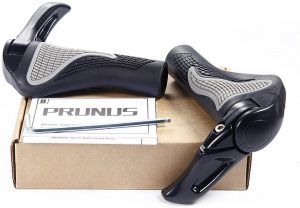 Those with particularly wide grips will love the PRUNUS.
These bike grips feature a much larger surface area than other bike grips. Admittedly, this will take some time to get used to. However, for those who want proper support for their entire palm and thumb using rides, this is ideal. The design is also beneficial if you have arthritis on your hands.
As for quality, the bike grips are made out of a combination of premium rubber and aluminum alloy. This combination is great because it doesn't cause skin irritation and keeps your hands cool during rides. The material is also not prone to feeling gummy. This is a common issue with many grips when exposed to heat or sunlight for too long.
Adjusting the bike grip is also easy. All you'll need is a small screwdriver. It'll take no more than just a few seconds to install or adjust the grips.
Truth be told, this bike grip is not for everybody. But, for those with wide grips, it's heaven-sent.
Pros:
Budget-friendly
Large surface area
Keeps hands cool
Cons:
Design is not for everybody
Best for Lightweight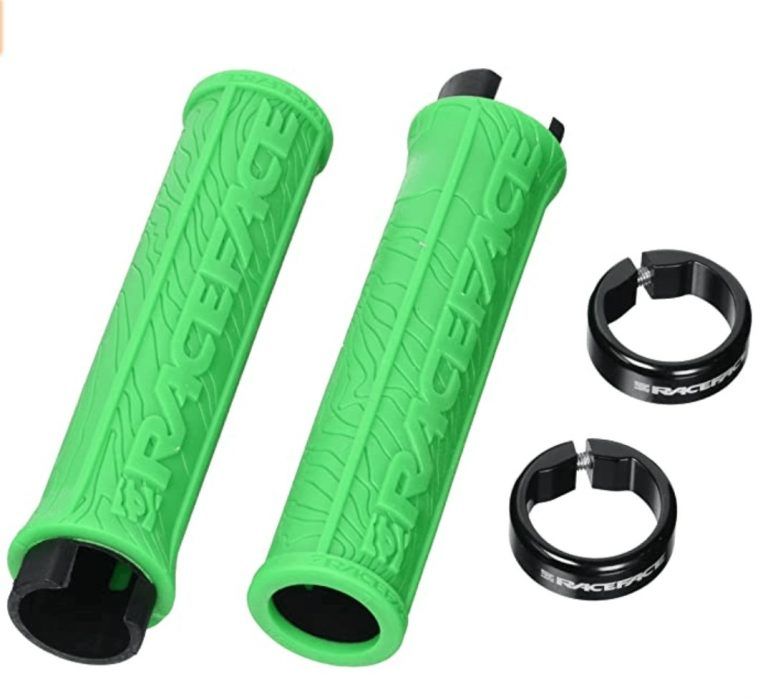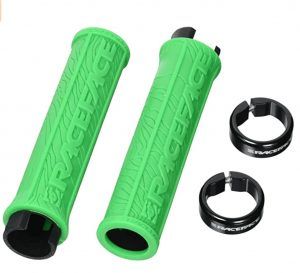 At just 24g, the RaceFace Half Nelson is one of the lightest mountain bike grips out there.
Mind you, these grips aren't just good because they're light and thin. A good reason why it's one of the best lock on grips is that it's designed to feel like you've used it for a while. It uses a durable and soft but tacky material that makes it feel like the grips are almost worn out. This is usually when the grips feel their best.
The MX style half waffle design then helps improve grip. Meanwhile, it has topographic moisture channels. These combine to give these bike grips a tight but firm grip that only gets better as it gets wetter.
Pros:
Underside grip
Excellent wet condition grip
Firm
Slim
Cons:
Prone to dirt build-up
Tendency to move around
Best for Mini MTB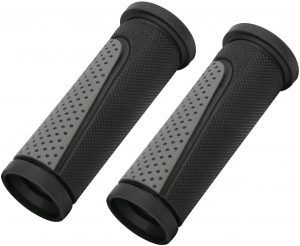 The TOPCABIN Bike Handlebar Grips are impossible to beat in terms of value. True, they're not the best mountain bike grips in terms of quality. However, for the price you're paying for a pair, you'd expect to pay at least twice as much. You'd probably be willing to pay even more when asked.
What makes these mountain bike grips so valuable is the ideal combination of a lot of important features. This includes bike compatibility, a textured grip designed for maximum traction, excellent all-weather performance, and an easy-to-adjust but tight fit on your bike's handlebars. It's even backed by a 12-month warranty.
Give these pair of bike grips a try if you want to see just how much you can get for how little.
Pros:
Wide compatibility
Cheap
Excellent build quality
Cons:
Best for Reliability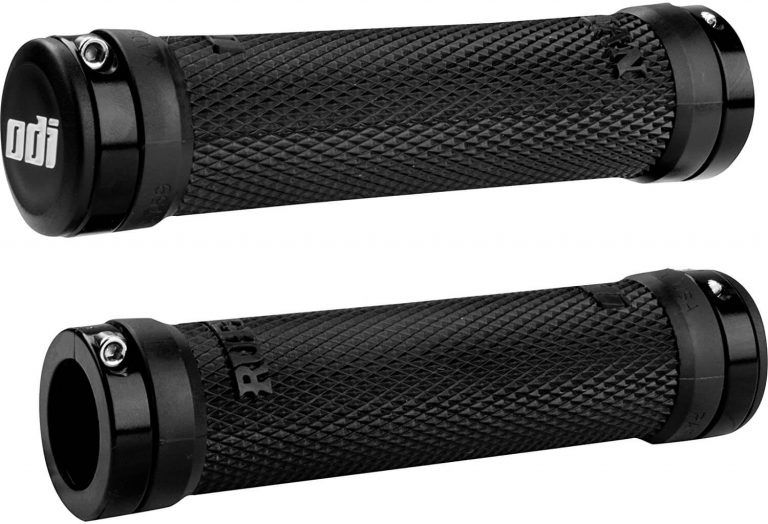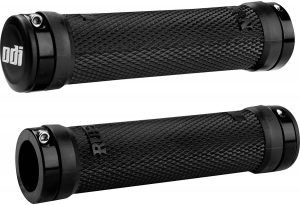 There's no topping the Odi Ruffian Lock-on Grips + Clamps when it comes to reliability. It doesn't matter what kind of obstacle you're riding through. It can be a bumpy uphill trail or a downhill slope. It can even be just your hands getting sweaty from riding all day. This grip will give you the firm and traction you need, regardless.
The combination of the diamond zed surface and the rugged knurled pattern will help keep you secure and steady on the road. Also, the narrow racing-friendly design minimizes arm pump. At the same time, this makes sure that you don't need to have gloves on to ride. You'll feel comfortable either way.
The lock-on design guarantees a tight and slip-free fit once installed. Finally, for style, the snap caps end plugs help give the bike grips look great.
Pros:
Stylish and sleek
Shockproof- and vibration-proof
Non-slip feature
Protected against debris build-up
Cons:
How To Buy The Best Mountain Bike Grips
Choosing the best mountain bike grips starts with a few key factors.
Namely, these are:
The names of these two types of bike grips are pretty self-explanatory.
By far, the more popular option are lock-on grips. This is because they fasten and lock at either one end or both ends using a hex key. The main reason why they're popular is that they usually stay locked regardless of where and how hard you are riding.
Also, even though you'll need to lock them, lock-on bike grips are easy to remove and install.
However, slide-on bike grips aren't bad either. Instead of locking ends, it's locked in place simply by pushing them onto the bar, hence the name. Although, for more adhesion, some use a liquid adhesive to prevent them from moving around too much.
In general, this isn't that big of a technical factor. It's more of a personal preference thing.
So, just go with whatever you prefer that has the other features you need, such as the ones below. (1)
The last thing that you want to happen for your bike grip to split and become uncomfortable in the middle of a road. Sure, this can happen to everyone, regardless of how affordable or expensive your mountain bike grip is.
However, as a general rule of thumb, the more expensive bike grips usually use better and more wear-resistant materials.
Grip patterns vary a lot from one bike grip to another. Some patterns like the "waffle" are better suited for your palm. Others, like the "knurled", are better for your fingertips. Meanwhile, others are better for your thumb.
The right choice all depends on how you ride and which areas you put the most pressure on.
Ideally, what you'll want is anything that has generous amounts of rubber or padding without the added weight.
It's important that the width and length of the bike grip fit your handlebars and hands well. As long as it fits nicely, then that's good.
For proper sizing, we recommend going to a local bike shop. They'll know how to give you a better idea of what dimensions are better suited for you. Also, they also have a good idea of which brands use particular measurements and other nuances.
Conclusion
The Ergon GE1 and the Ergon GP1 are two of the best mountain bike grips out there. They're ergonomic, comfortable, and stylish. You won't go wrong with either of them. But, they're rather pricey.
A more budget-friendly option is the Bontrager XR Trail Comp .
But, then again, price isn't as big of an issue with mountain bike grips. The premium offerings and the more affordable products aren't exactly priced far apart.
This means that price shouldn't be your determining factor here. Instead, it should be the features. In particular, if the bike grip gives you the comfort and grip that you prefer.
With that said, you should be able to find one in our list of the best mountain bike grips.
If you don't, then we've provided you with the necessary tips to know how to differentiate the good ones from the bad ones.