For leisure or for health purposes, having a mountain bike is practical. I have been getting on these wheels for years and the market nowadays has a lot to offer when it comes to specific features on these bikes.
If getting your money's worth is important with the best mountain bikes under $600, reading on these reviews is a good start before hitting down the road. When comparing the bikes together in terms of gears, durability, flexibility for this budget, Trek Marlin 5 stood out as the most prominent mountain bike for your trail riding.
5 Best Mountain Bikes Under $600
Highest rated mountain bike under $600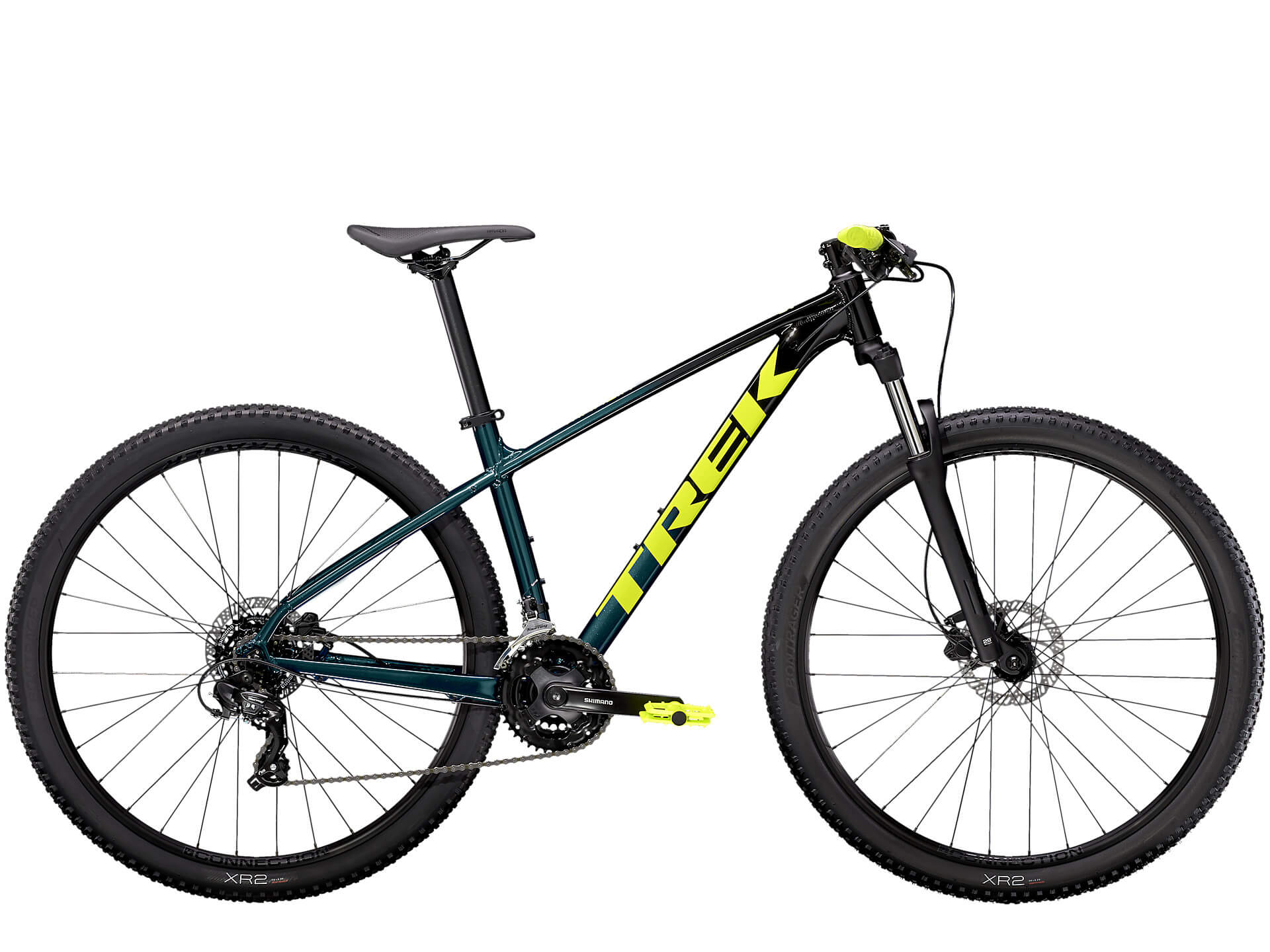 Beginners and professionals alike will love how the Trek Marlin 5 is built for everyone getting aboard their bikes. I personally like how the different sizes on their frames have top tubes that accommodate the height of the rider.
Their small to medium frames have top tubes that dip down so it's easier to straddle on, while the bigger frames don't. This is great for everyday use. A personal favorite feature is the Blendr stem which allows users to have a quick and easy installation of other bike accessories.
There are a wide range of stems, bases, and mounts to choose from, to accommodate lights, cameras, and other accessories that will suit your lifestyle. This might be the best option you will have if you are interested in having a neat cable system on your bike. They placed the cable routing internally to keep it clean and look compact.
Having a rear kickstand mount also makes the bike worth every penny. I appreciate this feature especially when we had a long trail a few years ago. If I had this on my bike before, there would have been no leaning on the trees nor laying the bike on the ground.
Rack mounts are also a great addition because these makes bringing your needed accessories hassle-free. The lightweight aluminum frame and the reliable hydraulic disc brakes is also worth mentioning because they highlight its uniqueness.
I like how this adds a sleek look and this does make the transport of the bike a breeze. The seats are a bit hard to sit on, but the overall posture I have while riding the bike is excellent.
Pros
Specific top tubes for different frame sizes
Integrated Blendr stem feature
Internally placed cables
Lightweight aluminum frame
Has a rear kickstand mount
Cons
Best for Pumping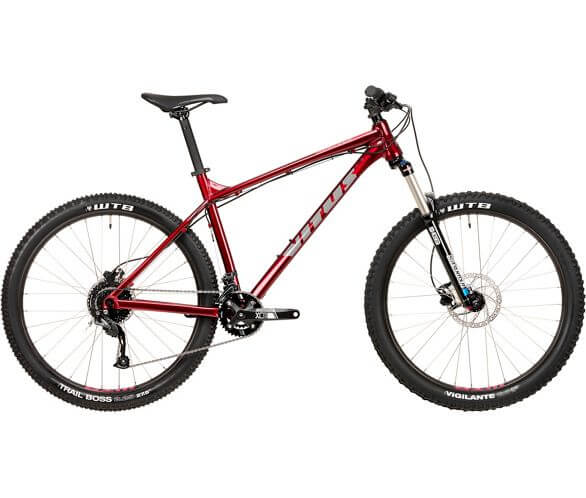 The modern geometry of the Vitus Nucleus 27 VR Bike will get you excited on your next trails. This under-$600 hardtail mountain bike shows that the long, low, and slack geometry boosts confidence even on beginners.
Side note: Check this article for more detail if you are looking to buy a hardtail mountain bike.
You can also have better control while driving with this bike's Tektro hydraulic disk brakes.
This overall offers less chances of skidding, especially on wet surfaces. I remember going on a trail with a sudden change in weather. These brakes would have really made a difference.
Another good feature of the Vitus Nucleus 27 VR Bike is the WTB tires, both on the front and the rear end. This is great for hard trails because of lessened rolling resistance.
The aluminum material on this bike renders it to be lightweight and resistant to rust. The grip on the bike is also one of its great features because of its rubber material.
The only thing you should take note are the pedals that come with the set as they might easily break with forceful placement of each foot. Upon purchase, it also comes with a complete kit that's easy to assemble at home. What I like about this set is how they cater to beginners because of precise instructions on its assembly.
Pros
Modern geometry of its frame
Tektro hydraulic disk brakes
WTB tires are used
Aluminum material
Easy to assemble
Cons
Pedals are not that durable
Read More: 5 Best Cheap Mountain Bikes Under $200
Best for Beginners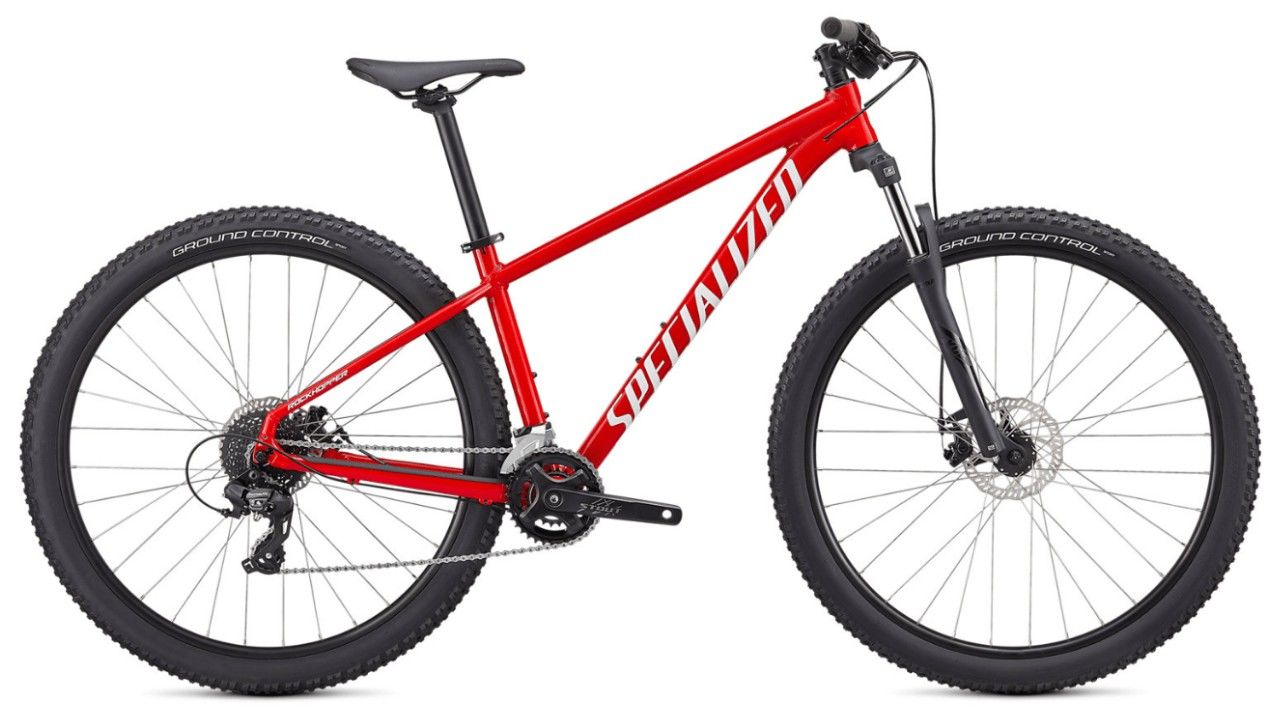 If you are interested in a good entry level moutain bike for the money with a ton of features, this Rockhopper model from Specialized which is priced under $600 should be in your list. The Rockhopper 2021 Mountain Bike has the right size for your riding style and height.
What I like about this specific bike is how they provide a specialized lightweight frame with their own A1 aluminum. That is a great factor especially if you want to improve your riding speed and bike handling.
One of the most unique features of this affordable bike is its rear derailleurs. It uses the Shimano Tourney that gives you a variety of gears. Shifting is also convenient with this because of Shimano's quick and accurate shifting.
Additionally, I prefer the high volume of comfort with this bike's tires. It uses the Ground Control Sport Tyres that still manages to keep you at ease even on uneven terrain. These tires also highlight grip and control.
As a bike rider for years, I recommend having brakes that are consistent in its stopping power. This model uses the Radius CX7 Mechanical disc brakes that are easy to operate with minimal effort on most biking surfaces.
They also boast about their internal cable routing for that aesthetic mountain bike look. The only downside is how they don't really express the maximum weight capacity of this lightweight bike. As a newbie in the biking hobby, this would be a great one to take on.
Pros
Accommodates to the right size for bikers
Specialized A1 premium aluminum frame
Uses Shimano Tourney rear derailleurs for a wide range of gears
Ground Control Sport Tyres
Uses Radius CX7 mechanical disc brakes
Cons
Does not specify maximum weight capacity
Best for Lightweight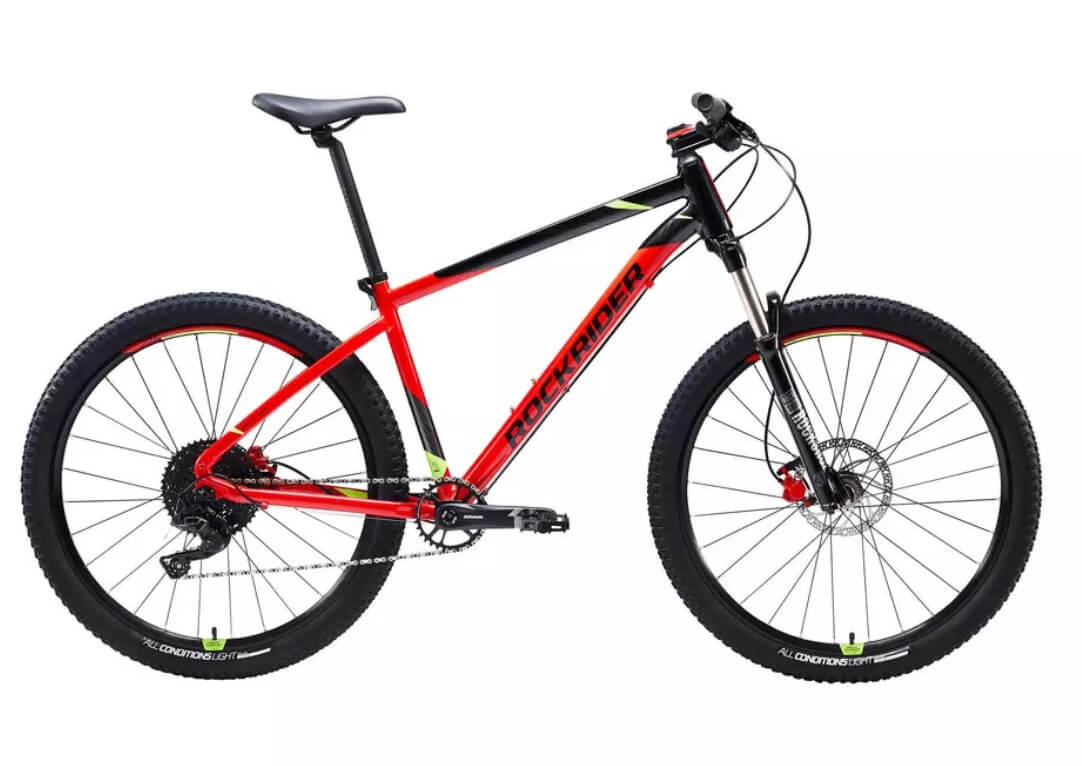 Comfort is on top of the list when I consider getting an entry bike. The great thing about the Rockrider ST 900 Mountain Bike is that is has a high position and an adjustable stem. It can then accommodate different riding styles and a wide range of trails.
The light wheels also increase the efficiency of every right. It is also double walled for durability. This will make sure you will get over any obstacle along the way.
You can also easily bring the bike wherever because of its lightweight frame. It is made from 6061 aluminum that is lighter from its other models.
Getting directional control can be quite tricky. What I like about this bike is how it offers to get you in charge with trajectory with its hydraulic fork and brakes. It also has a wide handlebar where you can quickly change speeds for every biker's convenience.
The downside of this mountain bike under $600 is that is not suitable for cross country and enduro use. But for its affordability and custom features, this mountain bike will get you your money's worth.
Pros
Adjustable stem and high position
Lightweight yet double walled wheels
Lightweight 6061 aluminum frame
Hydraulic fork and brakes
Easy to change speed on the handlebar
Cons
Not suitable for cross country
Read more: 5 Best Mountain Bikes Under $300
Best for Women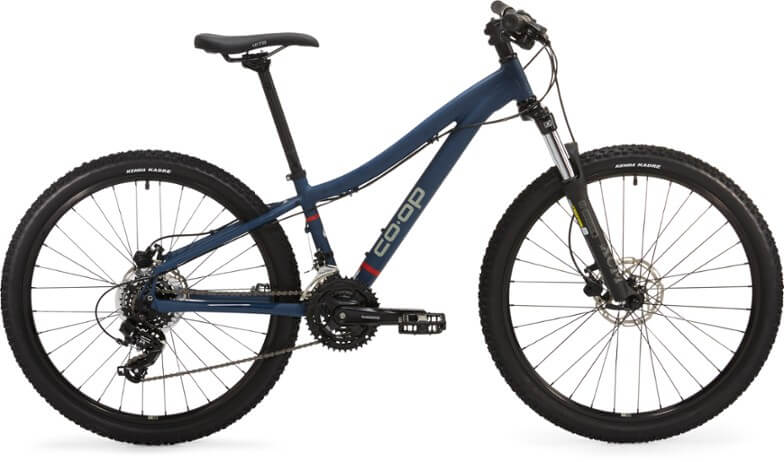 Mountain bikes are sold almost everywhere but the thing that makes Co-op Cycles standout from its competitors is its versatility. It is precisely made for smaller riders so they can handle mountain bike riding with ease.
This specific DRT 1.0 model from Co-op Cycles uses the Shimano 3×7 drivetrain. This provides riders up to 21 gears to overcome any terrain on their way. Shimano is also known to give out smooth and efficient gear changes.
Brakes are essential in all your rides. I remember having a bad day because of unanticipated weather. The good thing about this bike is that it uses the Tektro hydraulic disc brakes. This gives you a reliable stopping power for all weather conditions.
The bike frame is made of aluminum. This makes it light for carrying around in case you would want to bring your bike in your adventures. You may need to take note that the handlebars and quite wide. But aside from that minor issue, this bike is great for beginners. You won't be intimidated with huge mountain bikes if you start with this model.
With the similar pricing for this model, there are other 5 best mountain bikes under $500 for women that you can scan through.
Pros
Versatile for small riders
Provides up to 21 gears
Smooth and efficient gear changes with Shimano
Uses Tektro hydraulic disc brakes
Lightweight aluminum frame
Cons
How to pick the right size of mountain bike
The right size of mountain bike will take you to a lot of destinations and will let you conquer a lot of obstacles along the way.
Choose brands that will give you options on the right size. Most mountain bikes will provide sizing from XS to XL.
Note their own sizing and note if it is unisex. Manufacturers will also recommend you to go one size higher or lower, depending on their own sizing characteristics, and depending on your own needs.
The easiest way to get the right size of mountain bike is to compare your height on the size of the bike. Manufacturers mostly have a chart that shows the comparison of a rider's height to their own bike sizing.
Kinds of rides you can do on a mountain bike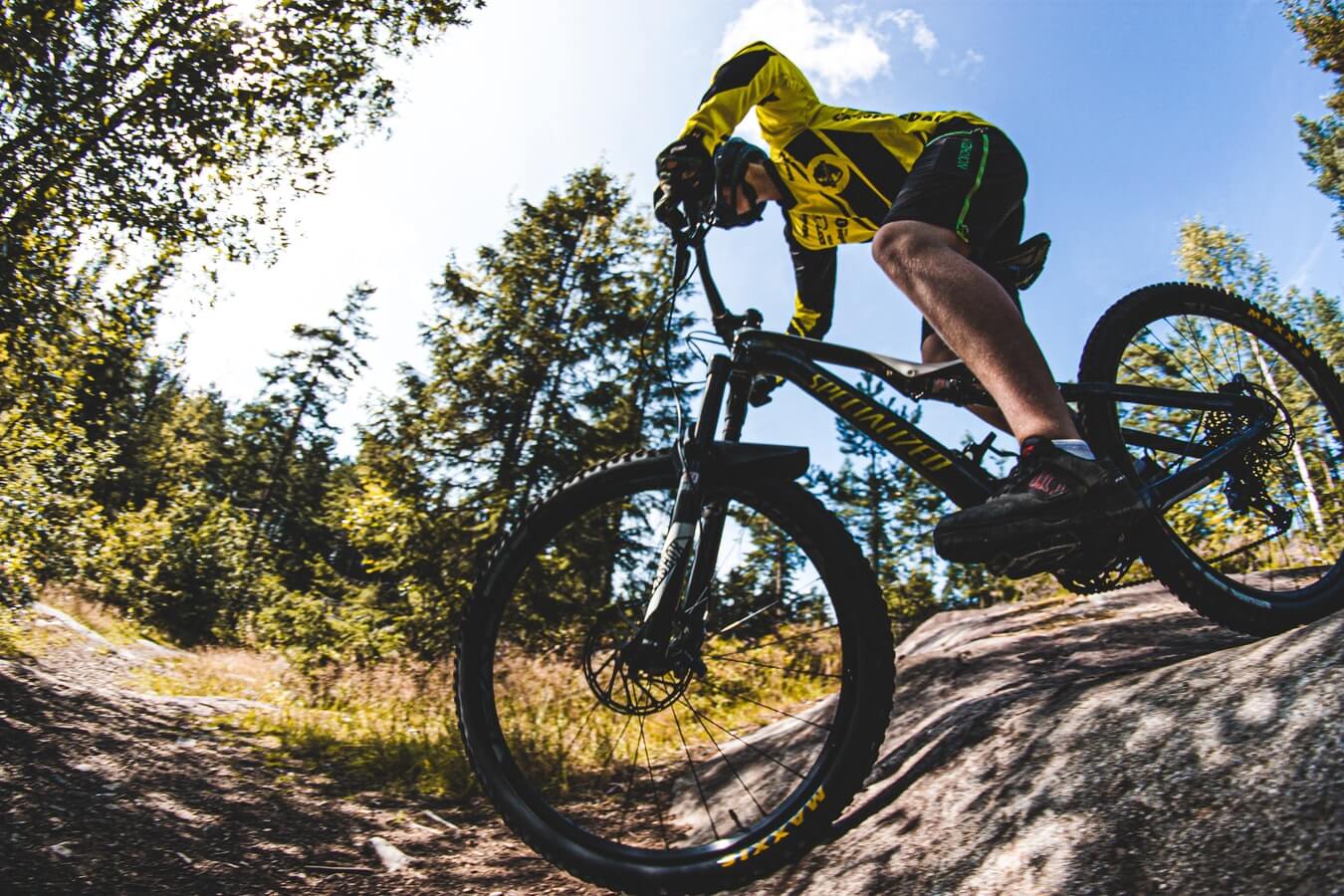 Beginners will likely be impressed to know that mountain bikes aren't only for a single outdoor use. There are a lot of ride a mountain bike is built for. Here are a few of things you might get yourself into once you have your own ride:
Commuting
Pump track
On and off road
Cross country / Trail riding
Uphill riding
Enduro /downhill riding
Not all mountain bikes can tackle all these rides. Before you finally choose your best mountain bike, consider what you will ride it for. Your lifestyle and interests will surely guide you on which type of mountain bike will maximize your usage.
Types of mountain bike frame material
One of the things bikers look out for is the frame material. This gives out the overall durability of the mountain bike as it is built to withstand stress and is meant for rugged use.
Of course, there are advantages and disadvantages on every frame material.
This is one of the leading frame materials that is meant for most professionals. There is no doubt on its durability and strength on the road.
It is also resistant to corrosion and has low thermal expansion. But the downside of this material is that it requires extensive work. It also has a high failure potential if it breaks. (1)
This is probably the second most popular, next to carbon fiber. This has taken the biking industry by a storm and has been a popular frame for most entry bikes.
This is known for being lightweight and is cost-effective too. Aside from that, it is durable on the road and is easy to manufacture. However, it fatigues easily and once it breaks under stress, it can be hard to repair. (2)
Steel is also popular among entry-level bikes. It is among the most budget-friendly materials that keeps mountain bikes in good shape after every use.
It offers durability and strength on and off trail. It is also easy to manufacture and easy to repair.
But compared to the previous frame materials, this has low corrosion resistance. It is also heavier compared to the other two.
This is in the close family of steel when it comes to frame materials. But unlike steel, this has a feature of being lightweight on being a mountain bike frame.
It also has offers durability and strength, like your steel ones. Your ride quality is also enhanced as this is also corrosion resistant. The setback on this material is that it is costly and will require intensive labor.
I found a good video on chossing mountain bike frame size for your health. Check it out.
Why buying a mountain bike?
A mountain bike is a cost-effective and eco-friendly alternative in commuting. It cuts fuel costs and can get you to your destination without being stuck on traffic for a long time. This can be your everyday companion or just be your weekend buddy.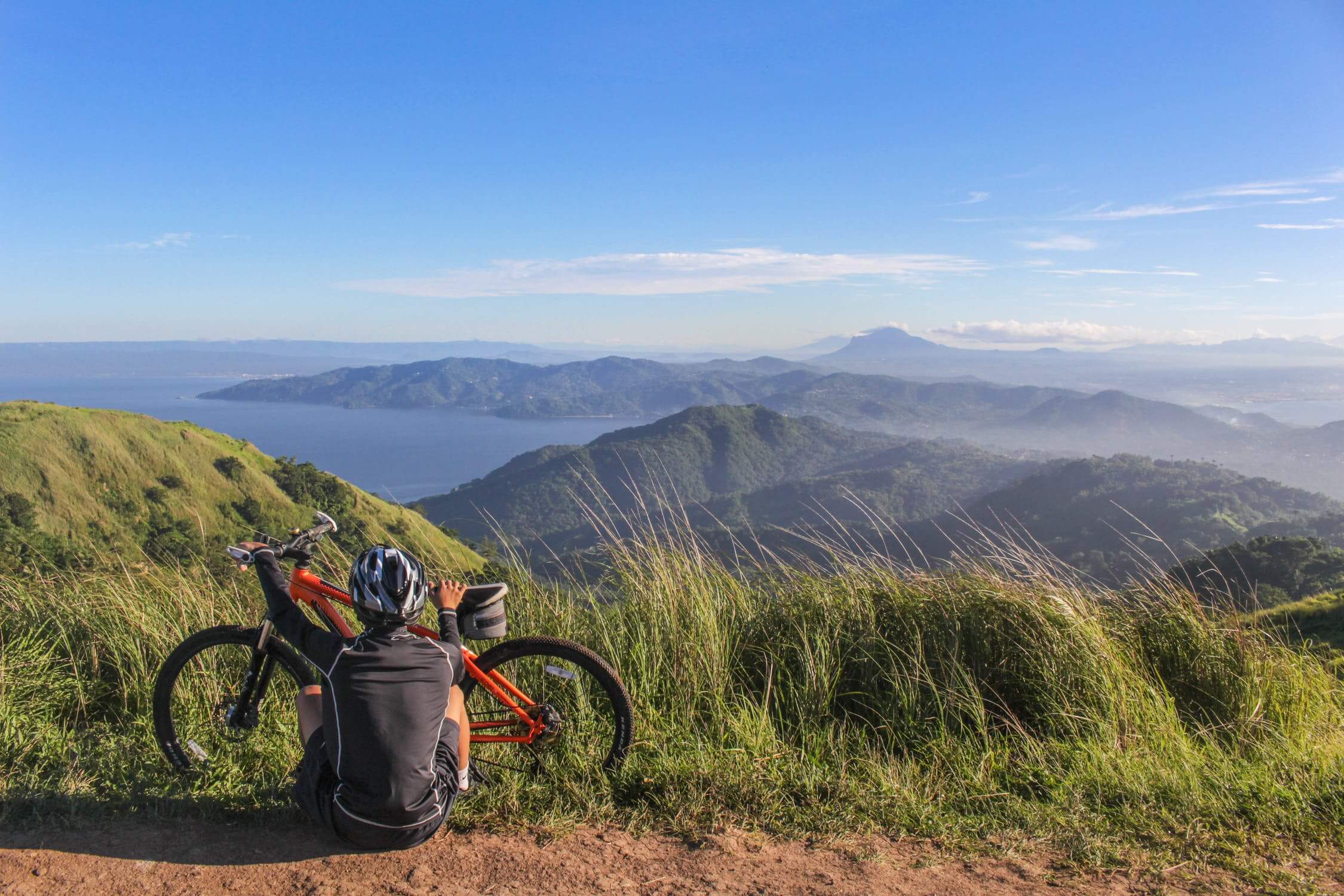 Pedaling on these bikes are also a great exercise on the daily. Because mountain bikes have a different build compared to other bikes, these offer a more challenging exercise than the others.
It is a great total body and cardio exercise that doesn't impact a lot on your joints, rendering it perfect for people of all ages.
Another simple answer on why buying a mountain bike is a smart thing to invest on is that it takes you to places.
It brings you closer to nature and it gives you a variety of views every time you get up and give yourself a ride.
These bikes are the perfect escape for when the world has taken its toll on you. Most trails are peaceful and quiet, bringing you peace and taking you away from the hustle of the city.
Conclusion
Getting your first mountain bike is a tedious thing to do especially if you have no idea on the features that will suit you best. The best mountain bike under 600-700 dollars will take you to places and will give you memorable adventures.
There are many features that will get you going on your bike, but the right size will help you get the best out of your bike riding experience.
A lightweight one will also give you more control as you maneuver through. Accessories can also be placed on these bikes, and the longer you have your rides, the more confident you'll be on its own features.
The Trek Marlin 5 has clearly stood out and has proven to be an unparalleled mountain bike for both professionals and beginners.
It does live up to being light without compromising on its best features like the durability, high-standard hydraulic disc brakes and the unique Blendr stem.
The essentials of an everyday use mountain bike are met and you are ready to take on the road with this powerful bike.