All off-road cycling fanatics know that it's an exciting outdoor adventure. But, you need to have a mountain bike for this thrilling sport. Well, we all know that mountain bikes aren't so economical, they usually cost up to thousands. Don't worry if you don't want to spend much on a mountain bike.
With this budget (or even you are looking for cheaper mountain bike under $200), even though there are not so many options out there, you can still pick the a good mountain bike for basic outdoors activities. As the list of top 5 mountain bikes under $300 below, ROCKRIDER ST 100 is better than the rest thanks to its great build with lightweight frame, aluminum calipers brakes and other features.
5 Best Mountain Bikes Under $300
Best Overall Mountain Bike Under $300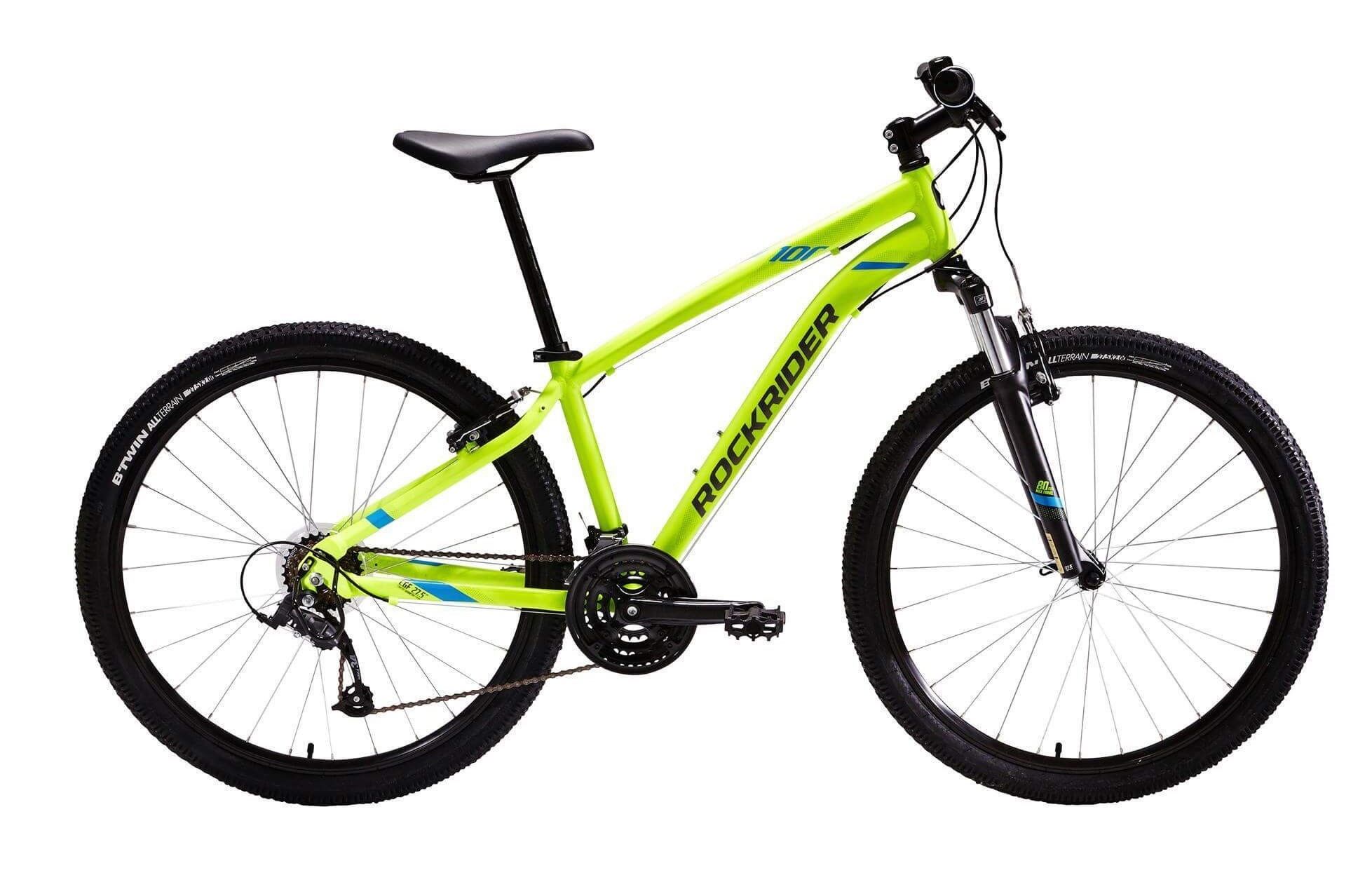 If you're a mountain biking enthusiast or want it for recreational purposes, the Rockrider ST 100 can be a great choice. This ST 100 bike is a combination of comfort, durability, control, and efficiency. It comes with a rust-free aluminum Comfort Geometry Frame (CGF) frame that makes this bike super-easy to handle and comfortable.
Another good thing about Rockrider ST 100 is that the slope angle is designed in a way to keep the rider's back straight while the bike stays nimble when you turn.
Plus, it comes with a front 80mm suspension that offers complete control, stability, and traction even on rough or bumpy trails. There's a dial that lets you optimize the stiffness depending on your needs.
However, there's no rear suspension. I really appreciate this feature as this makes bikes a bit lighter and energy expended on the smooth leveled ground is less.
For an effective braking system, the ST 100 bike comprises of 2 V-brake pads, aluminum calipers brakes, and specially designed brake levers. The 3 x 7 Drivetrain and Microshift thumb shifters allow for smooth shifting without any lag.
We believe that thumb shifters will make it easier for beginners to control bike gears. This is a feature that all novice (both men & women) mountain bikers enjoy.
Pros
Lightweight frame
Ergofit wide and welded saddle
21 speeds
Double-walled robust rims
Great traction by side lugs
Cons
Most Comfortable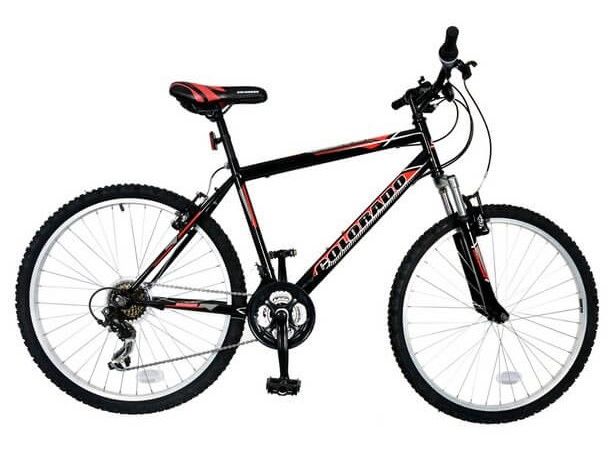 The Colorado Denver might be an excellent choice for those who need an affordable yet good-quality mountain bike. It lets you tackle all kinds of terrains easily. This under-$300 mountain bike performs well on both off-road and roads. The 16kg bike features a light yet sturdy alloy frame and rims with rigid front suspension.
It comes with 18 thumb-shift Revoshift gears, rear RD-TY300 Shimano derailleur, and MS25 Microshift shifters. You can adjust the power you require on various grounds at any time.
Good value for the money! This strong bike has suspension forks which is great for a bouncy ride. The things we are pleased about include 26'' large wheel size, front and back V-type powerful brakes, and Wanda tires.
These offer incredible performance and traction on rocky uneven surfaces, mud, or dirt. Moreover, the bike arrives 95% assembled so you don't have to spend hours for setup. All you need is to make a few adjustments and you're good to go.
Pros
All Shimano gearset
Strong Wanda tires
Seat is adjustable
Lightweight framework
Cons
Best for Women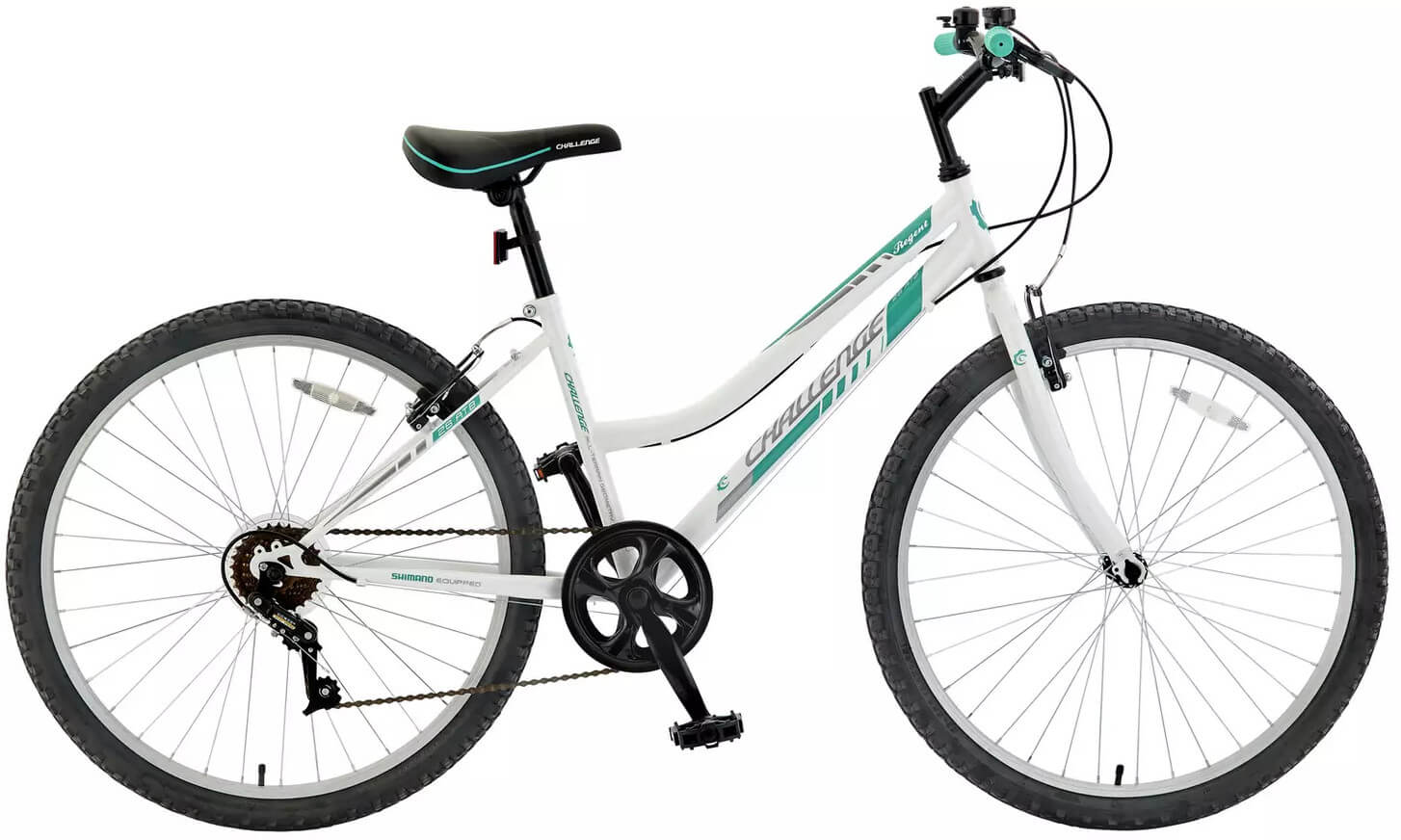 Looking for a reasonably-priced and beginner mountain bike for rough terrains and off-road riding? We suggest you give a thought to Challenge Regent. The bike featuring a steel frame has 6 powerful SFT-332P shifters and a rear RD-25 derailleur. You can change gears smoothly using the thumb shifters whenever you want. Plus, the steel forks, rear, and front V-type brakes let you ride with full confidence.
What makes it ideal for both local and adventurous trails are its 26" big-sized wheels, alloy rims, and CST bike-style tires. Challenge conquer bike can cope easily with muddy rocky trails as well as roads.
When it comes to comfort and perfect grip, the bike features an adjustable seat, wide riser bars, and a Velo urban saddle. It gives you a comfier ride experience with the highest shock suspension. Even if you're tall or short, the seat height will fit you.
It was suitable for 5'8'' and 6ft as well when tested. Another feature that's unique to this inexpensive mountain bike is its electric capability. Interesting thing; turn it into an e-mountain bike by simply attaching the batteries.
If you can increase your budget, check out another article on picking the best women's mountain bikes under $500 for better experience with your mtb.
Pros
6 power gearing systems
Steel construction
Lightweight
All-terrain 26'' wheels
Cons
Read More: 5 Best Mountain Bikes Under $600
Easiest to Assemble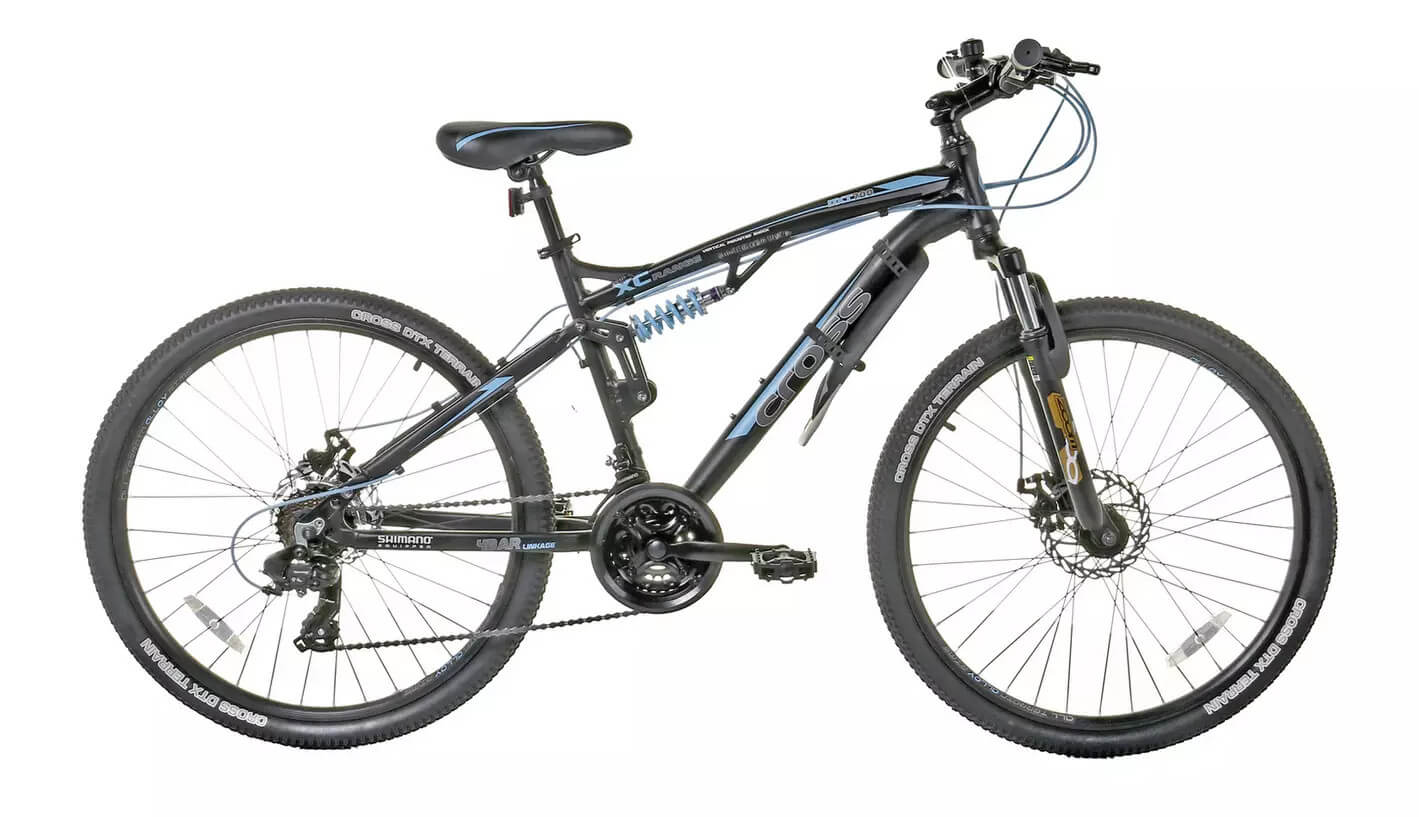 Cross DXT700 is a true mountain bike under the price of $300 that can give control, grip, comfort, great traction, effective breaking gear system, all at the same time. Designed to be used on off-road rough, hilly trails and road for local commute, the bike features 27.5'' wide and large wheels. Plus, the bike-style Resorcinol-Formaldehyde Latex (RFL) dipped tires can handle every rugged terrain smoothly. Crosses X11 double-wall alloy rims add to durability and performance.
The front and rear Shimano hydraulic disc brakes offer a lot of braking power. The SUNTOUR XCE28 front suspension effectively absorbs shocks when riding on undulating terrain.
No more bumps! The 18'' lightweight frame is designed to be sturdy and strong; it's made from alloy hardtail. To ride Cross bike with full power and control, it features a 21 speed Shimano gearing system that includes EZ-Fire shifters and back TY-21 derailleur.
A straight handlebar offers more leverage and better control to the rider. An adjustable seat provides a comfortable ride for hours. However, this 69.7'' mountain bike is more suitable for slim taller people 32-35'' inside leg dimensions.
Pros
Bigger wheels
Strong front suspension
Shimano gears
Lightweight alloy frame and rims
Cons
Not for bulky or shorter people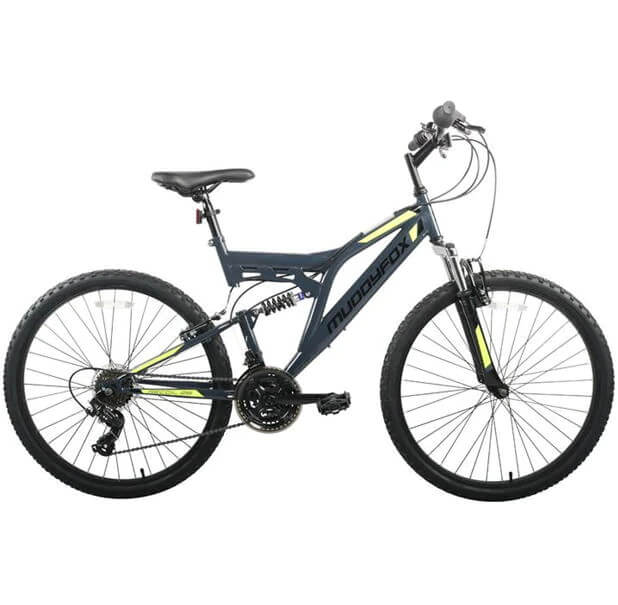 This 15kg bike is designed for uneven dirty terrains. The Recoil26 has a strong 18" dual-suspension steel frame and forks. A full-suspension system will cushion you over the bumps on the rocky trail. An amazing thing about this Muddyfox bike is easy to control and extra grip. I really like the alloy 26" wheels fitted with all-terrain tires.
It features a Shimano Tourney derailleur gear system with 18 different speeds to choose from via the Revoshift shifters. This affordable mountain bike is my favorite when it comes to off-road performance.
Thanks to steel MTB saddle, handlebars, stem, and chainset! This makes it suitable for a bumpy and downhill ride. The only downside we faced was its setup; the bike comes part constructed and you have to assemble certain parts before use.
Overall, Muddyfox recoil26 is a good mountain bike under $300 for someone who doesn't want to spend a fortune.
Pros
Durable steel frame
18 gears
26'' wheels
Dual-suspension for comfort
Cons
Requires a lot of assembly
How to choose the best mountain bike under $300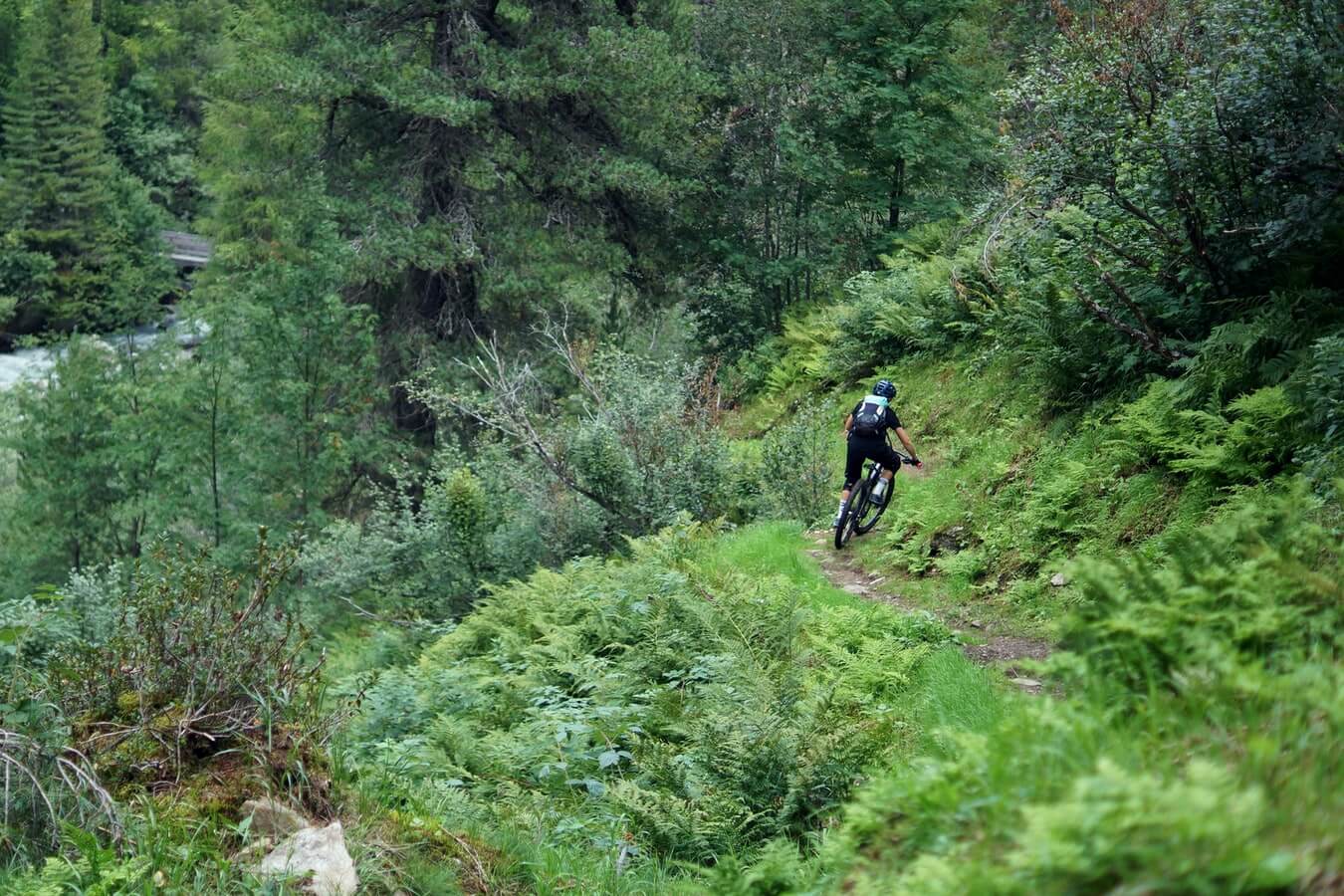 To choose a mountain bike with a budget of $300 with good aggressive geometry, you must consider some of the following things.
Front suspension vs. full suspension
When it comes to most hardtail mountain bikes, the only suspension they have is a front fork. This is actually a good thing as they are lighter and require less maintenance.
I also have a detailed review of the best hardtail mountain bikes in the market, you can read more about this type of mtb.
A hardtail bike is a good choice if you're on a budget as buying a full-suspension can be costly. Since mountain bikes lack rear suspension shocks, different manufacturers equip their bikes with good-quality components. Look for forks that can be adjusted to your weight for optimal performance. (1)
Another thing to keep in mind is the wheel size. There are 3 sizes available; 29, 27.5, and the standard 26''. Bigger wheels can overcome more obstacles with ease. 26'' wheels are lighter, have better acceleration and steering. They are more agile but tricky to control on rough terrains than larger wheels.
That is why the larger 29'' wheels are favored due to superior traction and grip. However, some beginners find 29'' wheels tough and rigid to maneuver and getting used to. Therefore, the 27.5" is the perfect wheel size for a smoother ride while having much more agility. These wheels are nimble, faster, stronger, and rollover things without difficulty.
Mountain bikes these days come with a 1 x 11 or 1 x 12 drivetrain but you may also find 2 x 10 or 2 x 11 on mid to low-end mountain bikes. The latter offers a wider gear range without any shift the front derailleur except the rear. If you're new to this mountain biking sport, try to avoid a bike with a 3 x 9 drivetrain.
Benefits of mountain biking
Mountain biking is not just for amusement, it can greatly improve your health and well-being. Not only it enhances your endurance, but mountain biking also helps a great deal with coordination and balance. It's a great hobby for fitness freak; build fitness on the climbs! It's an excellent way to stay in shape. Moreover, you get to see the world's amazing landscapes where other vehicles are inaccessible. A mountain bike can cover almost all terrains quickly. (2)
Final Thoughts
So, the clear winner is the ROCKRIDER ST 100 mountain bike. This under-$300 mtb almost comes with everything you need! It has plus-sized 27.5'' tires which offer better traction on the trail while also acting as suspension. No need to buy an expensive full-suspension bike!
Shimano drivetrain, derailleur, and shifters! A decent set of hydraulic disc brakes have braking functionality as compared to V-brakes. This gives you all the gears and brakes you require to climb up or down the steep hills, rocky muddy, rock-strewn terrains.