When you're flying down from steep mountains and dangerous trails, the last thing you should be going without is a durable mountain bike tube.
The best mountain bike tubes like the Bell Standard and Self Healing Bike Tubes come with standard and self-healing options. Although the former is fine for most riding conditions, the latter is handier.
It's because it can self-seal holes as large as 1/8 of an inch no problem. It can seal holes in an instant too, even when you're still riding your bike.
So, it should go without saying that the right MTB tube can affect bike performance. The right choice might even end up saving you from a dangerous fall or injury.
With that said, we've rounded up 10 of the best mountain bike inner tubes on the market to help you choose.
Schrader Valve
Best Overall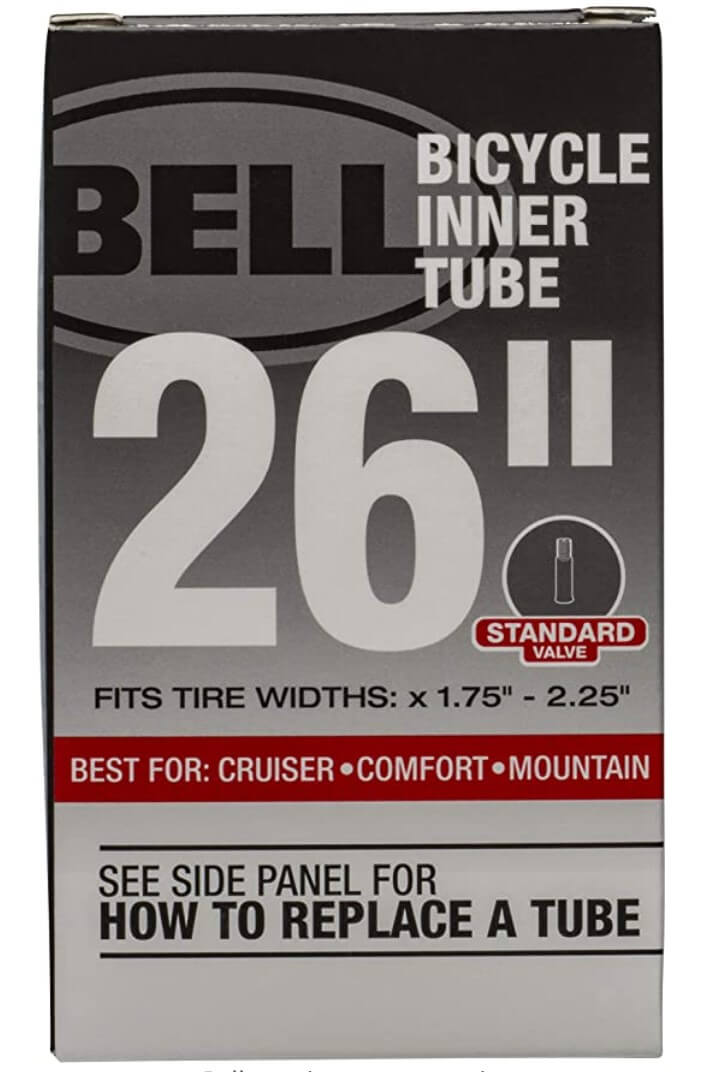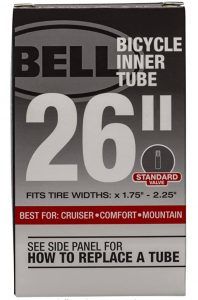 Sometimes, it's best to keep things simple. The best example of this is the Bell Standard and Self Sealing Bike Tubes.
These bike tires are available in self-sealing and standard options. Both should work fine enough for most riding conditions. Even the standard bike tubes are great for mountain bikes. However, for optimal protection, we highly recommend the self-sealing bike tubes, which can instantly seal holes and punctures up to 1/8 of an inch.
These bike tubes are available in multiple configurations and can fit even on smaller road bike tires. Perhaps more importantly, they are also sold in packs of four. This gives you plenty of extras, which can and will always come in handy.
Pros:
Budget-friendly
Small enough to fit on some road bike tires
Sold in packs of four
Standard and self-sealing options
Cons:
Minimal puncture and wear protection
Side note: If you want to learn more about tires used for road riding, check out this article.
Best Value for the Money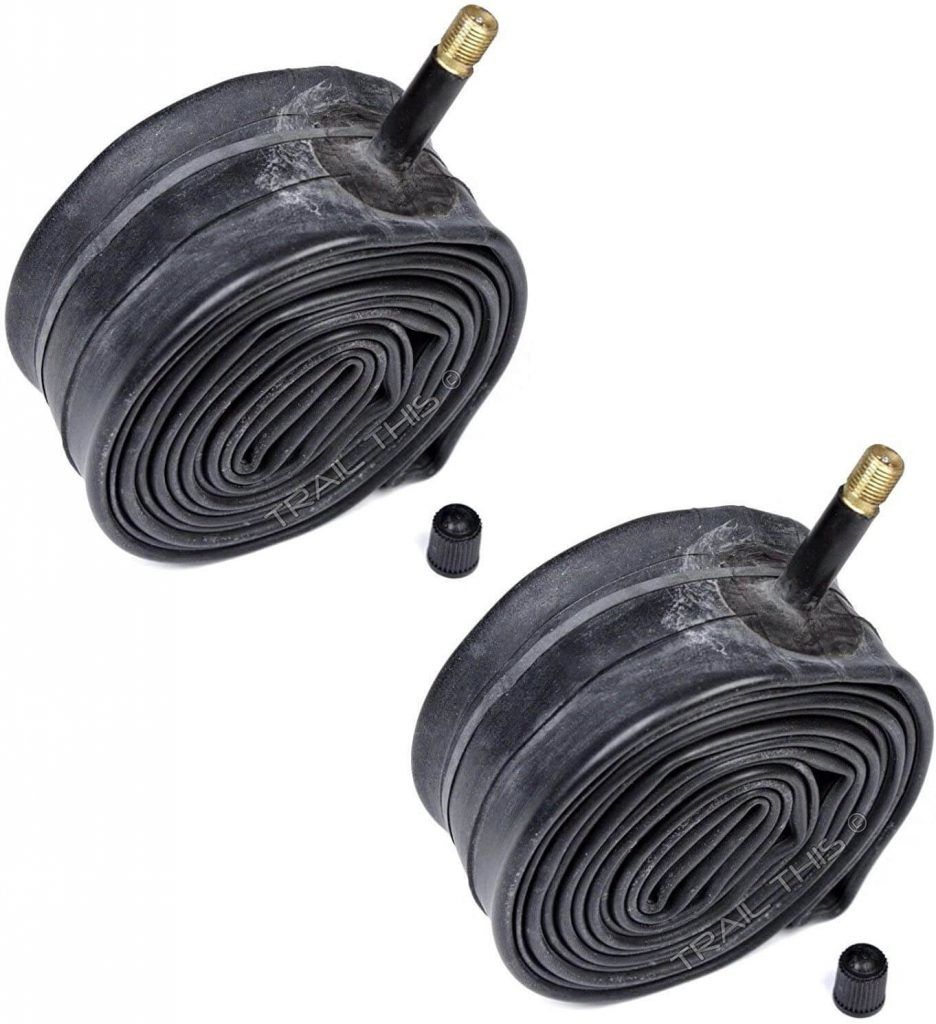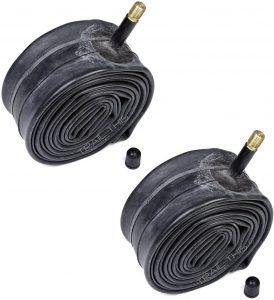 Bike tubes don't have to be all expensive to be effective. The Kenda Inner Tubes Black is proof of this.
These mountain bike tubes might not necessarily be the best, but they are affordable and effective. Those two things are like music to any cyclist's ears. This is especially true for those who ride mountain bikes often and don't want to spend any more on their bikes than they already have.
Despite the low asking price, these replacement tubes bring a lot of value. They can hold air for a long time with little to no issues.
These should be fine as long as you're not fitting it on 2.125-inch or wider tires.
Pros:
Cheap
Holds maximum tire pressures well
Good quality for the price
Cons:
Not great for wider and larger tiles
Read More: 7 Best Road Bike Tubes
Best Self-Sealing Tube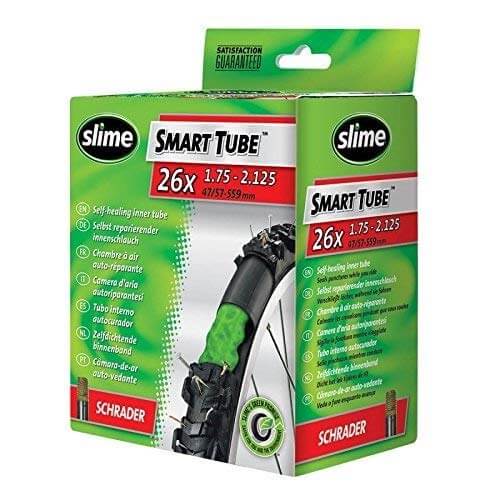 Self-sealing bike tubes are great for a number of reasons. In particular, they're ideal for mountain biking because they provide excellent protection against holes and punctures. But, since we're talking about the best mountain bike tubes, we recommend no other than the Slime 30059 Self-Sealing Smart Tube.
Pre-filled with a "Slime Sealant", these bike tubes can keep your tires flat-free for up to 2 years. The best part? The sealants can seal holes multiple times and work in an instant to keep you on the go.
Pros:
Fast-acting
Can effectively seal smaller holes repeatedly
Perfect for mountain trail punctures
Cons:
Doesn't last quite as long as the promised 2 years
Best for Removable Core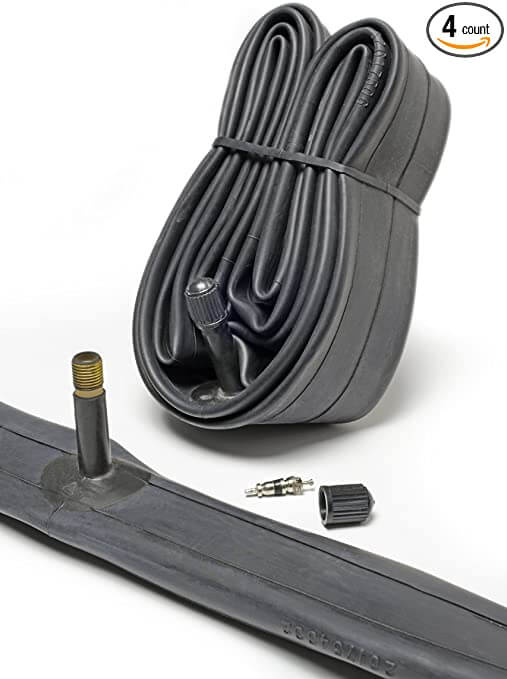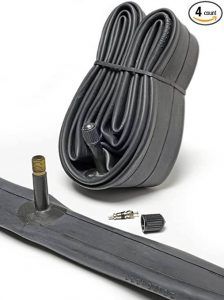 At first glance, the Velo Mountain Bike Tubes – Schrader (Auto) Valve with Removable Core doesn't feel special at all. This isn't to say that it's not great. Because, well, it is. It comes in a pack of 4, so you'll always have extras, and these fit on 29er tubes just fine. Plus, they're quite affordable. But, what really sets this bike tube apart is the removable core.
The removable core allows you to stuff self-sealing sealants inside the inner tube for added puncture protection.
Now, this doesn't matter to everyone. After all, there are tubes available for sale that have sealants inside them already. However, if you care about having multiple options, these are the mountain bike tubes with removable cores on the market.
Pros:
Fits on large 29-inch tires
Comes with removable core structure for sealants
Comes in a 4-pack
Money-back guarantee
Cons:
Not great for long-term use
Best for Small Bikes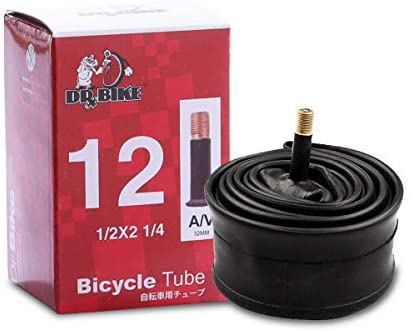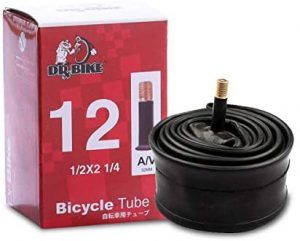 A common issue with smaller bikes is it's hard to find capable mountain bike tubes for them. Most are built for larger wheels. This is why the DRBIKE Replacement Bike Inner Tube is a heaven-sent for people with smaller bikes.
Available in sizes from 12 and 1/2 inches up to 29 inches, this is a versatile mountain bike tube. It's also backed by a one-year warranty where you can choose to receive either a replacement or a full refund.
Pros:
Available in a variety of tire sizes
Sturdy
Cons:
Rubber is noticeably thinner compared to other brands
Best for Ease of Installation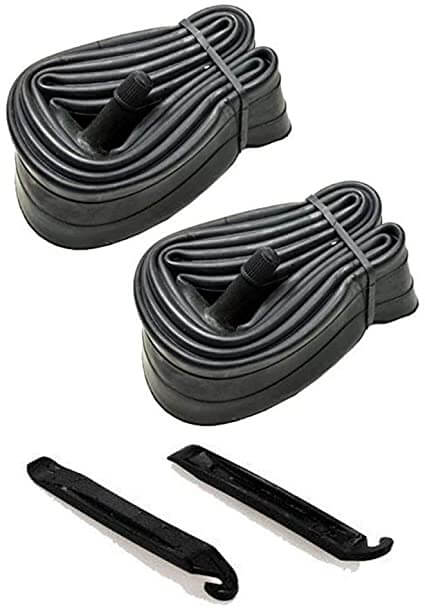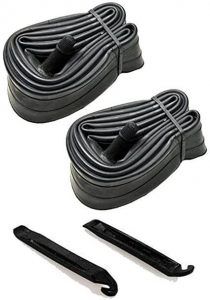 Not all mountain bike tubes are made to last. Some are aptly priced and best to use as a temporary replacement.
The SCK 2 Pack 26-Inch Bike Tubes Plus 2 Tire comes at just the right price point for when you need to replace your bike tubes to tide you over for a while until you can get yourself something better.
This isn't to say that these bike tubes are best. They're actually pretty great. The butyl rubber material is high-quality and it retains air quite well. It's also sold as a 2-pack with 2 tire levels, so you're going to have an extra for the same price as just one bike tube from other brands.
In case you don't feel satisfied with your purchase, you can always ask for a full refund.
Pros:
Budget-friendly
Installation instructions
Useful bike tools included
Cons:
Best Value for the Money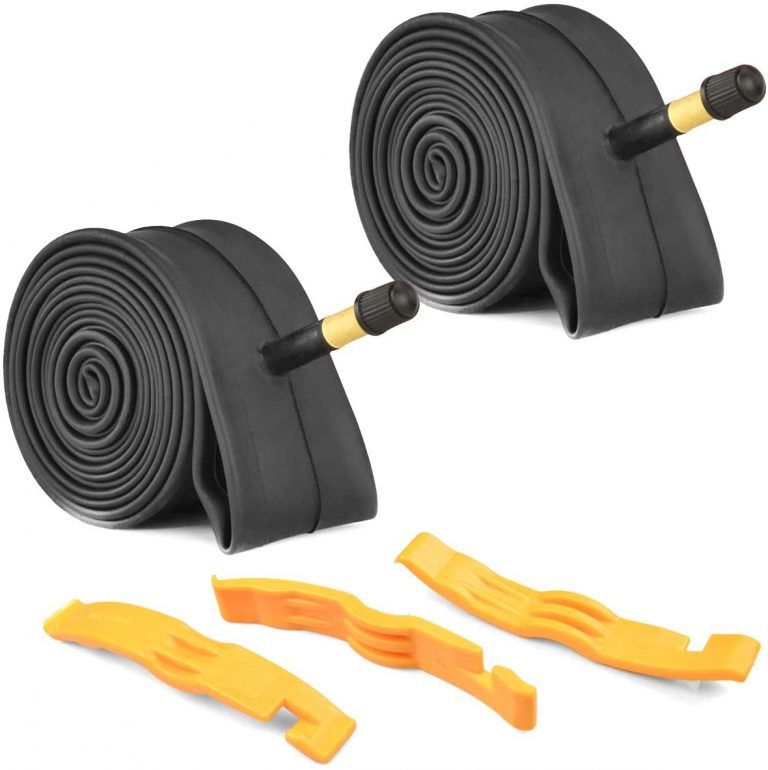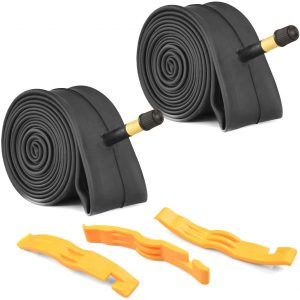 The ZSFLZS 2 Pack Bike Tube with 3 Tire Levers is another value-packed offering for people who want a long-lasting mountain bike tube that retains air well and isn't hard to install.
Speaking of installation, this bike tubes come with nylon plastic tire levers that let you take your tube out of your bike's tires with ease and minimal effort. The levers should fit easily for most wheels, including smaller bike wheels, and other types of wheels for other vehicles.
Pros:
Low asking price
Comes with 3 bike levers
Easy installation
Cons:
Presta Valve
Best Overall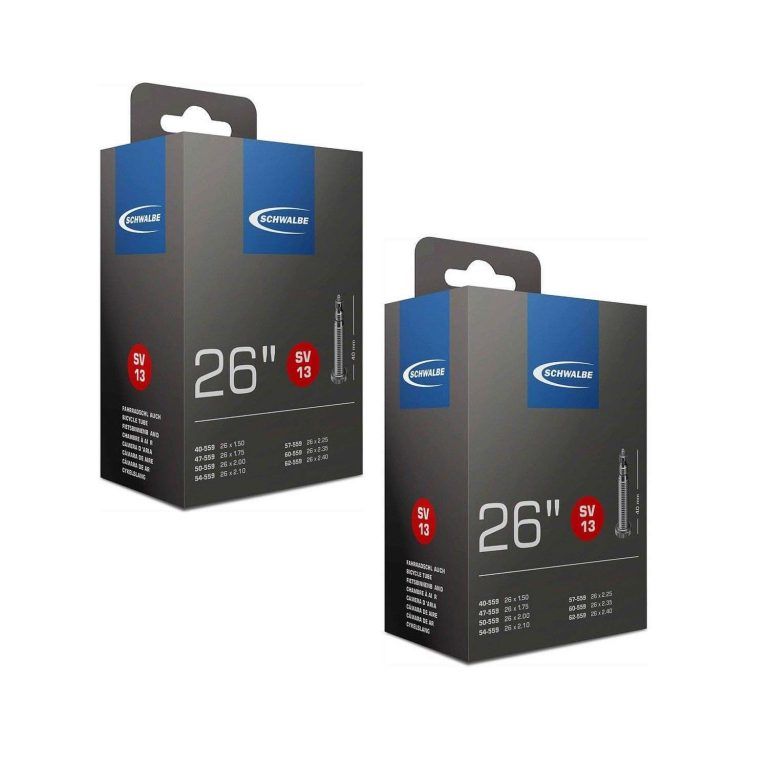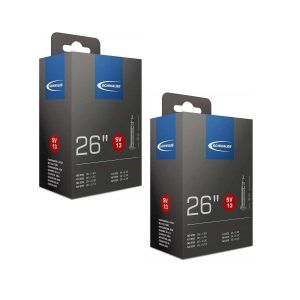 The Schwalbe SV13 MTB Inner Tubes 26 x 1.50 might just be the best mountain bike tubes on the market today.
It combines an attractive price point with a premium design. Perhaps more importantly, the SV13 went through extensive testing. It can retain air pressure far longer compared to others because it's tested by storing it under pressure for up to 24 hours. The manufacturers also inflate each individual tire and insert them into a mold prior to shipping.
Simply put, the SV13 is right up there when it comes to mountain trail tires.
Pros:
Good looks
Designed for superior air retention
Comes in hard-to-find sizes
Cons:
Best Value for the Money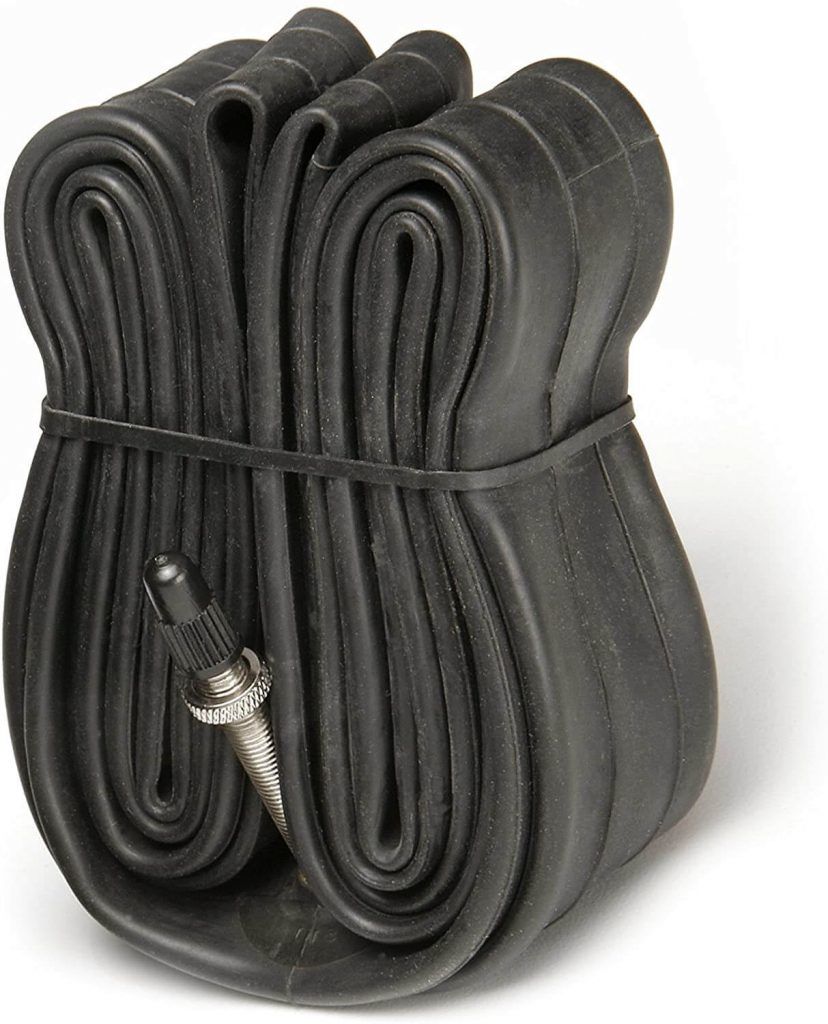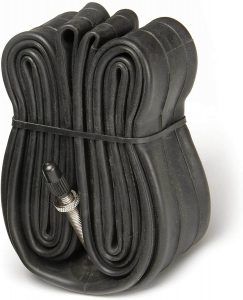 If your main concern is getting the best value for your money, the Velo Mountain Bike Inner Tubes Presta (French) Valve is for you.
These bike tubes weigh 200 grams each and come in a 4-pack. It also has a removable core. This means that you can use it with sealants if you want and be better protected from punctures when out on trails.
Pros:
Excellent value
Removable core for sealants
Cons:
Best Budget-Friendly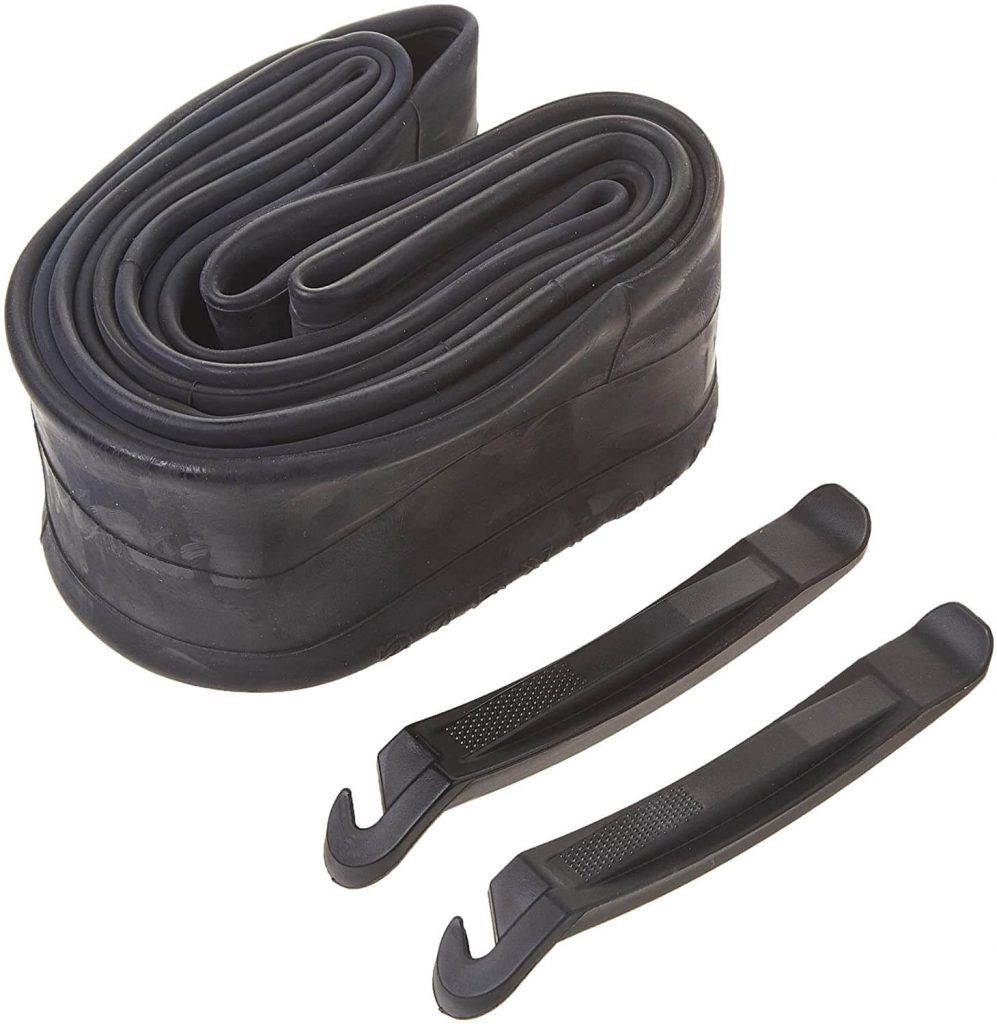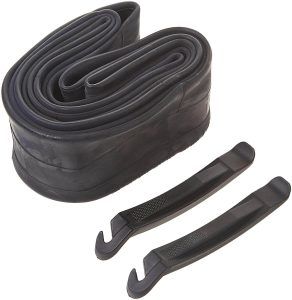 Save money without compromising safety with the Goodyear 48mm Presta Valve Bicycle Tube.
Available in 26-inch by 2.1 to 2.4-inch sizes up to 29-inch by 2.1 to 2.4-inch sizes, these mountain bike tubes are sold individually. This means that you won't need to buy multiple ones just cause. This affords it a much lower asking price compared to other mountain bike tubes sold in packs of 2 or 4.
But, this mountain bike tube isn't just budget-friendly. Each purchase comes with bike levers. This can help significantly with the installation process, especially for those unfamiliar with bikes.
Pros:
Low price
Compatible with most bike rims
Easy to patch in case of flats
Cons:
Rubber tends to wear out quickly
Mountain Bike Tubes Buying Guide
When you're shopping for the best mountain bike tubes, it's best to keep these factors in mind:
Tube Size
The most important part when buying a mountain bike tube is choosing the right inner tube size.
An easy way to go about this is to take the bike tube to the bike shop and let them do the shopping for you. However, if you want to save money and do it yourself, it's not that hard.
All you need to do is to measure the circumference of your bike's wheel. This will give you the proper length. Then, to check the width, you'll need to measure just how wide or narrow your bike wheels are.
Once you have both, you can find the proper fitting mountain bike tube.
Valve Type
Always make sure to check your installed inner tube to see what kind of valve you'll need from a replacement bike tube.
The two types of valves are the Schrader and Presta.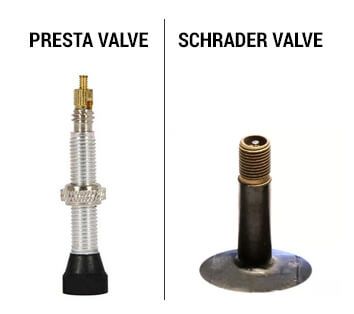 Schrader valves are the more common type of bike tube valve types. They're more robust and bigger. This adds a couple of grams to the bike wheel's overall weight. They also tend to be easier to remove.
Another common characteristic of Schrader Valves is that they are shorter and squat.
Because Presta valves have no springs, they are easier and faster to pump. This makes them perfect for mobility since you can easily pump them to the right air pressure using a mini hand pump. They're also lighter and more slender. This is another reason why it's the preferred choice for racing and sports bikes.
One way to tell a Presta valve from a Schrader valve is that it is longer with a more narrow design. They also usually come with a twist-lock built-in to the design.
Flat Protection
Bike tire tubes often come with some sort of protection against flats and punctures.
The three most common types of bike tubes are:
The standard tube is self-explanatory. It's the standard design for bike tubes. It offers little in the way of protection against punctures or holes. However, some standard-design tubes come with removable cores. You can take them off and insert sealants into them that will quickly fill in any punctures as they happen.
Self-sealing tubes are designed to heal punctures. Some do it quickly enough that you won't notice them. Some take a while to take effect. Most of the time, the self-sealing mechanism only works for a set amount of time.
Either way, the goal of a self-sealing bike tube is to let you ride on in spite of miniature holes and punctures.
As the name suggests, tubeless set-ups have no inner bike tubes. Instead, the tire itself is sealed to the rim so that it can hold air without needing a tube.
There are many advantages to having a tubeless set-up. This includes being able to run at lower air pressures to improve grip, handling, and comfort. Tubeless set-ups are also more resistant to flats and are still able to support the bike even when it has lost a significant amount of air.
Plus, if you do get a flat, tubeless setups are less likely to separate from the rim.
Latex vs Butyl
Latex tubes are lighter, faster, and more flexible. That last bit is often pointed out as the reason why it's more resistant to holes and punctures. However, they're also more expensive and require a bit more care.
On the other hand, butyl tubes are much more affordable and more durable.
Since the differences are minute and you can never really tell when you'll get a flat, we recommend going with the cheaper option.
Conclusion
Our picks of the best mountain bike tubes are the Bell Standard and Self Sealing Bike Tubes and the Schwalbe SV13 MTB Inner Tubes 26 x 1.50.
If you prefer something that seals itself, we recommend none other than the Slime 30059 Self-Sealing Smart Tube. However, the Velo Mountain Bike Tubes – Schrader (Auto) Valve with Removable Core has a removable core. This makes these bike tubes perfect if you prefer to keep your options open.
Ultimately, we tried our best to round up the best mountain bike tubes for multiple preferences.
Rest assured that, with your guide, you'll find the MTB tubes that you are looking for.