If parents feel that their kids need an early-stage exposure to intent cycling, then a kids mountain bike would be what they need.
Here is the list of 16 best kids mountain bikes for heavy-duty, but possess the characteristics for a kid rider.
So far, the winner of the list is Commencal Meta HT, with Prevelo Zulu and Spawn Rokk 24 at the second position. Putting all quality together, these products have the best size, weight for kids, also other structures show the best effectiveness.
Best budget kids mountain bikes
There is 8 best kids mountain bike with an affordable price for your choice.
Best budget bike
4.5/5 star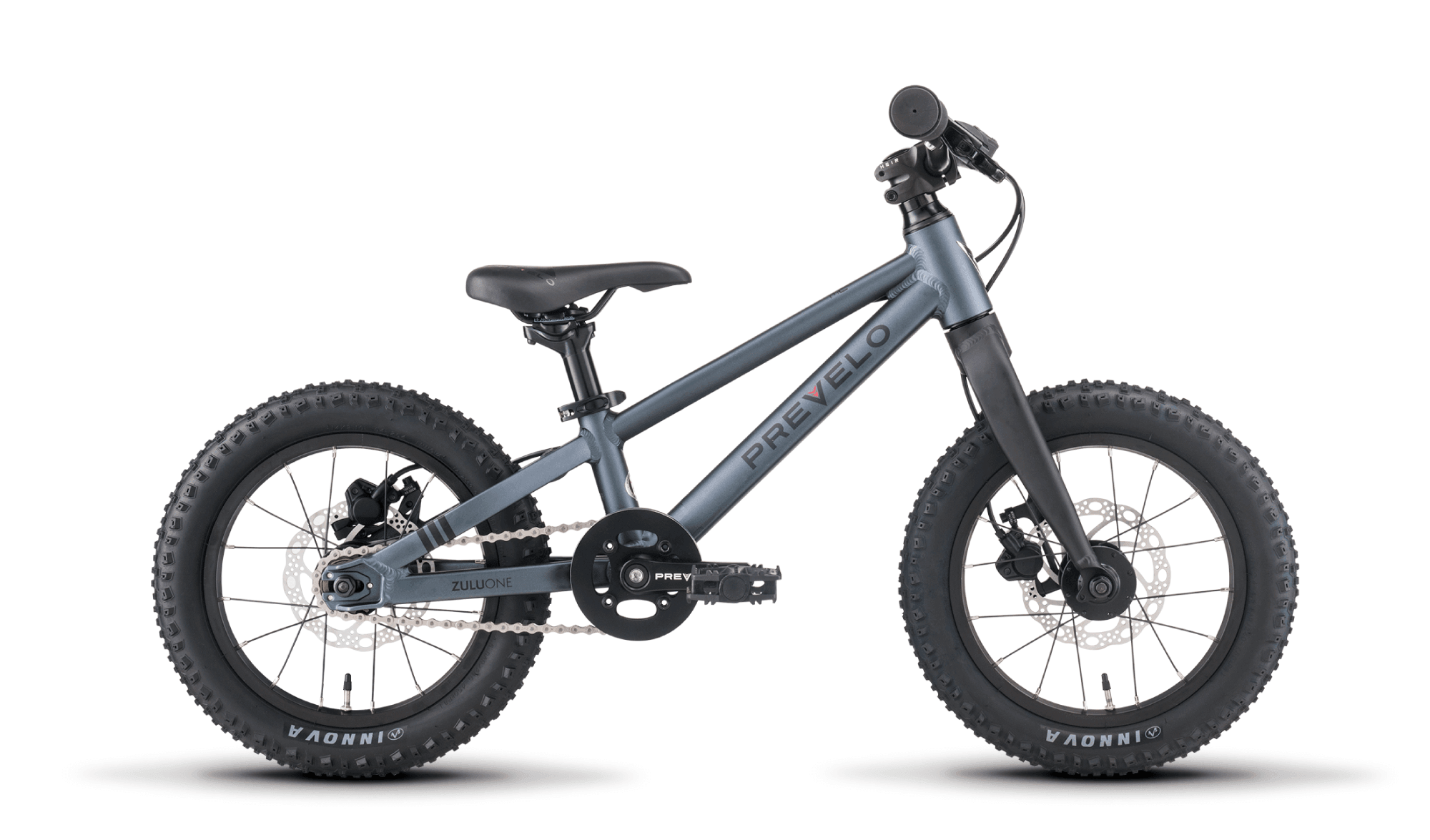 The 14-inch wheel mountain bike Prevelo shows an impressive performance for kids. Besides the heavy-duty performance, it brings a sense of high-secured and stability to the rider.
Aiming at the target users aged 3 to 5, the 15.9lbs bike benefits from Lightweight 6061 aluminum frame and fork for a lightweight and durable shell. Low and narrow geometry is utilized for a balanced and high-controlled ride.
The Zulu features no training wheel. Kids who experienced cycling before may be more suitable for that type of bike. However, kids can still feel safe thanks to the braking system. Tektro front and rear hydraulic disc brakes are standardized, especially for the rear coaster brake.
Structured with an appropriate standover, coated saddle, the design emphasizes the comfortable of the bike through the tires.
Kids may feel totally confident when riding a bike because of the high-traction and versatile tires. The flat-free and uneven surface makes it safe and in control wheels.
Pros:
Lightweight
Good traction and control
High security
Durable
Cons:
Excellent shock-absorption tires
4/5 star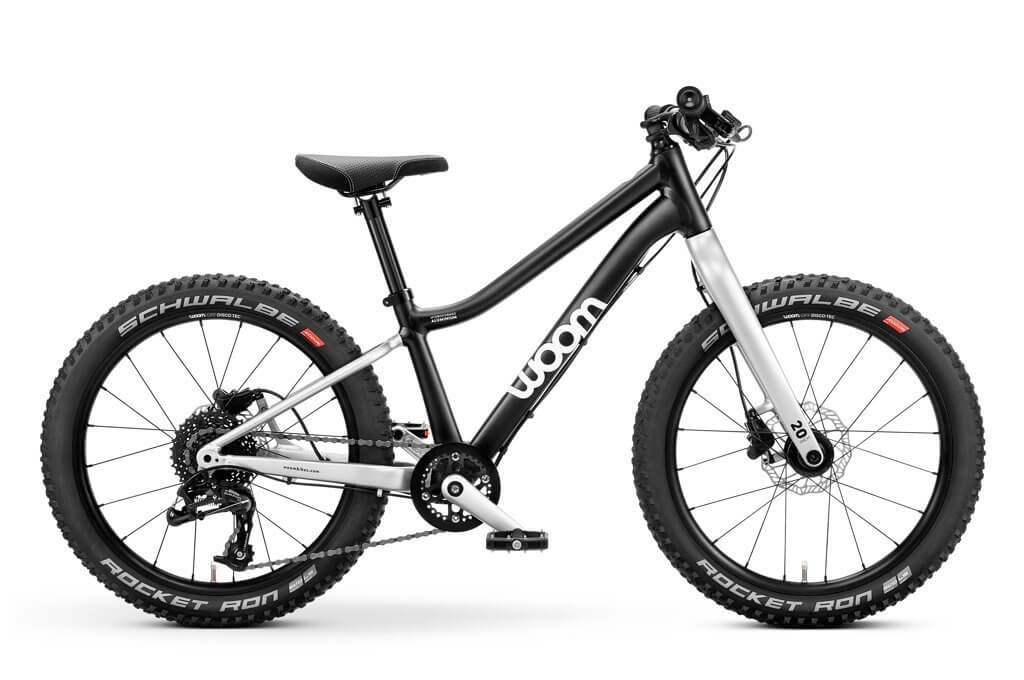 Unlike the Zulu, the target riders of this Woom Off are kids from 6 to 8 years old. The size of the bike is bigger with 20'' wheel and 17.2lbs.
The aluminum frame with hydro-formed tubes makes it an ultra-light structure. The long wheelbase and flat steering angle add balance and high control to the whole geometry. This feature is important since it keeps the amateur stable and safe on road.
Built with ADDIX SPEED rubber compound, the tires are made high-quality, flat-free and shock absorption. The rough surface maximizes the grip for low rolling resistance and zero-slippage.
Coat with soft and high-friction fabric, the shifter and saddle are comfortable to hold and seat on in a long ride. Nevertheless, these parts such as seatpost, brakes or handlebar are hard to adapt to or with low adjustability.
Pros:
Ultra-lightweight
High-quality tires
Comfortable to use
Good security
Cons:
Best for suspension fork
3.5/5 star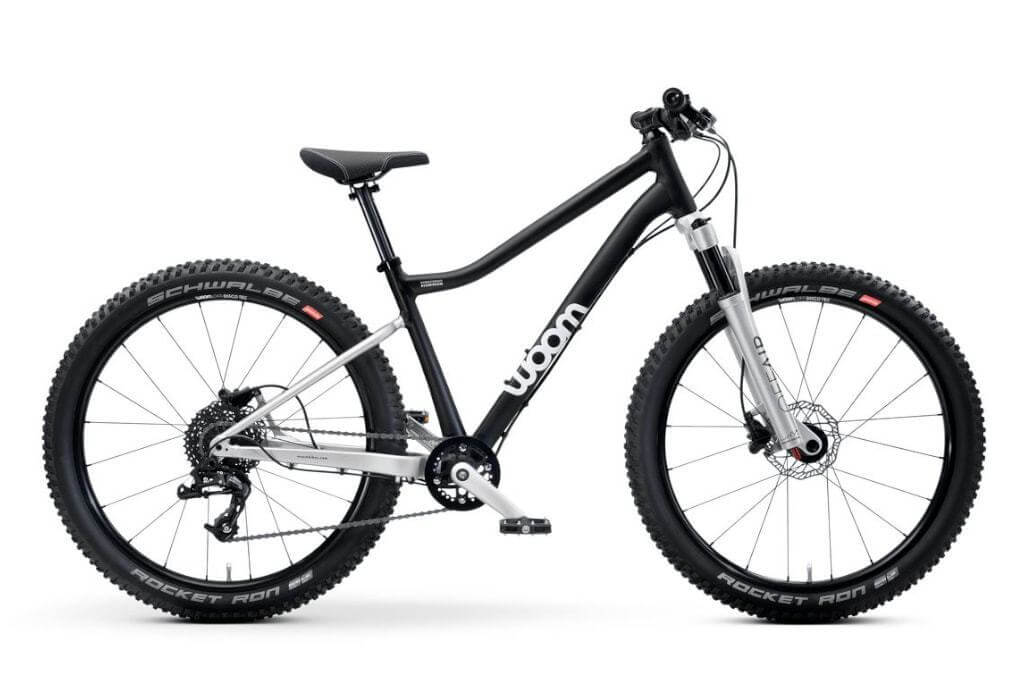 The Woom continues with the series of its bikes for kids, but this time the Woom Off Air version is made for different customers with different features.
This mountain bike for kids is specially designed for children aged 7 to 11 as they grow older. The size of the wheels is upgraded to 24 inches, while the weight is 22.3lbs. Frame, seatpost and other parts are made with the bigger size to fit with children's height, but I wish the standover was lower and the weight was lighter.
Apart from the size of the bike, other parts seem fine. One of the biggest bonus points to the design is the suspension fork. This suspension helps to adjust to the rider's weight with the compression. Thus, children can feel more comfortable and in control of the bike.
Padded saddle, anti-slippage tires and secured brakes system contribute to the high performance of this mountain bike. Hence, it is recommended for kids with appropriate height and experience in cycling.
Pros:
Effective suspension
High security
Comfortable pads
Heavy-duty
Cons:
High standover
A little bit heavy
Best for durability
4/5 star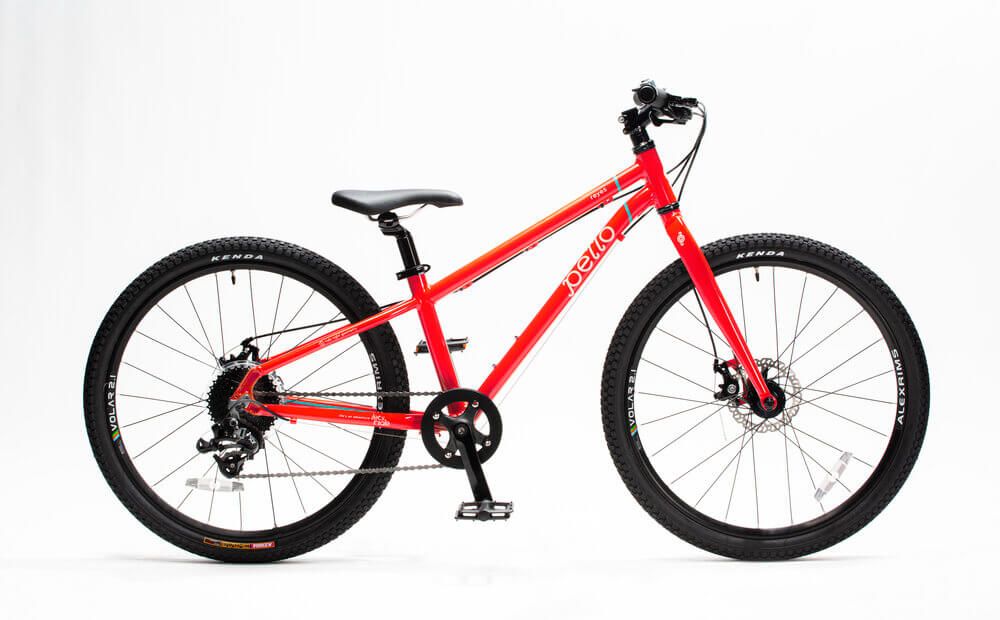 The Pello provides a bike designed for children aged 7 and older. With the 24'' wheel and 22lbs weight, the bike can be an ideal company for your big child.
Mainly structured with lightweight aluminum, the bike is not only lightweight enough for a kid, but it is also very durable. The frame, fork and handlebar are constructed with aluminum for better control.
Tubeless rims and Kenda Krad tires contribute to the stability of the whole. Thanks to the flat-free wheels with a versatile surface, the bike is heavy-duty, and it can perform well regardless of the terrain.
The design offers an optional suspension fork for a smooth-riding through bumps and gravel roads. The geometry does a good job in providing effective lock-on grips for small hands. However, the handlebar is a little bit too long, which may affect the balance of beginners.
Pros:
Lightweight
Durable
High traction, heavy-duty tires
Good suspension
Cons:
Best for 26-inch wheel
4/5 star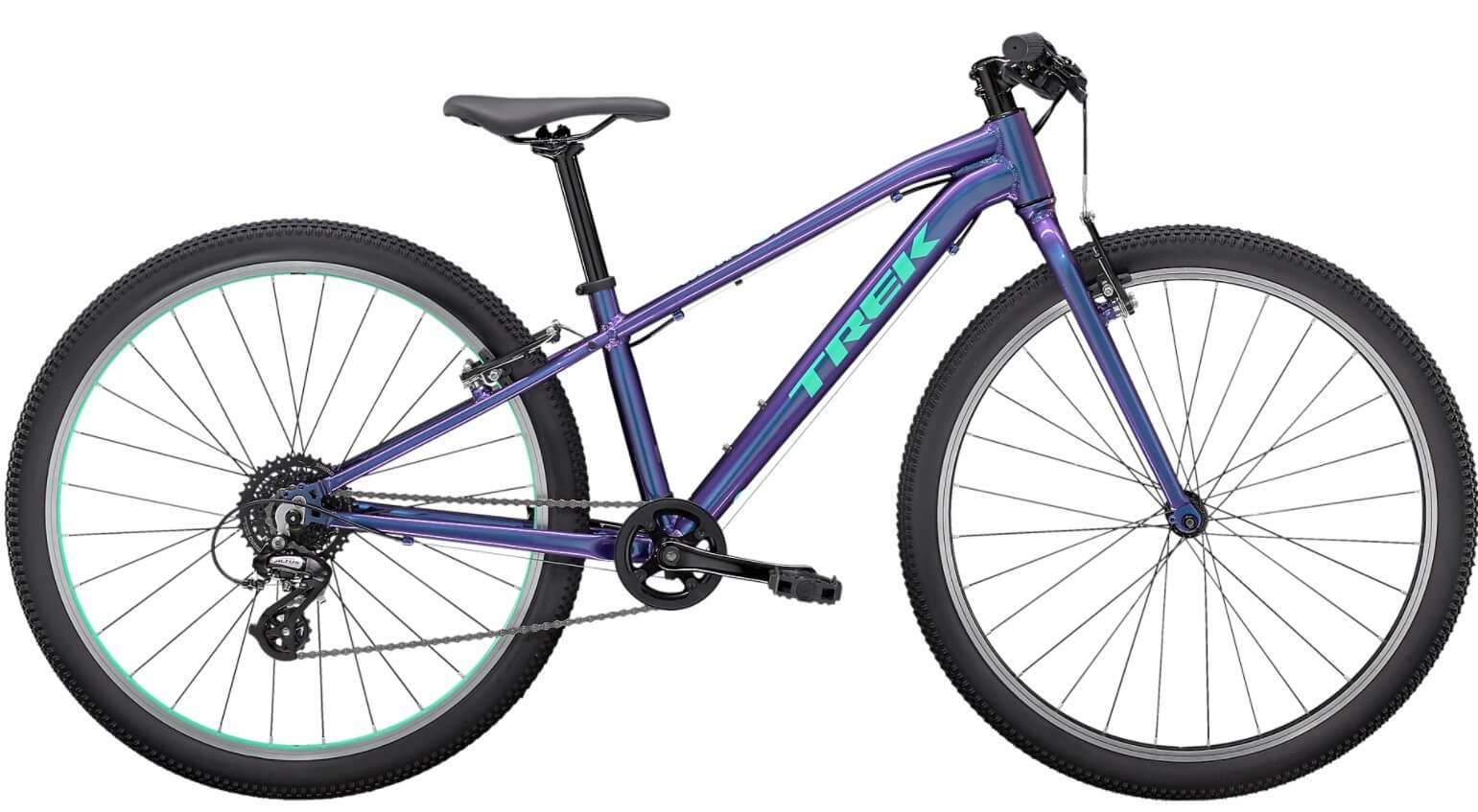 This Trek is a standardized bike for kids for its simplified structure and practically lightweight.
Constructed with Alpha Alumnum frame, the 26-inch wheel bike is considered lightweight when being measured 22lbs. The aluminum is also strong and durable, which can work well in extensive duty.
This children's mountain bike features a reliable braking system through alloy linear-pull front and rear. Kid's Kraton grips and Kids' alloy brake lever design facilitate easy and comfortable hand control of the bike.
A padded saddle creates a comfortable feeling when riding. It is soft and has ventilation. High-traction tires also gain points for the bike
Perhaps 1 drawback of this design is the pedaling system. The back wheel is quite heavy to pedal, and it can result in hard control when cycling uphill.
Pros:
Lightweight
Study and good balance
Effective braking system
Comfortable design
Cons:
Excellent appearance
4/5 star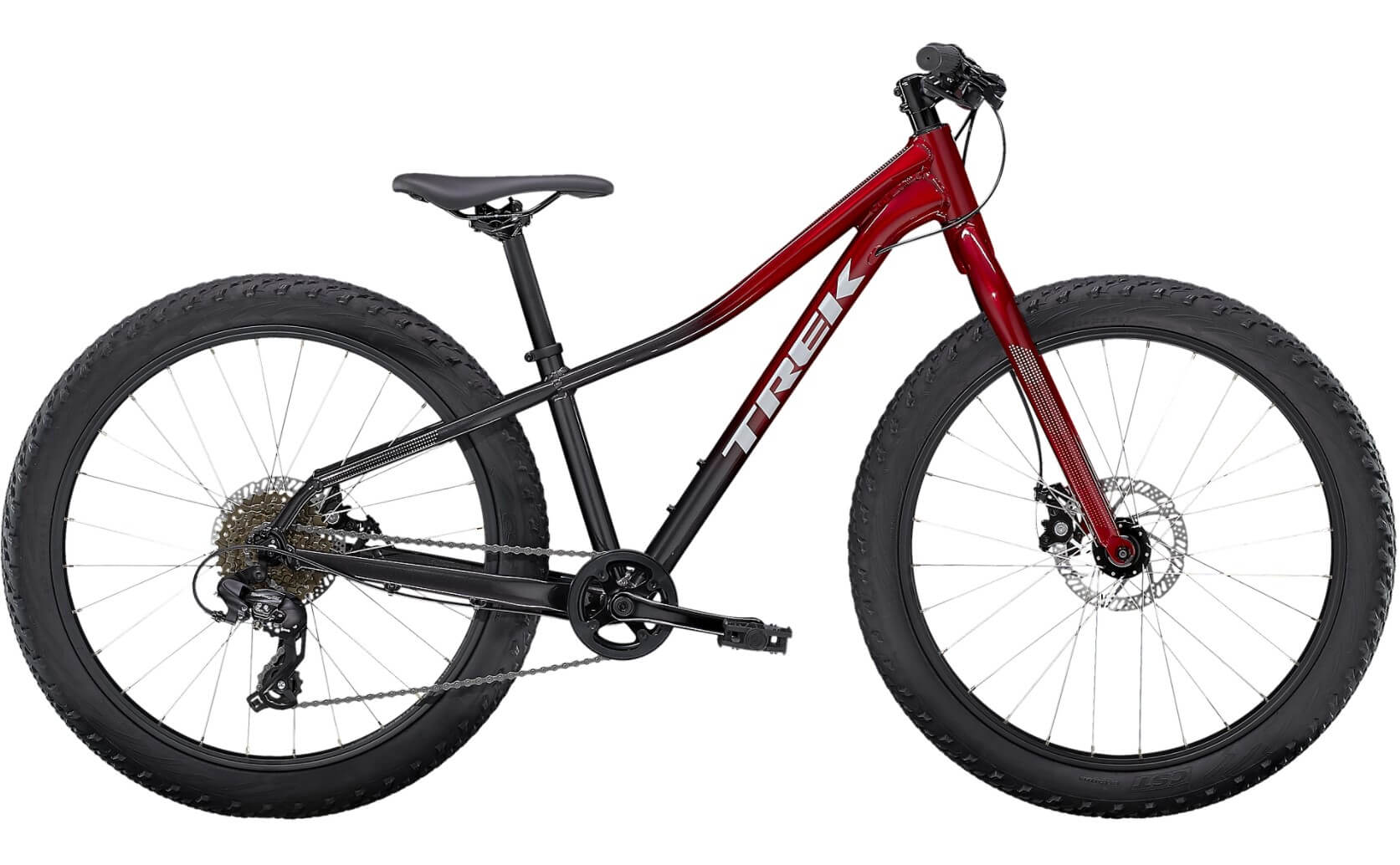 The next bike that comes from the Trek is a Roscoe version. This time, the Trek introduces a 24'' wheel with an extremely cool impressive looking. Probably it can be considered boys mountain bikes, but it also goes with girls who love cool street style.
Applied kid geometry, this Roscoe is one of the best designs for kids. Low-pointed center, well-focused, appropriate standover not only creates a good balance but also easy for kids to get on, off and cycle. Aluminum frame contributes to the sturdiness and durability of the whole.
The brakes are activated through the front and rear brakes. The wider 2.8in tires enhance the stability and sturdiness when children practice cycling.
Unlike other 24-inch bikes, this product weighs up to 25.58lbs, which is so far the heaviest bike on the list. It can be a con for some kids to carry or ride the bike in the rough route.
Pros:
Good geometry
High security
Impressive appearance
Durability
Cons:
Best for cross-country bike
4/5 star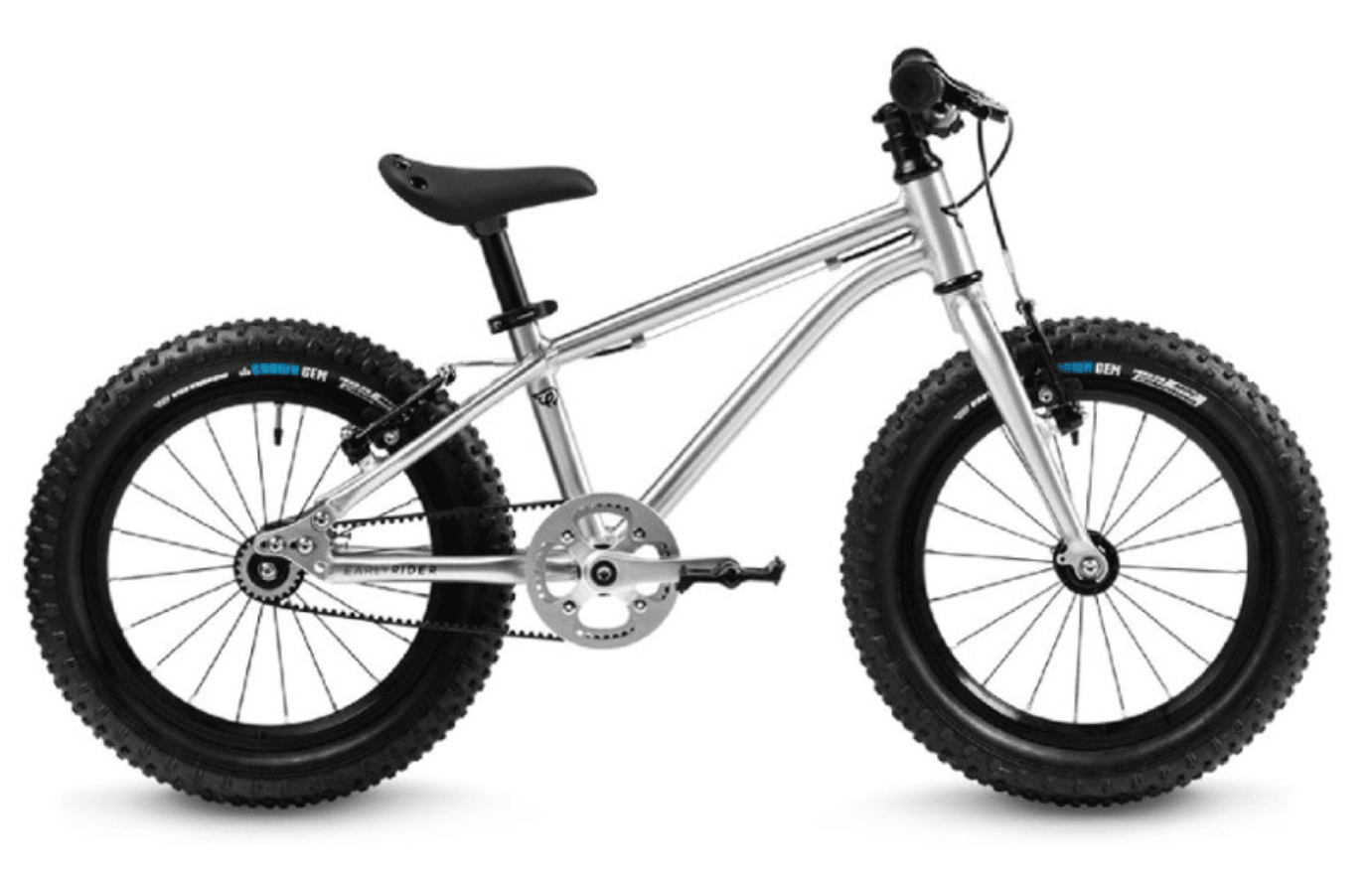 This Early Rider scores very high for its superb function in contrast with the casual typical appearance. Parents who prefer minimalistic fashion may find this design meet-match with family-style.
Utilizing 16-inch wheels and weighing only 13lbs, this bike is specially made for kids from 3.5 to 6 years old. The 6061 aluminum frame and fork play a key role in reducing the weight, yet increase the durable and sturdiness of the bike.
Benefiting from the front and rear Rim Brakes, the bike creates a safe system to protect kids. With the impressive design, the grips and handbrake are made with reasonable size for easy control.
One of the best parts of the bike is the tire. The low-resistant but high-traction surface performs well regardless of mug or gravel terrain. These tires are durable and flat-free, so parents do not really need daily checking.
There is only a little drawback to the bike. Besides the low range of age, the standover of the bike is quite high for kids at such age. Maybe a lower or curve bar will help kids with easier on and off.
Pros:
Lightweight and small-sized
Impressive secure system
Outstanding tires
Durable and sturdy
Cons:
Limited users' age
High standover
Best for recreational cycling
3.5/5 star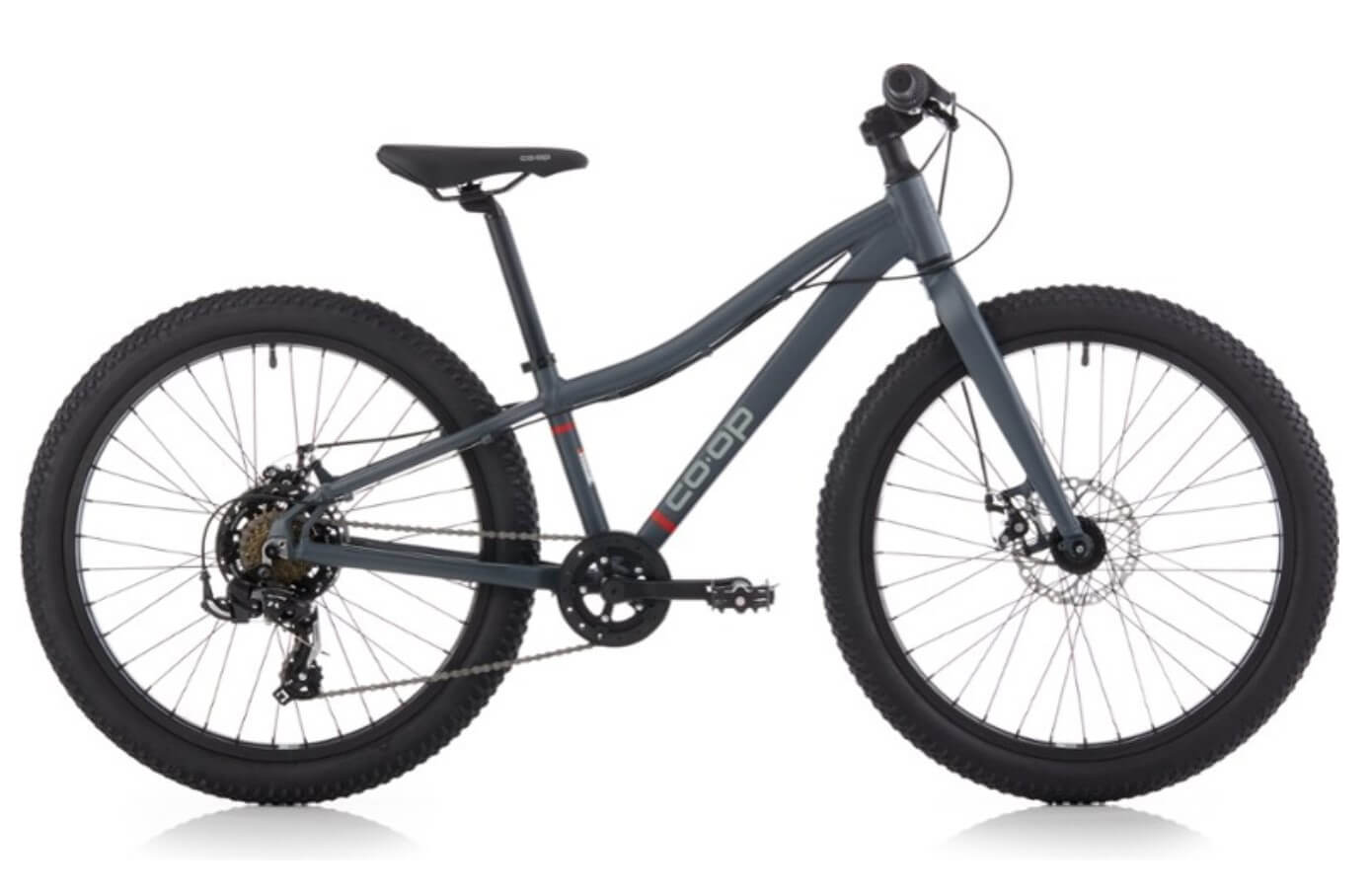 The last budget bike is a Co-op product. This bike is suitable for kids who cycle for recreation or daily riding in the neighborhood.
Taking advantage of 6061 aluminum frame, this bike is sturdy and well-focused. The geometry is well constructed with an appropriate curved standover for easy on and off.
The bike is high security, which is enhanced through mechanical disc brakes and a quick-response system. Also, the 2.6in tires are plus-sized for more stable and smooth rides.
Weighting 28.2lbs, this design is now the heaviest bike on the list. Although the capacity is up to 120lbs, the bike only can be heavy for children.
Also, the grip design is also a disadvantage of the bike. The rough grips aim to improve the traction of the skin, but it is uncomfortable during the long trip, which makes the design ideal for local trips on the city road.
Pros:
Sturdy and good balance
Good kids' geometry
Secured brakes
Smooth and steady tires
Cons:
Heavy
Uncomfortable grips
Best premium kids mountain bikes
The second category would focus on 4 premium designs for best kids mountain bike.
Best for premium bike
5/5 star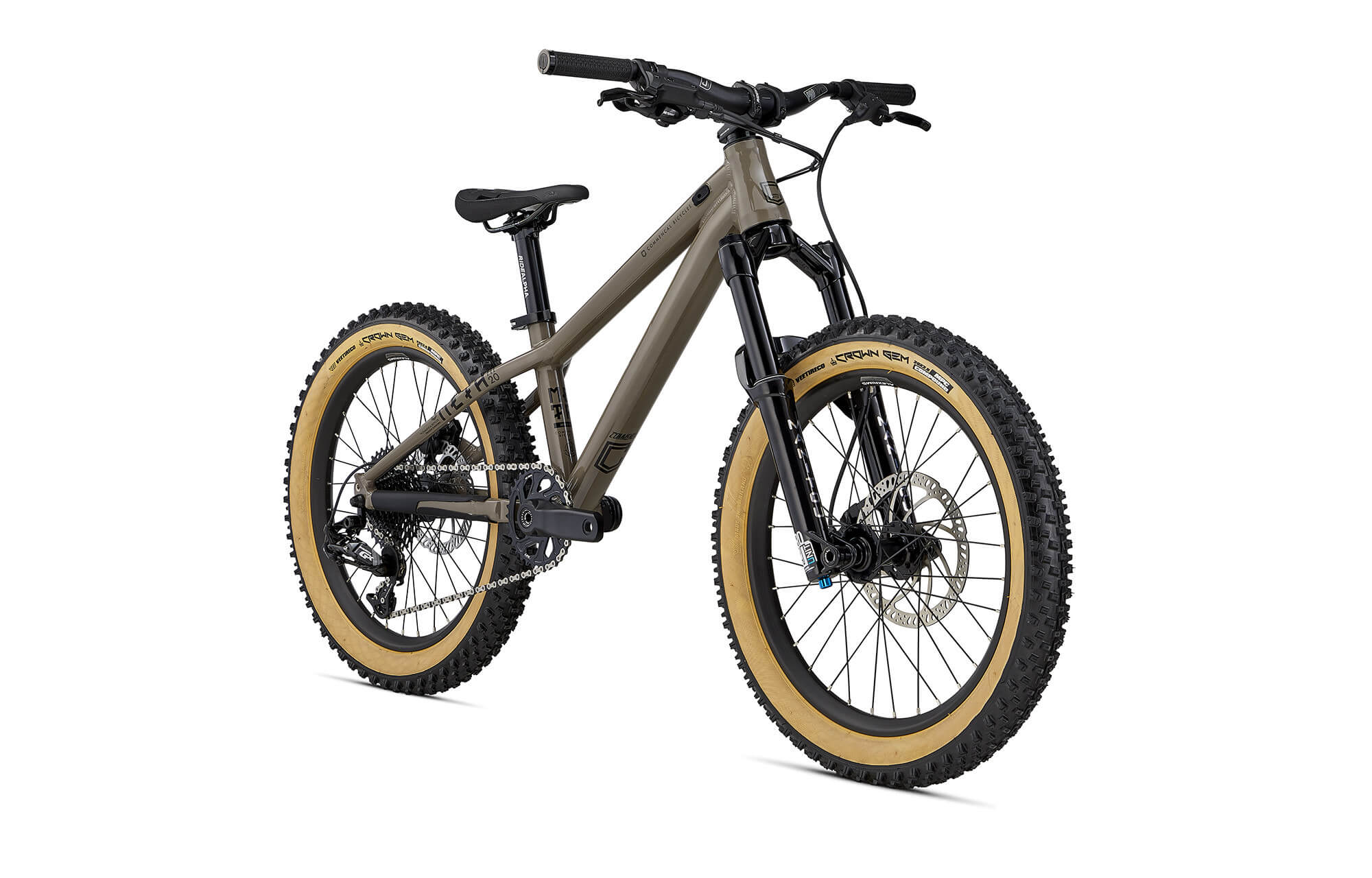 This Commencal introduces several outstanding features for a best kids mountain bike. With an impressive appearance and cutting-edge technologies applied, this bicycle deserves consideration.
The design focuses on the comfortable and free-wheeling of the users. Measured 23.36lbs, the bike is controllable by kids aged 7 and above. The high-end frame and tube system such as the rear triangle tubes system make it a stable, well-focused and comfortable bike to ride.
The unique telescopic fork is installed to reduce friction, and thus increase children's confidence and sports ability on road.
Also, the security and high control of the bike is high approval. META HT 20 frame generates a sturdy and balanced shape for the bike. The front and rear brakes are quick responsive in emergency cases. The durable and versatile tires play a role in remaining traction and safety of the rider.
Especially, the grips are integrated with an anti-slippage surface. It prevents the chance of slip of sweaty hands for an exact brake.
Pros:
Good free-wheeling
High traction tires
Good security
Anti-slippage grips
Cons:
Best for grip design
3.5/5 star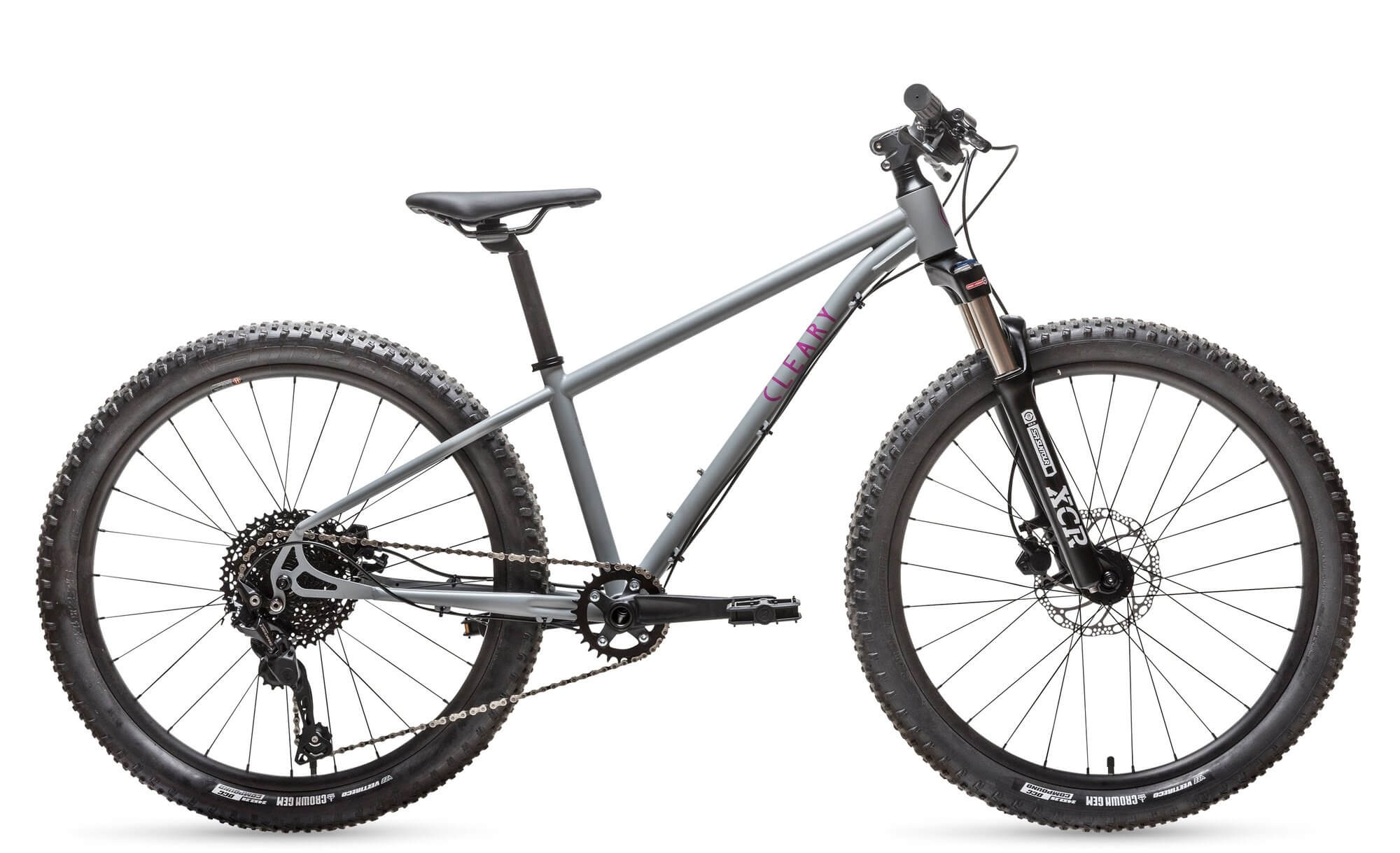 The Cleary Scout features a 24'' bike for kids with a simplified design for easy cycling practice.
Constructed with Lightweight butted Chromoly suspension-corrected trail frame, the bike has an extra structure to remain in control. The geometry is standardized for kids so children can effortlessly get on and off the bike. Also when riding, the bike is stable and sturdy, which facilitates children's extra practice with bikes.
Clear lock-on grips are integrated to accommodate comfortable handbrake. Tektro HD-291 junior disc brakes are activated through the front and rear brakes. High traction tires are also a plus point for the bike.
Nevertheless, there are some points that need improvements. Although the frame successfully creates a sturdy and balanced base, the crank and handlebar are designed over-sized. The long crank and heavy handlebar make the bike sometimes hard to control in rough terrain. Thus, the bike is more suitable for experienced kids.
Pros:
Good-shaped frame
Comfortable grips
High-traction tires
Cons:
Long crank
Heavy handlebar
Best for mountainous routes
4/5 star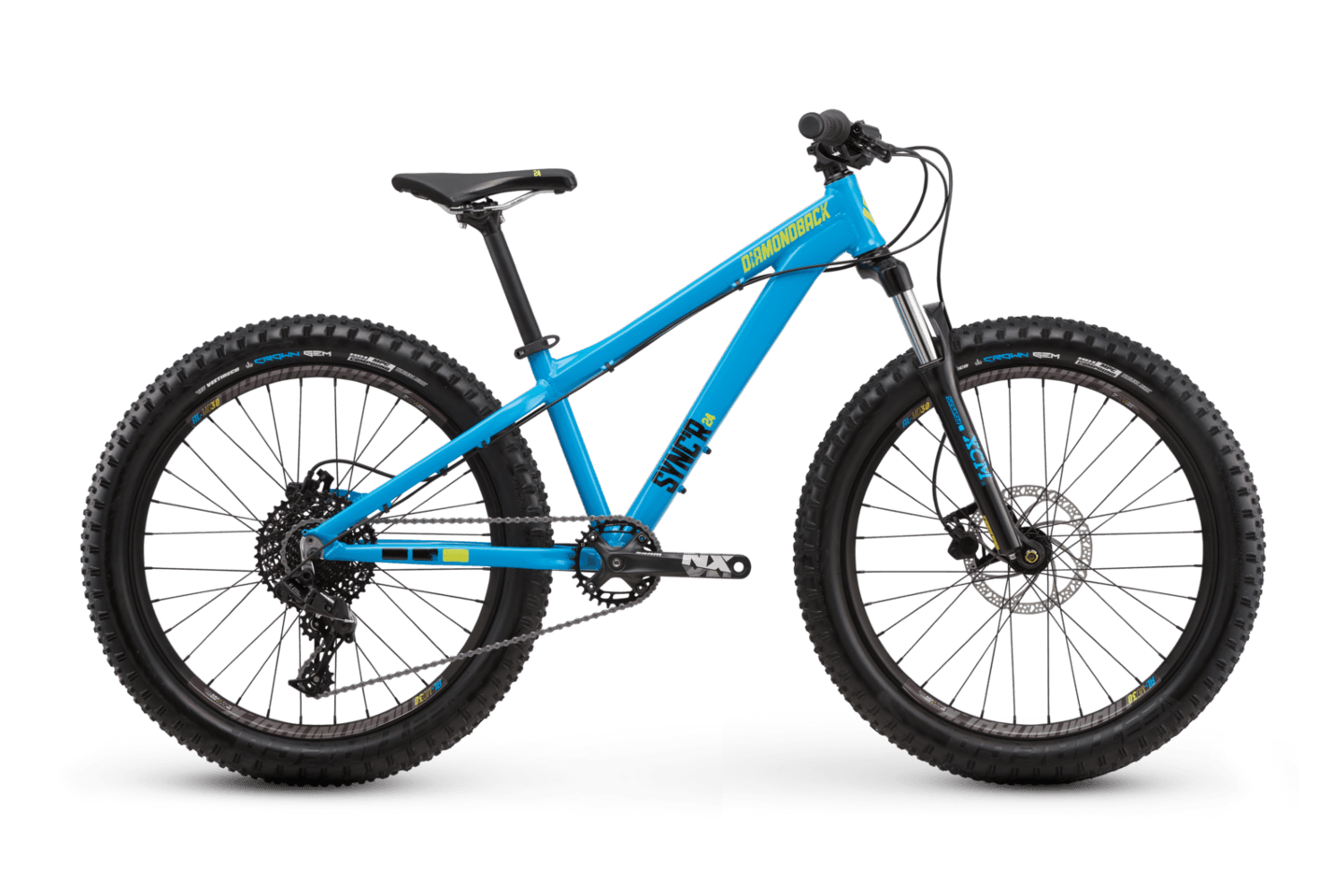 This Diamond is so far one of the best bikes for senior children for its appearance and function meet the demand of children aged 8 to 12.
The 6061-T6 Aluminum Jr-24″ Frame bike is indeed sturdy enough for kids' exploitation journey. The low geometry focuses the rider weight, gravity and force gathering to form a heavy-duty structure. This design is highly recommended for gravel, rocky and bumpy roads.
Integrated with Tektro hydraulic brakes, either the front or rear brakes are quickly responsive and durable. The abrasion hardly occurs during a long period of time. Also, the 2.8'' tires are low-resistant and good traction, which accommodates stable and anti-slippage components.
Like its function, the bike also looks tough and cool, although its dimension is impressive and a little bit bulky.
Pros:
Sturdy and durable
Extreme stability
Heavy-duty structure
Cons:
High price
Bulky appearance
Excellent smooth ride
4/5 star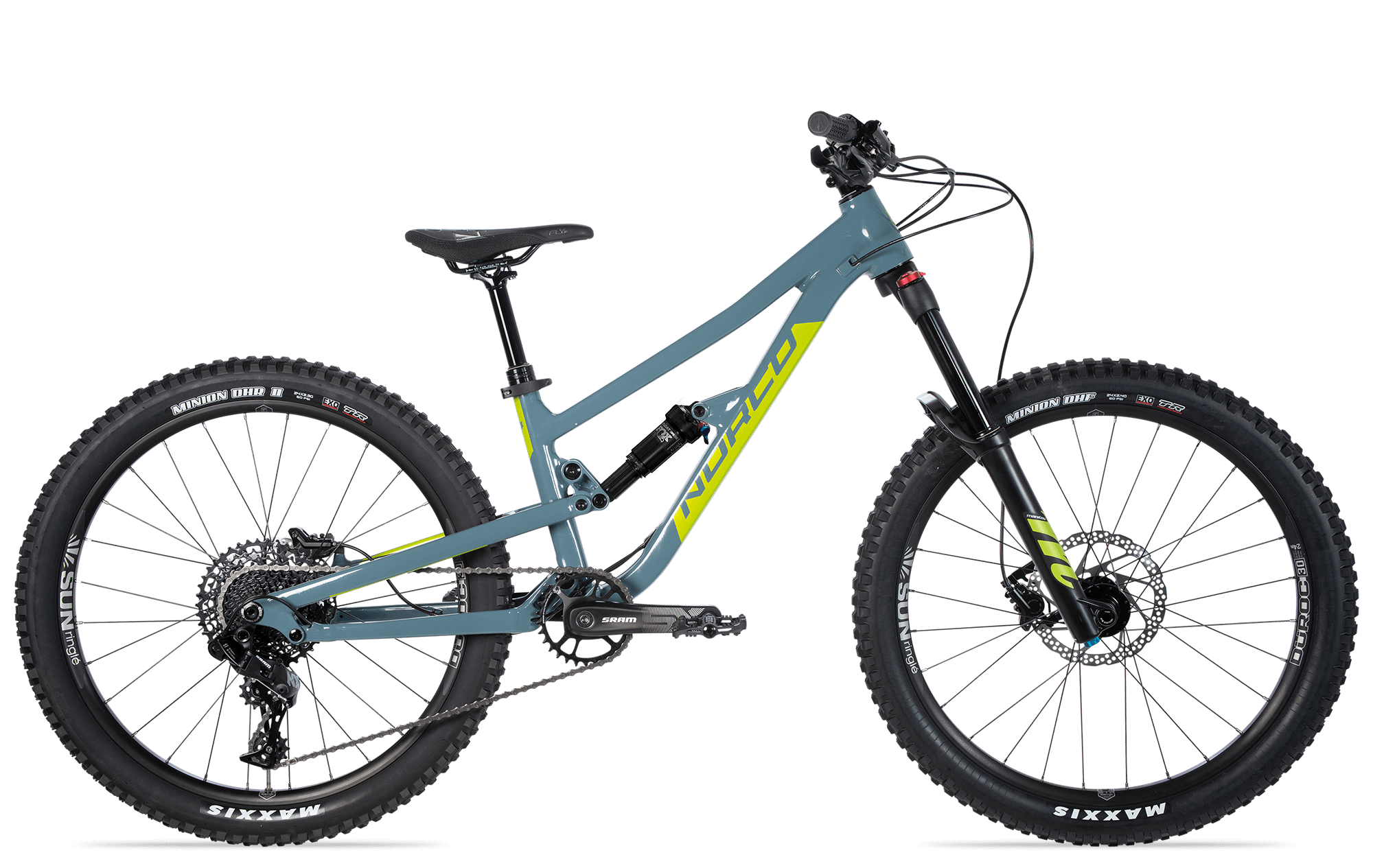 Here comes another design of the Norco for senior children who are 9 to 12 years old. With the aggressive look, this best youth mountain bike would be suitable for those who love dynamic style.
Built with 606 Alloy aluminum frame, the bike also emphasizes balance and a user-friendly design. Not only is it lightweight for a 9-year-old kid, but the bike is also constructed with a low standover for a quick get-on.
The Shimano BR-MT500 hydraulic front and rear brakes accommodate quick response when riders pull the handbrake. Also, youth-tuned suspension positively contributes to the smoothness and durability of the bike.
The Norco can be an ideal candidate for most of its components. It would be better if more customized adjustments are facilitated such as handlebar and seatpost.
Pros:
Good geometry
Well-balanced and user-friendly
Secured brakes
Effective suspension
Cons:
Best full suspension kids mountain bikes
The third category would introduce 4 best kids mountain bikes with a full suspension attached.
Best for full suspension
4.5/5 star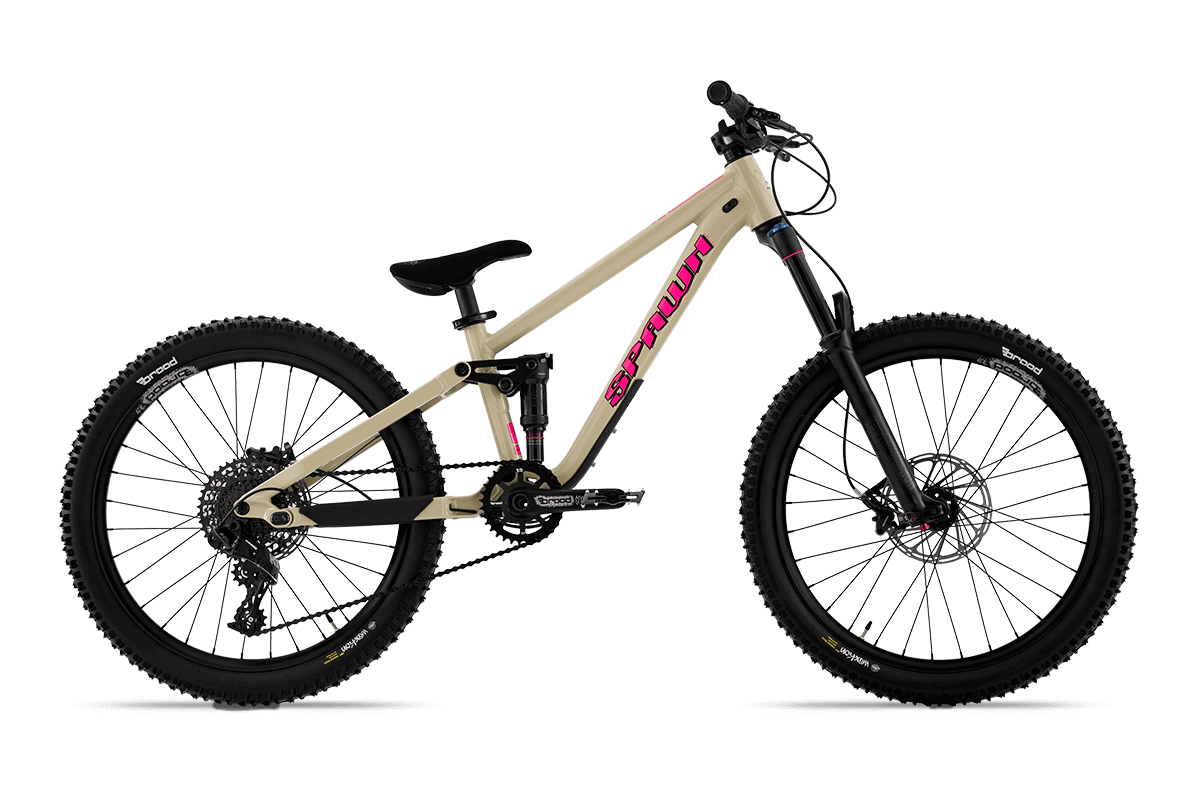 The Spawn is the first product on the list to introduce dual suspension. It is a cutting-edge technology that shows outstanding effectiveness in keeping the ride smooth and comfortable.
Constructed with 6061-T6 alloy frame like many other bikes, this Spawn successfully designs a swappable frame geometry that can switch between 24'' wheel and 26'' wheel. It means that the change of wheel size will not affect the balance of the bike.
The braking system is facilitated through the front and rear brakes. Other components that contribute to the stable and safe bike are the 145 Styx crank, 32t direct mount chain, TR27 tubeless tires, and Tenderiderz lock-on grips. Also, the soft padded grips and saddle add more comfortable to the journey.
Pros:
Dual suspension
Swappable wheel-size
Good security
Comfortable components
Cons:
Best for trail ride
4/5 star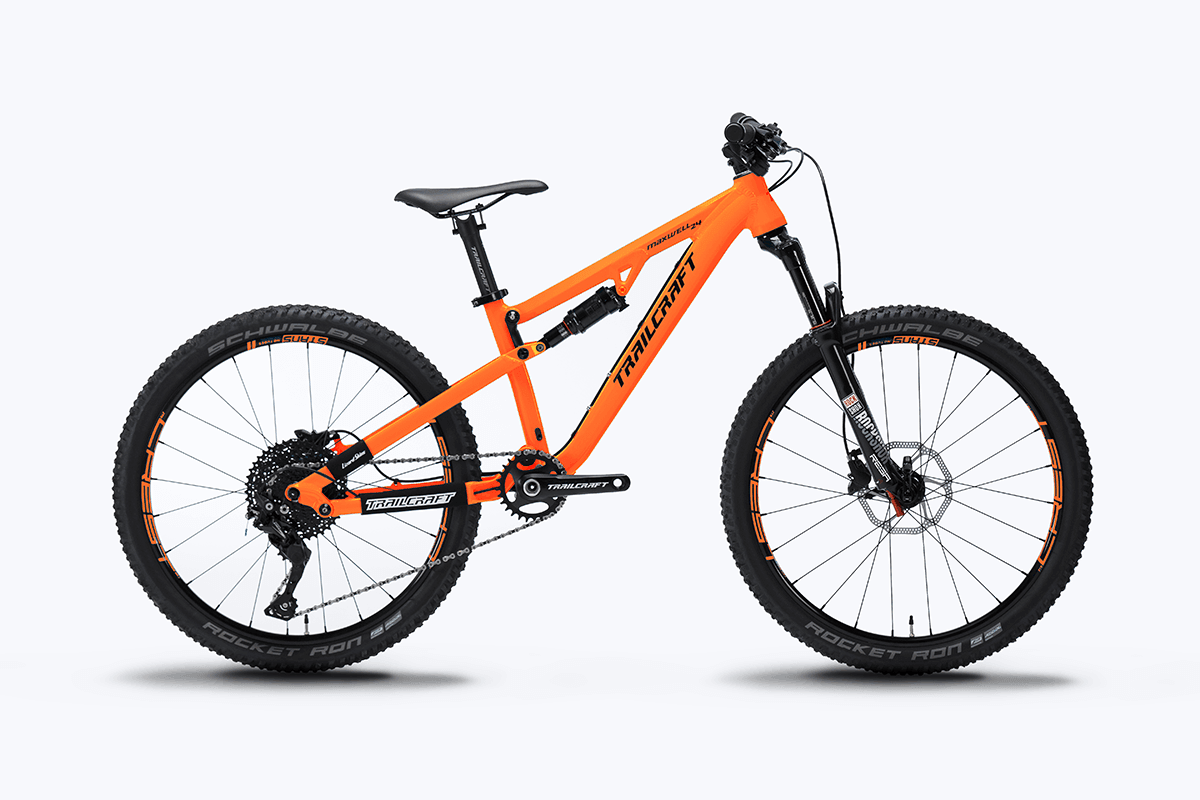 The next children mountain bike is the Trail Craft with a special design for trail rides. Equipped will full suspension, this product is one of my favorites on the list.
Estimated 24lbs, this 24'' bike takes advantage of Maxwell 24 Aluminum frame and well-dispersed materials. The geometry overall creates a good balance to the bike, but its height and tall standover make the bike more suitable for senior kids.
The best feature of the Trail Craft is that it is heavy-duty. The Horst link full suspension adds intense force when riding through bumps and rock. The 390mm chain keeps the riding stable at the speed. High-traction and flat-free tires ensure the zero-incident on road.
With the adjustable seatpost and handlebar, the bike can be used even when kids grow taller
Pros:
Effective suspension
Lightweight and durable
Heavy-duty
Adjustable components
Cons:
Difficult standover
High geometry
Best for independence suspension
4/5 star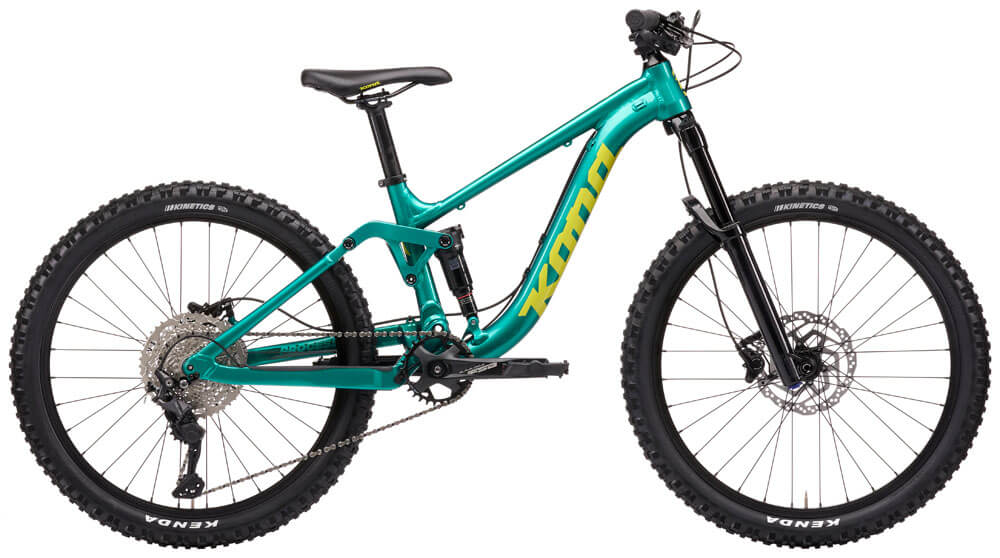 This Kona best youth mountain bike looks more like girls mountain bike for its fashion curve and simplified design. The geometry is reasonable with the lightweight frame, appropriate standover, but no less high-performance for boys.
The frame of the bike is made with Kona 6061 DH Aluminum Butted for a lighter focus. Fuse independent suspension is highly effective, which is lightweight and barely relies on a pivot and chainstay junction like other suspensions.
Besides all technical features, this is quite a comfortable bike to ride. Easy-to-pull front and rear brakes, well-traction grips, versatile tires and padded saddle accommodate safety, yet soft smooth use. Nevertheless, it would gain more stars if the handlebar is not that heavy and long.
Pros:
High-performance design
Outstanding suspension
Comfortable
High secured
Cons:
Long and heavy handlebar`
Excellent durability
4/5 star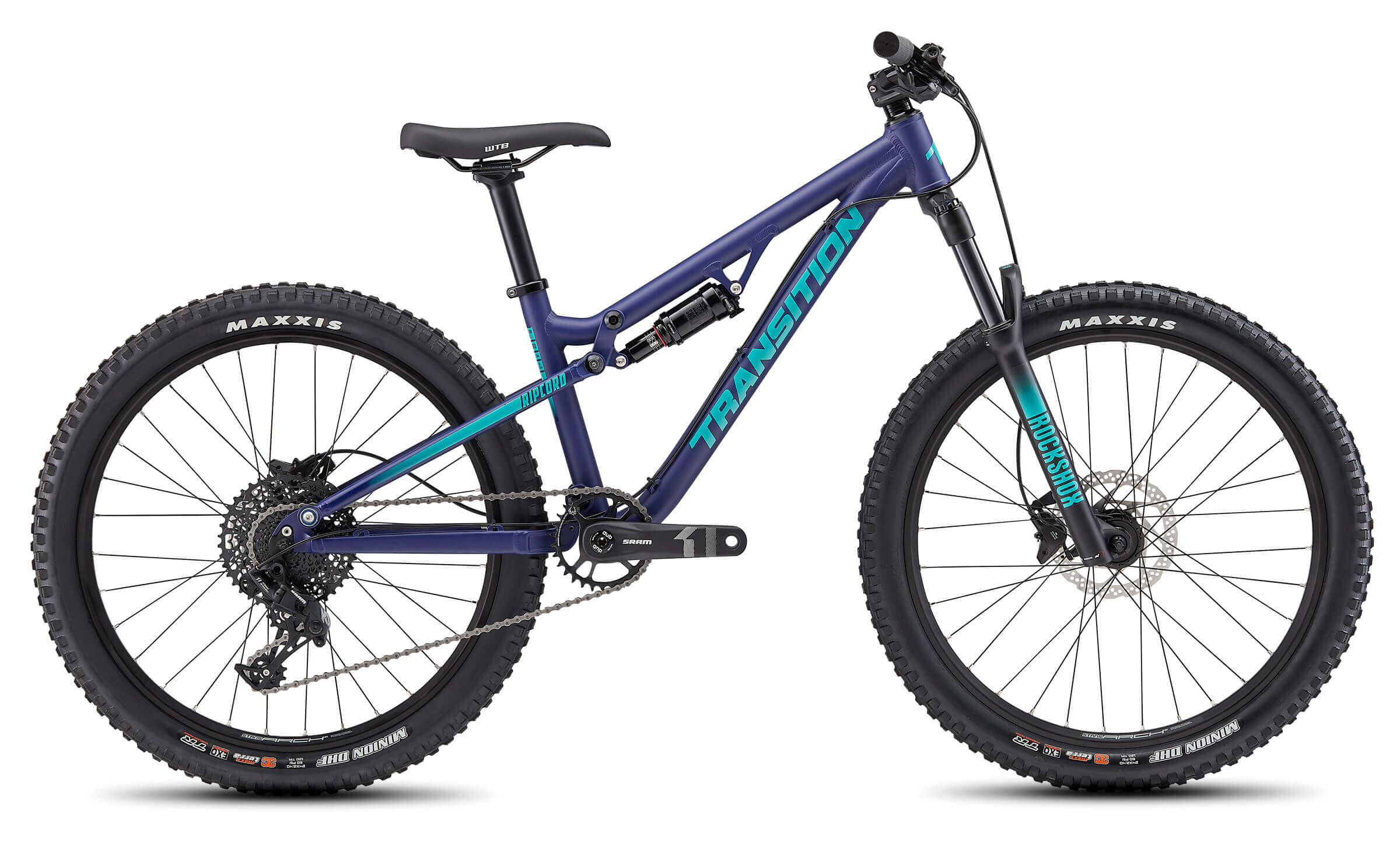 The last mountain bike for kids is the Trainsition featuring heavy-duty components for an aggressive ride.
Applied 24'' inch wheels and the kids geometry, the design aims to provide children with a controllable bicycle. The alloy material accommodates a durable and sturdy frame for a stable ride, even when kids love to exploit a trail route.
The tires are a positive point of the design. Structured with 2.5'' width and high-traction surface, the bike indeed guarantees a safe and in control ride. Also, with the flat-free and versatile material, the tires are shock-absorbent for a smooth ride.
This Transition is suitable for a youth aged 8 and above because of its weight. Measured 28.8lbs, this is one of the heaviest bikes on the list. Although meeting the requirement of heavy-duty, such a weight is more for a senior child.
Pros:
Heavy-duty
Extra durable and sturdy
High security
Shock-absorbent tires
Cons:
How to choose the best kids mountain bike
These are 16 different cycling products divided into 3 categories. For the better purchase, the following part would be about some specific recommendations.
Budget
Budget is one of the most concerned criteria when picking a bike since the price can be varied between products.
As on the list, the price can range from a hundred to a million dollars. There are 4 premium bikes that probably are the most pricey. Nevertheless, it offers some outstanding features and appearance compared to budget bikes or so.
Parents may view through all the cost and their features for a personal cycling purpose.
Size
The size of the bike mattered, for a mountain bike would require simplified equipment. The bulky or oversized structure would result in a low speed or being stuck with obstacles.
Some designs that suit this specific criteria include Trek Wahoo and Cleary Scout
Suspension
The suspension is effective and necessary equipment for a bike when you ride on extreme rocky and mountainous terrain. It is a system to suspend rider and bike from aggressive roads for a smooth stable ride.
Suspension can be implemented in the front suspension (or so-called telescopic), rear suspension, saddle suspension or seatpost suspension. The combination of front and rear suspension is known as dual or full suspension.
There are many products listed using suspension, either front or full suspension. The best bike with full suspension is Spawn Rokk 24, with some other well-design bikes such as Commencal Meta HT, Trail Craft Maxwell and Woom Off Air
Weight
Bike weight also varies depending on the components attached and materials constructed. The average weight is approximately 20lbs. Some design has a lighter weight, but some are bulky and way too heavy.
The lightweight bike would help your child a lot in riding and carrying the bike. Children can totally control the free-wheeling or the direction of the bike, most importantly the handlebar. Early Rider Limited Seeker (13lbs) and Prevelo Zulu (15.9lbs) are so far the winner of this particular category.
Brake
Mountain bike usually benefits from the front and rear disc brakes. Such a design helps kids to keep the speed in control, and the separate brakes would control the specific wheel better.
To maximize the effectiveness and quick response of the bike, the grip design is no less crucial. Kids must feel comfortable enough with the distance, so they can react quickly when necessary.
Norco Fluid FS 1 is a good example of a bike with a high secured brakes system.
Shifters
A bike shifter, also called gear control or gear levers is a component that directly affects the gearing mechanisms. Shifter is offered different gear ratios, and it is important for kids to have a kids ratio gear. The suitable shifter would eventually lead to an effective braking system, and thus, safety when riding a bike.
All these above-mentioned bikes have effective shifters, facilitated via front and rear brakes. The gap between the grips and the shifters must base on the kids' hand actual size so that kids may feel absolutely controllable and comfortable.
Conclusion
These are 16 recommended best kids mountain bike and the regarding notes for the best personal choice.
Overall, Commencal Meta HT is the best product, with Prevelo Zulu and Spawn Rokk 24 closely following for their superb heavy-duty features, high security and extra qualified functions.
That's all for the best bikes. I hope you will find the most suitable one for you!