Whether you ride bikes as a profession or for leisure purposes, you need to invest in the right bike. Hybrid bikes are a popular option because of their versatility, speed and comfort. In this article, we will explore some of the best hybrid bikes under $1000 plus useful tips for purchasing them.
When comparing these bikes together, Trek Dual Sport 3 stood out from the rest as a high-performance hybrid bikes for you to take on the ride and have fun.
Side note: For people looking to buy a cheaper hybrid bike, you can an article here.
5 Best Hybrid Bikes Under $1000
Best Overall Hybrid Bike Under $1000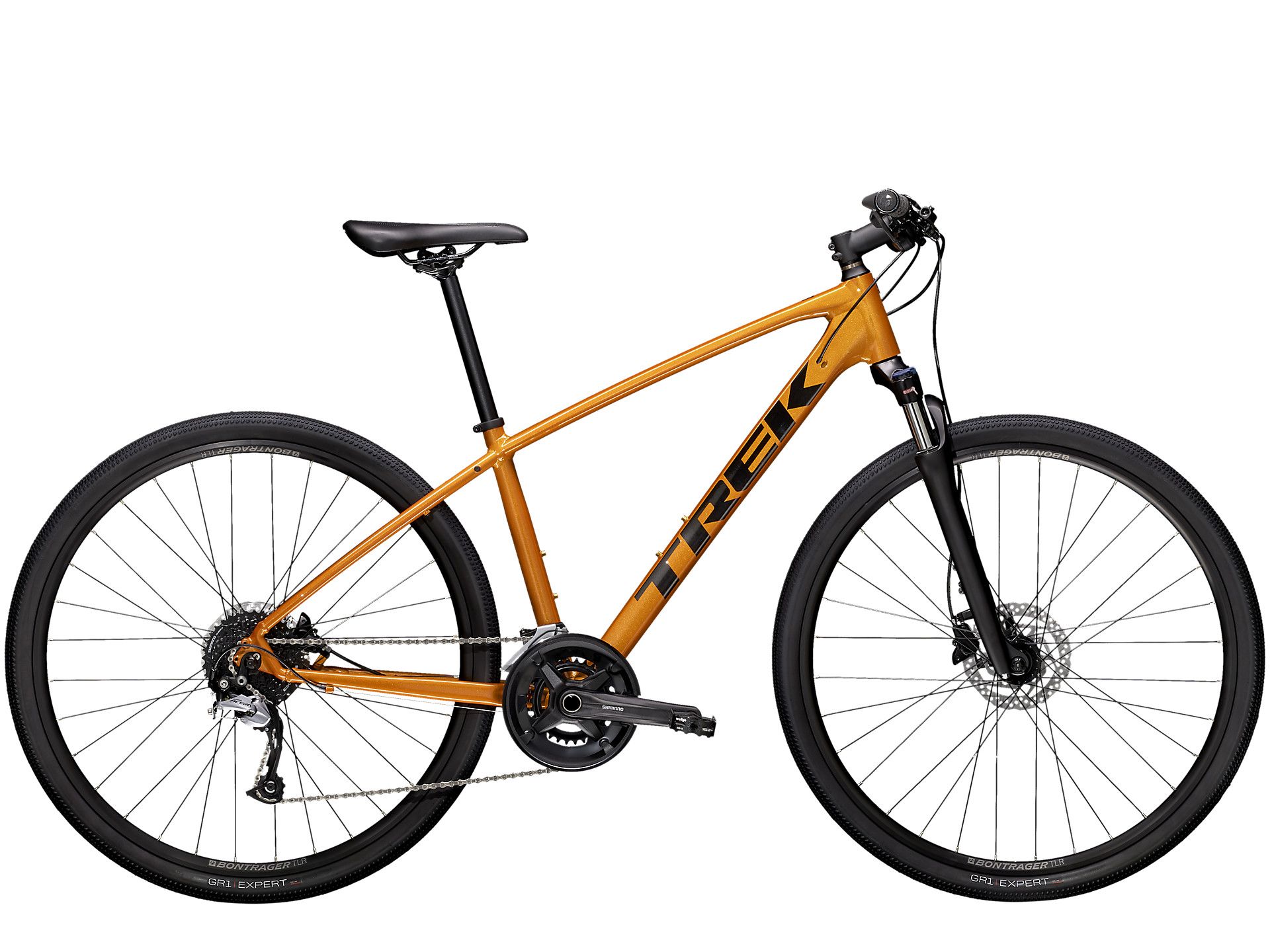 For many years, Trek remains as one of the best hybrid bike brands in the market. To start off our list is the Trek Dual Sport 3 hybrid bike under $1000 which stands out because of its performance and distinctive features. Going for less than 1000 bucks, this sport hybrid bike is fast and rugged with top notch components to withstand different uses on a variety of terrain.
This is also made possible by the wide range of gear which make it easy to ride in tough terrain. Hence, you do not have to choose between riding on the trail or the road anymore!
It has a suspicion fork that absorbs the shock to give you a controlled and comfortable ride. This allows you to travel on rough and bumpy terrain without worrying about losing control.
Plus, you can lock out the suspension fork in the suspension lockout provided. I appreciate this feature because it allows me to have a seamless riding experience on smooth terrain. I then open it up when riding on rougher terrains.
If you are versatile conscious like me, you will find great use in the built-in mounts. The mounts let you add racks and fenders for extra versatility. You can also customize with bottle cages, fitness devises and other accessories that you like.
The Trek Dual Sport 3 is designed with user friendliness in mind. The bicycle features a Blendr system for clean and effortless stem installation of accessories like lights and computers.
Pros:
Easily customizable
Comfortable
Effective shock absorption
Precise gear shifting
Perfect for a variety of terrain
Cons:
Hand grips are less ergonomic
On the heavier side
Best for Fitness Training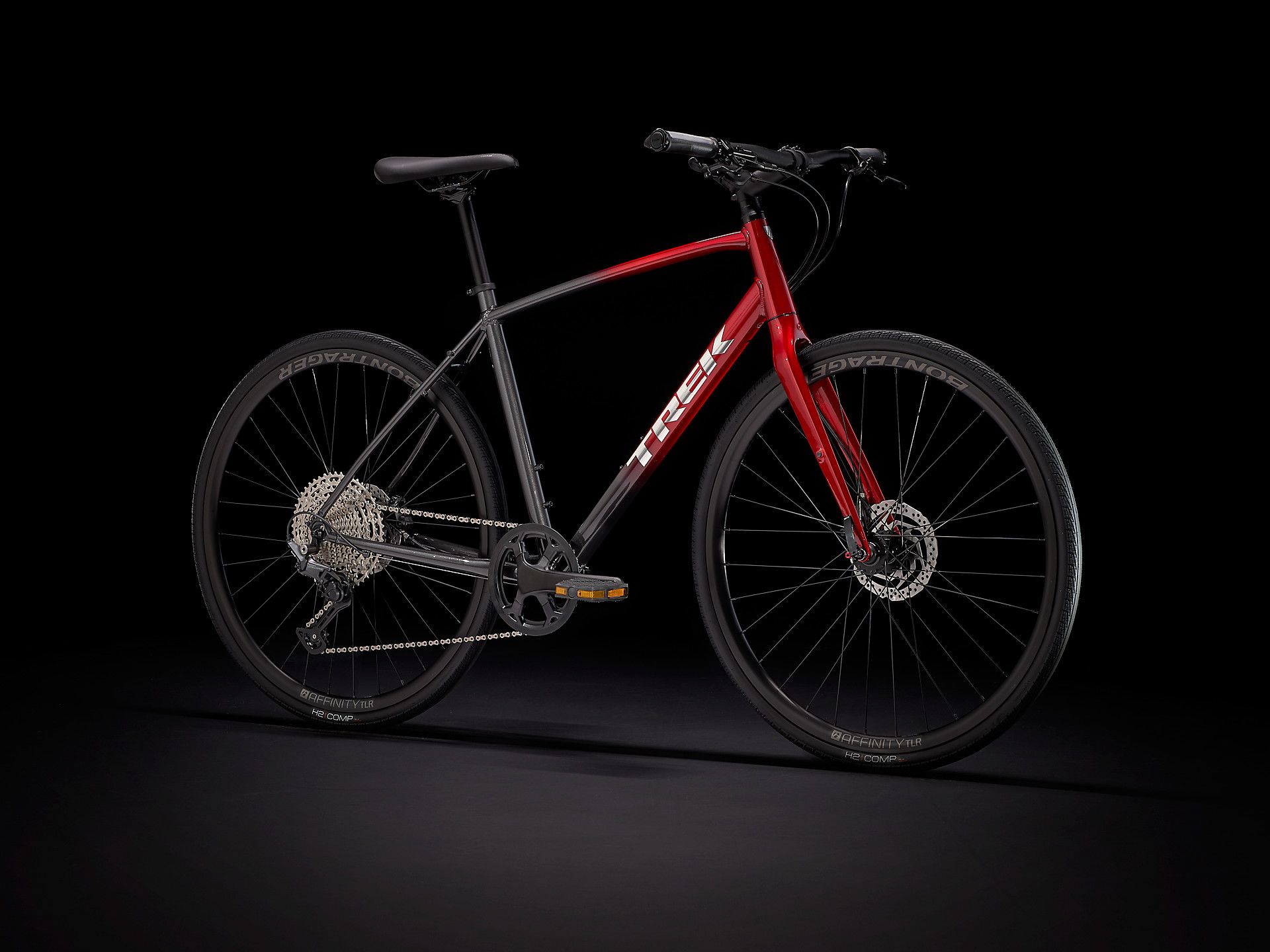 If you are looking for a bike for your fitness regime, I would highly recommend the Trek FX4 Disc hybrid bike under $1000. This bike has a perfect combination of hybrid bike versatility and road bike speed to give high-performance.
This capable and affordable bike for quick recreational rides as well as longer commutes. Apart from fitness purposes, the bike is great for daily commuting, longer rides and going for errands to pick groceries.
A unique component of this bike is a lightweight carbon fork. The carbon fork with fiber legs does an excellent job of minimizing vibration, which is vital for your comfort.
Maneuverability will be easy with city bike under $1000. The frame is crafted using aluminum that makes it lightweight and easy to carry.
With a Shimano Deore 1*11 shifter in place, changing gears is quite easy and effortless. This feature allows me to shift from one gear to another depending on the specific conditions I am riding in.
The bike comes with hydraulic disc brakes to give a powerful stop on all weather conditions. So, whether you are ridding on wet conditions or muddy areas, the brakes work well without requiring a lot of effort.
Although loaded with power for high performance, the bike does not sacrifice on comfort and ease of use of the rider. It is designed with IsoZone handlebar and grips that dampen vibration to give you more comfort and control.
Additionally, the blendr stem technology helps to clip ear to the stem with ease. It is also high customizable, and you can add accessories like fenders, racks, kickstand and more.
Pros:
Wide gear options
Durable and lightweight aluminum frame
Powerful brake control
Customizable
Reliable on different road surfaces
Versatile and comfortable
DuoTrap S compatible
Cons:
Assembly may need professional help
Best for Daily Commuting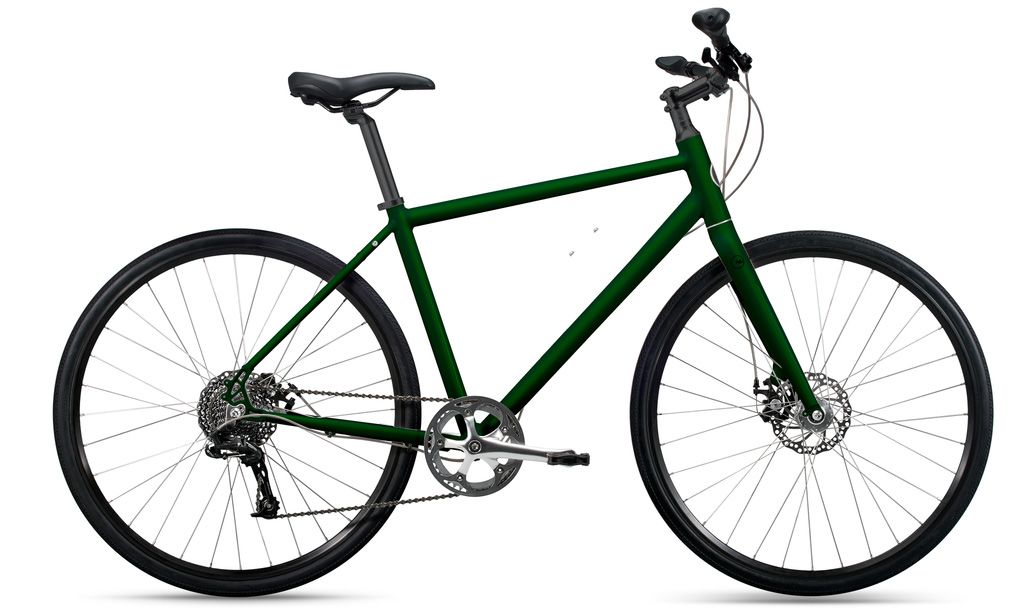 Designed with the urban biker in mind, the C1 City Bike is versatile, quick and has a modern design for daily commuters such as students, workers. It is crafted with 6061 aluminum alloy frame that is sturdy and durable.
It is also built with sealed bearing hubs and bottom brackets that guarantee an outstanding performance and low maintenance always. The double butted tubes have been meticulously engineered to deliver effortless power supply.
Its range of 10 speeds lets you climb slopes and hills quick and easy. Plus, you will enjoy a more intuitive shifting due to the single, sequential thumb shifter.
I find the feature of specific contact points for men and women especially useful. This is because the contact points have a unique style of build to accommodate both male and female riders. This guarantees optimal handling and exceptional comfort.
This roll bike under $1000 has Tektro MD-M300 cable activated disk brakes. The brakes provide a powerful stopping power in all weather conditions. You can get the bike to slow down or come to a complete stop whether you are riding on a dry road or a wet road.
Comfort is not compromised as the custom riser bars ensure that your head and shoulder are in a relaxed position. You can, therefore, ride the bike for long hours without worrying about fatigue.
It also allows you to make an efficient pedal stroke for a balanced and stable ride. I love the integrated mounting points for holding accessories and other things.
Pros:
Quality build
Easy to assemble
Effortlessly quick
Low maintenance
Available in different color options
Powerful brakes for all weather
Cons:
May not do well in rough terrain
Most Comfortable Ride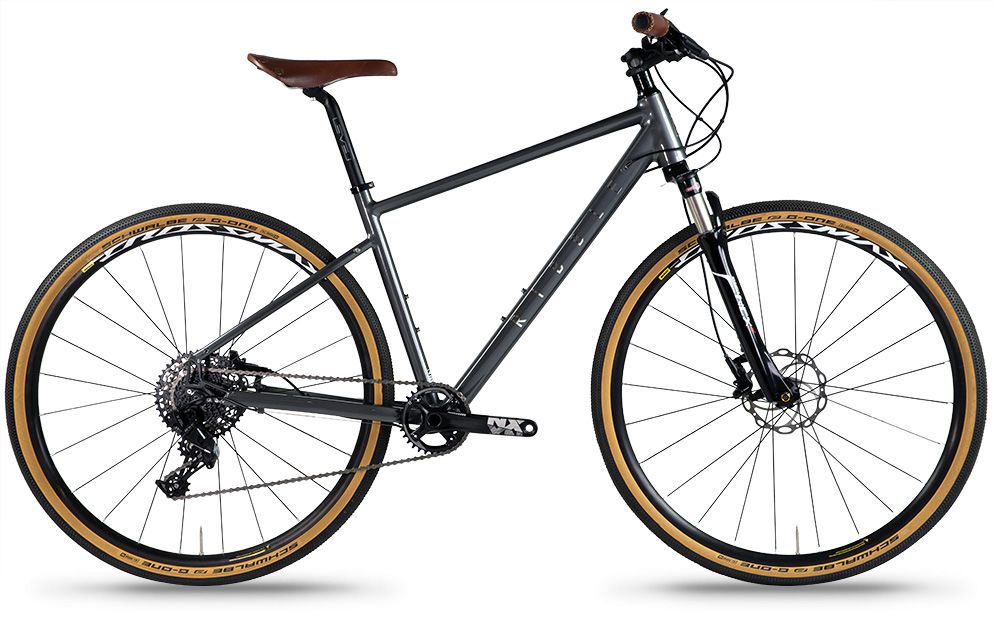 This is another one of my best hybrid bikes under $1000 for men and women. It is engineered for commuters and leisure cyclists and like that it comes with a simple design. Whatever your needs are, this stylish and functional bike can give you the best riding experience each time.
A brilliant feature of this hybrid bike is the front suspension fork that helps to smooth out vibrations. This is paramount for keep you comfortable the entire ride even if there are bumps and hills on the way.
Ribble Hybrid Trail AL is crafted with aluminum frame, which is lightest material for hybrid bicycle. It can accommodate plush tires that measure up to 45mm wide. With this feature, I enjoy maximum grip for a more comfortable riding experience.
The model is equipped with a set of hydraulic disc brakes that are powerful enough to help you stop the bike with ease.
This bike is incredibly simple to use because it features a pannier rack and full mudguards. You can use it to commute to and from work, run errands and explore the neighborhood. Get this bike for yourself if you are after comfort, simplicity, speed, and control.
Pros:
Perfect for commuting and leisure cycling
Lightweight aluminum frame
Well-built and comfortable
Incredibly comfortable
Wide tires for maximum grip
Cons:
Setting up and tuning can be a challenge
Best for Long Distance Ride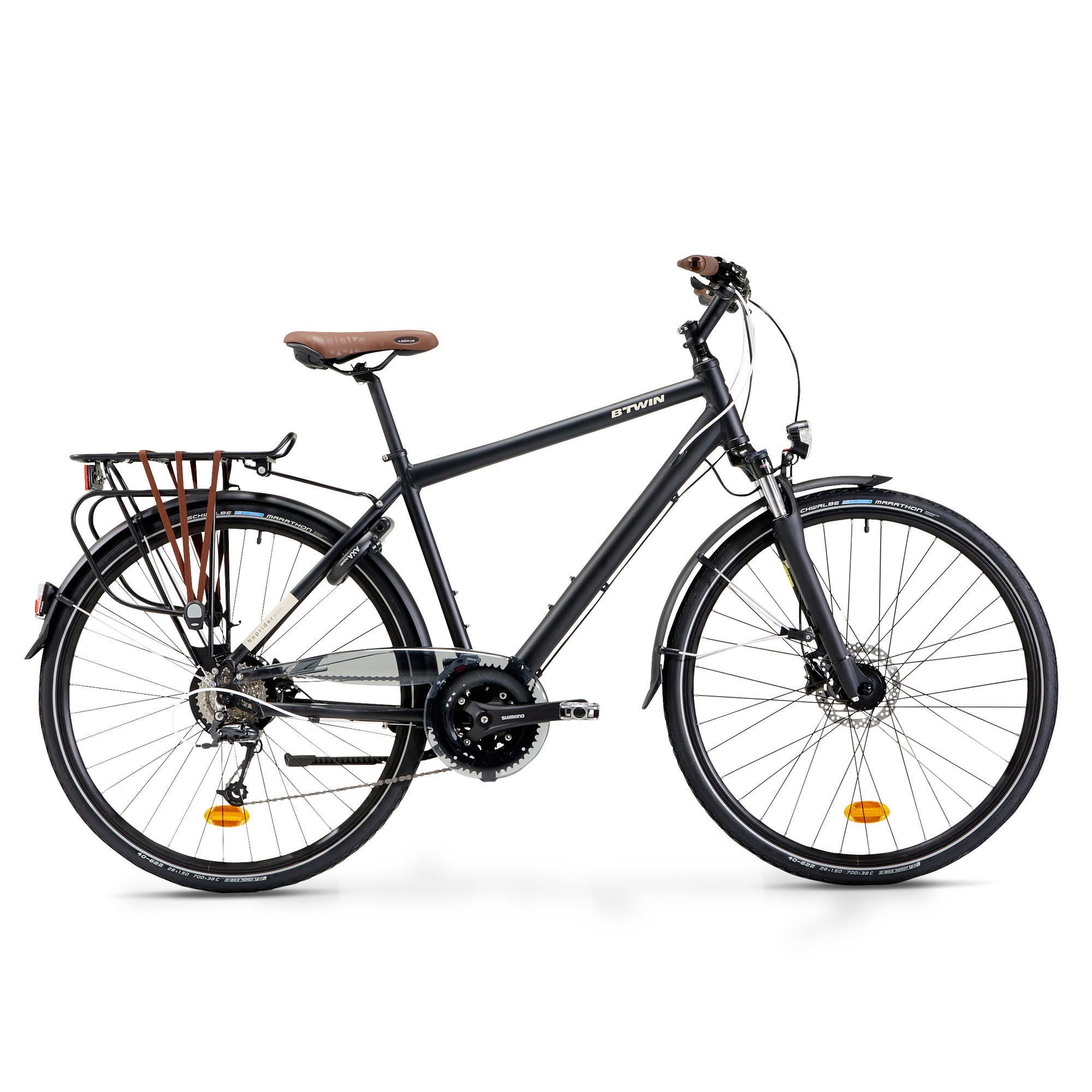 Elops Hoprider 900 Urban bike is particularly a hybrid bike under $1000 ideal for daily commutes of over 10 kilometers. It comes with impressive features that will certainly add to your comfort and performance.
To start with, this bike has 6061 aluminum frame that is light, stable and rigid. This means that the bike can maneuver effortlessly. If you are looking for a good hybrid bike with a wide range of speeds, this bike will suit you. It has a whooping 27 speeds to offer you the best experience possible.
The bike features Suntour Nex suspension fork, making it perfect for touring and urban journeys. The fork enhances traction on different trails and does not stick because of wheel locking. You just need to lock out while riding on smooth terrain for improved performance.
Comfort and user-experience is assured every time you ride this bike. This is because it is integrated with user-comfort features like bar ends, ergonomic grips, and a non-inclining adjustable stem.
With the Shimano Deore 27-speed shifter, you will have the option to ride the bike at varying speeds. You can quickly shift gears without having to take your eyes off the road.
Riding at night can be challenging for most riders because of poor visibility. With this mind, the Elops Hoprider has been designed with Shimano Dynamo and LED lights. The tires are also integrated with reflective strips for enhanced visibility.
Something else, this hybrid bike come with a lifetime warranty for the stem, handlebar and bike frame. You will therefore be at peace knowing that the bike features high quality components.
While this bike is great for commuting, I do not recommend riding it in hilly areas. This is because it is on the heavier side. I also do not recommend cycling it on rough terrain.
Pros:
Crafted with user-comfort
Simple to use
Visibility features
Lightweight aluminum frame
Exceptionally comfortable
Cons:
A bit heavy
Not suitable to ride on rough terrain
How to Choose the Best Hybrid Bikes Under $1000
Finding the best hybrid bike below $1000 can be challenging. To help in your selection, here are some vital factors to consider.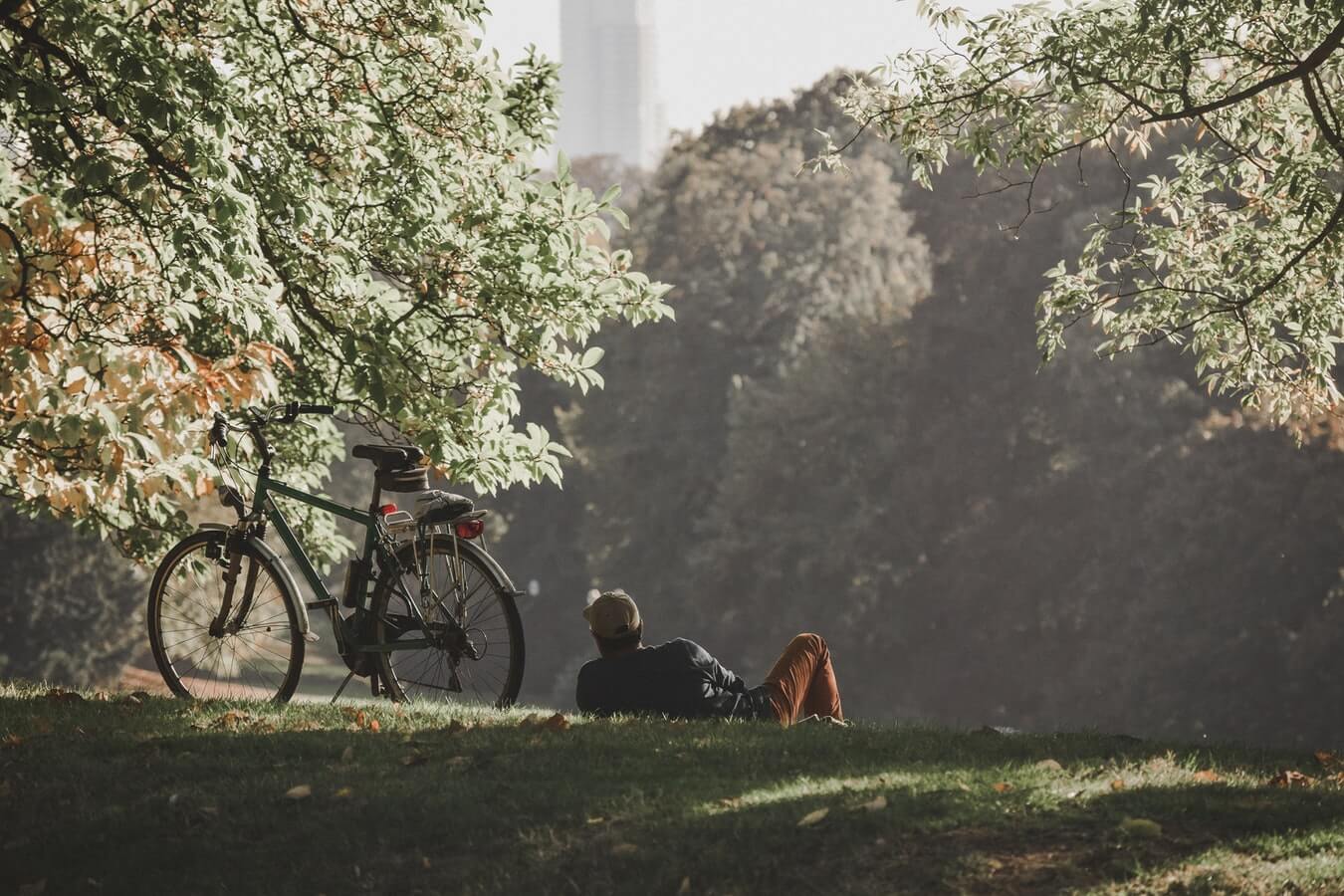 The standard weight of a hybrid bike is about 18 to 40 pounds. Weight is an important considering because it determines how well you will maneuver and handle your bike.
A lightweight hybrid bike is considerably easier to move around compared to a one. Therefore, if you are conscious about maneuverability, the weight of the bike ought to be a top consideration.
Bike frame is basically the skeletal framework that determines the performance and comfort of hybrid bikes under $1000. Oftentimes, hybrid bike frames are crafted from three materials including aluminum, carbon fiber and steel. Steel is a preferred material because it is sturdy and strong while aluminum is lightweight.
Bike frames made from carbon fiber combine the features of aluminum and steel, making them lightweight yet durable. Because of this, carbon fiber is the most expensive bike frame material in the market.
Some top-notch models use titanium which is light, strong and corrosion resistant. Another reason for its popularity is that it dampens vibration. This is a feature that I find outstanding especially when riding in rough roads. (1)
As for the tire bike size, I would recommend you go for 700c, which is the standard wheel size for hybrid bikes under $1000. Other bike models have tire size that ranges from 26 inches to 28 inches. Besides, you can customize your tire bike size depending on your needs and physique.
Brakes are vital for the safety of your hybrid bike. Rim brakes are commonly used in hybrid bikes under $1000 and may not be as effective when used in wet weather. The other type is the disc brake which has two categories: mechanical disc brakes and hydraulic disc brakes.
Something else that you must keep in mind when choosing your hybrid bike is the gear. Bikers should know that different hybrid bikes have varying gears, depending on the use of the bike. While some are sing-speed bikes, others come with more than 20 gears for effortless riding on mountain or hilly terrain.
Hybrid bikes with the right suspension system are more likely going to be comfortable than their counterparts. To help minimize vibrations and shakes, you should opt for the hybrid bike that has both the front and rear suspension system.
What are the Benefits of Buying a Hybrid Bike?
There are numerous benefits associated with owning a hybrid bike compared to other types of bikes. Some of these advantages include:
Hybrid bikes are designed with versatility in mind and can be used in multiple circumstances. You can take your mountain bike to a hilly terrain, bumpy sidetracks or the city roads. So, if you are like me and love to explore different terrains, you may want to consider getting yourself a hybrid bike.
Just like mountain bikes, hybrid bikes are extremely comfortable to ride. Comfort enhances the overall riding experience of riders and hybrid bikes give you this without having to break the bank. To ensure comfort, they are designed with an upright seating posture and straight handlebars.
This is another benefit of hybrid bike that makes it a favorite among fanatic riders. It is cleverly designed with slim, smooth and lightweight tires for great speed with minimal effort. Also, the sleeker design of the wheels allows the bike to roll faster on hilly terrain.
Frequently Asked Questions
Is a hybrid bike faster than a mountain bike?
Yes, hybrid bikes are faster than mountain bikes because they are easy to pedal.
What is the average speed of a hybrid bike?
Oftentimes, a hybrid bike can have a speed of 20km/hr on average.
Final Thoughts
There is no denying that hybrid bikes are high-performing and enjoyable to ride. If you have a tight budget of $1000, you might want to consider the above bikes in our reviews. These hybrid bikes deliver a perfect mix of style, power and comfort, without sacrificing on functionality.
However, our top pick for the best hybrid bikes under $1000 is Trek Dual Sport 3. This high-performance bike has a lightweight aluminum frame, tubeless ready rims, Shimano hydraulic disc brakes and a wide range of gears.
It is fast, rugged and capable on different dirt trails, rail trail tours, light trails and more. You can take your daily commutes and fitness rides to another level with this hybrid bike.