Hybrid bikes are well known for its versatility. This all-around bicycle can be used for daily transportation, for leisure, and even for workouts.
Over the years, the bicycle industry has thrived to provide riders maximum comfort and stability with their own ride. If you are hunting down the best hybrid bikes under $500, I have reviewed what the market has to offer, so you can get good value for your money.
This can kick start your journey on having the right bike for your lifestyle. My best pick in this list for you is Trek FX 1. It stands out from the rest thanks to the sleek design, high comfortability, durable frame and good brake system.
Read More: 5 Best Hybrid Bikes Under $1000
6 Best Hybrid Bikes Under $500 That You Can Buy Today.
Best Overall Hybrid Bike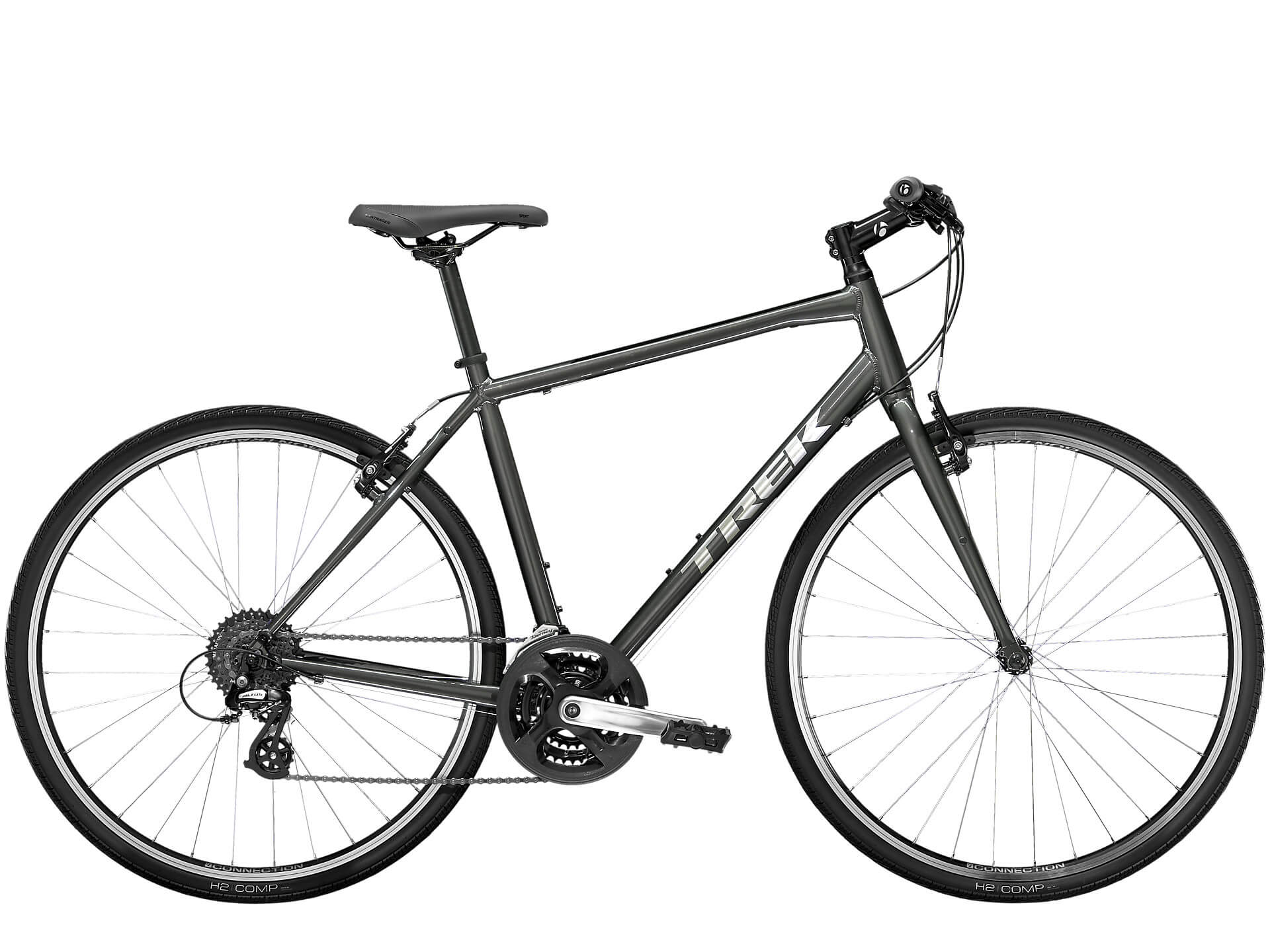 Leisure rides or bike exercises are more enjoyable with the Trek FX 1. Children, men & women will love how this hybrid bike is built for activities that will bring families together.
I know how hybrid bikes need to be lightweight, so if you are interested in having one without sacrificing the frame's strength, this bike should be on your list. Their alpha gold aluminum frame is the right balance of durability and weight saving, perfect for everyday use.
One of the things unique to the Trek FX 1 is that you can easily accessorize this hybrid bike. It is compatible to the DuoTrap S, which easily logs in your daily routes or your fitness improvement. The built-in mounts also add versatility to the bike. This just makes the rack and the fender easy to add on.
This inexpensive hybrid bike is well-designed knowing that their sizing ranges from S to XXL. They do cater to a variety of sizes with specific differences for each. The right size brings in the ease as you drive through your neighborhood every day.
It is also worthy to note that they have used stainless steel spokes on the wheels so the bike won't fatigue easily. Although gears don't change as smoothly, this is still an excellent entry-level hybrid bike under $500 for daily commute, running errands, and leisure. This is an ideal bike for both people commuting to work or college students.
Pros
Lightweight alpha gold aluminum frame
Durable stainless-steel spokes
Wide range of specific sizes
Compatible with the DuoTrap S
Easy to accessorize with a rack or fender
Cons
Gears don't change smooth
Best for Those on a Budget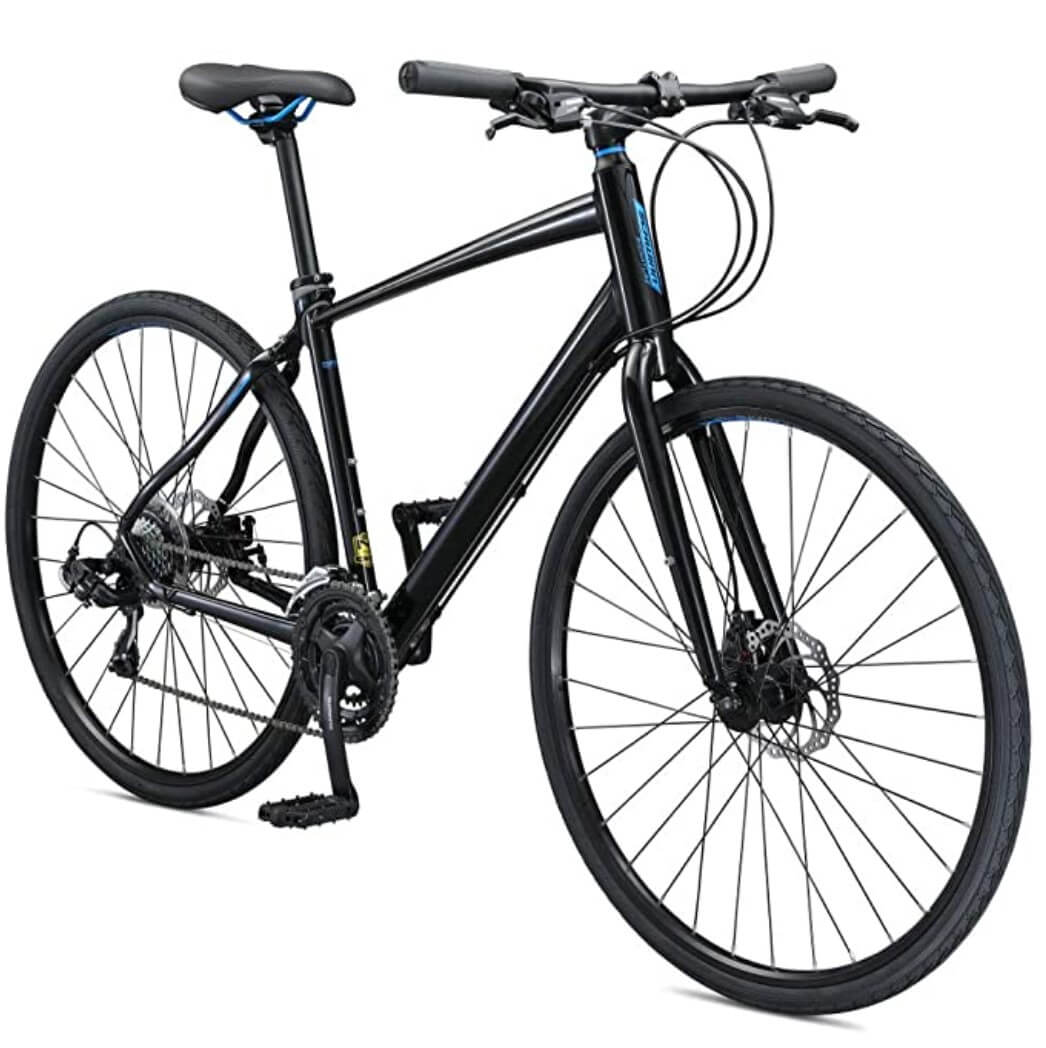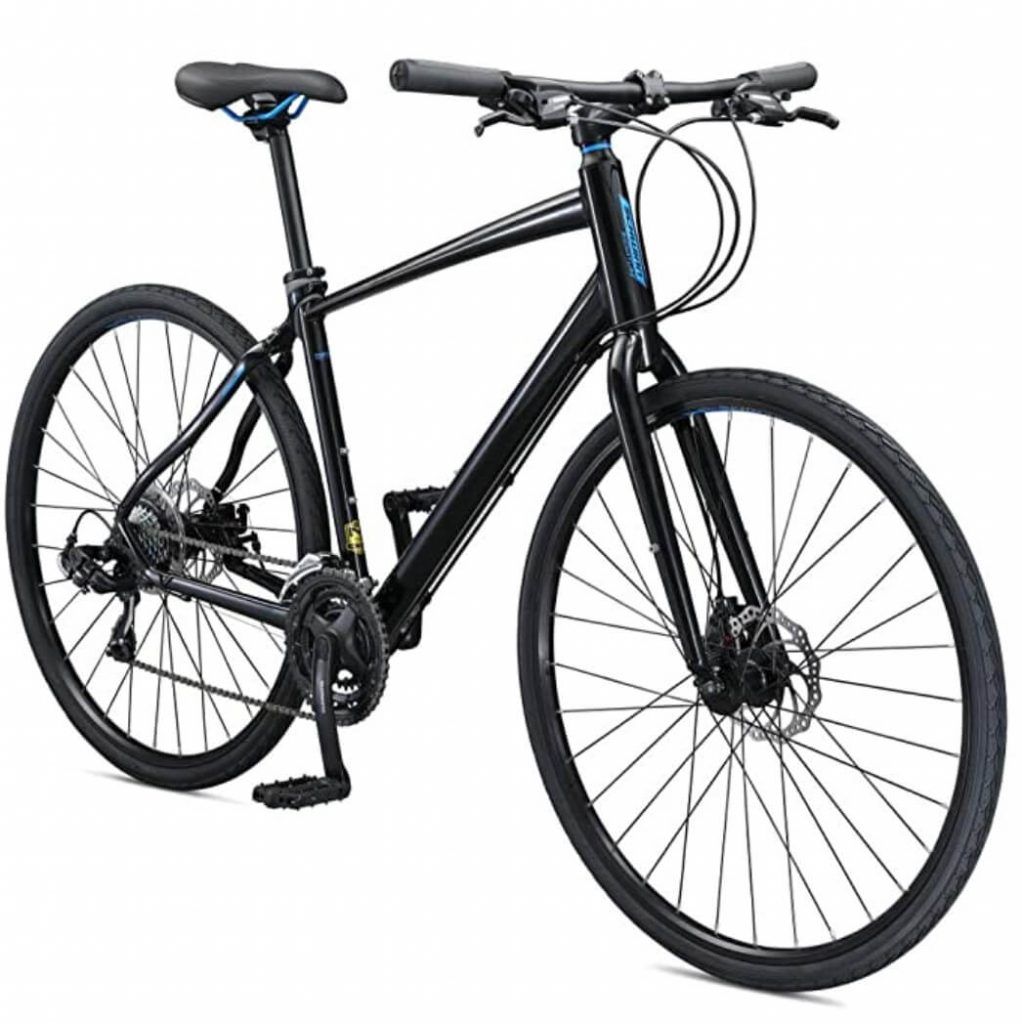 The sleek look of the Schwinn Vantage Hybrid Bike will fascinate every biker. This high-performance hybrid bike under $500 is designed for riders who want to improve their speed. I like how this can be used on the road without being too flimsy. Most parts of the load bearing frame are durable for commuting. This is surely a win for those who love light and sturdy hybrid bikes.
Don't you love being comfortable on the road? I appreciate how the Schwinn Vatage Hybrid Bike incorporated their smooth ride technology so riders can bike with ease even with minor bumps along the road.
Shifting gears with this bike isn't a problem with its Shimano 21-speed drivetrain. It can accommodate different gears with smooth shifting. The tires are also robustly made for all terrains with a flat protection mechanism.
It also offers solid braking on most of your rides. It uses a mechanical disc brake from TRP Spyre C. The only downside is that the seat is quite hard. But the overall performance of this cheap hybrid bike makes it a good one for regular use.
Pros
Sleek and stylish look
Lightweight and sturdy
High-performance for intermediate level riders
Uses the Shimano 21-Speed Drivetrain for a wide range of gears with smooth shifting
Smooth ride technology
Cons
Best for Disc Brakes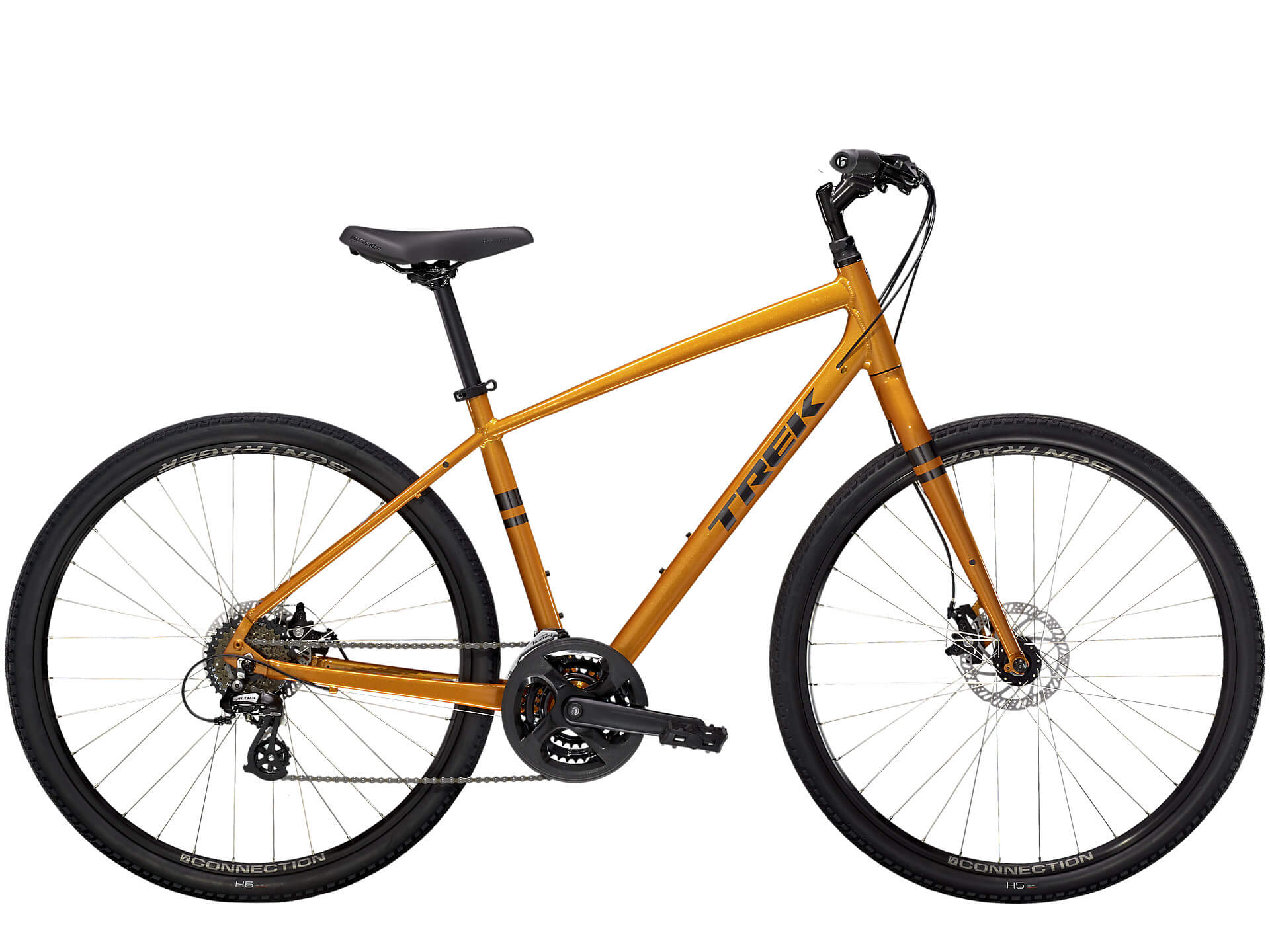 Beginners will love how the Trek Verve 1 Disc hybrid bike makes recreational rides more gratifying. Learning to ride a bike is more fun when found the best value bike for your money.
I prefer the tires of the Verve 1 Disc for learners who are new in pedaling through. The tires in this hybrid bike are wide and therefore provide greater stability on the road. I remember falling off easily when I started out riding my bike because of slimmer tires.
The alpha aluminum frame of this bike is also commendable for being light. I also love the built-in mounts. This makes it ready for fender or rack attachments anytime.
Another thing you will love is how it uses mechanical disc brakes. Whatever the weather is when you are driving, you will be confident on stopping anytime with ease. The seat may be a bit hard for comfort, but that is because of the sturdy material used for it to last a long time. Beyond that, this is a great start for your hybrid biking journey.
Pros
Wide tires
Lightweight alpha aluminum frame
Uses mechanical disc brakes
Built-in mounts for fender and rack attachments
Beginner-friendly and easy to maneuver
Cons
Best for Women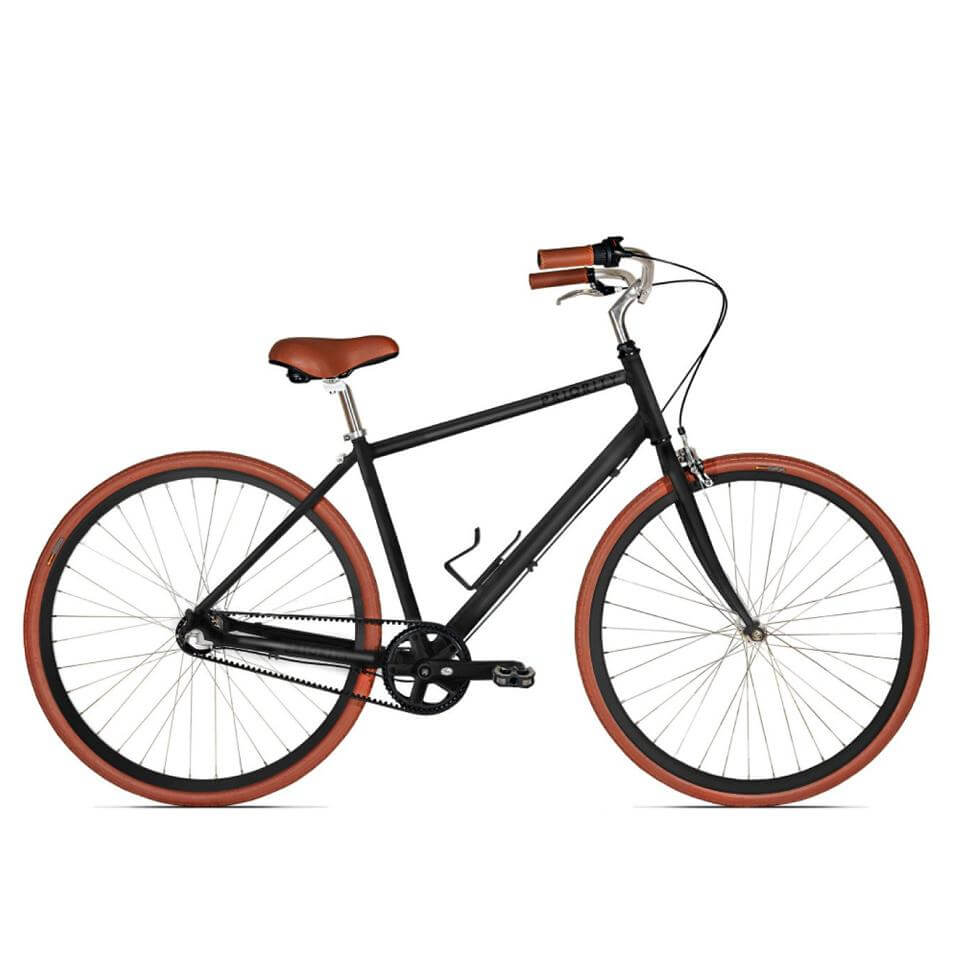 Hybrid bikes that are light to carry and easy to ride are what you will need in the entry-level. Fortunately, the Priority Classic 2 highlights both portability and comfort in one single ride.
This low-maintenance belt-drive hybrid bicycle under the price of 500 dollars performs admirably on the road for errands or for leisure purposes. They take pride in having the rust and grease free Gates Carbon Drive Belt compared to the old-fashioned chain.
What makes this ride comfortable is how upright positioning is stimulated with its bike design. The tires they use also last long with their puncture-resistant feature.
This model comes in 2 frames, the diamond and the step through. I find the limited sizes of the step-through frame a bit of a setback compared to the others. But aside from that, the performance and the durability of the bike makes it an exceptional one to have.
Pros
Lightweight frame
Low-maintenance Gates Carbon Drive Belt
Ergonomic design for upright positioning
Puncture-resistant tires
Diamond and step-through frames to choose from
Cons
Limited sizing on the step-through frame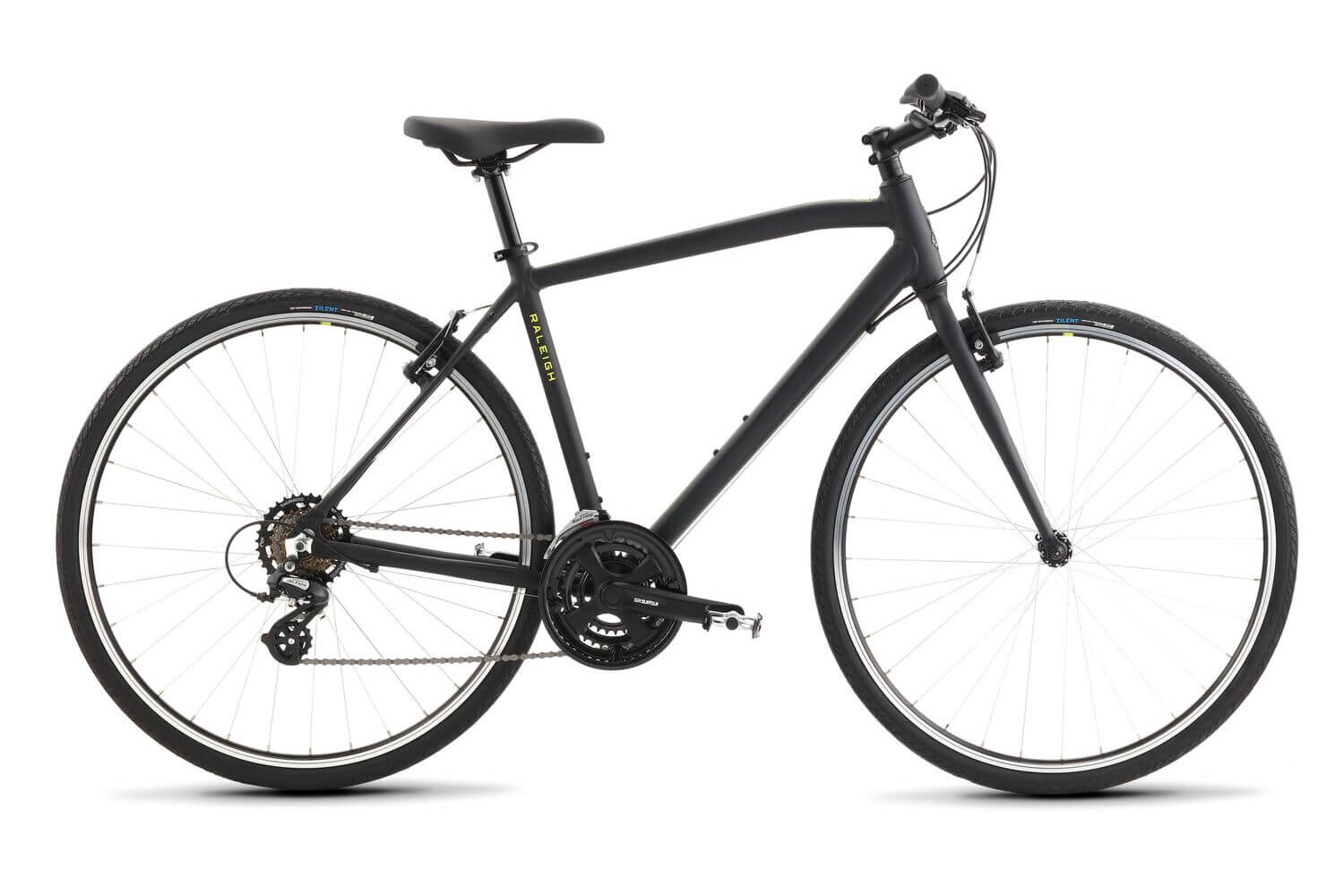 Getting the perfect stability in a lightweight hybrid bike can be tricky. The good thing is that the Raleigh Cadent 1 compacts the features of a nimble road bike and a sturdy mountain bike. This brings back memories of when I rode the wrong kind of bike for daily errands; my position made me uncomfortable for months. The hassle could really have been skipped if I had one of best hybrid bikes for the money.
It's hard to go wrong with double-walled wheels. And Raleigh Cadent 1 even improved that with a custom alloy frame. That will keep your rides efficient and swift all the time.
The flat handle bars are one of the best highlights of this bike because they're comfortable to ride on. The sporty and well-design geometry of the frame also adds comfort and makes your ride more stable. It even has a built-in mount for easy fender or rack addition.
The saddle is functional but it may get uncomfortable, especially on long rides. But this affordable bike can take you to places and still offers high-standard features for an entry-level hybrid bike.
Pros
Lightweight frame
Sturdy
Double-walled wheels with custom alloy frame
Flat handle bars for comfort
Sporty geometry
Built-in mounts
Cons
Saddle can be uncomfortable on long rides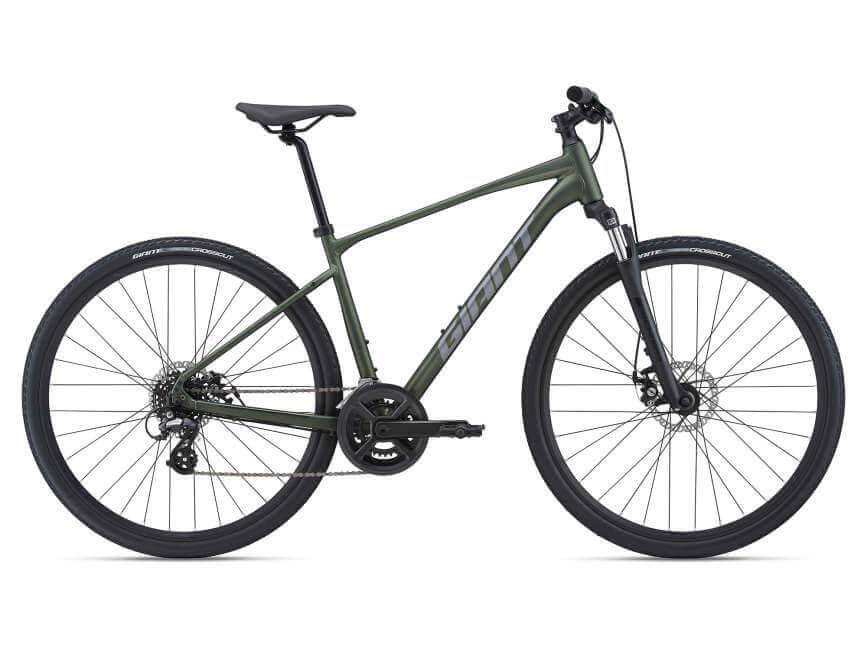 The Giant Roam 4 Disc Aluminum Hybrid Bike will make you giddy and excited on your next ride because of the comfort on all your rides and the style that comes with it.
I personally like it when a sophisticated design and coziness just come together for more pleasant biking experience.
I love how my choices are not limited as this hybrid bike takes on all terrains. It is also lightweight because it used the ALUXX aluminum frame. Comfort is also highlighted with the Giant Sport XC handlebar that enhances your position with every ride.
The powerful and reliable disc brakes make you confident in both trails and city rides. The brakes are easy to manage and are reliable against bumps along the road
Children and adults will enjoy the variety of sizes available for this hybrid bike. I love how they accommodate customers as you don't need to compromise on the average size. They offer sizes from S up to XXL.
You just need to note that the pedals are not included upon purchase. But if you are after the quality frame and the overall performance of a well-designed hybrid bike, the Giant Roam 4 should never be left behind.
Pros
Sophisticated design
Lightweight ALUXX aluminum frame
Built for all terrains with powerful disc brakes
Comfortable Giant Sport XC handle bar
Wide range of sizes
Cons
Why buy a hybrid bike?
Riding a bicycle is one of the most essential life skills you didn't know you need. Knowing how to maneuver these bikes will take you to places and can even replace your current mode of transportation.
These don't use fuel and will then minimize your carbon footprint. I love how these aren't high maintenance and still allow me to save up on other things. Modern cities have also adapted to having bikes around and already have designated bike lanes. (1)
Pedaling through the road keeps me active and this in turn has become one of my favorite workouts on the daily. It also gives off less impact on the joints, unlike running. I personally like riding a hybrid bike because I get to use it for a casual exercise and for light trails outside the city.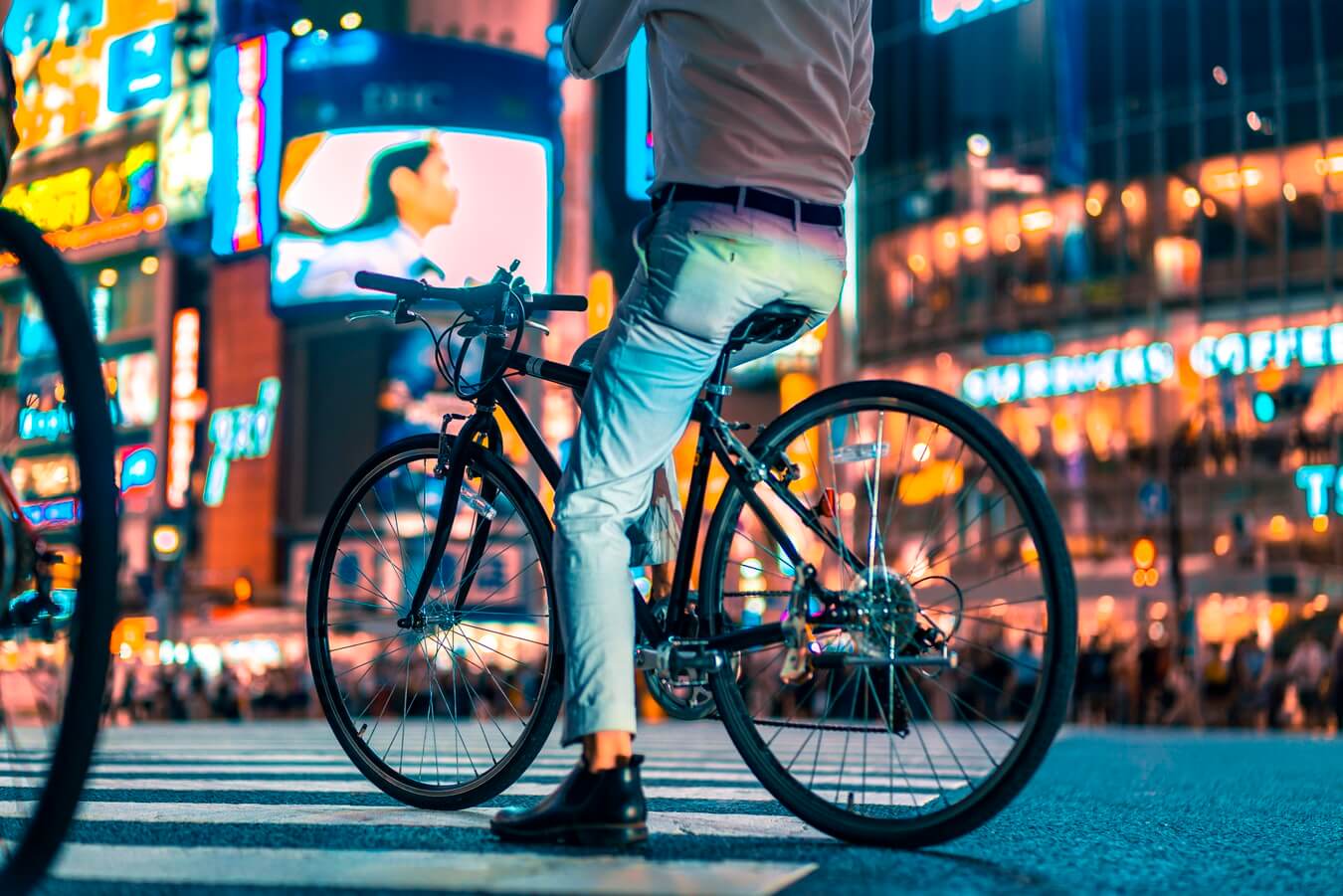 Children, teenagers, and older adults enjoy cycling through parks and around the city. This makes it a great family leisure activity and a great escape from your usual Sunday get together.
And because these hybrid bikes are versatile, you can bring this on your trips with no hassle. The idea that you must go on trails will not heavily burden you. You can ride these around lakes, beaches, and parks easily.
What makes the hybrid bike different from the other bikes?
The name of the bike implies that it is a combination of 2 different bikes. Hybrid bikes have features from a mountain bike and a road bike. You can get the comfort and stability of both, in a single bicycle.
In comparison to mountain bikes, hybrid ones are lighter. These also have a more aerodynamic frame. Aside from that, the brakes of hybrid bikes are rims instead of discs in mountain bikes. That makes hybrid bikes more appropriate for a casual ride than rough ones like trails.
Hybrid bikes have bigger wheels compared to road bikes. Road bikes are best for smooth pavements and will give off the riders a faster ride. If you are more concerned about your speed, you may consider this bike. But this will not hold off a lot of weight, so it is not very suitable for a daily commute.
Having the features of both the mountain and road bikes makes the hybrid one very fitting for neighborhood rides. The seats are large and it positions the handle bars upright. Comfort is one of the biggest advantages of having a hybrid type of bike. Errands, quick meetups, and leisure driving are very carefree with these bikes.
Types of hybrid bike under $500 frame material
The weight of the bike largely depends on the frame material used. Hybrid bikes are generally lightweight for portability and accessibility. Yet the bicycle industry has grown over time to ensure that customers get the right frame that fits their budget and their needs.
This frame material is among the most affordable ones available for hybrid bikes. They are lightweight and strong. But these can also be stiff on the road and will not absorb that much shock. These can also be hard to repair once it breaks under stress.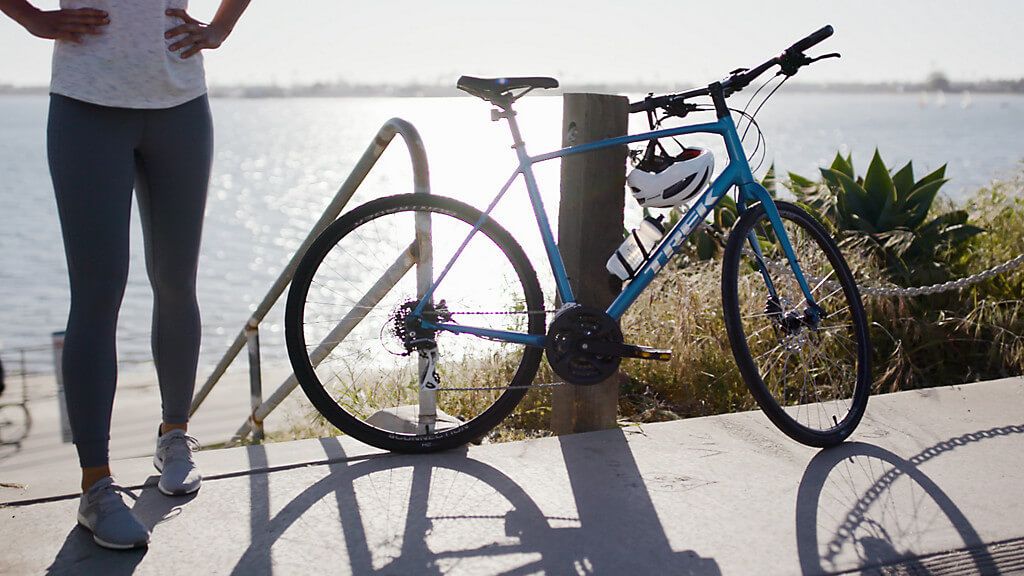 Steel bike frames guarantee comfort on most rides because of its flexibility. It also offers strength and durability on the overall frame. The downside is that it is heavier than aluminum.
This has been a popular choice on most hybrid bikes because it is light and strong. But this is on the expensive side of most bike frames. Entry-level hybrid bikes also have carbon fiber material on other bike parts like the seat post, rather than the entire frame. So, these are more budget-friendly.
How to choose the right hybrid bike size
Fortunately, hybrid bikes are forgiving when it comes to sizing. I remember borrowing a friend's hybrid bike and adjusting into his bike fit wasn't much of a bother at all. But, it is still best to have the right size by considering what you will mainly use it for.
Most manufacturers have a chart based on the height of the rider, in contrast to the size of the bike that is most appropriate for them. Women's hybrid bikes also tend to have a different sizing. They mostly have smaller bike frames with narrow handle bars. It is best to check if the manufacturer has specific sizes for women and children.
Having a test ride with your chosen hybrid bike will let you feel if the size is best for you. Test rides give you a glimpse of your future cycling rides around. It is also a fantastic way to discern if you are comfortable with that bike. In case you are a tall guy and need some specific bike for your height, check out this article. I also made a list of bikes for overweight female or big guys, you can also read it if you need.
Conclusion
The best of features of a mountain bike and a road bike can within reach with the right hybrid bike. Here above are the best commuter bikes under $500 which you can ride for exercise, errands, leisure use, and even for light trails.
Because of that, getting the best hybrid bikes under $500 should be an easy feat with these reviews. The practicality of having hybrid bikes are unmatched and having these can be one of the best decisions you can make.
There is no question that the Trek FX 1 takes the lead in these hybrid bikes. Their sizing is impeccable and will provide you the perfect fit on the road. It also does not sacrifice durability and can even take light trails.
The fact that it is easy to accessorize and is lightweight makes it hassle-free to bring on trips. The features of this outstanding bike will give you untroubled rides every day and will be a wise investment in the long run.