Are you looking for a trustworthy hardtail mountain bike? Look no further! We have reviewed several of the top-rated models today to give you a list of the best hardtail mountain bikes.
I know how important it is to have a reliable hardtail mtb for daily commute or outdoor adventure. After comparing several models ranging from different brands & price, we recommend that you pick Trek Roscoe 8 hardtail mountain bike for your trail riding as it has a solid frame, wide range of gears for climbing, excellent built for riders who seriously want a high quality mountain bike.
Read more:
5 Best Hardtail Mountain Bikes That You Can Have Today
Highest rated hardtail mountain bike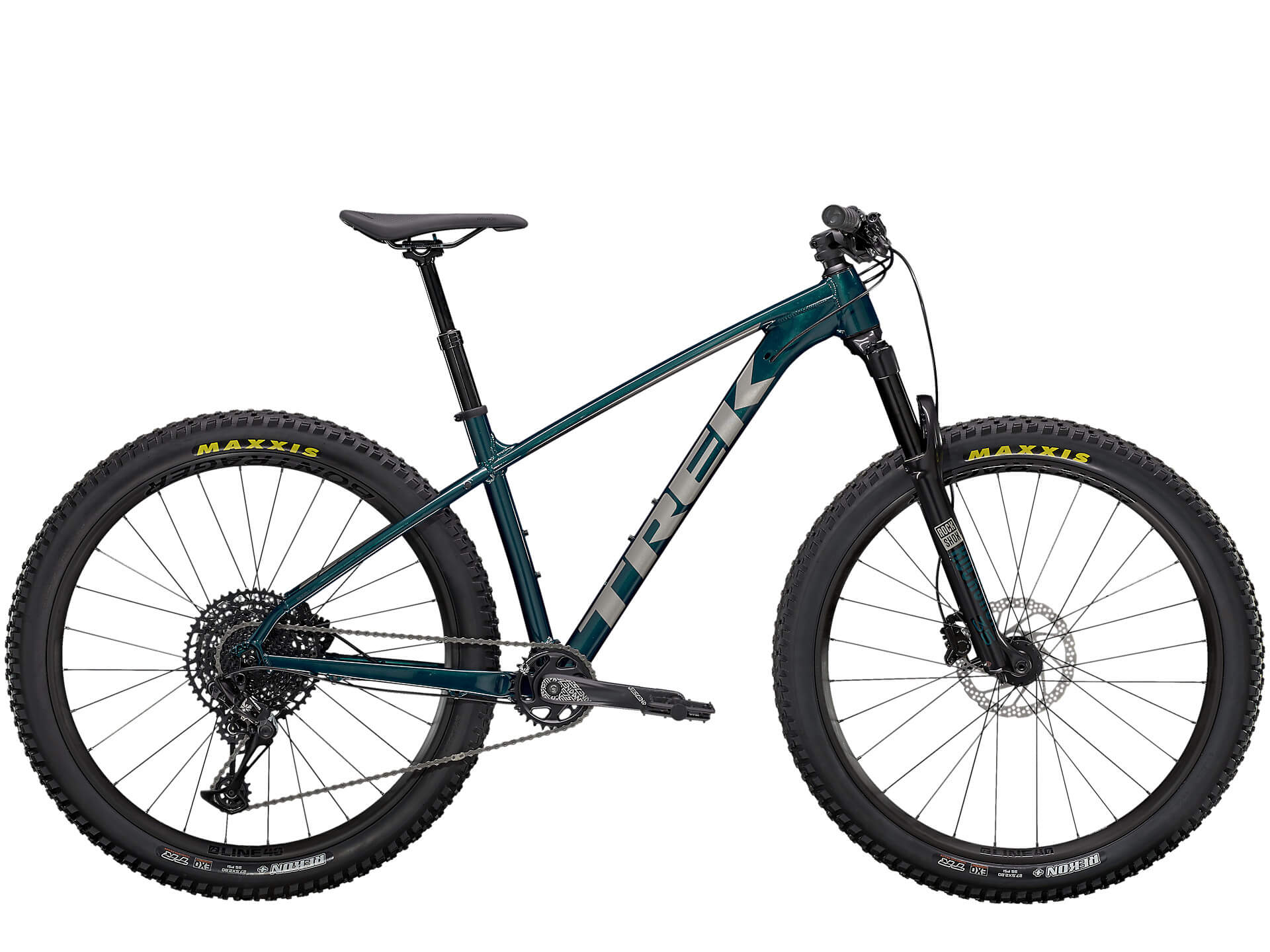 At first glance, you might say that Trek Roscoe 8 hardtail is too short or too steep. However, its actual performance is pretty decent.
Trek has done some major upgrades on the Roscoe 8, but that also means that it has become a little more expensive. Some of the notable changes that they did is using SRAM cassettes with a big 11-50t gear range, which gives the rider the ability to maintain comfortable cadence.
Aside from that, the Roscoe 8 hardtail mountain bike now sports the latest RockShox Judy fork with Fast Black Upper tubes. This significantly impacts the overall performance of the bike, making it a lot better.
Its price is very reasonable, given that this bike has the latest SRAM cassettes and the fork mentioned above. However, it is not exactly the most affordable option out there. Still, it can be a good choice for those who are looking for excellent front suspension lockout.
Pros:
Tubeless-ready
Dropper post
Upgradable
Top of the line fork
Cons:
The rear spacing could be better
Not so attractive geometry
Best for Beginners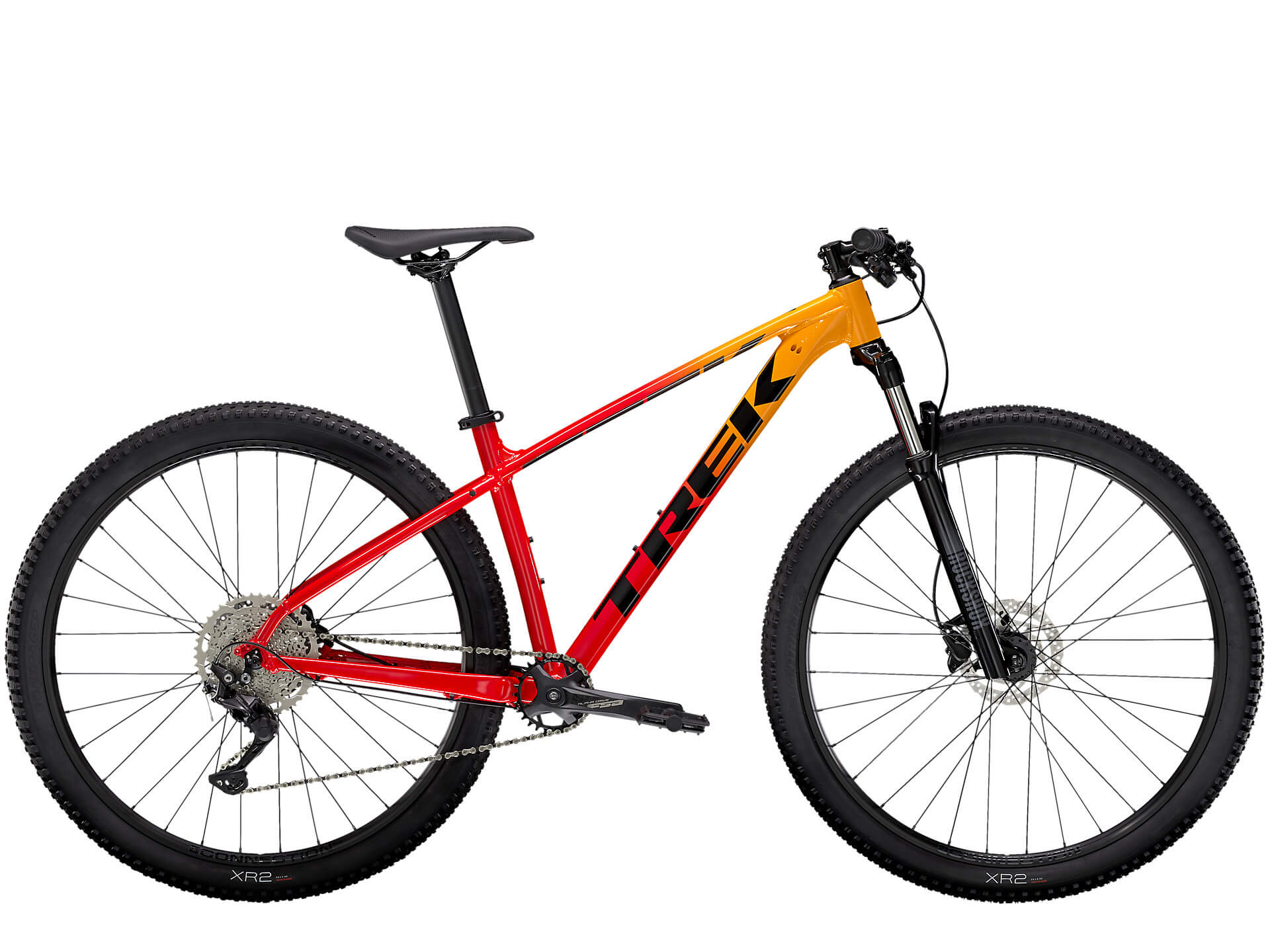 If you are looking for an entry-level hardtail mountain bike, you might want to consider the Trek Marlin 7. This hardtail mountain bike has race-ready components that fit different needs, such as commuting, leisure, and trail riding.
Compared to the Roscoe 8 mentioned a while ago, the Marlin 7 is the more affordable Trek option. Despite being cheaper, it does come with suspension that can rival the more expensive model. It can have even more potential if you do some upgrades to it.
The Marlin 7 is considerably light and efficient thanks to its 2×9 drivetrain. It is also built with an 11-36T cassette and a 36/22T crankset, which gives this bike excellent gears.
Just like the Roscoe 8, it also fitted the top of the line RockShox Fork which is a higher improvement. You will find that this feature is beneficial, especially if you are on the shorter side because it can be quite comfortable. Furthermore, the fork is versatile, which means you can get it ready for rocky terrain, fast descents, and technical trails.
However, where Marlin 7 falls short to the Roscoe 8 is in its Shimano components. These groupsets are not bad, but they are not the best as well, which makes this bike more ideal for beginner riders.
Pros:
Competition worthy suspension
Excellent range of gears
Smaller gear jumps
Affordable price
Cons:
The groupset needs improvement
Best for Downhill Ride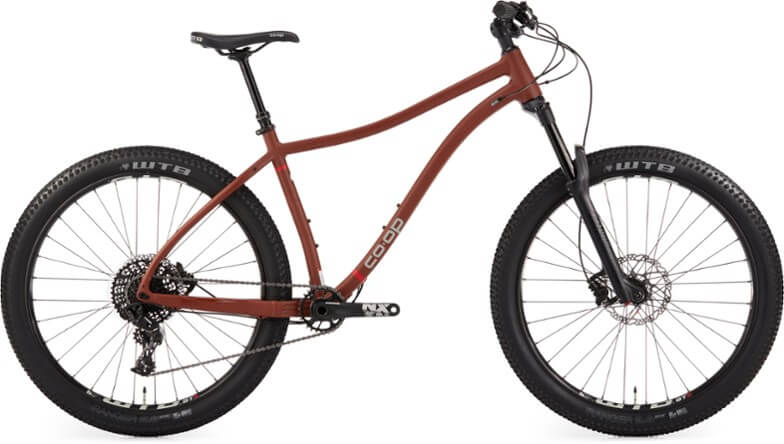 Here's another entry-level hardtail bike that you might want to consider – Co-op Cycles DRT 2.2. It has 27.5 plus tires that are really helpful in getting enough traction to get the smooth ride that you want.
With this wheel size, your handling can be significantly improved even on rough terrain. The wheels are also tubeless-ready, so you don't have to spend extra if you wish to switch to tubeless in the future.
This hardtail mountain bike also has the 1×11 Shimano SLX drivetrain. You can opt not to have front derailleurs with this drivetrain and get quick and seamless shifting and lighter weight. It is also fitted with the Shimano SLX Shadow Plus rear derailleurs, which lowers the chain slap frequency and gives you a more reliable shifting.
For the best performance, there is a weight limit to this bicycle, which is 300 lbs. This includes the gear and the rider's body weight.
Pros:
Ample gear range
Reliable shifting
Amazing dropper post
Big wheels go over anything
Cons:
The X Fusion components are underwhelming
Read more: 11 Best Dropper Posts
Best for Durability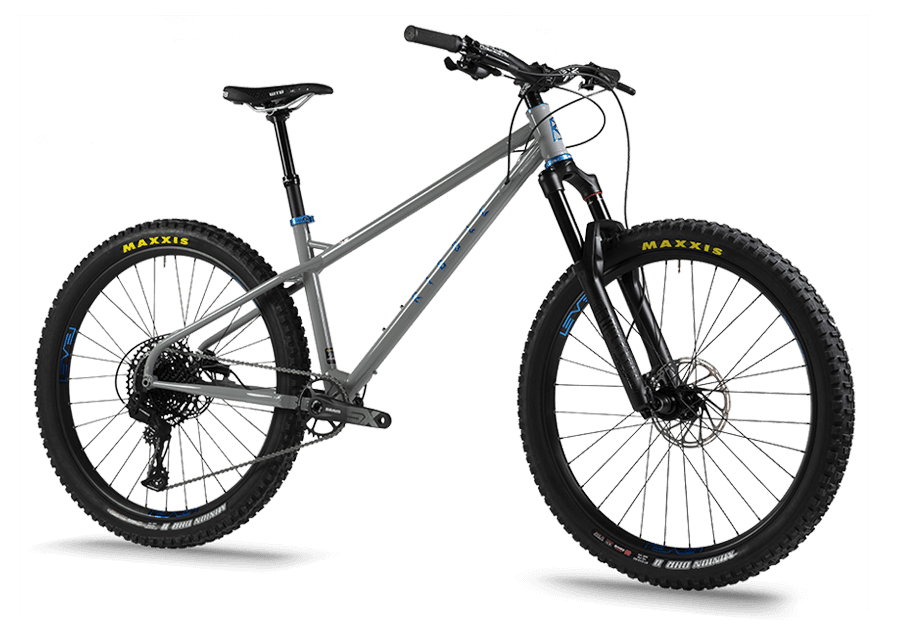 The reason why the Ribble HT 725 Sport Build SX Eagle is on our list because of its durable platform that can conquer almost any type of terrain. It has a simple yet well-put-together groupset that enables it to do so.
The chainring configuration and the low gear range of this bike give it the power to climb steep terrains. It also has SoloAir Springs and Rockshox Recon RL forks with 32mm stanchions, which gives the user of this bike better control over its ride.
Aside from that, another notable feature of this bike is it's level 35 alloy wheels. It has a complete alloy rig, which makes it a durable and trail-ready setup.
What's more, is that this hardtail mountain bike is among the most affordable options in this list. If you are a beginner or looking for a bike with great upgrade potentials, this might be the one for you.
Pros:
Durable construction
Smooth shifting
Good suspension
Simple but powerful
Cons:
Read More: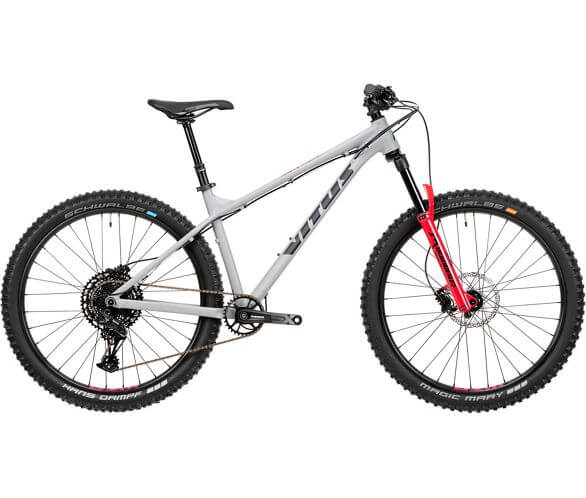 The Sentier 27 VR hardtail mountain bike has highly desirable modern geometry. The frame is built using a 6061 alloy frame, which can withstand harsh conditions that comes with challenging trail rides.
The most desirable and notable part of this bike is its Marzocchi Bomber Z2 Dorks. It is designed for optimal off-road performance. It can absorb almost any vibration and bumps with ease to give you smooth riding experience.
If you are a fan of big and bulky tiers, you will be happy to know that this one has boost hub spacing. This will enable you to fit in with the large tires that you want without any problem.
Furthermore, this bike is fairly easy to assemble. I find this very helpful, especially if you are still a beginner. If you buy this hardtail mtb directly from the shop, you can take it home already assembled. you order it online, it is packed to be easily assembled using their easy-to-follow instruction manual.
Pros:
Value for money
High-quality fork
Dropper post already included
Durable build
Cons:
Upshifting can result in slack
Things to Look Out for in Hardtail Mountain Bike
Before we proceed to the best hardtail mountain bikes list, it is important that you first know the different factors to look out for. This will help you select the best one that fits your needs and preference. Here are the various elements to look out for when choosing a hardtail mountain bike:
The size of your hardtail bike will dictate the comfort of your riding experience. However, each brand has a different sizing chart. What may be a medium to one brand can be a small or large to another.
To prevent confusion and get the right fit, look at the reach and stack measurement. Also, make sure to have a couple of centimeters in the standover clearance so that you don't have to overextend your legs as you pedal. (1)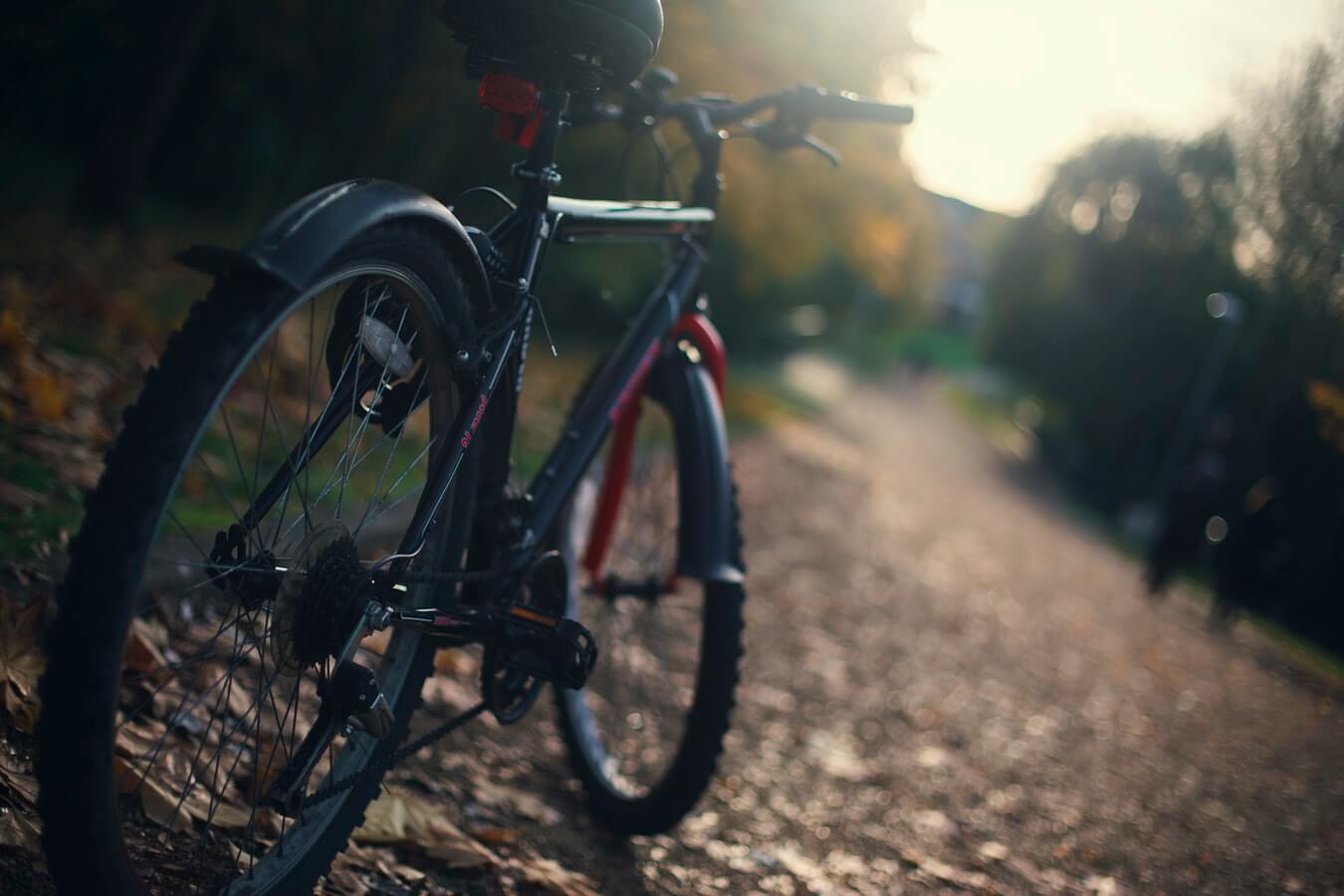 Another factor to consider is the wheel size. There is a binary choice between 27.5 and 29er wheels. When making your choice on the wheel size, going for bigger ones is often the best decision if you want longevity. Meanwhile, picking stronger, but smaller ones are more ideal for smashing trails.
For hardtail, in particular, I feel like plus-size wheels are more suitable. However, they can be sensitive to tire pressure, and it is not sure whether it will continue to be a big trend in the future.
It is best to avoid bikes that are too light. This is because they can be easily affected by random roots or rocks when at a particular angle. When that happens, it may result in an accident.
However, your bike should not be too heavy. If it is, you will be having difficulty maneuvering it.
It is important to have a big room for scalability. You might want to do some customization in the future, whether in the plus headset or seatpost of your bike.
How to Choose the Best Hardtail Mountain Bike
If you still feel confused about choosing the best hardtail mountain bike for you despite knowing the different factors to look out for. Then here is a how to buy guide for you:
Hardtail mountain bikes come at different price points. Establishing how much you are willing to spend is integral. The reason is that it helps get realistic expectations regarding the features that your bike will have at the price you are willing to pay.
Step 2: Identify Your Skill Level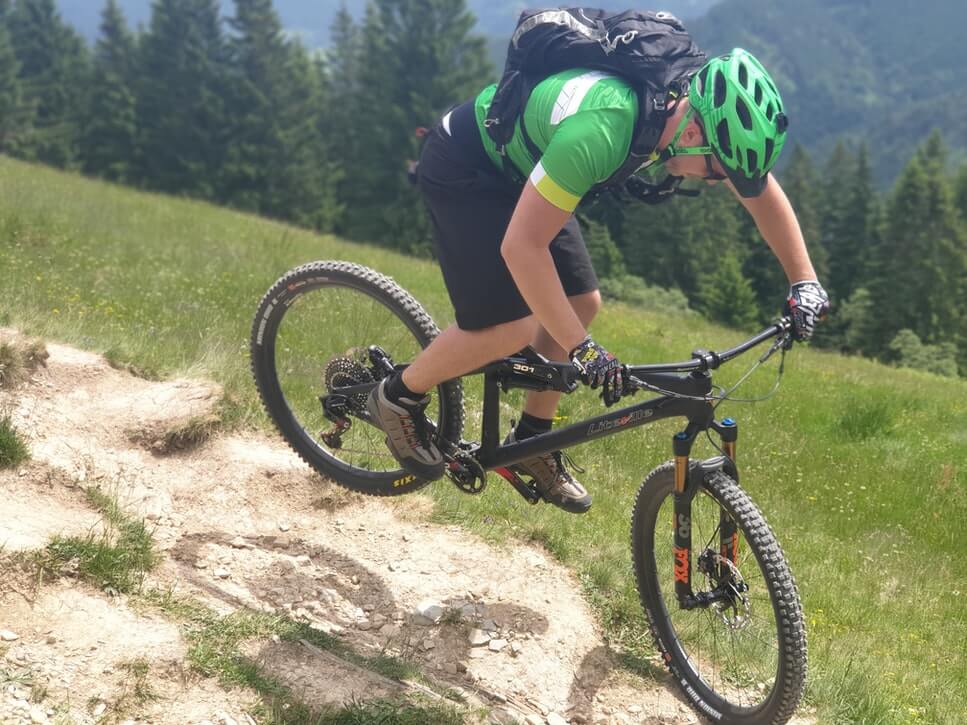 The next thing that you need to do is to assess your skill level. If you are brand-new to the sports, choosing a more affordable and standard option is your best choice. This is because it will be your practice hardtail mountain bike, and it is more likely going to be beaten up due to your lack of experience.
As you become a more seasoned biker, you can upgrade to a better model to ride better. Also, since you will have more experience by then, you will be more likely able to do the appropriate maintenance necessary for the more expensive bike.
Read More: 10 Best MTB Grips
Step 3: Pick the Right Bike Size and Wheel Size
As mentioned above, it is important to pick the right bike size and wheel size. Each bike brand has a different size chart, but they are mostly relative to your height. It is best to check this out first before placing an order.
It is highly up to your preference for the wheel size, but most hardtail bikes have bigger wheels. Bigger wheels also tend to be easier to control, which can give you a smoother ride.
Safety Tips When Using a Hardtail Mountain Bike
Hardtail mountain bikes are great. They can be fast, and I personally love smelling fresh air as I ride mine. Yet, I am also aware that several dangers come with riding it, so I have come up with several safety tips when you ride your new bike. Here are they:
I cannot stress it enough, wearing the right kind of mountain bike helmet is essential when you ride a bike. It is like the equivalent of wearing a seatbelt when you ride a car. I can save your life and prevent you from getting seriously injured.
Bringing a first aid kit, especially when you are riding on a secluded train, is a smart idea. You never know what will happen to you or your companion, and always packing a first aid kit will make a lot of difference. Also, do not forget to bring along a good hydration pack for any of your trail ridings. (2)
If you notice, many bikers wear sunglasses. This is not for aesthetic purposes only, but they wear it to prevent sun glare, especially during sunny days. It is also helpful in protecting your eyes against debris that might irritate your eyes and affect your riding experience. (3)
Learn the Basics of Bike Maintenance
Learning the basics of bike maintenance will save you time and money. Trust me, it took me years before I considered doing this, and I wish I have done it sooner.
It will also help you have a better quality bike riding experience. This is because every time you take your bike out, it is subjected to harsh conditions that may affect its overall condition. Doing frequent checks and maintenance can prevent those issues from getting worse and causing long-term damage.
Final Thoughts
There you have it! Those are the top best hardtail mountain bikes in the market today.
Among the five mentioned above, I would say that Trek Roscoe 8 hardtail mountain bike is my best choice in terms of price and quality.
Although it is not exactly the most affordable option, there is, it does have plenty of redeeming features such as RAM cassettes with a big 11-50t gear range and the latest RockShox Judy fork. These features give the Roscoe 8 a smoother and more reliable riding quality.
Other than that, it also has several size options, quality wheels, and well-balanced weight, which are what you should be looking for in a hardtail bike.