Finding the best front bike rack can be difficult, especially in today's market, where there are so many products. However, do not worry because we have put together a list of the best bicycle racks.
If you are in a hurry and want to recommend the best on all products, it is Thule Pack 'N Pedal Tour Rack. It is the right choice for those who want a versatile and stable rack.
Plus, this rack doesn't require complicated setup, and you can install it on any frame material and kinds of bike.
Read More: 7 Best Rear Bike Racks
Best Overall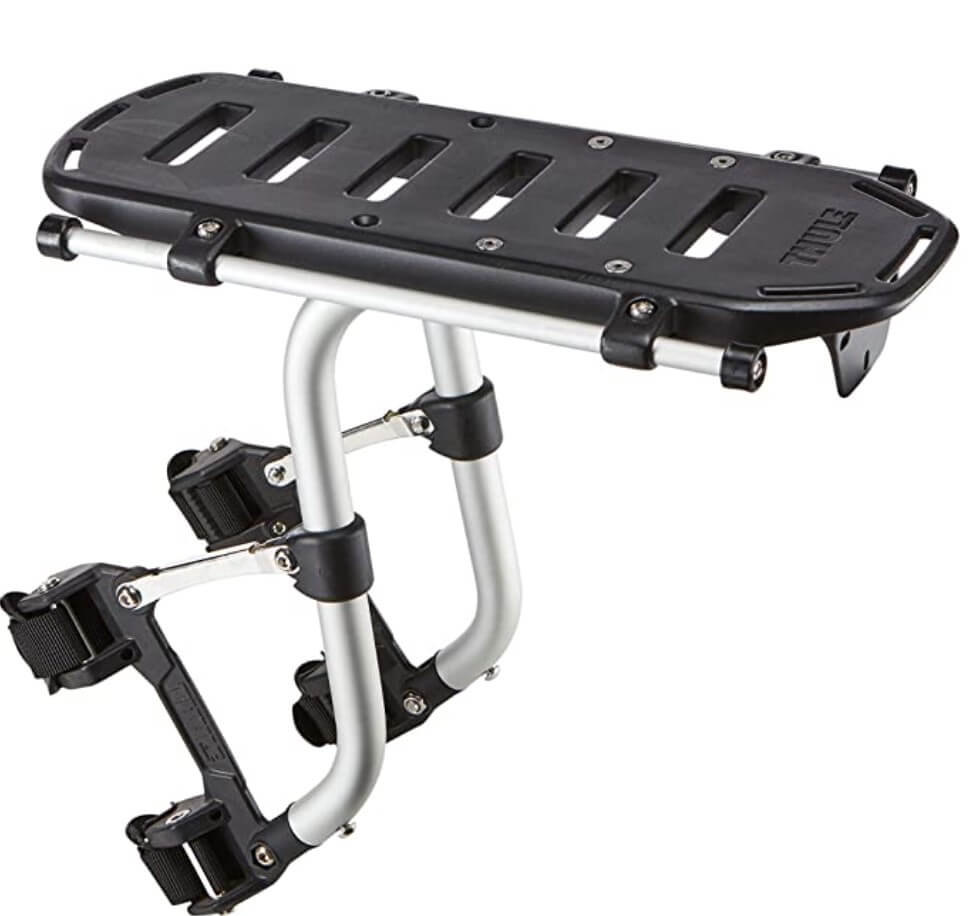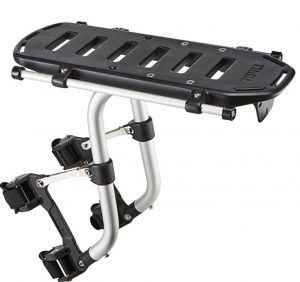 One of the best front rack bicycle touring is Thule Pack 'N Pedal Tour Rack. This bracket attaches easily to the front forks or saddle and fits in the front or back of the bike.
Besides, this device has excellent tire clearance that you can adjust up to 29 "x 2.5". This rack is very sturdy and can support loads of goods. These goods can be up to 22 pounds in the front and up to 25 pounds in the rear.
Thule Pack 'N also includes a slot to mount the rear reflector so you can see in the dark while cycling. You can take this front rack and attach it to any bike and frame material.
This device is also a great way to carry your luggage. With well-made materials, elegant design and useful properties, you will find something surprising on a bike.
Besides, the main selling point of this stand is its versatility and works best with Thule's variety of panniers. You can use other panniers, but it is best to purchase the Thule to get the best use of it. Thule also have one of the best hitch bike racks on the market, read this article if you are looking to buy a bike rack for your car.
Pros
Easy to install
Provides a suitable setting of the clearance
You can install this rack on both the front and back of your bike.
It is very robust and does not wobble even on the roughest trails.
Cons
It only has one silver in colour.
Runner Up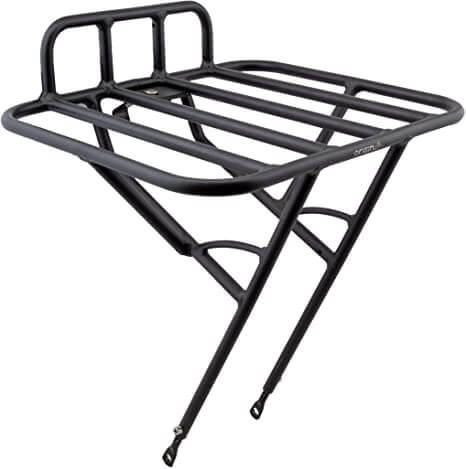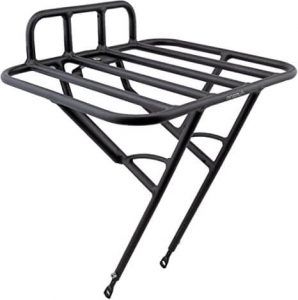 Not only is this one of the most affordable luggage racks on the market, but it's tough, sturdy, and looks gorgeous as few would expect. This product has a flat front rack with integrated rear protection.
These parts protect the end hoses and cables from hitting the load. This rack is perfect for goods that are wide or oddly shaped.
To install Origin8 Rush, you only need to take two steps to attach the calliper hole and front axle. Also, you can adjust the size to suit your vehicle size.
With the alloy construction AL6061-T6, this device can carry heavy loads up to 25 kg and has a platform area of 12 "x 14". Plus, because the stand is designed to be attached to the shaft, it is not compatible with some bikes.
Origin8 Rush also has a sturdy construction that can withstand loads of up to 55 pounds, plenty for groceries and other everyday items. Also, it fits a whole range of bike frames and is easy to fit into the front axle and the holes in the brake calliper.
Pros
Lightweight and durable
Easy to install
Very sturdy
Great for complete shaped cargo
Cons
Came with a crack if water gets in
There are no bolts to attach it to the forks.
Best Basket Front Rack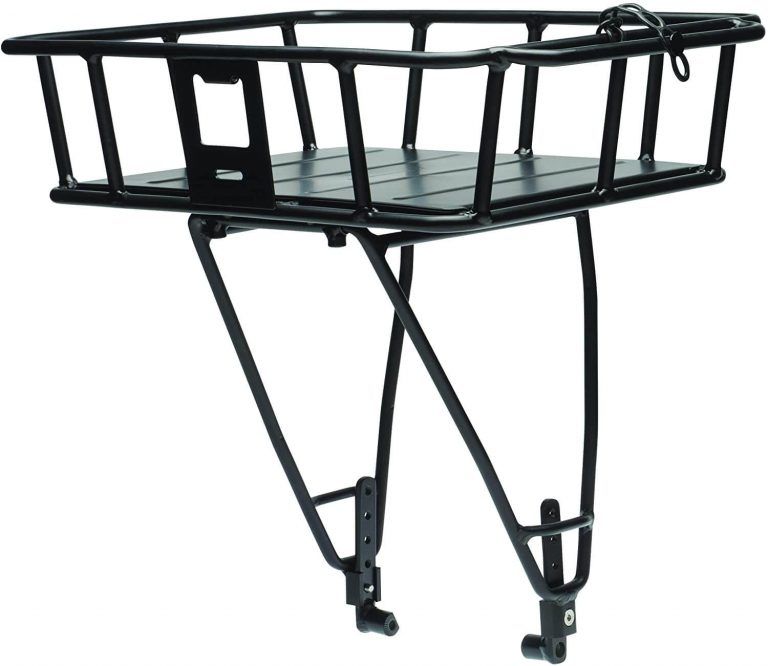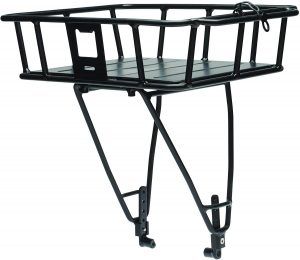 Blackburn Local Basket Front is made of synthetic fibres. The hardware of this rack is designed for easy use of hub brakes, soldering, or P-clamps.
Also, you don't have to worry if your bike isn't compatible with it as it will fit almost any bike. The design of this rack is also very unique, allowing the mounting hardware to rotate and work at odd angles.
Users can easily adjust the width and design of the product. This bracket fits most wheel sizes of trolleys and mountain bikes. These include 26 ", 700c, 650b, 27.5" and 29 "and widths between 23c and 3".
The rack now also supports the easy installation of disc brakes. These new serrated disc brakes sometimes interfere with the assembly of the armature.
You don't need to worry too much, though, as this rack is designed, so it doesn't. The rack also has a secure cargo net that keeps your goods and equipment in place and won't fall while you are out. Furthermore, you can easily install this font rack bike and take it off every time you like.
Pros
It is sturdy
It's bombproof
Cons
It's heavy and bulky
It does not include wide skewers
Read More:
Best Lowrider Front Rack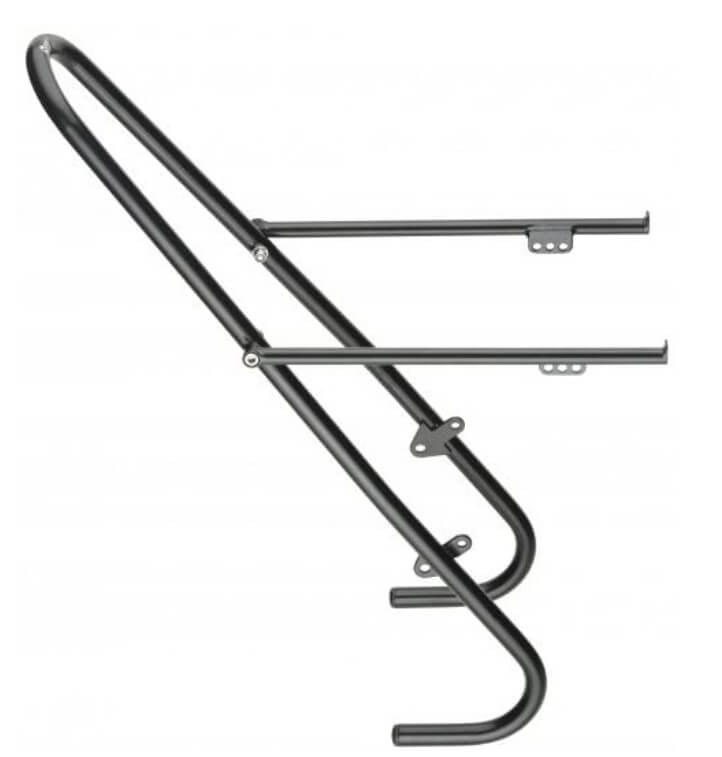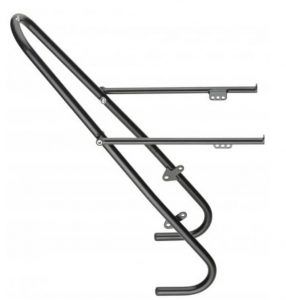 If you are an avid cyclist, the Tubus Cycle Rack's Tara is the right choice for you. This rack allows you to add panniers to your bike. However, your bike should have a hatch.
The front travel frame of the Tara can hold up to 30 kg and offers excellent durability. Tubus Cycle is also easy to install.
This front pannier works with 26-inch wheels. You have to note that without a ring it will not work with springs or carbon frames. You can still use this luggage rack if you have a bike with disc brakes.
Overall, Tubus Tara is highly valued by cyclists all over the world for its extraordinary properties. So if you are looking for a luggage rack for low riders, consider this luggage rack.
Pros
High load capacity
It works on most 26 "frames as long as it is assembled.
This frame is used to extend and transport objects for many years.
Cons
Will not work with carbon forks or hanging forks without rings.
Best Porteur Front Rack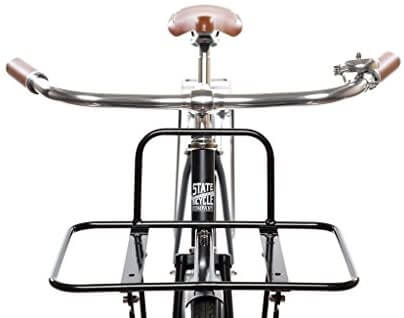 This is a good stand, strong, and very sturdy for the price it is being sold for. State Bicycle Co. Front comes with mounting hardware and works well.
State Bicycle Co. Front is suitable for 27-inch wheels. You can attach this rack to the front forks.
Some bikes may require you to readjust it. One of the great things about this rack is that it holds a lot of weight. The front bracket offers enough space for your bag.
The product also comes with attachment points for the front brake bracket and forks. However, to be sure, ask your mechanic to determine the correct size.
Plus, if this is your first time buying it be sure to follow the instructions as this bicycle front rack is very helpful to install and it can't make you annoy any more.
Pros
It's well built and solid
Super nice design
Cons
The head tube was tricky to set up.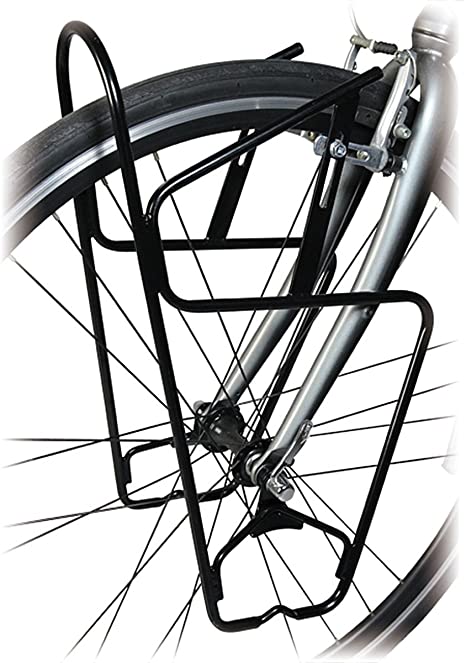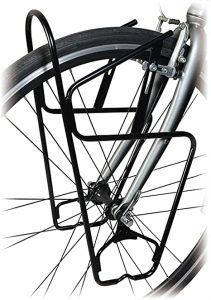 This product weighs up to many pounds, and you can travel with ease. Minoura FRP-3000 is very stable even under heavy loads.
This rack is easy to install. So, you only need to take a few minutes to complete your setup in no time. The Minoura rack can hold a wide fork and does not require braizons.
The bracket attaches securely to the brake piston and wheel shaft without being shaken by the load. Although the stand is a bit heavy, it is static and substantial, especially required in the front bracket. This is an excellent stand to buy.
The stand-in the vertical brackets is a little wider than this model. It looks like it could work with some, but not all, disc brakes as long as you have the fork brake mount as mentioned.
Pros
It looks very robust and doesn't wobble on uneven terrain.
Good rack for the price-point
Easy to install
Cons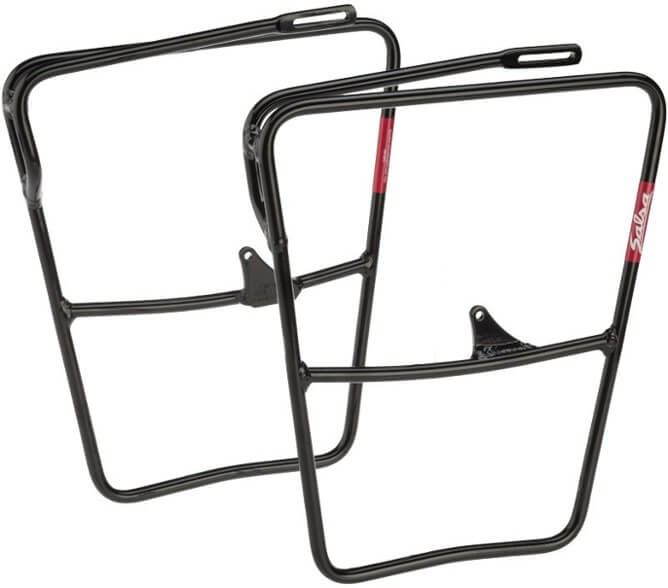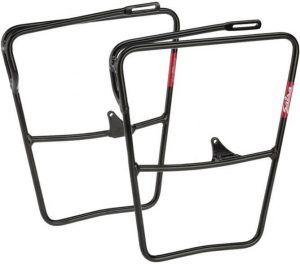 The Salsa Down Under Rack is a lowrider luggage rack for panniers. This product works with different wheel widths as the front bracket from Down Under does not use the rim.
Down Under has everything from muscular 29-inch wheels to round, fat wheels, with its forward-facing design. This rack can also be easily combined with disc brakes and offers you full access.
The aluminium made from 6061-T6 with a load capacity of 15 kg offers you a comfortable ride as it puts less pressure on your wheels. And weighs only 531 g, this rack is perfect for any bike with a medium fork carriage.
Also, with a permanent powder coating that extends the life of the rack, you can use this rack longer and safer without fear of corrosion. Another interesting point that users like about this rack are that the 3-position rack.
This device can be safely and integrated between the blade. You can move anywhere anytime without worrying about being awkward or unsafe.
Pros
The good solid front rack system
Robust and Easy to Install
Cons
this rack fits close to the fork.
Things To Consider When Buying A Front Bike Rack
How many front racks for the bike?
There is only one fundamental concept for this type of luggage rack.
These mounts usually have a suspension system that is lower than the highest point of the wheel relative to the ground. Therefore, they need a unique coupling to the centre or to attach to the fork, most often in this number adds several pylons at the previous price.
The porteur bike's front mounts for the bike have a larger weight surface over the front wheels and allow for quite a heavyweight. These brackets can be easily attached to city bikes and attached to the wheel axle or in the exhaust or in the fork.
You can attach side pockets, but also more powerful baskets, bags or tote bags. It is rarely used for bike rides.
Bike baskets are an excellent option for carrying a wide variety of goods that would be difficult for cyclists to carry without them.
The basket can be attached to the front of a bike and is big enough to carry whatever you want. You can also easily adjust the height and width and adapt the disc brake to your vehicle.
Most of these baskets are in a sturdy mounting system. It attaches to the handlebars of the bike with a luggage rack resting on top of the cycle. What makes this basket so convenient is that it can also be put back on the frame and easily locked.
This basket is made of tubular metal with a mesh bottom or other material to keep small items from falling through. It also comes in a wide variety of colours.
The suspension front rack is used to connect to the front telescopic forks. However, there are two different types of mounts. One mounts the bracket above the hanger, the other below hanger (like Old Man Mountain).
What's the capacity of a front bike rack?
Typically these front racks have a load capacity of around 15 pounds. On the other hand, the front bracket is designed with two anchor points for more massive work.
Most often these racks are used for severe commuting and long-distance travel. So if you are looking for racks for everyday light loading, you can choose racks without anchors. On the contrary, you should be spending money on anchored shelf products.
Is front bike rack made of one material?
The front brackets can be made of steel, stainless steel, titanium or aluminium. All of these materials can be used to create a sturdy stand, but are usually the most durable ones made of steel or stainless steel.
The steel racks are most commonly used by cyclists all over the world. Aluminium prices tend to have a higher failure rate. So if you're using aluminium, the first thing you should do is do a little bit of looking for durability.
Conclusion
Although there are many types of front mounts these days and there are many possible combinations, finding the right stand design is easy: it's all about matching the front stand with the item your intended use.
If you carry the heavy objects in the front, don't forget to buy Tubus Cycle Rack's Tara Lowrider as it fits everyone who always has big things. This shelving system brings your transmission weight in the best position for good driving behaviour.
If you are looking for a good solid front rack system, Salsa Down Under Front Bike Rack as their frames are made of steel, are light and seem to last forever. Lastly, State Bicycle Co. Front Porteur Rack is the top name of the best porteur front rack that you can pick immediately without overthinking.
Read More: