If you are one of the cyclists who have not owned a dropper post for your bike yet, you are clearly missing out on inexpensive and beneficial bike accessories. Figure out the best dropper post and a detailed buying guide here to empower your rides.
So far, I am deeply impressed with the performance of the BIKE YOKE Revive seat post as a fantastic companion for mountain biking. The item has managed to cut off the troublesome IFP design and does not get much involved in rotational play like others.
11 Best Dropper Posts
Best Overall Dropper Post
Rating: 4.5/5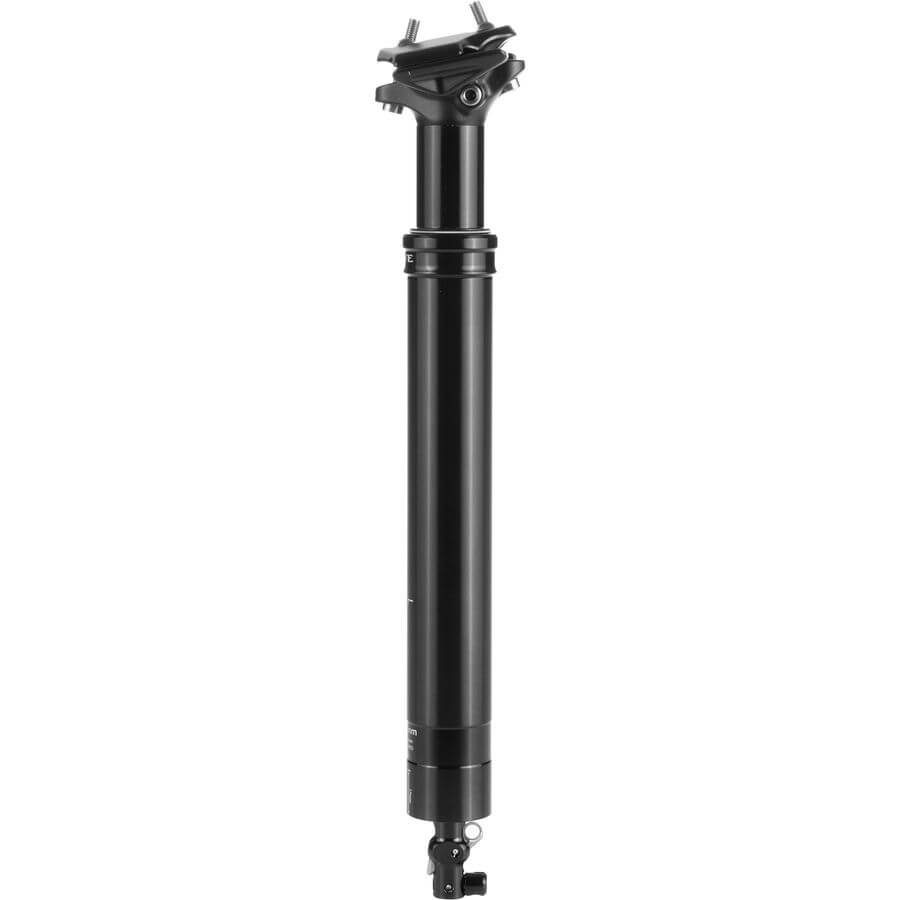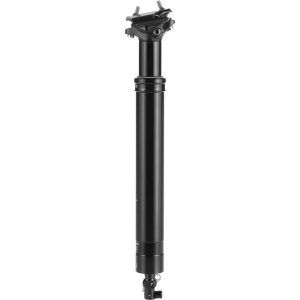 Material: Aluminum | Diameter: 30.9 – 31.6mm | Length: 397 – 467mm | Weight: Up to 736g | Dropper: hydraulic | Best Use: Mountain biking
Since most dropper posts that operate with an Internal Floating Piston (IFP) system inspire trail-side expletives, the best budget dropper post BIKE YOKE Revive has eliminated most of its burdensome. It results in a simpler design and enables a smooth function.
You can easily reset its hydraulic system with only a 4mm Allen Key to support the post bleeding process if you lost your tool. Thanks to the single-piece lower design of this Revive dropper post, it becomes far stronger and less involved in the rotational play.
Without opening the hydraulic system, you would still be able to replace the pins and bushings of this dropper post. In general, it is constructed with a unique structure to get rid of most malfunction causes.
Pros
Eliminates the problems of IFP.

Has a simple and smooth design.

Easy reset with a 4mm Allen Key.

Less involved in the rotational play.

Quickly replaces pins & bushings.

Great design of fewer defections.
Cons
Seat might fall off of the clamp.
A Premium Upgrade
Rating: 4.5/5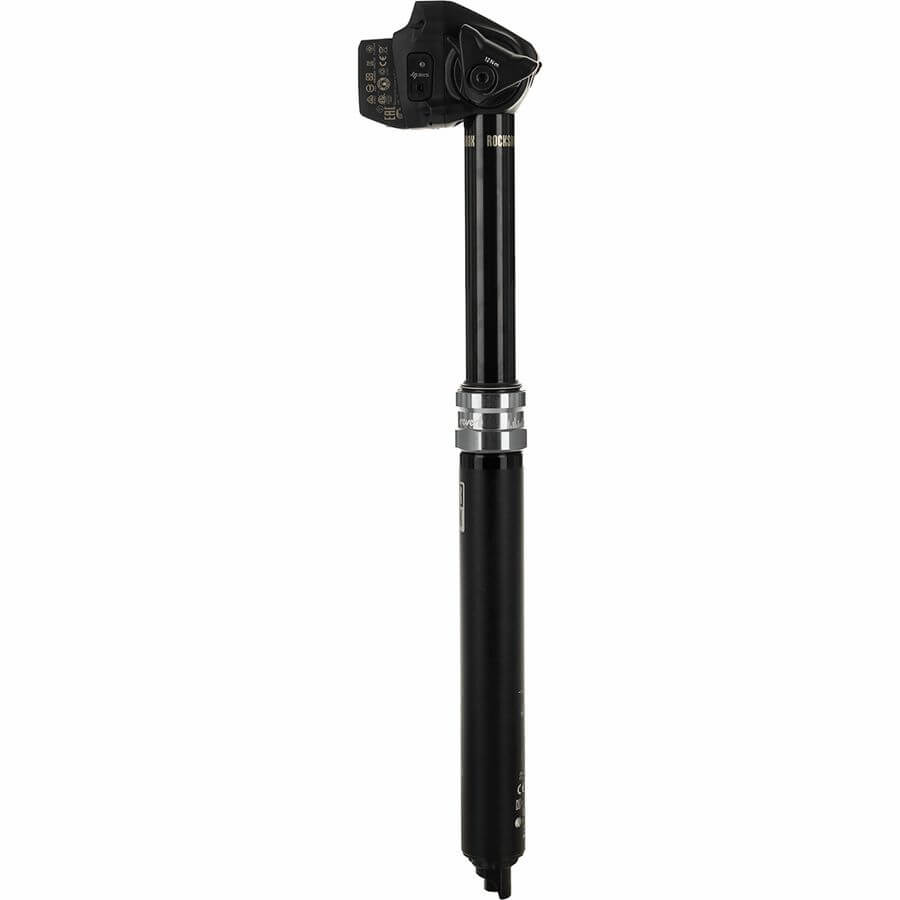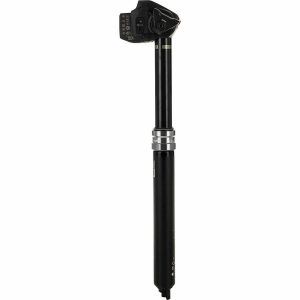 Material: Aluminum | Diameter: 30.9 – 34.9mm | Length: 340 – 480mm | Weight: 701 – 943g | Dropper: wireless hydraulic | Best Use: Cross-country, trailing
This incredibly advanced Reverb AXS dropper post consists of a wireless technology called SRAM that is able to actuate it with one button tap. Its internal rechargeable battery is removable and enables up to a 40-hour trail life after an hour of full charge.
Personally, I am impressed with how the Vent Valve technology of this AXS post can offer quick and easy post service without disassembling the entire item. The high tech seat post moves smoothly and requires less downward pressure for dropping.
Its removable battery works in harmony with both of the SRAM AXS derailleur, and the RockShox Reverb AXS dropper. This post's internals have been updated to gain a speedy return regardless of the conditions.
Pros
Enables a button tap for actuation.

40 hours of trail life on a full charge.

Quick service with a Vent Valve.

Less pressure needed to drop.

Has a flexible removable battery.

Speedy return with the internals.
Cons
Has a higher price than average.
Best Budget Dropper Post
Rating: 4/5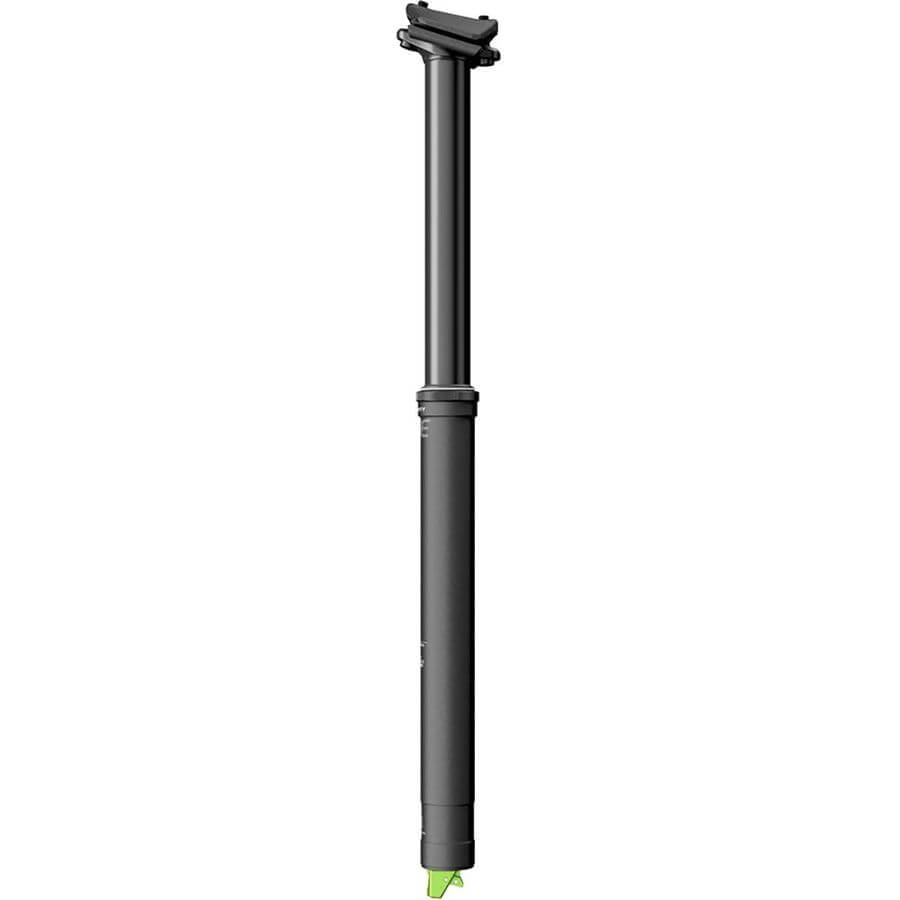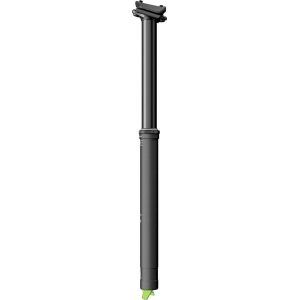 Material: x | Diameter: 30.9 – 31.6mm | Length: 360 – 540mm | Weight: 435 – 540g | Dropper: infinitely adjustable | Best Use: Cross-country, trailing
The ONEUP V2 features the shortest stack height and the shortest total length of any dropper available on the current market. Its low stack enables you to size up the dropper and has more clearance when you start to pedal and pressurize the back wheel.
Its travel-adjust trim system is an amazing feature, supported by two 10mm shims to help you trim down the post to suit your needs by nearly 20mm. This short post will not slow down or stick in colder temperatures.
Also, the reliable cartridge internals of this V2 seat post has been carefully sealed to deal with rigorous mountain and road trails. This cable-actuated remote doesn't need any bleeding. However, the post might seek and clunk and create much noise.
Pros
Made with the shortest stack.

Enables easy dropper sizing up.

Up to 20mm of post trimming.

Doesn't stick in cold weather.

Seal internals for the trails' rigor.

No bleeding for the remote.
Cons
Creates unwanted noise in use.
Best for EN Qualifications
Rating: 4/5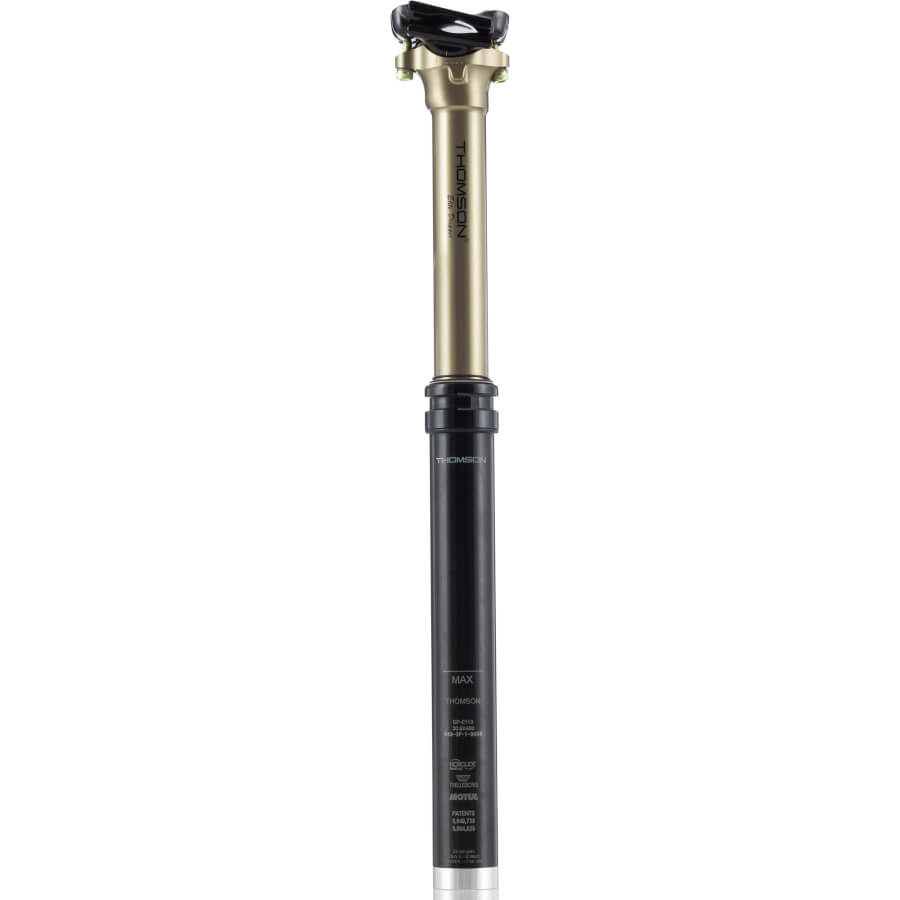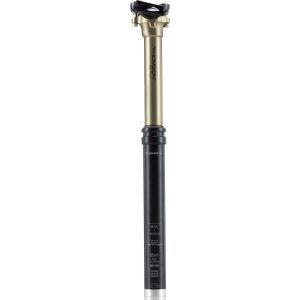 Material: Aluminum | Diameter: 30.9 – 31.6mm | Length: 400mm | Weight: 435 – 592g | Dropper: x | Best Use: Mountain biking
Unlike a lot of other less progressive dropper posts, this THOMSON Covert Elite is made to be compatible with internally-routed frames. The post is engineered to have custom-made bearing bushings, O-ring, and seals, as well as a quality proven clamp.
Instead of casual hydraulics, its cables are employed to reduce weight and complication while boosting reliability at the same time. The entire Elite dropper post plus its remote lever, housing, and cable only weigh 592 grams, which is quite light.
While many of its competitors cannot exceed the strict EN qualifications, this post has passed all strength and fatigue tests. Its manufacturer was hired to craft parts of aerospace machines for NASA so the reliability gets much higher.
Pros
Ideal for internally-routed frames.

Has custom-made components.

Employed cables for less weight.

Has an overall weight of 592g.

Passes EN strength examination.

Made by a reputable brand.
Cons
No defections found until now.
Best for Travel Variation
Rating: 3.5/5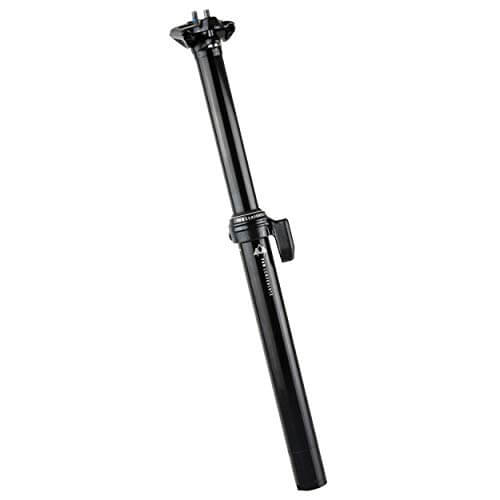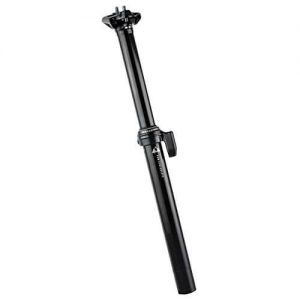 Material: 7075 Alloy | Diameter: 30.9 – 34.9mm | Length: x | Weight: 540 – 635g | Dropper: infinitely adjustable | Best Use: x
I am glad that the PNW Components come along with a wide range of travel from 125 to 170mm to suit more cyclists. This 27.2 dropper post includes an air cartridge that provides adjustable pressure for all 3 of its diameter from the 30.9 to 34.9mm version.
Using the 7075 heat-treated alloy to make its material is a wise choice since it leads to a lighter bike and consistent performance. Furthermore, the PNW seat post gets an additional DU bushing to enhance its wobble resistance and prevents tired legs.
You can either choose to buy this dropper post package with or without the lever kit. This kit includes a Puget MTB x2 lever, cables, housing, and all of the important hardware.
Pros
Offers 3 different sizes of travel.

Adjustable pressure of the cartridge.

Lightweight due to alloy material.

DU bushing prevents wobbling.

Has an option of no lever kit.
Cons
Uses a string for internal release.
Best for Aesthetics
Rating: 4/5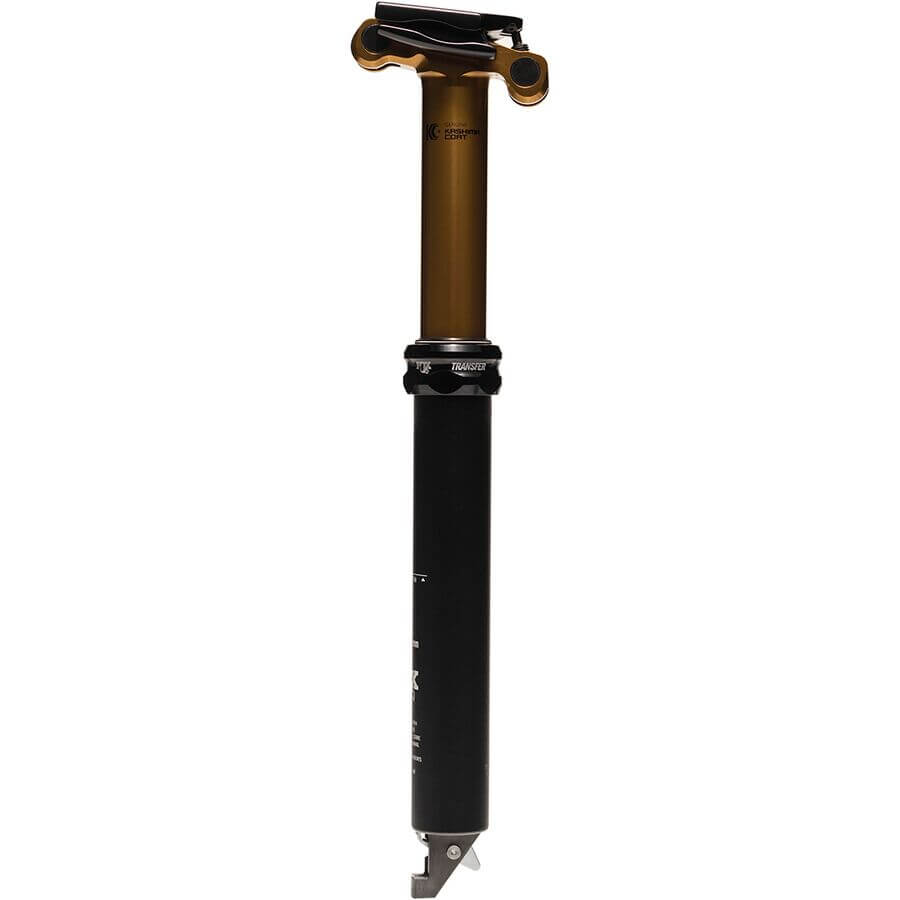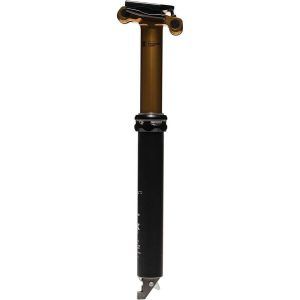 Material: Kashima coated | Diameter: 30.9 – 31.6mm | Length: 356 – 456mm | Weight: 588 – 606g | Dropper: cable-actuated hydraulic | Best Use: Mountain biking
As the Fox Racing Shox Transfer Factory comprises internal cable routing, it has a neat frame to enhance clean aesthetics. There is a special Spool Valve that optimizes the beefy hydraulics to obtain easy modulation so the post is always where you need it.
Plus, the unique upper Kashima coating of this Fox Racing seat post is effective in reducing undesirable friction during use. With the high-quality dropper post on your bicycle, you could have a smooth and seamless transition across multiple terrains.
There is this new clamp design engineered on this dropper post that makes it less difficult for cyclists to install their bike saddle. Additionally, it offers an improved serviceability when it comes to maintenance.
Pros
Inner cable routing for aesthetics.

Spool Valve for easy modulation.

Minimizes friction with coating.

Seamless transition over terrains.

New clamp for saddle assembly.

Offers improved serviceability.
Cons
Kashima coat flakes off over time.
Best for Stable Saddle
Rating: 3.5/5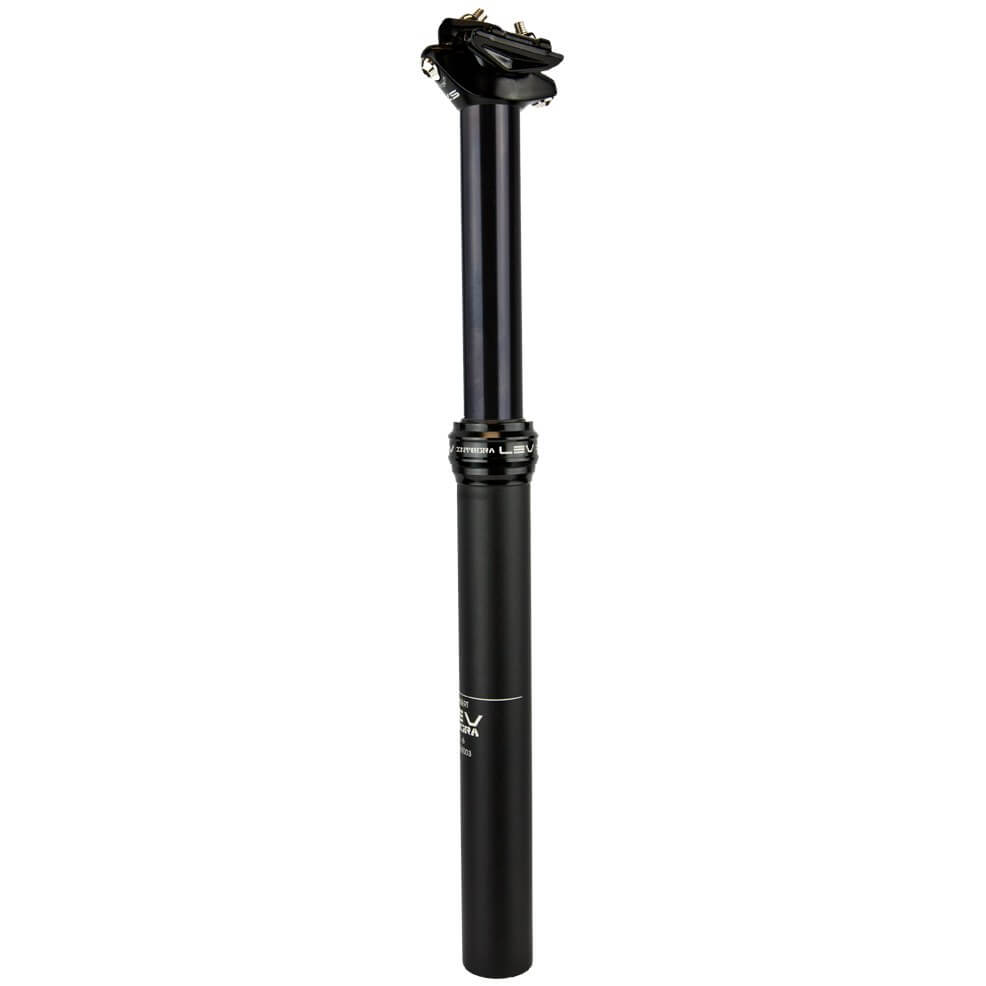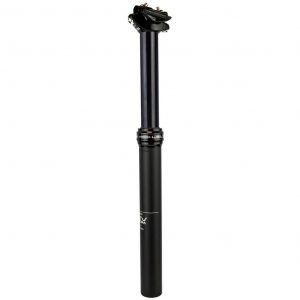 Material: x | Diameter: 30.9 – 31.6mm | Length: x | Weight: 1.75 lbs | Dropper: x | Best Use: x
If you are tired of stopping over in the middle of your trip to adjust the saddle height, the KS Les Integra would let you focus entirely on biking without this issue. You can adjust this post to either drop or rise with a flick of the handlebar-mounted remote lever.
There are 3 travel models of 100, 125 to 150mm for this KS bike post so its abilities can exceed all of your off-road requirements. Other than the streamlined profile, this seat post is able to seal a majority of its components against external dirt and debris.
This post model is a fixed external setup, which is really clean though. Unlike other external setups, the cable housing will not move up and down with the seat height.
Pros
Helps you focus only on riding.

Quick drop & rise with the lever.

Offers 3 models of travel sizes.

Seals components from debris.

A clean fixed external setup.
Cons
Seat post head creaks too much.
Best for Balanced Construction
Rating: 4/5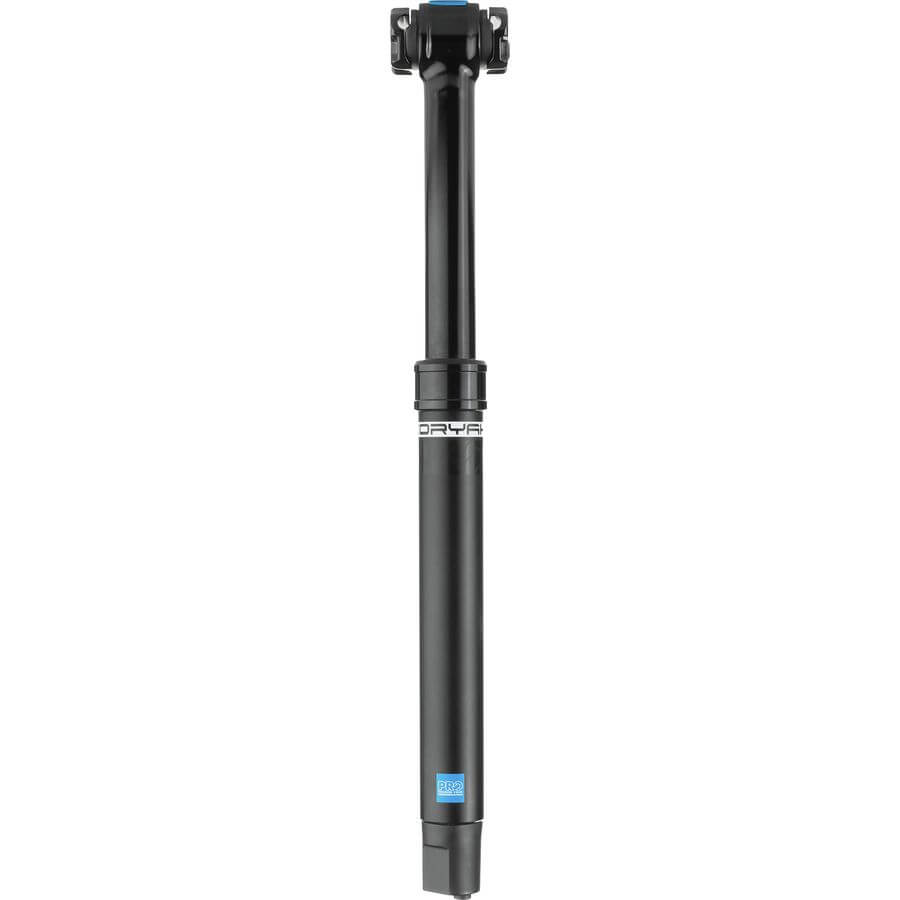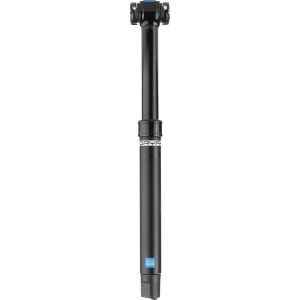 Material: Alloy | Diameter: 30.9 – 31.6mm | Length: 400mm | Weight: 588 – 606g | Dropper: cable-actuated | Best Use: Mountain biking
The aluminum construction of this PRO Koryak Adjustable is effective in balancing its weight, durability along cost. As usual, to achieve clean frame lines, the dropper seat post is manufactured to have a neat internal system of cable routing.
This post package comes with a 120mm travel that is smooth and cable-actuated for you to easily adjust your seat height and feel truly on the fly. Thanks to the infinite travel adjustment, cyclists will be able to dial their bike seats to get the perfect height.
I think the post has been highly responsive with a sufficient amount of travel for all cyclists to enjoy. Its actuation turns out quite smooth and most details perform flawlessly.
Pros
Balances weight, durability, cost.

Internal routing for aesthetics.

A 120mm cable-actuated travel.

Easily dialed for perfect height.

Responsive with enough travel.

Performs smooth actuation.
Cons
Seat slips back if it hits bumps.
Best for Enduro
Rating: 4/5

Material: 7075 Aluminum | Diameter: 30.9 – 31.6mm | Length: x | Weight: 535 – 555g | Dropper: hydraulic | Best Use: Enduro
The reason why the Tranz-X Kitsuma Air is ideal for achieving enduro dreams is due to its lightweight aluminum construction for less weight for the up and more drop for the down. Its sealed hydraulic dropper cartridge works best for minimal maintenance.
This post features a flexible air spring that you can adjust to tune the dropper return rate in a customized way. The best news might be its compatibility with all dropper levers that are cable-actuated. Plus, its internal cable routing enables a clean look.
4 sizes of the travel are available when you purchase this dropper post, from 125, 150, 170, to 200mm. Its lever kit with all required hardware is sold separately.
Pros
Suitable for enduro training.

Enables the least maintenance.

Custom tune of the dropper.

Works with cable-actuated levers.

Clean look with inner routing.

4 different sizes of the travel.
Cons
Seat post spins like a bar stool.
Best With Remote Control
Rating: 4.5/5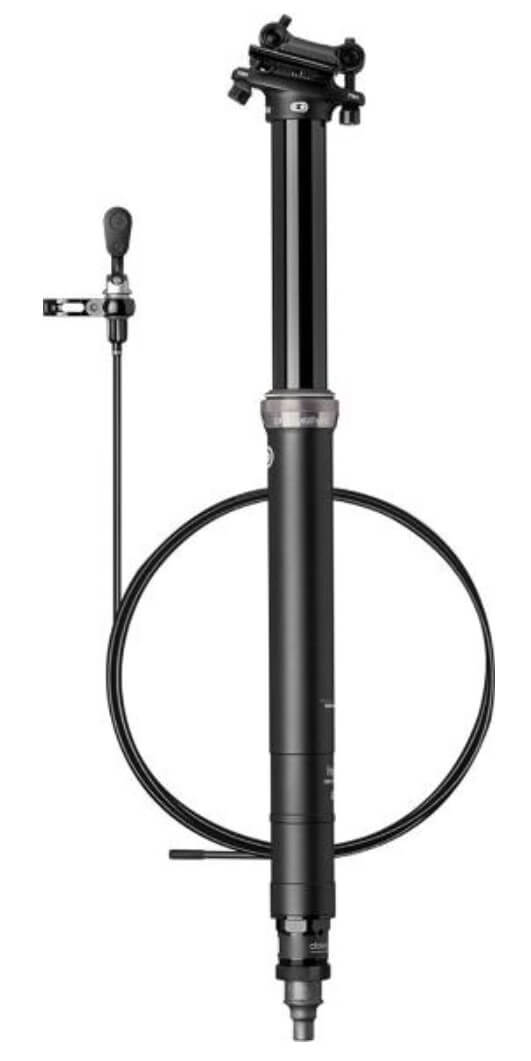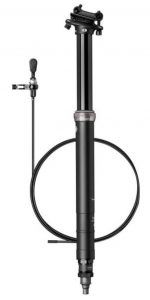 Material: 7075 Aluminum | Diameter: 30.9mm | Length: 400mm | Weight: 580g | Dropper: x | Best Use: Mountain biking
I enjoy the remote diversity of this crankbrothers Highline because it can be mounted on multiple positions on the bike's handlebar. Its quick-connect mechanism makes it easy to install the cable and the 2-bolt quick-release head is simple to assemble the saddle.
Ultraslick coated cable and premium housing are available for this Highline seat post so you needn't bleed them with hydraulic hoses anymore. In order to further enhance its flexibility, the dropper post can enable a 360° rotation and tilt up to 22° while in use.
The dropper post comes with an Igus LL-glide bearing and keys to minimize the risk of any side saddle play for cyclists. While the Trelleborg seal works to keep cruds and moisture away.
Pros
Flexible mounting on handlebar.

Easy cable & saddle installation.

No need for bleeding with hoses.

Rotates at 360° & tilts up to 22°.

Limits risks of side saddle play.

Sealed to keep moisture away.
Cons
No defections are found so far.
Best for Bombproof
Rating: 4.5/5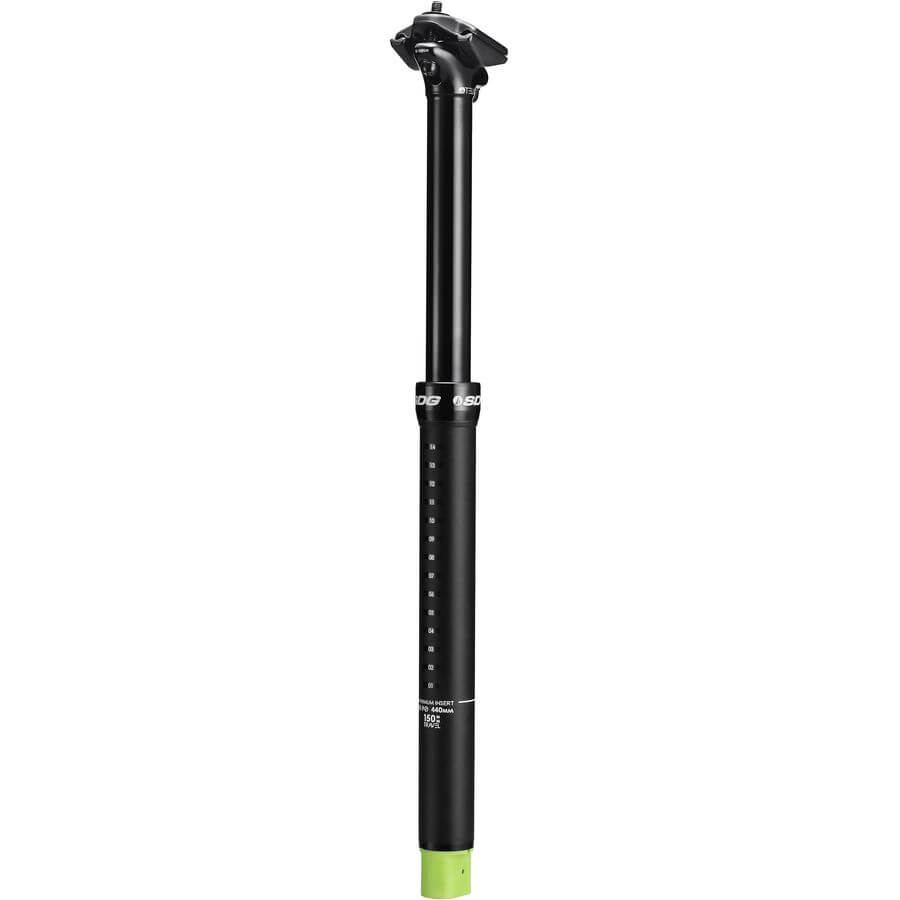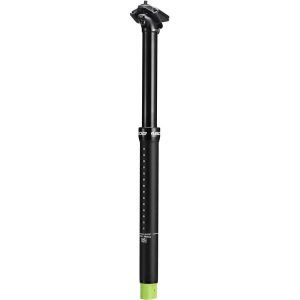 Material: 7075 forged clamps | Diameter: 30.9 – 31.6mm | Length: 390 – 440mm | Weight: 552g | Dropper: hyrdraulic | Best Use: Cross-country, trailing
It might be hard to believe that a bombproof dropper post does exist, but you would be surprised with this SDG Components Tellis. In addition, the strong seat post is able to perform like normal in a -4℉ environment with no signs of being sluggish.
I am impressed by the fact that this dropper post has a scratch-resistant anodized finish and laser-etched graphics for dialing in your seat height. In general, this bike tool is really simple to service and maintenance.
The SDG post includes a powerful 3D-forged head that has better endurance than a regular bonded head design. As a bonus, its intelligent keyway system is praised to eliminate lateral play. The wiper seal of this dropper post keeps muck and moisture away.
Pros
Manufactured to be bombproof.

Works in -4℉ without slugging.

Has a scratch-resistant finish.

Easy for service & maintenance.

Better 3D head than bonded ones.

No lateral play with the key system.

Keeps muck and moisture away.
Cons
Needs some butt bounce to drop.
What to Look for When Buying The Best Dropper Post?
Getting a dropper post for your favorite bike is not going to be easy if you only care about its appearance and general technical specifications. This buying guide will tell you what to focus on when considering a dropper post.
Travel adjustment
The fixed dropper posts available in this review list remain in one size between 100 to 200mm and can't be lengthened or lowered. The benefit of this travel adjustment is it's fixed to be moved to a certain position without your alteration to gain another height. (1)
Infinite travel adjustment
While the infinite travel adjustment like PRO Koryak Adjustable is more flexible because you can dial the travel freely between its available height range and works with multiple types of rider. But on the other hand, this process would cost more time.
Frame compatibility
In order to find out the bike frame compatibility for your dropper post, there are a few measurements to be made. You'll need to consider these 3 factors of seat post drop, seat post diameter, and the seat post length to choose the correct size for your bike.
The average range of a post diameter is 30.9 to 34.9mm. Whereas the post drop is from 125 to 185mm. Its length can vary from 365 to 485mm. With a tape measure and its size chart, you would be able to finish checking out on this element quickly.
Remote lever
A dropper post lever is usually mounted under the left side of your bike's handlebar and requires a single click to quickly adjust the height of this post. This tool is highly beneficial if you need to alter the post height differently when you sit or stand while pedaling.
Cable routing
For all types of dropper post, their having an internal cable routing will enhance the overall appearance because the wires are tucked away neatly and therefore, allow clean aesthetics. It would also enable a smooth operation without redundant cables.
Weight
The normal weight range of a dropper post usually varies from 400g up to nearly 1000g. This depends a lot on the material and aluminum is the most lightweight to manufacture a post. The Tranz-X Kitsuma Air offers an optimal weight for enduro bikers.
Frequently Asked Questions
What is a dropper seat post (dropper post)?
A dropper post can be understood as a height-adjustable seat post for cyclists to lengthen or lower the bike seat's height in a quick and easy way during the trip. It mainly operates via the use of a handlebar, or through a post-located remote lever.
Why does a mountain biker need a dropper post?
A mountain biker needs an mtb dropper post to switch between pedaling while seated and standing for steep drops and jumps. Enduro riders have to pedal hard on varied terrain, but they also need to ride on technical surfaces so they should have a post.
Conclusion
Being the best overall dropper post, the BIKE YOKE Revive offers a strong, simple design that is not problematic like the ones with IFP. The Fox Racing Shox Transfer Factory has a clean look with reduced friction in use. And you should opt for the SDG Components Tellis for endurance under bombs and harsh weather conditions.
What is your opinion on this article about the best dropper post? It is an essential for your bike to tackle various terrains so you shouldn't hesitate to purchase one. Consult from my valuable buying guide to know what you should concentrate on.