Based on your level, skills, and training frequency, we will give you suggestions for choosing the best cycling shoe.
We classify two groups of subjects, namely beginners and advancers, to arrange the products according to the shoe's performance criteria for the rider at a reasonable cost.
The list below reviews the most outstanding shoes in each segment:
Best cycling shoes for beginners
Best for men
Brand: SIDI | Gender: Men and Women | Closure systems: buckle, hook-and-loop | Upper Material: microfiber, mesh | Sole: millennium 4 | Cleat Compatibility: 3-hole road | Type: road cycling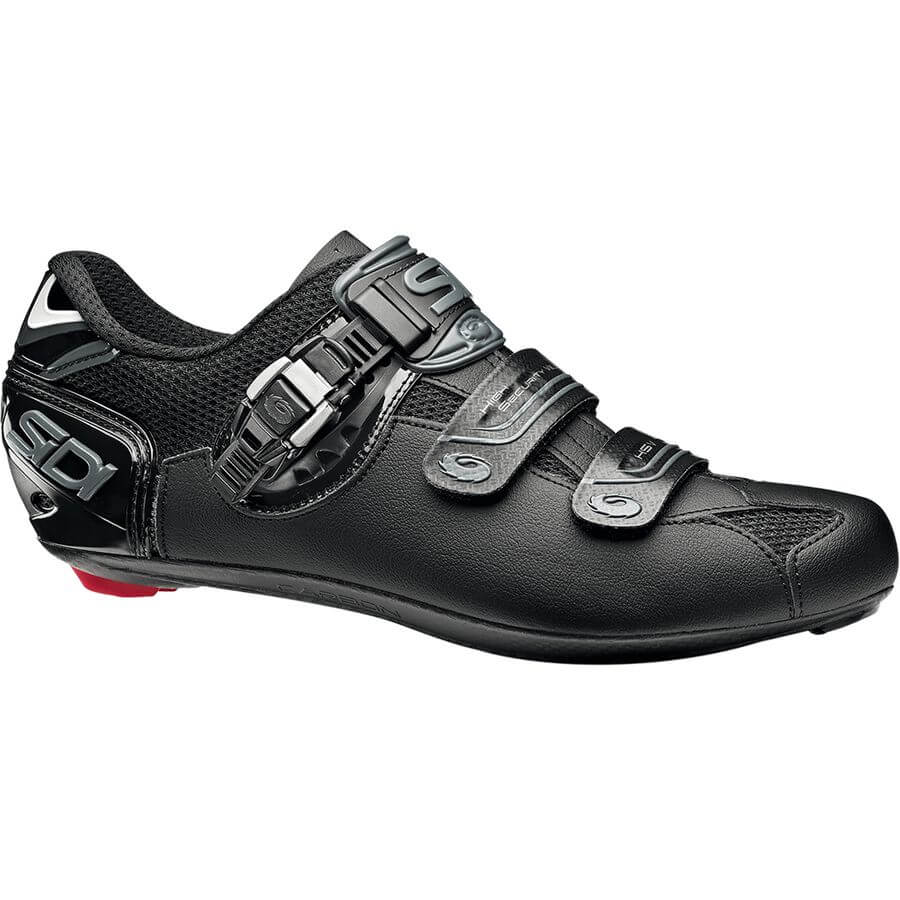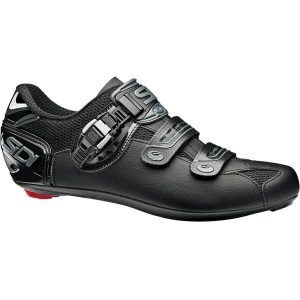 Mesh panels combined with synthetic uppers create a neat look for the feet. But, the ventilation mesh is relatively small. The upper part is thick, so the product has moderately heavy weight and average ventilation.
Road cycling shoes that must stiff soles and are compatible with the 3-hole cleat. This sole is the most impressive feature of the product. Sidi's Millennium 4 generation material is carbon composite, which creates a perfect fit with the feet' soles.
The rigidity and structure make the long cycling distance free and avoid stressing the muscles in the feet and calves' soles. The sole – instep – ball part of the foot will be very comfortable during active sports. (1)
The heel structure snugly holds the foot. Even when you relax, sliding the foot back, a lot doesn't pressure the heels and calf. The heel cushion is very smooth, providing the perfect support.
Closure systems are a type of hook-and-loop combination buckle. The closure system is a kind of lock that combines a hook and ring. Genius 7 has a jagged zipper to loosen or tighten the shoe quickly. Over a long driving distance, the feet will swell and enlarge.
This performance of the zipper is essential and convenient for the user to operate. Besides, it increases the durability of the closure system. Traditional buckle types should fit tightly to the foot. It is not slipping or loosening through high-intensity movement.
This product is for both men and women. Male sizes range from 38 to 49 (Europe Size). You will easily find a product that fits even if the foot has a unique size. Compared to previous generations, this product has a larger width, suitable even for short but thick and wide feet.
Regarding overall weight – quantity size – locking system, SIDI has created men's most valuable product in road cycling.
Pros:
Seasoned, durable
Good sole material, perfect transmission
Reasonable price, many sizes.
Suitable for people with unique feet
Cons:
Average weight
The ventilation is not high.
Best for women
Brand: Tommaso | Gender: Women | Closure systems: velcro straps | Upper Material: synthetic leather | Sole: fiberglass-reinforced | Cleat Compatibility: all cleats type | Type: road cycling, spin class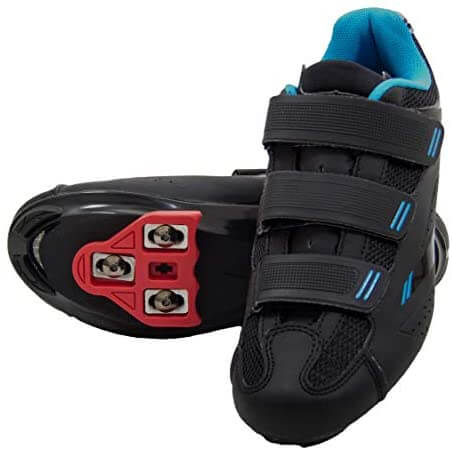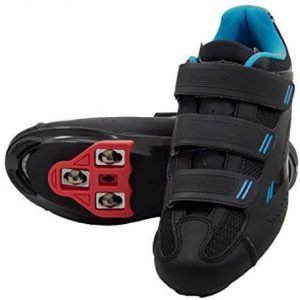 The most remarkable feature of this product is that it can be suitable for all types of cleats. Of course, not on the same effect, you can fit both Delta and SPD Bundle Option. Depending on the type of bike you have, choose the right model.
Tommaso Pista offers two bundle options, all color versions. Even if you want to own this product with no cleat condition, the manufacturer provides you with a shoe only version.
Especially note if you have a Peloton bike, choose the red Delta bundle with pre-installed cleats. Peloton cannot be used with SPD cleats. This confusion happened to many customers.
The most prominent are the sole made of fiberglass-reinforced material. It has good rigidity and efficient transmission. The combination of motion between the foot – pedal – drivetrain as a unified apparatus. Pull – push the pedal gently, challenging both long distances and continuous action. (2)
This shoe is excellent for women who enjoy indoor or road cycling. It uses traditional velcro straps, so it's light and easy to adjust the hugging level during movement.
If you have narrow and thin feet, consider larger shoe sizes ½. The free return and exchange policy for shoe sizes from manufacturers makes you more satisfied when using Tommaso products.
The Pista sole has superior materials. The upper part also has a flexible synthetic leather, combined with a super breathable mass layer. It helps the overall high-performance shoes during prolonged training. (3)
Some of the product's extra features: non-skid walking strips, reinforced toe box increase rigidity and protect the toe. Also, The airport structure under the sole maximizes ventilation.
Note:
100% Fit Guarantee
100% Free Fit Returns
2 Year's Warranty
Pros:
Durable, many functions
All cleats compatibility
Reasonable price
Outstanding material
Many warranties, customer support to pay for free if buying the wrong size
Cons:
The appearance is not too beautiful.
Best for price
Brand: Giri | Gender: Men | Closure systems: BOA L6 dial hook and loop straps| Upper Material: synthetic| Sole: co-molded nylon and rubber| Cleat Compatibility: all 2-bolt pedal | Type: mountain bike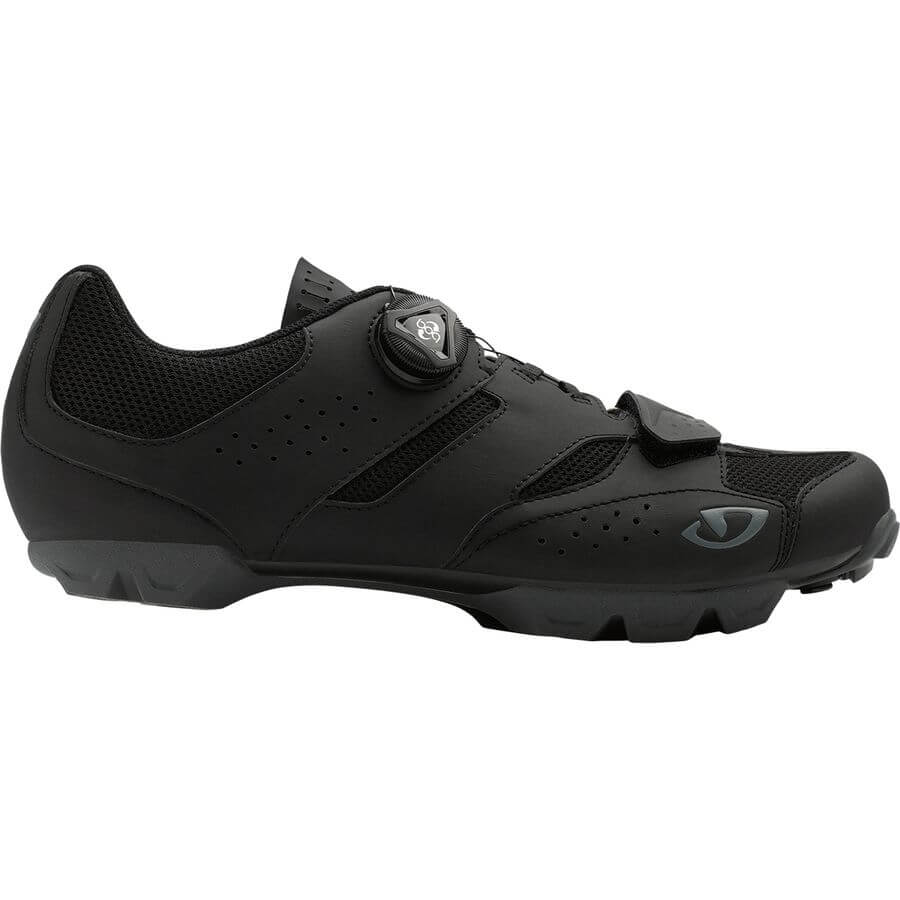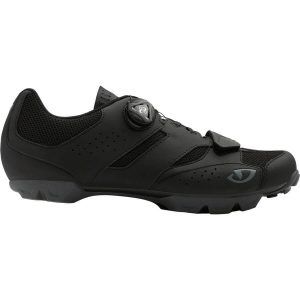 An expected texture of different materials, creating a typical mountain bike shoe.
The shoes match effortlessly with most 2-holes cleats like Shimano SPD, Time ATAC, Crank Brothers, etc. The shoe sole has two layers: the inner hard steel base to fix the structure, the thick rubber part – rough outside to create high friction. There are fundamental technical requirements for shoes for mountain biking.
Compared to road cycling shoes, this sole is not as stiff due to safety requirements and climbing characteristics. The toe and heel section material is microfiber reinforcements. That protects this most sensitive foot part. (4)
Note, if your feet are a bit thick and wide, you should consider raising the size. There is a one-year warranty by the manufacturer.
Yet, the lanyard is relatively thin, so the tightening effect is not optimal. In return, these shoes are very affordable despite the modern Boa buckle.
Pros:
Thick rubber sole
Low price
Protect sensitive foot areas: toes, heels.
Strong, masculine appearance
Cons:
Best of closure system
Brand: Shimano| Gender: Men | Closure systems: Boa L6 + Velcro strap| Upper Material: mesh, synthetic leather, TPU | Sole: carbon fiber | Cleat Compatibility: 3-hole road | Type: road cycling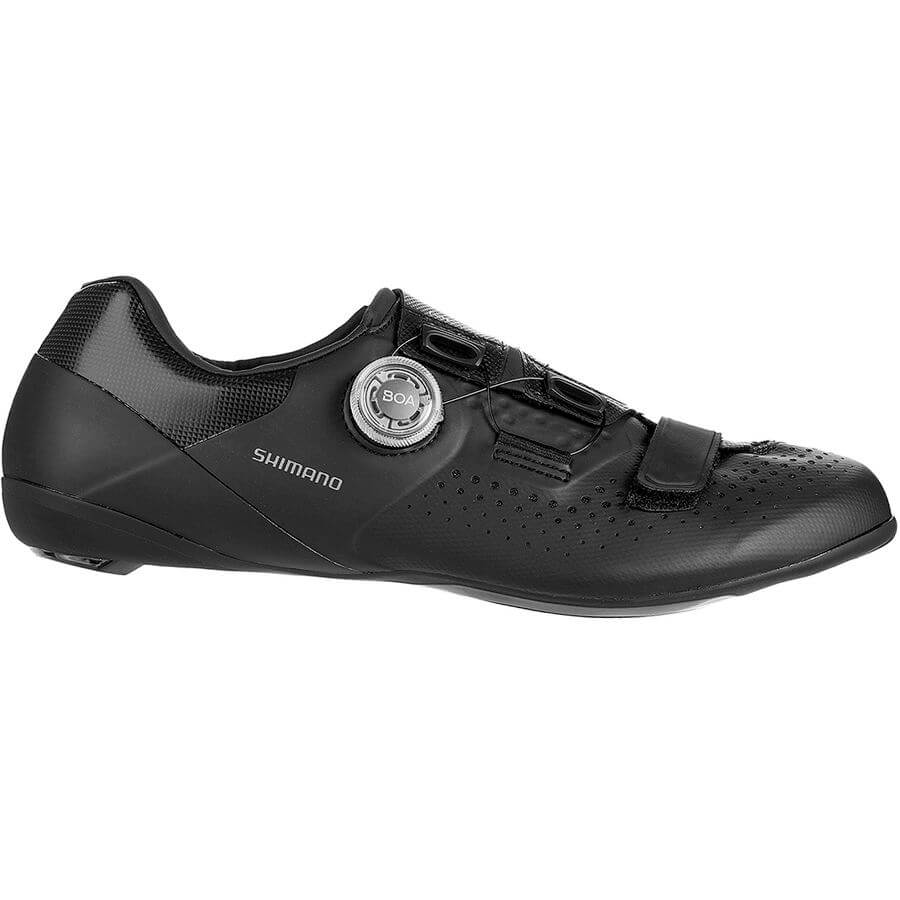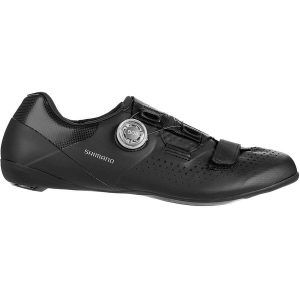 The design is minimalistic, and the power comes from the material inside. Shimano RC5 is a mid-range road cycling shoe, equipped with a closure system of a lightweight Boa buckle combined with a velcro strap on the toe side. It allows a comfortable foot grip. The upper has a stable and firm texture over a long period of use because of synthetic leather.
Like other road cycling shoes, it's compatible with cleat 3 – holes. This product has an expected ventilation system. There are mesh panels combined with air vents along the shoe body for optimal heat dissipation.
The sole part of Shimano RC5 is comprehensive. The outermost is carbon fiber, creating stiffness for the sole. At the same time, it combines with the midsole layer to stabilize the soles during the movement. The sole transfers almost entirely the foot's force to the pedal, increasing training efficiency.
In particular, this structure is most beneficial when you do sprint cycling. The high transmission speed, the balance of the shoe structure, and the sole stiffness are reasonable for incredible rider's satisfaction. It also minimizes injuries caused by the bicycle crankset's inertia force and jet when traveling at high-speed.
The manufacturer guarantees this product for one year. There are three trendy colors to choose from: black, white, and blue.
Pros:
Beautiful, modern, minimalistic design
Good closure system
Outstanding sole structure
Cons:
Shoe insertion is difficult and takes patience, as the tongue is prone to curl inward, not flat.
Best comfort
Brand: Fizik | Gender: Men and Women | Closure systems: Boa® IP1-B dial + Velcro strap| Upper Material: Microtex | Sole: carbon reinforced nylon| Cleat Compatibility: 3-hole road | Type: road cycling.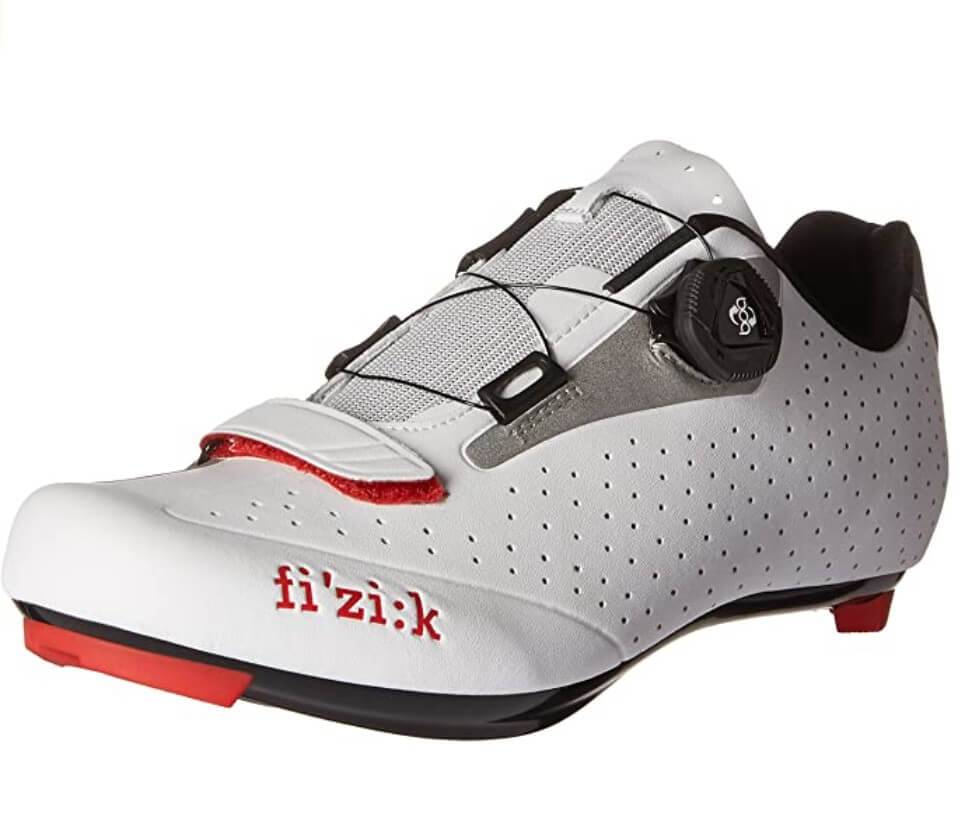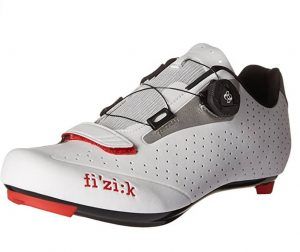 Classic and elegant design. Fizik uses microtex material to make the upper layer, creating a luxurious appearance without being too flashy. Monochrome color, the contrast between details, not fussy. Microtex material is also soft but does not lose form after a long time using, creating comfort for the user.
The carbon-reinforced nylon makes enough of the ruggedness needed for road cycling shoes. It is also compatible with the 3-holes cleat typical of the road bike lineup.
The closure system is Boa combines toe velcro strap. Both of these closures are light, so the total weight of Fizik R5 remains relatively light.
The best part of this product is its design based on human anatomy. The human foot structure is not symmetrical, so the manufacturer has designed the pads and the sole that hugs the user's feet. So the pad's surface is uneven. This is a very sophisticated and scientific design.
Customer comfort is the most important when creating Fizik R5. This asymmetric design is very complicated, and it helps to embrace the entire ankle – heel most optimally and smoothly. Whether you're cycling for long distances or you have a habit of applying your foot back down, it reduces the pressure exerted on the heels and calves. Fizik has satisfied customers with this careful and thoughtful design.
Note with this product that it is very suitable for people with narrow, thin, long feet. If your legs are short – thick, you may find it a bit more challenging to choose the right size. There are many air holes along the shoe sides, but unfortunately, there is no air vent under the sole part.
Pros:
Good material
Streamlined design
Gentle, comfortable
Cons:
There is no air vent under the sole.
Best in winter
Brand: Lake | Gender: Men| Closure systems: BOA L6 dial + Velcro strap| Upper Material: Clarino Microfiber upper with a Waterproof membrane liner and 200gram 3M Thinsulate lining| Sole: Fiberglass-injected Hi-Impact Nylon outsole| Cleat Compatibility: 3-hole road | Type: road cycling.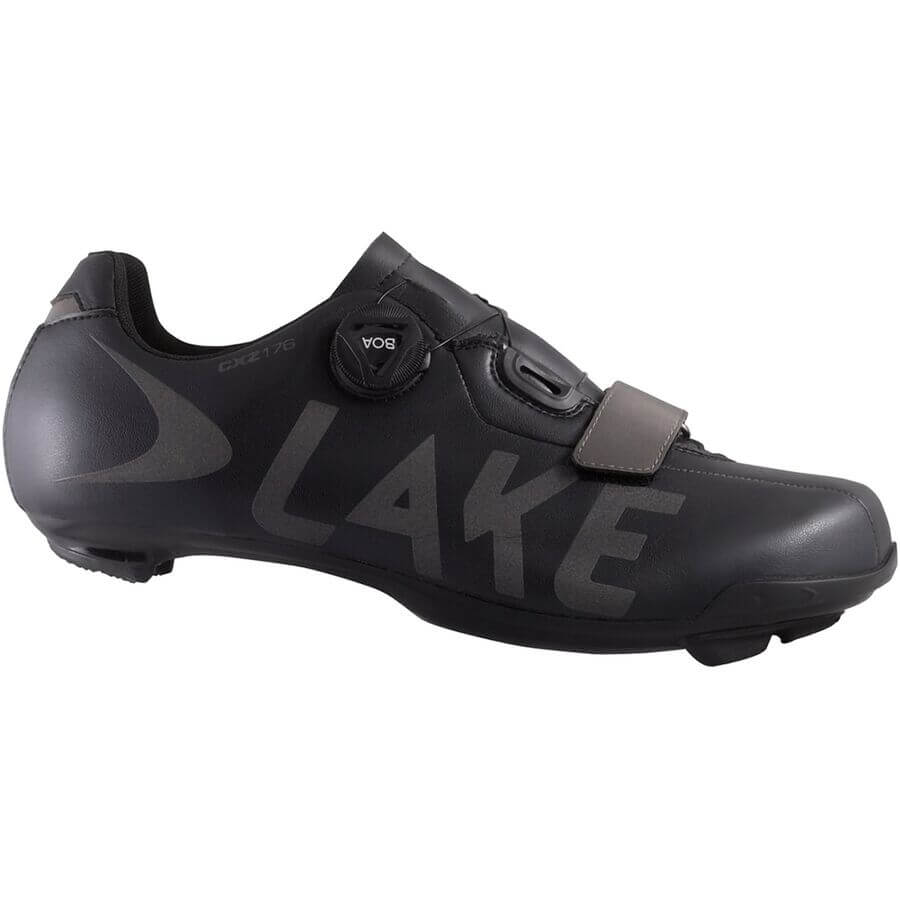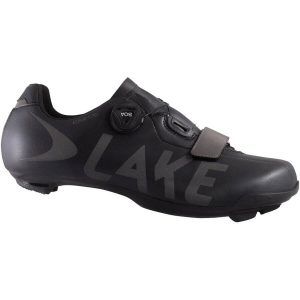 Here are road cycling shoes with conventional closure systems. Yet, the material of the upper material makes it different.
A fiber layer liner combined with clarino microfiber creates a waterproof membrane to the product's entire exterior. On the inside, the toes are further protected with a liner structured like a box. The box is rigid, but the points in direct contact with the toes are soft.
The ventilating function also does not appear in Lake CXZ176. All these factors make the product usable in winter. The lowest temperature of the product that is safe to use is -3 degrees Celsius.
Because of the waterproof layer, the form of the product is quite stiff. Sometimes customers are uncomfortable because the tongue of the product and the edges contact with the ankle and skin causes pain. But, since you must wear thick socks when using them, you should first measure your feet before buying.
The manufacturer recommends wearing thick, upright socks when measuring legs. A suitable shoe will probably not be as neat in size as other products, because besides the socks' thickness, there is also an inner toe protection box.
Under cold and wet weather, using it in winter is a desirable feature that deserves to experience.
Used in extreme conditions, but the manufacturer offers a two-year warranty to the customer.
Pros:
Waterproof, warm, front foot protection
Quality material
Cons:
The form is a bit stiff. Measure the feet carefully before buying.
People with long toes may experience pain from contact with the protective inner part of the product.
Best of design
Brand: Giro| Gender: Women| Closure systems: Lace | Upper Material: [body] Xnetic Knit, DWR treated, [heel/toe] TPU| Sole: Easton EC70 Carbon Fiber| Cleat Compatibility: 3-hole road | Type: road cycling.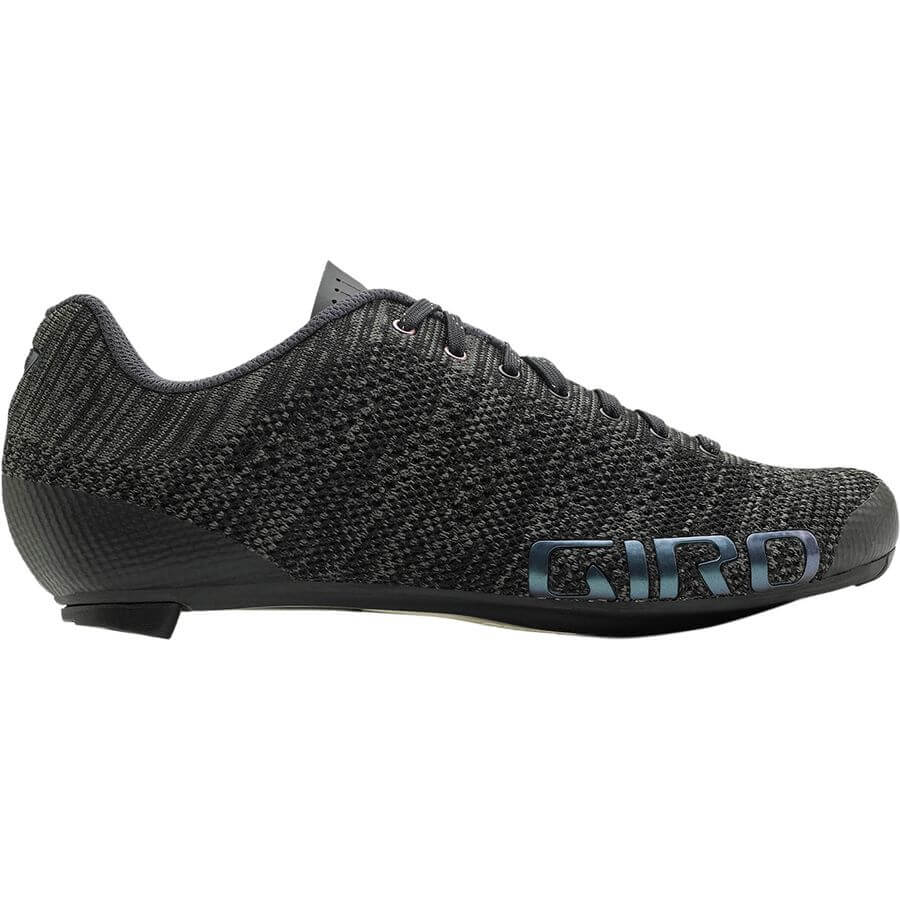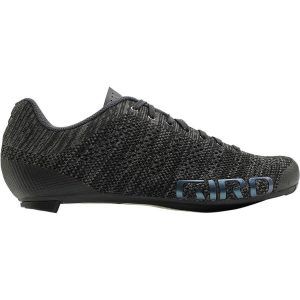 Fantastic and trendy are two words to describe this groundbreaking product. Knitting technology has opened up an impressive trend for sports shoe manufacturers. Initially were regular shoes and created a massive response from the users. Its applicability to specific sportswear is expanding.
GIRO Empire E70 Knit combines technology and aesthetics. It creates an outstanding product in the road cycling segment.
Xnetic Knit technology creates an extremely durable upper. This material is not inferior to other materials such as leather or synthetic fiber. Besides, knitting brings outstanding products that customers love at first sight. The unique characteristics of the knit yarn retained in the product are light and breathable.
Many people think that knitting will quickly lose shape, insufficient protection from external forces, and easy to absorb water. But Giro has overcome all these shortcomings. DWR (durable water repellency) treatment helps the product limit water penetration, easy to clean when there is a stain.
Fiber shoes should be able to dry quickly. The EC70 Carbon fiber creates a solid sole structure, which fits the foot snugly without causing slippage when the user pedals at high speed. Even used for cycling on rough and rough roads, sole still does its job well.
TPU skeletal system protects the toe tip and heel from external impact. Molded EVA footbed provides good support for the feet' soles and stabilizes the legs during operation. If you use the shoe for too long and the heel-pad does not have enough friction, you can replace this part.
Traditional shoelaces are an excellent choice because knitted yarns are usually elastic. Using this string will make you proactive in securing the foot section at any point.
Like fashion, attractive motifs are the most appealing factor of this product.
Pros:
Modern technology.
Sturdy structure
Pretty
High ventilation, suitable for use when it is hot
Cons:
Best cycling shoes for advanced riders
Best for men
Brand: Shimano| Gender: Men| Closure systems: 2 Boa IP1 dials | Upper Material: Teijin Avail microfiber synthetic leather | Sole: Dynalast carbon fiber | Cleat Compatibility: 3-hole road | Type: road cycling.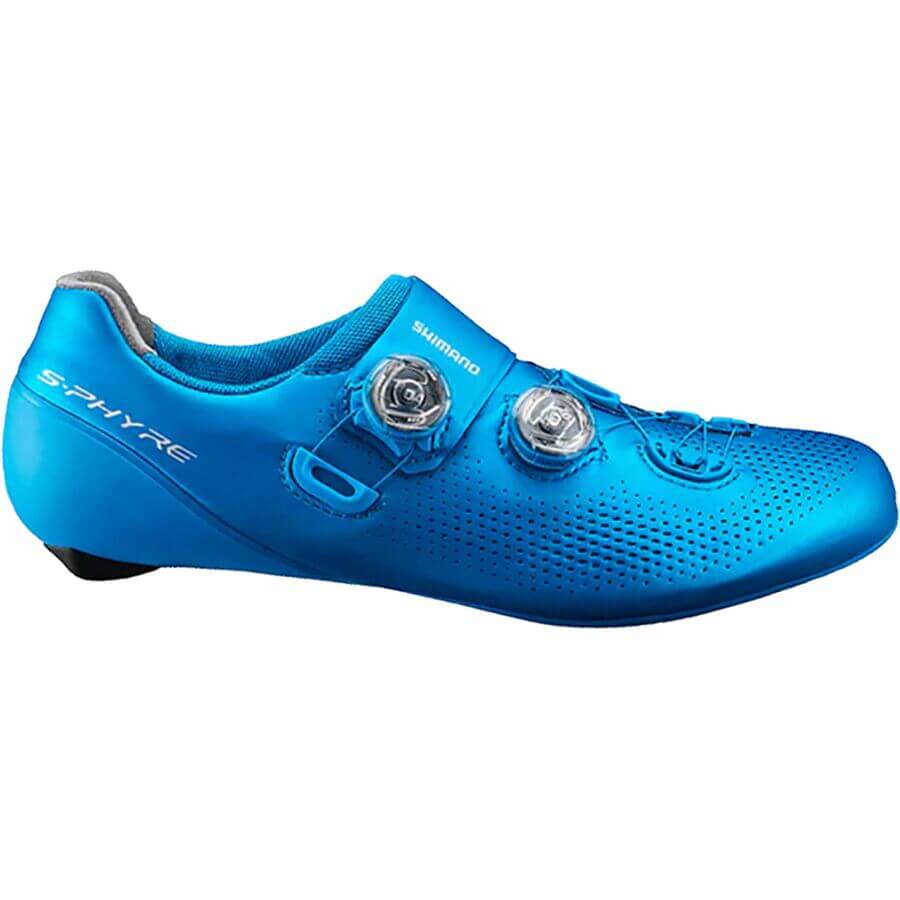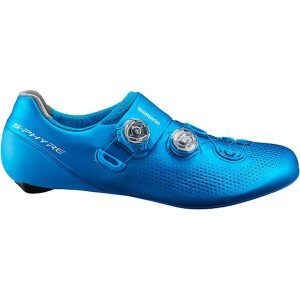 SH-RC9 is a professional road cycling shoe with outstanding features. It is super durable, light, high performance. Not only that but cycling up the mountain is not an obstacle for these shoes. It creates the greatest for your feet, keeping your feet comfortable even during long continuous journeys.
At first glance, Shimano's product was different from the closure system 2 Boa individually. One Boa is on the instep like regular shoes, and one Boa near the ankle position. This system helps the foot to fit into the shoe every millimeter.
The shoe's ventilation system is successive air vents along the upper. Besides the foot temperature release function, these holes also have a drainage function if it is raining or in wet terrain. 3D mesh on the shoe body helps the product dry quickly and continuously convince air.
The shoe's upper material is Teijin Avail microfiber synthetic leather. It creates a glossy appearance but soft, keeping the perfect form even if you are active and robust for a long time. The most prominent of the product, what sets the SH-RC9 apart from other professional product lines, is the 12/12 hardness of the sole.
Dynalast carbon fiber creates a uniform, light, thin, super hard, and super durable shoe sole. It provides excellent power transmission from the muscles of the rider's legs to the bicycle crankset. You won't waste a single unit of force in motion. SH-RC9 is a product that professional racers are very fond of.
The texture of the heel is also remarkable. It starts at the sole of the shoe, runs upwards, and snug on the heel. The inside has a fabric lining, which prevents the heel from lifting during the rolling pedal. The foot's posture is always in the perfect state for cycling, avoiding injury for the rider.
The product price is relatively high, but this is a product for professional people with excellent exercise intensity. So please consider your needs carefully before choosing this premium product from Shimano.
One year warranty from the manufacturer for this product
Pros:
High-quality materials
High performance
Super light, super durable, super breathable
Dry fast
Optimal design and safety for the rider
Cons:
The price is relatively high
Best for women
Brand: Lake| Gender: Women| Closure systems: IP1 BOA Push/Pull (Dual Side) | Upper Material: Klite Kangaroo leather | Sole: Lake Race (100% Carbon Fiber | Cleat Compatibility: 3-hole road | Type: road cycling.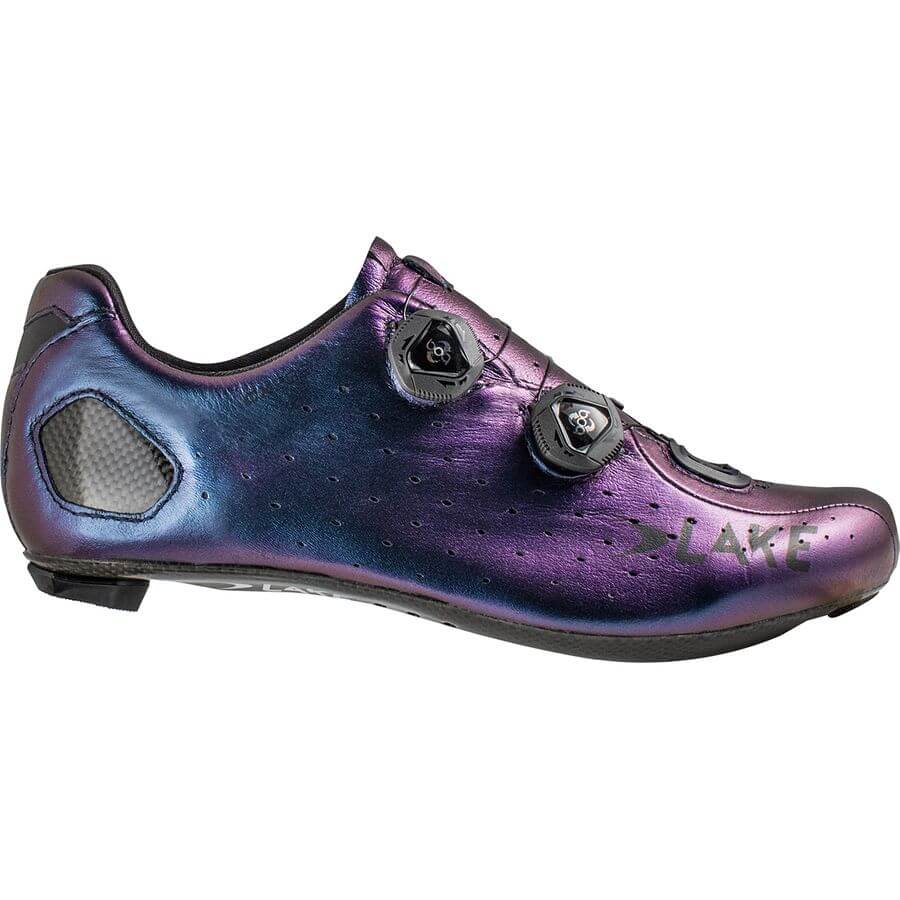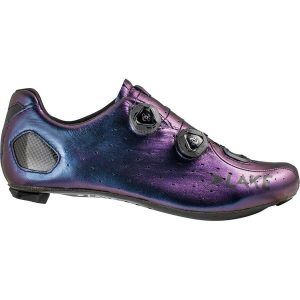 If you need outstanding performance and the absolute reassurance of a competitive race, the Lake CX332 has both.
The shoe is a formidable piece of equipment for competitors. It offers exceptional performance for road cycling. All the most exacting cycling skills will be supported by this shoe. Dual 80k Force Carbon forms the sole with the perfect weight-stiffness correlation. The feeling on the feet is genuine and smooth. But its hardness is formidable. This base is ideal for showcasing advanced skills requiring great precision.
Another part added to this product is the footbed. It protects the feet' soles by supporting the feet, toes, soles, balls, and heels. Semi-flexible fiberglass helps your feet comfortable, not get hurt if exercising heavily. It also helps to cut leg muscle contraction and makes the legs airy and dry.
CX332 is an expensive shoe. Part of the reason is that Klite Kangaroo leather is the material that makes up the upper of the shoe. With a soft appearance, there are many attractive color options for customers to choose from. Besides the primary colors, you can select the ombre version to stand out gracefully even in the fierce race track.
Manufacturer warranty up to 2 years for this product.
Pros:
High-quality materials
High performance
Suitable for sprint racing
Outstanding color
Cons:
Best power transfer
Brand: Fi'zi:k | Gender: unisex | Closure systems: Infinito closure system with double Boa IP1-B dials | Upper Material: laser-perforated 1.2mm microtex | Sole: unidirectional carbon with vents | Cleat Compatibility: 3-hole road | Type: road cycling.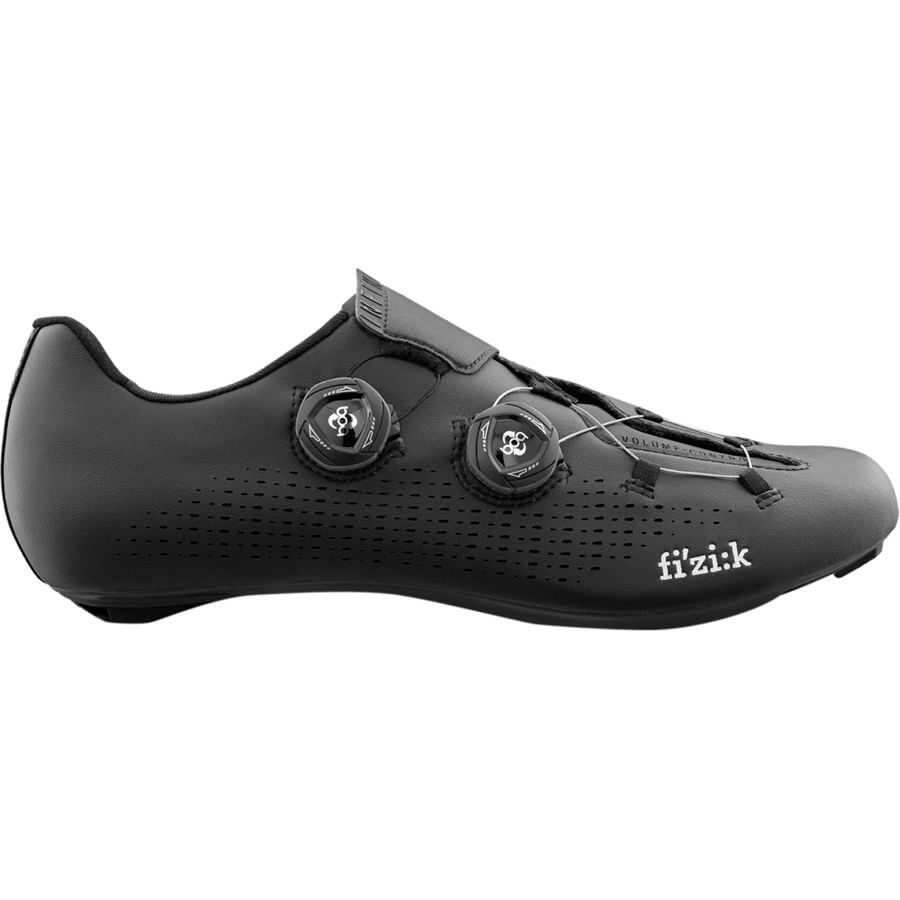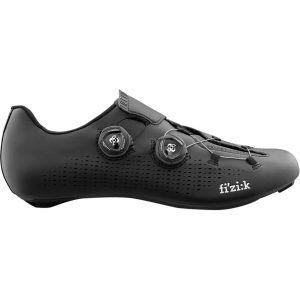 Unidirectional carbon with vents creates a sole with the perfect transfer of force from your foot to the pedal. Not a single watt of energy is wasted. You can ensure that the generous support and protection of the R1 Infinito Cycling Shoe will support all your road cycling.
Many customers commented this is one of the shoes that brings a feeling of fit in the most natural way. The arch technology embraces the instep, combined with the closure system Boa that deflects to one side, fully protects your feet. The manufacturer specifically named the Increased Volume Control for this crucial system.
Like other professional cycling shoes, you can control the closure system with one hand easily, even when you are in speed motion. The comfort of wearing these shoes can compare to wearing soft, woolen socks.
Yet, the shoe's sole still ensures adequate ventilation and absorbs sweat, helping you always feel dry. You cannot replace the heel or insole after extended use because it does not have the same accessories (e.g., SIDI). Thus, this shoe cannot be renovated, and you can only buy another shoe after many years of using this product.
These shoes are especially suitable for riders with the feature of long, narrow, thin feet.
Microtex material continues to be Fi'zi: k chosen as the upper. This material is an improved Microtex with a thickness of 1.2mm, making them super light weight for the product.
The look of R1 Infinito is like the other products of the manufacturer: minimalistic, monochrome but modern, youthful.
The price of the product is extremely affordable for the professional shoe segment. There are sizes for both men and women, and the manufacturer also gives the user two years warranty on this product.
Pros:
Perfect power transmission
Super light
Good price
Fresh air
Cons:
There are no optional replacement stools such as shoelaces or heels.
Best customer personalization
Brand: Specialized | Gender: unisex | Closure systems: Boa S3-Snap Fit | Upper Material: Dyneema mesh, four-way stretch, TPU, [heel] PadLocks | Sole: Powerline (carbon) | Cleat Compatibility: 3-bolt | Type: road cycling.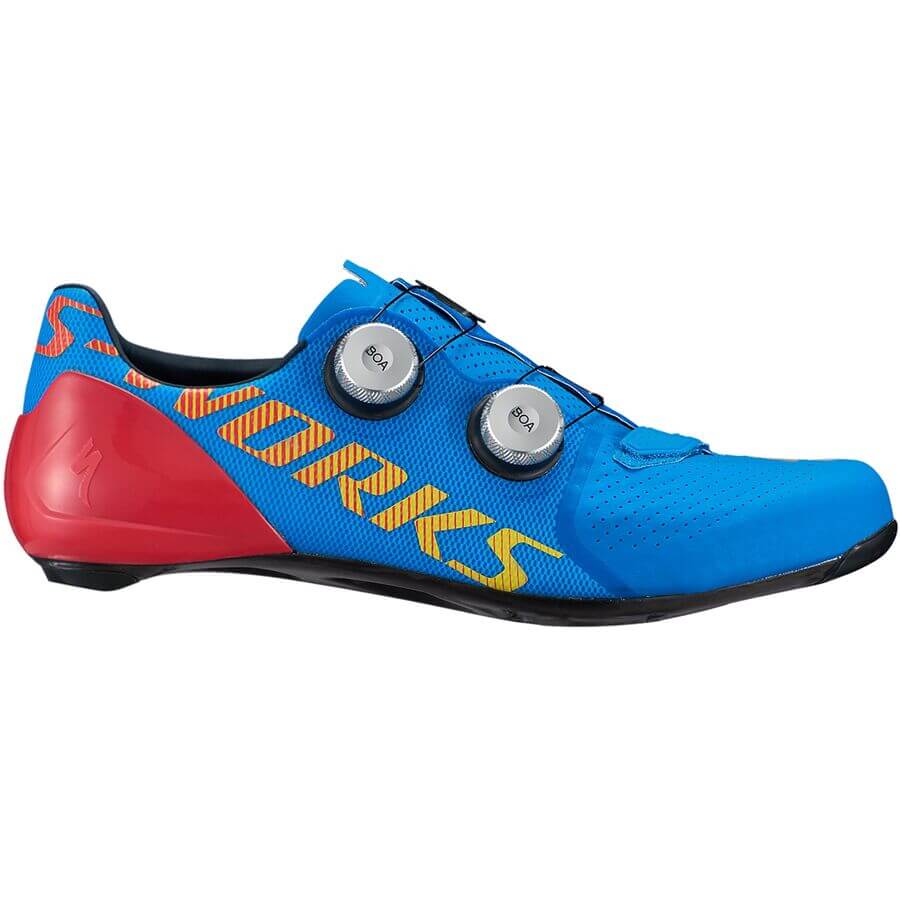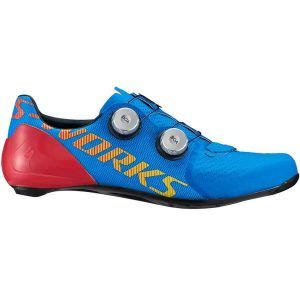 S-Works 7 Cycling Shoe is a professional cycling shoe, most suitable for men.
Super hard base from Powerline (carbon) with hardness 15 is the brightest spot of this product. Do not waste any of your energy in sprinting.
Compared to previous versions, S-Works 7 has a more comprehensive and square toe rather than slim. The reason is that the inner toe guard is larger than the old version. The Padlock also comes back, which helps keep the heel fixed without lifting during motion, optimizing pedal movement. The sole and the heel texture creates an extremely excellent overall, allowing the foot to always be in the most accurate, comfortable, and technically correct position, minimizing injury during high-intensity activity—a truly professional shoe product.
Initially, the shoe's cost was relatively high, but the manufacturer proposed to add the option to buy the sole of the shoe sole, with the price of each pair of shoe insoles coming with the product quite expensive. There are two choices for the consumer: plain (which is already quite good) insoles and custom insoles tailored to the client's foot structure.
With the second type of shoe lining, customers need to have a foot cast. The foot's spec will be measured in detail by modern specialized equipment, displayed on the next screen. This measurement takes 30 minutes and will produce a personalized insole for each client's foot structure. The price is high, but indeed, the product's incredible fit is still a great advantage, attracting many professional riders to upgrade their shoes.
The upper shoe material is Dyneema mesh, a four-way stretch. It is lightweight, breathable, completely inelastic. There are many colors for customers to choose from to shape their style. The locking system combines BOA and traditional locking, helping customers be comfortable with locking in many forms. The BOA lock is mainly made of solid alloy, designed not to trap soil or dirt, so the safety is very durable after a long time of use.
Pros
Good material
Sophisticated design, individualizing each individual
A super hard shoe sole
Multiple color choices
Cons
The price is a bit expensive.
The shoe is a bit heavy.
Best power transmission
Brand: Giro | Gender: Men | Closure systems: Lace | Upper Material: One-piece Evofiber SL | Sole: Easton EC90 SLX2 high-modulus carbon, titanium hardware | Cleat Compatibility: 3-hole road | Type: road cycling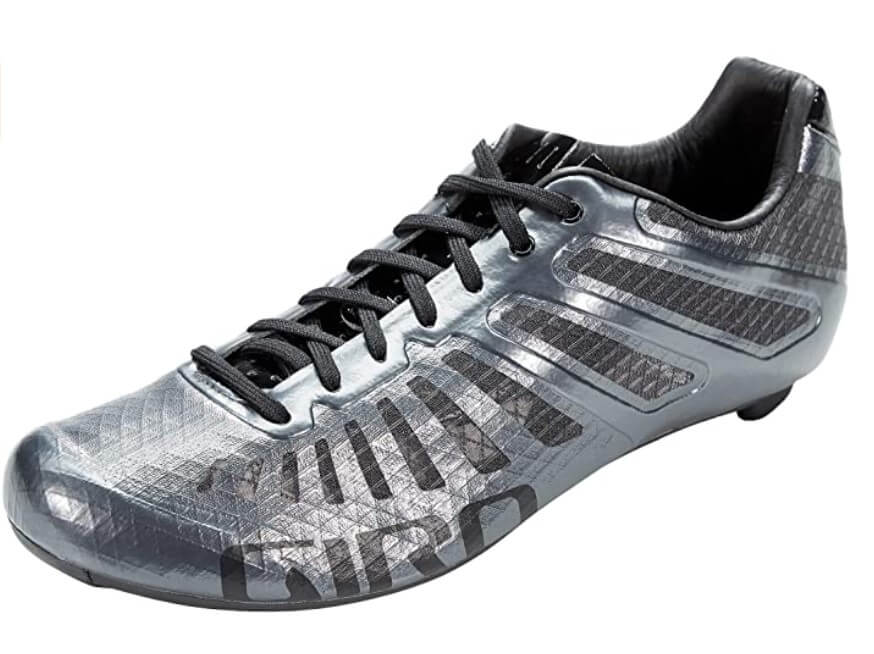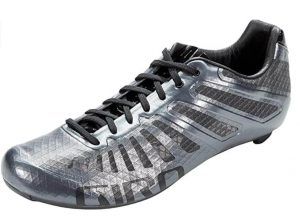 Lacing sneakers are the most common and traditional. It is a special thing for professional cyclist shoes to have traditional laces attached to the product. When traveling at high speeds or cycling long distances, these laces do not allow the user to tighten or loosen. It also can not move while adjusting the laces quickly.
Yet, this type of rope is highly appreciated by consumers. It is because of the custom fit to fit the foot. Personalize with the handles.
Besides, a professional racer was very pleased with the reliability of the sole. The sole material for the shoe sole is the EC90 SLX2 high-modulus carbon, an excellent power transmission material. Durable on the only, the user can replace the heel pad after extended use.
Shoe lining gives mixed opinions of people who have bought products. Some say the pad looks like a cheap sponge. Despite its appearance, but in fact, it is a high-tech material "sponge." Moreover, XT2 is an antibacterial agent, helping the shoes to limit unwanted odors.
The robustness of this product is hidden in every detail, creating a lasting value. The appearance of the product is quite flashy, with many contrasting colors. Yet, there are neutral colors for customers to choose from. It is no coincidence that customers, especially professional racers, believe in using this product. The main reason is the premium materials to produce every detail of this Giro Empire SLX Men's Road Cycling shoe.
Pros
Super light
Reduce odors
High-quality materials
Cons
Brand: SIDI | Gender: Men | Closure systems: Lace | Upper Material: Microfiber Techpro | Sole: Vent Carbon | Cleat Compatibility: Soft Instep Closure Strap, Tecno-3 Push Dials | Type: road cycling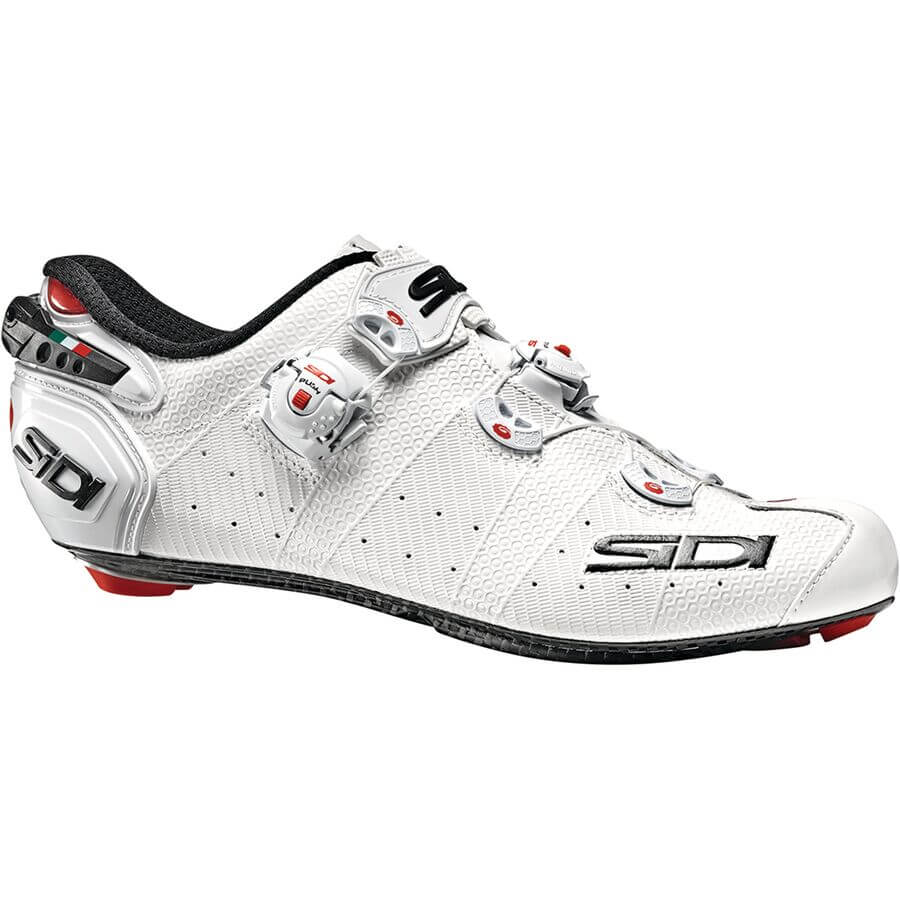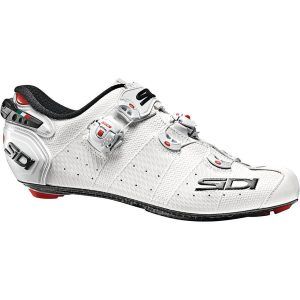 Wire 2 Carbon Cycling Shoe is a product of the longstanding SIDI shoe company. For the professional product line, there's nothing too special about the material of this product.
But, the highlight of the Wire 2 Carbon Cycling Shoe is a small detail. That is the small Allen buckle behind the heel. This lock helps to fix the heel and ankles. Although firmly secured to prevent the possibility of the heel being lifted when the pedal is depressed at high speed, the ankle section is still firmly attached.
Besides, the product has a breathable structure. The ventilation system works well, making the foot "breathe" all the time.
Pros
Nice appearance, modern
The heel pad is smooth.
Cons
The price is a bit expensive.
Best for top-notch racers
Brand: Sidi | Gender: unisex | Closure systems: 2 Tecno-3 Push buckles | Upper Material: Microfibra Techpro | Sole: Vent Carbon | Cleat Compatibility: 3-bolt | Type: road cycling.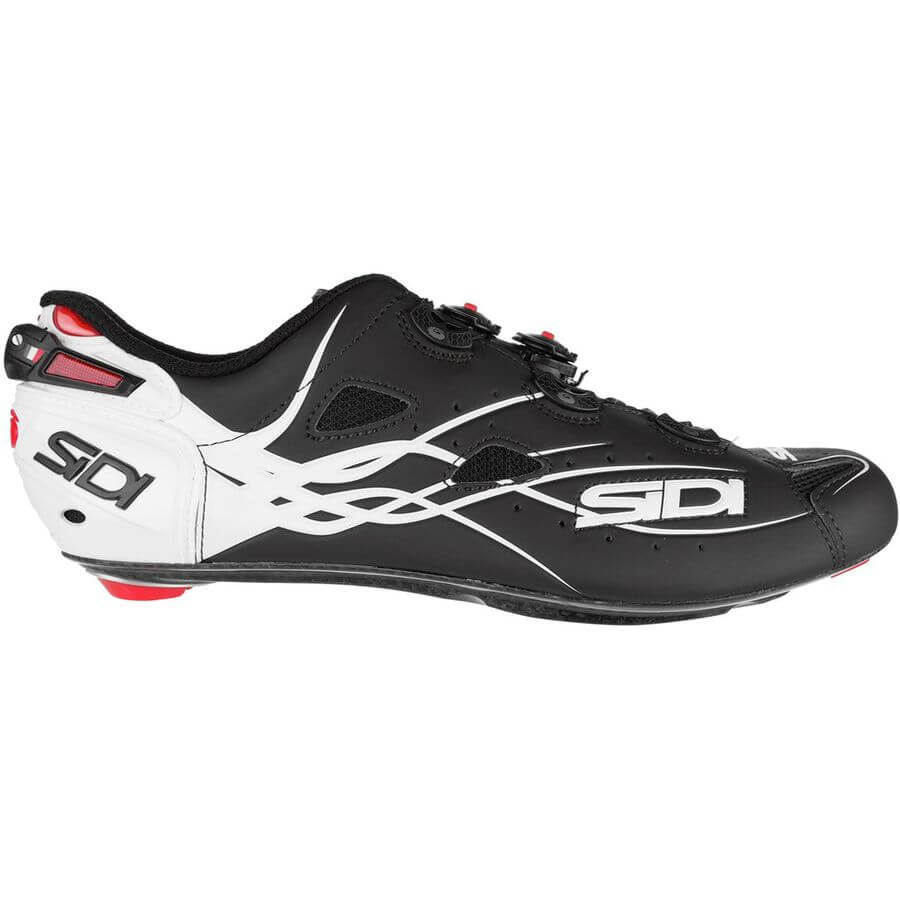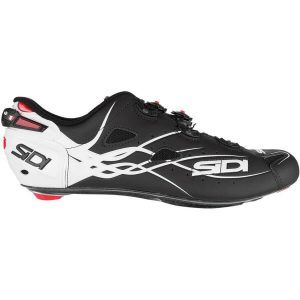 Vent Carbon Sole is the exclusive technology of Sidi company. This sole has a combination of openings below, circulating air, cooling the feet, and not cause feet to sweat.
This base is an advanced technology and is very proud of Sidi. This appreciation has been shown because the manufacturer has used the name of the material as the name of this line of professional cycling shoes.
Unlike other Sidi products for cyclists, this shoe has a symmetrical texture. The shoe surface does not curl around the foot, but it embraces it like a cocoon. This cocoon is smooth, hugging the legs, minimizing the ridges to maximize speed while cycling. The design principle is to reduce friction between the shoe and the air during high-speed racing.
The Sidi BOA lock system is also a significant mark in addition to the two outstanding features above. They are designed specifically for the shoe company, not outsourced to a third party.
Sidi does her best to be able to create every detail of the product herself. Each millimeter on the product has its own unmistakable manufacturer's mark.
The cleat bolts are as detailed as possible. The sole is imprinted with the split bolt to help cyclists correctly attach the shoe and pedal. For professional cycling, every detail like that has a massive impact on the game's top quality. Many champions have used this Vent Carbon Cycling Shoe product.
Pros
It fits most of the ultimate racing needs.
Every detail is very meticulous.
Quality versus price is a reasonable one.
Cons
Best value for money cycling shoes
Best of design
Brand: Bontrager | Gender: unisex | Closure systems: 2 Tecno-3 Push buckles | Upper Material: 58% Polyester / 30% Thermoplastic Polyurethane / 8% Nylon / 4% Polyurethane | Sole: Carbon OCLV Proprietary | Cleat Compatibility: SPD SL 3-bolt | Type: road cycling.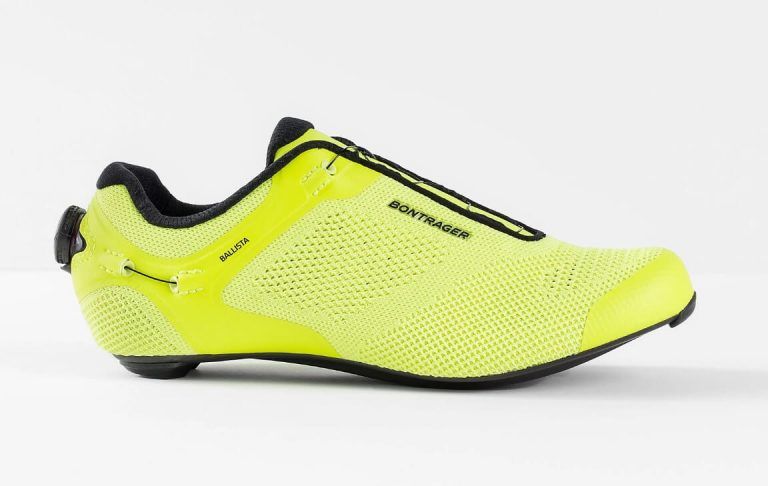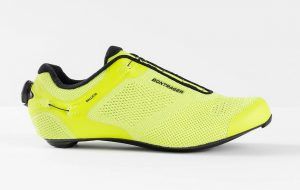 Using knitted material, the BOA buckle behind the heel, this is genuinely a top design. Moreover, this design can be used for cycling from novice to professional. Bontrager has created an excellent product and undeniable feature.
Upper knitted shoe, so it is exceptionally light and breathable. DWR waterproof technology adds to the shoes the ability to resist water and dirt effectively. The shoes are comfortable to wash again, and the shoes dry quickly. But, it should only use in the hot season. This product should not use in the rainy season and cold season with snow.
Youthful design, new, with many colors to choose from. Shoe sizes range from 36 (UK) to 40, suitable for a wide range of customers.
Pros
Trendy, youthful design.
Advanced technology
Light and quick to dry
Cons
The shoe doesn't fit the foot too well. The foot is not 100% fixed to the sole.
Best of size ranger
Brand: Specialized | Gender: Unisex | Closure systems: Dual Boa S2-SV Snap Dials | Upper Material: Synthetic, Mesh, TPU | Sole: FACT Carbon | Cleat Compatibility: 3-bolt | Type: road cycling.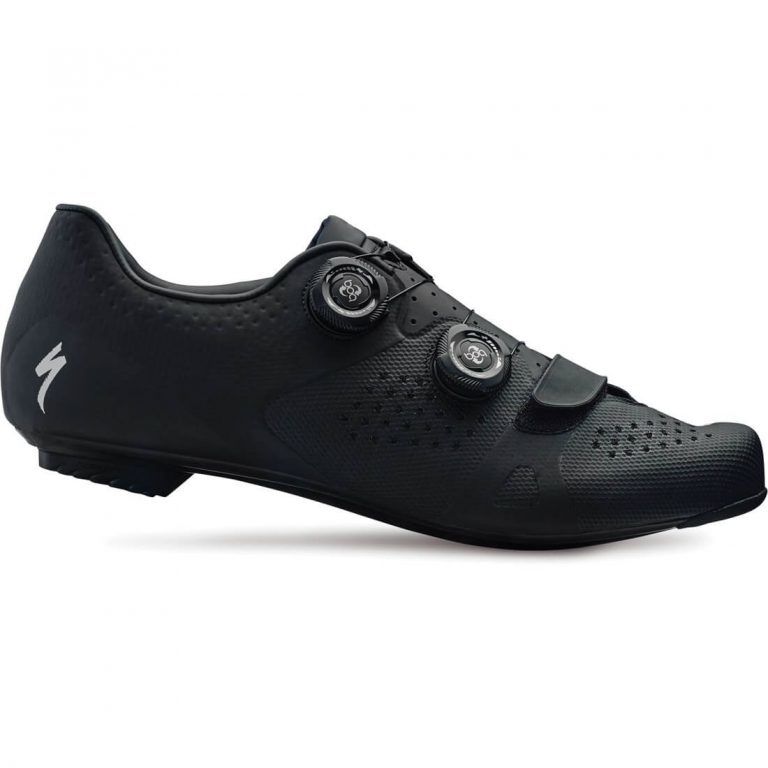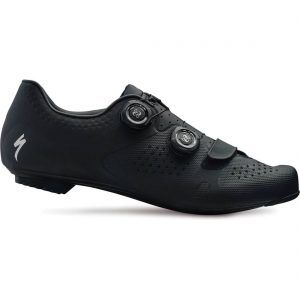 SPECIALIZED TORCH 3.0 ROAD SHOES is almost everyone's shoe. The size of the product ranges from size 35 to 49 (European Size). Almost anyone can find a shoe that fits them. This is probably the optimal choice for cyclists who come to mind first when talking about regular-segment bike shoes with their affordable price tag.
The lightweight mesh harmoniously designed on the upper shoe, the sole structure is flatter compared to many other cycling shoes. The heel of the shoe has a vertical direction. On the surface, it does not seem to fit the cyclist's heel.
With this design, it is indeed a bit of a worry because the foot's phenomenon will be lifted when cycling at high speed. Foot lifting off the shoe lining is one of the leading causes of slow speed, lack of force, and injury to the ankle – knee for athletes.
In return, the Snap Dual Boa S2-SV system incorporates a padlock that securely fixes the foot to the shoe.
This is a shoe that has most of the essential functions of a road bike shoe. It has a minimalistic design, lightweight and practical. Compared with the price, the popularity of the product is an attractive factor for consumers.
Pros
Cons
The foot slips easily out of the insoles.
Brand: Pearl Izumi | Gender: Men | Closure systems: 2 IP1 Boas | Upper Material: knitted synthetic, PI Dry treated | Sole: 1:1 PRO Air Carbon | Cleat Compatibility: 3-bolt | Type: road cycling.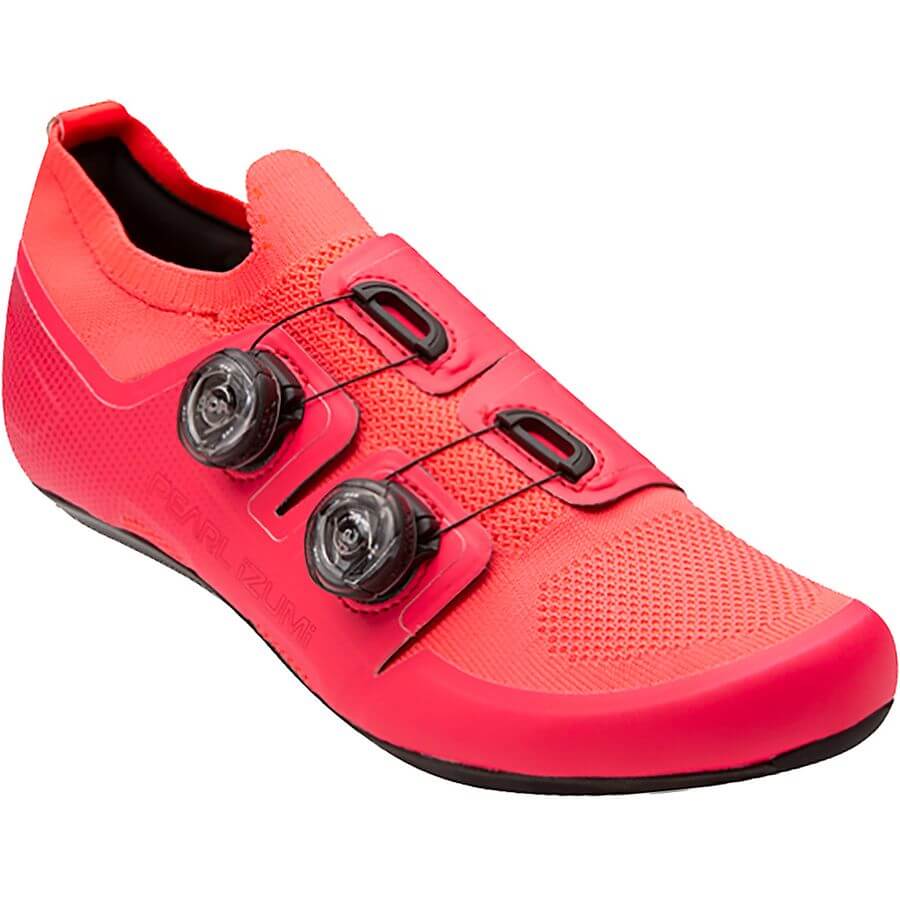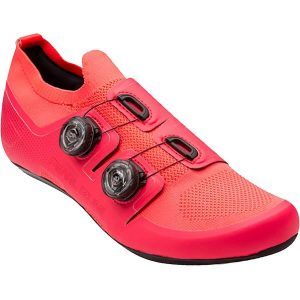 PRO Air Carbon is the base material for the new shoe line of Pearl Izumi. It is also used as the name for this product line. The sole is very stiff but lightweight, demonstrating the manufacturer's advanced technology.
The upper shoe knit, so overall, this shoe feels very comfortable for the user. The race to use knitted materials in footwear production, including specialized shoes such as cycling shoes, is exploding rapidly. Beautiful designs, together with advanced knitting techniques, have created high-quality products while ensuring aesthetics. Compared to previous products of Pearl Izumi, this product is up to 22% lighter.
It is difficult to find negative reviews from previous buyers. The shoe is slightly stretchy, and it makes the foot more comfortable after long movements. Because the foot is somewhat swollen and enlarged, the shoe's somewhat elastic properties will be useful. It fits exactly with the foot's nature at that time.
The price of the product is close to that for professional shoes. Yet, with good knitted material, and a lifetime warranty from the manufacturer, it will be difficult for customers to wonder whether to buy the product or not. After a period of use, most customers are satisfied with the money they spend on this shoe.
Pros
Light sole, light upper
Modern knitting technology
Lifetime warranty from the manufacturer
Brand: SIDI | Gender: Men and Women | Closure systems: Tecno 3 Boa System | Upper Material: Microfiber Microtech | Sole: Carbon Composite 20 | Cleat Compatibility: 3-hole road | Type: road cycling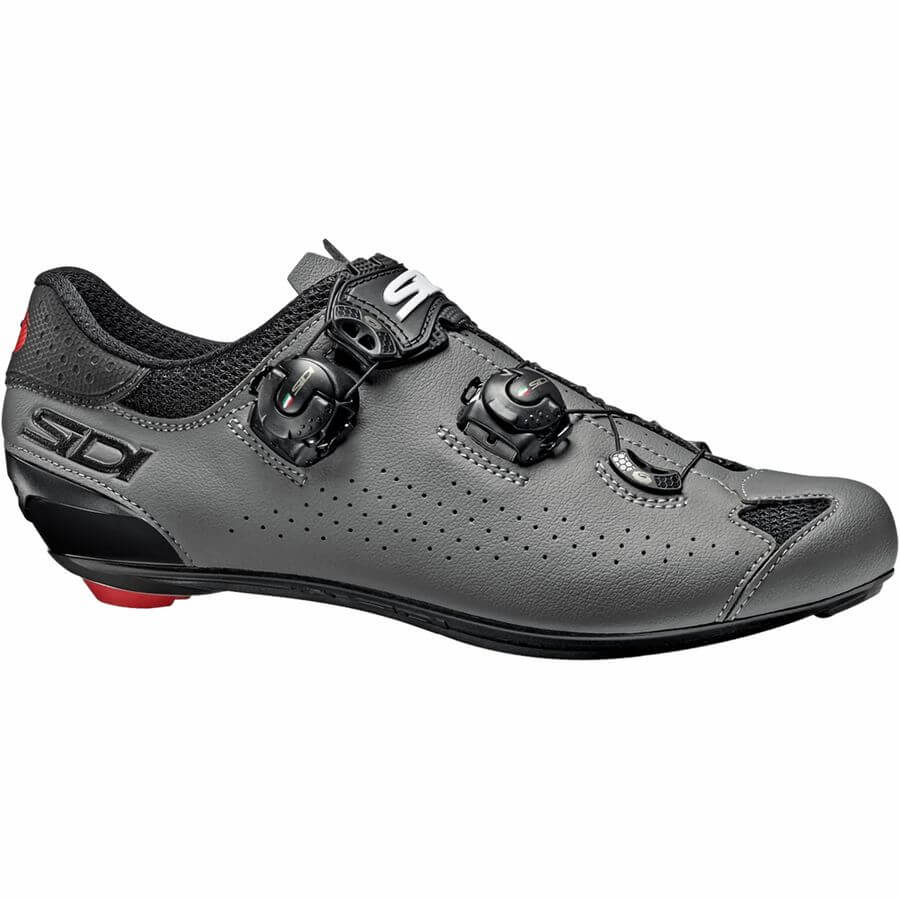 Unlike other SIDI products, Sidi Genius 10 cycling shoes have a relatively high average weight. Its bicycle shoe manufacturing philosophy consists of two factors: feather-light and super-stiff sole. But with this popular training shoe, this has changed slightly.
Yet, this weight does not affect the daily exercise at all. For the sole, Sidi significantly improves the geometry of the sole. The edges are beveled diagonally, allowing cyclists to perform more special skills or feel new.
SIDI's human foot embrace always stands out. With this product, too. Product appearance is ordinary, elegant, and discreet, less prominent. But the form of the shoe is stunning, minimalistic, sturdy.
Compared to its price tag, it's a product worth using for a regular workout or long weekend bike rides.
Pros:
New shoe sole structure
Good price
Cons:
Brand: FI'ZI:K | Gender: Men and Women | Closure systems: dual Boa IP1-B dials
| Upper Material: laser-perforated Microtex | Sole: undirectional carbon | Cleat Compatibility: 3-hole road | Type: road cycling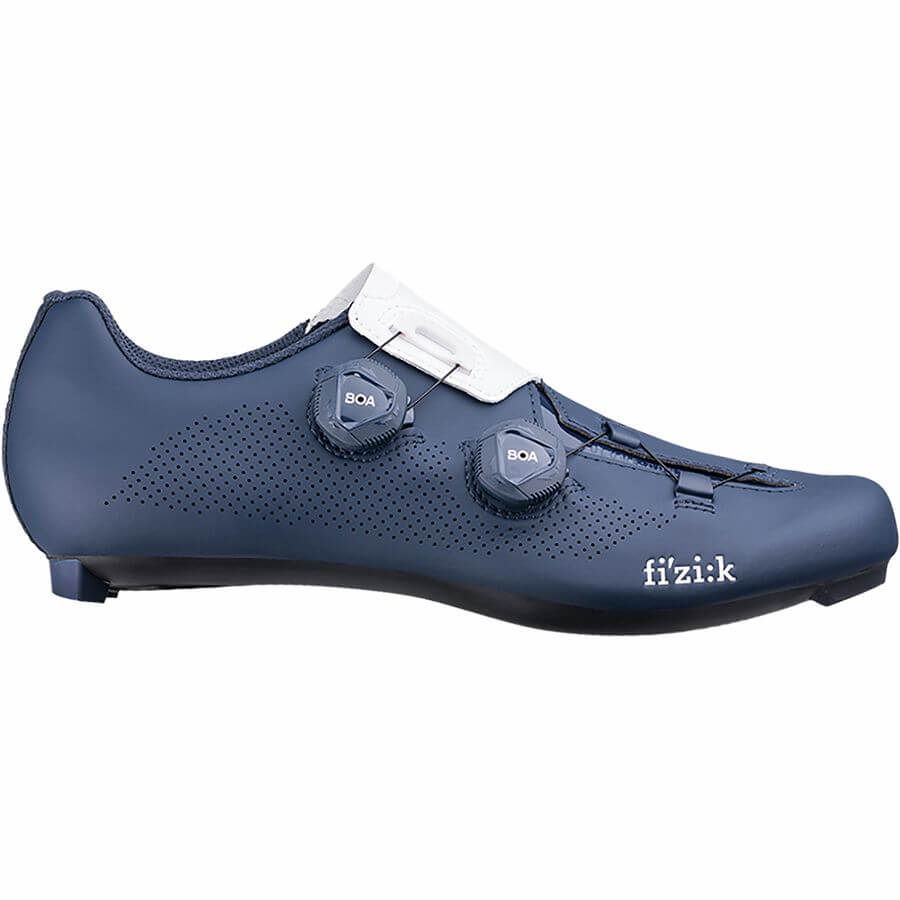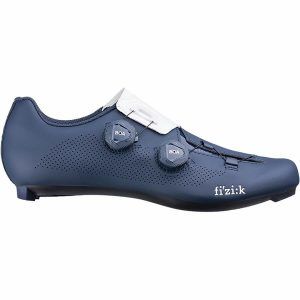 Surprisingly sleek with a perfectly rounded toe design. At first glance, the Aria R3 Cycling Shoe is likely to steal your heart.
Like the quality of other Fi'zik shoes, this product also has a very stiff sole and sound power transmission. In general, this is a semi-professional shoe. Use indoor and outdoor exercise if the weather is relatively pleasant.
The price is relatively high compared to mid-range products. But consumers may consider buying it with its beautiful appearance.
These shoes are fitted with a BOA buckle. Yet, the lock structure is smooth and rounded above the top. If you use a glove, it is quite inconvenient to adjust or rotate it, unlike other BOA brands with grooves or bezels designed to increase friction with the fingers. This design makes it easy for users to change, the Aria R3's crown cambered downwards. This makes cleaning and rotating the knob a little more complicated.
They are made from durable materials like undirectional carbon for shoe soles, laser-perforated Microtex for upper and footbed from cushioned, mesh-lined footbed. So, the manufacturer has given consumers up to 2 years warranty with this shoe.
Pros
Nice appearance
Good insole quality
Cons
The BOA lock is a bit smooth, difficult to adjust while cycling.
Brand: Giro | Gender: Men | Closure systems: Boa IP1, hook-and-loop straps with laces | Upper Material: Teijin Evofiber SL | Sole: Easton EC90 SLX2 (high-modulus carbon fiber | Cleat Compatibility: 3-hole road | Type: road cycling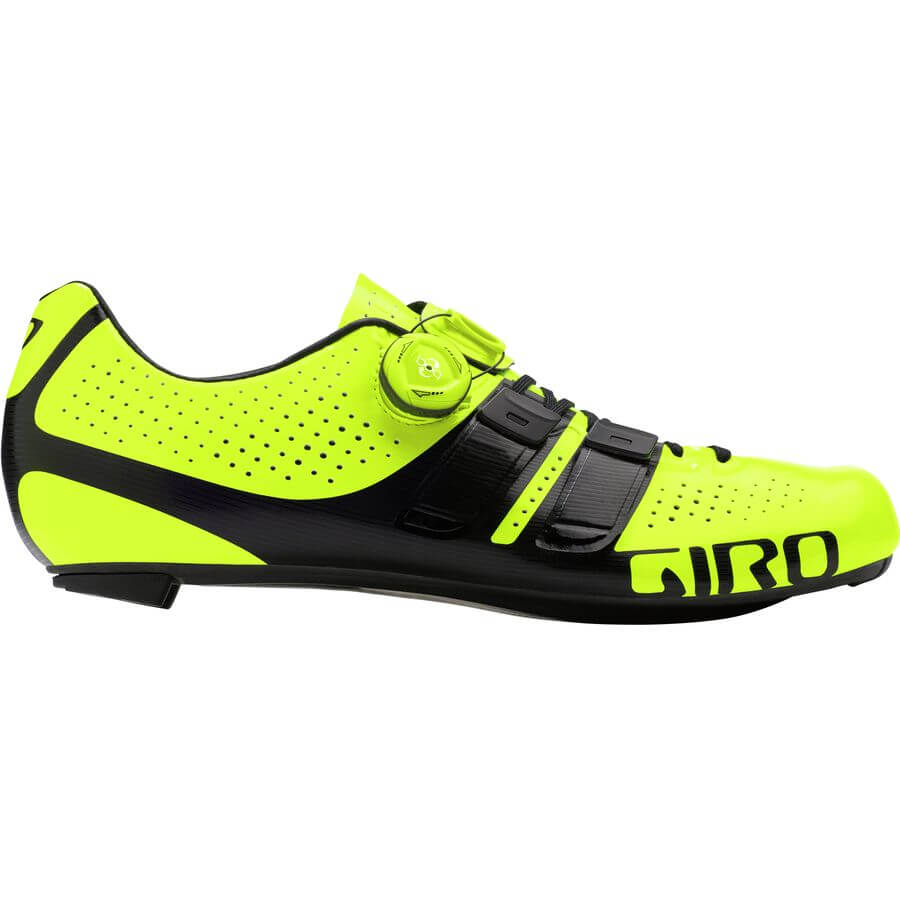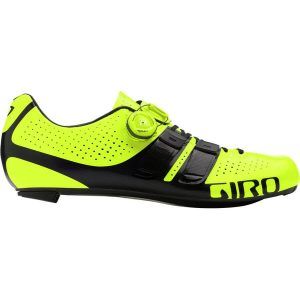 The two most impressive things about the Factor Techlace Cycling Shoe for men are their affordable price and exceptional system closures. There are three types of locks in one system: Boa IP1, hook-and-loop straps with laces. With the smart layout, you will not be confused or mistaken when using this shoe.
The shoe's ventilation is very high, so this is the right choice on hot days.
It can be said that this is a shoe that tests the specialties. Giro's SuperNatural Fit Kit is a footbed that supports the user to customize the arch of the foot in 3 levels to best fit and fit best with the structure of the shoe.
If you want to experiment with design novelties and usage habits, consider this Giro product.
Pros
Novelty, close-fitting design
The air is excellent.
Cheap
Cons
Should not be used for daily exercise
What To Look For When Buying The Best Bike Shoes?
Fit
Whether you use cycling shoes for informal training or professional competition, the first factor when choosing a shoe is fit.
The most common injury seen in this sport is caused by the heel being lifted during rapid motion, causing a large jolt to the ankle and knee. Therefore, a shoe covering, embracing, and keeping the foot is essential. The toes are stretched, the heels snug against the lifting, the instep is firmly fixed by the locking system. These are the three factors that determine whether your shoes fit or not.
Besides, during exercise, the feet will swell and increase in size. Depending on the outer layer's texture and the upper lining, choose shoes with an elastic or slightly stretchy upper (for example, knitted material).
Most of the upper materials are synthetic leather and have extremely soft elasticity, just enough for the foot's swelling if operated for a long time.
If you have a slightly peculiar (short, thick) foot, the SIDI Genius 7 is perfect. If your foot is mainly in the opposite direction, i.e., thin, flat, long, consider the Fizik R5 Road.
Fastening
There are four types of closure systems that might be on your shoes:
BOA Dials
Ratchet Buckles
Velcro Straps
Laces
Depending on the shoe's design, the manufacturer will use a single fasten or a combination of 2 to 3 types. Here are the characteristics of each kind of fastening:
This type is often used very widely in racing shoes, racing shoes recently. Its most significant advantage is that you can customize the laces during cycling. Just a gentle rotation can adjust the width/tightness of the shoe as desired.
This lock is very light. Yet, if your shoes are equipped with this type of buckle, there is a high chance that the shoe's cost will be mid or high.
BOA Dials can combine with Ratchet Buckles and Velcro Straps on one product.
It was trendy in the past, but it's now rarely seen anymore. It is more common if this type of closure combines with Velcro Straps or Laces. It's sporadic if you have a pair of shoes that only equip the Ratchet Buckles for the closure system. This type is fragile on the plastic buckle. Besides, it often gets stuck or slipped out during vigorous activity. Thus, this is why it has gradually reduced its appearance in daily training shoes and athletic competition shoes.
Classic and lightweight are two factors that help this fasten last through time. You can adjust it extremely easily during the move. It is very durable as well as a plus. The combination of Velcro Straps and BOA Dials is the most common type Materials
The fasten is always used alone. Usually occurs in knitted shoe products. Some strange products can use laces to secure shoes. With this Closure System, you cannot customize it easily during cycling. Yet, the foot will be correctly fixed to the shoe. You can customize the width/tightness of each part of the foot, such as the toe, instep to create the most comfort during use.
Ventilation
Depending on whether the weather is hot or cold, some shoe companies offer unique winter and summer designs. For example, the Lake company released the super product Lake CXZ176 for winter with a keep-warm structure and perfect waterproof materials. Or GIRO Empire E70 Knit represents the wool shoe line suitable for use in the summer because of its coolness.
Yet, the above two products are few. Most products will use the air vents that run along the sides of the shoe for ventilation. Besides, SIDI products often have a cooling system design under the sole. This is a functional and modern technology improvement. The soles of the feet are easily wet, keeping sweat the most. Ventilation of this part while keeping the sole safe and stiff is an excellent design.
Pedals and Cleats Compatibility
Usually, racing cars have 2 or 3 bolt cleat pedal designs. However, shoes equipped with 3 – bolt can still be used to pedal two bolts. The opposite is not valid. Most current road cycling shoes feature three-bolt cleat compatibility. You do not need to pay too much attention to this. However, you need to see if the shoe you plan to buy a hole compatible with your bike's pedal type. The manufacturer clearly states this in the instructions for use. Often, misbelieving due to not reading the instructions carefully, the mistake of buying shoes that are not compatible with the pedal will not be returned or guaranteed from the manufacturer.
Pricing
Certainly, shoes for the professional competition will be expensive, and daily practice shoes will have a softer price.
Mainly due to the material to make the sole and the upper, the new price is expensive. The sole war is like a war of carbon fabrication. The harder the sole is, the higher the force transmission from a level 12 to 15 on the hardness scale. Not to mention the design to fit each customer's foot structure, making the professional shoe more expensive. SPECIALIZEDS-Works 7 for a range of expensive but extremely high-quality products can be seen. Yet, you can use more affordable shoes of good quality, such as Bontrager Ballista Knit or Pearl Izumi Pro.
Conclusion
Cycling training requires a particular pair of shoes to use. You cannot use running shoes or walking shoes to cycle because road cycle pedals need shoes with super-stiff soles and a hole system to match the pedal cleat.
First, consider within your budget. Chances are, you can still find a top-of-the-line competitive shoe for a reasonable budget. Also, you can buy casual training shoes that are super expensive because they're high-end.
Then see what features your foot has: is it thick or thin, short or long, standard foot size, or oversized? After that, we will find shoe brands that are suitable for themselves through our above reviews.
Overall, if you are a beginner to the sport, the SIDI Genius 7 is not a wrong choice. It has all the benefits of a typical road cycling shoe with an affordable price tag. Traditional construction, suitable for most foot sizes, and it looks very casual and inexpensive.
If you are a professional athlete, do not hesitate to consider the Shimano SH-RC9 S-PHYRE, a super product with a super hard, super airy, super fast dry sole. Excellent transmission, so comfortable on-foot, feel your feet join the crankset to form a unified machine operating entirely.
And if you want to be fashionable, like a new feeling when practicing at a reasonable price, do not miss the Bontrager Ballista Knit shoes. You will be amazed by the functions it brings.