While many cyclists hesitate to go on an adventure under inclement weather, you needn't let this external factor affect your riding. We've summed up a review list of the best cycling shoe covers for you to tackle the road no matter the condition.
So far, the Fizik Winter Shoe Covers have won my attention as the finest overshoes. Their premium 3L construction with a waterproof YKK zipper, reflective logo, and warm Thermo seams are the best combo you can find for cold winter cycling trips.
Best cycling shoe covers
Best Overall
Rating: 4.5/5
Size range: 36 – 49 | Material: 3L | Waterproof: Yes | Windproof: Yes | Zips: YKK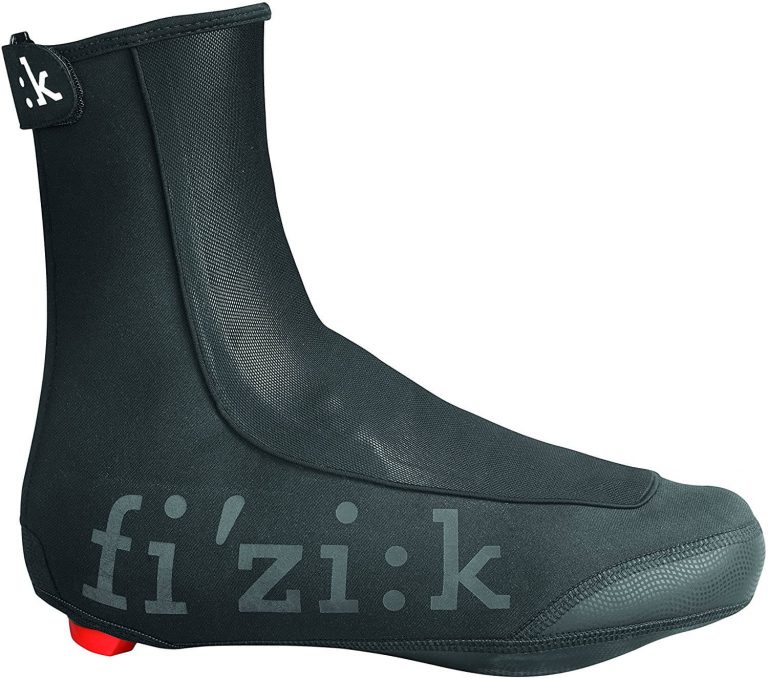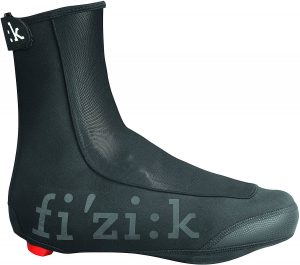 Being made with premium 3L material, the Fizik Winter are supported by Membrane and bonded mesh with a waterproof YKK zip. These shoe covers can perform well during cold, wet months due to their waterproof and windproof ability.
Their Thermo seams are well welded to create enough warmth. For cyclists to have a better grip on slippery surfaces, the covers include a fine rubberized outsole. Though it is a small detail, their reflective logo and printing guarantee visibility in the dark.
You should put on these winter shoe covers solely on your feet because they are a bit difficult to fit over another pair of cycling shoes.
Runner Up
Rating: 4/5
Size range: 6 – 15 | Material: ? | Waterproof: Yes | Windproof: Yes | Zips: No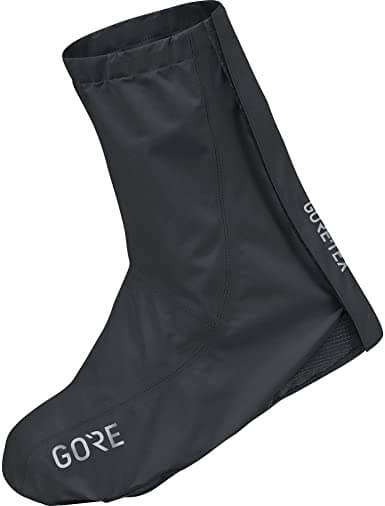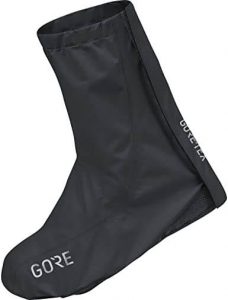 For both men and women to wear the same high-quality overshoe, the unisex Gore Wear C3 has been designed with 2 colors (black and neon yellow) and a versatile size range. Their Gore-Tex technology enables the covers to be highly breathable.
The design separates them clearly into the right and left shoe side. These covers work well with most available pedal systems and they provide a great fit due to their back Velcro fastener. You can store these covers easily because of their lightweight material.
As a bonus feature, these cycling shoe covers consist of open soles with their edges reinforced to protect your feet from getting abrasion.
Best for Winter Rides
Rating: 4.5/5
Size range: 6 – 15 | Material: Nylon | Waterproof: Yes | Windproof: Yes | Zips: Yes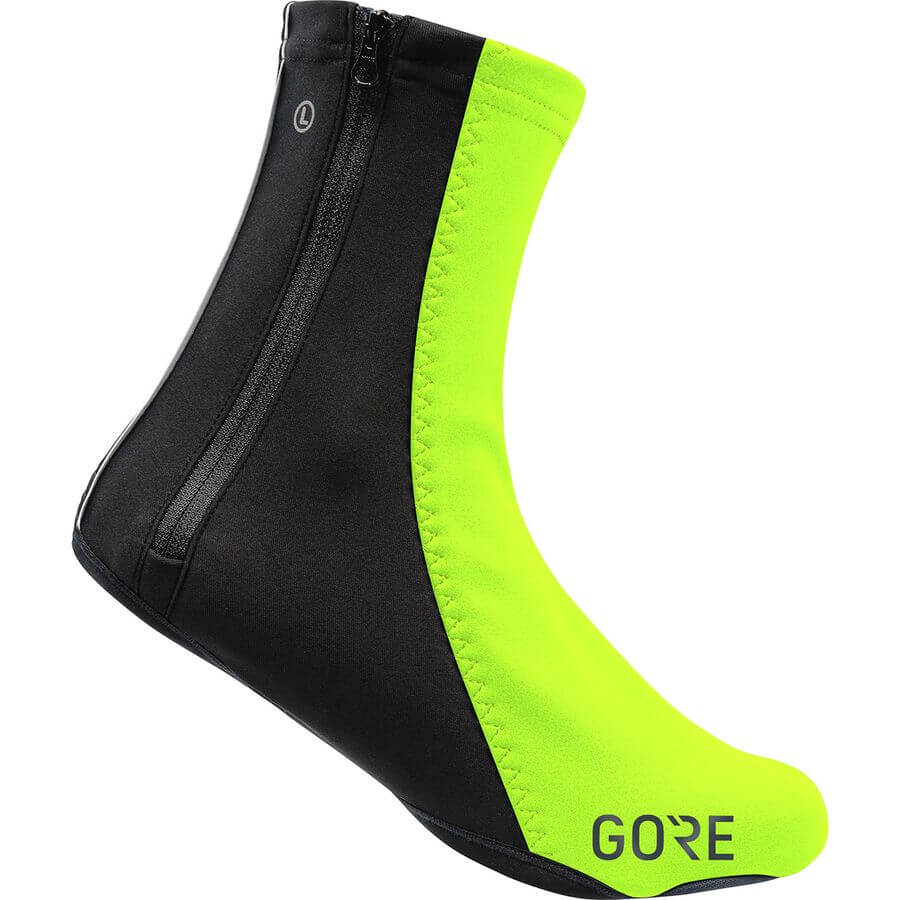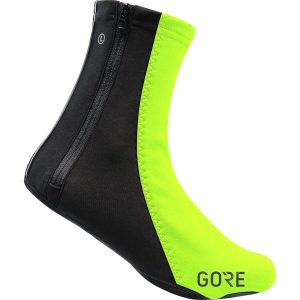 The Gore Wear C5 are built to lengthen your cycling trips under freezing cold weather. Their nylon material includes a WindStopper membrane that prevents harsh wind entry and PrimaLoft Silver insulation for extra warmth.
Not only are the shoe covers strongly windproof, but they are also breathable inside so your feet perspiration would not affect the whole riding session. You needn't worry much about fitting since they have an elasticized rear to fit snug over cycling shoes.
As long as you own a pair of regular cycling shoes and your bike consists of a standard pedal system, using these shoe covers would be a breeze.
Best for Those on a Budget
Rating: 4/5
Size range: S – 3XL | Material: Neoprene | Waterproof: Yes | Windproof: No | Zips: Yes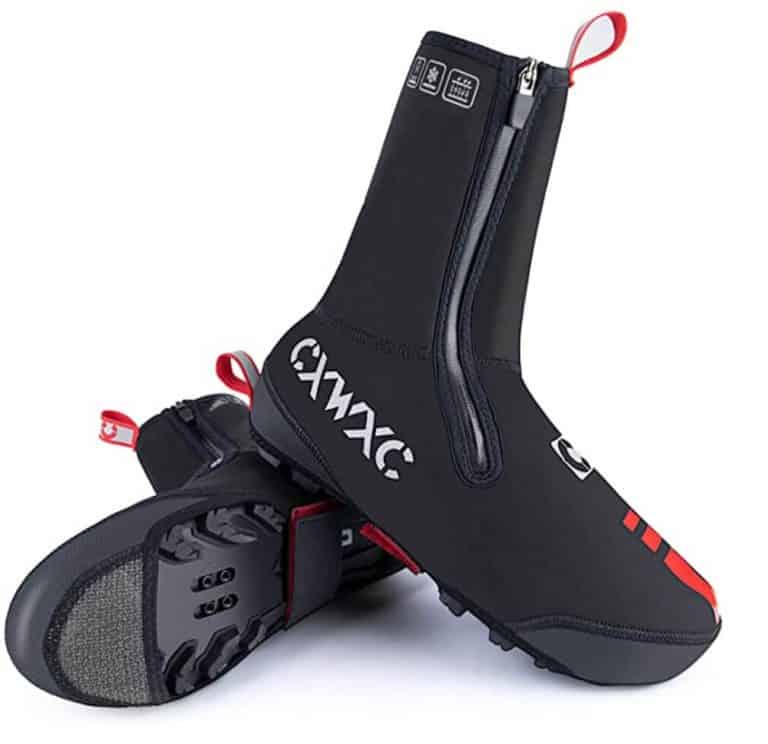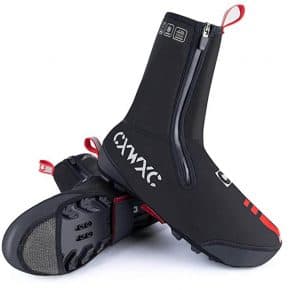 At first, I couldn't believe such an economical pair of shoe covers but at the same time, possess much flexibility like the CXWXC Neoprene exist. Apart from the outer neoprene layer, their internal microfleece polyester is effective in keeping your feet warm.
The cycling overshoes Kevlar base has been designed to resist wearing even after extended uses. You can wear them from the side with the help of a lockable zipper. Their 37mm velcro strap is made from rubber for a snug fit and application in skating.
However, you should be careful when pulling the covers' back tap because it is likely to tear away from their body along the stitching with too much force.
Best for Stretching
Rating: 4/5
Size range: ? | Material: Neoprene | Waterproof: Yes | Windproof: Yes | Zips: No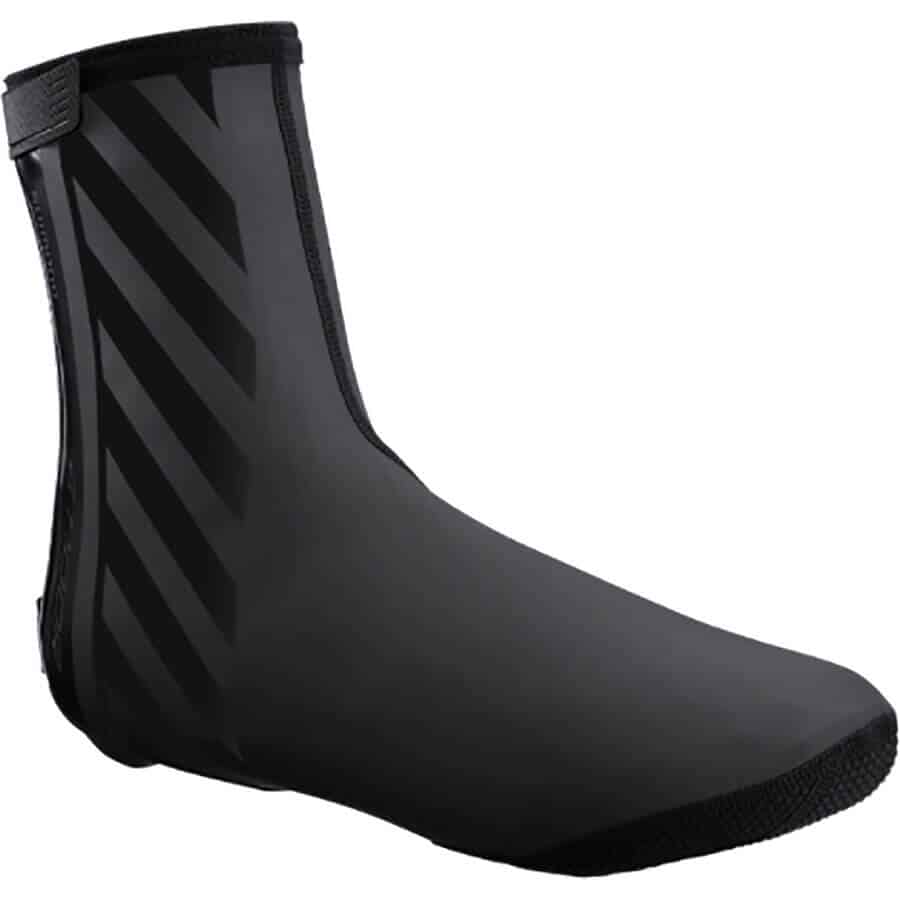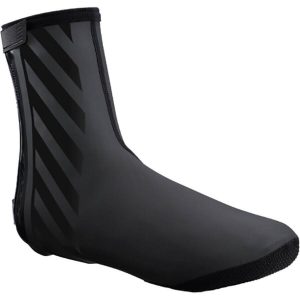 Despite the roughened inner part of the SHIMANO S1100R Softshell, their softshell neoprene material is highly stretchable for your quick dressing. There is an extra PU coating on the outside to provide a great level of comfort along with rain prevention.
My worries about wearing these covers over other shoes are unnecessary since their 3D design toe box contours to most standard cycling shoes. The semi-closed sole is specifically made for a road bike application with an ideal fit and beneficial function.
About their sheet construction, I believe it has been designed to guarantee the most optimal level that is backed up by an anatomical cut for you to pedal comfortably.
Best for Road Shoes With External Cleats
Rating: 4/5
Size range: S | Material: ? | Waterproof: Yes | Windproof: Yes | Zips: Yes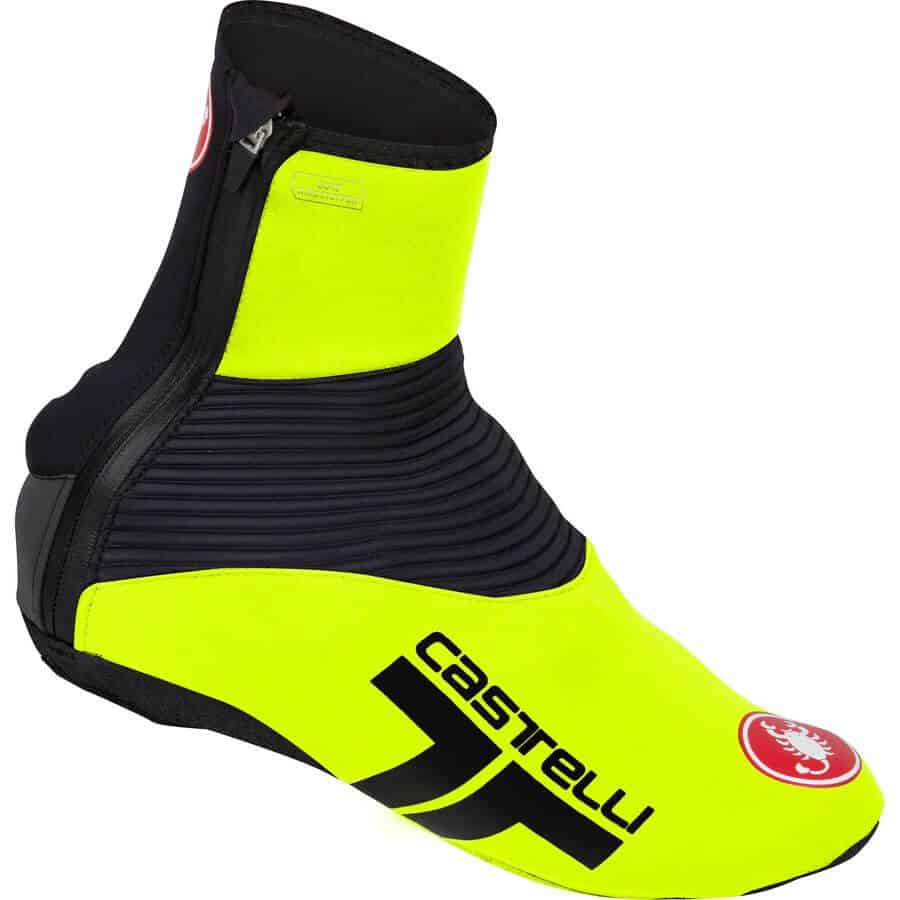 I like how the CASTELLI Narcisista 2 covers are equipped with neoprene panels on their heels and ankles for protection from road moisture during your ride. Besides the strongly waterproof body, the shoe covers also offer an awesome waterproof zipper.
Underneath these waterproof cycling shoe covers are durable soles and reflective heels for better visibility in low-light conditions. The most special highlight is that the shoe covers would correspond best to your cycling road shoes with external cleats.
Throughout my own experience, I wouldn't recommend you to put on these cycling shoe covers under heavy rain because they will have your feet soaked up.
Best for Easy Dressing
Rating: 3.5/5
Size range: S – 2XL | Material: Neoprene & nylon | Waterproof: Yes | Windproof: No | Zips: Offset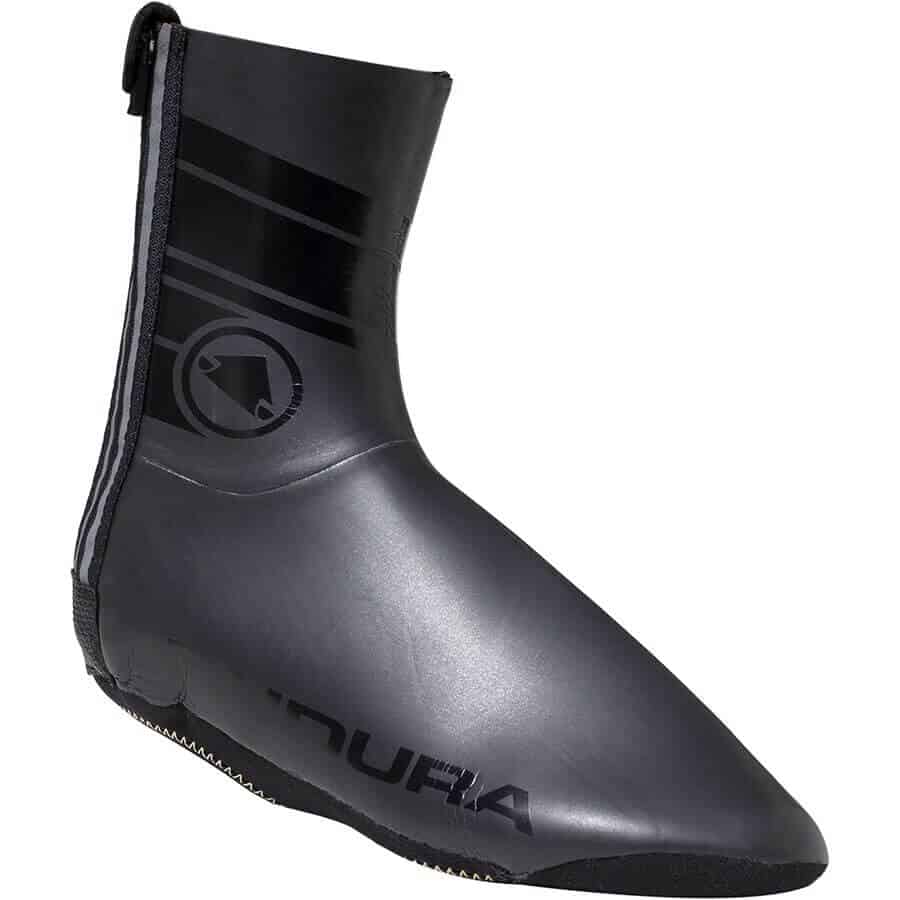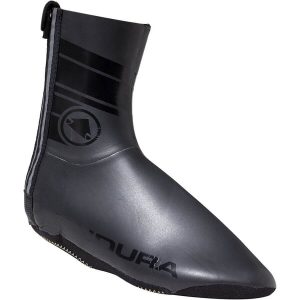 If you are looking for an optimal pair of shoe covers, I would suggest the ENDURA Road Overshoes for dual characteristics in one model. Their neoprene construction allows the covers to be waterproof and insulated at once for a better fit with your shoes.
Plus, the offset rear zip is supported by a zip guard and snap-down puller to ensure you can take the covers on and off without any hassle. These shoe covers have a series of hard-wearing stitching that uses aramid threads for extra sustainability.
You can easily take on bicycle rides in the dark and cold winter conditions as these covers consist of reflective zip tape to boost your visibility.
Best for Calf Protection
Rating: 4/5
Size range: S – XL | Material: Rubber latex | Waterproof: Yes | Windproof: Yes | Zips: No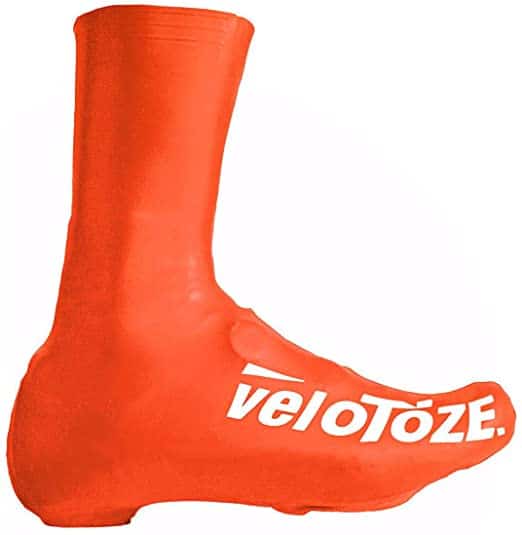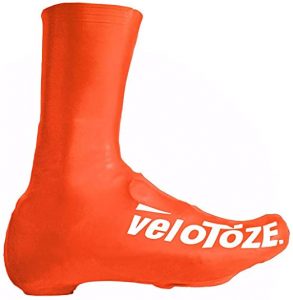 Whilst plenty of other cycling shoe covers can only cover certain parts of your legs, the veloToze Tall can stretch and seal tightly onto your calves for more protection. There are 8 colors in total to choose from, with their natural rubber latex material.
Putting these shoe covers on means you are able to resist the cold of 5°C in winter morning rides. The lightweight overshoes do not retain water when they get wet, so your trips will not be interrupted. Their form-fitting design with dimples limit dragging.
On the other hand, I am a little disappointed that the rubber latex cycling shoe covers are actually quite flimsy and prone to tearing, with difficulties in wearing.
Best cycling toe covers
Best for Wear Resistance
Rating: 4/5
Size range: S – XL | Material: SBR | Waterproof: Yes | Windproof: Yes | Zips: No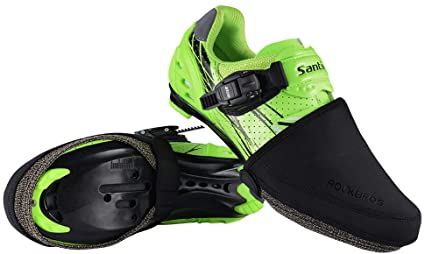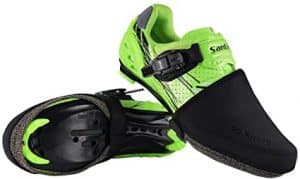 In case you assume full coverage cycling shoe covers are unnecessary, check out these half-design toe covers of ROCKBROS Kevlar. Other than their elastic fabric, the covers also offer an adjustable velcro strap for you to wear over cycling shoes.
There is a layer of Kevlar at the bottom of these covers to provide wear resistance first, then, to protect your shoes from external dirt and dust on the go. As far as I am concerned, the price for the toe covers is a truly great choice for low-budget users.
Due to their small size that does not take up much space, they can be folded and stored in your pockets or bags when not in use.
Best for Road Cycling
Rating: 4/5
Size range: S – XL | Material: Polyamide and others | Waterproof: Yes | Windproof: Yes | Zips: No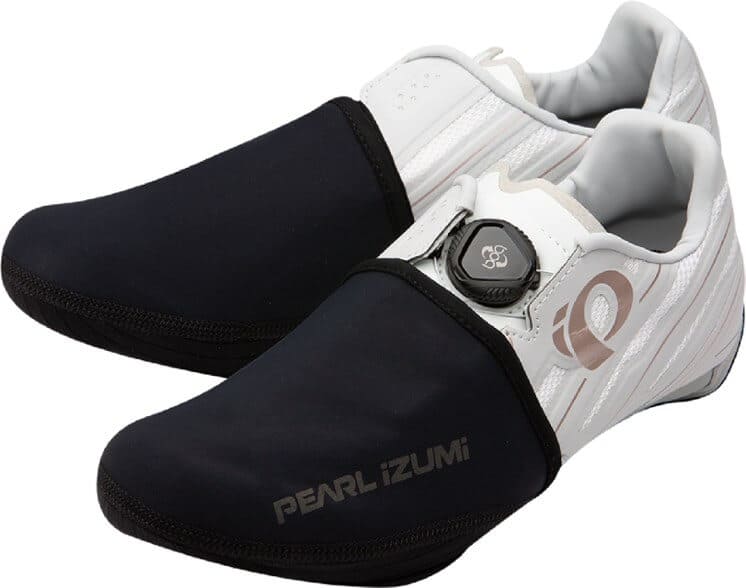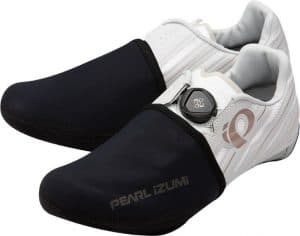 Through multiple examinations, the PEARL iZUMi AmFIB Toe Covers have proven themselves to warm your feet up in cold winter rides but do not overheat them. They are designed to be simply pulled on to cover your cycling shoes just like wearing socks.
The toe covers have a really cheap price compared to the value you get. Their fabric is a combination of polyamide, polyester, polyurethane, and elastane, which enable the covers to possess a softshell. In poor light conditions, their elements will reflect.
This pair of cycling toe covers are also ideal for any road shoes with external cleats. Their bottom openings work in harmony with all road cleats made from 3 bolts.
Things to Consider When Buying Cycling Shoe Covers
I am certain that you can never use a pair of cycling shoe covers that are randomly selected with no clear orientation in mind. Therefore, I would like to offer the most common but essential technical specs to consult before buying these accessories.
Types
Most cycling shoe covers that provide full coverage will stretch to right underneath your calf muscles. Thanks to this protective seal, there's no space left for your feet to get cold or wet during winter rides. Many of them include rear/side zips for easier dressing.
Different from full coverage covers, the toe cover type only shelters the head of your cycling shoes. Toe covers enable protection for your toe on chilly biking days. They are inexpensive and easily foldable for storage. They can be put on and off without hassle.
Windproof
During cold seasons, there will be plenty of harsh winds coming your way in a biking trip. Therefore, the shoe covers should be made from windproof materials so your pedaling force wouldn't be blocked by incoming winds on the street and mountains.
Windproof materials for shoe covers are mainly breathable as well. This feature is to avoid getting damp on the inside if the cyclist's feet perspire. Plus, it can prevent external moisture from entering the shoes and cause you to be uncomfortable.
Waterproof
Bikers probably fear rainy weather the most as it's not an ideal environment for them to go all-in with their rides. Having extra shoe coverage is incredibly useful if the unit is manufactured to be waterproof. That way, they can be your cycling rain shoe covers.
I would like to advise you there are different types of waterproof overshoes. Check the specs beforehand to see if the model resists entirely to water or just sole parts (such as the uppers of the Fizik Winter Shoe Covers). Go for the fully waterproof ones.
Insulation
Not only do cycling shoe covers need to protect your feet from the cold and water, but they also should provide your feet with warmth at the same time. For example, the C5 Gore Windstopper Thermo Overshoes have specialized insulation to ensure this.
In order to get an exact pair of shoe covers that can keep your pedaling feet warm, you should prefer thermal ones since they consist of proper insulation. If your feet are not warm, you wouldn't be able to pedal normally on cold days so remember this detail.
Zips
Lastly, a small but important accessory that helps enhance the waterproof ability for most cycling shoe covers – a zipper. Having a fastener on the back of the shoe covers is ideal to obtain a better fit for your feet and security from water ingress.
However, a side zipper is often more convenient to enter and exit out of these shoe covers, according to my opinion. Some overshoes are fragile and prone to tearing so a zipper makes sure you don't stretch the covers beyond their endurance to put on.
When should you use shoe covers?
Each pair of cycling shoe covers and materials is advantageous in certain weather conditions and purposes of use. So keep this in mind about the best situation to apply extra coverage for your cycling shoes.
Under the rain
You should always pick cycling shoe covers with a waterproof coating (check at their technical specs). That way, you can tackle the streets on your bike even on wet, rainy days. The tight grip at the top of the covers is helpful in stopping raindrops from the outside.
In cold conditions
The insulation in cycling shoe covers traps air and keeps your feet warm to enable uninterrupted pedaling power. Full overshoes are the most suitable cold-resistance tools for their high-neck design, especially the veloToze Tall that seal your calves.
Time-trail racing
To further improve your cycling performance, a pair of lightweight shoe covers are fantastic to equip since they reduce excess weight your feet have to handle. Putting shoe covers on for time-trial racing helps you to achieve aerodynamic advantages.
Conclusion
The Fizik Winter Shoe Covers are the best for thermal seams and a waterproof zipper. For low-budget users, the CXWXC Neoprene offers wear-resistance and a snug fit. And the PEARL iZUMi AmFIB Toe Covers are easy to wear for your road trips.
I expect you to be satisfied with the information I provided in this article about the best cycling shoe covers. If you are still afraid to conquer the mountains on cold winter days, grab a pair of optimal shoe covers here and start cycling right away.