When biking to you is merely a chilling activity, a cruiser bike is all you need. This classic design keeps you comfortable with riding on the street, commuting, or going on errands.
The question is just about how to pick the best cruiser bikes out of massive offers?
Almost all brands have at least a cruiser bike model in their lineups, which confuses consumers. After searching for a while, we see the Sixthreezero Around The Block, our top pick.
It possesses a comfy saddle, which you could right for miles. It's a high-quality standard cruiser bike that suits widely different riders. Let's check it out now!
10 Best Cruiser Bikes Reviewed By ActivePedal
Best Overall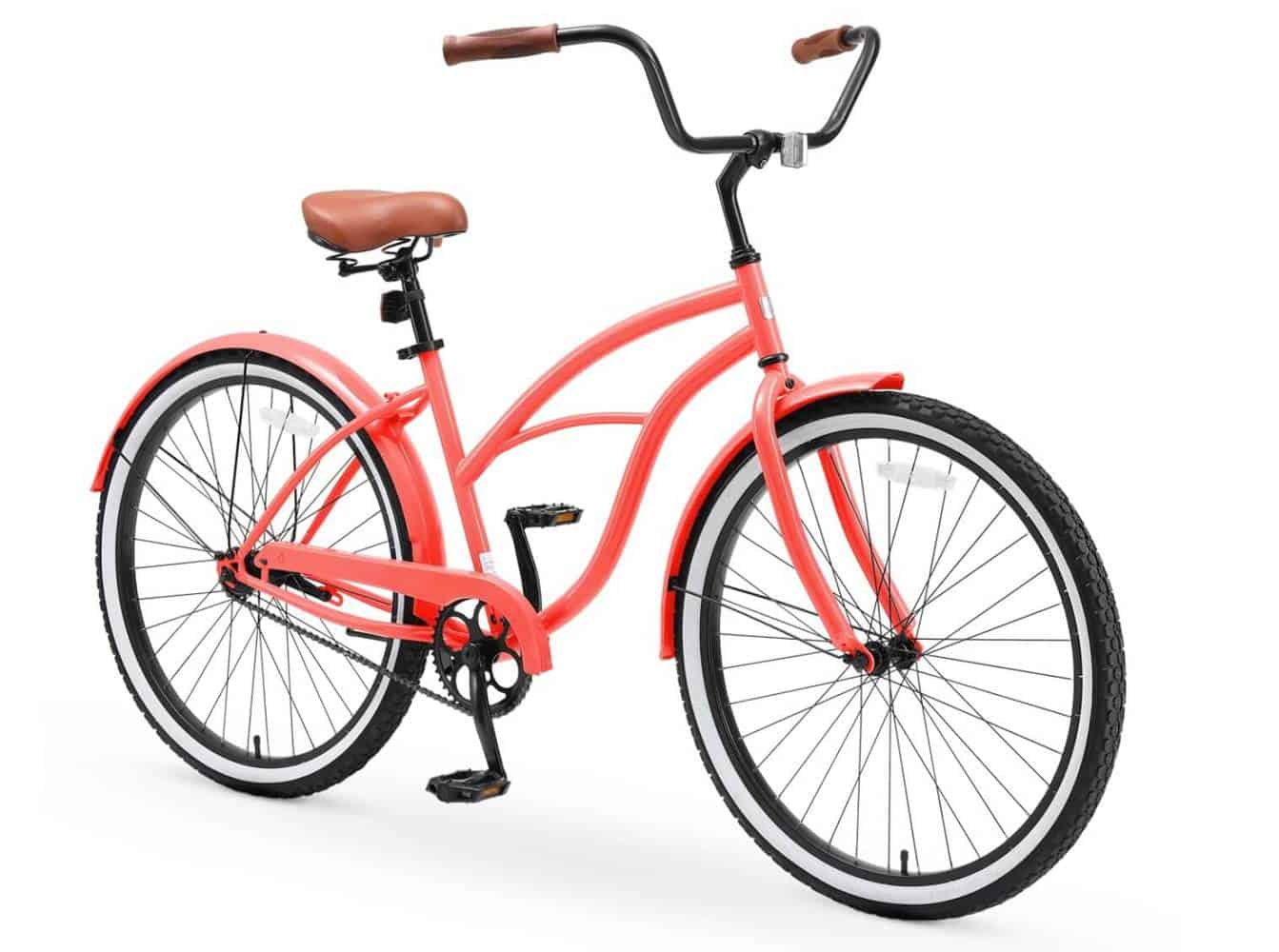 This sixthreezero Around the Block comes with a merely ordinary look. It possesses one-speed gear and 24-inch wheels that we find in most cruiser bikes. However, the value lies in its solid construction and customizable spots.
This bike advocates an upright position, which will be sweet for lumbago. We expect riders on this bicycle to cruise in such a chilling posture, keep your mind at bay seeing surroundings. You might see it with not so many accessories, but it turns out to be an advantage. It happens to have a rear rack for people to install rack or panniers optionally.
It's a cruiser bike that takes you to chilling cruises, a smooth commute as well as peaceful errands.
Pros
Good-quality frame

Rear rack included

Cushioned seat

Non-slip foam handlebars

Easy to assemble
Cons
Runner Up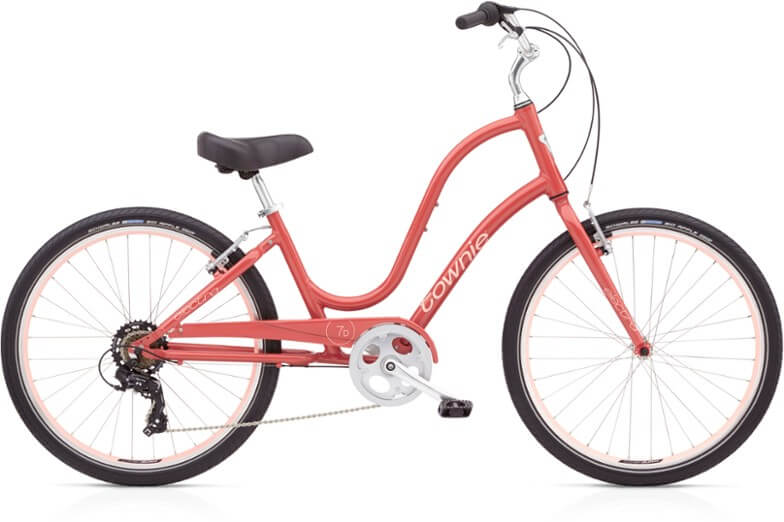 If you want a cruiser bike with a little more upgraded gear, we recommend this one. Electra Townie 7D Step-Through Bike stays in classic up-right position and ideal for slow rides. However, its 7-speed gear could extend your weekends to recreational. Its design suits flat and a bit up-hill terrains, which ticks an advantage for recreation lovers. (1)
The frame and rims are in aluminum but rough enough to keep your cruise softly. This frame guarantees a portable bike that you can carry on picnics. And this cruiser bicycle looks suitable for such outdoor activities as there is an extra ergonomic saddle.
Adults at average height can ride on this bike, especially ladies, as the Electra cruiser bike offers a lovely curry finish. Violet and palm look unique, too.
Pros
Flat foot technology

Ergonomic saddle

7-speed gear

Comfortable paddles

Lightweight
Cons
No suspension, only rim brake
Best for Recreations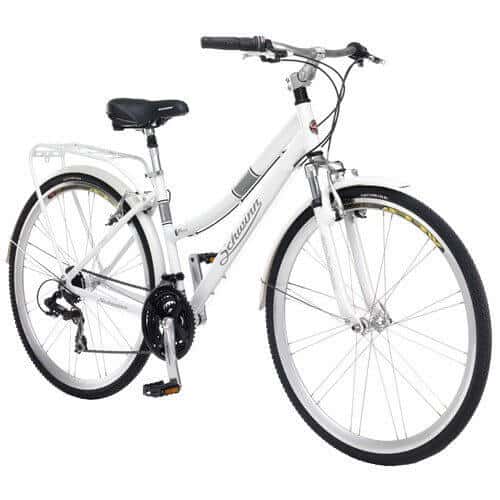 If you look back to cruiser bike history, you will find out Schwinn was the pioneer of this trend. As the first cruiser bike maker, Schwinn mechanics comprehend and carry out features that riders need. We have found their breakthrough in this Schwinn Discover Hybrid Bike.
As the name suggests, this bike carries both classic and ungraded qualities. Riders go on with upright positions that people love about cruiser bikes. However, this bike proposes more capacity for both urban cruising and uphill riding. We suppose it to make the best men cruiser bikes list due to the size.
There are thoughtful details such as fenders to stop mud, padded saddle to boost comfort, and the specialty – rear derailleur. It's no doubt that this Schwinn could go out with you to multiple natural spots.
Pros
21-speed gear

Padded saddle

Fender included

Lightweight
Cons
Best for Comfort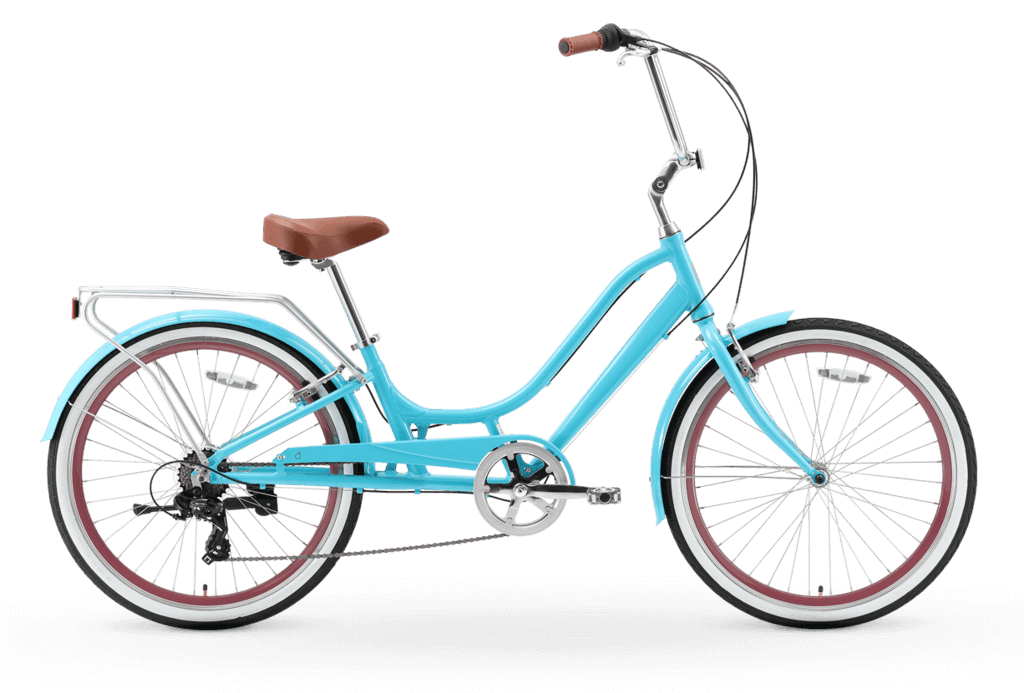 When the average upright position is not yet the optimal riding posture for you, we recommend the sixthreezero Relaxed Body Bike with extra soothing for the back. As a result, this bike went straight to the list of best cruiser bikes.
This bike appears with an innovative saddle that keeps the body at the ultimate upright posture. The raised handlebars with forwarding paddles keep promoting the comfortable position. Those who like easy slowly right shouldn't miss out on this sixthreezero.
We recommend riding it for fun, but you can go on slightly rough terrains such as the park's pavements or trails. It ensures smooth rides thanks to the wider tires and padded seat.
Pros
Complete back painkiller

Lightweight

Thorough suspension system

Widely adjustable seat

Foam seat
Cons
Not recommended for fast riders
Best for Commuting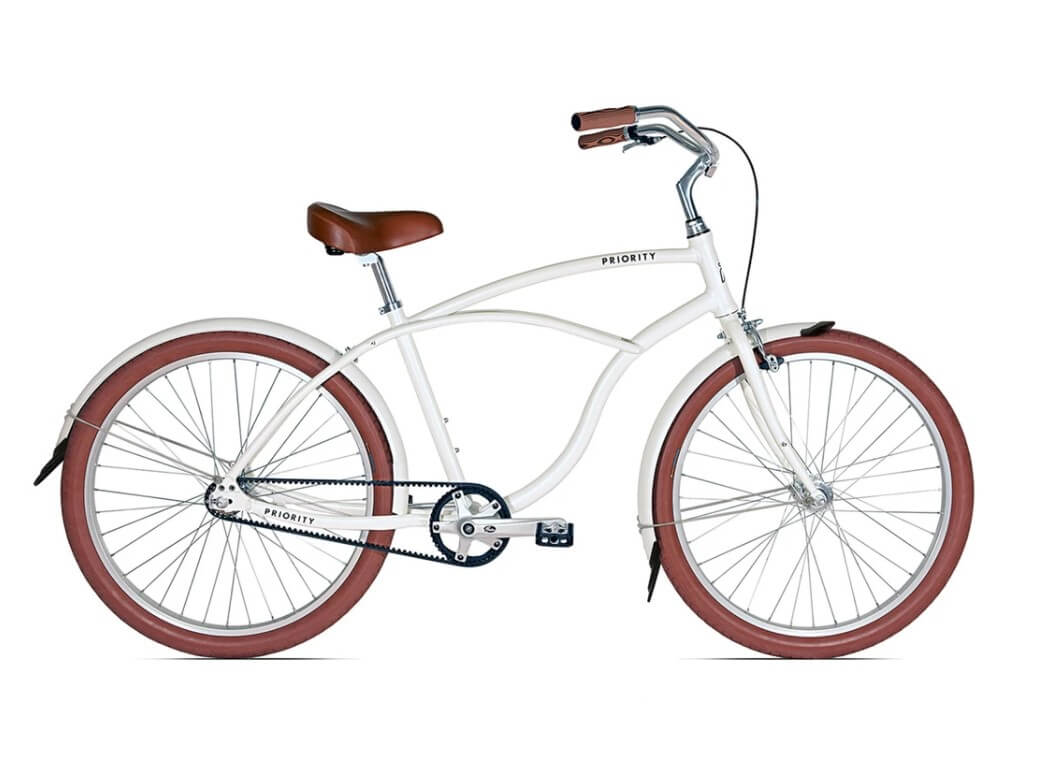 Coast meant to make this Priority Coast a bike to ride on beaches, but we find it also excellent for commuting. People don't count on cruiser bikes to commute because of their speed and weak immunity to rust. However, this one beats those judgments.
Coast has coated these wheels with a rust-proof aluminum finish and examined them under harshly coastal weather. If you want a cruiser bicycle to ride under rain and snow, this bike is a promising candidate.
Besides, it also shows off commuting bias qualities such as lightweight, sweat-proof handlebars and strong tires. People can take it for a short cruise for sure, next to long daily trips.
Pros
Rust-proof

Multiple options

High-quality tires

Ultra-light

Available in both single and multiple-speed gear
Cons
Best Cruiser Bike with Basket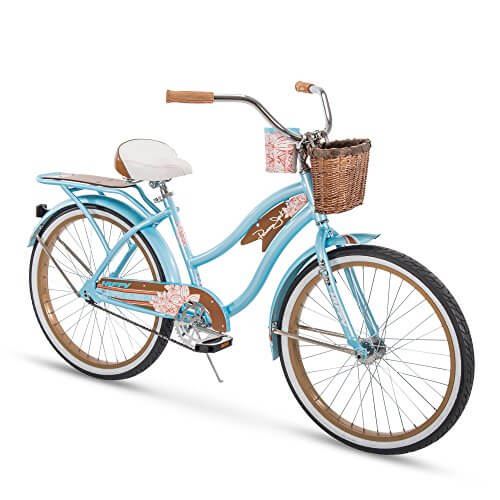 Cruiser bikes above are all unisex design, but this Huffy 24'' Panama Jack prevails feminist features. It's one of the pretty women cruiser bikes you might be looking for.
Huffy bikes come with pretty wicker baskets that suit very well with beach landscapes. But it's not the end of the lovely show. You will find a beach-theme rear rack and cup holder next to the right handlebar. Besides, a little soda opener sticks nicely on the right frame. These features are so for a breeze vacation.
Panama Jack cruiser bike keeps riders comfortable with a lightweight maneuvering frame. The shape empowers women's rides by low gravity design and a simple suspension system. We have no doubts that this Huffy will help riders in taking stunning shots by the beach.
Pros
Lightweight

Easy seat adjustment

Coaster brake and pedal-back

Fantastic warranty
Cons
Almost zero spots for customization
Best for Handlebars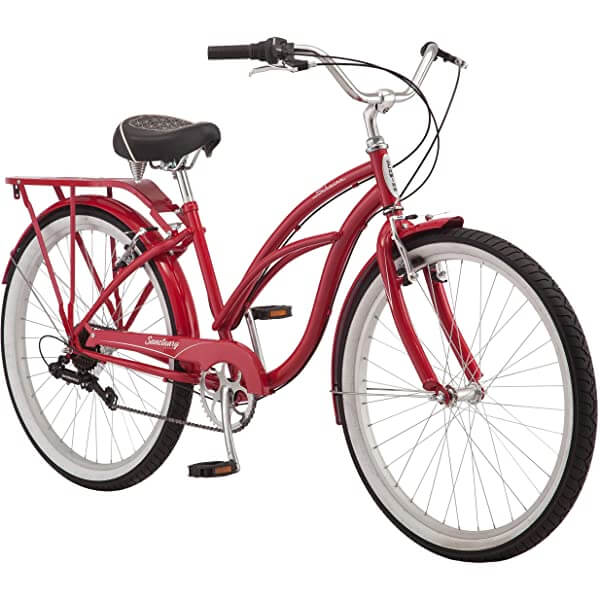 Schwinn Sanctuary 7 Cruiser bike inherits a Schwinn bicycle's advantages such as considerate the rear fender, the complete brake system, and an extra comfortable seat.
Building the classic look, but Schwinn keeps developing cruiser bikes more versatile by equipping multiple-speed gear. The Sanctuary 7 possesses a 7-speed, which can keep riders on cruises into recreational areas, on sandy beaches, slightly off-road and urban streets. When you want the best cruiser bike for multiple purposes, something like this appears sensible.
However, the best part of Sanctuary 7 is its handlebars. With a 7-speed gear, a twist shifter is handy. This SRAM shifter grants riders the power to manage the whole speed system within a squeeze. When you do recreational activities, this feature shows off more significant help.
Pros
Sturdy steel frame

Padded saddle

Twist shifter
Cons
Best for Women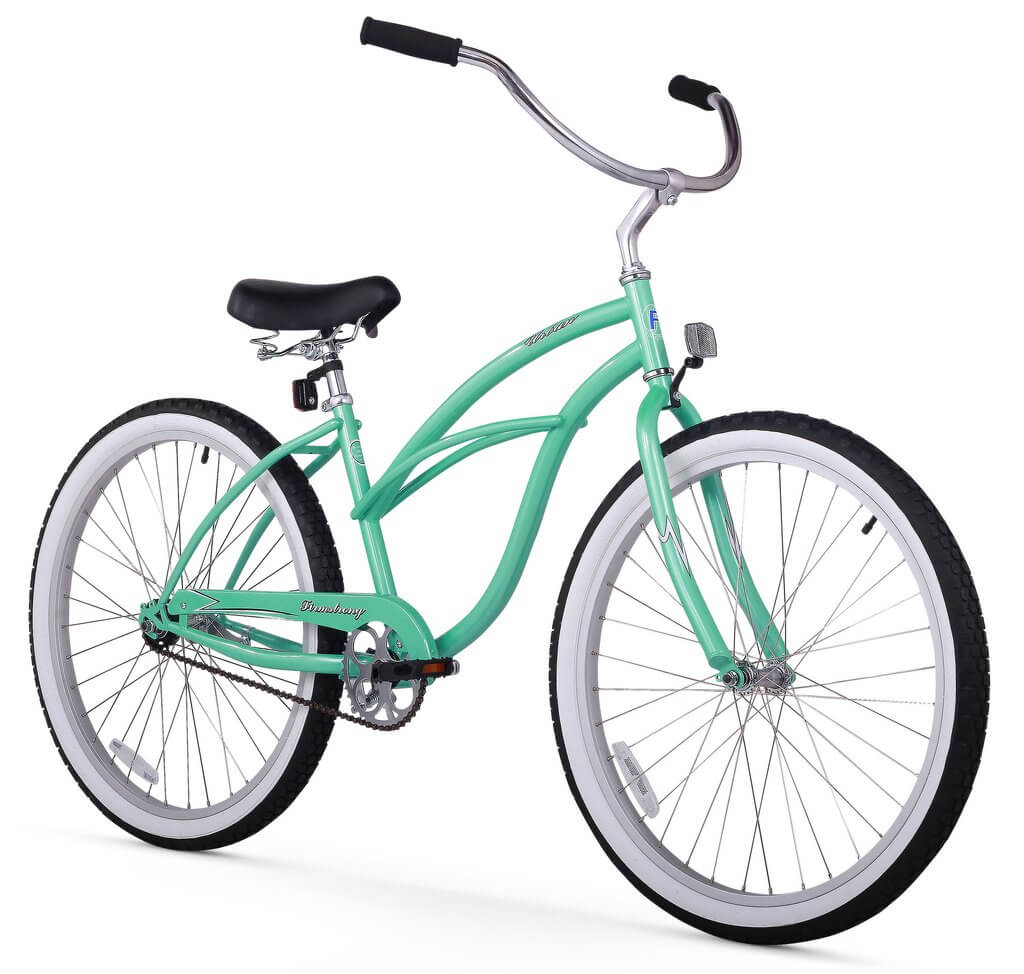 Firmstrong is reputational for their delicate models for ladies. Among their high-quality cruiser bike, this Urban Lady Single Speed imposes the best of cruiser lineups.
Most Firmstrong cruiser bikes promote comfort by the extended saddle, and this one is not an exception. We find it an advantage for female riders as they usually need larger seats than men.
Because it's a model for women, so the look matters significantly. The bike appears in classic beach cruiser bicycle with feminist curves as well as lovely colors. The image aims at ladies so that you feel the elegance at first sight.
Besides the single-speed, this bike is available at three and 7-speed gear. The brand knows that women love recreations, too. If you are searching for a medium-sized bicycle, we suggest you check out this one.
Pros
Women-friendly design

Extra-large saddle

Classic appearance

Durable

Multiple gear options
Cons
Best for Girls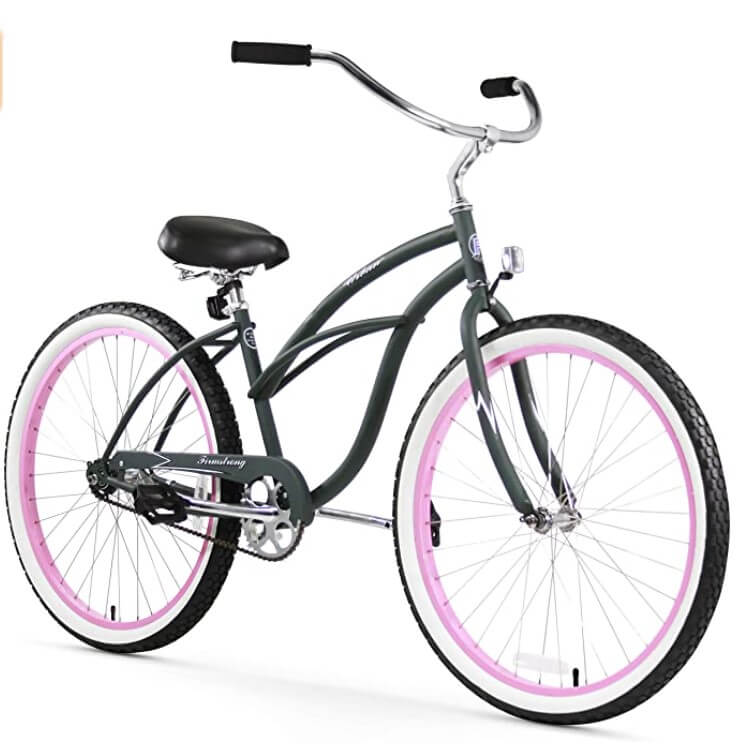 Navitas Cruiser Bike comes at a lower price point despite the same provider as the above. Both the value and the size make this bike a promising candidate on the best cruiser bicycles list.
It keeps the large seat and comfortable handlebars as typical Firmstrong's products. However, the saddle here is much lower than the average point. It's not as low as the Sixthreezero Relaxed Body but very promising for lumbago.
This model from Firmstrong wears a sweet look with colors for girls rather than women.
Pros
Oversized saddle

Enhanced grip on handlebars

More relaxing position

Affordable
Cons
Best Low Men Cruiser Bike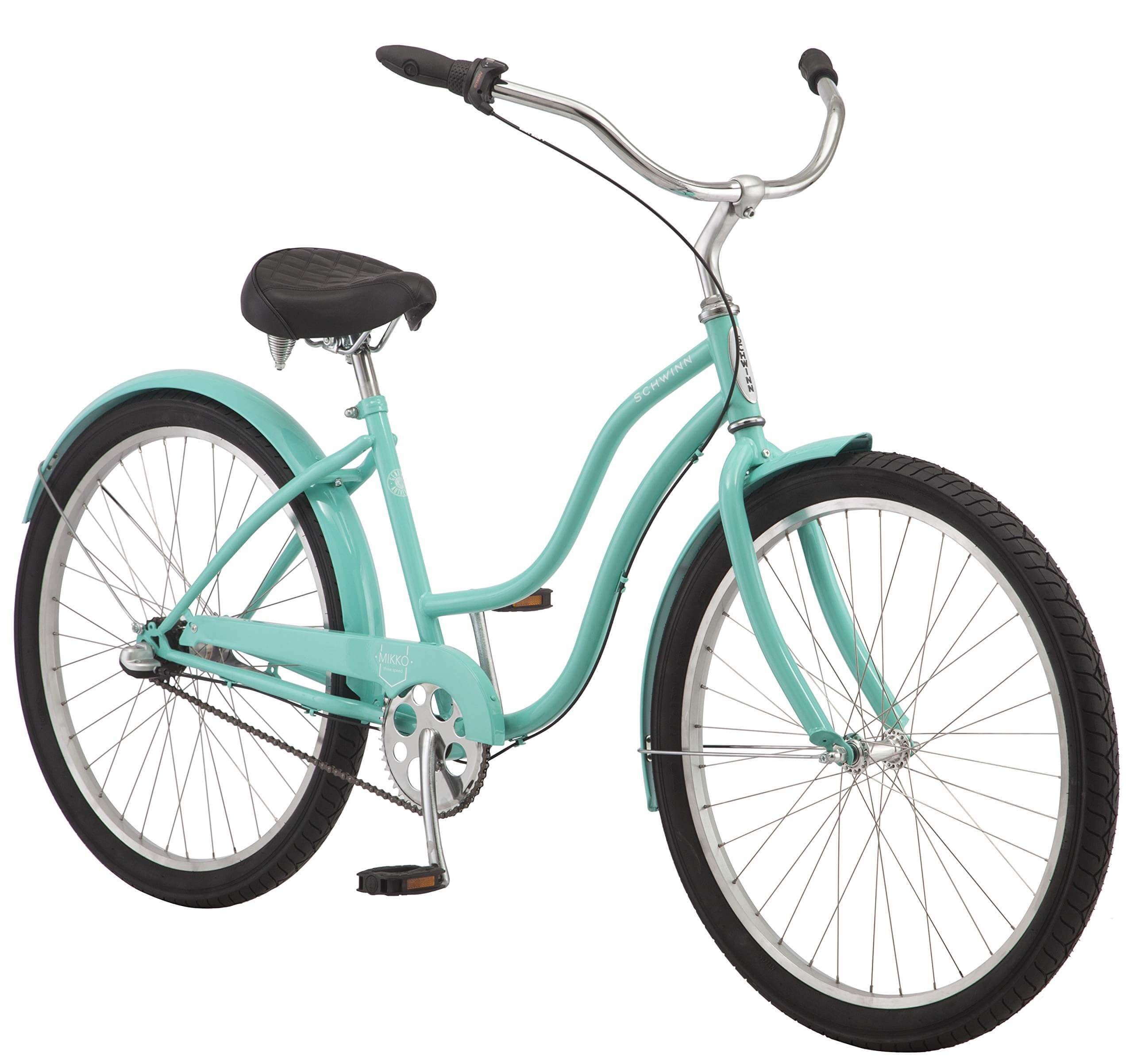 Cruising is not only for men but also for boys. Therefore, Schwinn released its Mikko & Hurron model, which offers a low frame for short men or teenagers.
As a Schwinn, it offers an altogether suspension system and multiple- speed gears. However, we were impressed the most with the twist shifter and the springs.
You already know how wonderful it is with a twist shifter. But springs under the seat matter more during a ride as they absorb shock and keep the rider away from most concussions. Along with the gear, this bike looks great to go to national parks.
Pros
Steel frame

Springs under saddle

Twist shifter
Cons
What To Consider When Buying A Cruiser Bike?
The best cruiser bike must accomplish the very needs of the owner. The buyers should know what the bike offers regarding different parts. Even though this type of bike fits fundamental purposes, there are still features that we shouldn't take for granted.
Speaking of shape, there are not many differences between cruiser bikes and other types. However, the prevalent form curves a bit to the edges that bring more support to a long ride.
Cruiser bikes are not so picky in the material. The most common metals they use to make frames are steel and aluminum. It's not a significant difference in price between the two. But if you prefer bikes that last, steel ones can be guaranteed.
Weight might affect your daily work with the bike, so don't be too easy at picking. Otherwise, you are going to struggle every time to drag it out of the house. The weight concentrates on the frame's material while the rubber parts don't build up much weight. (2)
The best balance for weight and durability is a mixture of steel and alloy. We recommend aluminum for handlebars, wheels, and other tiny parts.
Will you ride for long every time? If the answer is yes, you had better go for cushioning and a wide seat that won't tire your butt out. A couple of springs under the rear seat will be a plus point, for example, like the Schwinn Mikko & Hurron.
The position of the seat is essential. You don't know yet how is the best place for you after some rides, so better get on a boat with an adjustable saddle.
The most famous suspension system in cruise bikes is coaster brakes. They gently stop the cycle by slamming on the rear wheel. However, cruising doesn't show much in speed, so the coaster kind fits in well. In case you have a cruiser bike with more than a single-speed gear, coaster brake may bring slow effects.
Schwinn is thought about suspension among brands when they usually produce bikes with both front and rear brakes.
The handlebar usually looks curved toward the rider. They should appear to help you gain up-right position while riding. The point is that handlebars are not adjustable, so you need to match them with the seat height.
Cruiser bike's pedals are commonly just hard plastic. The paddles should stay loose because you will want it to spin along when you ride. However, they shouldn't be too loose as anyone like crazily spinning paddles.
Conclusion
There will be so much fun riding these bicycles, especially with the best cruiser bikes above. Among the best products, Sixthreezero Around The Block remains our top pick thanks to its innovative design but classic features that people love about cruiser bikes.
However, when you prefer just a classic single-speed gear, the Schwinn Discover Hybrid Bike will match both the look and the operation.
Besides, for women, we always suggest riding smaller bikes. As a result, Firmstrong Urban Lady poses the top pick for female riders.