Tall people often have big concern that there are not so many bikes available for their height. Then, this article will shows you a few bikes from reputable brands for tall people to consider and decide to get one, eventually.
I am fond of the Priority Apollo Gravel as the most effective road bike. The ultralight 6061 aluminum frame is assisted by a 409% gear range to grind on gravel terrains better. It will only require a low amount and effort for you to maintain in the long run.
Here below is the list of 10 best bikes for tall people that you can have today.
Road Bike
Best Overall Road Bike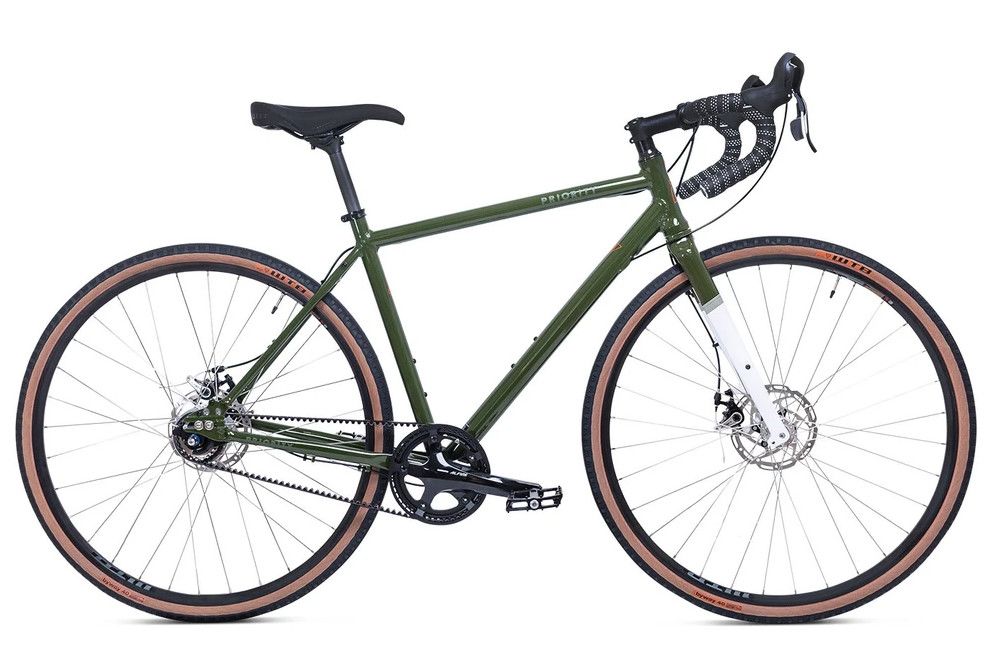 Size range: S – XL | Frame material: Ultralight 6061 T6 Aluminum | Number of gears: 11 | Weight: 24 lbs
While most cyclists are concerned about locking derailleurs, caking cassettes, or greasy chains, the Priority Apollo Ravel is able to solve all of these problems. You can shift between its 11-gear hub on the integrated right lever for speed control.
I appreciate its signature feature of a Carbon Drive belt, which enables better torque management and won't leave you stranded. The powerful bike hub system offers a 409% gear range to perform excellently at gravel grinding and hill climbing.
The 440mm bike drop bars are flexible because they are effectively stretchable, can be dropped down, and get wider for leverage as well. This road bike is promised to be one awesome model that only requires a minimum amount of maintenance.
Pros
No derailleurs, cassettes, chains.

Integrated lever with 11 speeds.

A signature belt for no stranding.

409% gear for gravel terrains.

440mm flexible bike drop bars.

Needs minimum maintenance.
Cons
No defections discovered so far.
Best for Minimal Design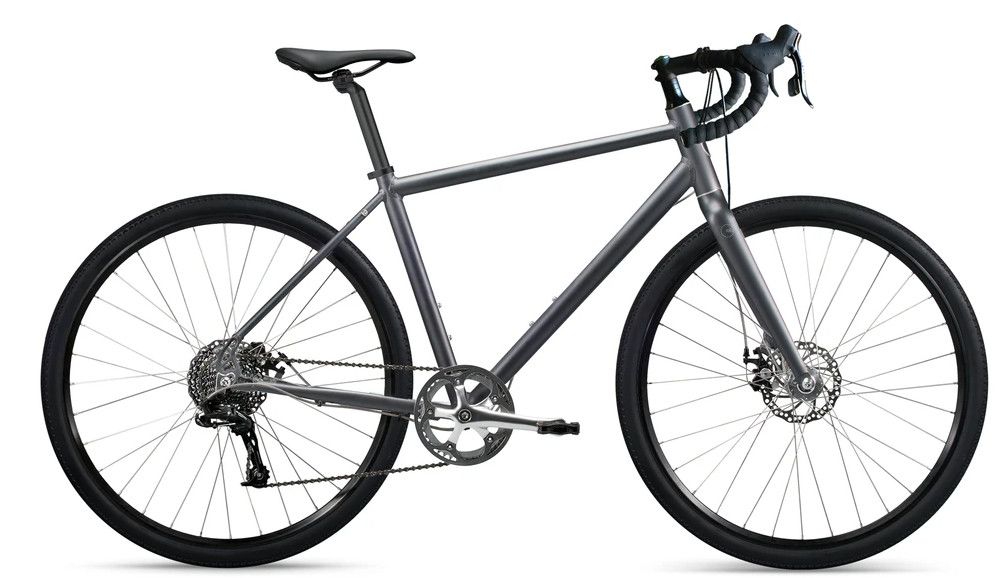 Size range: Mens & Womens 1 – 3 | Frame material: 6061 Aluminum | Number of gears: 10 | Weight: 23 lbs
Because the A:1R Adventure 62cm road bike is designed to tackle gravel surfaces, it only keeps the simplest but most effective components to maintain the light 23-lb weight. It can be outfitted with racks and accessories for your cross-country trip.
Its seat post allows 0 degrees of setting back to ensure you are always in a forward position for a comfortable long ride. All of the bike's cables have been internally routed, supported by an end to end housing for a completely clean, low-service look.
Much more advanced and reliable than rim brakes, its standard disc brakes are able to function way better with consistent all-weather stopping power. The bearing hubs, bottom brackets, and headset are fully sealed to enable long-life performance.
Pros
Keeps simple and effective parts.

0-degree seat post for comfort.

Offers a clean, low-service look.

Strong stopping with disc brakes.

Sealed components for longevity.
Cons
No defections discovered so far.
Best for Long Ride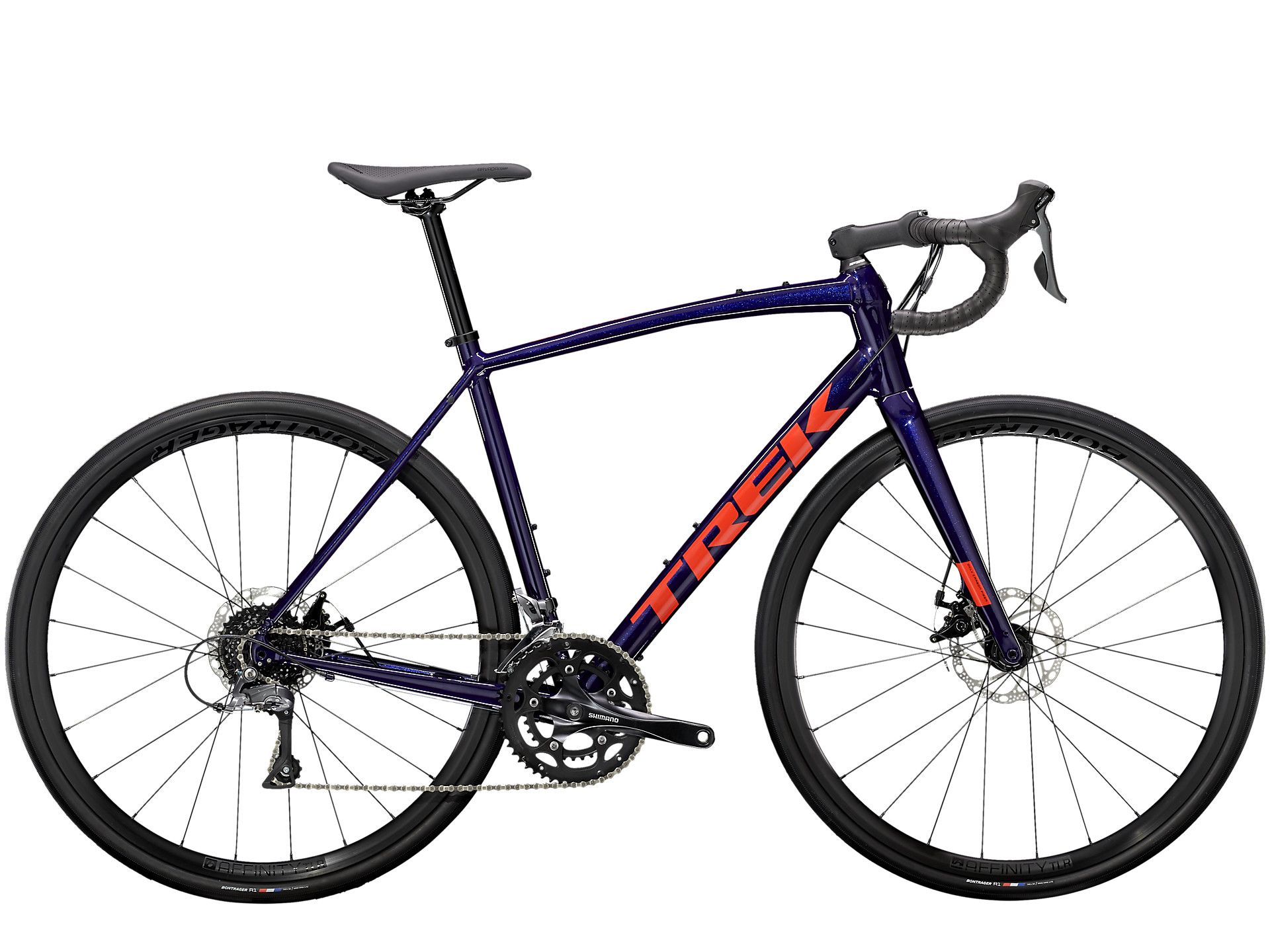 Size range: 49 – 61 | Frame material: 100 Series Alpha Aluminum | Number of gears: 16 | Weight: 23.68 lbs
To consider, the Trek Domane AL2 Disc has a good price that's both reasonable and affordable for a wide range of cyclists. Its IsoSpeed Carbon fork is a unique feature to absorb vibrations on the road enough so your arms don't get tired too quickly.
You can seriously obtain long-haul comfort thanks to the smart geometry of this road bike. The fender mounts are able to be fully covered for you to ride the bike in tough conditions without hassle. Plus, its higher head tube is fantastic for stability.
There are not so many road bikes that come with additional tire clearance for the bike to gain more versatile performance, therefore, I appreciate this unit. Behind the bike, a rack mount is available for the rider to carry accessories on long road trips.
Pros
Shock-absorbing unique fork.

Smart geometry for comfort.

Full-coverage fender mounts.

Delivers extra tire clearance.

Rack mount for accessories.
Cons
Noisy internal routing cables.
Hybrid Bike
Best Overall Hybrid Bike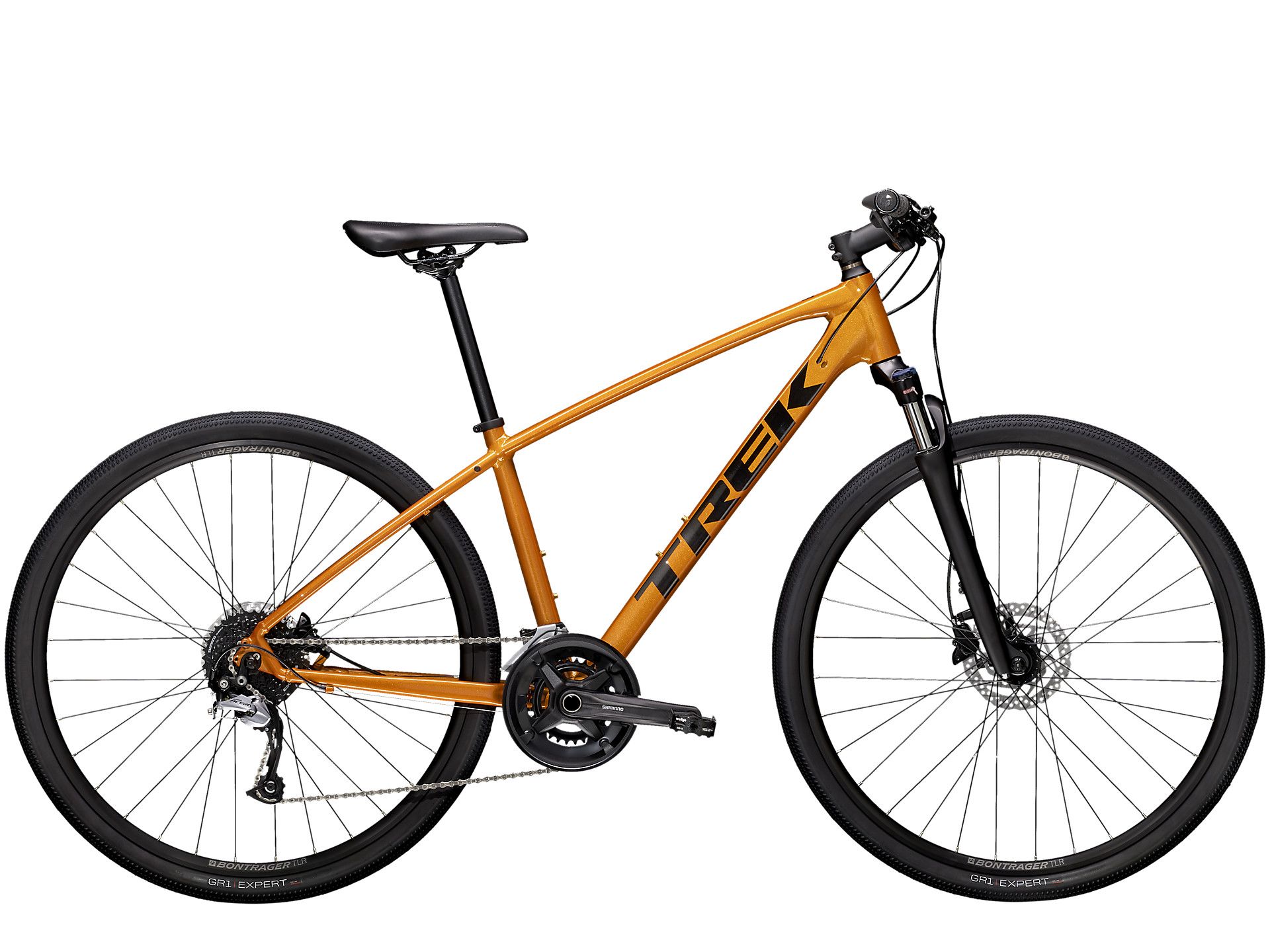 Size range: S – XL | Frame material: Alpha Gold Aluminum | Number of gears: x | Weight: 29.66 lbs
The Trek Dual Sport 3 is a hybrid bike for tall men to conquer both city streets and challenging gravel trails. Thanks to its wide variety of gearing, you won't have to pedal too hard or too soft on most surfaces, even on a high and big hill.
This bike allows the rider to customize it in their own way by adding essential accessories such as bottle cages, racks, and fenders. Larger bike frames from size M and up will include a straight top tube for tall cyclists to get on and off it easily.
Moreover, the suspension fork of this hybrid bike enables its front wheels to tackle all kinds of road bumps effortlessly. I like the way its integrated Bontrager stem technology allows you to clip gears directly on it, promoting a fresh and clean look. In case this bike is a bit expensive, you can check out the article of best hybrid bikes under 500.
Pros
For streets and gravel surfaces.

Needn't pedal too hard or soft.

Customizable with accessories.

Fork deals with all road bumps.

Gear-clipping for a clean look.
Cons
The gearing might skip badly.
Best for Diversity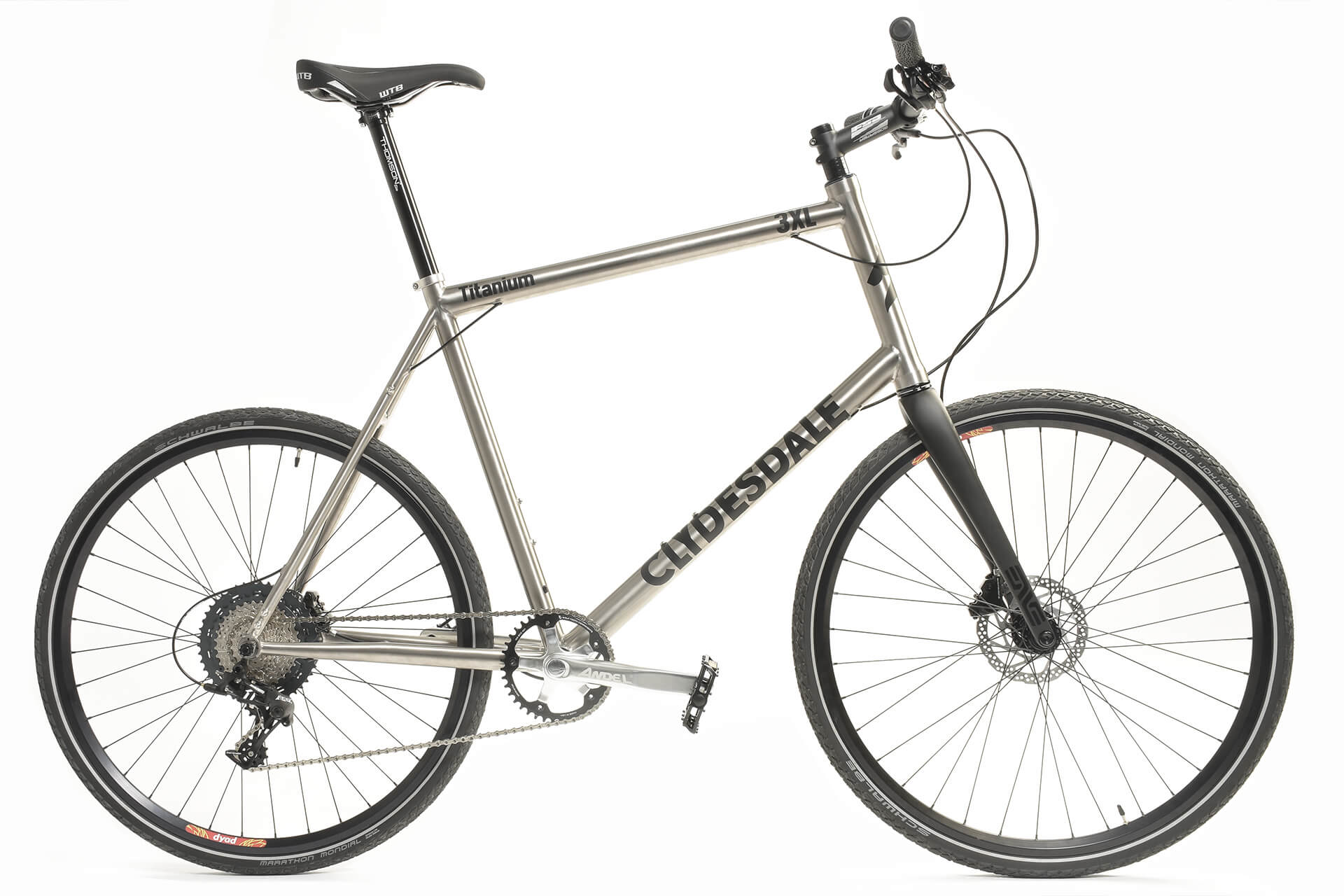 Size range: L – 4XL | Frame material: Handmade Titanium | Number of gears: x | Weight: x
I don't know where else can you find a hybrid bike with handmade bombproof wheels but the Clysdale Rein is able to meet that standard. This bike for tall guys is mainly designed for daily commuting and fitness riding, and sometimes for gravel grinding.
Its smallest frame size is L and up to 4XL, which are the most ideal length for people from 5'10" to 7'3" and it can handle 450-lb riders without effort. The proportional length cranks of this bike enable a high level of efficiency for optimal pedaling.
For an affordable price, you can have several add-ons to the bike such as bottle cages, clip-in pedals, and other versatile ones. To keep the wheels in place and be more durable, they include double butted spokes and brass pro-lock nipples.
Pros
Handmade bombproof wheels.

For daily commuting and riding.

A large and powerful frame.

Optimal pedaling with cranks.

Inexpensive add-on options.

Keeps wheels durable in place.
Cons
No defections discovered so far.
Best for Light Frame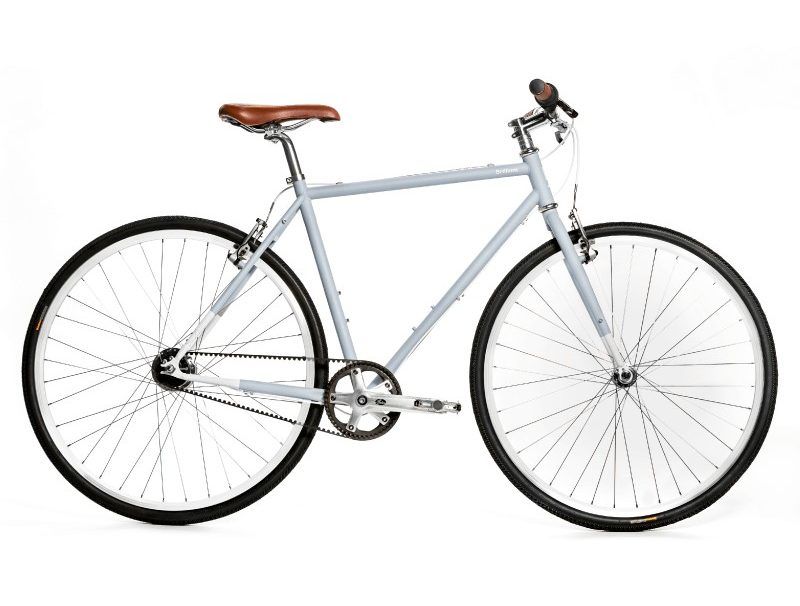 Size range: S – XL | Frame material: Chromoly | Number of gears: 7 | Weight: x
The Brilliant L Train has a lightweight and agile chromoly frame for the rider to deal with this bike easier. Its freewheel is equipped with both of the front brakes (the normal adult hand brake) and rear V-brakes (reversing the pedal to stop the bike).
Furthermore, the Gates Carbon belt drive has been made grease and rust-free to pair up with an internal 7-gear hub that ensures your trail riding adventure is fulfilled. Its handlebars are styled to work with daily commuting, which is this bike's advantage.
On the bottom, the hybrid bike includes puncture-resistant 32mm tires so it can be able to conquer all kinds of difficult terrains. Despite being sold at a lower price than average, this package comes with a kickstand for you to pop it up when not in use.
Pros
Lightweight agile chromoly frame.

Both front and rear V-brakes.

Grease and rust-free belt drive.

Commute styled handlebars.

Puncture-resistant 32mm tires.

Comes along with a kickstand.
Cons
No defections discovered so far.
Best for Style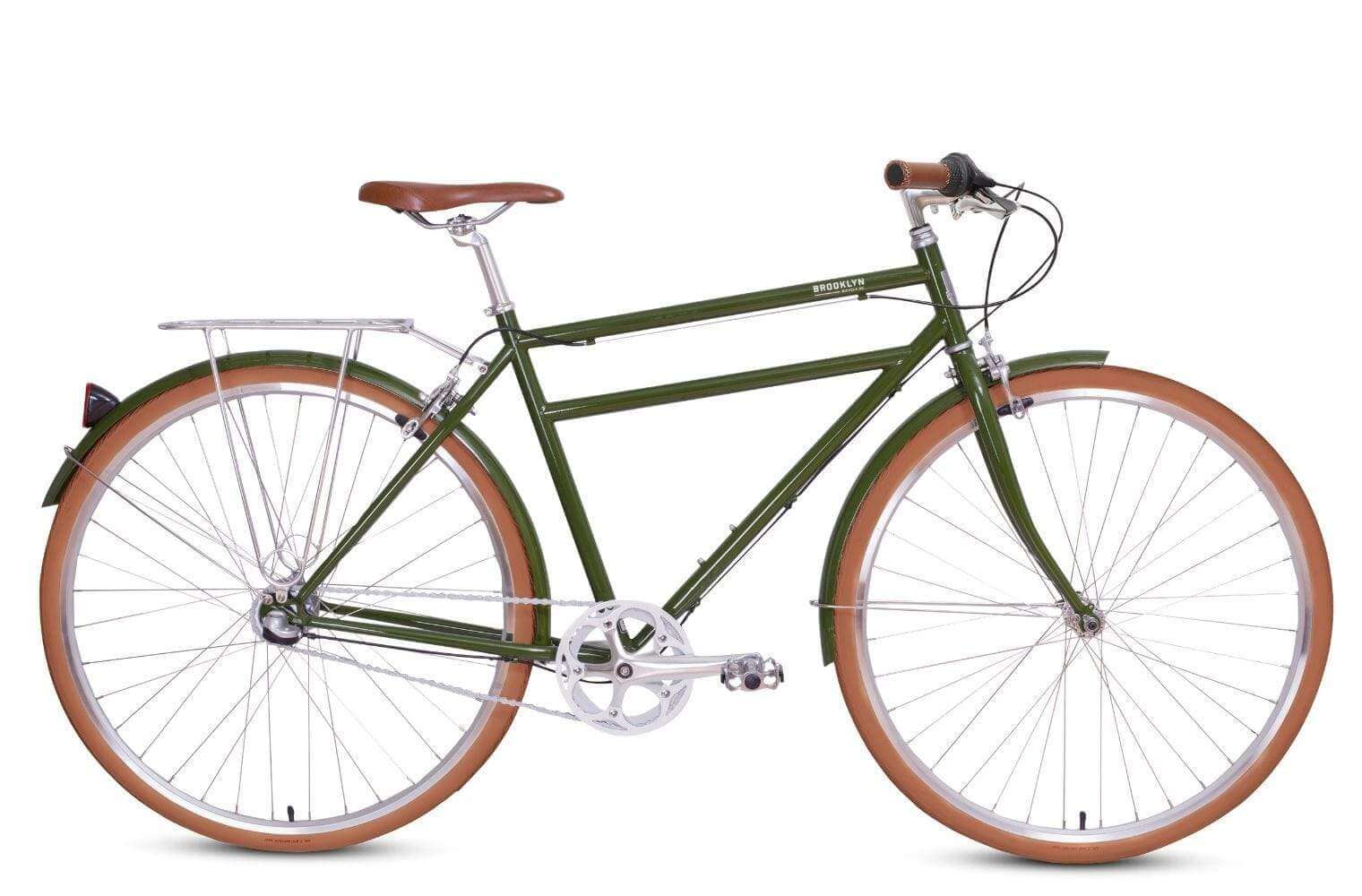 Size range: M – L | Frame material: 4130 Chromoly | Number of gears: 7 | Weight: 35 lbs
If you want to have heads turned for your stylish bike, purchase the Brooklyn Diggs to enjoy a casual weekend ride on the streets with confidence. Its light chromoly frame is double-butted with a low-maintenance internal gear hub for durability.
This bike is popular for having color-matched fenders and a premium paint job that would definitely be more attractive than the majority of other models. Apart from that, I believe you can make much use of its mounting points to carry accessories.
It also enables the tall rider to have an upright riding style for a relaxed, comfortable city street ride. In case you want to climb up the hills, the hybrid bike offers 7 numbers of gearing and CST Traveller 700×35 tires to achieve your goal.
Pros
Fashionable to turn heads.

Double-butted chromoly frame.

Premium paint for attraction.

Mounting points for gears.

Enables upright riding.
Cons
Back fender isn't attached.
Mountain Bike
Best Overall Mountain Bike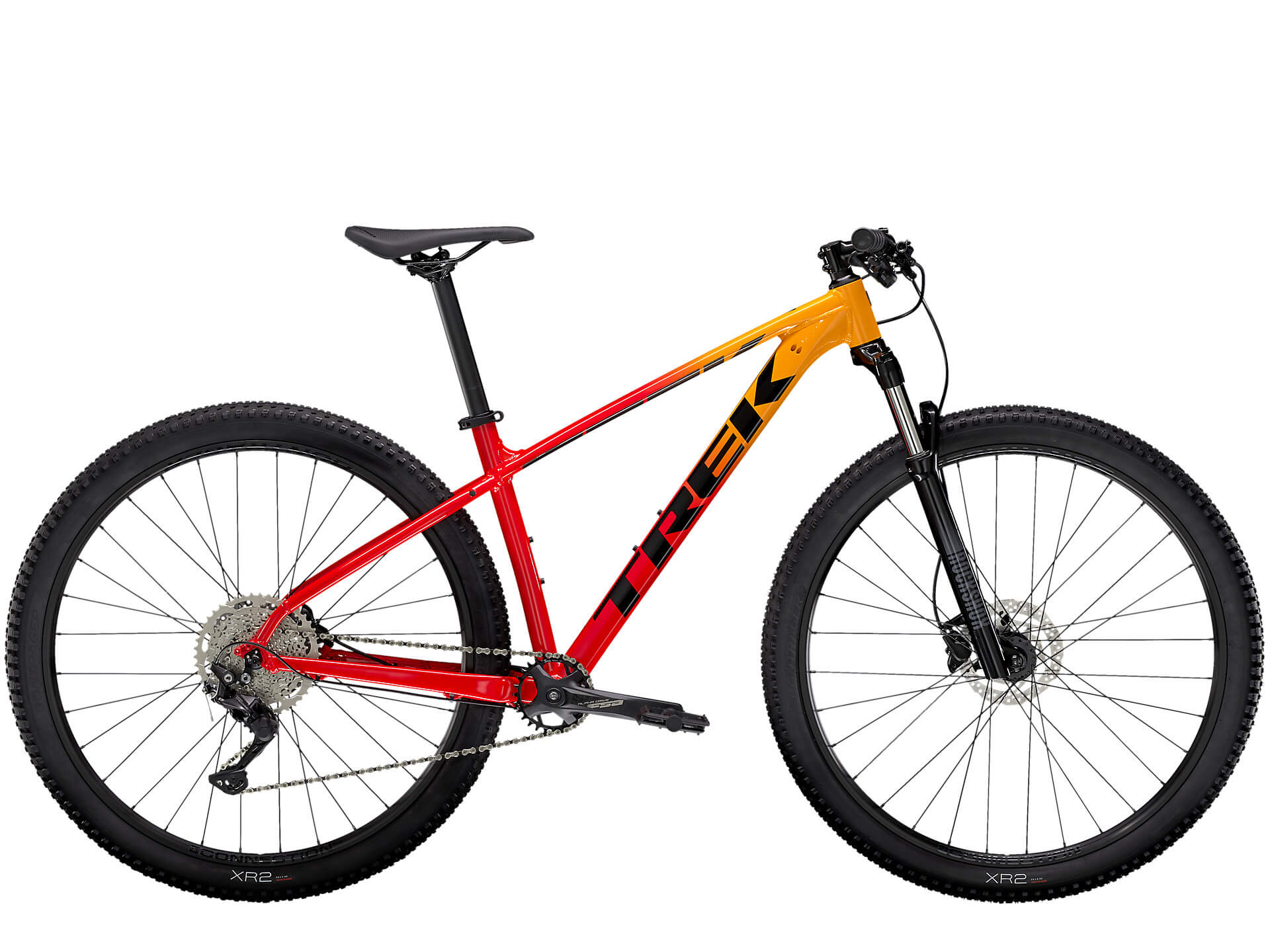 Size range: M – L | Frame material: 4130 Chromoly | Number of gears: 7 | Weight: 35 lbs
The best overall mountain bicycle for tall riders that's qualified for racing has got to be the Trek Marlin 7. Its 1x drivetrain delivers all the gears you need and excludes ones you don't. The internal shift cable is effective in protecting its cables from elements.
7 aluminum frame sizes are available for this bike so tall people can freely try them out to see which size works out best for them. You needn't be concerned about laying or leaning the unit anymore thanks to its additional rear kickstand mount.
On extended road sections, pedaling efficiency plays a more important role than bumps absorption, therefore, this bike includes a qualitative suspension lockout. Its straight top tube for frame size M and up is a perfect feature for tall cyclists.
Pros
A qualified racing-grade bike.

Protective internal cables.

7 frame sizes are available.

Adds a rear kickstand mount.

Effective suspension lockout.

Straight top tube for tall riders.
Cons
The paint may get scratched.
Best for Low Budget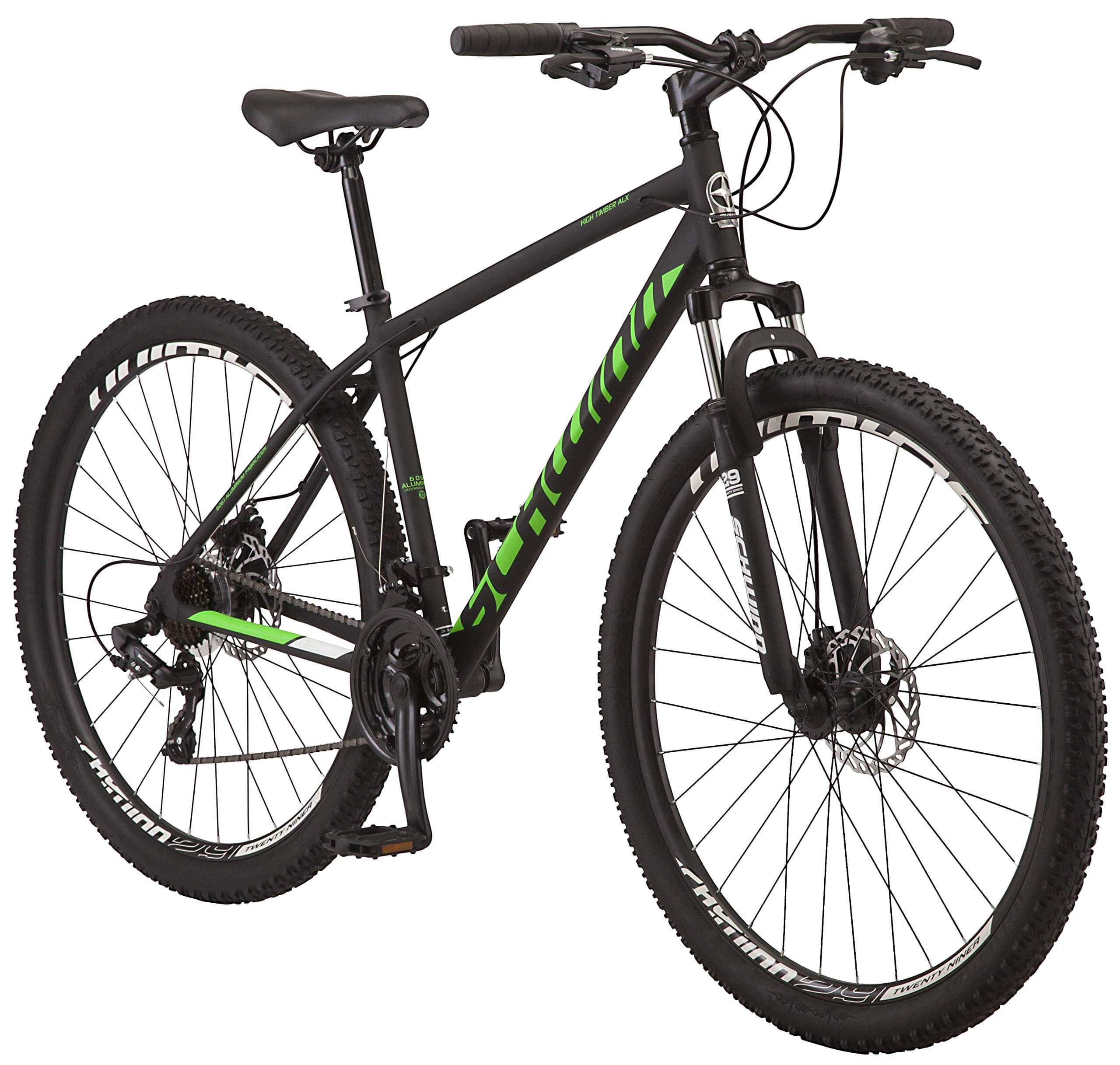 Size range: 20 – 29" wheels | Frame material: Steel | Number of gears: 7 | Weight: 30 lbs
The mountain-style steel frame and suspension fork of this Schwinn High Timber are beneficial to combine and enable responsive riding on a wide range of surfaces. This bike has been manufactured with multiple paint options for all types of riders.
Both of its front and rear linear pull brakes are made out of premium alloy to deliver powerful stopping power, no matter the terrain. Its 7-gear twist shifters are supported by a rear derailleur to allow smooth, uninterrupted, and precise gear changing.
This pair of bike wheels are engineered with alloy rims to produce a lightweight strength and for the tires to handle the most difficult terrains. Its durable alloy crank is also responsible for steady gear changing and requires much less maintenance.
Pros
Responsive riding on terrains.

Powerful stopping with 2 brakes.

Smooth, precise gear changing.

Alloy rims included in wheels.

Low-maintenance durable crank.
Cons
Derailleurs don't shift properly.
Best with Hardtail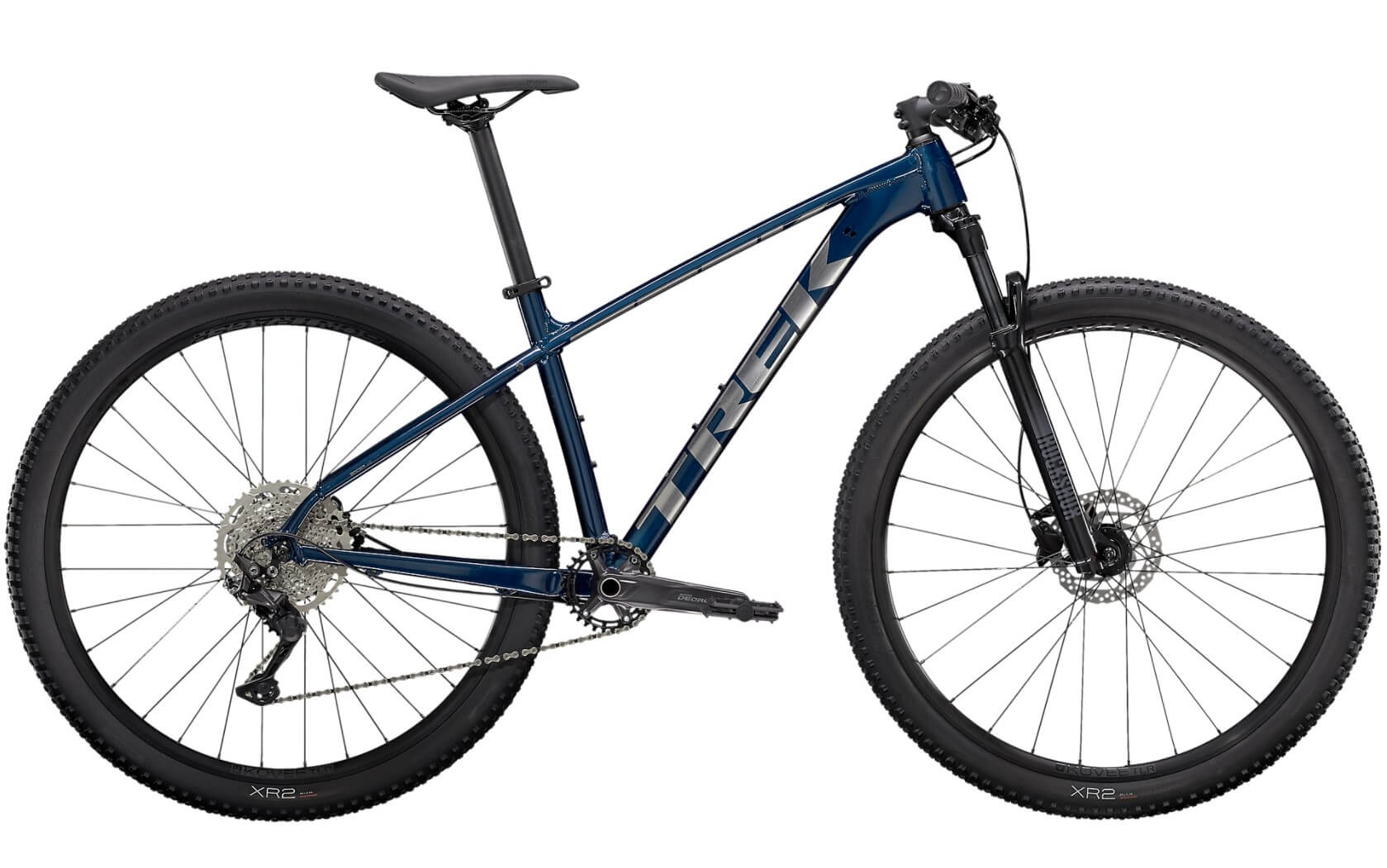 Size range: 20 – 29" wheels | Frame material: Steel | Number of gears: 7 | Weight: 30 lbs
Last but not least, the Trek X-Caliber 7 64cm bike is suitable for any new and tall cyclist who wants a kick start into the world of mountain biking. I find its internal cable routing quite sleek to deliver a clean look while being upgradable to a dropper post.
The bike geometry is a fantastic feature that allows you to quickly handle it with weight-conscious components, and sufficient suspension to avoid road bumps. Its wheel size is paired with the right frame size so you have more response and control.
In order to control the bike's front end easier, its tapered head tube can provide you with a high level of precision and confidence. There's a rebound adjustment in its RockShox air fork and it's tunable to work with the rider's weight while you ride.
Pros
Suitable for new cyclists.

Upgradable to a dropper post.

Avoids bumps with suspension.

Smart wheel & frame size.

Precise tapered head tube.

Fork offers rebound adjust.
Cons
The headset is quite loose.
What to Look for When Buying Best Bikes for Tall People?
Choosing a bike for tall people is not simple since there are 3 different types of them, along with other important components. This buying guide will point out what you need while getting a great bike for tall people.
Types of bikes
Road bikes are mainly designed for gravel grinding, trail riding, and daily commute. They are usually seen as lightweight (under 30 lbs) by having a minimal design with low maintenance. That way, you would handle them much easier on the streets.
Hybrid bikes are a combination of road and mountain bikes. In most cases, it's an advantage for having this flexibility. But at the same time, a hybrid bike can be limited in boosting either road or mountain performance since it's specialized in neither.
Most mountain bikes consist of powerful components because mountain terrains are more challenging to conquer than flat roads. They certainly offer more gearing levels for you to shift whenever climbing up hills. These bikes are a bit heavier but of high quality.
Frame
Besides lightweight aluminum as the most common bike frame material, some models are manufactured from handmade chromoly. There are steel frames like the Schwinn High Timber but to be honest, I would choose the previous 2 for durability.
For tall cyclists, remember to check out its frame measuring board and minimum inseams (if included) to find a suitable bike for your height. For example, a rider with a 90cm inseam should buy a 62cm road bike frame size, and 22" for mountain bikes.
Crank
Crank refers to a series of the drivetrain, gears, crank arms, crank spiders, bottom bracket (but not including the chain or derailleurs). Depending on available bike frame sizes there would be different cranks with a wide range of chain guards and lengths.
Crank lengths are measured from the centre of the bottom bracket axle to the centre of the pedal axle. Though most available bikes include cranks around 170 – 175mm, they can be lengthened to 190mm for tall people. Suitable crank arms will give you comfort.
Wheel
For all 3 of the bike styles, they need to have durable traveling wheels with strong traction on difficult terrains to ensure stability for the rider. Plus, the wheel size should be paired with the frame size for you to gain responsiveness and control.
Conclusion
My best overall road bike is the Priority Apollo Gravel for having a lightweight frame, wide gear range, and low-maintenance. Go for the Clysdale Rein if you need some diversity in your potential riding terrains. And don't forget the Schwinn High Timber with a low budget and smooth, precise gear changes.
Hopefully, you will take advantage of the product reviews and detailed buying guide of the best bikes for tall people in this article. Always choose the bike style first (road, hybrid, or mountain) then consider other features and components later.
URL: https://www.outsideonline.com/sites/default/files/styles/full-page/public/2017/05/11/dirtysixer-32er_h.jpg?itok=j9UOv_Jm