Hydration is important. More so if you're out there burning a lot of calories riding under the sun. Having a good bike water bottle helps. But, if it's not securely attached to your bike and easy to reach at all times, it's not nearly as useful.
This is where bike water bottle holders like the Arundel Mandible Water Bottle Cage comes in.
There's a good reason why many consider the Mandible as the best bike water bottle holder. It's slimmer and smaller than other bottle holders. Yet, it provides more grip.
Plus, its minimalist design with zero colored decals means that it won't stand out and it has a foam core that essentially acts as a cushion to your water bottle.
Read More: 7 Best Bike Water Bottles
Below, we've rounded up the best bike water bottle holders on the market, along with tips on how to choose the best water bottle cage.
Best Overall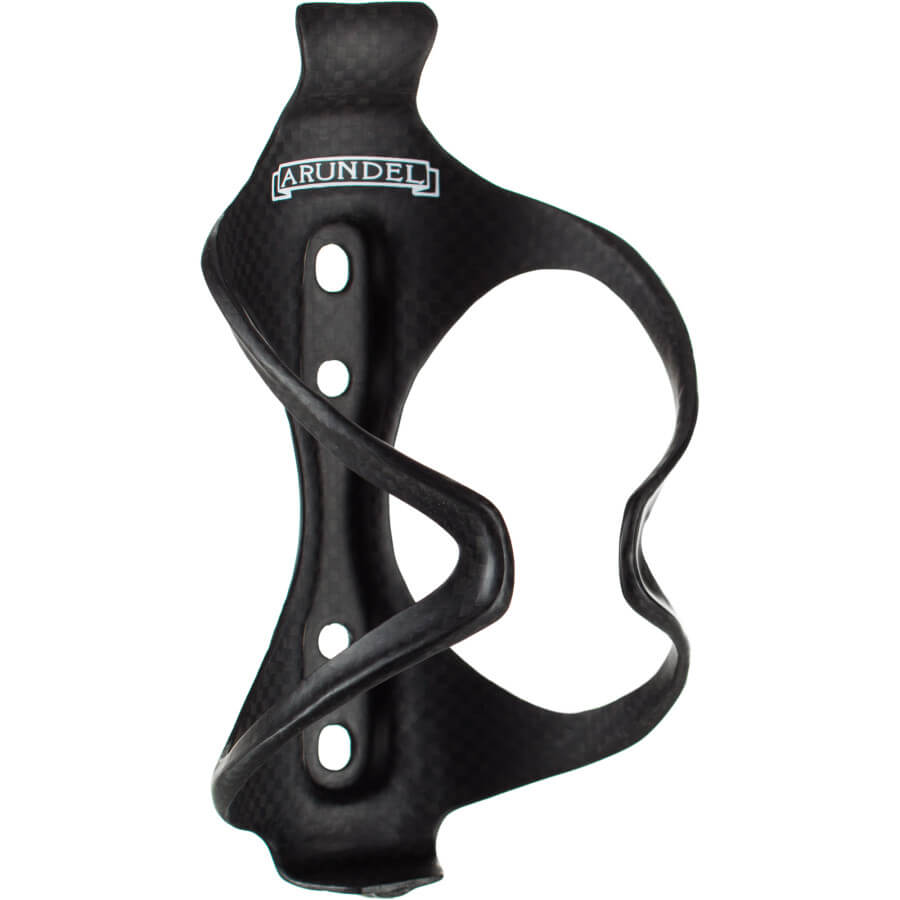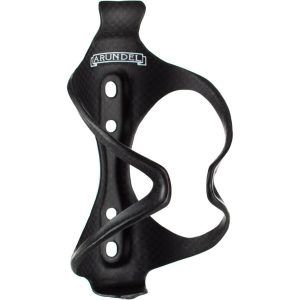 The standard bottle cage weighs around 48 to 56 grams. It's not much, but it's still 56 grams more for you to worry about. That's on top of the weight of your water bottle.
On the other hand, the ARUNDEL Mandible Water Bottle Holder weighs just about half of that at just 28 grams. This means that, even with two bottle cages, you won't be adding much weight to your bike.
Obviously, there's a trade-off, right? Well, not really. Its carbon frame, foam core and slender arms are actually much better at keeping your bottles in place than other bulkier bottle cages.
Think of the Mandible like a literal bear hug for your bottles. The only difference? That bar is light and fluffy.
And, oh, did we mention that it looks cool? It comes in white, gloss black, or matte. All three come with minimalist designs with nearly zero stickers.
The only con? It's not cheap. It's on the pricier side of things.
But, if you're on the market for the best bike water bottle holder anyway, you might as well bite on the proverbial bullet and get yourself your money's worth.
Pros:
Lightweight
Ultra-secure hold
Minimalist design
Cons:
Best for 2-Cage Option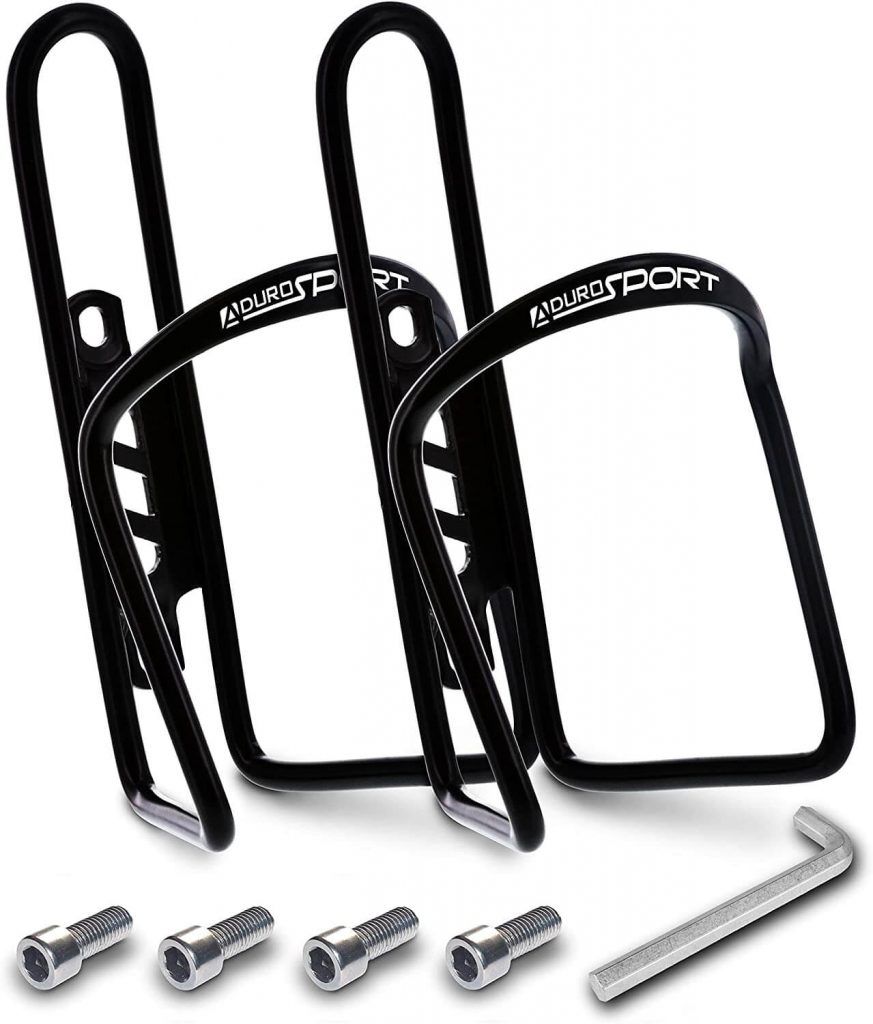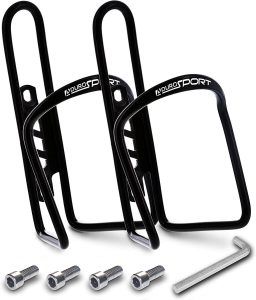 Talk about a 2-for-1 special. The Aduro Bike Water Bottle Holder Aluminum Cage is the best option for those looking to save money.
A single purchase of this gives you 2 bottle holders with the necessary installation tools to boot.
This bottle holder comes with a universal design that fits both standard and larger bikes. It's also relatively simple to install too and comes with an expandable base.
This means that you can adjust it freely depending on the design and size of your water bottle.
At this price point, pointing out flaws is just downright nitpicking.
While this bottle holder definitely isn't perfect, it's a great value. It's also backed by a 100% satisfaction guarantee with a full refund.
Pros:
Cheap
Comes as a 2-pack
Easy installation
Installation tools included
Lightweight
Cons:
Installation may require drilling holes on your bike
Not really built for heavy-duty use
Most Lightweight Cage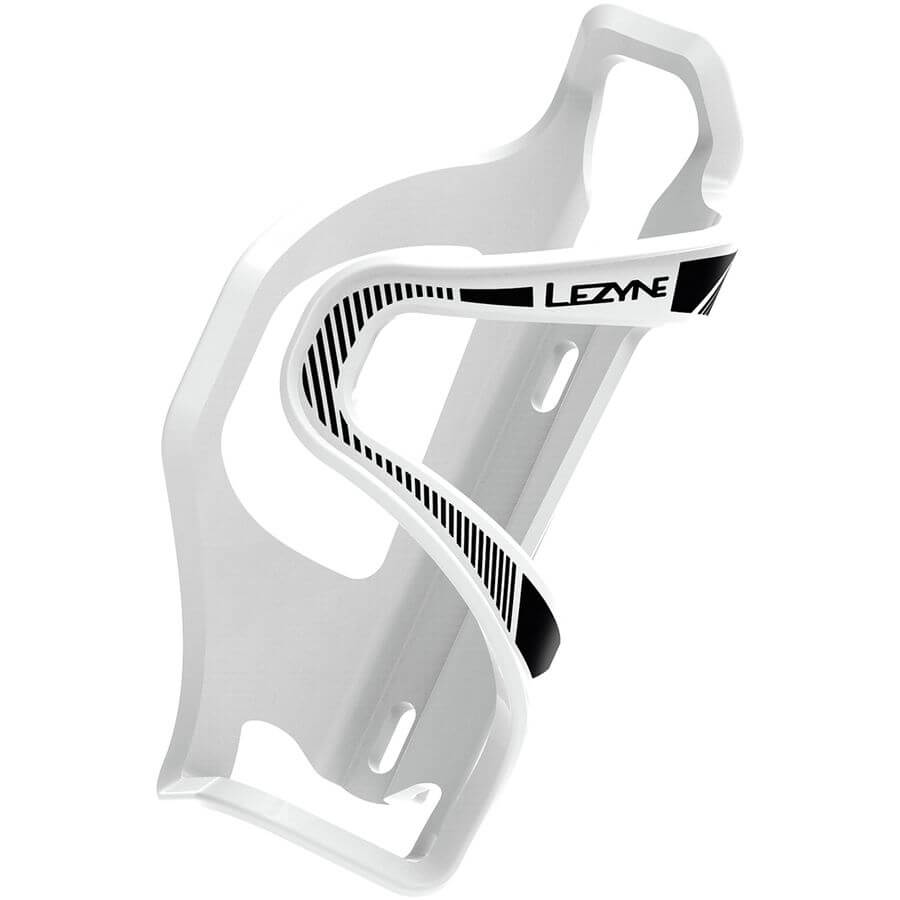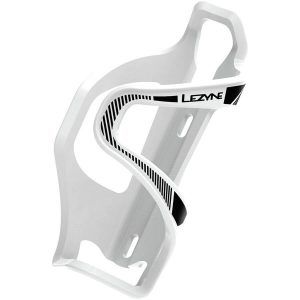 At 48 grams, the Lezyne Flow SL Cage is one of the lightest bottle holders on the market.
The Flow SL Cage is available in left-side and right-side configurations. This allows you to choose your preferred side for your rides.
It's made out of a fiber-reinforced material that allows it to shave weight without sacrificing durability and integrity.
It also comes with oval mounting holes. These holes let you adjust the positioning of the bottle holder on your bike frame as you see fit.
As a bonus, these cages look nice and are available in a variety of colors.
If you're the sort to accessorize their bike, this bike bottle cage is an excellent lightweight alternative to the more expensive carbon bottle holders.
Pros:
Available in a variety of colors
Easy-access on either side
Side-grap opening
Cons:
Not the most stable hold for aggressive terrain
Best for Minimalist Design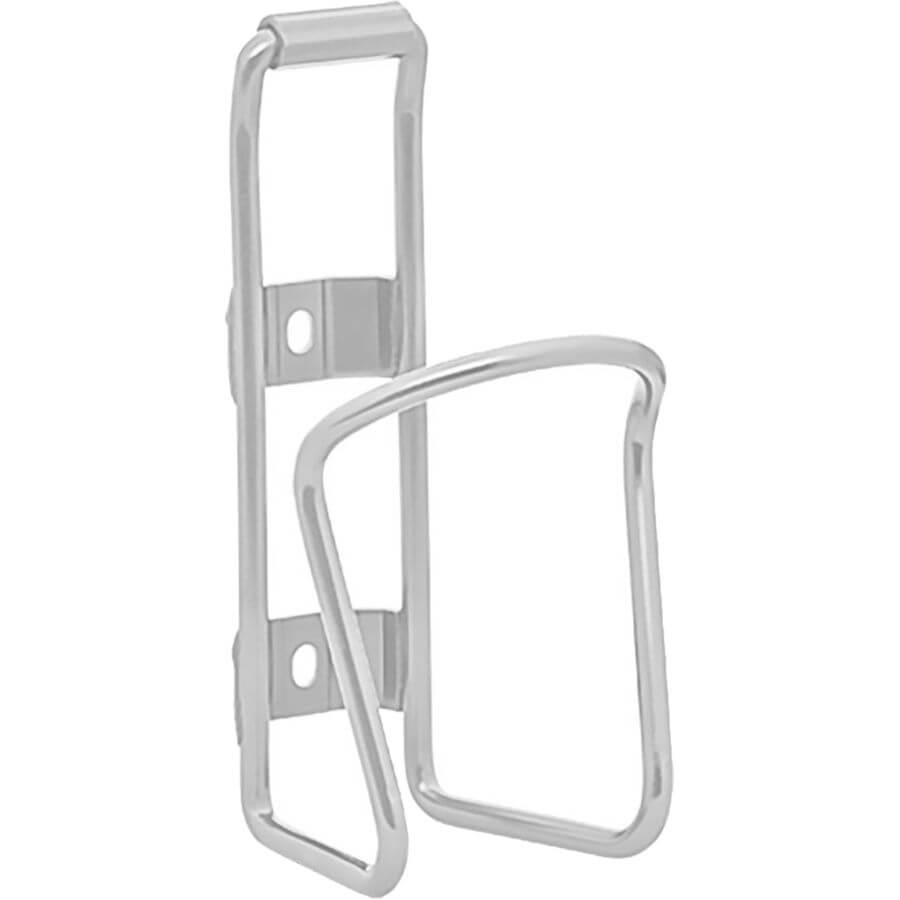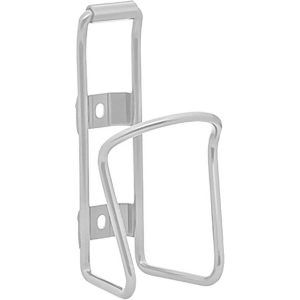 Minimalist to the point of blandness, the Blackburn Mountain Water Bottle Cage is all about efficiency. It doesn't look great.
The oversized aluminum framing looks like they were haphazardly put together, albeit, there is still some semblance of design to it. However, as far as a secure and stable hold goes, you'll find very few just as good, let alone better.
If it's any consolation, this tough water bottle holder is available in multiple colors.
So, at the very least, you're free to match it with the rest of the frame of your bike.
Pros:
Stable hold even on very rough roads
Oversized framing
Available in multiple colors
Minimalist design
Cons:
Best for Modern Design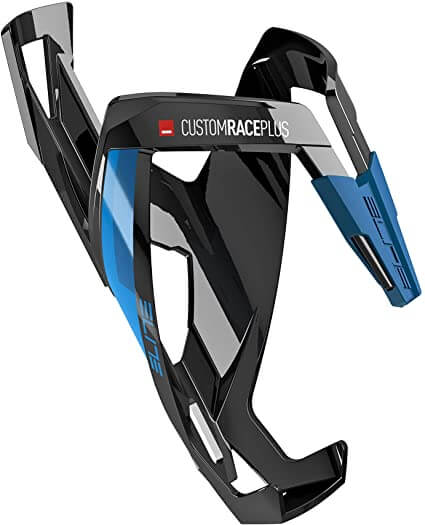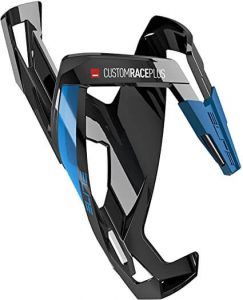 You know that your product is good when some of the best athletes in its industry is using it.
Case in point, the Elite Custom Race. At some point, more than 50% of the riders in the Tour De France was using it. This is proof to just how good it was.
Emphasis on was, because its follow-up, the Elite Custom Race Plus Bottle Cage, is even better.
The Elite Custom Race Plus was designed with feedback from elite riders. It removes the "bottle creep" flaw present in the old design.
Meanwhile, it's larger in size and with better alignment. The reshaped sides also reduced binding during removal while making it compatible with more kinds of bottles.
Lastly, at just 38 grams, this proudly Italian-made product is one of the lightest water bottle holders there is.
Pros:
Holds 500ml to 700ml just fine
No rattling even in offroad terrain
Eye-catching design
Easy to install
Cons:
Hold might just be too tight for some bottles
Best for Compatibility with Bike Types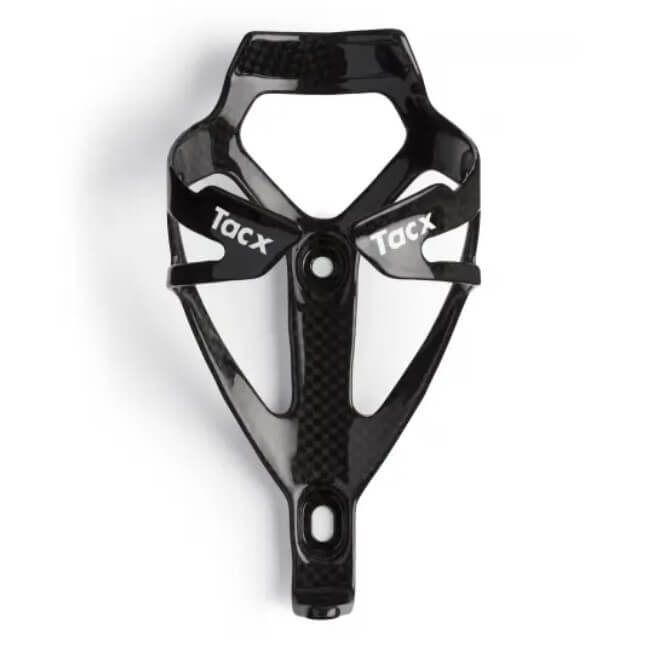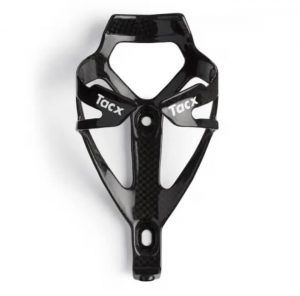 A common issue with bike water bottle holders is compatibility. It's either it has issues fitting certain bottles or fitting on a bike.
This is why it takes a lot of time to choose the best bike water bottle holder.
If you want a no-fuss purchase, your best option is the Tacx Deva Cage.
The polyamide glass fiber and carbon core create optimal clamping conditions. This makes it easy to fit on pretty much any bike and improves bottle compatibility.
It also sports a cylindrical design choice for minimal bottle movement while out driving.
At just 32g, the Tacx Deva Cage is pretty lightweight. It's also available in a carbon-only version, which weighs only 21g. However, that one comes at a significant premium.
Regardless of which of the two you end up buying, you're sure to end up satisfied with your purchase.
Pros:
Lightweight with an even lighter carbon-only option
Wide compatibility
Minimal bottle rattling and movement
Available in many attractive color options
Cons:
Won't work well with larger bottles
Best Value for the Money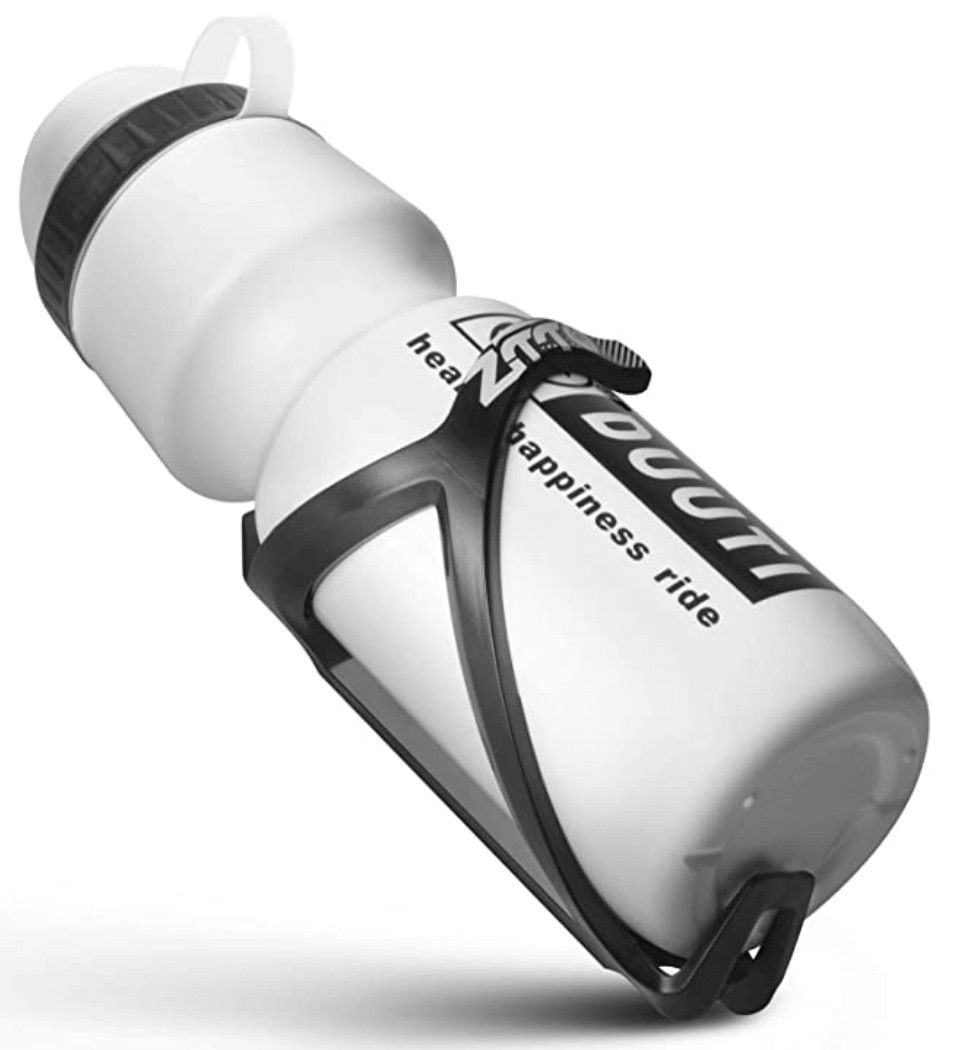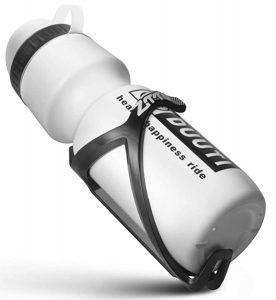 Seldom do you get something that's a good value for the money and arguably the best in its segment.
The LERMX Basic Mountain Bicycle water bottle is a good example.
This bike water bottle holder is lightweight and durable, with a smooth finish that won't scratch or scuff your bottle.
It holds your bottle tight and deep, minimizing rattling, even on unpaved roads.
It even comes with its own 24oz BPA-free bottle and lid made out of 18/8 food-grade material.
Basically, you're getting both a high-quality water bottle holder and a water bottle.
And, because it's backed by a 180-day replacement or full refund service with lifetime customer service, you know you're getting a quality product.
Pros:
Excellent value for the money
Free BPA-free water bottle
Fits water bottles and Bluetooth speakers
Cons:
Included water bottle is so-so
Bike Water Bottle Holder Buying Guide
As with any bike component, bottle holders can be made out of a variety of materials and come at different prices.
If you want to choose the best option possible, you'll need to know what factors to consider.
Plastic is a common material used in bike water bottle holders. They're not as durable, but they won't scratch your bottle either. They're also much more affordable. However, if money is not an issue, lightweight aluminum costs only a little bit more and are more durable.
If you're willing to pay a premium, carbon fiber bottle holders are the best. They're significantly lighter and are far more durable.
The best bike water bottle holder is the lightest bottle holder you can afford.
Remember, the more gear you add to your bike, the heavier it gets. The standard water bottle weighs around 70-80 grams. It's not much, but don't forget, it doesn't include a filled water bottle just yet. If you plan on carrying two water bottles, that's a significant amount of weight added to your bike. Thus, it'll require more effort for you to pedal.
Just make sure that you don't get a water bottle holder just because it's lightweight. Think about the material too. Some lightweight water bottle holders will sacrifice grip or hold strength just to stay light.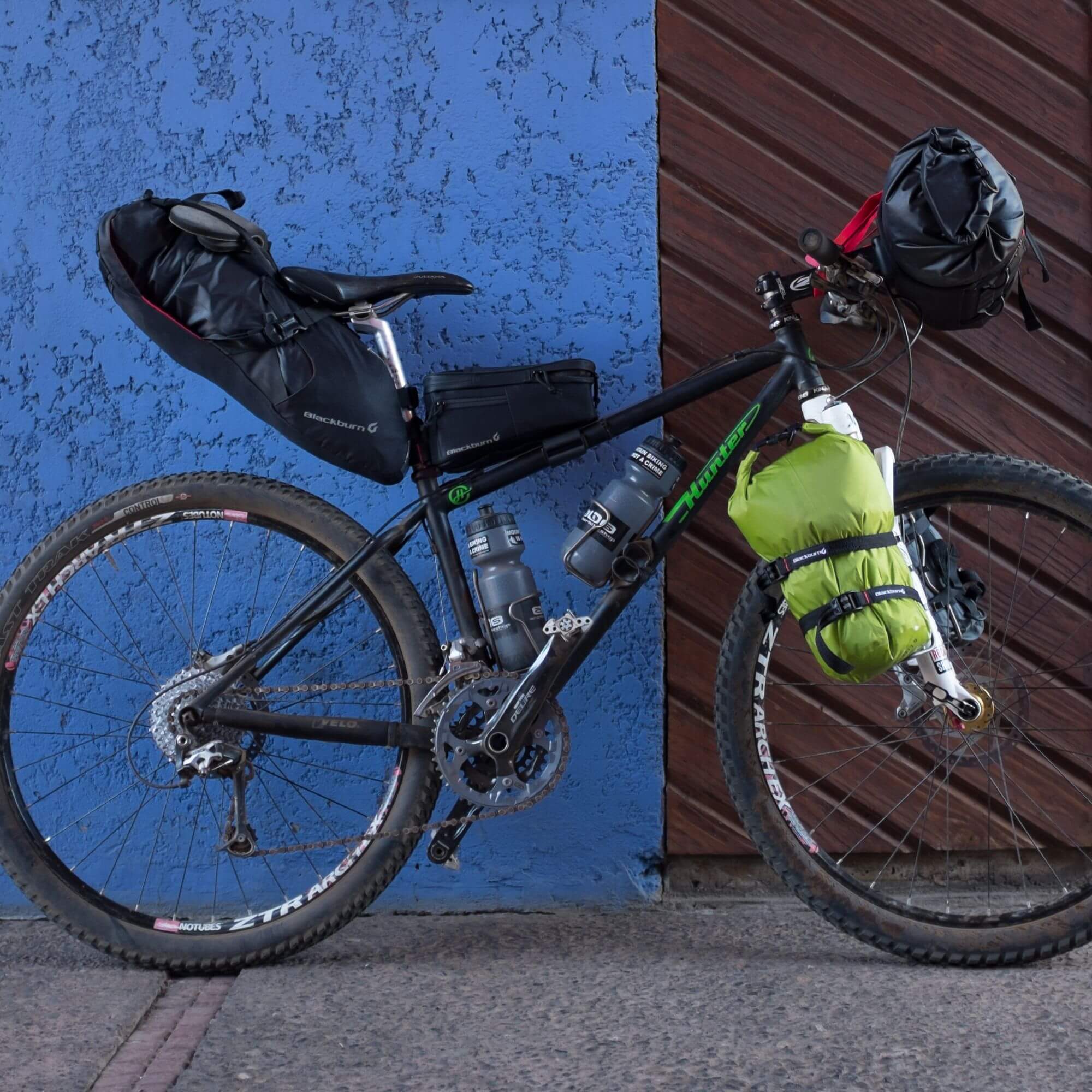 If your bike frame has a lot of space around the front triangle around, you can get a top-load water bottle holder. However, for tight clearances, top-load water bottle holders won't fit.
This is usually the case with full-suspension frames. In such cases, you'll want to get a side-load cage. The only problem with side-load bottle holders is one-sided (either left or right) access.
Bottle fit and Compatibility
Not all water bottle holders are universally compatible. A lot are not, especially cageless designs.
Before you buy a bike water bottle holder, make sure that the bottle you have fits. If it won't, you'll have to be open to compromise and switch brands.
Conclusion
Bike water bottle holders are not usually expensive. Some don't really cost much. However, just like in every other component for your bike, you do get exactly what you paid for.
This is why the Arundel Mandible remains our top choice despite its high asking price.
It is a sturdily built water bottle with a lightweight carbon fiber cage. In fact, it's the lightest bottle holder on our list. At the same, it also has arguably the tightest and strongest grip.
Yet, despite this, it won't squeeze your bottles too tight. This is because of the foam core that lets it give your water bottle a tight but soft hug while you're out riding.
If it's too expensive for your taste, the Tacx Deva Cage is an excellent alternative.
It's made out of a polyamide glass fiber and carbon core mix that keeps costs low while keeping it lightweight without sacrificing durability.
If these two won't cut it for you, then sort out the rest of the list and hopefully you'll eventually find a bike water bottle holder that works for you.