If you're one of those troubled by the lack of convenient storage options when riding a bike, then you might want to take a look at the Ibera Bike Trunk Bag.
Many consider this the best bike trunk bag for a lot of reasons. For one, it has a quick-release bag mounting system that makes mounting it on and off a piece of cake. Meanwhile, it has multiple compartments. Plus, the generous amounts of padding help protect your precious cargo.
Read More:
But, of course, just because some people consider one bike trunk bag the best, doesn't mean it's great for everybody.
This is why we've rounded up some of the best bike trunk bags on the market today.
Best Overall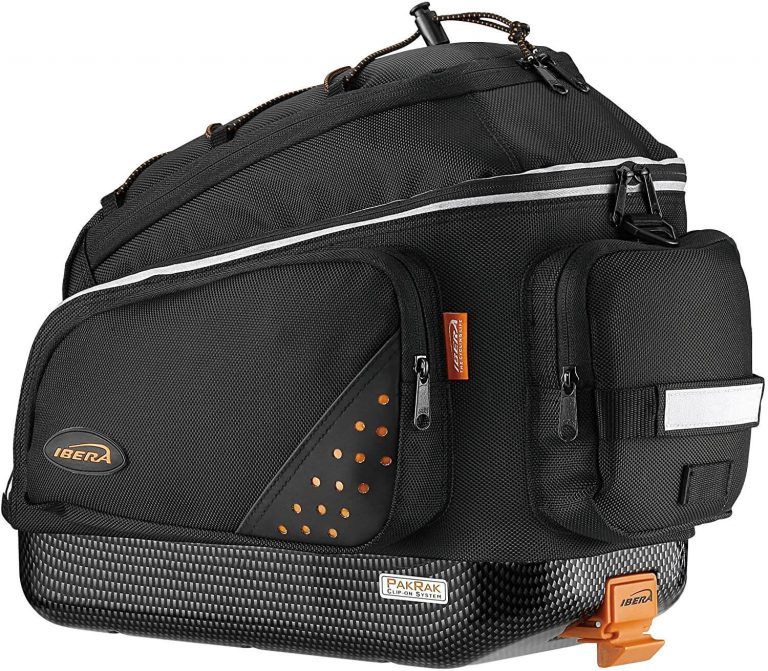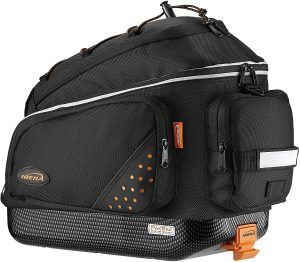 The Ibera Bike Trunk Bag is the ideal companion for people who bike daily. It's even great for weekend trips. The sheer amount of space that this bike trunk bag has is amazing.
Not only does the bag have multiple compartments, but it has multiple differently-sized pockets for storage options.
It's easy to mount this bike trunk bag using its quick-release bag mounting system. You can also carry it around as a shoulder bag via the detachable padded shoulder strap or as a handbag using the carrying strap.
Either way, whatever you put inside should be fine. It has a durable carbon-patterned ABS base with generous amounts of padding in its main body.
As a bonus, this bike trunk bag is great for night use. It has a 360-degree reflective trim that makes it visible at night. You can also hang an additional taillight via the hanger strap for added safety when riding at night.
Pros:
Generous amounts of body padding
Multiple compartments
Easy installation
Can be used as a shoulder bag or a handbag
Cons:
Handstrap is prone to premature wear and tear
Best for Sturdiness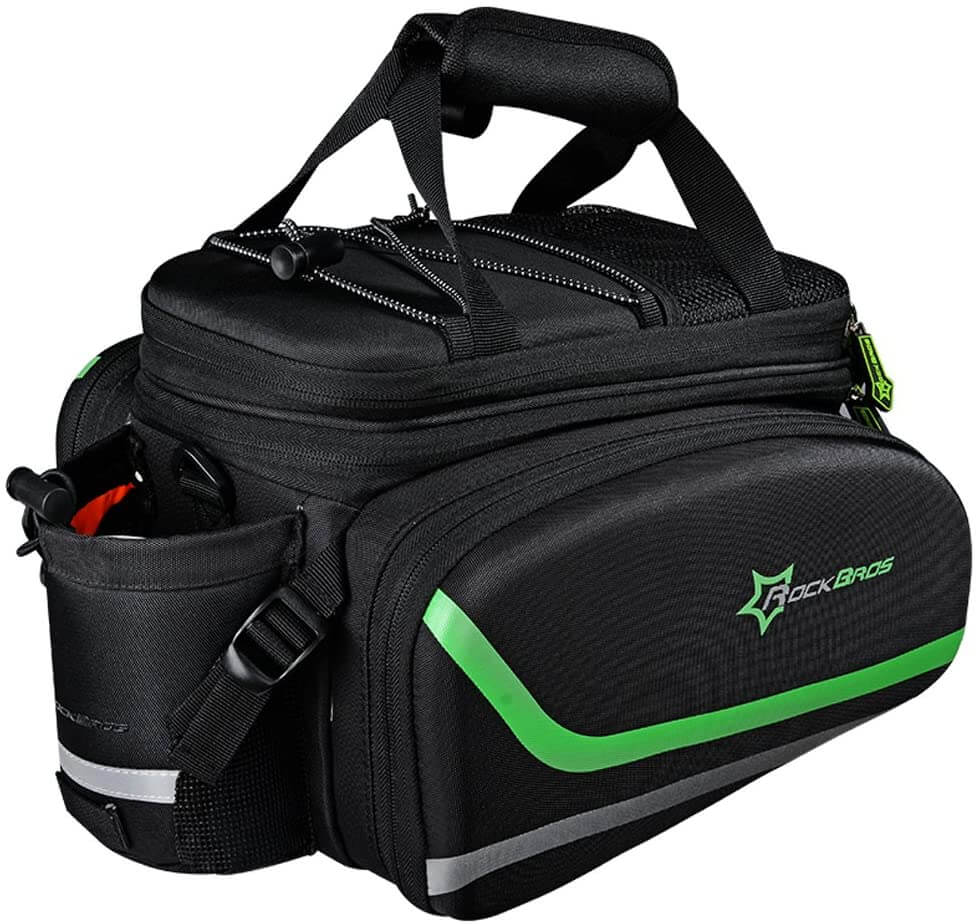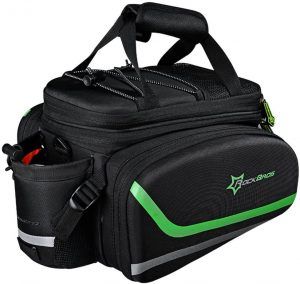 Thanks to its dacron fabric construction material, the ROCKBROS Bike Panniers is a durable little trunk bag. It's resistant to many things.
This includes warping, wrinkling, and even shrinking. It has strong fibers that all help make the fabric last longer while showing minimal signs of wear and tear.
The bag also just isn't durable, it's also fairly secure. Both sides have reflective straps, with a taillight hanger strap, for better night visibility.
In addition to this, it comes packed with a fluorescent green rainproof cover. You can use this to keep the bag safe during heavy rain.
Alternatively, the cover can make it easier for others to find you in bad weather conditions.
In terms of storage, this bike trunk bag has plenty of space. The large main component has a divider for smartphones and other gadgets like sharp items.
You can also customize the divider according to your needs. It has a water bottle holder with an adjustable drawstring for added security.
Speaking of security, you can carry the trunk bag with you using the adjustable padded shoulder strap. Then, once you're done, all you have to do is to put it back in its place.
This shouldn't be a problem since it has a quick-release velcro design for convenience.
Pros:
Well-made
Comes with an adjustable divider for better organization
Bright and reflective rain shield
Cons:
Not exactly the easiest to put on and secure
Best for Mounting System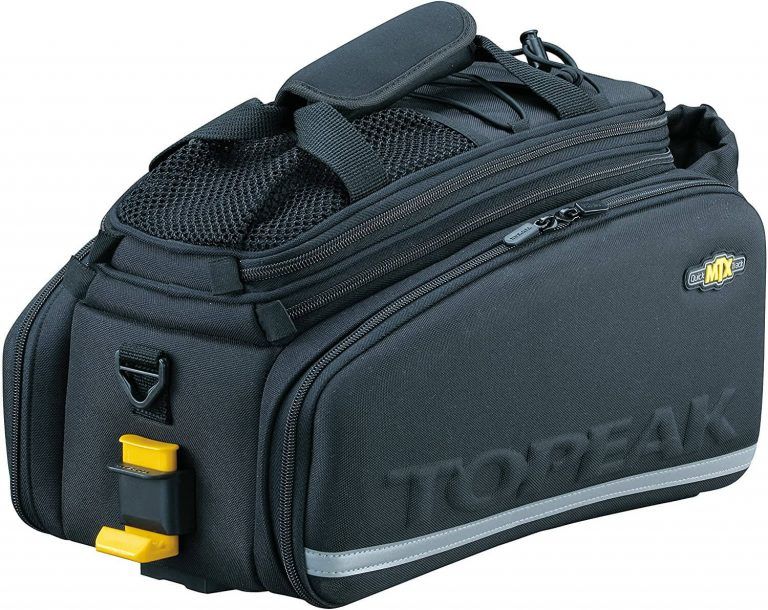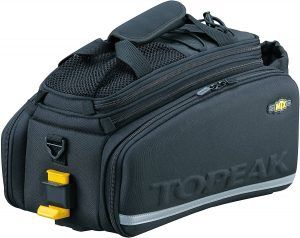 The problem with bike trunk bags is not just making sure that they are a tight and secure fit on your bike. It's also that you have to make sure that you can remove them just as easily as you mount them.
This is a problem that a lot of bike trunk bags have. One of the few rare exceptions is the Topeak MTX Trunk Bag DXP.
Thanks to the MTX QuickTrack system, mounting this trunk bag is easy. All you need to do is to slide it into any MTX QuickTrack rack. That's it. No more hassle.
Now, just because a bike trunk bag is easy to install doesn't mean it's good already. Luckily, this trunk bag is both easy to mount and made out of high-quality materials.
This includes a 600 denier polyester construction with rigid molded side panels that will stand up to all sorts of abuse.
In terms of storage, DXP has 1,380 cubic inches of storage. That's a lot. It also comes with a divider for its main compartment, as well as an expandable top.
For added space, the side panels have expandable panniers. You can also carry it as a handbag or as a shoulder bag depending on your preference.
What we're trying to say here is that the DXP is an ideal product. The only glaring issue is how much more expensive it is compared to its competition.
Pros:
Plenty of storage space
MTX QuickTrack system
3M reflective strips all around
Versatile carrying options
Cons:
Best for Compact Design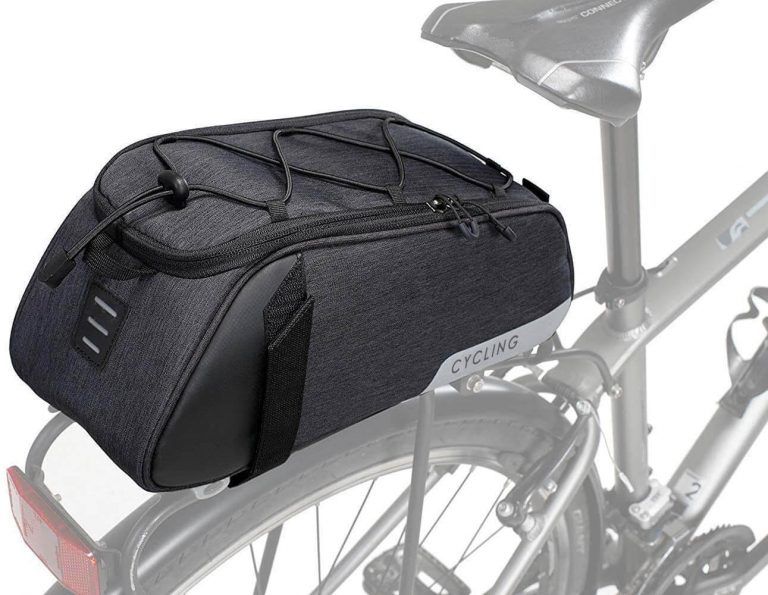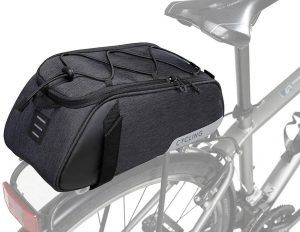 Not everyone needs a bike trunk bag that can fit a week's worth of groceries. Some just want a bike trunk bag that can fit most of their daily needs.
If that's true for you, then you might want to take a good look at the WOTOW Bike Rear Seat Bag.
This compact bike trunk bag is made out of a lightweight but durable material known as 300D polyester. It's also water- and mud-resistant with a thick anti-skid and abrasion-resistant bottom padding for added protection of your items.
Because of its compact design, this bike trunk bag is easy to carry around anywhere. The included shoulder strap allows you to use this trunk bag as a chest bag.
At the same time, because it uses hook and loop fasteners strap, securing it behind your bike's saddle is quick and easy.
As a bonus, the aerodynamic design helps minimize air resistance, giving you a wee bit of speed boost when you're out cycling.
For a complete guide to buy the saddle bags, you can read it here.
Pros:
Compact and minimalist design
Lightweight
Water- and mud-resistant
Cheap
Cons:
Zipper quality leaves a lot to be desired
Best for Drink/Food Storage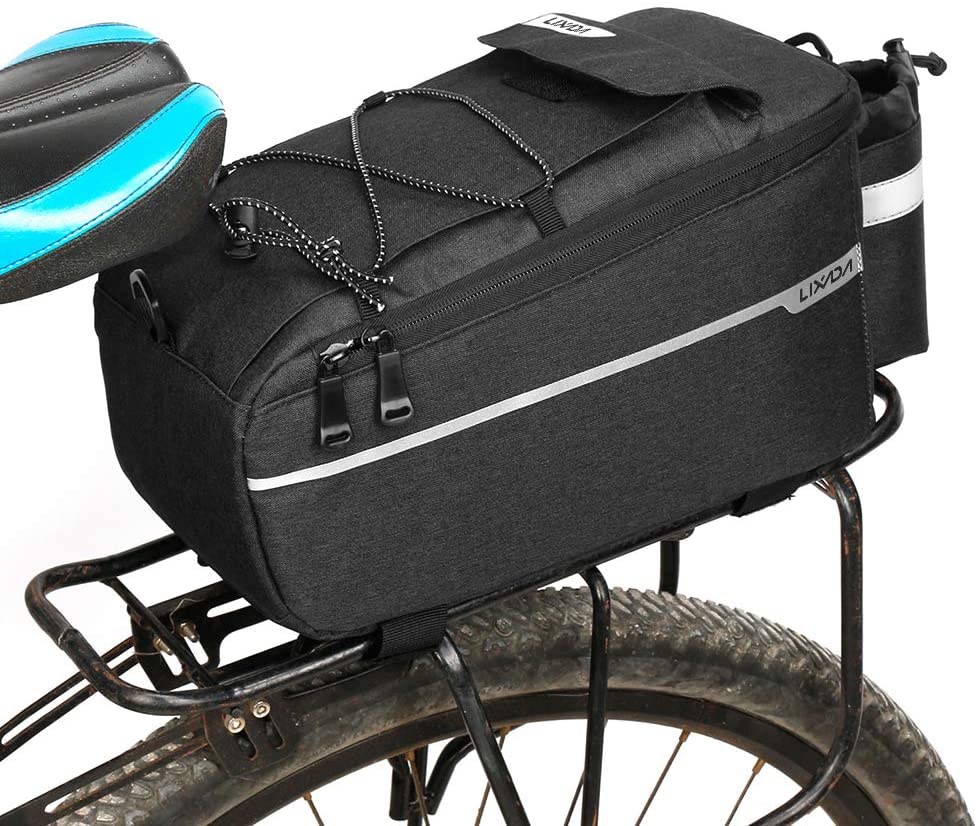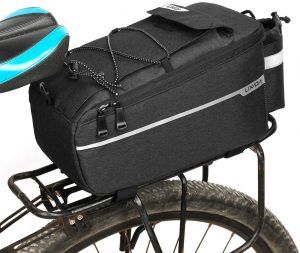 Insulated bike trunk bags are a rather specific need. Most of the time, you'll be done riding before you need to worry about your water getting warmer than you prefer.
Not only that, but bike water bottles are often insulated to some degree anyway. However, in case you really do need an insulated bike trunk bag, we have just the thing for you.
The Lixada Insulated Trunk Cooler Bag for Warm or Cold Items will keep your food and drinks exactly the way you want them for a longer time.
The water-resistant fabric material comes with soft padding for added protection. At the same time, it has a large capacity that lets you store and carry a lot.
You can also add other items using the elastic bungee cord found on the top as well.
The reflective materials found on the outside of the bag helps improve your visibility and keep you safe at night. Then, when it comes to putting it on and off your bike, the front and bottom adjustable velcro straps guarantee quick and easy installation.
This is the best bike trunk bag that you can find that can keep your drinks and food safe and sound while you're out on the road.
Pros:
Insulated
Affordable price
Surprisingly light
Cons:
Bag tends to sag when not full
Best for Using as Shoulder Bag or Hand Bag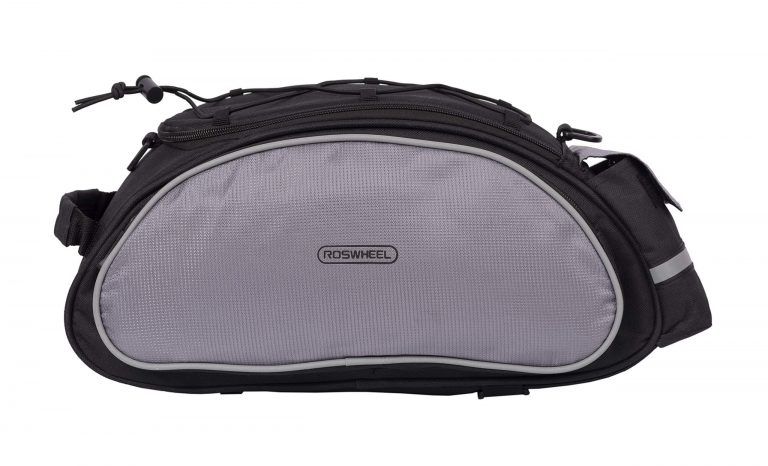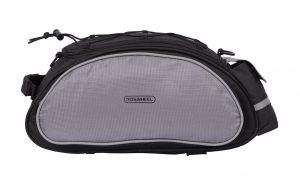 This budget-friendly bike trunk bag is a good choice for bikers who prefer to use their trunk bags as a shoulder bag or handbag most of the time.
Bike messengers, for example, have a huge need for trunk bags they can carry around easily. However, the better ones are usually more expensive. But, the Roswheel 14541 Multifunctional Bike is anything but pricey.
Costing less than a quarter than what other quality bike trunk bags usually do, the 14541 is a well-made bike trunk bag. It uses a 600D polyester material with extensive amounts of solid PE cotton padding.
This allows it to retain its shape even when empty. Meanwhile, it has a 13L capacity for all of your stuff and is designed to have multiple storage options.
When used as a handbag, you can rest easy knowing that the handle was built for this very purpose. You can also use it as a shoulder bag using the adjustable shoulder strap and attaching it via the hooks and loops built into the bag itself.
You're getting even more value out of the price with its safety enhancements. This includes reflective logos found on both sides with a reflective pipeline found all over.
It even comes with a taillight loop and a reflective strip on the rears.
Pros:
Roomy
Low price
Versatile
Cons:
Not for heavy loads
Tends to slide even when attached
Best for Those on a Budget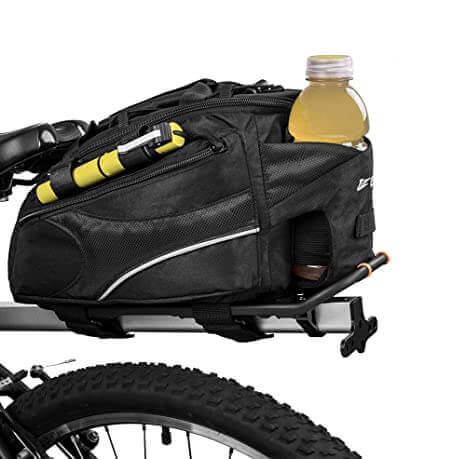 Get the most value out of your money with the BV Bike Commuter Carrier Trunk Bag with Velcro Pump Attachment.
This bike rack bag comes with 3 velcro straps that mount easily yet securely onto any kind of bike rack. Meanwhile, the bag has multiple compartments.
This allows it to fit anything from cycling accessories and tools to your daily essentials. It even has a separate storage area for mini pumps and water bottles.
Perhaps more importantly, this trunk bag looks just as good as it is functional. The stylish design looks clean. It likely won't mess up with the overall look of your bike.
The carrier handle and shoulder strap give the trunk bag multiple carry options. However, because of the number of velcro straps, we don't recommend taking the bag on and off all the time.
At night, you can stay safe on the road via the 3M Scotchlite reflective trim. You can also add an optional taillight and hang it onto the dedicated taillight hanger for added safety.
Pros:
Excellent value for the money
Plenty of room
Secure and tight rack fit
Cons:
Minimal padding on the bottom
Best for Stretch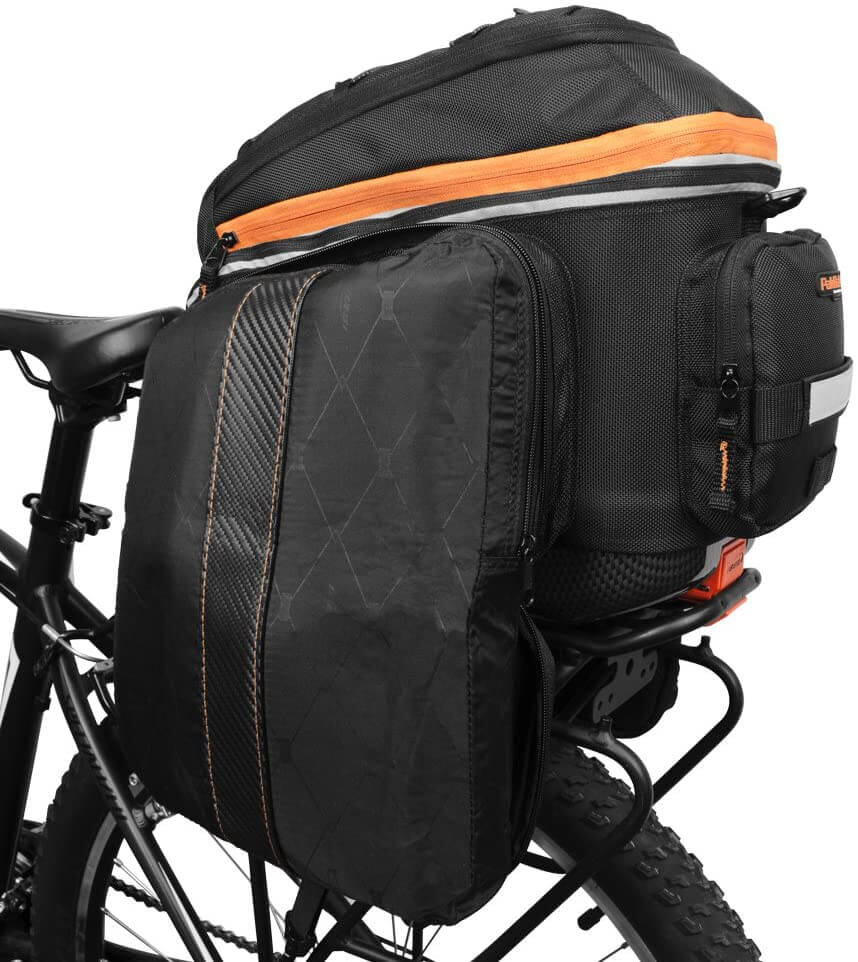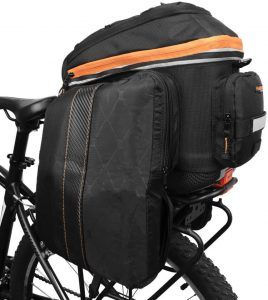 Say goodbye to straps with this bicycle trunk bag. Instead of straps, the Ibera 2 in 1 PakRak Commuter Bicycle Trunk Bag with Expandable Panniers uses a smart quick-release and clip-on system.
This allows it to attach securely onto a rack in just a few seconds. Removing or detaching it is as easy and as quick as well.
This bike trunk bag also comes with built-in foldable panniers. This means that you can use this bike bag as a trunk bag. At the same time, you can use it as a pannier when you need to.
The hard carbon-patterned ABS base pairs well with the reinforced padding on the main body. This allows the bag to hold up and retain its shape, even when empty.
The padding also makes sure that whatever is inside receives proper protection.
Speaking of protection, your safety as a rider is guarantee too. The 360-degree reflective trim makes you easier to see at night. You can add a layer of safety as well by hanging a taillight via the conveniently designed hanger.
Pros:
Smart quick-release and clip-on system
23L max storage capacity
Excellent cushioning
Beautiful design
Cons:
Overloading can throw off the bike's center of gravity
Bike Trunk Bag Buying Guide
When it comes to buying a bike rack trunk bag, bigger isn't always better.
Remember, the bigger a trunk bag is, the bulkier and heavier it is. Plus, if it's large, you're tempted to put more stuff inside. This can affect your bike's performance.
In particular, it can make it harder to steer, especially if your bike has a thin frame like a lightweight bike.
Your trunk bag is just as exposed to the elements as your bike is. This is why you should make sure that your trunk bag is waterproof. It should be built to stand all sorts of weather conditions.
Materials such as high-density nylon and TPU film are best for waterproofing. Other bike bags come with waterproof covers, which are good too if a bit cumbersome.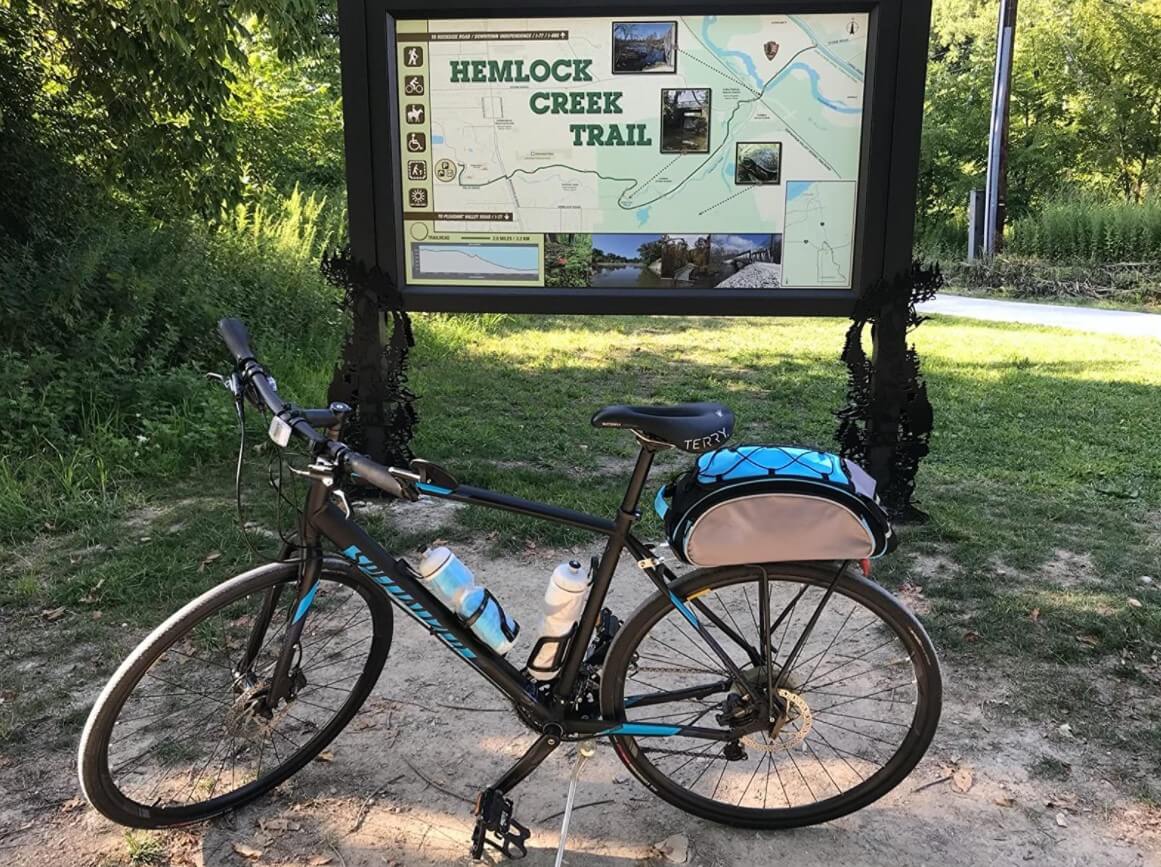 Durability is an important feature of any product. Much more so for bike trunk bags.
The best bike trunk bag is made out of a sturdy material that won't break or rip easily. Also, don't just pay attention to the fabric of the bag.
Pay attention to the hooks and velcro too, as well as the zipper. These should all be made out of high-quality materials as well.
If you're getting a bike bag, you might as well get one that helps keep you safe at night. This usually comes in the form of a reflective component.
The more reflective materials a bike bag has on it, the better. Reflective logos are a good example of this. Also, make sure that your bike has multiple attachment points to minimize any risk of falling.
Conclusion
We strongly recommend that you use bike trunk bags if you use two wheels for your daily transport. Although it is possible to keep your gear on your body, as with backpacks, it's not advisable.
The added strain can wear you out much faster. Plus, you won't be able to carry as much anyway compared to having a separate bike trunk bag.
With that said, the best bike bag for rear rack by far is the Ibera Bike Trunk Bag.
It's just the right size to carry enough gear without looking too big for most bikes. The construction quality is top-notch and it's equipped with multiple storage compartments.
You can also open the zippers wide enough to fit larger items. Plus, with its quick-release feature, taking it on and off from your bike is very convenient.
Those who can afford to pay the premium will also find the Topeak MTX Trunk Bag DXP quite handy.
Mind you, not all good bike trunk bags are pricey. Case in point, there exists much more affordable alternatives as well. The best example of this is the BV Bike Commuter Carrier Trunk Bag with Velcro Pump Attachment.
The material is not as thick nor as premium-feeling. You'll also have to give up the quick-release mounting mechanism.
However, it costs less than half the price of our top pick and should work fine for most people. It comes with multiple compartments, complete with separate storage spaces for a mini-pump and a water bottle.
All in all, every one of the bike trunk bags we recommended is the best bike trunk bag for a particular use.
You just have to find the right one that suits your needs, preferences, and budget the best.