If you are a parent, and you would love to take your family on a cycling trip, then a bike trailer for your kids would be an ideal solution.
Here is the list of 10 best bike trailers for kids that may be useful for you.
So far, Thule Chariot Cross and Burley D'Lite X rank the first and second positions respectively. Due to the smart design and outstanding features for baby carrying, these products should be on the top of the list.
Best premium bike trailer
For the best experience, I would recommend 3 best premium bike trailers.
Best in all categories
5/5 star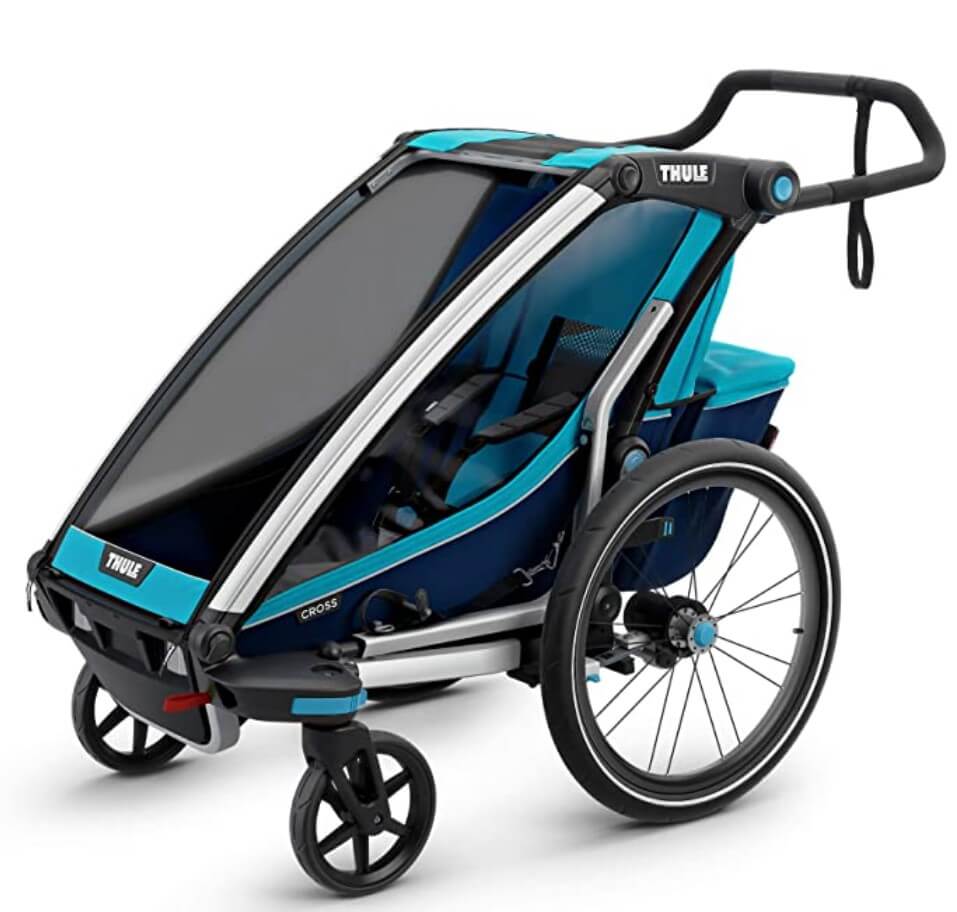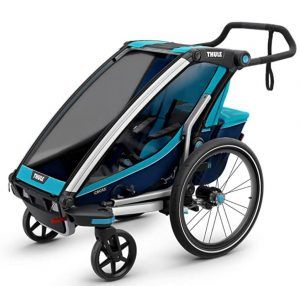 The Thule creates one of the best experiences with a bike trailer for its outstanding features in use.
The most impressive feature of this design is its high convertibility. Thanks to the Thule Click n' Store, not only can the trailer be used as a bike trailer, but it also is easy to use as a jogger or stroller. Constructed with such a multi-usage design, the Thule aims to facilitate the personal purposes of users.
Weight only 18 kilograms, the product also offers a bearable carry with compact fold design when not used. Adjustable leaf spring suspension is built for a smooth ride. Padded seats accommodate a safe and comfortable cradle for kids on the trip.
The ventilation of this trailer is a bonus point. Removable clips allow vent adjustment under different kinds of weather. The rear light is integrated for low-light condition uses.
Pros:
Highly convertible and foldable
Adjustable parts
Good ventilation
Comfortable seat
Light-reflective element
Cons: none so far
Best for capacity
4.5/5 star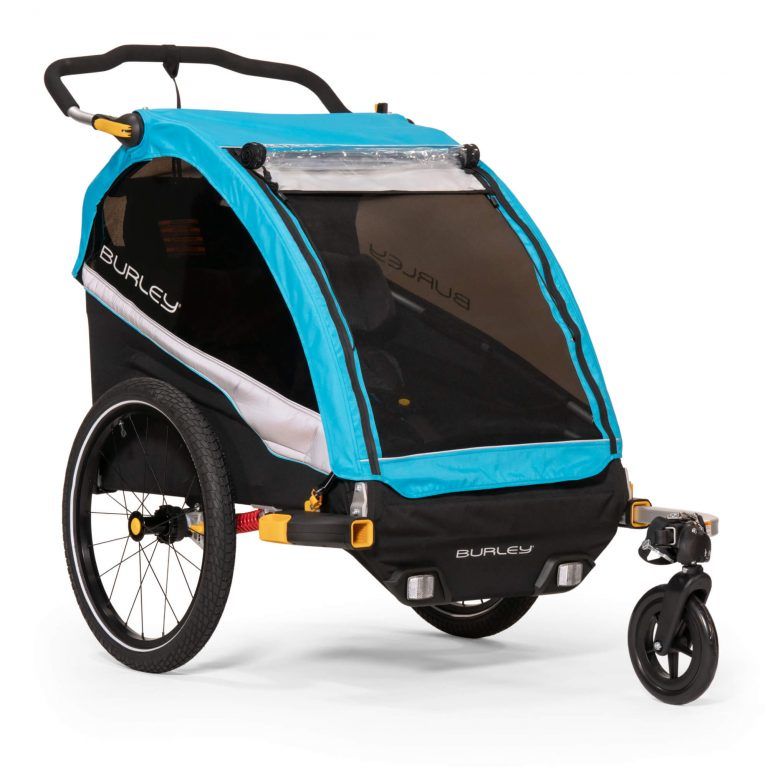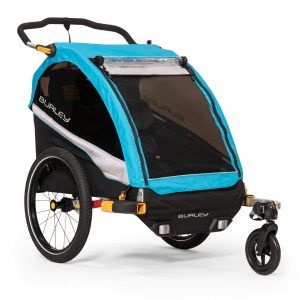 This Burley bicycle trailer for kids ranks high for its impressive capacity and protective features.
Ranging from 75lbs to 100lbs depend on single or double baby kids, this Burley generates a large comfortable room for kids during the trip. 3 positions are provided for personal choice.
Constructed with several adjustable details, the Burley facilitates a customer-focused strategy. Adjustable suspension is effective for changes under different weather conditions or terrains. Sunshade protection is enhanced to protect kids from UV rays.
Bowed-out sides are designed to extend room for shoulders and elbows. Floor Mat is included, so both parents and kids have their own comfortable space.
A wheel stroller kit allows a transition from biking to strolling. All kit is compatibility for stroller, jogger or skiing. Nevertheless, the transition is relatively hard for users with low technique and force.
Pros:
Large room
Extra protection for kids
Adjustable parts
Cons:
Excellent for versatile
4/5 star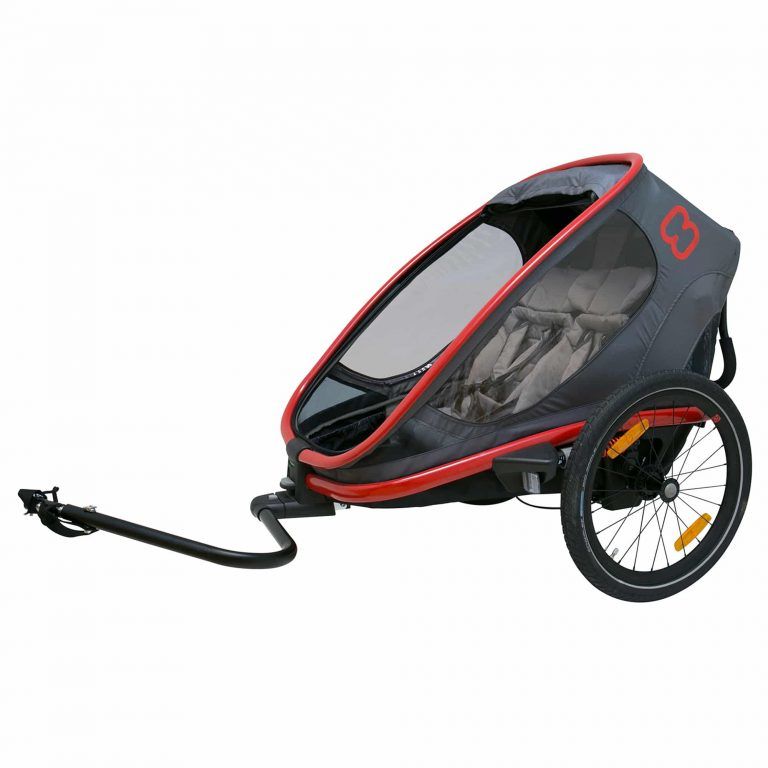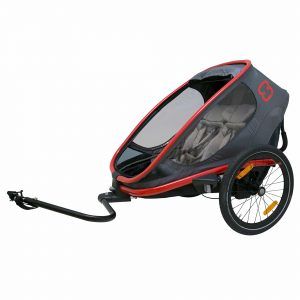 Made with an aluminum frame, the Hamax introduces one of the most durable trailers on the list. Emphasizing the safety factor of kids, shock suspension is installed for a smooth ride. Padded 5-point harness design with Head Rests seat accommodates soft and optional position for children.
The roomy trailer offers UV-protection windows for extra protection from the weather. Sunshade, bug screen and rain cover are all included for the security of the baby. It would be better if breathable fabrics and vents are added on the sides and back for air-flow channel.
Oversized cargo facilitates extra room for storage of gear and interchangeable kits. Light-reflective elements are activated through the front, rear and sidelines for visibility at night.
Being convertible between stroller and biking model, the Hamax is suitable for different trips. Quick-fold feature is the next standout point of the kids bike trailer. Push Bar collapse aims at easy transport into a car. However, the heavyweight of the trailer makes it hard to carry.
Pros:
Extra safety for kids
Weather-proof design
Spacious room
Easy convertibility
Cons:
Best mid-end bike trailer
The second category would focus on 5 best mid-end bike trailers
Best for sunshade protection
4.5/5 star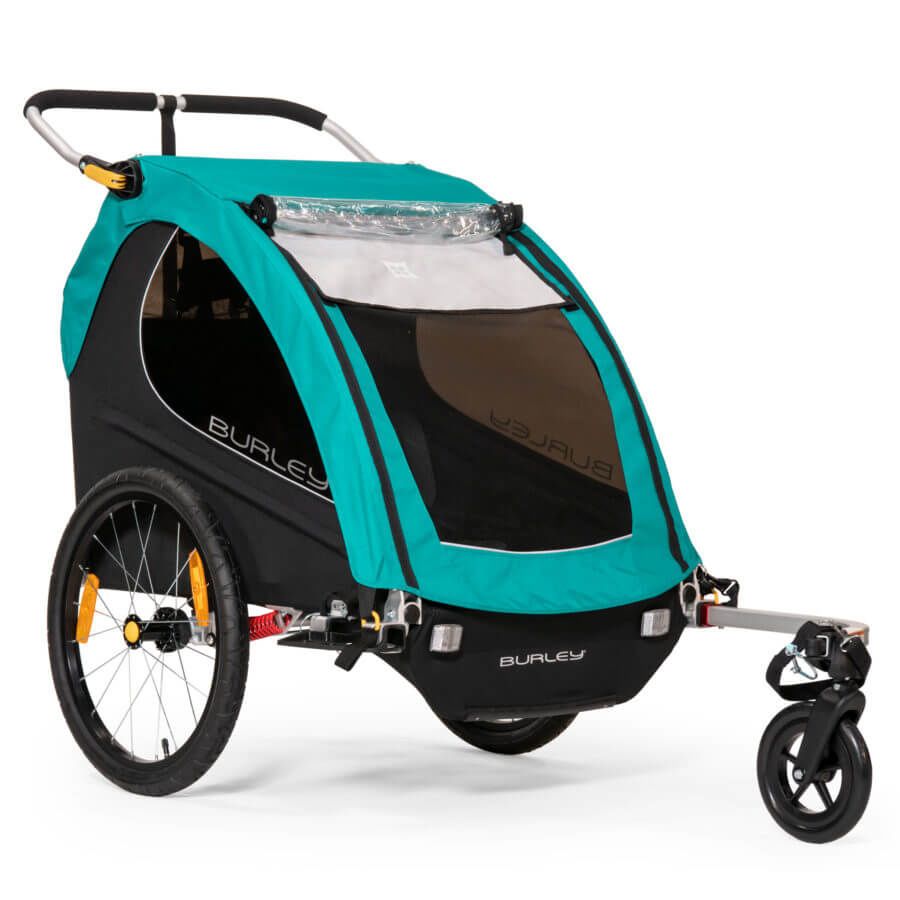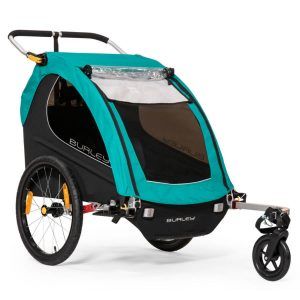 Here comes another Burley bike trailer with a more reasonable price and no less impressive features.
Like any other Burley product, this one facilitates a quick transition from biking to strolling with 1 wheel stroller kit. It is also easily foldable for carrying or lifting. 20" push button wheels allow effortless adjustment. All kit is compatible for stroller, jogger and skiing
One of the most outstanding features of this design is its effective passenger-protection. Both cover and zippers are water-repellent, which creates a dry room for kids and gear. Sunshade protection keeps children from harmful UV rays from the sun.
Constructed with shock-reducing suspension and ventilation, either kids or riders would have a softened and breathable ride. Adjustable handlebar accommodates easy usage in different forms of the trailer.
There is an extra cargo in the back for more storage. Detachable seats can be removed to transit into the cargo trailer. Nevertheless, the passenger's room is quite small and few more inches are needed to make it a spacious passenger cargo.
Pros:
Convertible
Easy to fold and carry
Extra protection of passengers
Adjustable parts
Cons:
Excellent security
3.5/5 star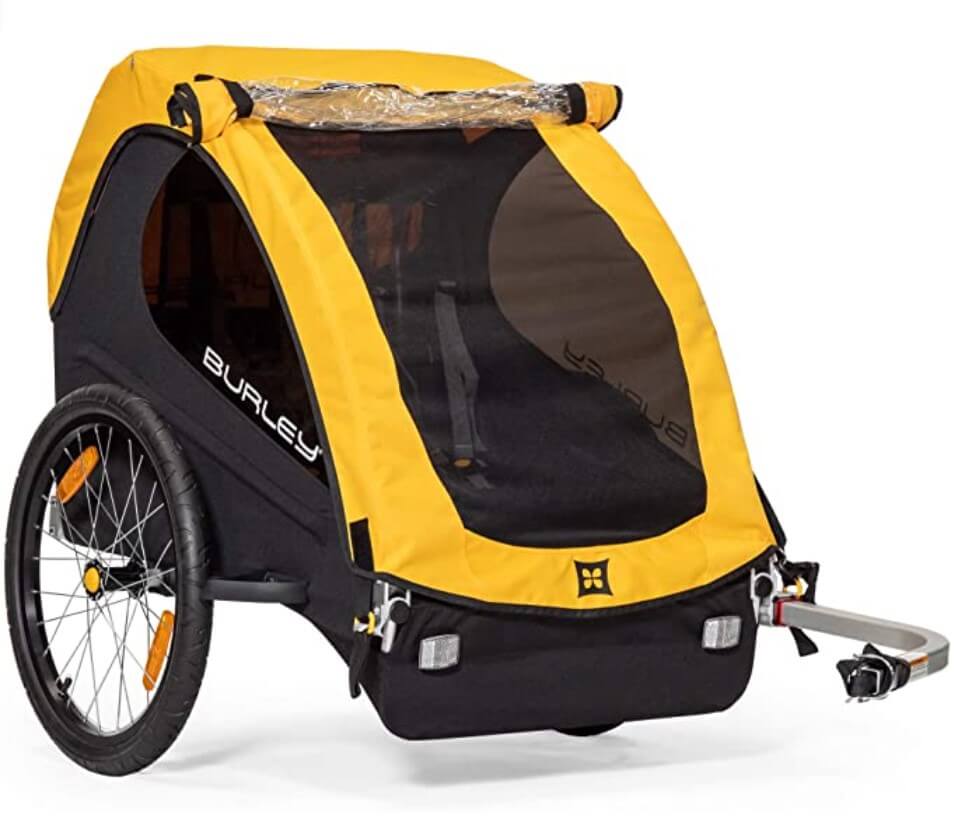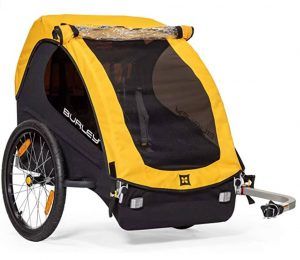 This Burley product scores for its impressive features toward convertibility and water resistance. Made with 600D polyester, the rain cover minimizes the chance of water leaking into the passenger's room.
Constructed with a compact fold structure, the trailer is effortlessly flattened for car transition or storage when not use. 20" push button wheels allow removal when needed.
The design focuses on the safety of children in case of an accident. 5-point harness and internal aluminum roll cage create sturdy, yet energy-absorbent protection. Safe belt is form-fitting and easy to close with high security.
However, there are some negative points of the product. First of all, the seat is quite sturdy and awkwardly shaped. It would be more comfortable if there is a padding layer covering the seats. Secondly, no sunshade is provided. The rain cover is good, but the harmful UV rays also need to be kept away.
Pros:
Good rain cover
Extra safety features
Easy transition
Spacious for kids and gear
Cons:
Uncomfortable seats
No sunshade
Impressive folding structure
4/5 star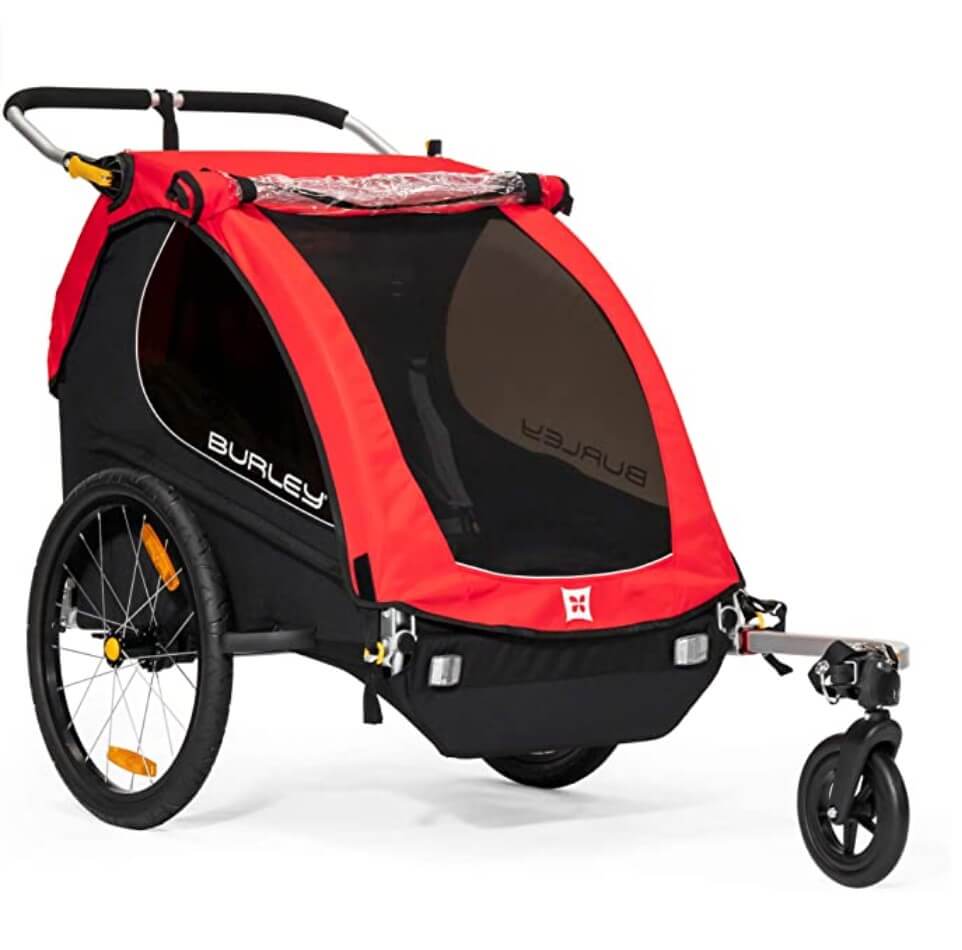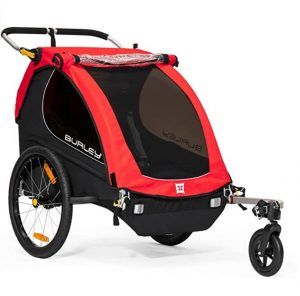 The Burley continues with an outstanding Burley Honey Bee coming at a reasonable price. Compared with other trailers, this one offers no less standardized functions for a good company.
Design with a highly adjustable frame, the Burley brings in a multi-position handlebar. A plastic lever allows easy adjustment of the handlebar, and thus the transition from bike to stroll. The changeable bar is useful in saving room when cycling.
The foldable structure of the Burley is a bonus point. Due to the bearable weight and smooth joints, the trailer can be folded flat easily. When unfolded, this bike trailer stroller offers large storage for kids and the rear cargo supports gear carrying.
Perhaps the only drawback of the design lies in the seat for children. It is neither adjustable nor position-convertible. Thus, it is uncomfortable for kids to seat in rough rocky roads.
Pros:
Highly adjustable frame
Easy folding
Convertible
Reasonable price
Cons:
Best for extra protection
4/5 star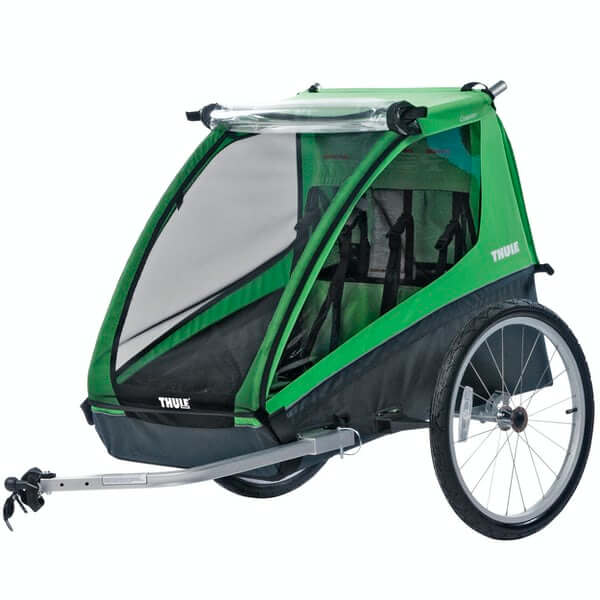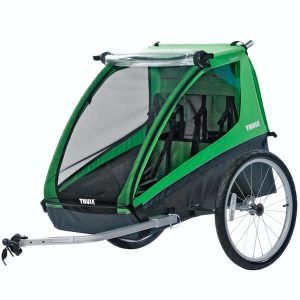 This is another Thule product with a design for 2 children. The extra passengers' room is spacious, which makes it suitable for kids even when they grow fast. Extra storage is installed around the cargo for personal use.
With unique Thule's patented ezHitch, the secure attachment to a bike is enhanced. The foldable structure allows a flat form to accommodate easy carrying and storage. Also, the Thule can be convertible between trailer and stroller with Kit included.
Like other designs which offer rain cover and sunshade, this bike trailer jogger indeed provides superior ventilation. Breathable fabric and low windows help to increase air-flow and easy visibility for kids.
Nevertheless, the passengers' seats are poor positioning and inadaptable. It would be better if the back of the seat is lower and recline to make room for helmet.
Pros:
Spacious for kids and gear
Easy fold
Breathable
Standardized protection
Cons:
Best for canopy
3.5/5 star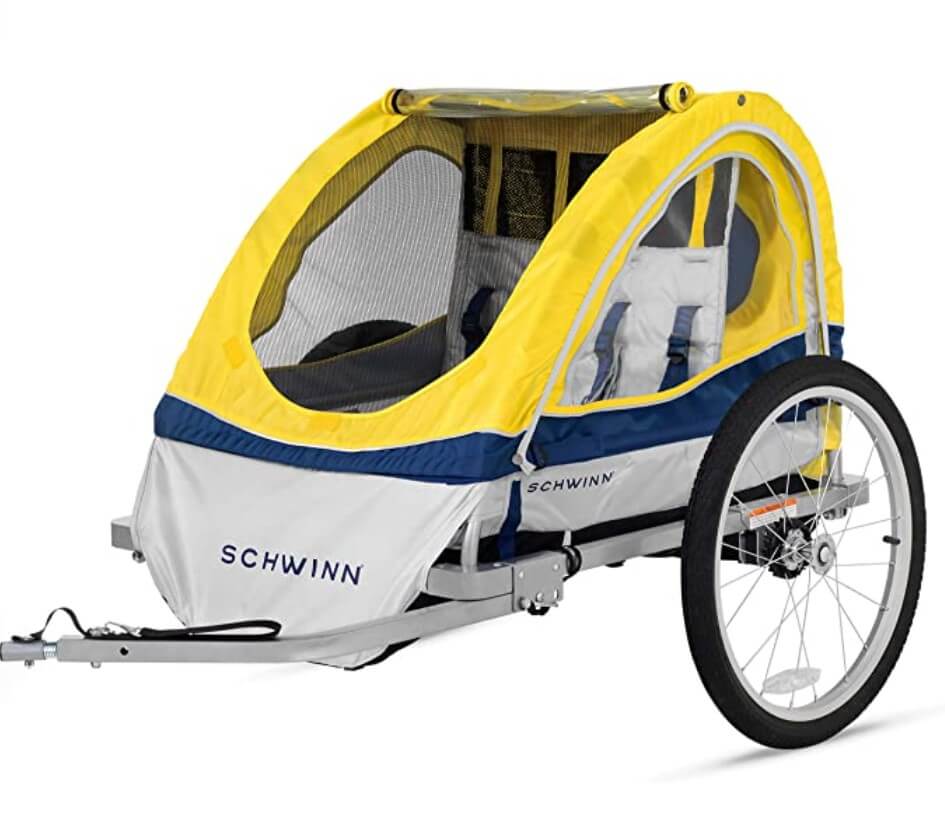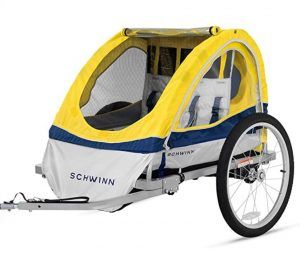 The last product in the second category is the Schwinn. With the classic vintage design, this trailer brings the sense of the old era.
This bicycle trailer for kids features 5-point harness with shoulder patches for soft and comfortable protection. A secure flag with eye-catchy color is added for a remark of existence during night time.
Designed with a collapsible frame and removable wheels, the whole trailer may fit a closet or car's back when being folded. When staying unfolded, this trailer can store up to 40 lbs for each passenger. There is storage behind the seat for water and other gears.
One of the standout functions of this Schwinn is the 2-in-1 canopy, bug screen and weather-resistant shield. 2 windows are placed for kids' view and extra protection. Nevertheless, such protection also creates a hot atmosphere that the limited rear ventilation cannot handle.
Unlike mentioned products that can be transit into skiing or stroller, this product is for biking only
Pros:
Extra protection
Comfortable seats
Good storage
Cons:
No convertible
Poor ventilation
Best bike trailer for people on a budget
The third category is the list of 2 best bike trailers for kids coming at an affordable price.
Best for people on a budget
4/5 star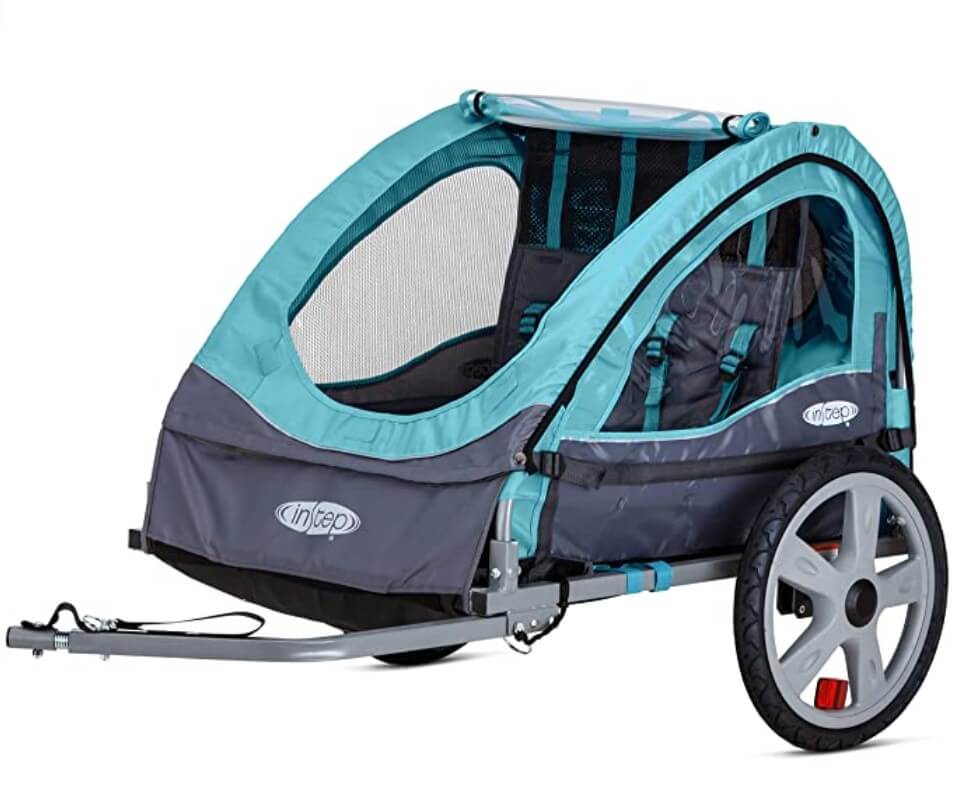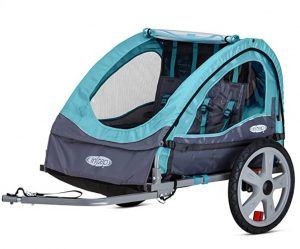 This is the Instep bike trailer which is reasonable in price and excellent in quality. People who have a limited budget can consider it but need a qualified trailer may put this product on their list.
With the casual and daily appearance, this Instep trailer has many user-friendly features. 5-point harness and a safety flag is applied to ensure the sturdiness and visibility of the trailer.
Folding frame allows the trailer to be quickly installed. Also, to support easy storage and transport, quick-release wheels are taken into use.
Having several similar functions as the Schwinn Joyrider, this Instep introduces a 2-in-1 canopy that prevents both bug and weather impact. 80 pounds capacity in total and 12 pounds capacity for rear gears make it a roomy cargo for passengers and stuff.
There is one inferior feature of this product lies in unendurable tires. These tires can be flat after 2 to 3 months when used in the mug or rocky roads. The idea routes for such trailer are the city road.
Pros:
Extra safety feature
Roomy design
Easy to install and release
Good ventilation
Cons:
Excellent air-flow
4/5 star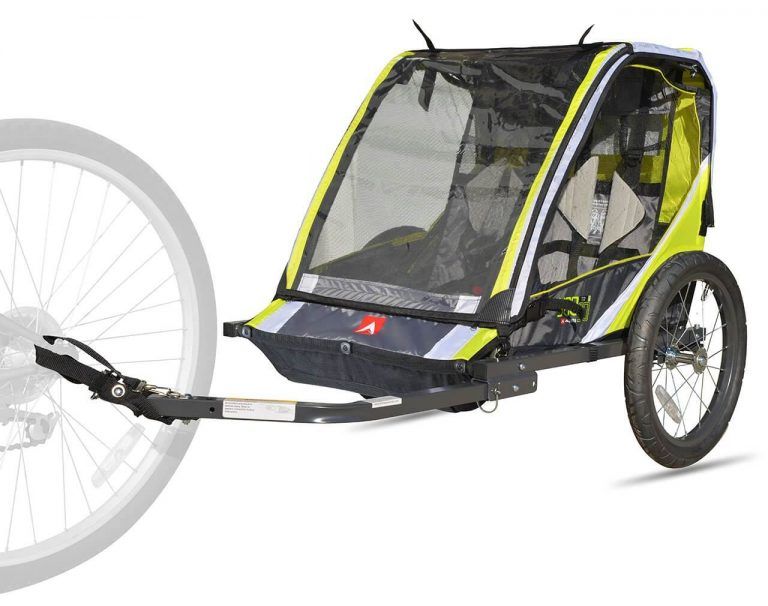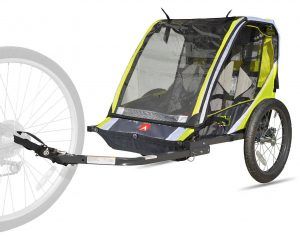 Last but not least, the Allen bike trailer features some more outstanding features than other designs.
Constructed with lightweight steel, the whole trailer is indeed easy to carry and durable over time. Quick-release steel wheels and an effortlessly foldable frame make it easy for transport and storage.
The ventilation is activated through the front and side windows for an airy and breathable experience. Be able to hold up to 50lbs, this single-passenger cabin is quite roomy and safe. External pockets on the back facilitate extra storage and easy access.
For better protection of passengers, the Allen utilizes a soft layer cover to the seats and foot guard tubes for comfortable positioning. A padded 5-point harness is also applied, but the use of these straps is not effective due to the unstable and imbalanced design. Kids need constant checks and adjustments to make sure they are kept in place.
Pros:
Durable and foldable
Excellent ventilation
Comfortable seats
Cons:
How to buy the best bike trailer for kids
These are the quick review of 10 different bike trailers for kids. The next step is to list some notes for a suitable product which will bring you closer to the ideal trailer.
Budget
The price for a bike trailer may range from 100 to 900 dollars, mentioned as "premium trailers" or "trailers for people on a budget" categories.
Normally, premium trailers with a high price may offer more convertible, spacious and more protection features. Trailers for people on the budget, at the same time, do not come with terrible quality. Instead, the transition between biking and jogging may not be available.
Single bike trailer or double bike trailer
Single bike trailers and double bike trailers are the most two popular types. It offers either 1 seat or 2 seats for passengers. The capacity, weight and space thus depend on the style. You may have to decide on how many kids you want to carry on in the trip, both present and future.
You may keep viewing the following parts for more details
Usage
There are 3 most usages of a trailer: multi-sport, trailer and stroller convertible, and trailer only.
Multi-sport trailer means that parents want to take their kids further than city road or central parks cycling. To ensure the safety of children, a multi-sport trailer may have superior protection such as a sturdy frame, UV rays and bug screen shield or light-reflective elements. Also, foldable features and low weight are necessary for car carrying.
Premium products like Thule Chariot Cross provide a heavy-duty feature for such purpose
Trailer and stroller convertible is the second famous usage. The product provides a handlebar and kit for an easily interchangeable type of trailer. It allows cycling or walking the trailer when the bike is not in use. For the better daily use, some product such as Burley Encore X or Burley Honey Bee is highly recommended.
The last use is trailer only. This design does not have a rear handlebar, so parents cannot push the trailer easily. The only use of this product is to attach to the bike for cycling. Although it usually comes with a low price and saves room for some details, it is not adjustable for multi-usage
Size
Different trailers have different designs and compatible sizes of each part. Maybe the size of the frame, wheel and kit is the top concern when buying a trailer. Make sure the size of the joint part suitable for the bike wheel. Also, estimate the folded frame and wheel to make sure the fitting of a car carrying and storage
Compatibility
The compatibility of the trailer is varied depends on whether it is single or double type. For a single one, the trailer weight may range from 11 to 18 pounds. For double, the average weight is approximately 22 pounds with some exceptional weight of 34 pounds.
In case the trailer is too lightweight, it can be unstable and unbearable to the rocky and bumpy roads. On the other hand, overweight products will result in difficulty in cycling and carrying.
Weight capacity
Besides the type of trailer, weight capacity is also dependent on the cargo. For passenger capacity, generally, the trailer can carry 40 to 50 pounds per kid. For gear carrying, the rear or side storage may add weight to the whole.
Some designs find a way to extend the room for stuff. Allen Sports Sport Deluxe T1 has external pockets, while Thule Cadence Two Child has storage installed around the trailer
Additional features
A high-security product often has extra protection shield such as a Rain cover or Canopy/sunshade. Aiming to keep the child safe and sound, the cover has to keep rain and harmful UV rays from kids.
Some products fail to apply for such protection. Nevertheless, there is a 2-in-1 canopy technology, which prevents either bug screen and weather impact, applying in Schwinn Joyrider and Instep Bike Trailer
Conclusion
Overall, these are 10 best bike trailers from my viewpoint. Some buying guides are attached for a better image of your ideal trailer.
Thule Chariot Cross and Burley D'Lite X, one more time, are the winner and runners-up in the race for their user-friendly, durability and high protection.