A torque wrench is a handy tool to measure and tighten the torque of a bolt to the correct level of tension. This tool is essential as without it, could put you in danger of bolt snapping or any carbon component slipping off.
In the market today, there is a whole lot of variety of torque wrenches to choose from. We will be giving reviews of the best bike torque wrenches with the 4 main different types to help you select the most suitable for you.
For quick, best picks of each type. Lifeline Essential for the preset type with its plentiful features including micrometric adjustment. EFFETTO for the click type, its presentation, appearance, and performance is phenomenal. SILCA for being the most portable, it is neat and very compact and overall good performance. Lastly, GEARWRENCH for the digital type, its many awesome features and precise torque measurement is worth the investment.
Best Preset Torque Wrench
Best Overall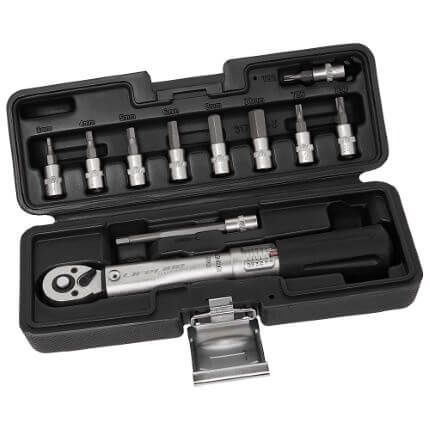 The Lifeline Essential's 1/4 unique design is aimed at having multiple functions. It has a micrometric adjustment and socket release button for convenience. You can tighten the torque with a range from 2Nm up to 24Nm which is phenomenal for all forms of torque.
It comes with a Bespoke molded case, containing various hex sizes including T25, T30 Torx heads. A 5mm extension bar also included, useful for reaching concealed bolts. With all of these accessories, it has a reasonable price.
Pros:
Multi-functions

Various hex sizes, including T25, T30 Torx heads

5mm extension hex

Reasonable price

Durable
Cons:
Slightly hard to use

Can easily overtighten
Best For Most Durable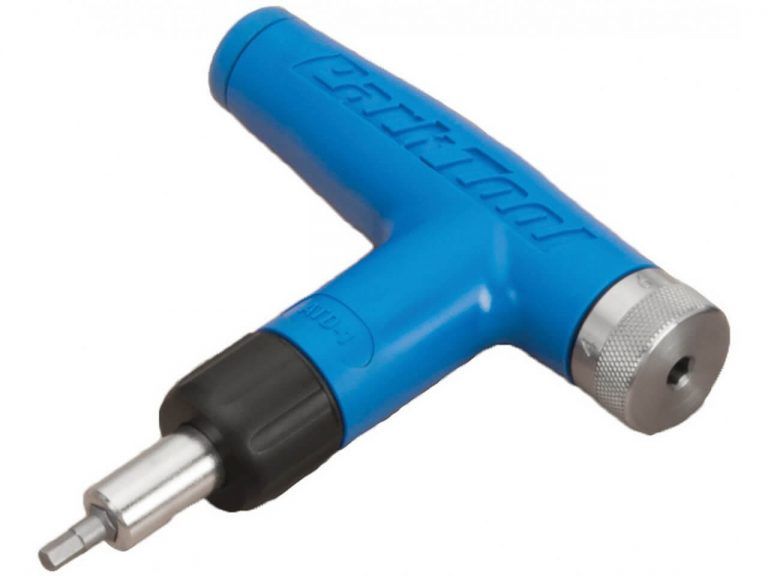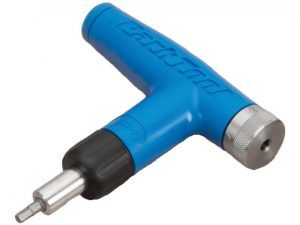 If you're looking for an extremely durable cycling torque wrench then this might be the right one. With the internal constructions being made out of metal, it will serve you for a relatively long time. But that doesn't mean it's only good at that factor, it performs well enough and can be adjusted up to 5 different preset tensions.
Furthermore, its simple design makes it easy and comfortable to use. Inside the handle are the 3, 4, 5mm, and T25 bits used for different bolts. And a 0.635cm hex drive.
Pros:
Resilient

Comfortable and easy to use

Plentiful bolt sizes

5 different preset tension
Cons:
Best For People On Budget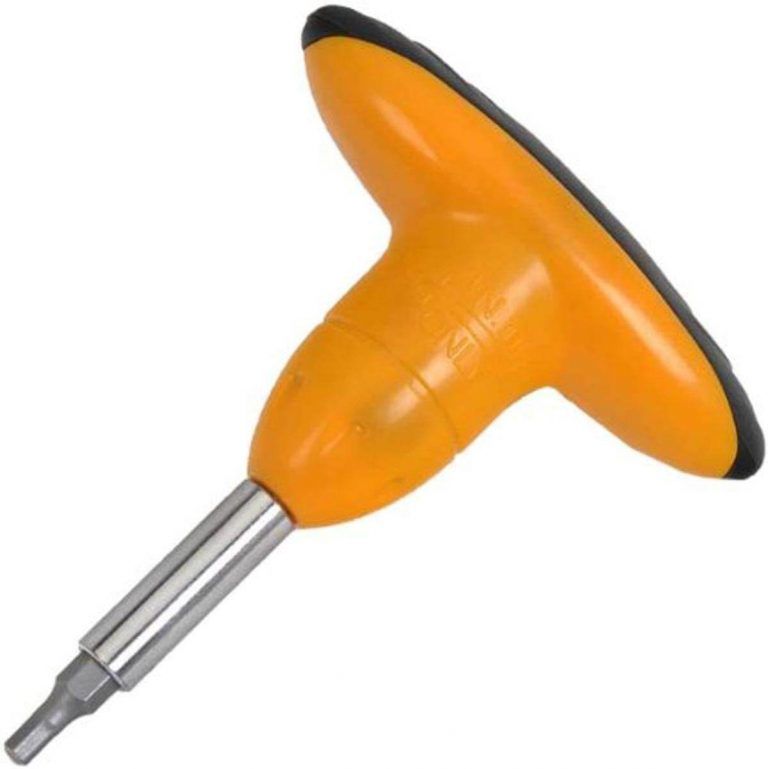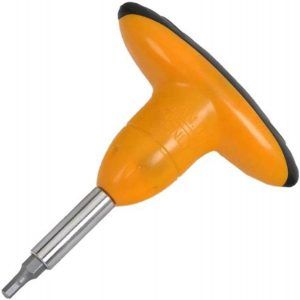 This best bike torque wrench has a straightforward design with the handle in the shape of a T for comfort, although it would only fit 5Nm only. It has a unique mechanic to prevent any over tightening and a magnetic shank to interchange bits, making it way easier to use.
For being cheap, it has a great performance. Lightweight, easy to use, effective, and being able to carry anywhere. This may not have many unique functions but still works finely.
Pros:
Highly affordable

Simple and pleasant to use

Lightweight, easy to carry around
Cons:
Only has one preset tension

Doesn't come with any bits or other accessories
Best For Innovative Design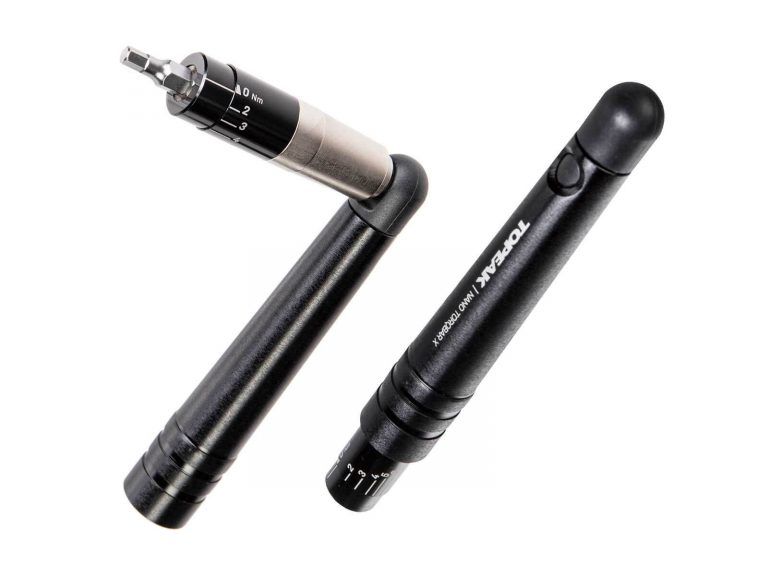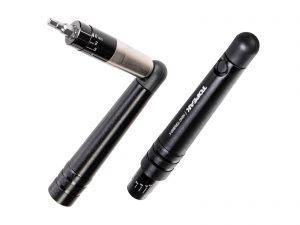 The Topeak Nano TorqBar DX is an innovative bike torque wrench that takes a slim, light, and small design in order to be greatly compact, fitting easily in pockets. With the advanced torque limit function 4Nm, it will be on point with the torque value and prevents over tightening. And an integrated compartment for two bits.
It comes in a package of three Allen bits: 3mm, 4mm, 5mm, and two Torx bits: T20, T25.
Pros:
Lightweight

Small, slim, being able to carry anywhere

Great performance

Easy to use
Cons:
Only has one preset tension

Slightly expensive for its functionality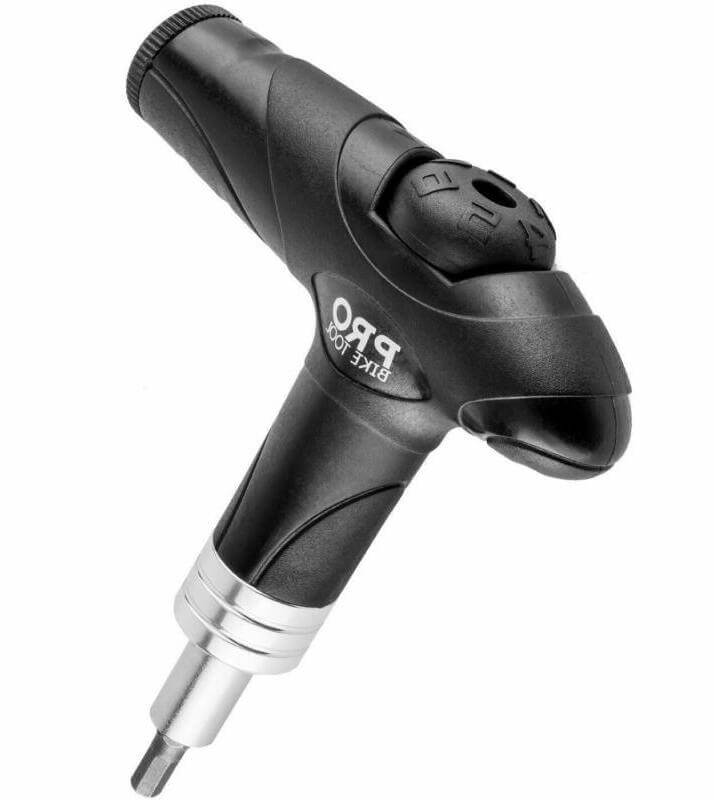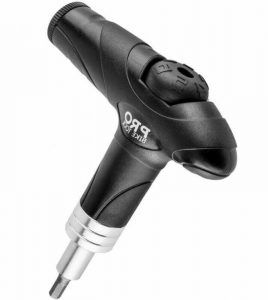 The Pro Bike torque wrench comes with three adjustable preset tension and a built-in mechanic called "cam-over" which makes the wrench to bail out once the needed tension is reached.
The lightweight and small design offer to be carried to a lot of places and the internal construction is made out of carbon steel provides great durability. Along with a built-in pack contains four bits: 3, 4, 5 mm hex and a T25.
Pros:
Good performance

Good durability

Comes with three adjustable preset tension
Cons:
The preset tension can sometimes be higher than it said to be

Expensive
Best Click Torque Wrench
Best Overall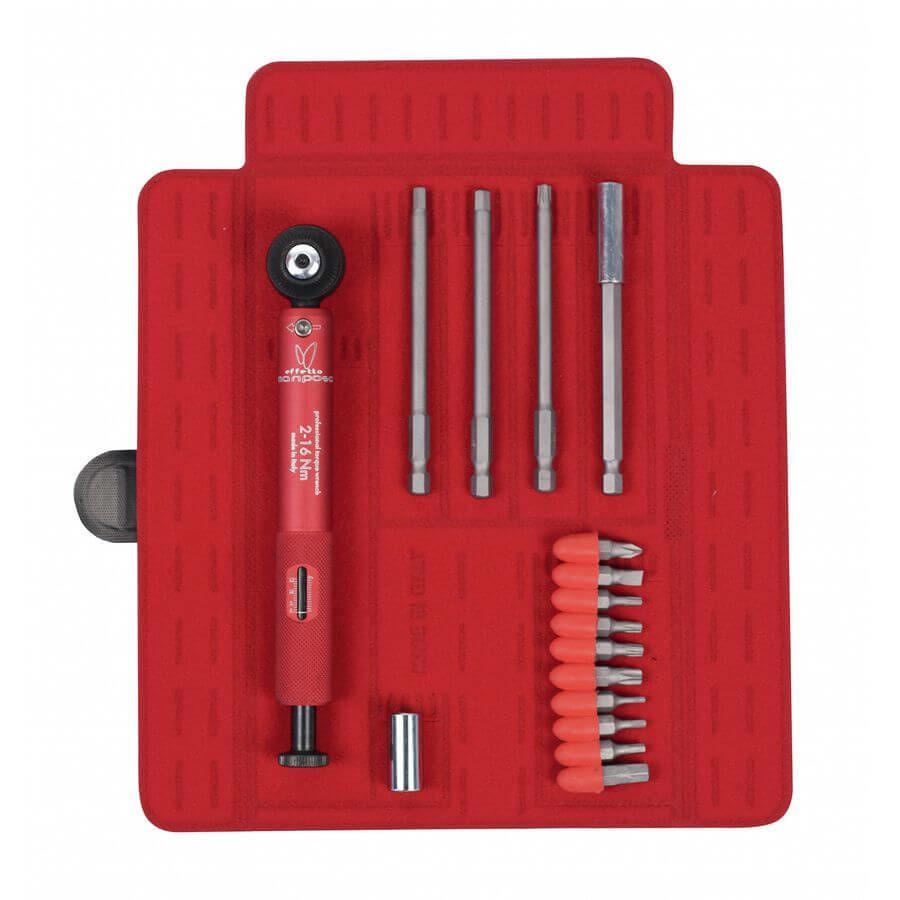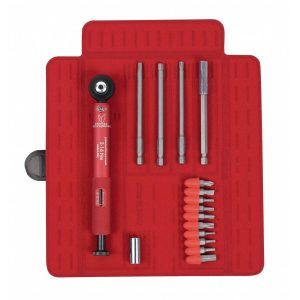 This best click bike torque wrench is expensive at first glance, but it might be a worthy investment. The bike torque itself is made of high-quality material, delivering longevity and fantastic performance.
Fairly easy to use, place the bit you want then set the desired torque which can go from 2 Nm to 26 Nm with the knob on the handle. After the desired torque has reached, it will create a loud click and allows you to freely move with three degrees.
Best of all, its small design lets you carry anywhere you want. It also comes in a red plastic wrap that has plenty of bits, enabling various options.
Pros:
High-quality, attractive look

Long-range of torque

Multiple bits to choose from

Lightweight
Cons:
Best For Longest Range Torque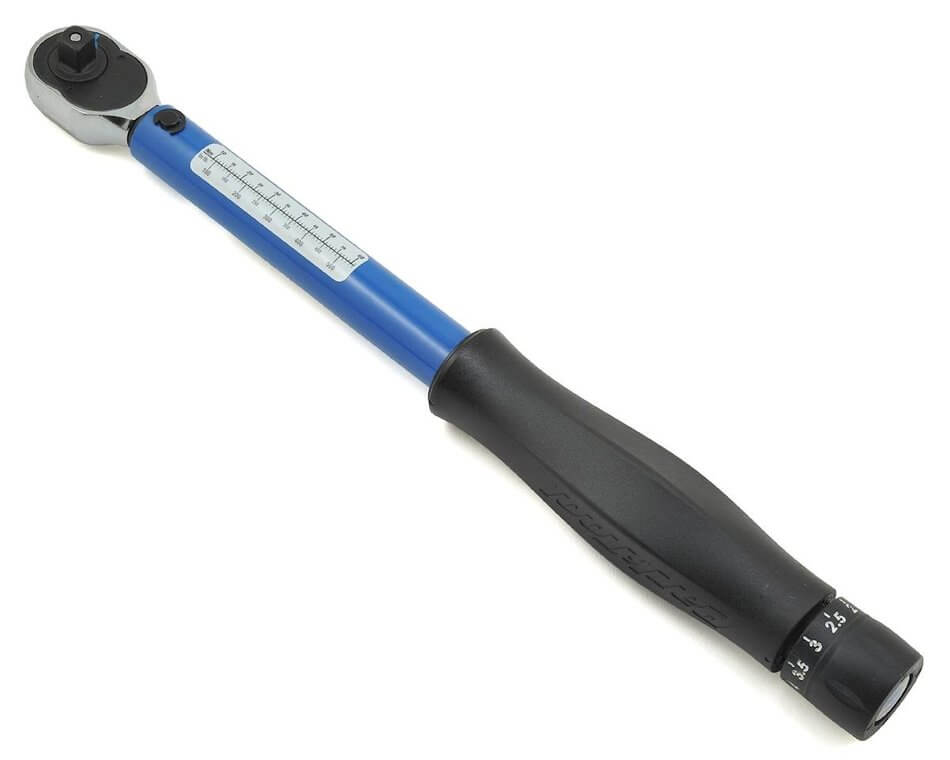 If you're looking for a 3/8 heavy-duty cycle torque wrench that can apply a lot of force then this is the right one. With the range from 10 to 60 Nm, it offers good performance out of tough and hard bolts.
It performs well enough, measuring and applies the accurate amount of torque needed. And because it is made of steel, it is made for long-lasting usage. However, it is fairly heavy, going up to almost a kg.
Pros:
Long-range torque

Very durable

Accurate application of torque
Cons:
Heavyweight

Expensive

Comes with no other accessories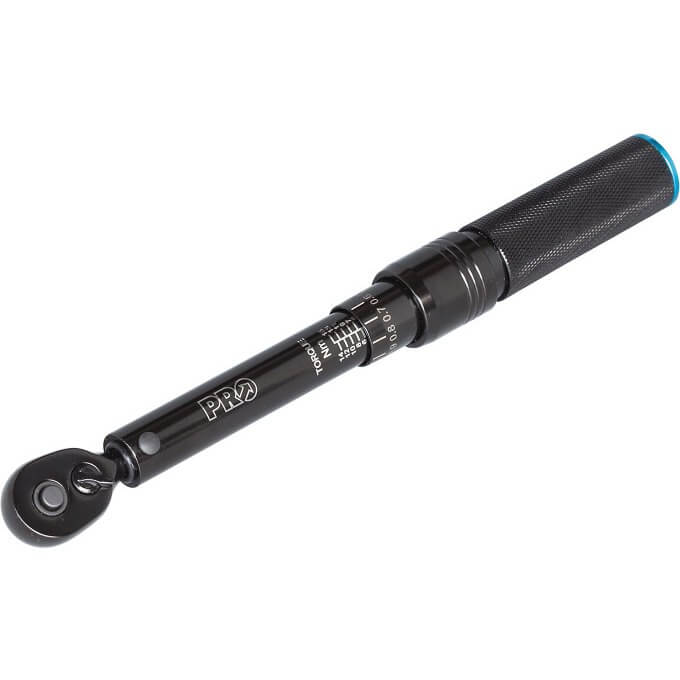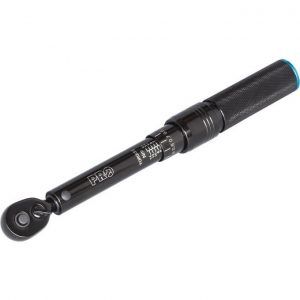 The Pro Torque Wrench is a run-up-to-the-mill torque wrench. You can rely on its performance, it does its job well enough with an adjustable range from 3Nm to 15Nm which can be used for many purposes. And its precision is on point with a clear audible click when the essential torque is needed.
It comes in a nice storage box along with a total of 6 bits to choose from.
Pros:
Clear audible click

Lightweight and versatile

Easy to use

Robust
Cons:
Can malfunction, requiring more force than needed
Best For People On Budget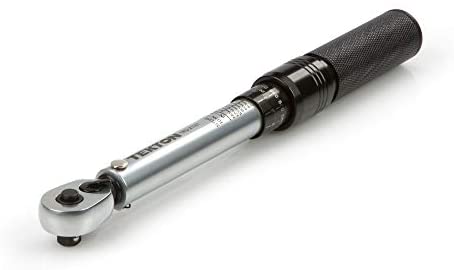 For being relatively cheaper than other torque wrenches on this list, this 1/4 best bike torque wrench performs very well. You can simply adjust the torque from 1.1Nm to 16.9Nm, the scaling is easy to read with two units. The accuracy is -/+4% for clockwise and -/+6% for counterclockwise.
It has a spring-loaded adjustment collar which automatically locks the bolt in place at your desired torque value. And just when it's done, a click can be heard and felt throughout the handle.
Another great feature is that the ratchet head can be reversed, driving in both directions and measuring torque clockwise. Thanks to the finely geared 72-tooth inside the head.
Pros:
Highly affordable

Great performance

Reversible ratchet head
Cons:
Not good for using to break loose stuck or corroded fasteners

Small click
Best For Various Sizes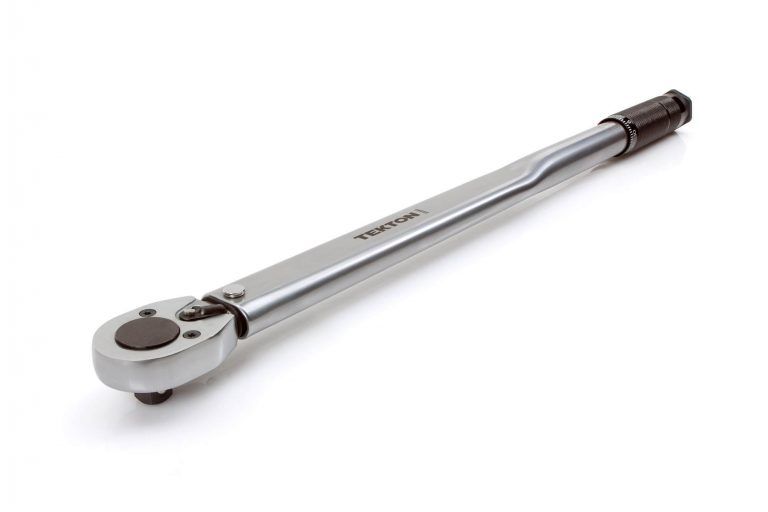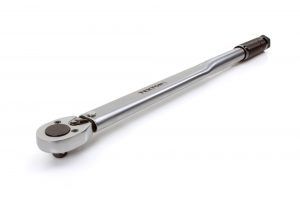 The Lexivon comes with four options to choose from with different wrench length and torque range. But surely all of them will provide great performance and a big torque range along with fantastic durability.
The wrench is made from Chrome Vanadium alloy steel then treated with Electro-black. Offering uttermost protection against rust and corrosion along with a beautiful design.
Additionally, the ratchet head can be turned in both directions and measure torque clockwise definitely.
Pros:
Four different choices, with different wrench length and long torque range

Durable

Cheap

Reversible ratchet head
Cons:
The torque unit can be misread

Small click when you reach your desired torque

Doesn't come with any attachments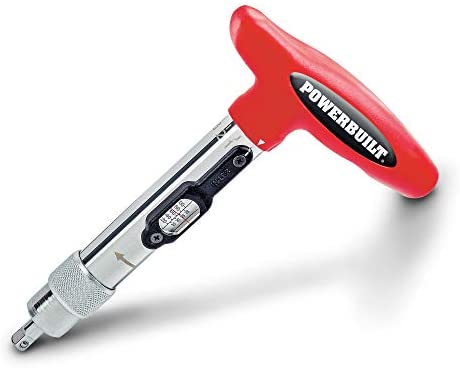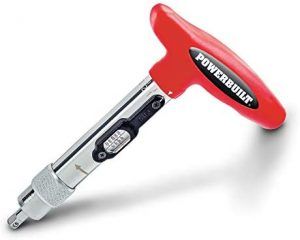 Powerbuilt is a lightweight and small T-design torque wrench that comes from Taiwan that is quite simple to use. The torque range goes from 2.25Nm to 11.3Nm which is enough to get most of the job done.
The best thing about it is how accurate it can be and being able to easily get into the tight spots. It comes with an individual calibration data sheet that gives some idea of its accuracy in several torque ranges which works really well. And it works best as a mtb torque wrench.
Pros:
Lightweight and small T-design

Nice loud click when acquired the right torque

Accurate measurement and application
Cons:
Average durability

Comes with no attachments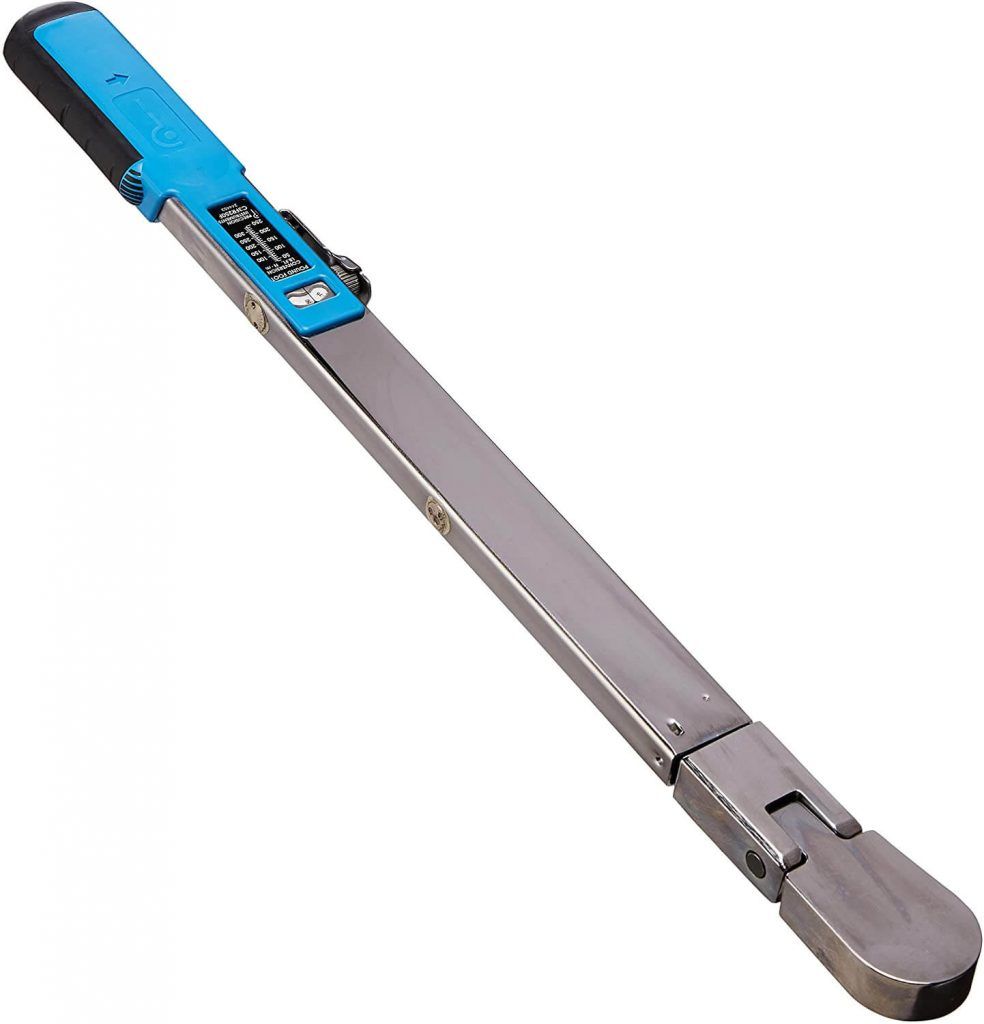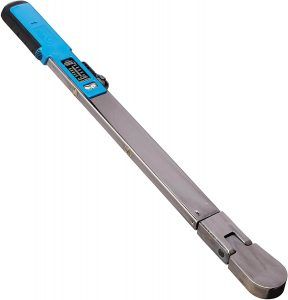 The Precision Instruments takes a bit more of a unique design but still holds the core of a great torque wrench that is made in the USA. You can comfortably use it with the ergonomic grip, flex head, and is made out of Nickel/Chrome means it can be used for longevity.
The torque can be easily adjusted with the knob on the side, going from 2.25Nm up to 28.2Nm, great for heavy-duty purposes. And it will lock on with the desired torque setting.
Pros:
Straightforward usage

Great calibration

Reasonable price
Cons:
Click is almost silent on lower torque but gets louder with higher torque

Storage case is slightly too big
Best Portable Torque Wrench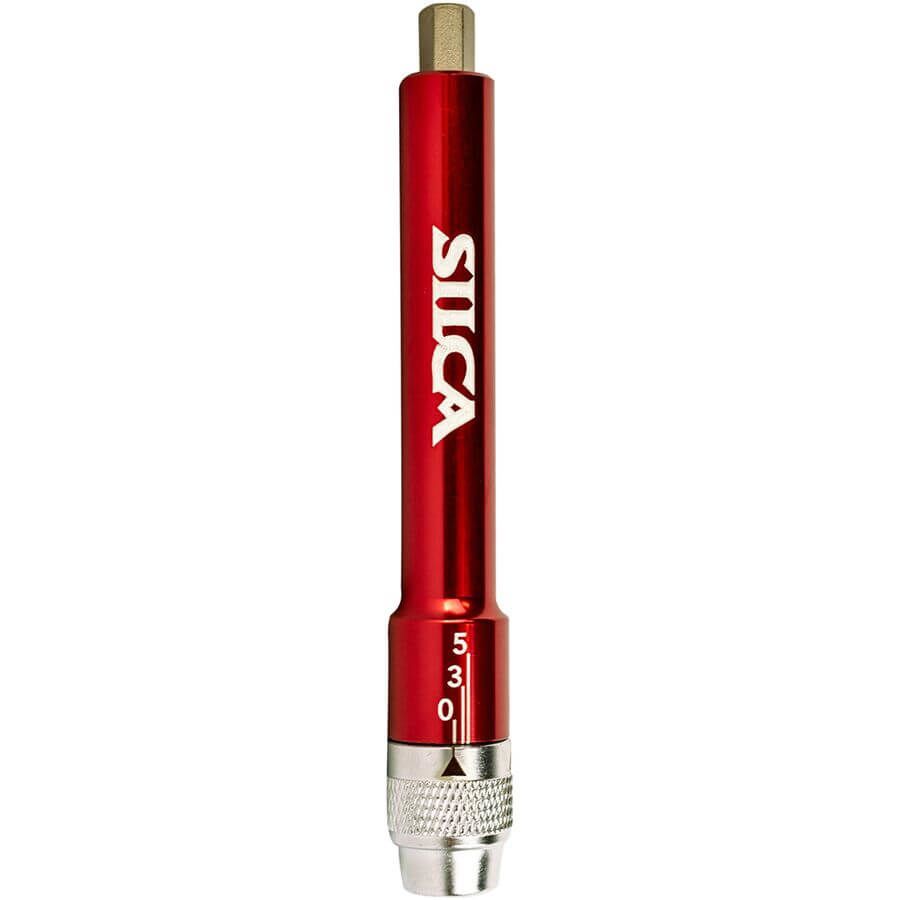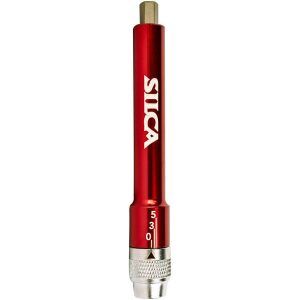 This preset torque wrench will fit nicely in your pack or your jersey pocket that comes with 4 preset tension and precise torque measurements. With a rather simple design which will be an ease for you to use.
Inside of the kit contains a T-rachet for leverage, a Ti-torque extender which allows you to know accurately on what torque you're on, multiple bits to choose from. Everything about this is neat, compact and light, you might wanna take this up if you wish to carry it anywhere you go.
Pros:
Neat and compact kit

Precise torque measurement

Attractive design
Cons:
Because of how small the tools are, the torque imprinted on it can be hard to see

The mechanism inside the wrench can pop out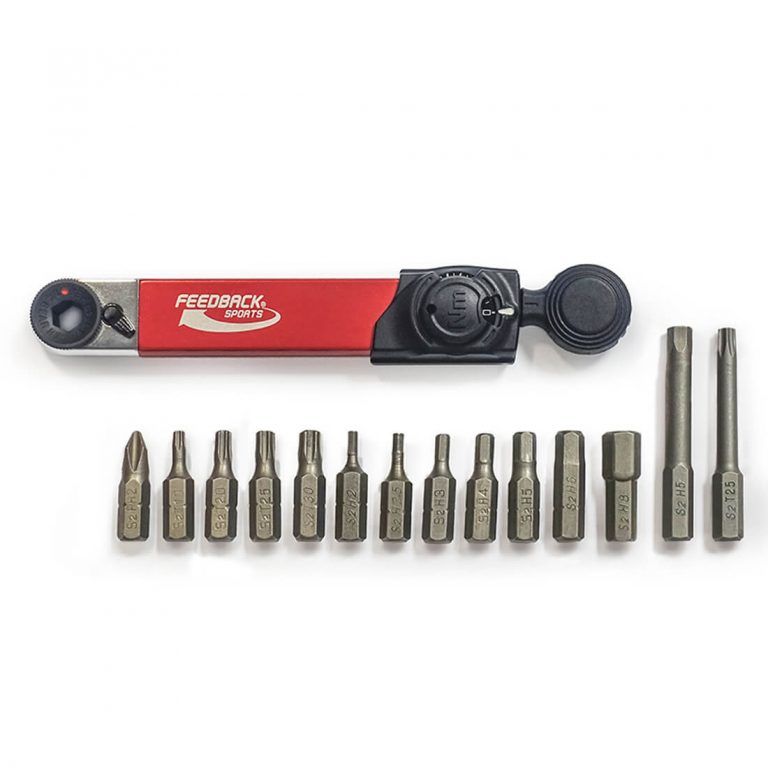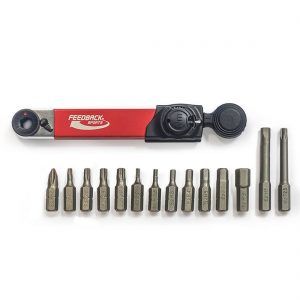 The package comes with a click torque wrench that utilizes a 2-way ratchet for convenience and can go from 2Nm to 10N. Along with over 10 bits to pick including an extended 5mm hex and extended T25 Torx to reach fasteners.
The protective case itself is compact, being all to fit in the palm of your hand. All of the tools inside are neatly placed, and stamped with their size for easy reading.
Pros:
Small, compact kit

14 type of bits to pick

Good performance
Cons:
Best Digital (Electrical) Torque Wrench
Best Overall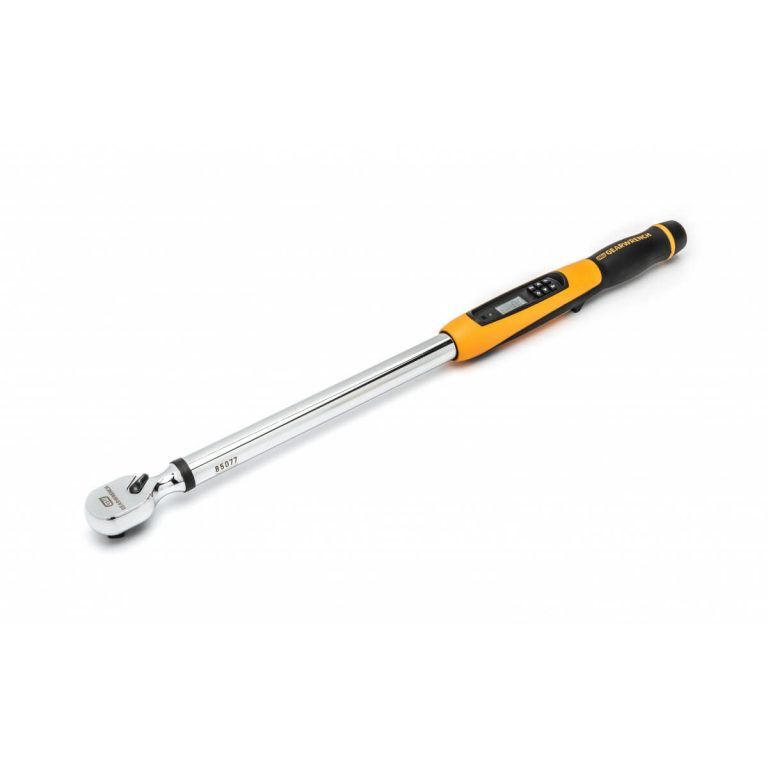 This innovative electrical torque wrench comes with four lengths to choose from including two styles that can measure angle. When you have reached your desired torque, you get a warning in the form of a vibration, buzzer and clear LED light which is just a fantastic indication.
The ratchet mechanism contains 72 teeth, along with a 5 degrees swing arc, enabling easy fastening in tough to reach places. And you can change the torque measurement unit into 5 different ones. For its accuracy, clockwise direction +/- 2% and +/-3% in a counter-clockwise direction.
Pros:
Accurate torque measurement

Clear warning mechanism

Five different torque measurement unit

Tough
Cons:
Drains battery quickly

Expensive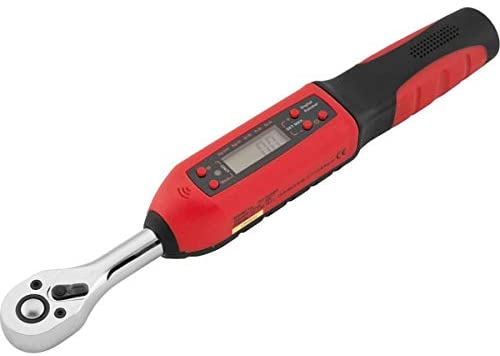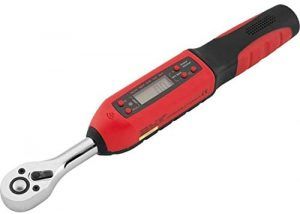 The BikeMaster is a high-quality 3/8 wrench torque at a lower price. Offering great performance to not only bikes but also many more vehicles. It can hold up to 50 torque values in its memory log and has Peak, Track modes to save your highest torque value with an easy to read digital display.
When the targeted torque value is reached, it will give out a red flashing light and loud alarm to give you a warning.
Pros:
Hardwearing

Clear torque value display

Keep track of your highest torque value
Cons:
The torque value display may run into issues after prolonged usage

No accuracy mentioned in ad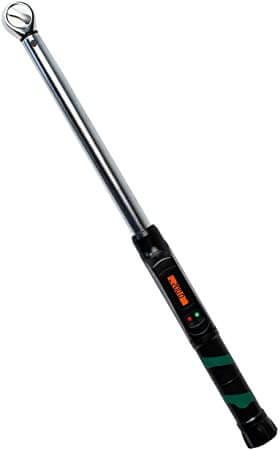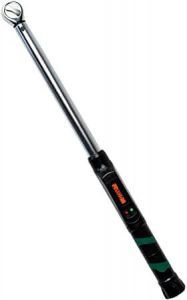 The eTork (EC3250) is a promising bicycle torque wrench. It has a precise torque measurement and good durability. But what ticks it off is the fact that the knob to turn the torque is kinda broken. It can take several tries to get your desired torque value in which it keeps on going off slightly.
Otherwise, it's a great and simple torque wrench, being able to be accurate up to +/-3% in clockwise direction and the torque measuring unit can be changed into 4 different ones.
Pros:
Great durability

Precise measurement

Four different measuring units

Easy to use
Cons:
Changing torque value can be off-putting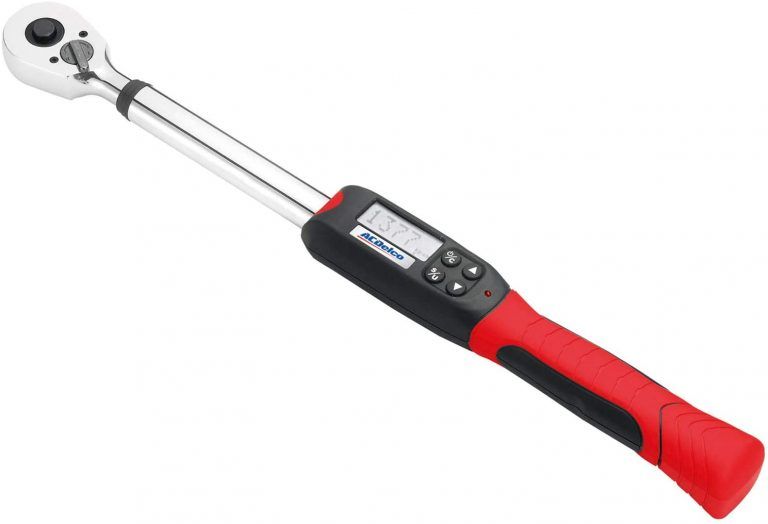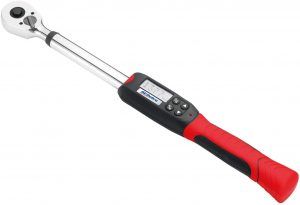 For this best bike torque wrench, you can choose the 1/2 inch with 13.4Nm to 134.2Nm or the 3/8 with the half the torque range of the 1/2 .
It features multiple setting functions including the Peak and Trace mode which record your highest torque value. And high accuracy of 2% in clockwise direction and 3% in counterclockwise direction.
Another great feature is that when you nearly reach 90% of the desired torque value, a buzzer will start to warn you although it can be buggy, not buzzing at the correct torque value.
Pros:
Records your highest torque value

Sturdy construction, high durability

Accurate torque measurement
Cons:
Torque display a bit hard to read

Slightly expensive
What to Look For When Buying a Bike Torque Wrench
If you're still indecisive of which best torque wrench for bikes. Don't worry, we have made this small guide to give you some comprehension on the different types of torque wrenches and their sizes to give you a clearer image of what you should buy.
Types of Torque Wrench
Just like the name, the preset torque wrench will have its own accurate torque value already, meaning that you don't have to adjust the torque value. This feature prevents you from accidentally tampering with the tool's torque settings.
Most preset torque wrenches are made from very high quality so they're more expensive than other torque wrenches but also means you don't have to repair it a lot of time.
This is a common type of torque wrench because it is more affordable. When you have reached the desired torque value that you have set for the wrench, inside, the lever rolls over a cam then bum the internals of the wrench handle. This in turn makes a click sound, noticing you that you have reached your targeted torque value.
If you wish to know further how to use it and its mechanism, we provide you with a short video.
Electrical (Digital) Torque Wrench
For this type, a torsion rod being attached to a strain gauge is used to measure torque. The digital display will show the torque measuring unit of the signal that was generated by the transducer, which can be a variety to some electrical torque wrench like the GEARWRENCH.
What's so cool about it is that the torque value can be stored. Then these values are permanently displayed when you are tightening something by showing it on the display or LEDs. These wrenches are usually adequately precise, but being digital means that you can have bugs in the program.
In a nutshell, you set your desired torque value just like the click torque wrench, then when you are tightening some bolts, it will beep when you reach that value.
There are some unique ones, one that can record your highest torque value, for example the BikeMaster with the Peek and Track mode.
This is more of an old-schooled torque wrench which is simple and cheap. It consists of two beams. The first beam is a lever used to apply the torque to the tightening fastener and also serves as the handle. When force is applied to the handle, it will give out predictably and proportionally with that force using Hooke's law.
The second beam is only attached at one end to the wrench head and free on its other, this beam is used for indicating. The indicator beam's free end is free to travel over a calibrated scale attached to the first beam.
When you apply torque, the lever bends and the indicating beam stays straight. In turn, the end of the indicating beam points to the magnitude of the torque that is currently being applied.
It may seem a lot to take in, but for easier understanding, here's a video of how it is being used.
Size
The most common sizes of the torque wrench are1/4, 3/8, 3/4, and 1/2 inches. Each size comes with different usage and torque value.
Useful for small nuts and bolts like the ones on garden equipment, bicycles, and motorcycles. Their torque value range can go from 5.4Nm to 28.4Nm.
Suitable for a plenty of automobiles. Their torque value range goes from 20.3Nm to 101.6Nm. This is the most handy size of all, and can be used in many circumstances.
This one is mostly used for larger nuts and bolts, great for major repairs.
Specially used for the big boys like the cargo aircraft or tractor trailers.
FAQ
1. Do you really need a torque wrench?
Of course yes, they are essential. Without them, horrible accidents involving loose fasteners will occur. I would prefer to get portable ones as you can carry them anywhere and fix any problems with your bike easily.
2. Are digital torque wrenches more accurate?
To some degree, yes. Letting the machine do all the work for you, although sometimes it can be buggy and display a much higher torque value than intended. It depends on which one you buy really.
3. What is Nm Torque?
Torque, in physical terms, is the rotational equivalent of linear force and in simple terms, the force required to tighten the specific fastener. And Nm is one of many measuring units of torque.
4. What should you not do with a torque wrench?
Well, there are a few things that you take note of.
Using unrecommended extensions can give you incorrect results.

Don't push the wrench, simply pull the wrench when you are tightening the fastener.

Do not use it as a hammer.

Don't use it on worn out or cracked fasteners.

And many more.
Conclusion
After we have listed out the best products available, let's look at the best of the best for each type that we mentioned.
Best of preset, Lifeline Essential. Very high torque, incredibly accurate and durable, comes with plenty of extensions.
Best of click, EFFETTO. Small, compact design along with outstanding performance and loud click, a bit pricey but definitely worth the investment.
Best of being most portable, SILCA. Fits nicely in a jersey pocket, neatly compacted, beautiful construction and precise torque measurement.
Best for digital, GEARWRENCH. Clear warning when reached desired torque, accurate and up to 5 different torque measuring units.