Wearing earphones or headphones while riding on your bike isn't an ideal solution. They can get sweaty and can interfere with your helmet.
Not to mention, they pose a potential risk as you might not hear what's going on around you at all. They're also not that healthy for your hearing and/or ears.
An excellent alternative is getting a rechargeable bike speaker.
The best bike speaker, by far, is the JBL Charge 4.
The Charge 4 is waterproof with Bluetooth functionality and can play music for up to 20 hours. It's also fairly loud with high audio quality and shaped in a way that it'll fit on most bike bottle holders.
There are others like the JBL Charge 4 as well too, and you'll find them below.
Best Overall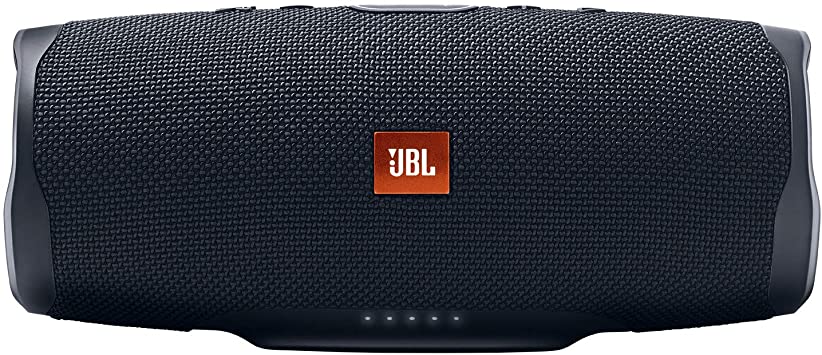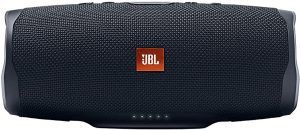 The JBL Charge 4 – Waterproof Portable Bluetooth Speaker is the best bike speaker, bar none.
Released recently as an upgrade over the JBL Charge 3, the Charge 4 comes with several subtle improvements. The best of which is USB-C charging.
Although it doesn't sound groundbreaking, it marks a huge jump in charging performance. It can carry more power and can charger larger devices, often, much faster. Plus, the plug is reversible too.
Faster-charging isn't what landed the Charge 4 the top spot on our list though. That's just a bonus.
The Charge 4 can connect wirelessly to up to 2 Bluetooth-enabled devices and has a maximum playtime of 20 hours. It's also got an IPX7 waterproof rating.
This means that it can withstand water depths of up to 3 feet or 1 meter. If it's not obvious, spills, splashes, and rainfall are all no problem to it.
As a bonus, it's also JBL connect compatible. You can use multiple Charge 4's together for louder and even better music.
It doesn't matter whether you're out on the trails or the road. If you need a music companion, the Charge 4 is it.
Pros:
IPX7 waterproofing
Can charge smartphones and other devices
Very long battery life
Loud and clear
Cons:
The Charge 3 and Charge 4 are practically the same
Big and heavy
Most Popular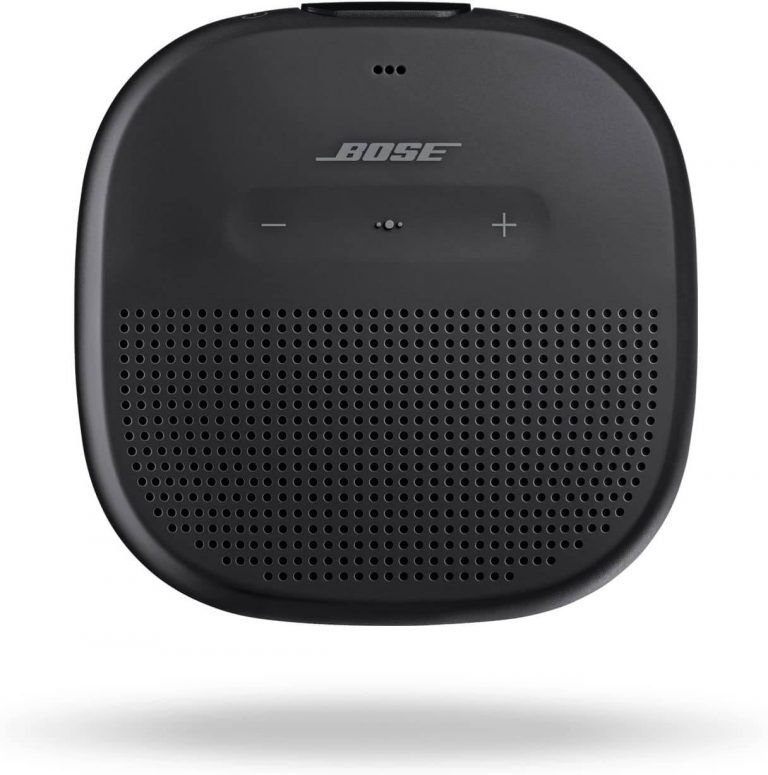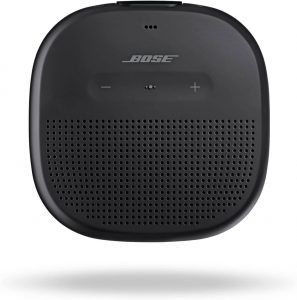 There are small bike speakers, and then there's the Bose SoundLink Micro.
Smaller than many smartphones today, the SoundLink Micro will fit inside your pocket. However, being that it's a speaker, you'll want it mounted somewhere open.
To help with that, it has a durable tear-resistant strap that loops quite easily on anything. This includes bike frames, and better yet, handlebars.
Speaking of open, the SoundLink Micro produces a sound that's just as loud and as rich as speakers twice its size.
Plus, it's fully IPX7 waterproof. It even has a built-in microphone to make answering calls easier while on the go.
If only the battery life was better, it'd probably be hands-down the best portable bike speaker.
Pros:
Reasonable pricing
Built-in microphone
Tear-resistant integrated strap
Pocket-sized
Cons:
Average battery life
Sound degradation at louder volumes
Best for Enhanced Bass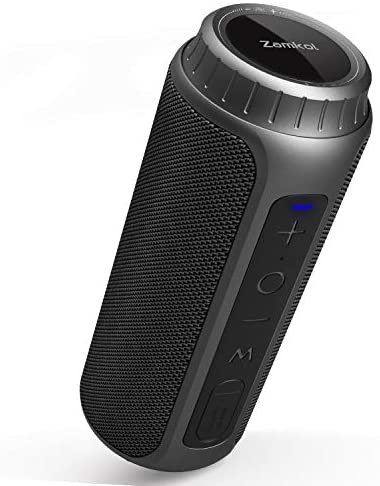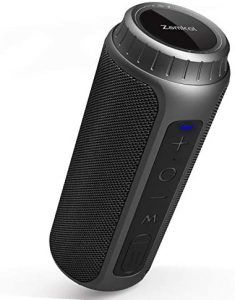 Most people can get by with good sound quality while out on the open road. After all, you don't necessarily want to be obnoxiously loud.
Still, there's something to be said about listening to some heart-thumping bass when you're out riding on the trails or somewhere you're not disturbing other people.
If that's something that you want, the Zamkol Bluetooth Speaker 30W Waterproof is for you.
This portable cycling speaker is equipped with 2 x 15w dual-precision drivers that pump out a lot of bass from all directions.
It's even equipped with noise reduction technology and a stereo-widening DSP chip. These two work together to create the perfect balance of highs and lows.
If you don't mind the added weight, you can even pair two if you want. This will give you 60W of wireless stereo for the ultimate bass performance.
Since it fits on most water bottle cages, fitting two won't be as big of a problem.
In terms of battery life, this has a 15-hour battery life that charges in 4 hours via USB Type-C.
On top of it all, this bike speaker is quite affordable.
Pros:
Low price
Bluetooth 5.0
Compatible with most water bottle cages
15-hour playtime
MicroSD card slot
Loud, loud bass
Cons:
Waterproofing could be better
Best for Physical Control Button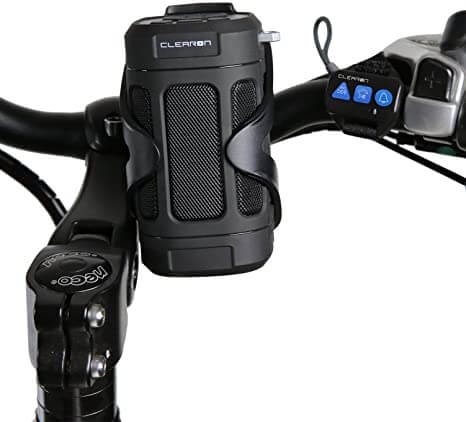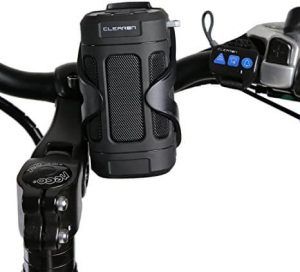 Some people simply prefer something with large physical buttons on them for controls.
If you prefer something like that on your Bluetooth speaker for bicycle, then we recommend the Portable Bluetooth 4.0 Speaker by CLEARON.
The buttons of these speakers feel very physical and tactile. They're also very visible.
They feel nice, is what we're trying to say. Speaking of nice, the 8-watt speakers are loud, clear, and with surprisingly deep bass.
It's not earth-shattering, by any means. However, it's more than good enough. Plus, these speakers come sold with all the accessories that you need.
This includes a backpack hook loop and a bicycle mounting kit. The latter makes bringing it along on your rides extremely convenient and easy.
In terms of durability, you don't have much to worry about. The speaker is shock-, dust-, and stain-proof, with an IPX4 water resistance rating. It's built to withstand the outdoors.
Rounding all these features up is a 15-hour playtime and a built-in microphone.
As a bonus, you can use the iFree controller app to use the speakers are a very, very, very loud makeshift bike horn.
Pros:
Comes with a bike mounting kit
Tactile buttons
Weatherproof
Excellent build quality
Cons:
Jacks and ports can get a bit confusing
No way to tell which radio station you're listening to
Best for Battery life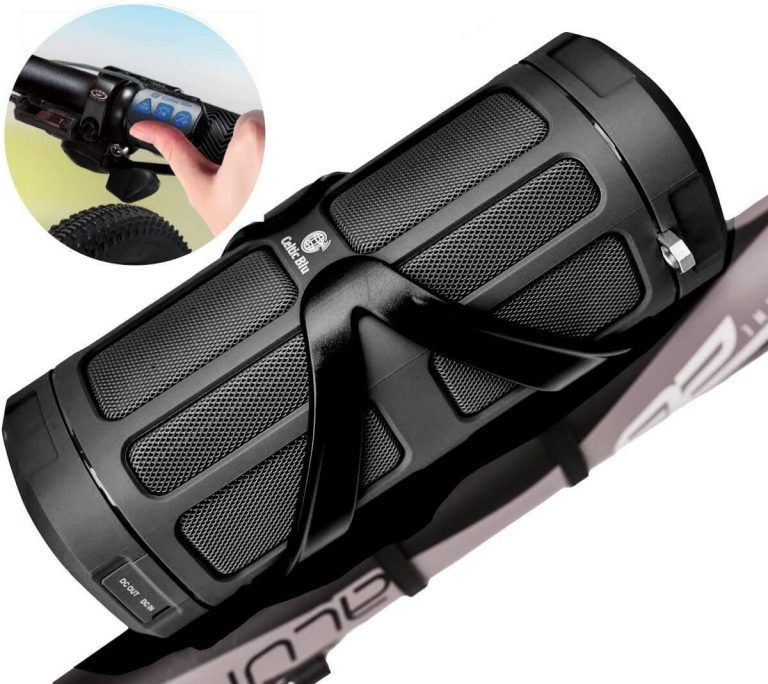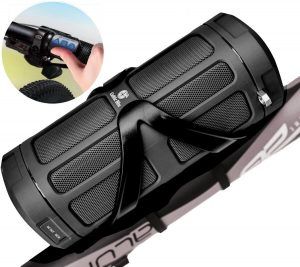 The Bluetooth 5.0 Speaker by Celtic Blu is perfect for long days on your bike. This means that they're also great for those who don't really like taking off their speakers from their bikes just to recharge them.
These portable speakers have 30-hour battery life. This is amazing since you can also use it as a power bank.
It comes with a MicroSD card that you can play songs directly from, as well as a built-in microphone for hands-free phone answering.
It also has a handlebar remote. This makes for a more user-friendly and safe experience when you're using this on your rides.
At 1.3 pounds, these speakers are a bit heavy. However, you could argue that the large battery is to blame for it.
Besides, it's not like you're going to have a hard time fitting one inside a standard bike water bottle cage.
Plus, these speakers have 16W of power. This lets you maximize battery life. You won't need to turn the volume way up just to hear it.
Pros:
30-hour battery life
Handlebar remote
Comes with carabiner d-clip
Loud and penetrating sound
Cons:
Best for Bike Light Equipment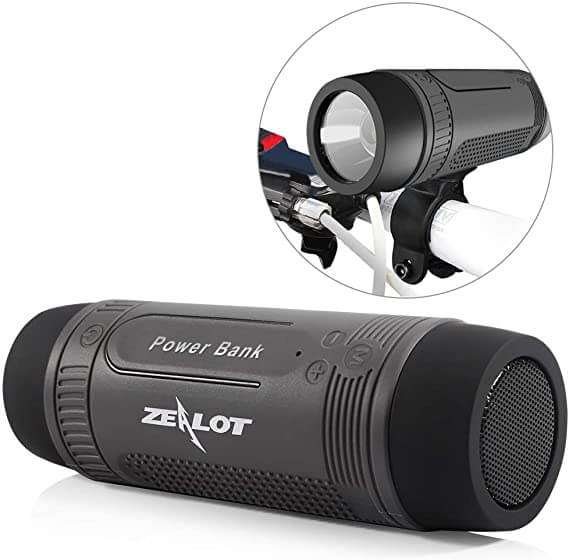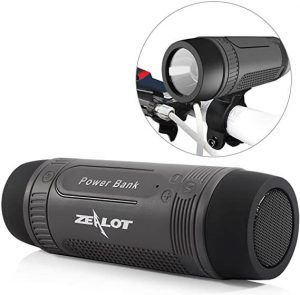 The Portable Bicycle Speaker Zealot is light. Literally and figuratively.
These speakers are easily the cheapest on our list. It costs less than half of what most the other bike speakers usually go for. It's also one of the lightest, weighing just 300 grams.
This makes it perfect for those conscious about adding too much weight to their bikes.
The S1 is not just lightweight too. It's very functional. It can be mounted like a flashlight on your bike's handlebar. You can also turn it into a portable torchlight too.
It has 3 different light modes that you can take advantage of, including an SOS mode. In a pinch, you can also use it as a powerbank.
In terms of performance, the built-in 40mm large drivers won't let you down. It gives the S1 the kind of fullness that you don't see from speakers of its size.
Lastly, it has a 4000 mAh rechargeable battery. It's a lot, considering how compact it is.
Pros:
Huge battery with powerbank function
Lightweight
Can be used as a LED torchlight
Multipurpose
Cons:
Best for those on a Budget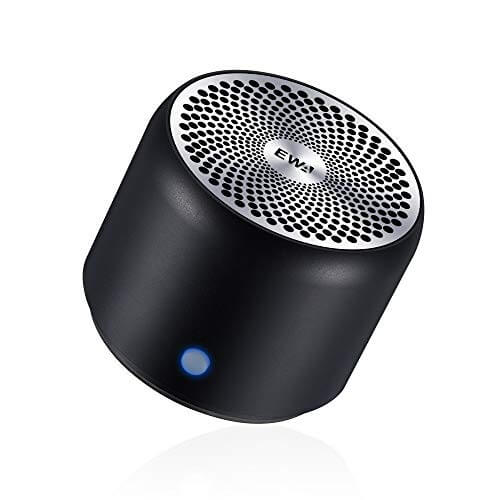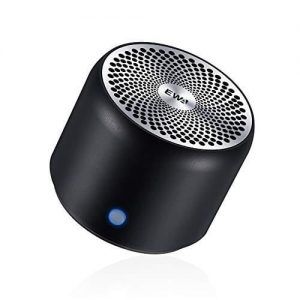 Not everyone wants to get the best bike speaker that money can buy. Some are content with the best Bluetooth speaker for bike that's affordable.
Like, for example, the Travel Case Packed, EWA A106 Pro Portable Bluetooth Speaker.
The A106 is a small speaker. It won't fill the room with earth-shattering bass. It is surprisingly loud given its size though. Not to mention, it's got tons of functionality.
It can even stream music wirelessly via Pandora or Spotify. Plus, at just 6.2 ounces or 175 grams, it's very lightweight and it comes with a carrying case, as well as a case, for better portability.
At 50% volume, the built-in lithium-polymer is good for 8 hours of playtime. You can charge it to full in just 2 hours.
For peace of mind, these speakers are backed by a 30-day risk-free guarantee and a 1-year warranty.
Pros:
30-day risk-free guarantee
Compact
Loud for its price
IP67 waterproof rating
Low, low price
Cons:
Quality control issues
Might not survive falls from significant heights
Best for Putting in Bike Cage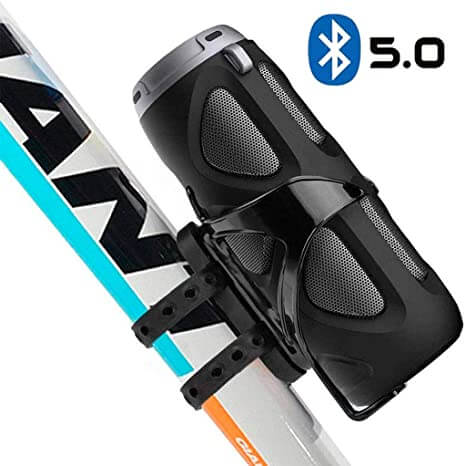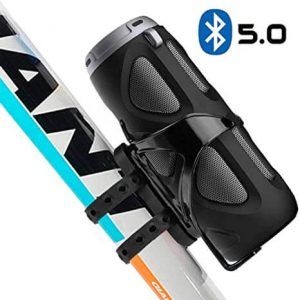 The Avantree WP400 Portable Bluetooth 5.0 was designed to fit perfectly in bike cages. It'll fit inside your bike's bottle cage like a typical water bottle. This will help you save time and money trying to mount it securely on your bike.
Now, just because it fits well in bike cages, doesn't mean it's good. It's good for more reasons than that.
Case in point, it's equipped with 5W dual speakers and a passive bass radiator. This results in bolder and richer sounds that will stand out amidst the road noise.
It's also housed inside a shock-proof rubber exterior with an IPX4 water rating. It can also play music from wireless devices, a micro SD/TF card, or an AUX line.
You can even play music using an NFC-enabled mobile phone. This makes it extremely convenient to use since you've got multiple choices.
With a 24-month warranty, the WP400 is a safe bet if you want a quality bike speaker.
Pros:
Backed by a 24-month warranty
Fits on most standard bike cages
NFC-capable
Cons:
Best for Compact Design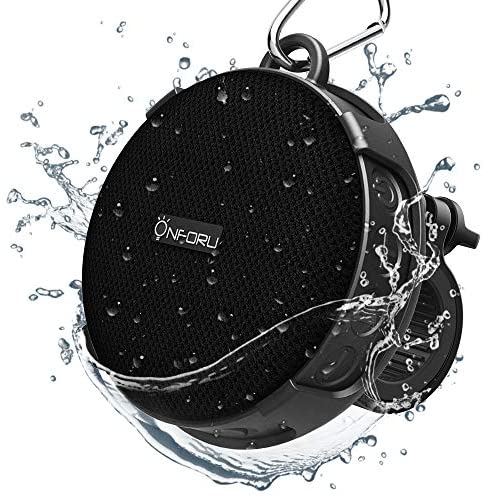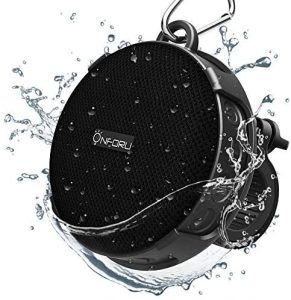 Out of all the bike speakers on our list, the Onforu Portable Bluetooth Speaker for Bike is the only one designed for cycling enthusiasts, and it shows.
The IP65 waterproof rating means that this bike speaker won't mind the rain and being submerged in water. It's also got a thick gasket and an adjustable bike holder.
It's also far more stable than other wireless speakers. This is because it has Bluetooth 5.0 functionality. In comparison, other speakers only have Bluetooth 4.2 functionality.
Mind you, those are all just bonuses. It's the compact design that seals the deal. It measures just 3.24 inches. This means that it will fit easily on your bike's handlebar.
Yet, despite its compact design, it has a 10-hour battery life at 60% volume.
All in all, you're getting a lot for the small and affordable package that is this bike speaker.
Pros:
Multiple secure mounting options
Shock- and waterproof design
Bluetooth 5.0
Fantastic battery life
Cons:
Hard to turn on/off or adjust volume while riding
Bike Speaker Buying Guide
To maximize battery life, you should only listen to music at around 50% to 60% volume. Because of this, you'll want the audio quality of your bike speaker to still be good and more than just audible at half its maximum volume level.
Still, ideally, you'll want a bike speaker that can go extremely loud without a dip in audio quality.
Also, don't expect high-quality and nuanced audio for bike speakers. You can't just find something that fits, at most, a typical bike cage and have the same audio quality as audiophile-grade speakers.
Anything that lasts more than 5 hours on a single charge at 50% volume should be okay.
Just make sure that the bike speaker is easy to charge. Otherwise, you might just end up charging the speaker for as long as you're going to use it. This is not ideal.
By compatibility, we mean connectivity.
Since you're using a bike speaker, you should prefer something that can play audio wirelessly. This is usually done via Bluetooth.
Then, you'll have to choose between Bluetooth 4.2 and Bluetooth 5.0, with the latter being newer and better. After this, you'll have to think about other connectivity options.
In many cases, a bike speaker will have an audio jack so you can connect directly to a compatible device.
In other cases, a bike speaker will also have a microSD card slot that you can play music from. Others might also be NFC-capable as well.
A good rule of thumb is, the lighter the bike speaker is, the better. You don't want to add unnecessary weight to your bike.
But, don't compromise weight for safety. You'll want a bike speaker that mounts securely on your bike and won't fly off on bumpier roads.
Most bike speakers are designed to loop or attach to the handlebar or a standard bottle bike cage.
Both work fine as long as they are properly secured. Although, fitting a bike speaker on a bike cage can get tricky at times.
This is because of the difference in and design in dimensions. In such cases, it might not be possible to mount a bike speaker unless it's a specifically-designed bike cage.
If nothing else, handlebar-mounted speakers do cost less. This makes them safer investments, especially if you're new to buying bike speakers.
Conclusion
If we're being honest, no bike speaker holds a candle to either the JBL Charge 4 or the Bose SoundLink Micro.
In terms of functionality, build quality, and audio performance, both are in a league of their own.
The JBL Charge 4 might be our top pick, but the Bose SoundLink Micro isn't too far off. Also, as already mentioned, it's just a better battery life away from being our top pick.
With that being said, our other recommendations aren't necessarily bad. It's just that these two are so good.
Of course, at the end of the day, the choice is yours to make.
Hopefully, with our list and tips, choosing the best bike speaker will become far easier for you.