Having a bike means you can enjoy a ride around. For many purposes, your items could not leave you. A bag without carrying with your shoulder but the bike is a good solution. The good bike bag integrates many functions.
In this editorial, we review different styles of saddle bags. Accordingly, we have listed the best bike saddle bags for people on a budget, the best large size saddle bag for long journeys.
While the best premium one for a variety of capacity and also the roll seat bag styles. This is to provide you a stress-free and clearer approach for the one you need.
Come first to our choice is Topeak Aero Wedge Velcro Pack which offers you nice sturdy storage in a good deal. The outside material is the durable 1,200-denier Cordura coated with Dupont layer for moister resistance.
Here below is 20 best bike seat bags that you can buy today.
Best Bike Saddle Bag for People On A Budget
Best for various choice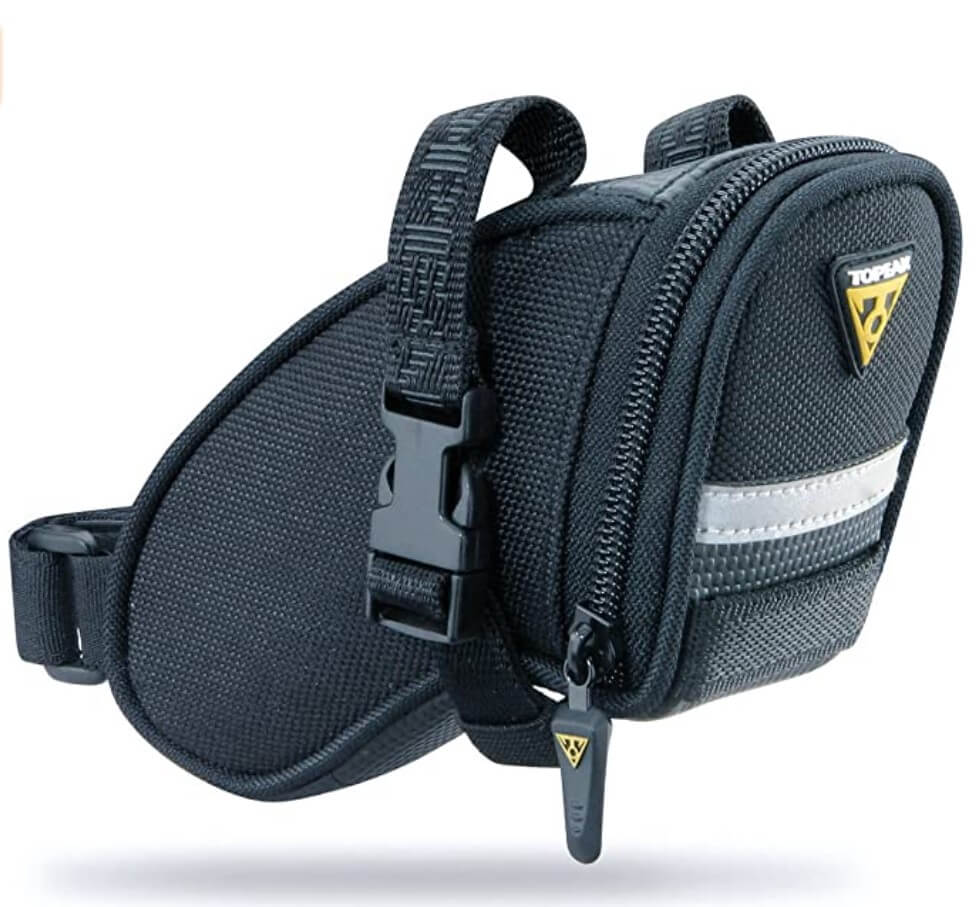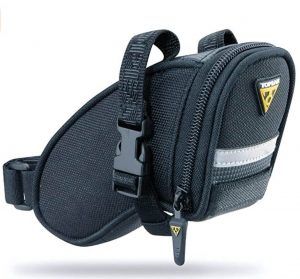 Topeak Aero Wedge Velcro Pack has a neat and brief design with 3 levels of size: 0.41 L for micro, 1.3 liters for medium, and the large one for 1.97 liters. Moreover, being our first choice, the pack is a convenient solution for storing necessary items.
With Velcro strap mountand snap-on buckles, you just clip it to the back of your bike's saddle and seat post. The black pack with the large main opening offers space for your personal stuff.
You things are safe from the weather with the material of 1,200- denier Cordura and Dupont coating. In addition, the pack also attaches with the 3M reflective strip which offers safety-minded touches. With an affordable price tag, the pack is suitable for most people.
For people prefer to carry the bag along on the journey or have more space to put other accessories such as a laptop, you can read the article about choosing a messenger bag here.
Best aesthetic design saddle bag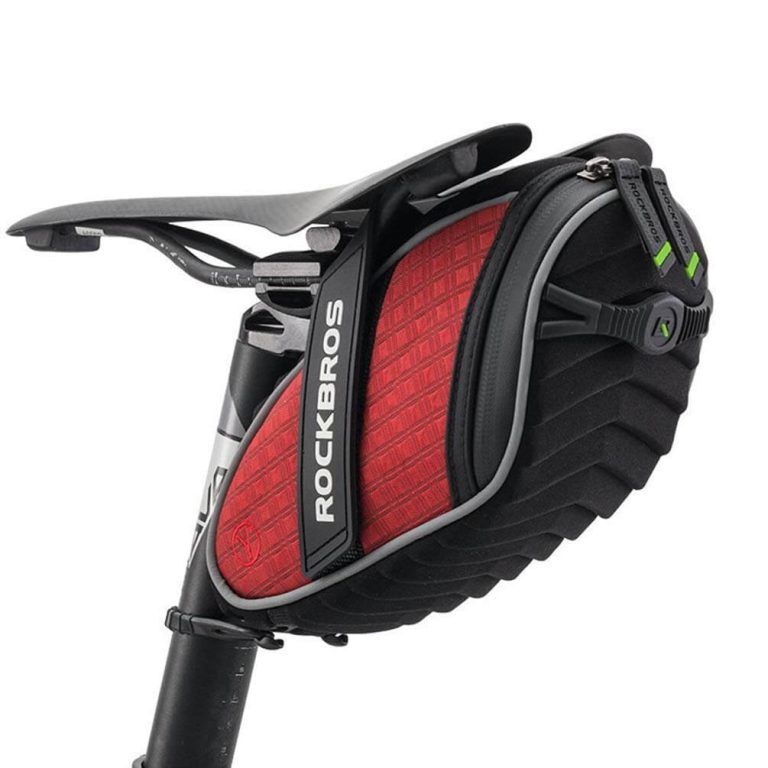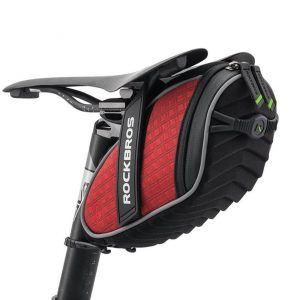 Another option would be ROCKBROS Bike Seat Bag. This product catches your eye with a 3D shell design, wave cushion, and back red color. Besides, included shock resistance guarantees protection if it falls out.
ROCKBROS is easy to handle with two stickup straps and a rubber buckle. In like manner, this keeps the seat bag securely attached to the seat post. Meanwhile, the reflective strap is mounted around the bike seat bag for night visibility. You can put a movable light backward in the bag with the taillight hook available.
The ROCKBROS is waterproof in a short time. So, a nylon bag outside should be covered in heavy rain. However, the Lifetime warranty will please you in each negative case.
Best price for saddle bag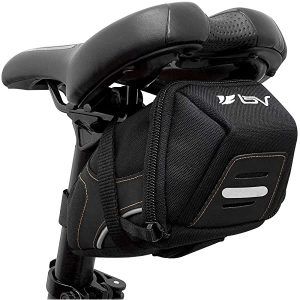 BV Bicycle offers you a model of Bike Saddle Bag with an economical price tag. Having many good comments from the users, the BV Bicycle saddle bag is a solution for keeping all the essentials. For example, your tire tools, mini, CO2 pump, levers, key, and phone.
Accessing is not a problem with this product because of its big zippered opening mouth. There are multiple size options from Extra small to Large for all kinds of cycling activities.
Together with 3M ScotchliteTM reflective trim for safety purposes, the tailing hook is convenient for you to hang a small lamp.
With the impact-resistant mesh and one-year warranty regime for material problems and workmanship. You can be released from the worry of the property's performance.
Best multi-functional seat bag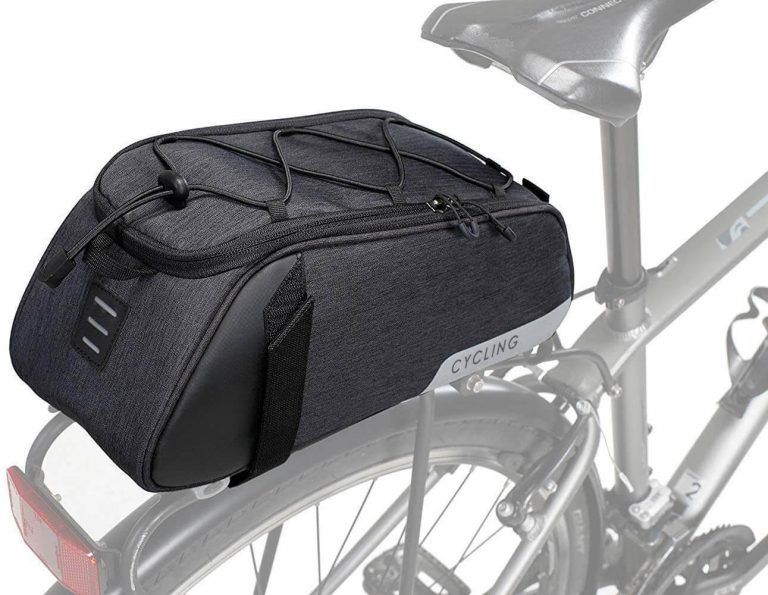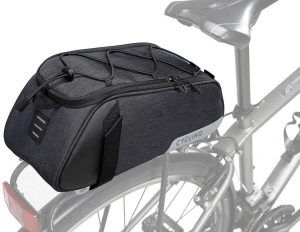 Next recommendation for Bike Seat bag is the WOTOW Bike Rear Seat Bag. The bag is kind of multi-functional storage while it is not only for cycling but also for shopping, walking, or picnicking. Because it can be a chest bag just by hiding the shoulder strap in the bottom.
In this manner, the this item allows you to comfortably put so many things in with its massive capacity up to 7L. Name some like, cycling coat, repair tools, power bank, water bottle or even tire pump.
If your bike has a rear seat, then WOTOW is an amazing choice. Taking nearly no time for installation with fastener hook and loop fasteners straps, it fits quickly with all types of bicycles.
The product is sturdy, solid with its durable 300D Polyester material. As a result, it is waterproof and mud resistant.
Runner-up price for saddle bag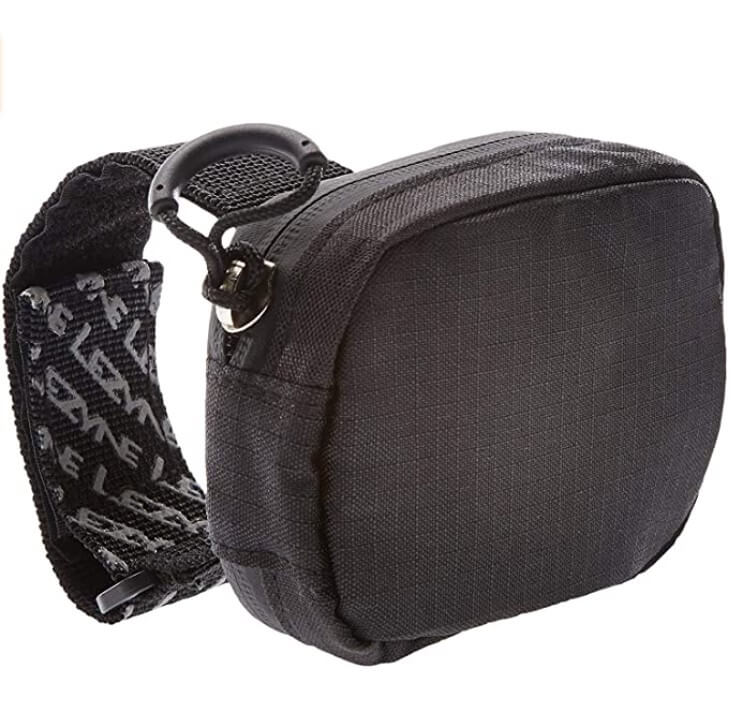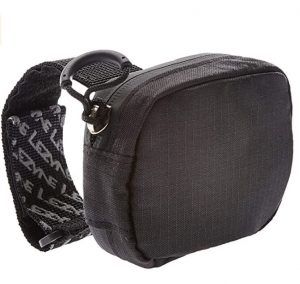 With a capacity of 0.4 L, LEZYNE Road Caddy is rather small. It packs a maximum of one 700×23 tube, 2 tire levers, small multi-tool, Park tool patch kit, small boot, Kevlar spoke kit, and 2 quick links.
LEZYNE supplies you with an affordable convenience. The rugged TPU construction and high-frequency welded seams help the product be more sturdy.
Not only has a wide clamshell opening engineered with roll-up/hook and loop for easy access. But the bag also has a water resistance function with a durable woven nylon construction. The beautiful design of reflective logos and loops help to increase night visibility.
Read More: 12 Best Cycling Backpacks
Best saddle bag with more space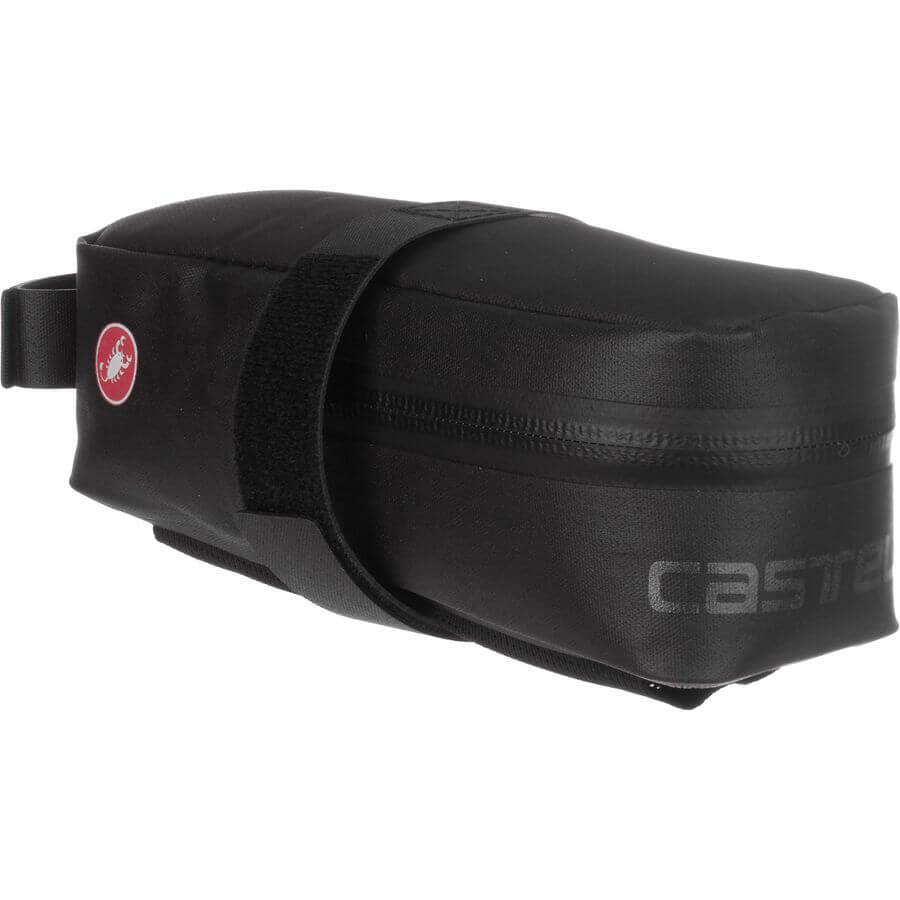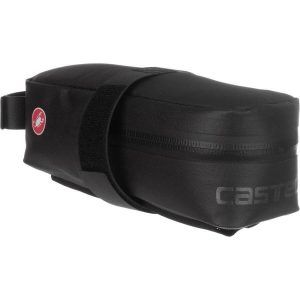 Instead of straining your stuff into a normal bag, now CASTELLI Undersaddle XL offers you a maximum room for holding all your essentials. Getting so many appreciations for its sleekness and modern style, the bag fits with all types of bike, such as the tubeless Open and the tube tire bikes.
With a hook-and-loop strap, it attaches to your frame quickly and securely. The reflective accents decorated on the Undersaddle bag to improve your visibility during day and night. Nevertheless, there is only one color as well as one size for choosing.
The CASTELLI also protects your items from water and stain with waterproof material and zippers. With the shape of a simple black rectangle, it has a dimension of 6x15x6 cm. For the warranty issue, you should take advantage of only a 30 days manufacturer warranty.
Best Secure seat bag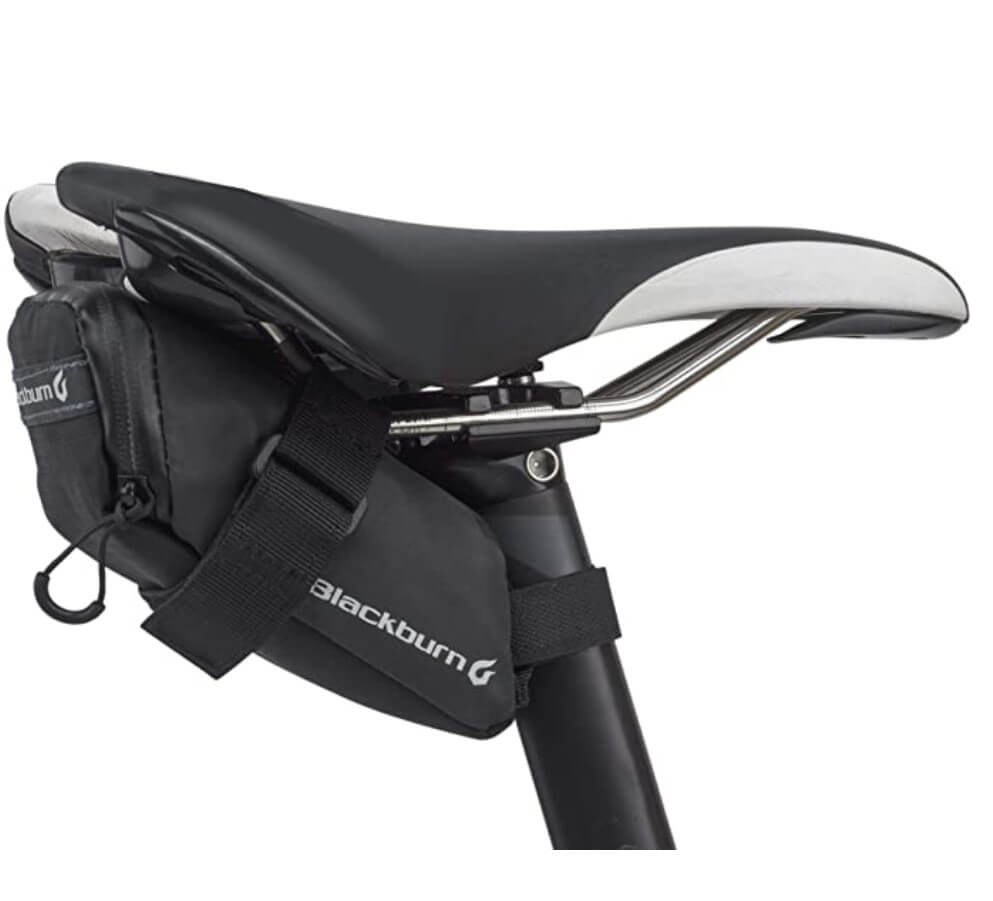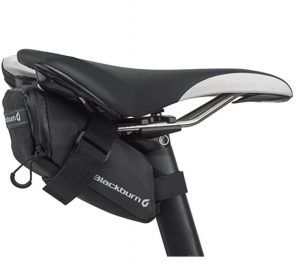 Blackburn Grid Bike Seat bag broadens your selections with 3 sizes: Small, medium, and large. Its prominence is security towards your necessities inside. Structured with the grid bags feature a padded structure, so they can keep your payload in shape and secure.
It is easy to locate your things at night. Because Blackburn applies a retro-reflective coating together with its partition feature. The small internal pockets help to organize. Meanwhile the lighter color material inside increases easiness.
The construction involves 210t nylon ripstop, 210d polyester, and featuring a coated zipper. Blackburn succeeded in building a touch fabrication for lifetime use. In addition, you can hang a taillight conveniently with the tail light clip.
Best convenient seat bag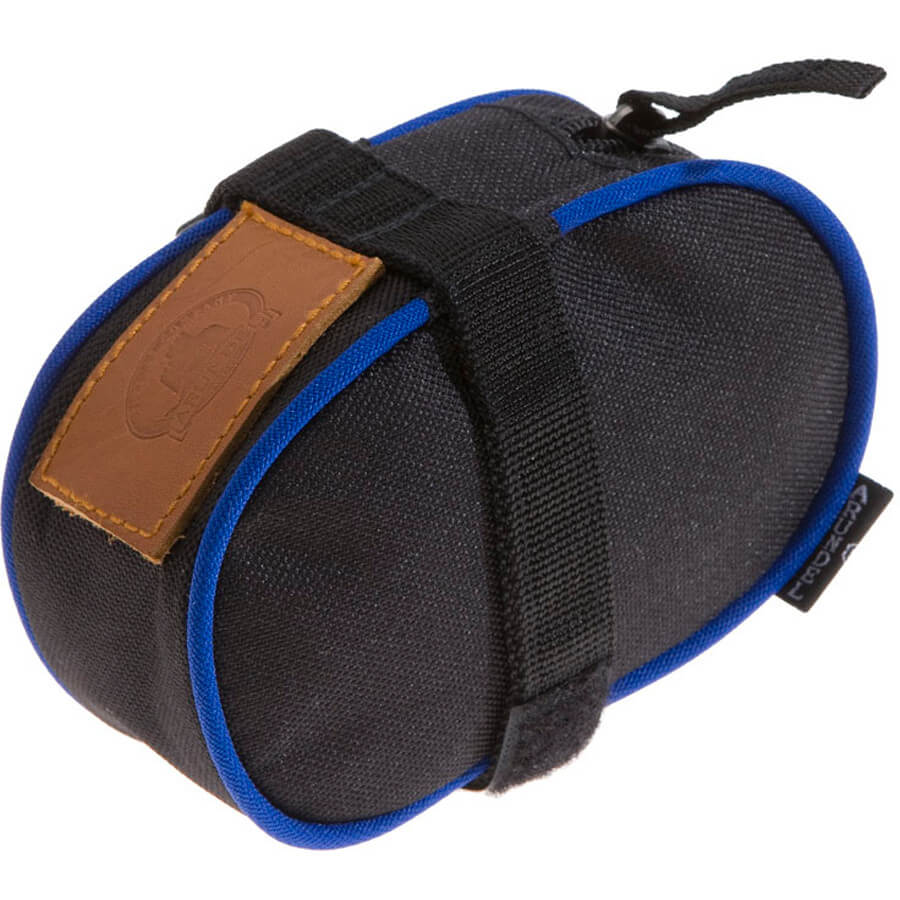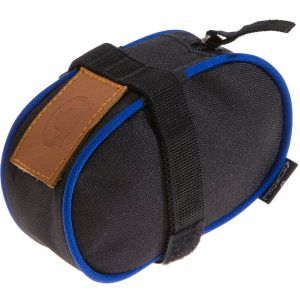 Being a different design for mounting seat-post bags, Arundel Dual Seatbag has a simple but sleek nylon fabrication. It tidies up your items within a dimension of 5.25×2.125×3.5 inch rectangle shape.
You can put as many as two tubes, two CO2 cartridges, an inflator, and tire levers. However, the bag wins the user's heart by its streamlined structure. There is only a single strap to secure the bag which excludes the normal cumbersome straps.
Not only that, with a small leather patch in the contact point with your seat post bolts, the keeping force makes the bag firmer. In case of wearing gloves, you can also open the bag mouth with the large zipper, preventing the removal of gloves.
Read More: 8 Best Trunk Bike Bags
Best Large Size Seat Bag
Best waterproof seat bag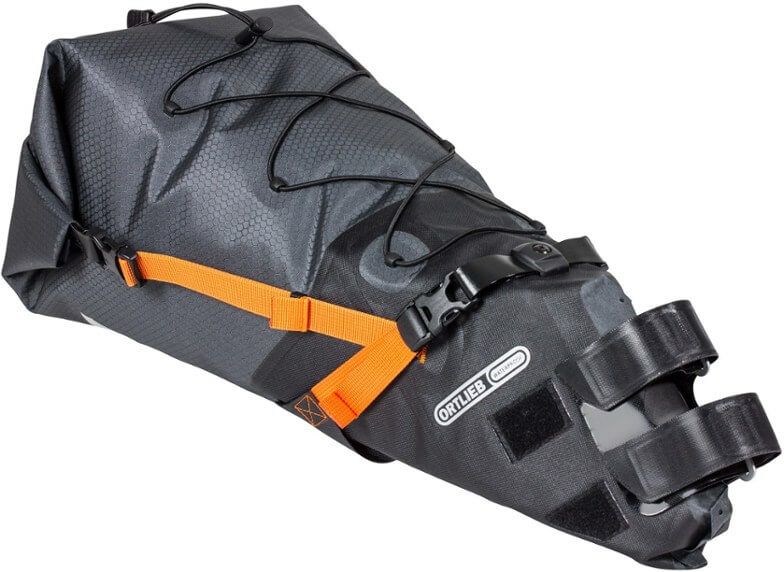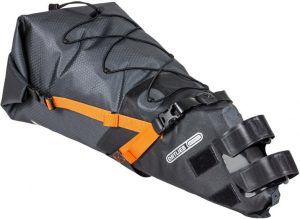 The Germany Ortlieb brand offers a solution for spacious extra-large seat bags for cyclists. Ortlieb Seat-Pack Saddle Bag underlines the technical features. It can be seen clearly in the remarkable material. To have 10 times as waterproof as a tent, the material of polyurethane-laminated ripstop nylon is applied to the outside layer. Therefore, we have a lightweight but sturdy bag.
Meanwhile, the mounting points to the saddle rails, use an extra heavy-duty fabric. In order to uphold the the product's shape, the inner material is a kind of sturdy polyethylene. You can load up to 11lbs of capacity.
Other elements that belong to design aiming increase the certainty included. For instance, 3M Scotchlite reflectors for night visibility, the elastic cord for quick fixing. Seven-loop daisy chain permit hanging a taillight. Moreover, you can vary the bag volume from 8 to 16.5 liters by rolling the top closure. And do not worry about your bike type, it fits all.
Best wide opening seat bag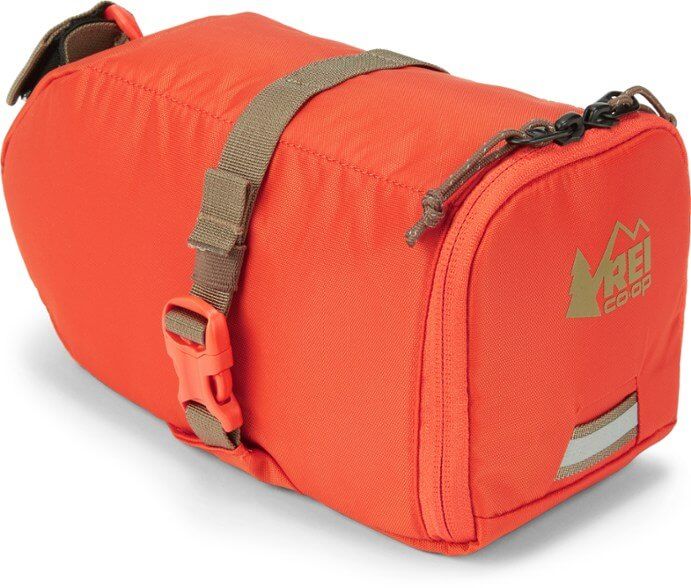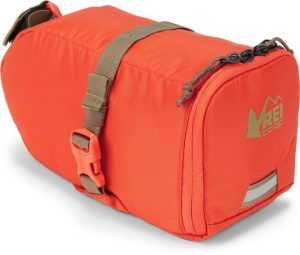 Firstly, the bag will satisfy you with the cheaper price and two color options: the asphalt and the pumpkin. Not only does it have a reflective loop for attaching blinky light, but it also increases night visibility with the logo highlighted by the reflector.
Secondly, REI Co-op Junction Seat Bag is easy to access your necessities with a large zippered main opening and 2 internal pockets. The material is water-resistant, in which Ballistic nylon is treated with water repellent (DWR). So that you do not have to worry about the light rain or tire spray.
Lastly, pack things up to 4 liters in the lightweight bag of 6.5 ounces your essentials are still tight on bouncy trails by the compression of the straps. Feel free to put a mini U-lock, a spare, and the bike tool.
Best compatible seat bag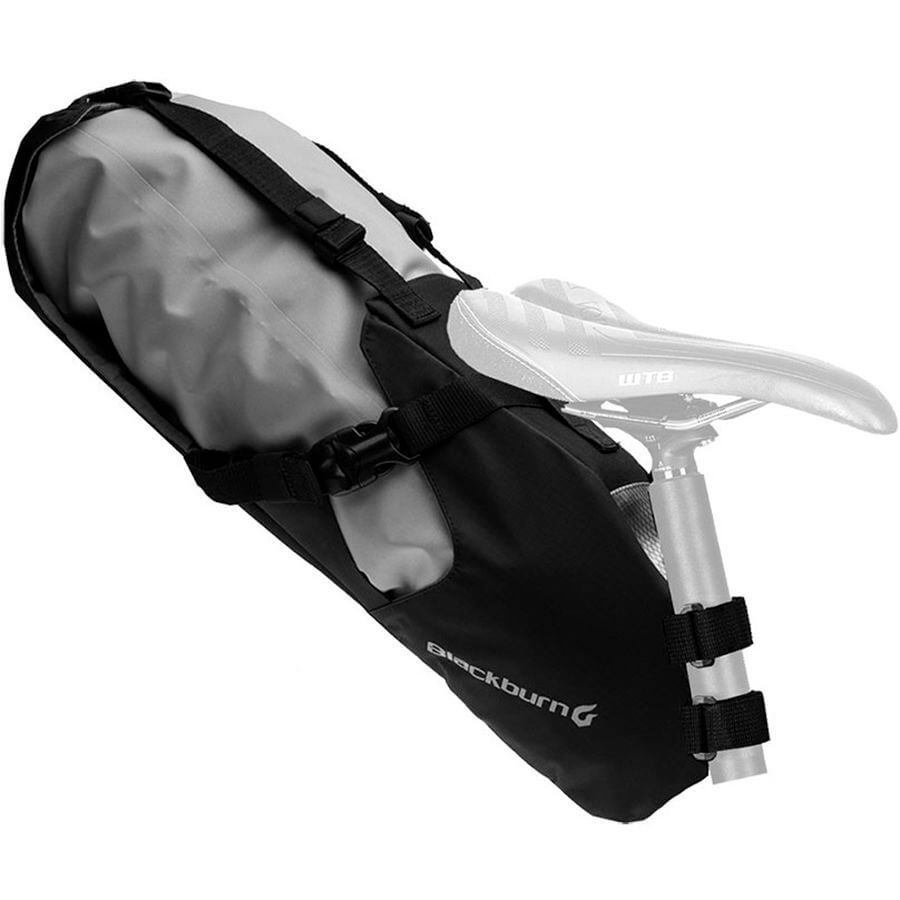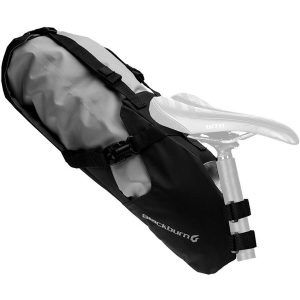 Blackburn Outpost Seat Pack impresses you with the functional seatpost-mount design. And a separated dry bag for convenient bike packing or commuting. All you need to do is mount the straps around the seat post. Your bag will direct upward as a space-saving solution.
The benefits of having Blackburn Outpost would be you have an extra-large capacity up to 11L. This releases you the worry of cramming necessities for an overnights picnic. It is also no problem for the different dry bags, the seat post mount is compatible with most.
Paying a little attention to your type of seat post, cause carbon seat posts are so soft to suitability. When driving at night, you should take advantage of the daisy chain loops along the outside of the bag to hang more taillights.
Best polyethylene nylon seat bag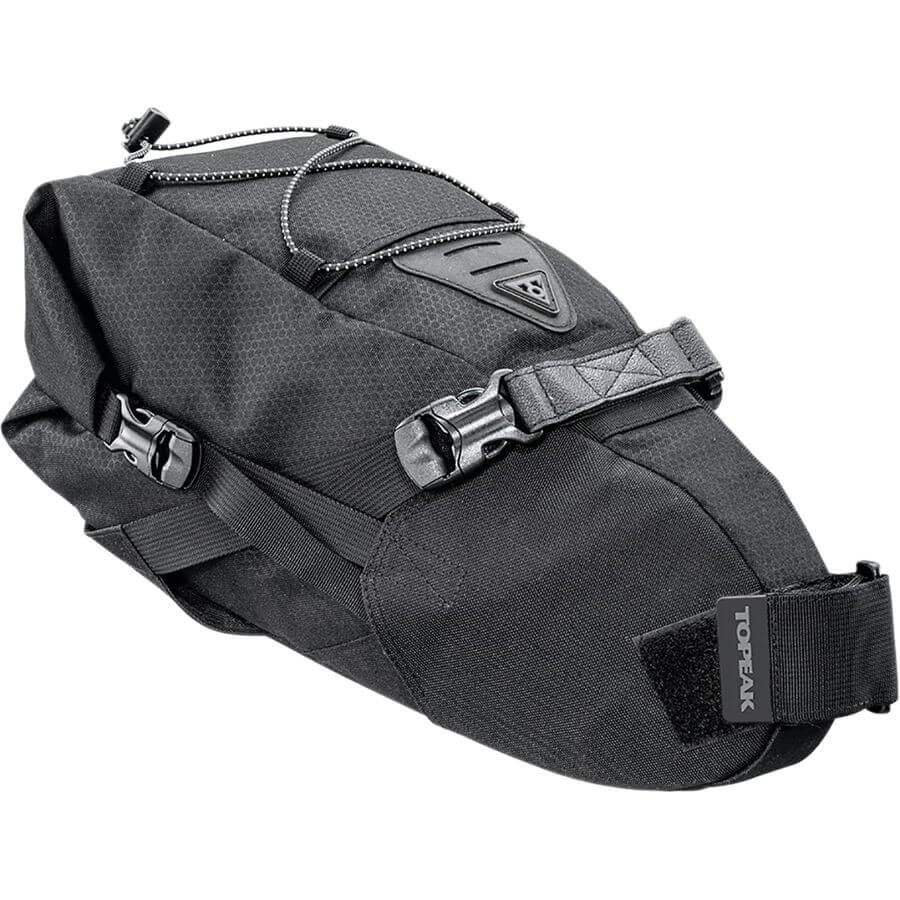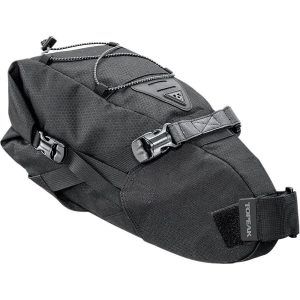 You have several choices for the colors and corresponding size. So, with these affordable types of seat bags, Topeak BlackLoader will give you some good points. First of all, you have ample storage space or you can reduce the volume at any time by cinching down.
Secondly, the upper directed position right at the seat post is able to balance the load while cycling on the multi-surface adventures. Meanwhile, the safety light clip keeps the rear light in prime position for visibility. Adding to those, the upper shock cord fixes your items in the right shape.
Lastly, with the material of polyethylene nylon, it is waterproof from rain and road spray. And 2 years of warranty in manufacture is a not bad guarantee for its quality.
Best roll-top seat bag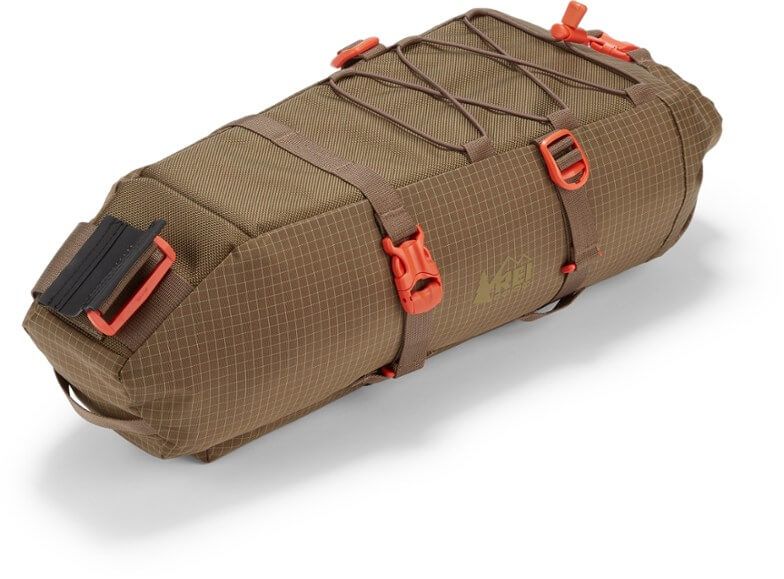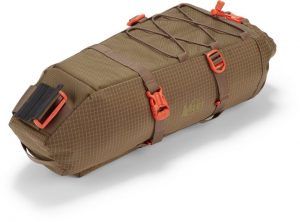 Another nomination comes from the REI Co-op Link Seat Pack. With the aesthetic color of waterbuck brown, this seat pack brings you a youthful, energetic feeling. About the price aspect, they are rational.
REI Co-op Link Seat Pack won people's hearts with its comprehensive waterproof. Specifically, the upper body of the bag is a water-resistant ripstop nylon. Whereas, the panels are rugged ballistic nylon. Both of them are treated with a durable water repellent (DWR).
In addition, a roll-top closure and seam-sealed liner increase waterproof features. The sacks which contain the stuff are also seam-sealed and treated with DWR for preventing moisture.
There are also external pockets for tent poles. The shock cord for stashing a jacket and, a reflective logo, loop for night visibility.
Best Premium Bike Seat Bag
Best quick adjust seat pack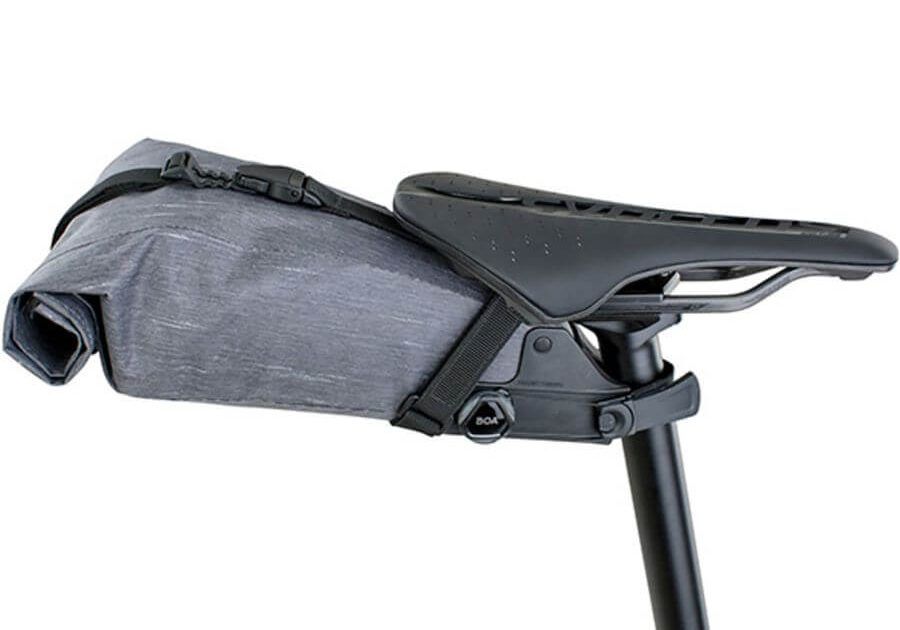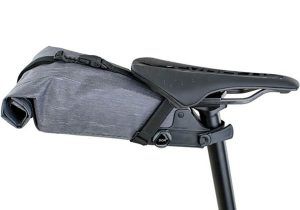 "quickly adjustable" is what you could imagine about this Evoc Boa Seat Pack. Indeed, you can adjust the seat bag for serious adventures via Boa Fit system. "Adjustable" also be reflected through the selection of colors and sizes. There are two color options of carbon grey and loam with the corresponding sizes.
This product helps you to accommodate your items easily by rolling the flexible main compartment and closure as well. With durable construction of waterproof ripstop material, your cargo will be in clean and dry all the time.
There are also gear loops outside offering you an opportunity to hang dangle-mug or a U-lock. Besides, your seatpost is safe from scratches with the soft TPE seatpost protection.
Best capsule seat bag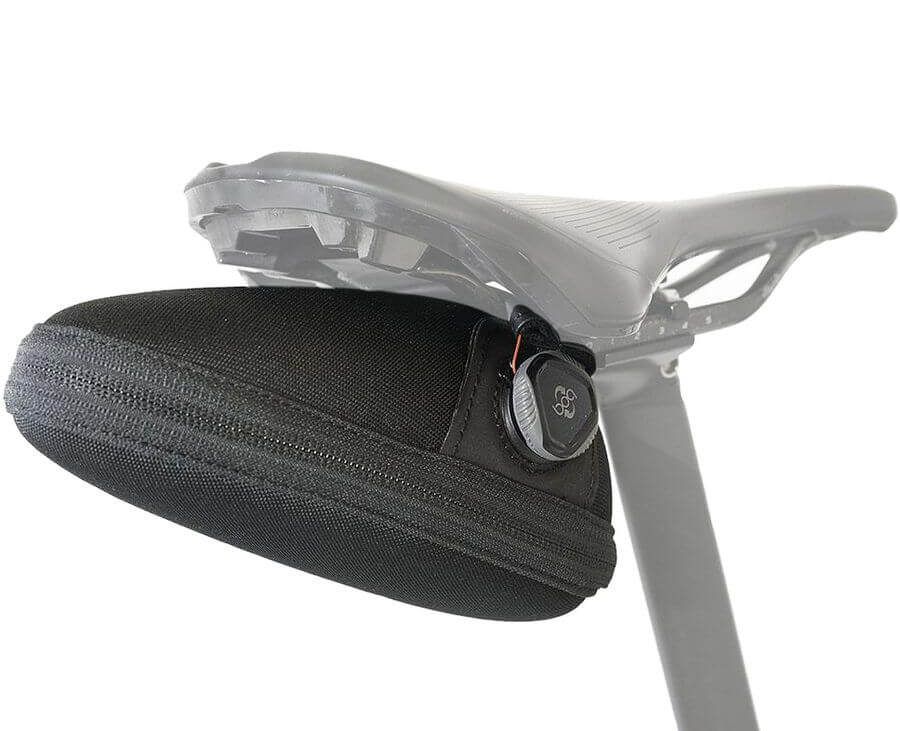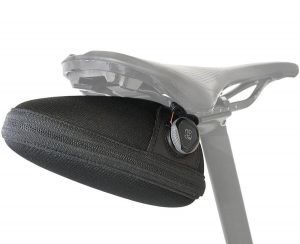 SILCA Seat Capsule Premio got a lot of good comments for its aesthetic unique look. With the shape of a seashell, it fits right underneath the saddle. This brings the benefit of avoiding rubbing your leg or interfering with your pedaling.
The Seat Capsule Premio uses a BOA closure system with a rail guard for grip. As a result, this optimizes stability and aerodynamics. This also removes the necessity of the hook-and-loop straps, which damage posts, rails, or shorts.
The thermoformed shell creates structure. And two internal dividers for better organization. While the YKK locking zipper for easy access without untying the bag out of the saddle. An internal volume of 625cc supplies capacity for two 700c x 30mm inner tubes, multi-tool, CO2 dispenser, and up to 3 CO2 cartridges.
Best visible saddle bag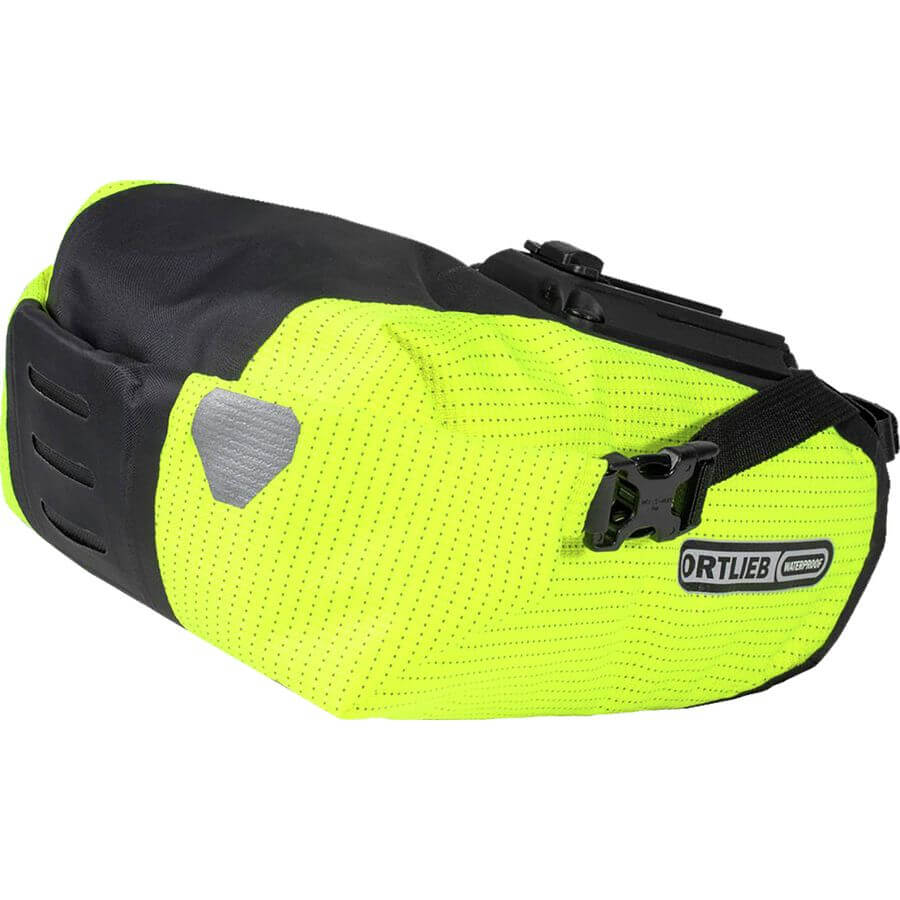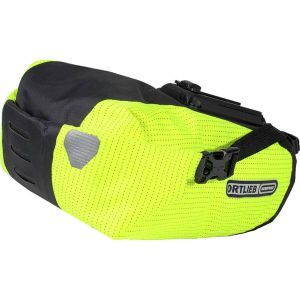 ORTLIEB Saddle Bag is eye-catching the ultra-bright color of PVC-free reflective fabric. With IP64 waterproof material, the bag is always in a dry and clean situation.
The manufacturer pays attention to how easy of access that the product brings to the users. Therefore, they use an adjustable buckle that helps the pack attach directly to your saddle rails. Whereas an adapter allows you to easily detach it from your bike. There is also an additional hook-and-loop strap to enhance stability, avoiding sway on the ride.
Not only be embellished by the bright reflective accents, but it also has a daisy chain for staying visible at night. ORTLIEB Saddle Bag gives you room for a 4.1-liter payload for all on-go necessities.
Best watertight seat bag


Different from other seat bags, Cyckit's Aeroclam removes all troubles with zippers. For example, no leak, no jam and break. Instead of that, it uses a replaceable rubber latch which is solid mounted. Accordingly, it releases you from the noise of frequent movement as well as noisy rattling and paints wearing off.
Within only 5 minutes for access to content, it is easy for cleaning both inside and outside. The special material of 1.5 mm UV resistant plastic is attractive because your bag almost 0% of rot or degrade.
It is not too much to say the bag seems to last indefinitely with its watertight hard shell design. And with this design, there will be no chance for Cyckit's Aeroclam bag to contact your body for rubbing shorts.
Best Book style of seat bag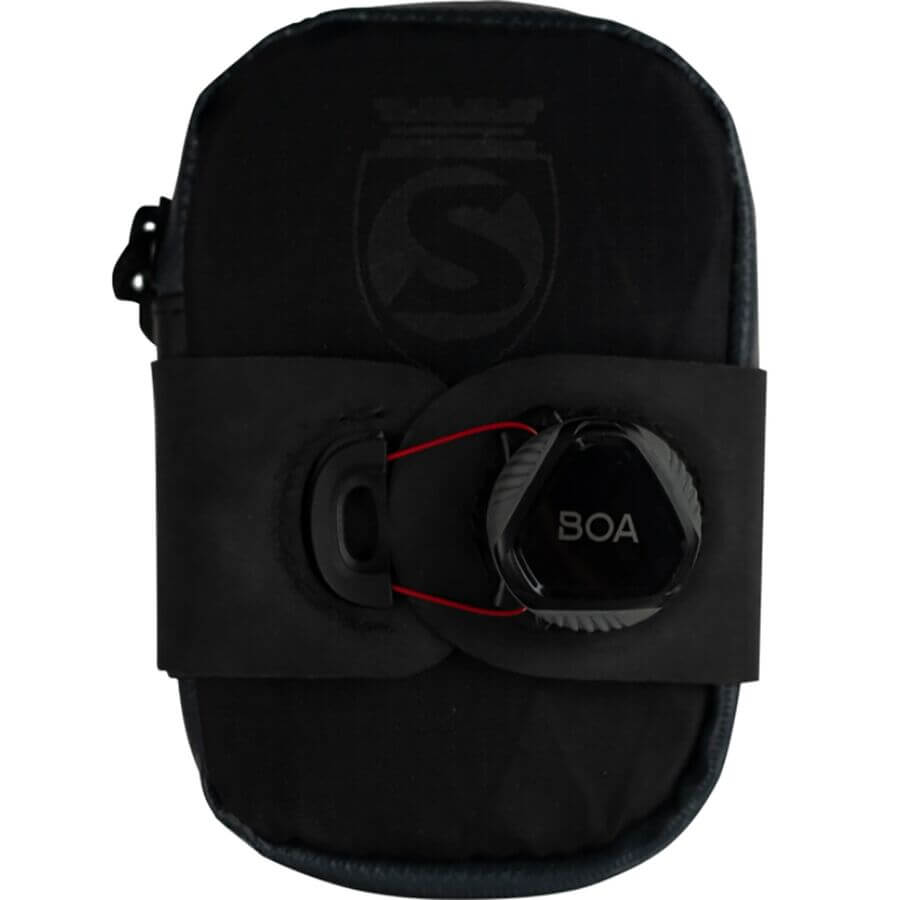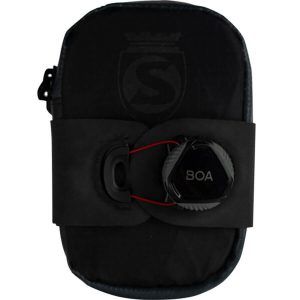 Its special design reminds you of a book or Japanese style lunch box. Silica Mattone Seat Pack has a space of 6.1 L when fully open it can hold all necessities. Include one inner tube, one CO2 cartridge, one tire lever, inflator head, multi-tool, contact lens, bank card, money, house keys, etc.
There is a padded ballistic nylon partition to keep your items in tidy separation, which prevents scratches among them. The YKK Aquaguard® zipper that is unique off-center allows you easy access without risk of spilling the contents out.
To support more eyesight, the interior is made of hi-contrast red material. Moreover, the BOA® Closure uses a ratcheting mechanism that helps prevent the loosening of the difficult terrains.
Best Bicyle Seat Bag Roll
Best simple roll seat bag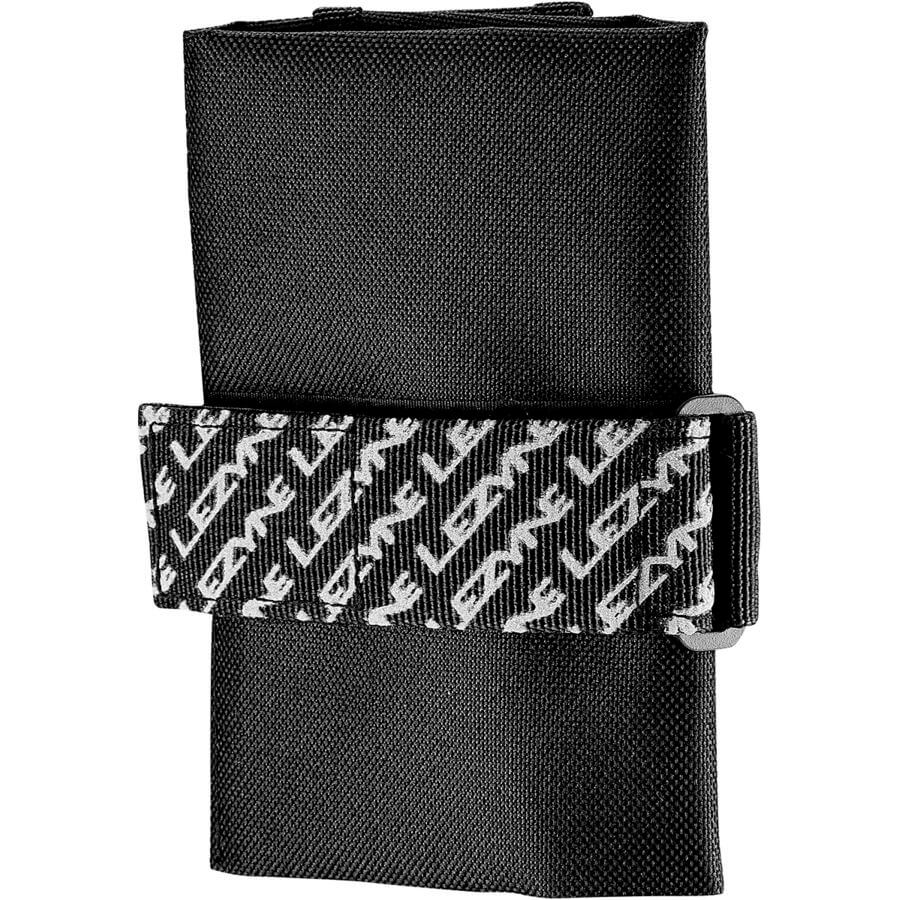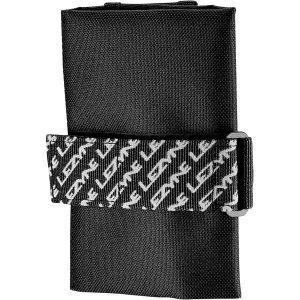 With the wallet shape, LEZYNERoll Caddy Saddle Bag is a short, simple storage for your on-road necessities. With nylon construction, it is durable and waterproof also. It is as accessible as your purse with the internal partitions which keeps your essential separated and clean.
As its roll feature, you can reach up to 0.6 L when opening, and the dimensions after rolling is only 130x60x80mm. There is also an internal zippered pocket that prevents your small items such as keys, cash, capsules from spilling out. The bag attaches to your seat rail via a hook-and-loop strap. This product has a one-year manufacturer warranty.
Best mini roll seat bag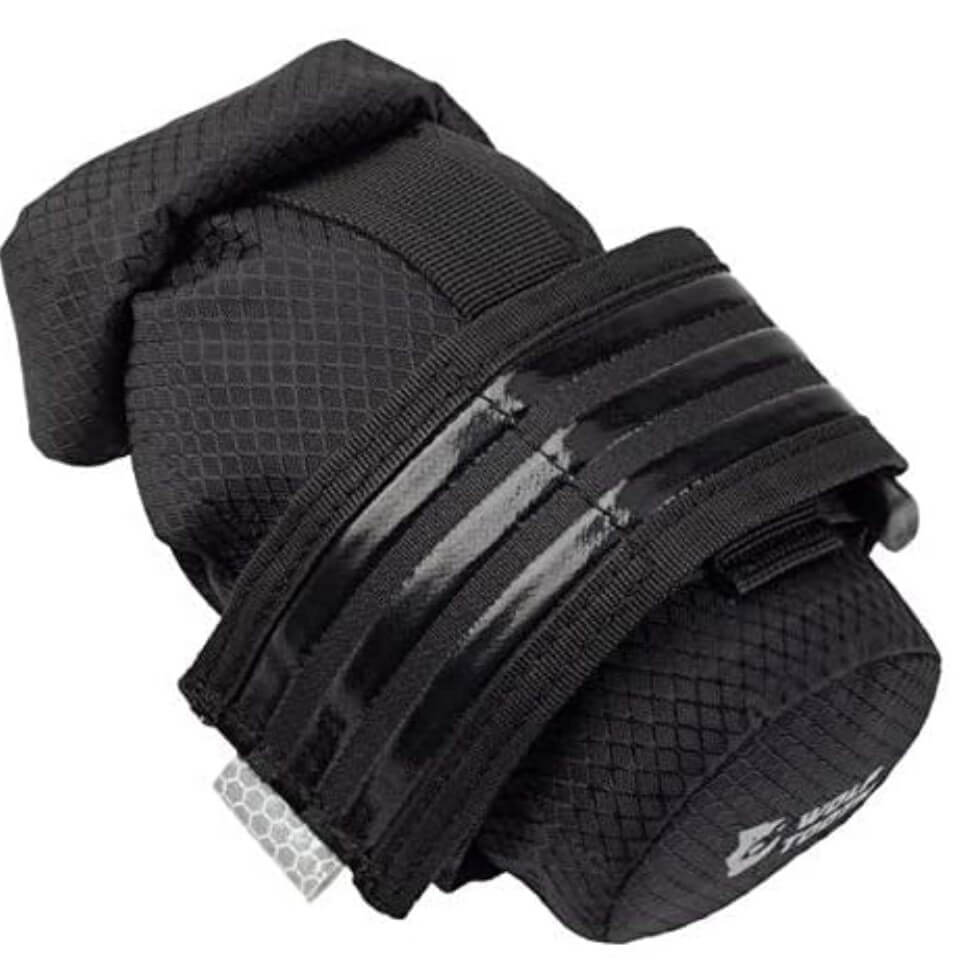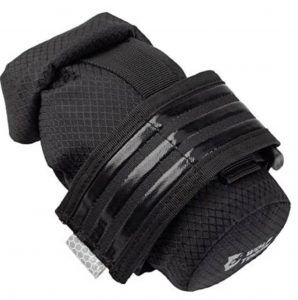 Another recommendation for the rolling design of bike seat bags is B-RAD Mini Roll-Top. You can mount it any place along the frame tubes or under the seat rails by a silicone-backed hook-and-loop strap.
The item with 0.6L capacity offers generous room for your phones, wallets, tools, gear and even foods. The durable abrasion-resistant construction of PVC backed 420D ripstop nylon also protects your product against rugged weather conditions. You might need a B-RAD base for the mounting plate.
Things To Consider When Buying A Bike Seat Bag
I consider this feature the most important one before purchasing a bike seat bag. I used to have a bike seat bag with the wrong choice. I had imagined the bag was big enough for my items but it wasn't. Yes, I hadn't researched the capacity.
There are some Bike seat bag brands giving you several options of size and volume. So, take care of them. Basically, the capacity can vary from 0.41 L to 11 L- a vast change. For example, Blackburn Grid , Topeak Aero has a small size of 0.4L while the large one is up to 1.9L.
Most of the modern bike seat bags underline water-resistant features. Therefore, there have been PVC, nylon, polyester, polyethylene, and TPU used. Coating material for ensuring waterproof is necessary.
Polyester is considered to be rather durable and generally resistant to stretching. If you are a fan of this material, then WOTOW is the good one. Nylon is a synthetic fabric and known for its low absorbency rate which is also common for making seat bags. (1)
REI Co-op Junction uses bluesign® Ballistic nylon while Blackburn Grid has 210t nylon ripstop and 210d polyester for their waterproof material.
FAQ
What should I put in my bike seat bag?
Some breakdowns on the road require you to have good preparation. That's why a seat bag was born. There are 10 essentials for a good bike, a long bike, a picnic, adventure, etc.
Inner tube, tire levers in case of getting a flat, multi-tool, quick link for broken chain. Patch kit, valve extender, CO2 inflator, tire boot, spare cash, personal items, and your phone. For a more careful preparation should be a mini pump, zip ties, and cleaning wipes for your grease hands.
Which size of the seat bag should I choose?
It depends on your ride intent. If you have long journeys, usually on roads and expeditions, then a large size of over 10 L is most suitable for your tent, raining coat, and clothing besides the basic repairing tools. (2)
A routine short ride might require not much capacity except the necessities like an inner tube, CO2 cartridges, and multi-tool. I would recommend you not carry the large size with your carbon seat post. WOTOW Rear Seat Bag is my favorite for pannier rear rack style, in which I don't have to pay attention to the stiffness of the seat post.
How can I attach a saddle bag?
You can choose the pack with a strap mount and snap-on buckles for the 0.4 L to 2 L capacity. This utilizes the lift force from the metal bars under the seat and the seatpost. In the same manner but with the size of 11 L to 15 L, they need more strap mounts to reinforce the keep.
If you have a rear rack, the problem will be more convenient, just put your bag on it then wrap by the straps. Then it's done. However, Seat Capsule Premio allows you to make it simpler with only BOA closure to attach the bag to the saddle rails. This helps minimize bodily contact.
Conclusion
If price is the main concern, then Topeak Aero with 3 options of capacity is the best in many. Quick access and fashionable style please all the fastidious customers.
ROCKBROShas a 3D shell shape and is also stylish with 2 options of color decoration. And the lifetime warranty attracts you more. Sometimes, you need bigger bags to go with your bike.
Sturdiness and extra-large up to 16.5 L will require a bit expensive payment but Ortlieb and Evoc Boa are right there for you. Scroll style as LEZYNE Roll Caddy gives you more compact storage for your favorite commuting.
Read More: