Subaru Outback is a wagon-type SUV, appropriate bike track is required to hold the bike securely.
I have prepared a comprehensive review of brands to help you pick the best bike rack for Subaru Outback (or other similar models).
My top pick is the Allen Sports Deluxe 2. This bike rack holds the brand name of Allen Sports, a reputable manufacturer of premium quality bike racks. It is sturdy, fits different bike types and can protect your car from the scratches.
Read More:
8 Best Bike Racks For Subaru Outback
Trunk mounted bike rack
Best Trunk Mounted Bike Rack For Subaru Outback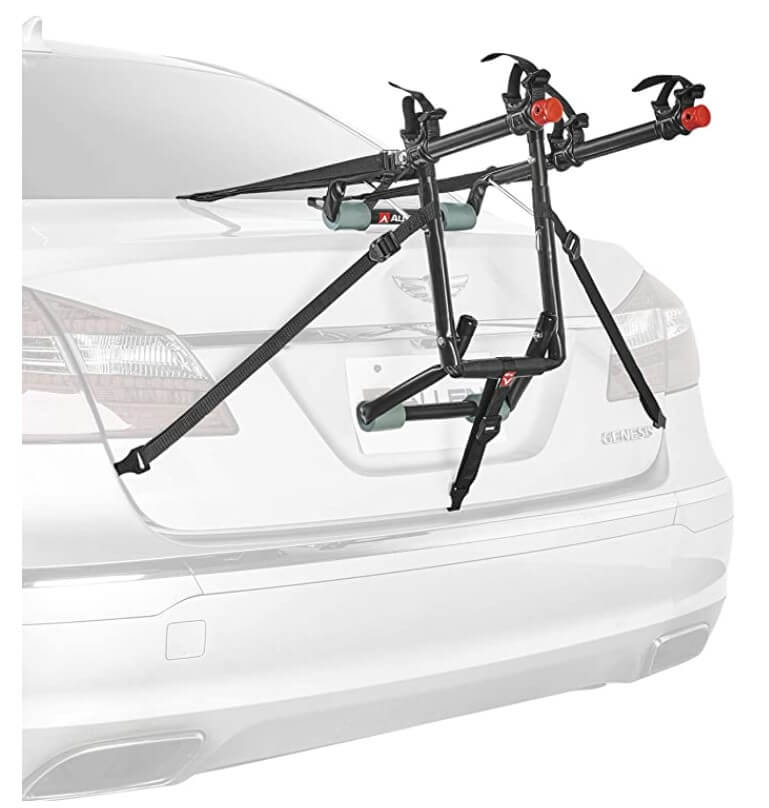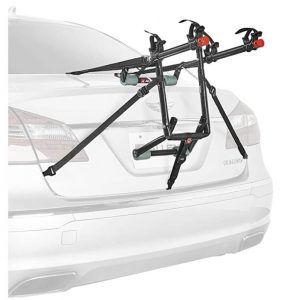 The Allen Sports Deluxe 2 bears the trademark of excellence in the bike industry. The bike rack's design suits a wide range of bike sizes. The sturdy steel construction of this bike can handle up to 70 pounds maximum weight capacity. This rack has individual tie downs and side straps, secure the bikes during transport.
The bike rack comes fully assembled, which is a bonus for anyone that has an immediate need. It can hold securely varied models of bikes, two units the maximum.
One thing I liked most with this bike rack is the 100% scratch safety proof feature. The rack's lower frame has been constructed with padding. This serves as a protective barrier between the bike and your Subaru Outback.
Pros
Patented design compatible with numerous vehicles (cars, minivans and SUVs)
Bike load capacity (hold 2 bikes of any size or model)
Fully assembled, ready to use
The rack has padded lower arms to protect vehicle from the scratches
Cons
Warranty coverage not applicable if bought from third parties
Best Trunk Mounted 1 Bike Rack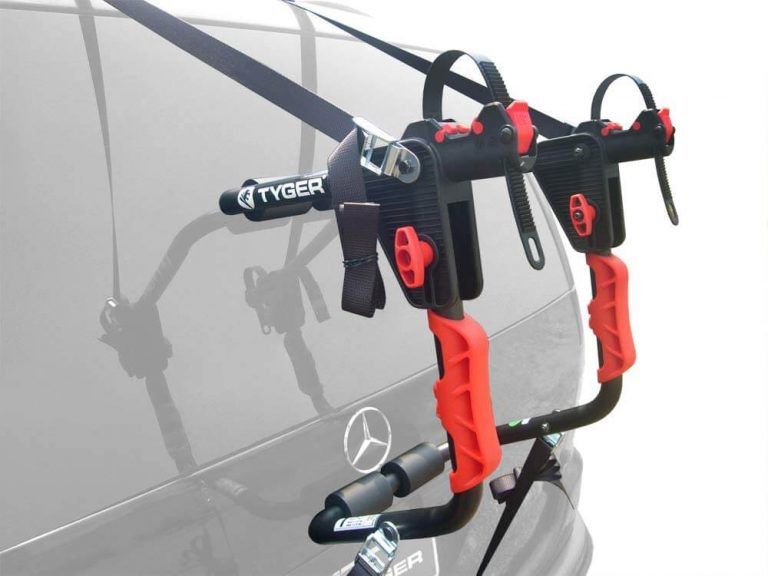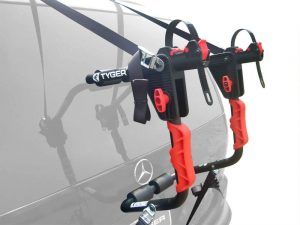 The Tyger Auto Deluxe design t can only accommodate one bike. However, it provides stable support for any type of bike.
The manufacturer has given much attention to the bike rack's assembly. The product arrives at your doorstep with all parts fully assembled.
Other highlights of the product are the steel frame, safety straps, and padded lower frame. All these elements contribute to the overall performance of the bike rack.
The robust steel frame itself is rust-proof, extending the service life of the bike rack. The safety straps keep the bike in place even on bumpy rides. Furthermore, padded lower frames provide enough clearance to prevent scratches. In addition, the bike rack has foldable arms for easy storage when not in use.
Pros
100% fully assembled and usable upon delivery
Built from durable steel, rustproof
Compact design with foldable arms for easy storage
Covered with a lifetime warranty
Fit on most vehicles (minivans, hatchbacks, sedans and SUVs)
Cons
Product not compatible for vehicles with more than 18 feet length
1-single bike load capacity
Best Trunk Mounted 3 Bikes Rack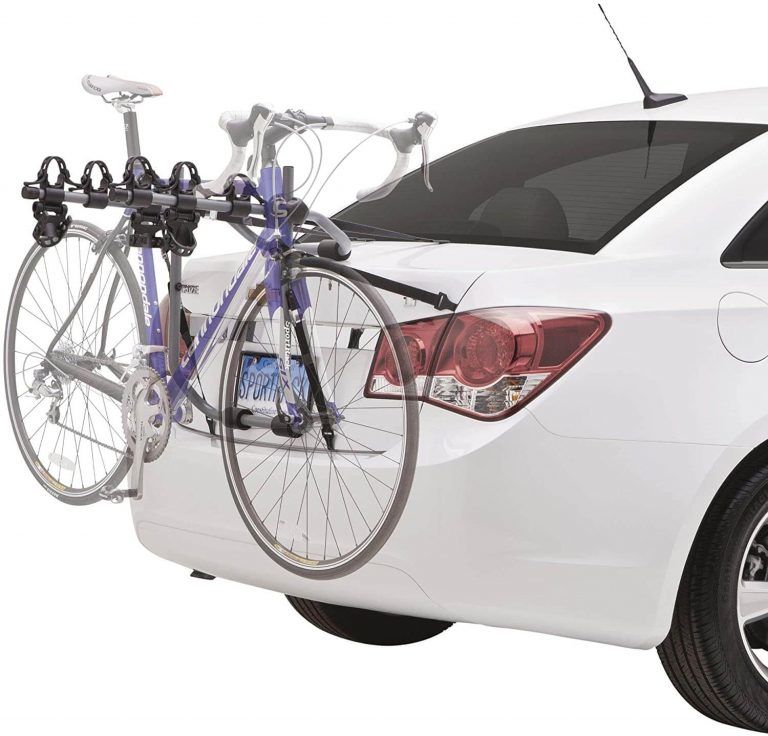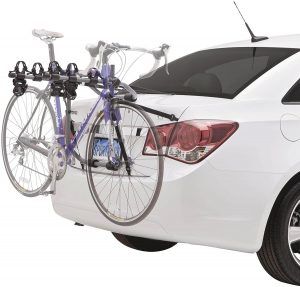 The Sportrack Pursuit can load and carry up to a maximum of three bikes. This bike rack has rubberized cradles and straps that hold the bikes securely to prevent bumping the vehicle's exterior coating.
This bike rack is quite durable and stable. Operational set-up is easy to follow. It can be adjusted to fit the bikes on different vehicles. In addition, anti-sway cradles prevent the collision between bikes as well as the vehicle. And, the bike rack folds flat quickly for convenient storage.
I am impressed with the bike rack's easy installation. Even a novice user can set it up without a struggle. Aside from that, no tools needed to mount the bikes on the vehicle.
Pros
Bike load capacity (2 to 3 bikes)
Sturdily built with rubberized cradles and adjustable straps
Easy installation
The foldable design allows quick storage when not in use
Mountable on vehicles with three, four or five-doors
Cons
Previous customers of encountering difficulty in adjusting the straps
Best Foldable Trunk Mounted Bike Rack
The Thule Raceway Pro would be a great addition for cyclists that have to load two bikes on their vehicles.
Initial appearance, the bike rack exudes my expectations. It showcases ratcheting lockable cables, a must for cyclists that frequently transport bikes. This locking mechanism securely holds the bikes in place.
I liked the hang-type design of this bike rack because two bikes can be accommodated without any fuss.
Thule Raceway is patented with FitDial, guarantees a perfect fit on your Subaru Outback. What does this mean? It means the bike rack can hold steadily any type of bike including children's bikes.
Just like the Tyger Auto the Thule Raceway has foldable arms, eliminating the problem for storage as it can lay flat inside the trunk of your vehicle when not needed.
Pros
Impressive safety lock mechanism, ratcheting locking cables
Can hold securely 2 bikes of any frame including children's bikes
Require less storage space with its foldable arms
Patented with FitDial, provide a perfect fit for your vehicle
Cons
The weight of the bike rack is relatively heavy
Anti-sway cradles are prone to crack
Read More:
Hitch bike rack
Best Hitch Bike Rack For Subaru Outback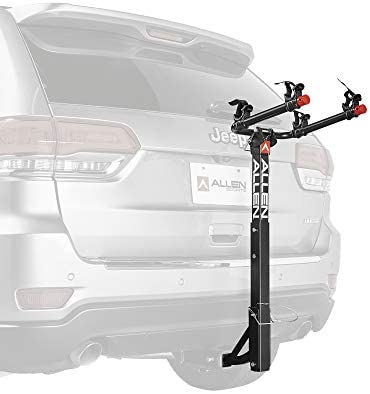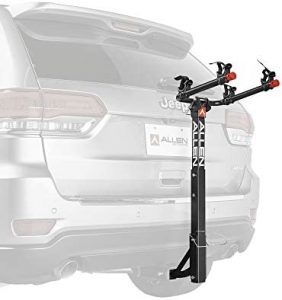 I agree that the Allen Sports 2-Bike is indeed the best hitch bike rack you can find. Why? The bike rack features durable construction. It is made from powder-coated steel known to have strong resistance against rust formation. (1)
Bike rack can load and carry safely two to three bikes weighing 70 pounds. As for compatibility with vehicles the Allen Sorts can be mounted on any vehicle with a hitch of 1 ¼ inches or 2 inches. The tie-down set-up of the bike rack can secure bikes with varying frames.
Moreover, one distinct characteristic that I liked with Allen Sports 2-Bike Rack is the locking hitch insert. It locks and tightens the bikes in a snap.
Pros
Best on vehicles with 1 ¼ in. or 2 inches receiver hitches
The locking insert comes with 2 keys
Designed with foldable arms for less worry on storage when not in use
Tilt-away main mast allows quick access when the bike rack is mounted on the vehicle
Cons
Manufacturer warranty coverage excludes purchases made from third-party sellers
Easiest to Use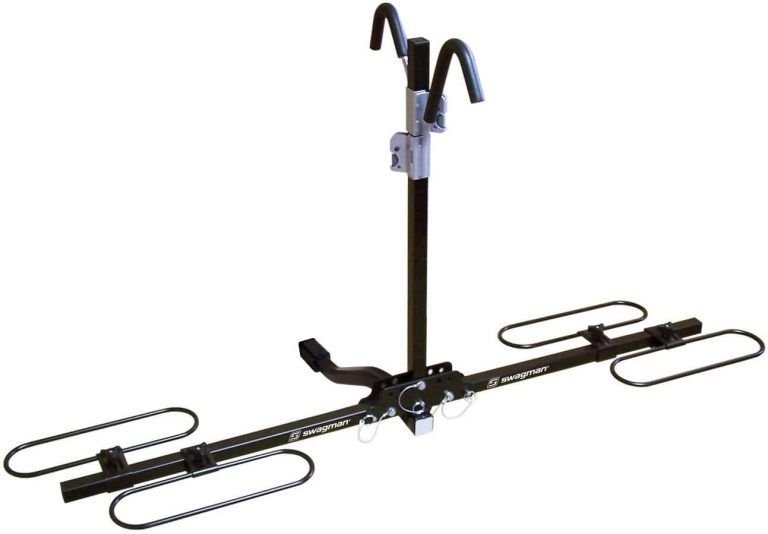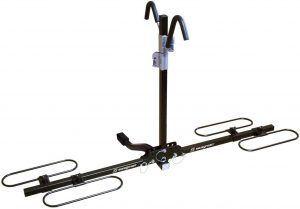 Swagman SC2 is everything you want for a bike rack. It is produced by a reputable company Swagman, pioneered the very first hitch back rack model.
This brand of bike rack has gained popularity in the market with its upright ratchet handle feature. Soft padding surrounds the handle, providing adequate protection between bike and vehicle.
The Swagman XC2 caters to vehicles with a hitch receiver of 1 ¼ inch to 2 inches. Another thing that I liked about this bike rack is its non-wobble bolt system. It is user-friendly.
The bike rack foldable arms allow the user to have quick access inside the vehicle's trunk without dismantling the rack. The bike rack's loading capacity can hold bikes weighing 35 pounds each.
Lastly, this product is a great bargain. The manufacturer sells the unit with lifetime coverage.
Pros
Bike load capacity 2 bikes weighing 35 pounds each
Integrated with non-wobble system
Padded handles to prevent scratches on the vehicle
Upright foldable arms allow access to the vehicle's trunk
Suitable on vehicles with hitch receiver of 1 ¼ in. to 2 in.
Cons
Accessories not inclusive with the product, need to buy separately
Roof mounted bike rack
Best Roof Mounted Bike Rack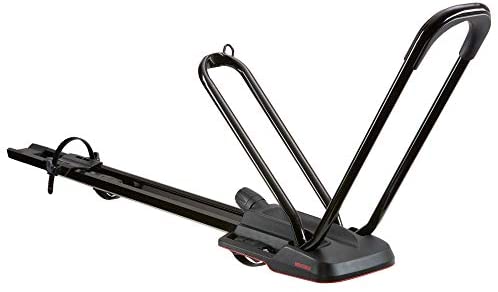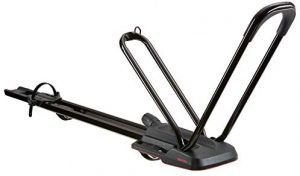 If you prefer a bike rack that can be mounted on the roof of your Subaru Outback the YAKIMA Highroad Wheel-On Mount is a contender. The bike rack's design allows the cyclist to transport the bike with ease on the roof rack of the your Subaru Outback.
The bike rack display simplicity throughout its framework. The installation including the operation of the bike rack was easy to follow. It's compatible with your Subaru Outback with a crossbar spread of at least 18 inches to 35 inches.
My personal experience while doing a test drive with this bike rack was quite impressive. I managed to mount it on the Subaru Outback's rooftop within minutes with no special tools. You do not even have to detach your bike's front wheel. The bike rack' clamps can safely carry the bike. Plus, your vehicle remains scratch-free.
Pros
Bike load capacity 1 bike with a maximum weight of 35 pounds
Mountable on top of vehicles with crossbars spreads of 18" to 35"
No need dismantled the front wheel when loading the bike
No-fuss installation requirement
Cons
Load capacity is for 1 bike only
Security locks not included, sold separately
Best for Sturdiness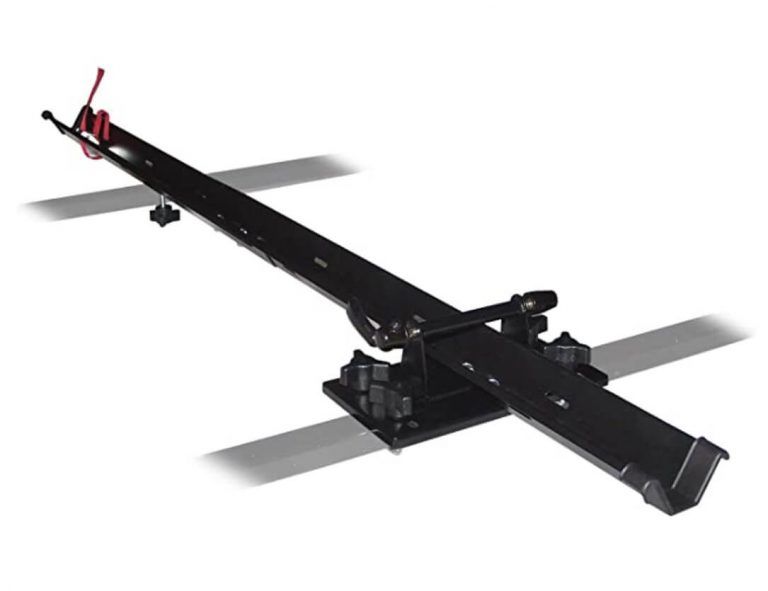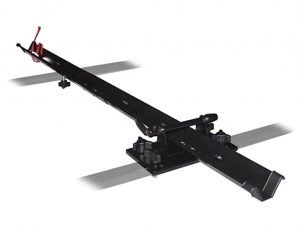 The Swagman Standard Fork Down is a universal bike carrier. It can fit in most types of vehicles of varying sizes including those models with crossbars.
The carrying load capacity limits to one bike with a weight not exceeding 35 pounds.
One feature that standouts on the Swagman Standard are its superior locking system. The quick-release 9mm skewer holds the front bike fork while the strap with buckle keeps the rear wheel in place.
Pros
Universal bike carrier for all types of vehicles including with crossbars width 3"
Transport one bike weighing up to 35 pounds
Has quick-release mechanism, 9mm skewer to hold front bike fork
Designed with strap and buckle, keep the rear wheel of the bike in place
Cons
Need to remove the front wheel when loading the bike
How to choose the best bike rack for your Subaru Outback?
Whether you are searching for a Subaru Outback bike rack roof, hitch bike rack or trunk mount bike rack, making a final decision on which to buy can be overwhelming. Many factors need to be addressed in order to pick the correct bike suited for your Subaru Outback. Here are some of them for your reference.
Types of bike rack
These bike racks are cheaper than other bike racks. They can be mounted on the rear section of vehicles as well as on the trunk. The carrying capacity is one to two bikes.
The only downside is the plastic component on the bike rack's arms as it may scratch or scrape the car's exterior coating.
The hitch mount bike rack comes in varied sizes to support the hitch configuration of vehicles, particularly those units with 2" openings like SUVs.
If you prefer the hitch mount bike rack takes into account the number of bikes you plan to transport. For example, Class l mount bike rack can carry a maximum of three bikes whereas the Class lll can only load two bikes.
These bike racks are mounted on the vehicle's existing roof rack or crossbar spread. They can fit on compact vans, wagon types, and SUVs.
When choosing from varied models of roof racks, the decision will rely on how you wish to mount the bike in the vehicle.
Bike load capacity
Bike racks load capacity varies. Some can only hold one bike while others can carry two to three bikes.
So, before making a final decision assess first your needs. Will you often transport more than one bike? If yes, you have to choose a bike rack like the Allen Sports Deluxe 2.
Security
Bikes can be very costly. Transporting them from one location to another pose risks such as getting stolen or damaged.
Bike racks have safety features such as locks and straps that prevent these risks from happening.
Conclusion
Bike racks sold in the market come in various types and features. Potential buyers must be knowledgeable of each product's pros and cons to avoid buying a mismatch.
I recommend you check out the top two brands mentioned in this review for your Subaru Outback – Allen Sports Deluxe 2 and Tyger Auto Carrier.
Both have distinguishing features compliant with different user's personal preferences.
Read More: 7 Best Rear Bike Racks