Using the best bike rack for Prius can help you enjoy the outdoors a whole lot more.
The Allen Premier Trunk Mounted Bike Rack is a common choice for those looking for a Toyota Prius bike rack. It's available in 2-, 3-, and 4-bike configurations.
It's also well-padded and made out of high-quality materials. More importantly, it's designed to minimize bike movement when you're out driving on the road.
Read More:
Of course, there are several other bike racks for Prius C available.
Below, you'll find a list of all the best bike racks for the Toyota Prius.
You'll also find tips on how to choose the right one.
Best Trunk Mount Bike Rack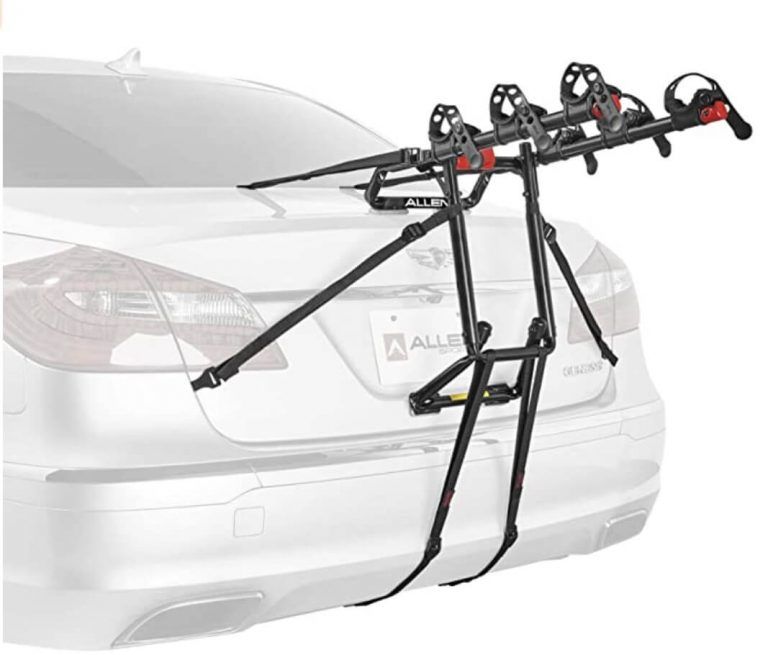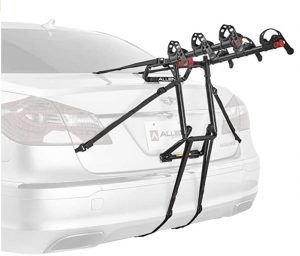 The Allen Premium Trunk Mounted Bike Rack is almost the default choice for the Toyota Prius.
This is a highly recommended model that's available in three different varieties. It can support up to four bikes at most and is compatible with all sorts of vehicles. This includes, of course, the Toyota Prius.
What sets this bike rack apart is its patented quick set-up frame. It doesn't take a single person to set it up. Removal is just as convenient as well.
It's also designed with tie-down cradles for a secure hold of your bikes. The large paddings then help make sure that the paint of your vehicle is well protected.
With a 70-pound weight capacity and backed by a lifetime warranty, you'll feel comfortable loading two adult bikes onto this bike rack.
Pros:
Patented quick set-up frame
Tie-down cradles
Generous amounts of padding
Lifetime warranty
Cons:
You might need a tube adapter bar to mount women's bikes
Best for Compatibility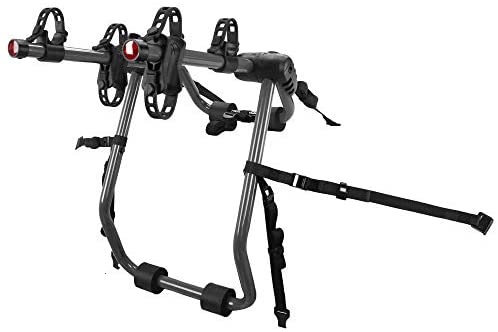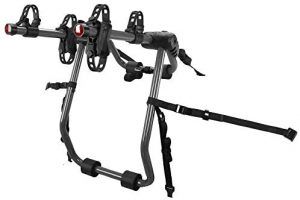 The Hollywood Racks Baja Trunk Mounted Bike Rack can mount up to three bikes in total. However, the model we're recommending can only hold two.
Also, it will have no problems holding ladies ' and kids' bikes, as well as adult bikes. Although to be safe, the manufacturer does recommend having a top tube adapter on hand.
Once you've loaded your bikes onto this bike rack, it can keep them secure while you're out on the road. The rubber anti-sway cradles and EDPM rubber straps work in conjunction to keep the bikes secure and stable.
At the same time, the rubber material minimizes any chances of scuffing and damage, both to your bike and to the vehicle.
The rack ships pre-assembled and it folds flat for easy storage. It also won't move around much if at all. You'll also find it very easy to put the bike rack on your Prius and remove it after you're finished.
Pros:
Easy installation and removal
Takes up minimal storage space
Minimal bike movement when driving
Cons:
Might require special adapter for certain bikes
No protective foam
Best for Three Bikes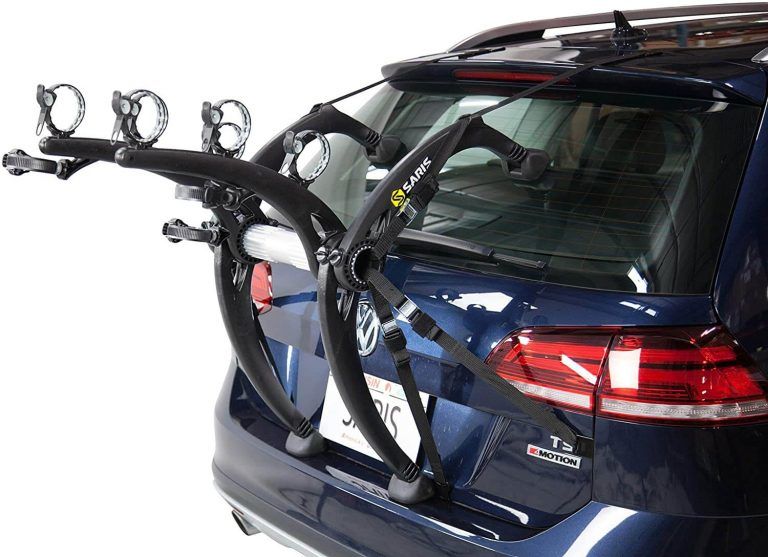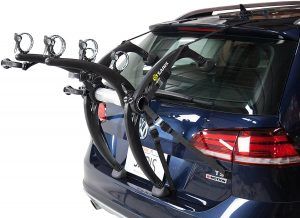 Mounting 3 bikes is not a problem with the Saris Bones EX Trunk Bike Rack Carrier.
This bike rack is widely compatible with various vehicles. This includes, naturally, the Toyota Prius. It's also very lightweight, with the 2-bike model weighing only 11 pounds despite having a 35-pound capacity.
Mounting your bikes on this bike rack is as safe and as easy as can be. Unloading is also very convenient. More importantly, it uses an arc-based design.
This allows it to separate the bikes to minimize any contact between the bikes and your vehicle's paint. The articulated rubber feet also make sure that there's no paint transfer if in case that happens.
The injection-molded arms and legs are very strong, resistant to rust, and made out of 100% recyclable materials.
Pros:
Durable and rust-free
High-quality
Anti-sway rung
User-friendly
Cons:
Expensive
Tricky installation process
Hitch Mount Bike Rack
Best Hitch Mount Bike Rack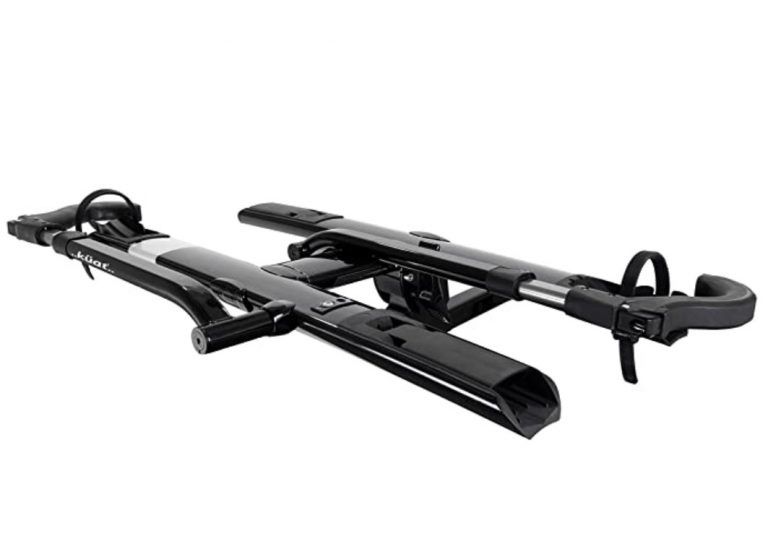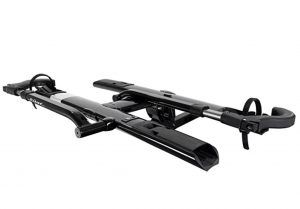 The Kuat Sherpa 2.0 2-Bike Hitch Rack separates itself from other types of bike racks for hitch with its lighter weight. This lighter weight is thanks to its full aluminum construction.
The said material is also responsible for its quality and durability. This rack is also available in 3 different beautiful colors that you can choose from to match with your Prius.
Another good thing about the Sherpa 2.0 is that it has a total load capacity of 80 pounds. This is noticeably more than other bike racks.
Perhaps more importantly, this bike rack can hold bikes spaced as far as 14 inches apart. It can also hold bikes with wheelbases up to 47 inches and tires that are as large as 3 inches.
The bikes are then held in place by a semi-integrated bike look and a rear tire cradle with a co-molded strap.
To top it all off, this bike rack doesn't need any tools for installation. The hand tight hitch cam system makes it easy for anyone to learn how to install and remove this bike rack.
Pros:
Looks amazing
Lightweight
Foot lever
Cons:
Best for Utility and Value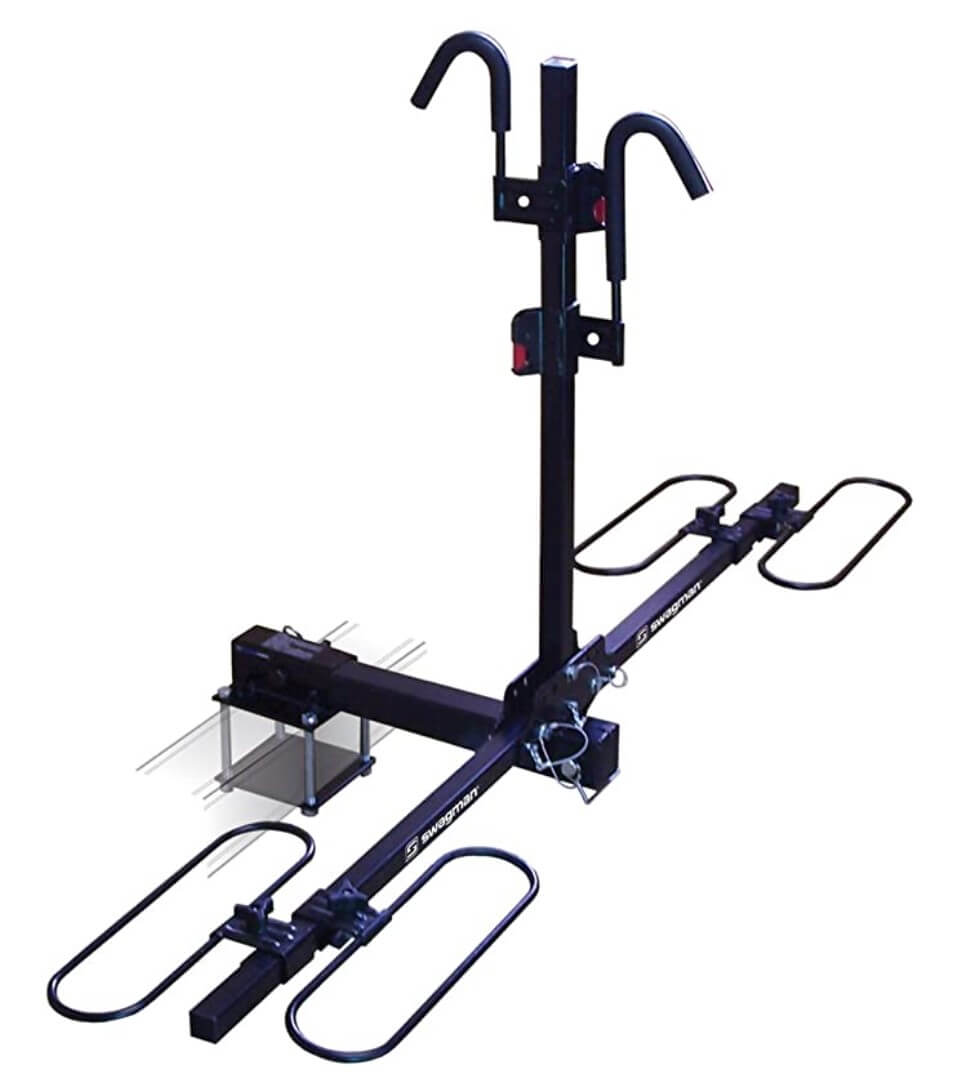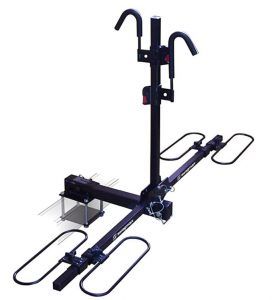 The Swagman TRAVELER XC2 RV Approved Hitch Mount was designed for RV use. However, that doesn't mean that you shouldn't or can't use it on your Toyota Prius. In fact, this is why it's the ideal Prius V bike rack.
This platform-style bike rack sits bikes on a pair of wheel cradles and uses a large hook to grab and secure the bike frame. It then lets you adjust the mast height all with the push of a button.
This makes it easy for you to fit all sorts of bike sizes, styles, and frames. Also, for added protection, the hooks come with generous amounts of padding.
In addition to the mast height, you can also adjust the wheel cradle position. This allows you to fit bikes with wheel sizes from anywhere between 20 inches to 29 inches and tires up to 3.5 inches wide.
What also sets this hitch-mount rack apart is how easy it is to access your Prius' trunk with it installed.
This is unlike in other racks where you have no choice but to remove the rack first. You can access the trunk simply by folding the support mast to gain access to the trunk. However, keep in mind that you can't do this if a bike is attached.
The XC2-RV is made out of steel and is powder-coated in a black finish for added rust and corrosion resistance.
Pros:
All-steel construction
Compatible with 2-inch up to 4.5-inch bumpers
Durable
Easy to install
Cons:
Works better with RVs
Feels too expensive than it should be
Read More: 9 Best RV Bike Racks
Best for Weight Capacity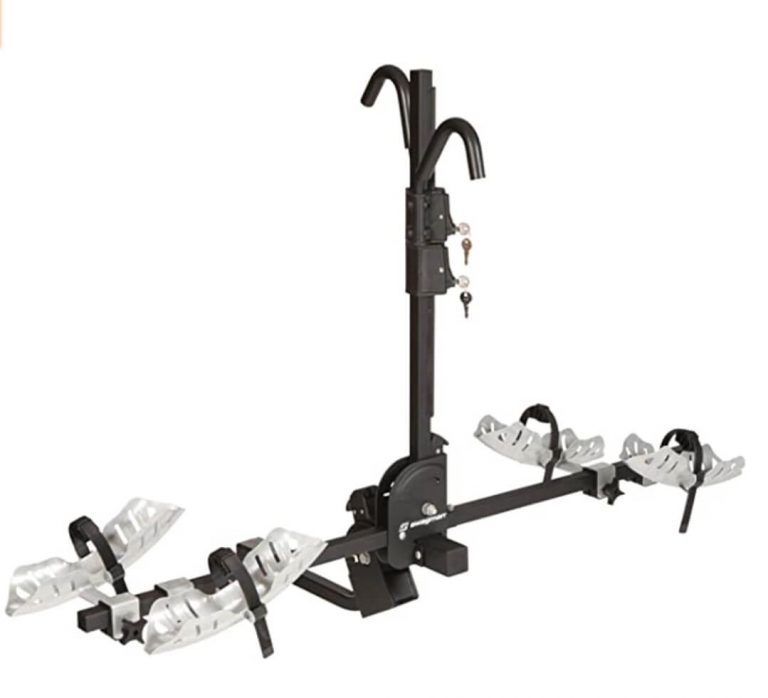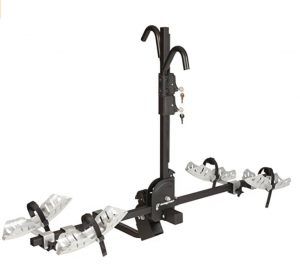 This is the best Prius bike rack hitch if you prefer heavier bikes.
The Swagman CHINOOK Hitch Mount Bike Rack is not cheap, by any means. However, its high asking price does come with a couple of nifty features.
This includes clear and easy-to-follow instructions that let you load or unload the rack onto your Prius in a matter of minutes. Also, it can tilt down to give you access to your trunk when necessary.
For added security, the CHINOOK ships with adjustable locking ratchet hooks. You'll just have to secure the frame to the rack and that's it. Your bikes are as safe as they can be.
Speaking of bikes, the main reason you'll want to buy the CHINOOK is if your bikes are a bit on the heavy side.
This bike rack can transport up to 2 bikes at 45 pounds each with ease.
Pros:
Reasonable pricing
Comes with locks
Adjustable and tiltable
Cons:
Might clamp contact frame
Prone to wobbling
Roof Mount Bike Rack
Best Roof Mount Bike Rack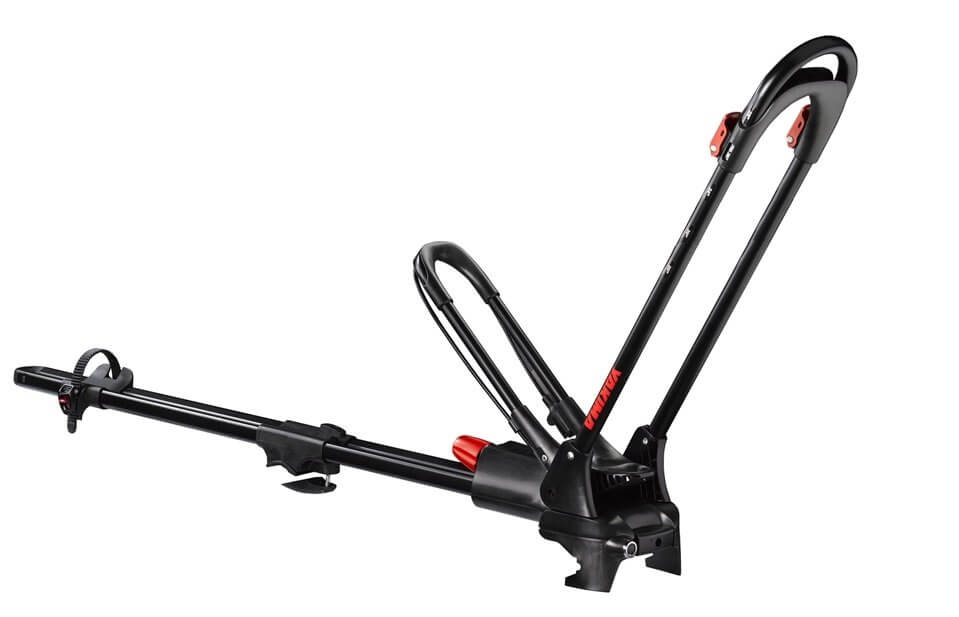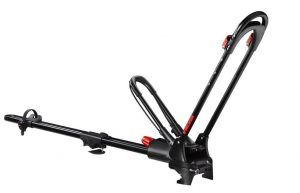 When it comes to compatibility, it's hard to beat the Yakima FrontLoader Upright Bike Mount.
Our pick for the best roof mount bike rack for Prius, the FrontLoader will fit on both Yakima and third-party crossbars.
Mind you, it's not just the compatibility that we like about this bike rack. We also love how it manages to balance protecting your car's frame and that of the bike with keeping the bike secure and stable.
The FrontLoader makes full use of its mount that locks the front tires into place. The best part is that you don't need to remove the front tires at all.
You also won't have to touch the actual bike frame at all. In addition to this, the mount is compatible with most bike tires under 3 inches wide and around 20 inches to 29 inches in size.
Unfortunately, this kind of compatibility and versatility comes at a price. It's not exactly cheap. Not to mention, getting the bike loaded onto the rack is not easy. Although, if we're being honest, this is a universal problem among roof bike racks.
Pros:
No contact mounting
Can install multiple instances
Durable
Wide crossbar compatibility
Cons:
Best Lightweight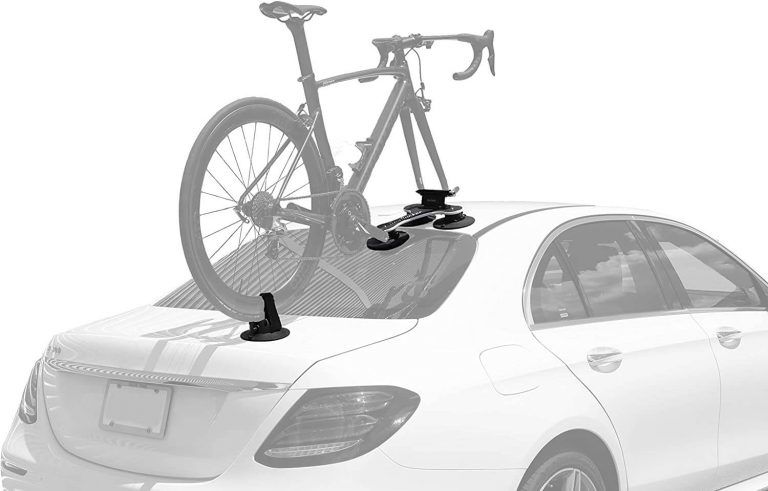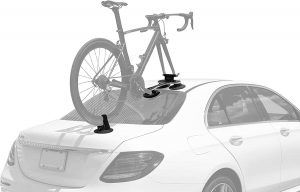 The SeaSucker Talon Single is not for those who are on a budget. It's the most expensive bike rack on our list, especially since it can only fit one bike.
Still, there's something to be said about a lightweight vacuum type fork mount bike rack that has a strong and steady hold on mounted bikes.
Even better, it's compatible with pretty much any vehicle type. This is because it uses what the manufacturers refer to as the HUSKE universal fork mount system.
This US-made bike rack also has a quick-release skewer and 9mm plugs. It's one of the most battle-tested models out there.
It's been subject to use by casual riders, hardcore riders, and even athletes. As a matter of fact, it is one of the officially licensed products of the Union Cycliste Internationale.
With a 45-pound weight capacity and universal compatibility, the only thing missing from this bike rack is a more affordable price point.
Pros:
Universal vehicle and bike compatibility
Officially licensed UCI product
Tested and used by professionals
High load capacity
Cons:
Best Budget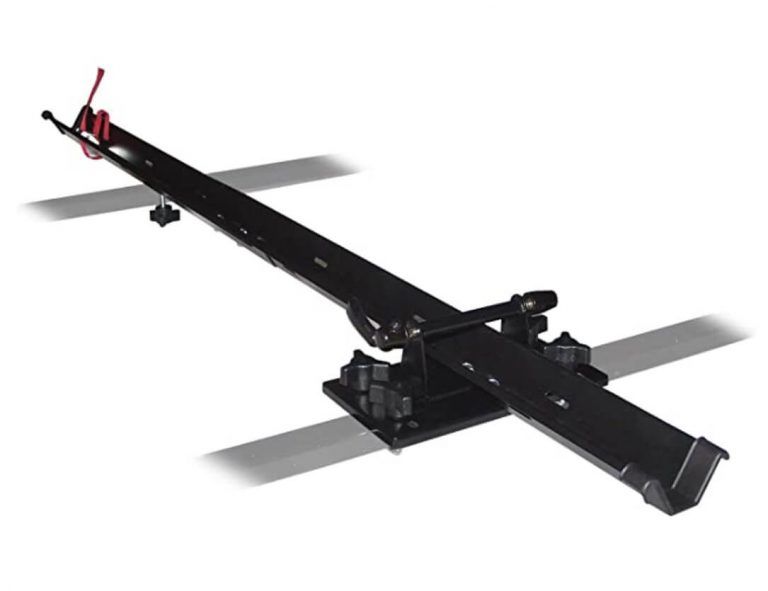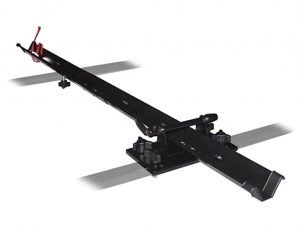 You don't necessarily have to spend hundreds of dollars for a competent roof bike rack for your Prius.
The Swagman STANDARD Fork Mount Rooftop Bike Carrier costs less than $50 and is a solid choice. It doesn't have a lot of bells and whistles.
But, what it does have is a 35-pound weight capacity and a secure hold on your bike. It mounts bikes by attaching to both the front fork and the wheels on the rear.
For added security, this bike rack comes with adjustable and high-quality wheel straps, as well as a quick-release skewer.
As a bonus, this bike rack was designed to require no tools to install.
Pros:
Tool-free installation
Secure and stable mount
Budget-friendly
Cons:
No locking mechanism
Prone to rust
How to Choose the Best Bike Rack For Your Toyota Prius
To find the best bike rack for Prius, you'll need to know what makes a good bike rack and a bad one.
These factors should help you out.
Type of Bike Rack
Trunk mount bike racks are an ideal choice for vehicles like the Toyota Prius.
The main reason why they're useful for sedans is that they're easy to use and install. It shouldn't take you longer than a couple of minutes to mount a trunk-mounted bike rack on your Prius. This makes them great for quick rides.
The trade-off is that they are usually not as stable and secure compared to other harder-to-install options.
Hitch mount bike racks are usually hooked up to hitch receivers (around 1.5- and 2-inches in size). They're the best choice if you plan on carrying heavier loads.
Most support higher weight capacities. At the same time, they're quite convenient to use. This is because you don't have to get up as high just to mount your bike.
The only problem is that they sit in the rear of your vehicle. This position can make backing into spots more difficult. It can also put you at a higher risk of road accidents.
Affordable and effective. The roof mount bike rack is one of the most convenient bike transport solutions. However, the added drag and weight can reduce fuel efficiency, as well as make your car less aerodynamic. Also, it's not easy to have to get on top of your vehicle all the time just to load and unlock your bike.
Bike Capacity
How many bikes you need to carry on your trip is an important factor.
In general, you shouldn't try to carry more than 4 bikes at once in one vehicle. It doesn't matter how durable the rack is. 4 bikes is too much for most vehicles. Also, pay close attention to the distance between bikes when mounted.
Just because a bike rack supports up to 3-4 bikes doesn't mean that your bikes can be safe and secure once mounted.
Weight
Pay close attention to the maximum load capacity of the bike rack you are eyeing.
As much as possible, go for a bike rack that has a higher maximum weight limit than your bike's weight. Some bike racks tend to bend or sag when constantly loaded with a bike near or at their maximum weight capacity.
Since most bikes tend to weigh around 25 pounds to 30 pounds, get a bike rack that has at least a 35-pound weight limit.
Installation
Installation mostly depends on the kind of bike rack. Roof racks, for example, will need a couple of minutes to install. This is because you have to assemble and attach the rack first to a compatible crossbar. Meanwhile, hitch racks are more convenient since you usually only have to slide in and fasten a piece for a secure fit.
Trunk-mounted bike racks act as a support of a middle ground. This type of rack uses support straps to anchor multiple points of your bike. This can make installation a bit tedious.
Security
Many bikes have been stolen off of bike racks, so be careful.
Get a bike lock, if possible. However, it would be ideal if your bike rack already has an anti-theft mechanism in place. Although to be safe, you'll want to still get an additional lock. Also, do try to leave the security system of your car turned on if you're going to be away for a while.
Conclusion
For the best bike rack for Prius, we'd have to give the honor to the Yakima FrontLoader Upright Bike Mount. Even if it's not cheap, it is easy to install with a user-friendly design that keeps your bike upright and stable.
If you prefer a trunk-mounted bike rack, you can't go wrong with the simplicity of the lifetime-warranty-backed Allen Premier Trunk Mounted Bike Rack . The Saris Bones Ex is also an excellent alternative for multi-bike trunk-mounted set-ups.
Even if you don't plan on mounting 3 bikes, the generous amounts of space in between the bikes when mounted on the Saris Bones EX is something you will want to take advantage of if you can afford the bike rack.
Ultimately, there should be a bike rack for the Toyota Prius for everybody on our list.
Make sure that you take your time and weigh out all of your options properly.
This way, you won't end up buying a bike rack for your Prius just for the sake of it. Instead, you'll end up with a quality product that will last you for years and years.
Rear More: