If you are a Jeep Wrangler owner and looking to buy the best bike racks for your SUV, this article has listed 9 best bike racks for Jeep Wrangler today.
After comparing different models on the list, Thule Spare Me Pro is the best choice.
It's easy to assemble and attaches to any size of spare tires. It also comes with detachable anti-sway cages and Stay-Put cradles for better stability.
Locks are also included to let you lock your bike to the bike rack and the bike rack to your Jeep. You can also fold the arms down when you're not using them to save space.
Read More:
9 Best Bike Racks For Jeep Wrangler
Best Overall Bike Rack For Jeep Wrangler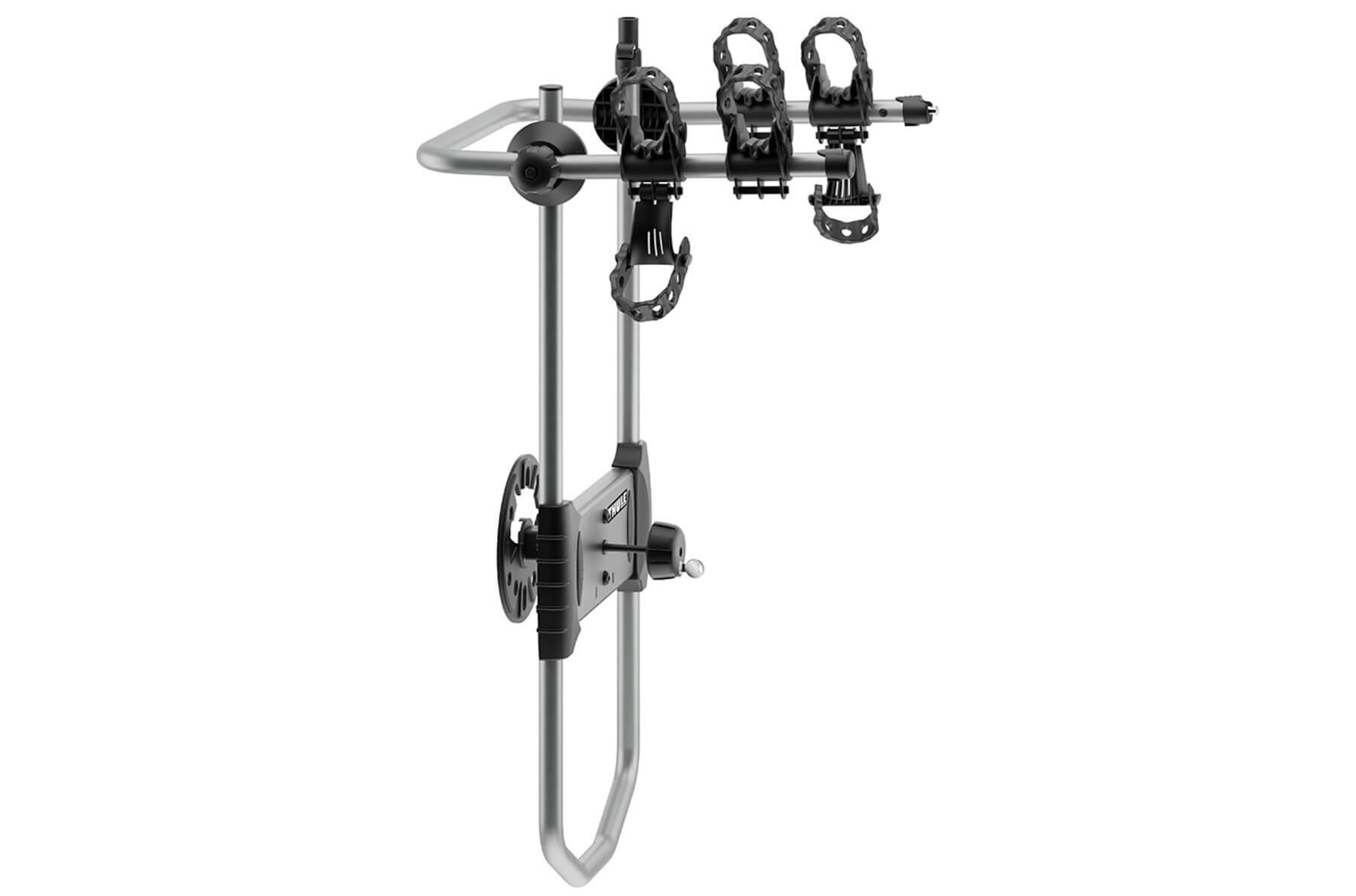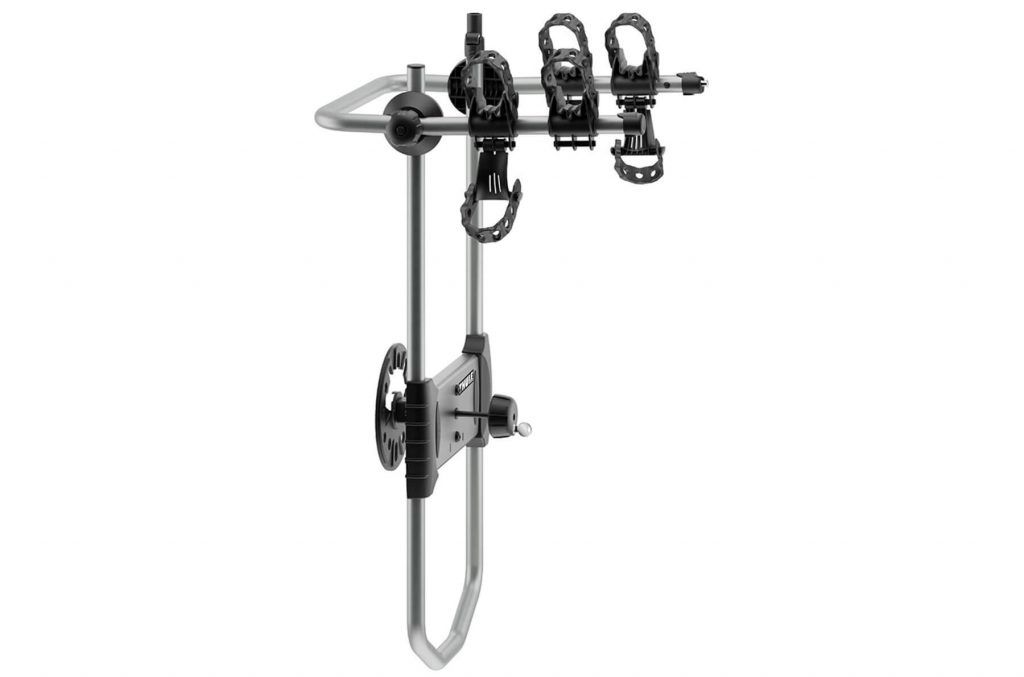 Many Jeep Wrangler owners recommend the Thule Spare Me Pro as their jeep bike rack of choice.
There's plenty of reasons for this. For one, the anti-sway cradles and dual arms can accommodate two bikes of different styles and sizes. It's also very easy to assemble. You'll just have to follow the instructions included in the package and that's it. It can also be folded away when not in use.
There's also another reason why Jeep Wrangler owners love the Spare Me Pro. It's one of the very few bike racks on the market that lets you open the tailgate of the Jeep Wrangler even if bikes are mounted on it.
Make no mistake. The Spare Me Pro is expensive. However, thanks to its solid build quality and corrosion resistance, it's also worth every penny.
Pros:
Loads two bikes comfortably
Simple installation process
Locks included
Convenient
Secure and stable hold
Cons:
Premature wearing of straps
Best for Those on a Budget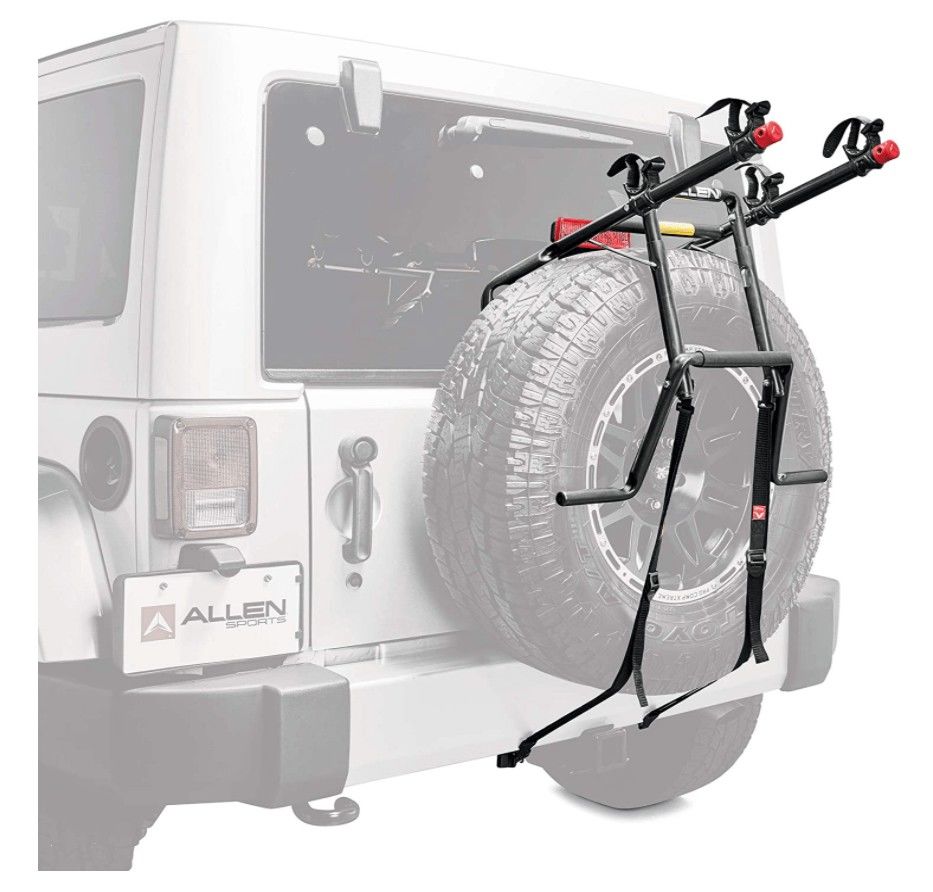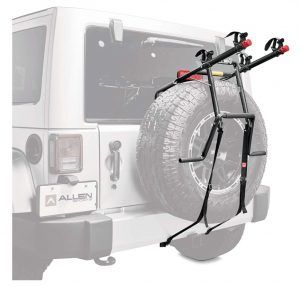 So, you've just spent most of your budget on a good pair of bikes. That's good. However, you've got every little left for a proper bike carrier for jeep wrangler. That's not good.
Luckily, you don't have to spend a lot to get a secure and safe bike rack.
If you're on a budget, we highly recommend the Allen Sports Deluxe.
This rack is designed to hold your bikes high up. This keeps it away from potential damage from the road and the exhaust pipes.
It comes with tie-down cradles that let it secure your bikes and protect it properly even if it's way up. Plus, with its 15-inch-long arms, two bicycles weighing a maximum of 70 pounds is no problem.
Speaking of no problems, you don't have to worry about rim damage. This doesn't support weight on the spare tire rim. Instead, the tire takes the brunt of the weight.
However, this user-friendly bike rack does have a few flaws. The main of which is how the straps tend to get loose at high speeds or bumpy roads when you're out driving on your Jeep Wrangler.
It's important to take note that the straps don't loosen up enough that your bikes might fall off. However, you'll still want to check periodically, both before you head out and before you head back home.
Pros:
Affordable
Long arms
Simple operation
Solid construction quality
Cons:
You can't open the tailgate unless these are undone first
Best for Sturdiness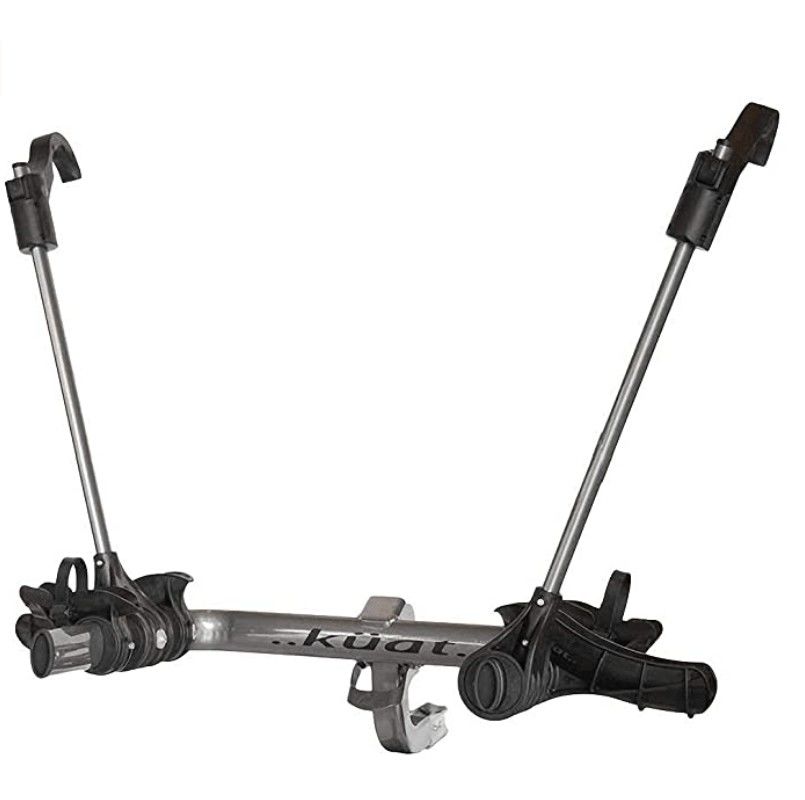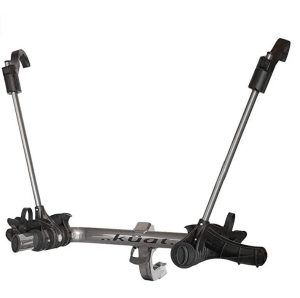 Build quality comes at a premium. The Kuat Transfer is proof of this.
While the Transfer is not the most expensive bike rack in Kuat's product line, it is the most reasonably-priced. But, that doesn't mean that it's cheap.
It's still far more expensive than other bike racks. However, because it's the more affordable sibling of other more expensive racks, it benefits from a trickle-down effect.
The Transfer doesn't have the same features nor refinement as Kuat's more expensive offerings. However, this Jeep Wrangler hitch bike rack platform does have the same level of build quality. Plus, comparing this to the more expensive Kuat racks seems unfair.
Compared to the similarly priced competition, the Transfer stands out. Its versatility is hard to match. It can fit wheel sizes from 20 inches to 29 inches, including fat bike tires up to 4.5 inches wide.
It also has a low loading height, wheel trays that self-adjust, and it mounts bikes by the wheels to minimize if not completely eliminate vehicle-to-frame contact.
The addition of the foot pedal release is also a nice touch. It makes lowering or raising the racks much more convenient. Plus, thanks to its open support arm design, it won't obscure the vision provided by backup cameras. However, what is notably missing from the package is the locks.
Overall, you do get what you paid for. If you want something lasts, this is what you get.
Pros:
Lightweight but very sturdy
Low-profile
Zero frame contact
Versatile fit
Cons:
No locks included in the package
Best for Security Features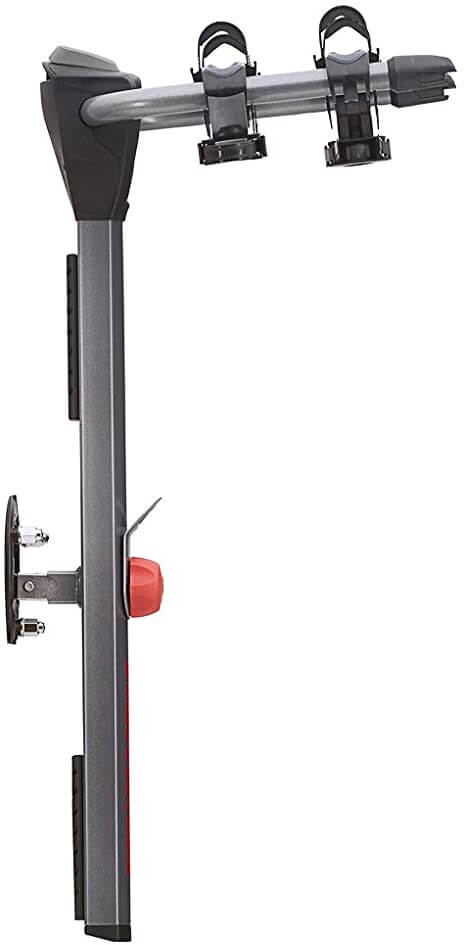 Most Jeep Wrangler bike racks on our list have a secure, stable, and tight fit. The YAKIMA SpareRide is no exception. In fact, it might be the best Jeep Wrangler spare tire bike rack as far as security goes.
We say this because of the SuperCrush ZipStrips. These are fully removable cradles that make it more convenient to unload and load bikes.
The anti-sway cradles also minimize any bumping. It also uses a full SKS locking package. This is a neat addition because it allows you to lock all of your Yakima products using just a single key.
In addition to this, the Yakima is designed to attach to nearly any spare tire of stock size. It has a universal mounting plate and can accommodate up to two bikes with generous amounts of space to spare.
It even comes with TireTread pads for added protection and stability. Lastly, the all-steel construction guarantees its strength and durability.
And, just to circle back, the universal mounting plate means that it'll fit on most lug battens. This, paired with its rather simplistic installation process, means that you can install it yourself.
To top it all off, this product is covered by Yakima's Limited Lifetime Warranty.
Pros:
Anti-theft locking knob
DIY-friendly installation
Comes with a bottle opener
Cons:
Mounting mountain bikes might require an adapter
Doesn't support smaller bike
Best for Hitch Mount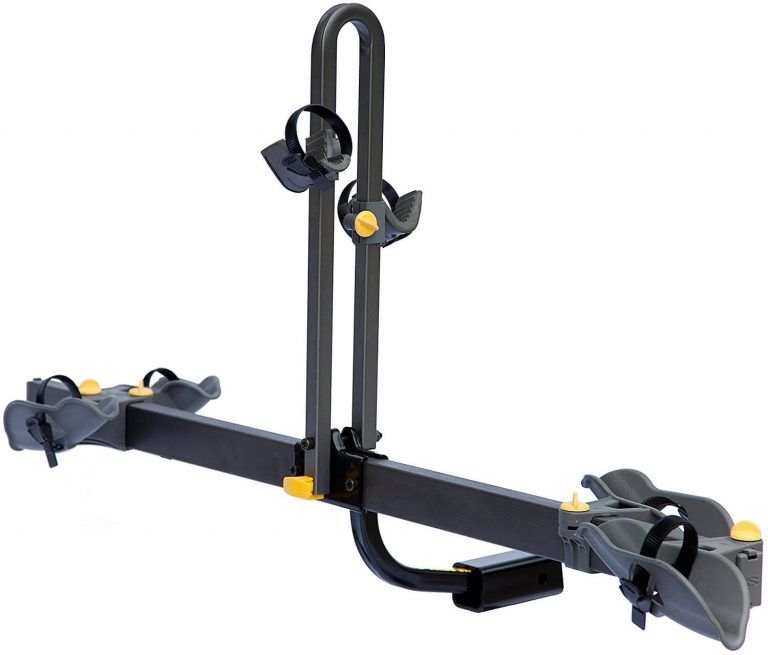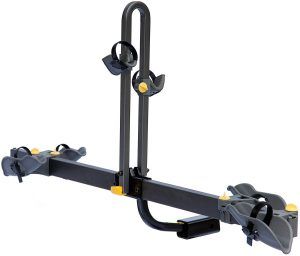 Feel free to throw away any semblance of style with the Saris Freedom.
But, that's okay. It's not stylish, but it is rugged, versatile, secure, and keeps your bikes well-protected.
You can position this bike rack any way you want on your Jeep Wrangler. You can position it at the left, or the right, or right dab in the middle of your spare tire.
For protection, the generously padded rubber holders keep your bike's scuff-free, even on rocky roads. Also, for added safety and security, it has a ratcheting and adjustable strap.
As a bonus, this product is made in the USA and is backed by a Lifetime Warranty.
Pros:
Multiple mounting positions
Rubber holders
Adjustable ratcheting strap
Heavy-duty
Cons:
Mounting multiple bikes is not convenient
Read More:
Best for Rooftop Mount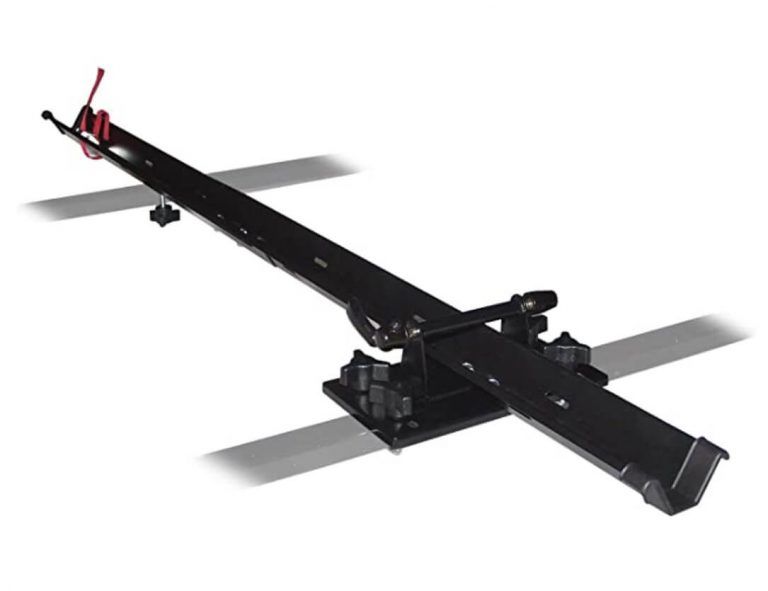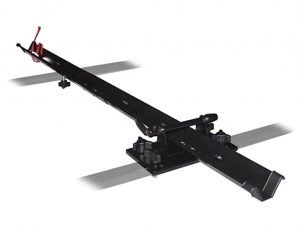 The Swagman STANDARD isn't just the best rooftop mount out there. It's also the easiest to assemble.
It doesn't require tools to set-up. Even though instructions could use some work, the setup process is pretty straightforward and intuitive. It'll take you only a few minutes to assemble it, load your bike, and be on the road.
The roof bike rack can mount crossbars up to 3 inches wide and fits any shape from square, round, and even oval. Also, for added security, this bike rack comes with 9mm Quick Release skewers.
Durable, secure, and sturdy, this rooftop mount is also rather affordable.
The only downside here is that you're not exactly getting a premium product. It's prone to rust and corrosion and doesn't have a locking mechanism. But, then again, this is understandable given its price.
Pros:
Adjustable high-quality wheel straps
Tool-free installation
Supports fork mounting
Cons:
Prone to rust
No locking mechanism
Easiest to Assemble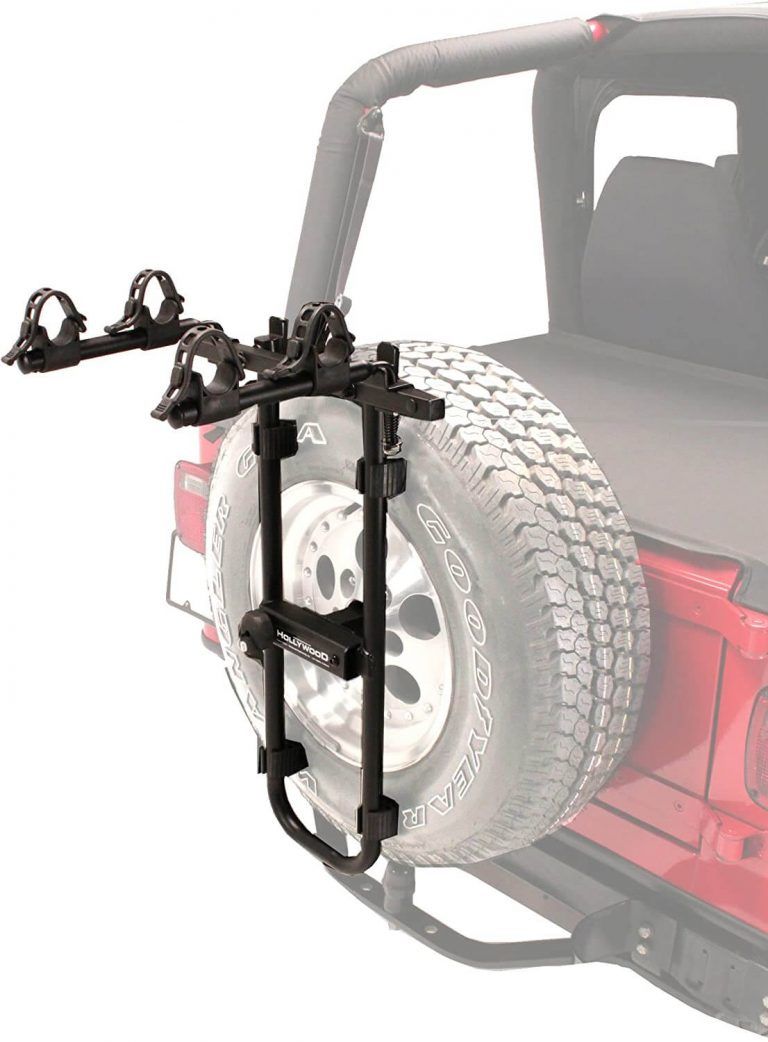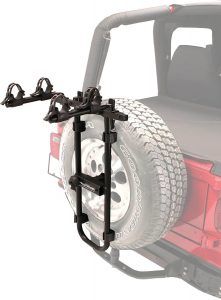 The Hollywood Bolt-On is an ideal choice if you need something easy to assemble and disassemble. It attaches to the spare tire with a hand-tightened knob.
It also fits on most spare tires thanks to its universal plate. It comes with up to three extension brackets for versatility.
As for security, the bike support arms are adjustable. This is especially useful for side-mounted tires.
One thing to keep in mind with this bike rack is it might require top tube adapters for ladies' frame and kids bikes.
Pros:
Integrated safety strap
Packed with a lock
Fully adjustable with three extension brackets
Foldable
Cons:
Might need top tube adapters
Best for Carrying 3-4 Bikes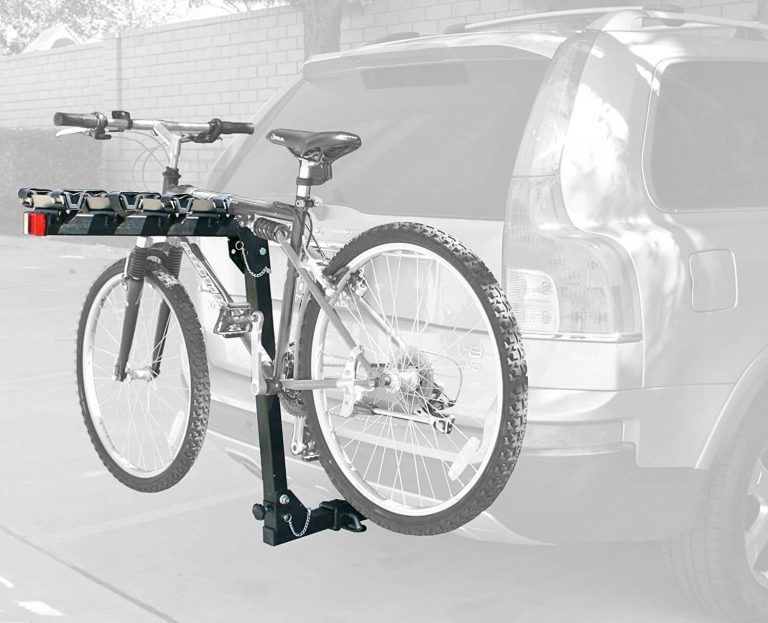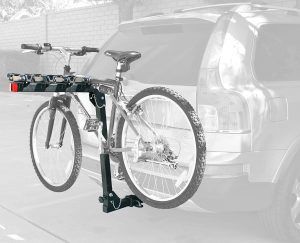 Just in case you really have to mount 4 bikes on your Jeep Wrangler, consider getting the MaxxHaul Deluxe.
This bike rack features a rigid all-steel construction that lets you safely secure for transport up to 4 bikes. It has a swing-down feature that makes it easy to access the rear-side of your Jeep Wrangler.
This isn't something that you can find in most racks. Also, it has hook and loop straps for added security, with support for up to 2-inch receivers.
The bike rack might not have a laundry list of features. It's not something that you'll sing praise about either. However, it is affordable and functional.
Asking for anything else is too much already.
Pros:
Rigid all-steel construction
Swing-down feature
Budget-friendly
Cons:
Expect some scuffing when mounting 4 bikes
Best for Convenience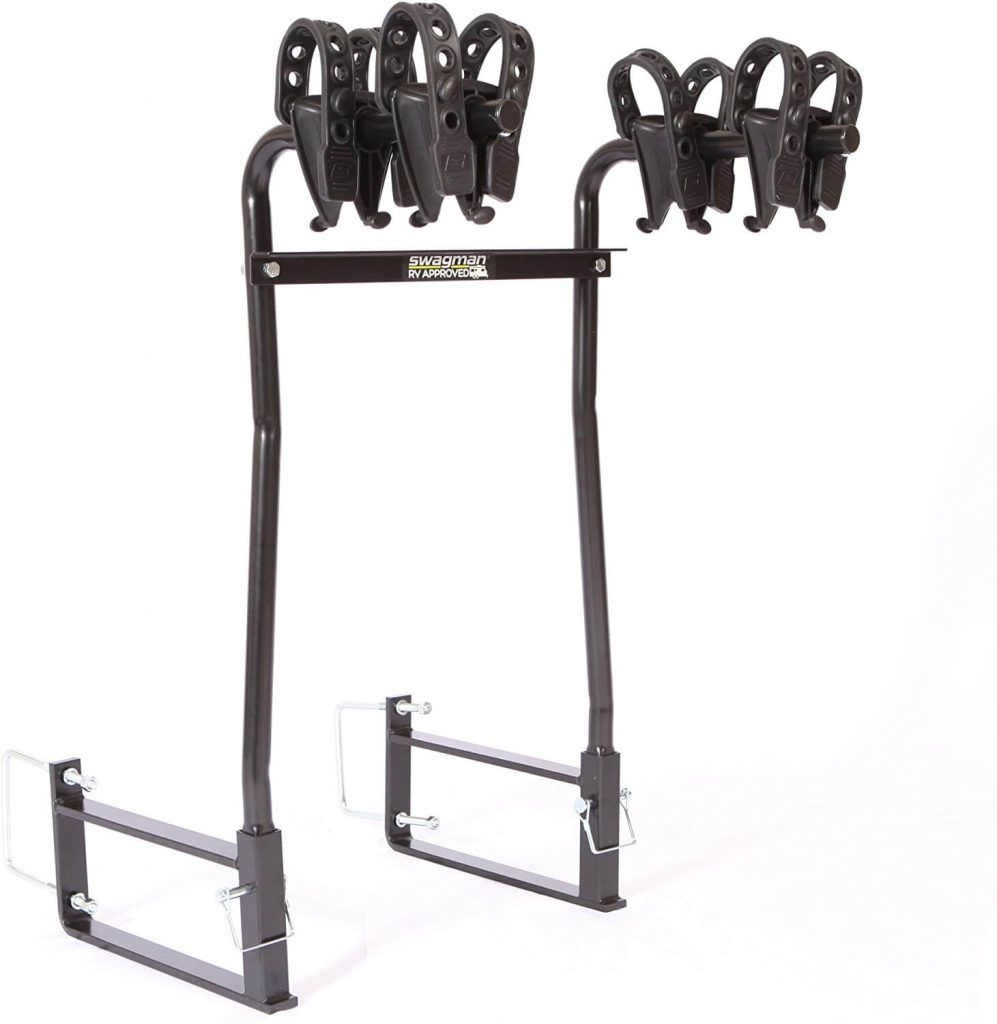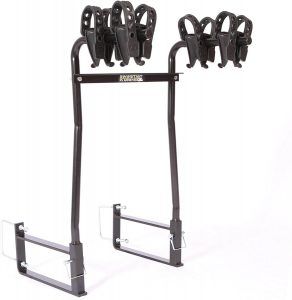 The Swagman Spare Deluxe is the most unique bike rack on our list. Unlike others, it doesn't mount directly onto your spare tire.
Instead, it mounts around spare tires. This is convenient if you want something that you can easily take off of your Wrangler for whatever reason.
The solid construction is paired with anti-sway cradles. This prevents contact between up-to two mounted bikes. This also helps minimize if not prevent any rubbing or crowding between the bikes and the spare tire.
The durable rubber straps then help add more security so that bikes don't bounce around.
Lastly, it's easy to install and remove too. It's easily the most convenient bike rack on our list.
Pros:
Fits around spare tires instead of on them
Comes with all the necessary hardware
Solid build
Minimal crowding and rubbing
Cons:
Some bikes might mount awkwardly
Not for low-hanging spare tires
How to Choose the Best Bike Rack For Your Jeep Wrangler
There are multiple factors you should consider when looking for the best bike rack for Jeep Wrangler.
These factors include:
Types of Racks
Spare tire mounted bike rack
A spare tire mounted bike rack might just be the best bike rack for Jeep Wrangler.
This is because it makes it easy to take your bike on and off the rack. Also, spare tire bike racks don't really take more than a couple of minutes to install or dissemble. They also let you access the rear or tailgate of your Jeep car, unlike other types of racks.
These bike carriers attach to the crossbars of your Jeep Wrangler. You either climb the rack around the down tube of the bike or hold the fork dropouts. The latter is inconvenient. This is because it requires taking off the front wheel from your bike.
The main advantage of roof-mounted bike racks is that it doesn't obscure your vision. You just have to make sure that the rack and bike are mounted properly. (1)
There are two types of hitch-mounted bike racks: the hanging-style and platform-style.
The former lets the frame rest on the bike rack while the latter will let the wheels rest on the bike rack. Each has its own set of advantages or disadvantages. However, the former is puts your bike's frame at risk, especially at high speeds and rough roads.
Bike Capacity
Not all bike racks support multiple bikes. Some might be able to support two, but it'll be a tight fit. There might also be a bit of scuffing involved, which is not good. Also, bike racks have weight limits, so be sure to keep that in mind.
You'll want to make sure that your bike rack is compatible with the number of bikes you plan on mounting.
Compatibility
The good thing about the Jeep Wrangler is that pretty much every bike rack fits. However, this isn't always true for all models. For example, a bike rack might only be compatible with newer models.
Security
A locking mechanism is a must-have on your bike rack. Only skip it if it can't be helped or you plan on getting an additional accessory down the line.
The ideal bike rack has a locking mechanism on top of the rubber straps.
To be safe, we recommend getting a steel cable bike lock. Attach this to the frame and your bike rack if you want to make sure that your bike stays exactly where it is.
Conclusion
Our pick for the best bike rack for Jeep Wrangler is the Thule Spare Me Pro. It's essentially perfect. It loads two bikes with room to spare and easy to install. It comes shipped with locks too and the straps provide a secure, stable hold. However, it's not necessarily affordable.
A more budget-friendly alternative is either the Allen Sports Deluxe or the Swagman STANDARD.
If you're willing to spend even more, go with the Kuat Transfer.
Yes. It doesn't come with a lock. But, that's a small compromise to pay. Since you're paying a premium anyway, that's not a biggie.
This is especially since you're getting a lightweight and sturdy bike rack in return. Plus, it's low-profile and there's virtually zero frame-to-rim or wheel contact.
Of course, the other bike racks are worth considering too. They're all great for their own specific reasons.
We suggest giving them a look to see which one fits your preferences and budget best.