Despite bike parts these days are much higher quality and having a longer life-time, they can still have major errors that can potentially put you in danger or simply ruin your cycling trip. Such as loose bolts, broken connection points, etc. That's where the multi-tool comes in, providing essential "life-saving" tools to fix up your problem.
It can come in many shapes and forms, how many tools there are. To cut you some slack on finding the right one, we have made a list of the best bike multi-tool that you can rely on.
For a quick top pick, the Topeak Alien II will be a solid choice. 31 high-quality and precise functions, resilient and compact design, that may be all you really need.
Best Bike Multi Tool
Best Overall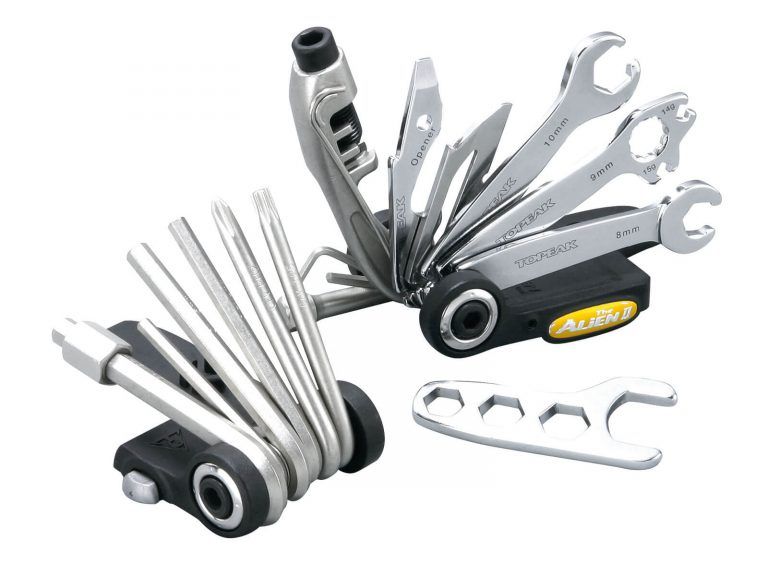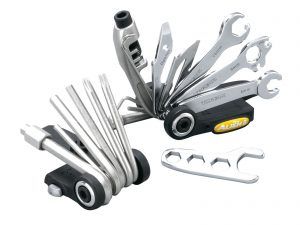 The best of the best bike multi-tool. The classic Topeak Alien II will impress you with a whole 31 functions while still being robust, compact and light with only 270g and deliver good leverage.
Still keeping crucial tools but a wider option like a 10mm hex and 14G, 15G spoke wrenches. There are some less commonly known functions but you just might need them consisting of tire levers, a normal and serrated knife, and a chain hook.
There are also some neat features such as an air release button and chain pin breaker. Everything is packed inside a nice nylon bag, you can expect this bike multi-tool to do its job excellently for a relatively long time.
Pros:
Excellent 31 functions
Firm and solid design
Two-piece body
Cons:
Heavy
Slightly expensive
Because of so many functions, can be clunky to use
Runner Up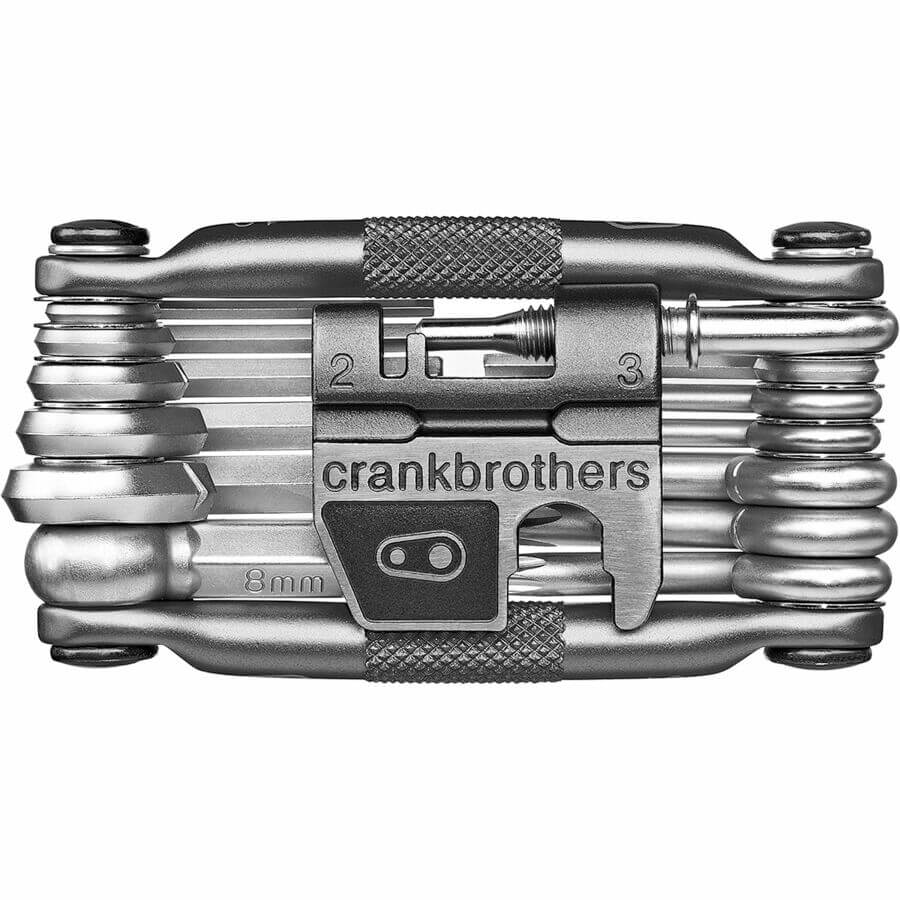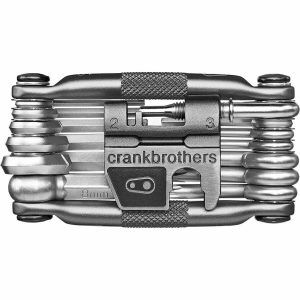 The Crank Brothers M19 provides you efficient 19 bicycle tools with a wide range of accurate hex, wrenches, screwdrivers, and chain tools. You can expect to get a good grip on it thanks to the knurled edges, offering a more comfortable and convenient performance.
Being made from high-tensile steel, all of the tools are tough and hardy while maintaining a lightweight and neat design. It also comes with a decent case but a bit frustrating to open.
Pros:
Sturdy and light design
Fantastic and precise performance from the tools
Knurled edges
Good reasonable price
Cons:
Best For Ergonomics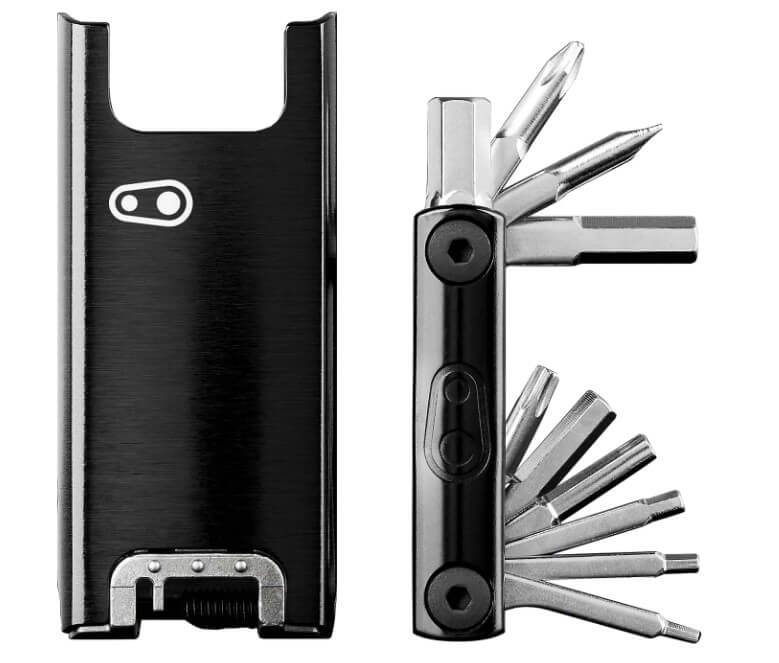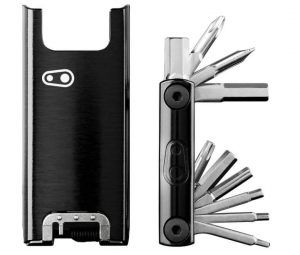 This best bike tool will comfy in your hand due to its compact and light design. It comes with a magnetic case that is easy to grip and provides extra leverage.
Holding over 15 tools to choose from including a bottle opener if you are gonna have a nice beverage after a long ride and even an 8mm wrench. The tools themselves are high-quality and can hold up for a long time.
Pros:
Compact and neat design
Magnetic sturdy case
Bottle opener tool
Cons:
Expensive
Screwdrivers are a bit oversized
Best For Innovation

You may have never seen this unique design of a multi-tool before. For its innovation, the tool might be worth the high price.
The OneUp multi-tool is stored inside a tube case that consists of your basic essential wrenches, screwdrivers and can fit inside the handle of your EDC pump. It also comes with a chain breaker that includes 0, 1, 2, and 3 spoke keys, Presta valve core remover, and spare rotor bolt.
Not only that, a carrier feature to store your CO2 cartridge or act as nice small sealed storage.
Pros:
Unique and fine tools
Lightweight and compact carrier
Can store CO2 cartridge or jabber
Fit into EDC pump for convenience and easy to carry
Cons:
Most Number Of Functions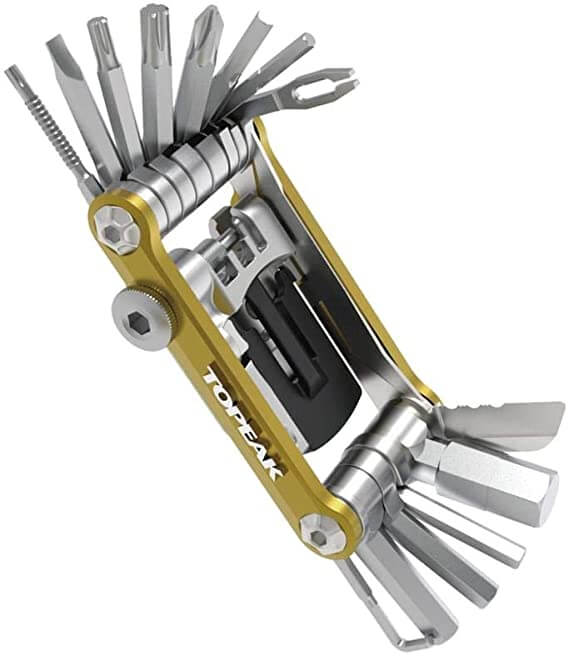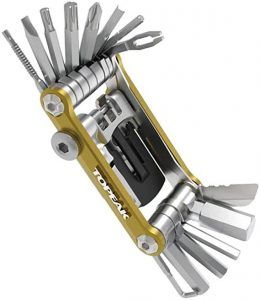 You might be astonished by the many utilities that this bicycle tool kit has. It goes up to 30 functions, excellent for almost all bike components issues. This includes your basic hex keys which can go up to 10mm, three Torx range, and you can find a nice serrated blade which is the locking function.
But wait, there's more. The second body of tools holds less vital tools, you must separate it from the main body in order to access. Despite holding so many functions, the design is still small, lightweight, and excellent.
Pros:
30 functions
Beautiful compact design
Robust and high-quality tools
Cons:
Best Value For The Money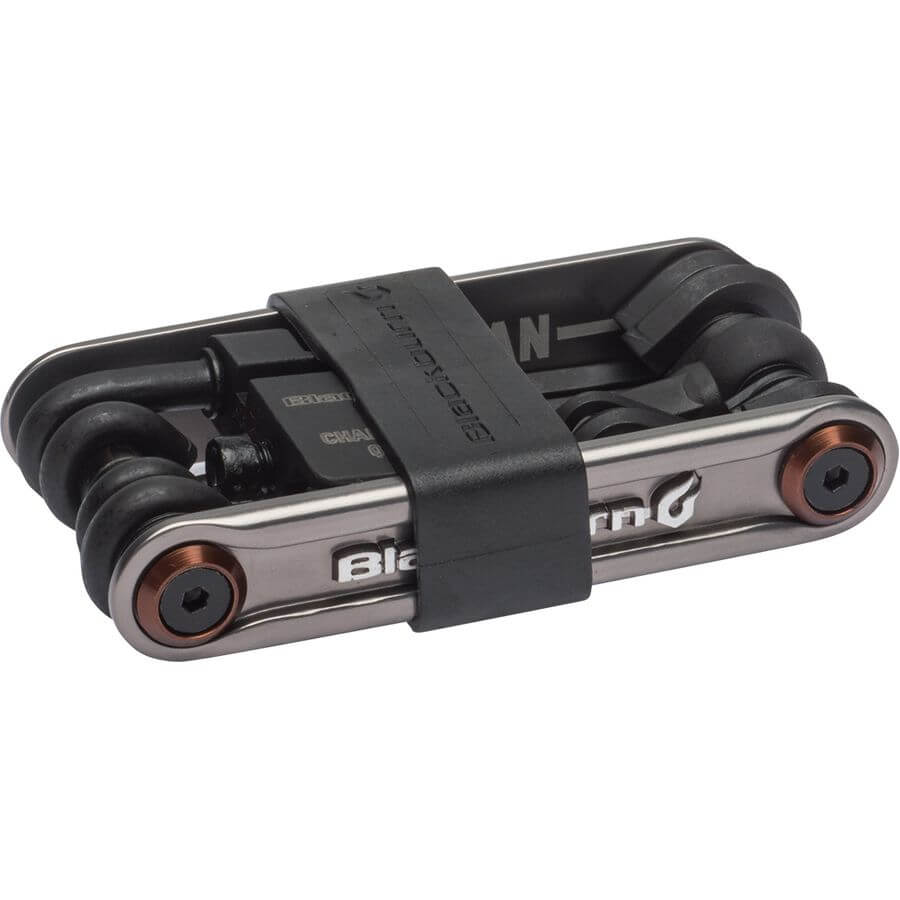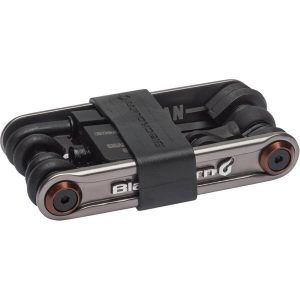 If you're on a budget and need one of the cheaper best bike multi-tool yet efficient and reliable the Tradesman got your back with L-shaped 18 functions: 2mm to 8mm hex wrenches, quicklink chain tool, and two Torx. All of which are made for quality and allowing safe, quick links on the road.
Additionally, there is a disc pad spreader for more freedom, safety while riding and inside of the tool contains storage to keep the spare links for backup.
Pros:
Quick link holder
Disc pad spreader
Highly affordable
Cons:
Best Multi-Tool With Chain Breaker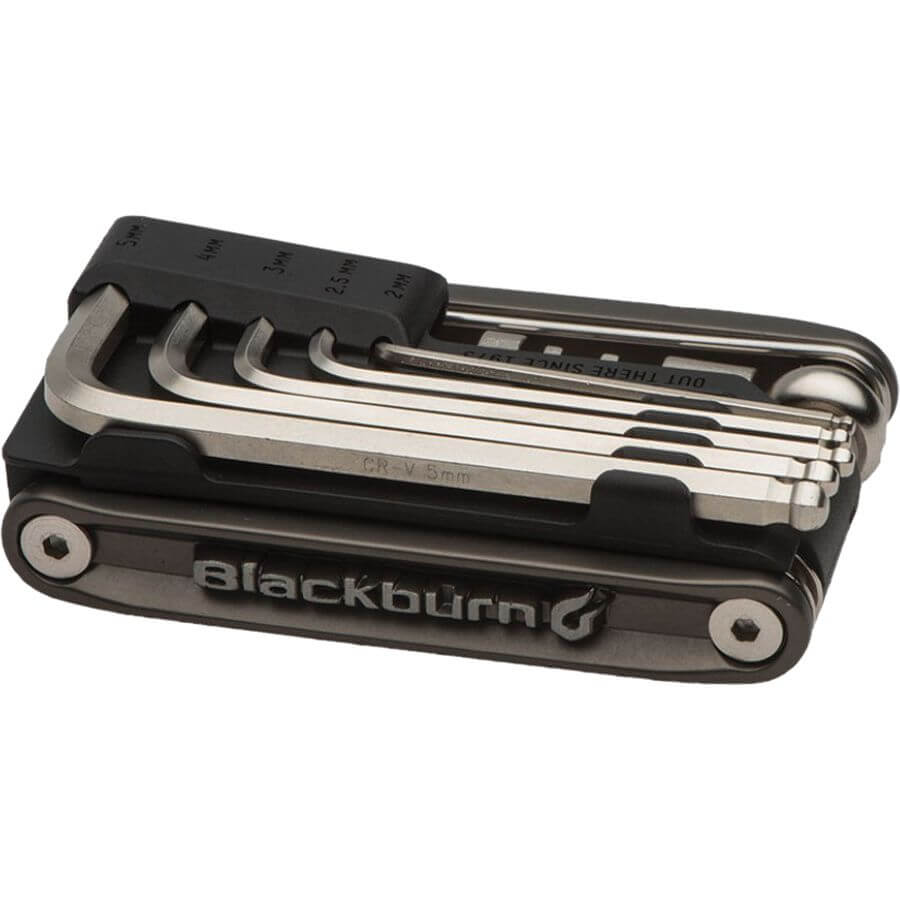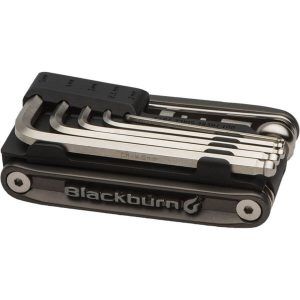 This wonderful cycling multi-tool consists of removable ball-end hex wrenches, two Torx, a flat head screwdriver, 8mm hollow core hex, a serrated knife for emergency, chain tool, and a unique chain assembly hook. The chain assembly hook can assist you in holding ends of the chains together while you're resembling the links, real convenience.
Even more, integrated quick link storage and disc brake pad spreader help reset your brake pads quickly. All of these and only 217g.
Pros:
Chain assembly hook acting as a holder
Removable ball-end hex wrenches
Eccentric and robust design
Cons:
Can get rusty quite easily
Best For Being Highly Affordable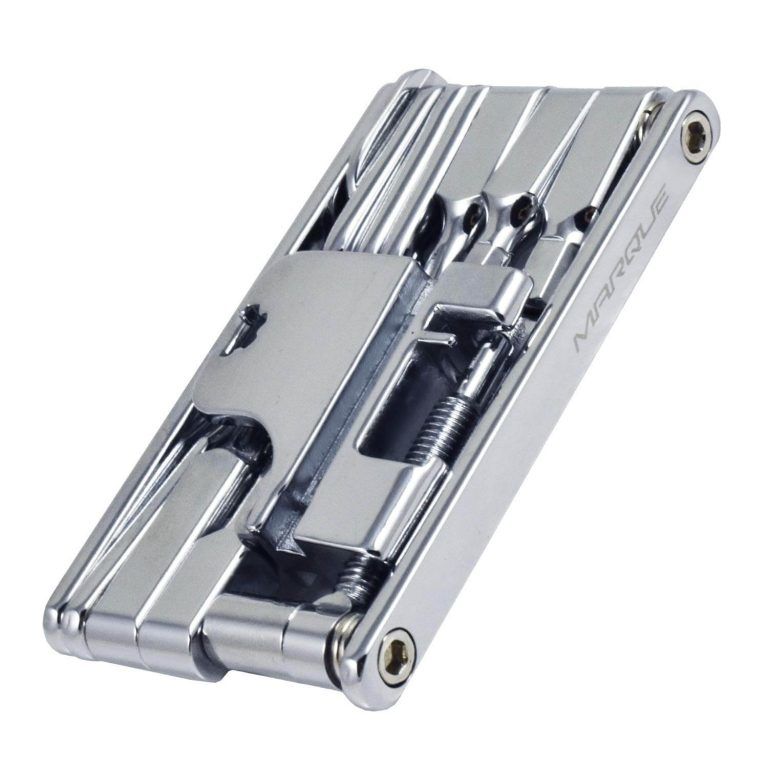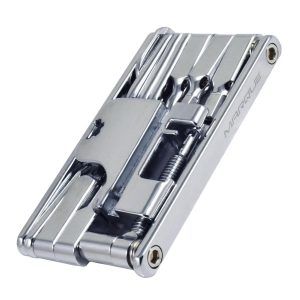 The MARQUE MT 20 has all the vital necessities that you would find in any other bike multi-tool. However, what sets it apart is that for being relatively cheap, the tools are high-quality and also have some special ones such as a bottle opener. Furthermore, it is smaller than your hand and weighs only 124g.
Chain breaker is pretty amazing, wrenches and heads are precise, sleek, sturdy, and compact in design. Cheap, compact, well built, can't really ask much more.
Pros:
Low-price
Durable and resistant to rust
Very lightweight
Cons:
Doesn't include a 5mm hex
Best For Durability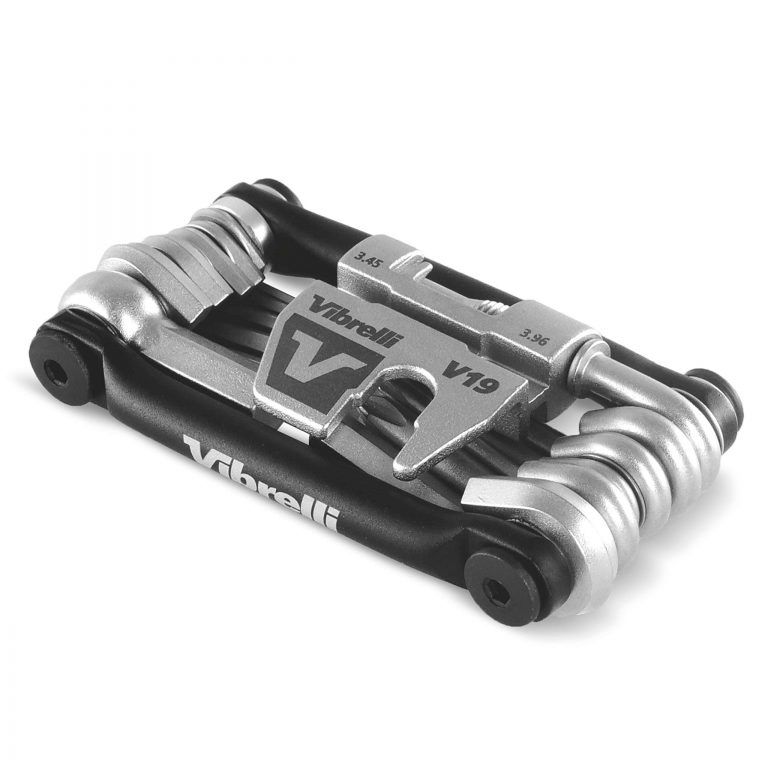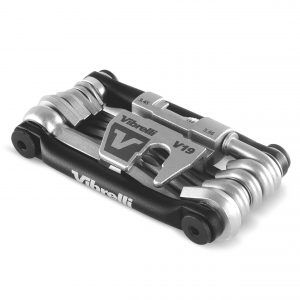 Constructed from hardened high-tensile Cr-V steel, you don't have to worry about damaging it, it is made for the longest usage.
But that's not the only strong point the Vibrelli Bike possesses. Up to 19 fantastic basic tools including 7 hexes, a universal chain breaker, 2 Philip screwdrivers, 6 wrenches,a #2 flat, and T25 Torx. And with the delicate, sleek design, this best bike multi-tool will be a fine addition to your riding trip.
And also, you can pick up the 5 tools edition which is really cheap but still holds excellent tools.
Pros:
Extremely resilient
Relatively affordable
Delicate design
Cons:
Most Versatile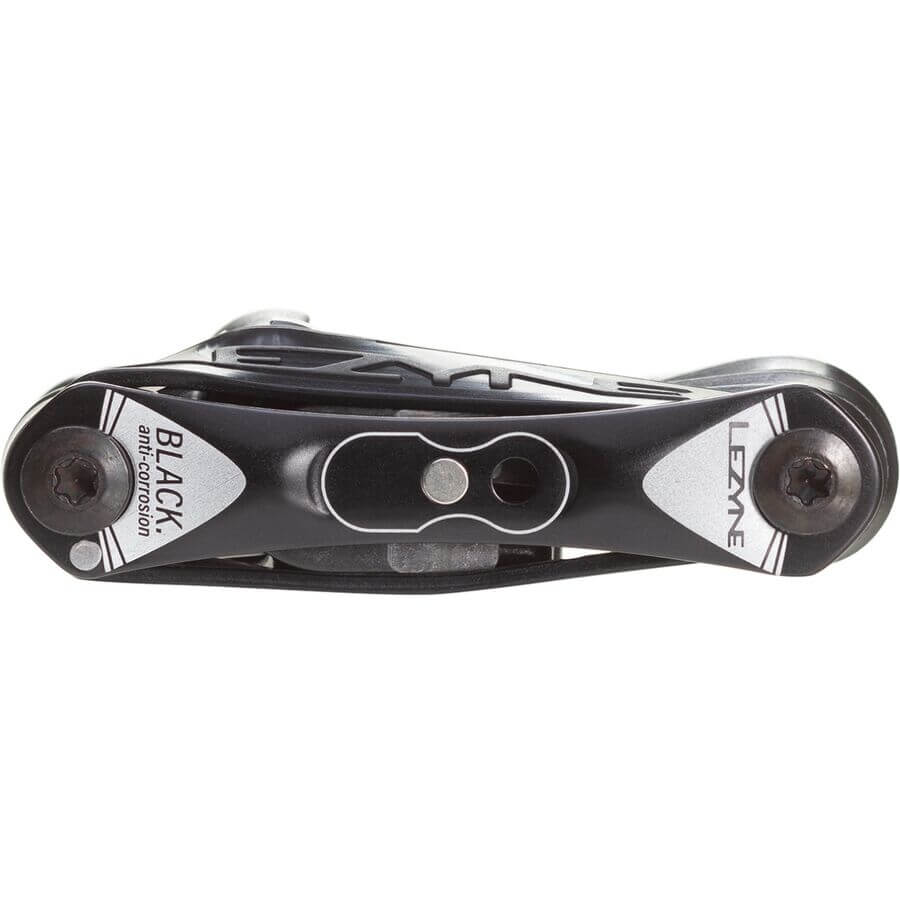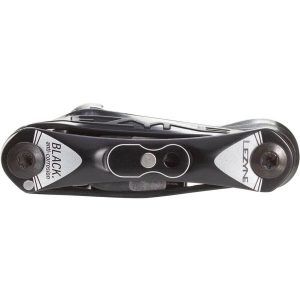 If you're seeking a bike multi-tool that contains a CO2 inflator then this is the right one. Using an ergonomic design that contains an impressive 21 tools. The tools include the fundamental wrenches, hex, Torx, and a chain breaker.
The interesting part is the three unique features, a rotor truing tool, a custom magnetic holder incase of emergency quick link, and an integrated machined CO2 inflator. All of these magnificent tools come at quite a reasonable price.
Pros:
Integrated CO2 inflator
Lightweight and ergonomic design
Affordable
Cons:
Most Attractive And Unique Design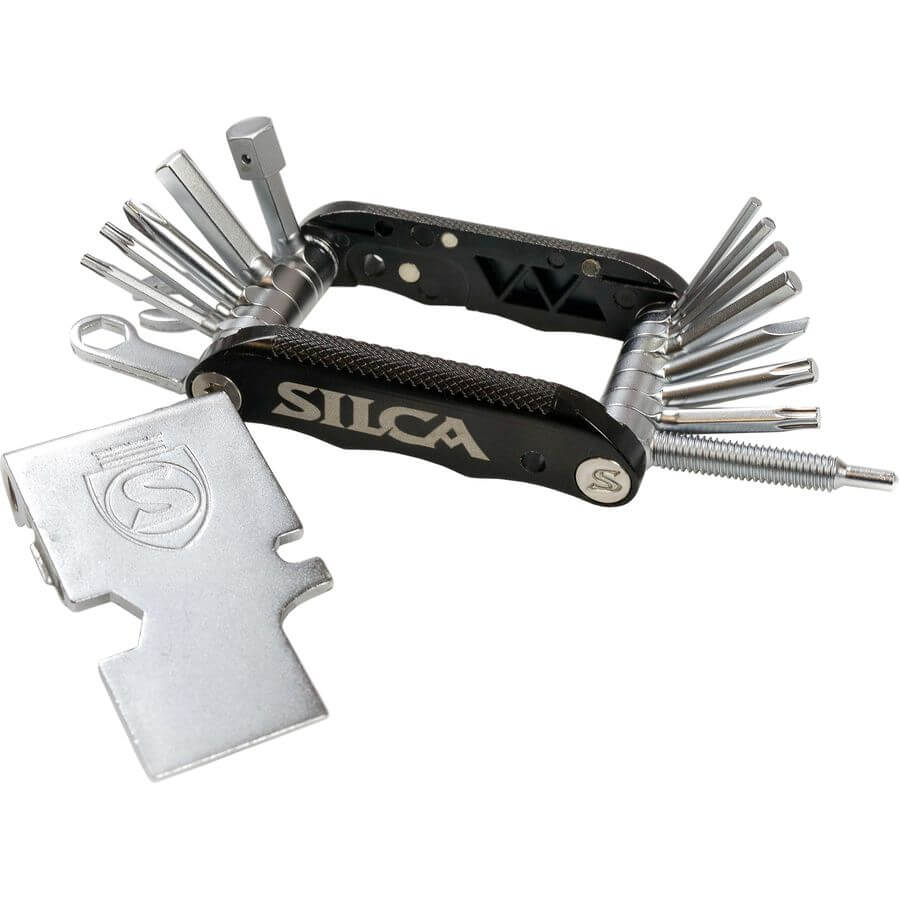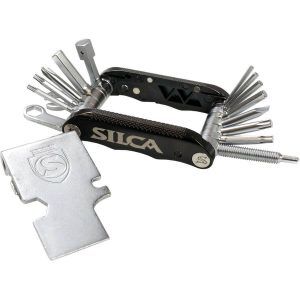 At first, seeing the name you would think that it is an actual army knife but no. The Silca Italian Army Knife has a sweet, smooth design, offering a comfortable grip while you are tinkering. It comes with three styles that have different names corresponding to the number of functions, Venti means 20, Nove is 9, and 13.
All of the threes include your basic necessities: hexes, wrenches, and screwdrivers with the Venti bringing a wider variety. And there's a magnetic holder for the chain tools.
Pros:
Three styles to choose from
Alluring and smooth design
High-quality tools
Cons:
Pricey
The magnetic holder is a bit weak
Small leverage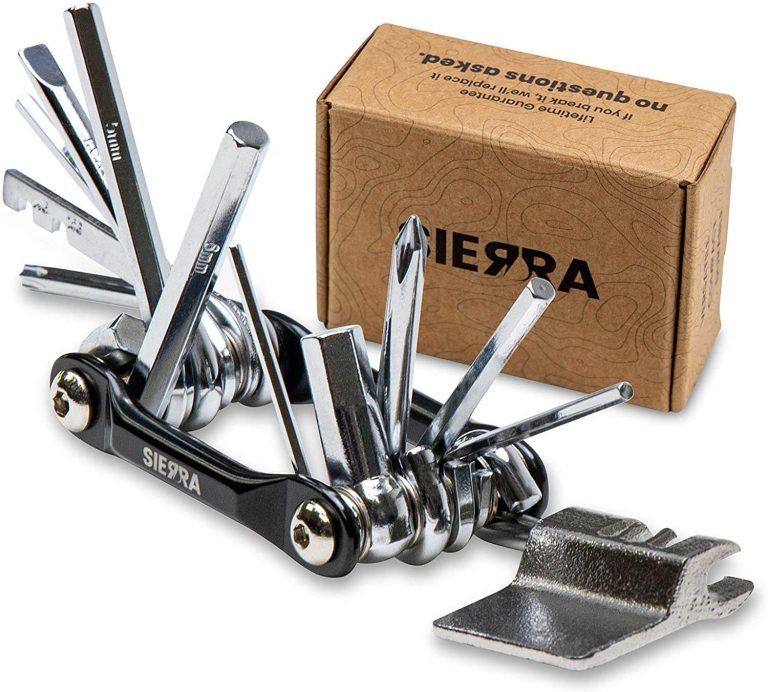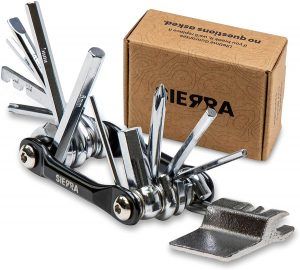 The heavyweight Sierra 12 in 1 comes in with only 12 tools. But the number isn't an issue when the tools themselves are made to be high class, perform well, and tough especially the universal chain breaker and two spoke wrenches.
There really is nothing more to say than an excellent bike multi-tool that you can rely on and carry anywhere thanks to its compact and butterfly smooth design.
Pros:
Compact and slim build
High-quality precise tools
Easy to use
Affordable
Cons:
Best Compact Sized Multi-tool
Most Unique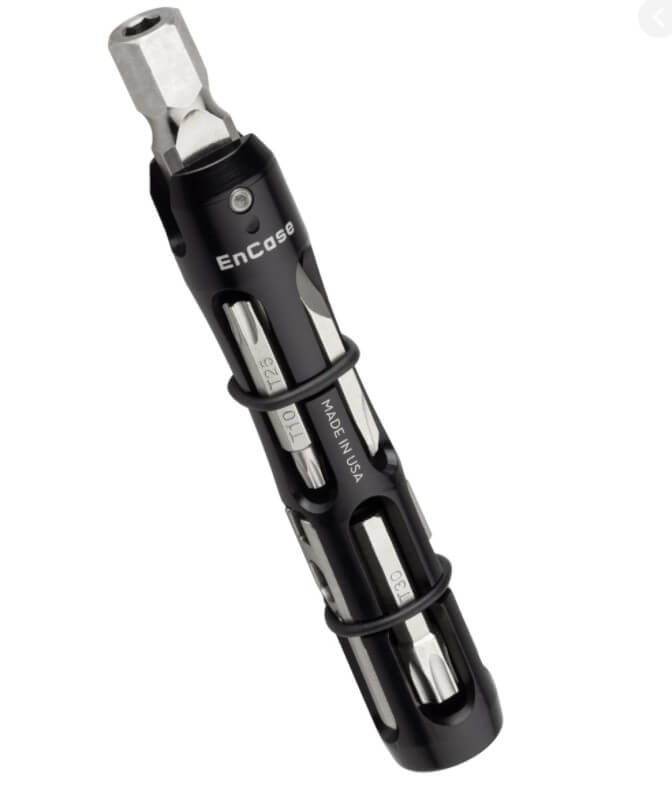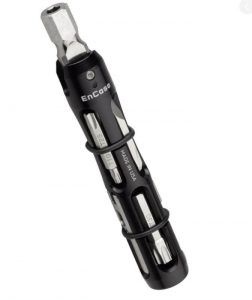 While most of the multi-tool has a square-like shape to keep all the functions, the Wolf Tooth's 14 functions can be removed and used easily, giving a much better leverage. Using magnets and O-rings to keep all of the parts in place. There is also a ball detent swivel head to assist you in reaching hard places.
Because of the slim and patent-pending design, you can place it in the bike's handle for comfort and convenience. And astonishingly, it is utterly lightweight, only around 51g,
Pros:
Unique, slim, patent-pending design
14 removable high-quality functions
Lightweight and solid
Cons:
Most Compact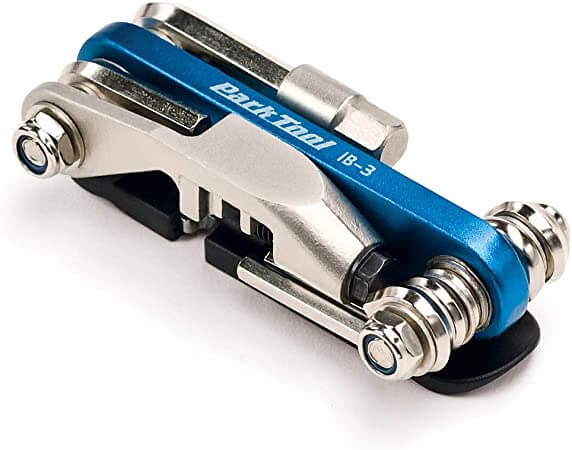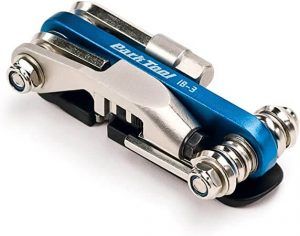 Despite having a low-cost and miniature design, this best bike multi-tool offers resilient and good quality 10 functions that can be used in many common circumstances including a flat blade screwdriver. The functions are 1.5, 2, 2.5, 3, 4, 5, 6mm hex wenches, 8mm hex socket and a flathead screwdriver with a special Torx T25 for disc brakes.
It uses the I-beam handle to give the tools a structural rigidity.
To sum up, a sturdy, ergonomic, very neat bike multi-tool that does its job well enough and can be used for quite a long while.
Pros:
Exceptionally compact, only 3×0.5 inches
Well built functions
Durable metal construction
Relatively cheap
Cons: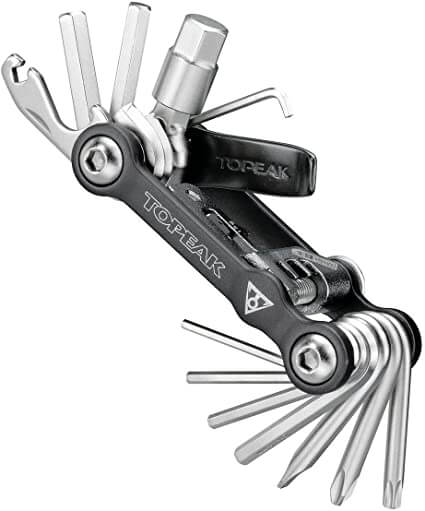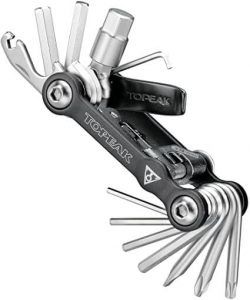 You might be amazed just how well made the Topeak Mini 18 Plus is. Compared to the Topeak Mini 20 Pro, less inadequate tools and a cheaper price with no noticeable change in performance. It maintains a lite and compact design while having a total 20 functions, more than other mini multi-tool.
Not only offering comfort, convenience but also an array of fine versatile functions such as a bottle opener, a tire lever, and a pad spreader.
Pros:
Peak and efficient performance
Compact and lite design
Total of 20 useful functions
Cons:
Screwdrivers are slightly awkward to use due to the design
What to Consider When Buying a Bike Multi Tool
If the 15 best bike multi-tool reviews don't interest you or you still find it confusing on what to choose, here's a little buying guide to help you take things to your own matter. We will be taking the vital factors that you must consider, these cover the number of functions, ergonomics, portability, whether or not it is easy to use, and durability.
Number Of Functions
The bike multi-tool's main usage is to fix up loose bolts, connection points, raising your saddle, etc. And in order to do any of that, there are three main functions that you should look for.
First up is the hex key. Most of the bike can be disassembled by a 4mm or 5mm Allen key, some can be smaller like 2mm and 3mm. There are even some multi-tool that provide an 8mm and 10mm hex key like the Topeak PT30 but not a whole lot due to the fact that they don't offer much leverage.
Second is the Torx Drivers. The majority of the tools will have a T25, sometimes a T30.
And finally screwdrivers. Philip head screwdriver will be common among the tools which is useful for derailleurs.
There are some addons to the multi-tool that can be essential to some circumstances. Not all of the models have these functions, but they are handy and you might never know when you need them.
The chain breaker is important in case of a broken chain, bringing it back together easily cause you're not going much far anywhere with loose chains. In this case, you will want to get the BLACKBURN Wayside Multi-Tool with its fantastic robust chain breaker and other additional features.
Secondly, a CO2 inflator in case of a flat tire. It's a rare sight that a tool has this, but if you are looking for this one, the Lezyne RAP II 25 CO2 Multi Tool is splendid.
Finally, spoke wrenches to adjust the tension in the spokes of a tension-spoked wheel. You might as well get the Topeak Alien II with its excessive 31 functions containing 14G and 15G spoke wrenches.
Ergonomics
This one is optional but it's better to have a good, comfortable grip of the tools while you are working on the problem. That's where the Crank Brothers F15 comes in. You may find that it has a firm and pleasant hold, offering an easier experience.
Portability
Of course, being able to carry around for any situation is essential. Compact and lightweight design are keys here, that's why the Wolf Tooth is a valid option due to the fact that it's only 51g, can be stored inside the bike handle, and high-quality functions.
Easy To Use
Another thing is that the multi-tool is easy to handle and use. You will find that some tools don't provide much leverage which in turn can cause inconvenience to use and are unable to get into hard-to-reach places. The BLACKBURN Wayside Multi-Tool got you covered, the quick link storage and removable keys make the fixing experience much more effortless.
Durability
Don't forget to check what material the tool is made out of. Usually to make it more light, they will go with forged aluminum, more robust designs take different forms of steel. The Vibrelli Bike will be the most resilient bike multi-tool on the list, not being able to break down and falling apart easily.
Conclusion
After our selective review of the 15 best bicycle tool sets, the Topeak Alien II takes the cake for having the best overall performance, statistics that we have considered. A total of 31 functions to use in almost all of situations aside from fixing your bike.
Second place goes to the Crank Brothers Multi-19 with19 high-quality and precise functions and comfortable and firm knurled-edge grip
For the third spot, Wolf Tooth, you can pretty much bring to any places you go and removable convenient unique functions.