It doesn't take an expert to know that having the best bike mirror installed can help make your daily rides safer. In fact, governments agree with this sentiment as well. Some have even gone as far as to recommend making bike mirrors mandatory.
After all, it makes sense. If your bike is equipped with the best bike mirror, it'll be easier to look over your shoulder to see incoming traffic. Having a bike mirror installed could even help save your life.
For example, installing the Hafny Bar End Bike Mirror onto your bike could help you see what kind of potential dangers are running behind you without having to take your eyes off of the road.
With that said, you can start enjoying a safer and more fun ride by reading our bike mirror reviews and installing a bike mirror on your bicycle.
Best Bar End Bike Mirror
Best Overall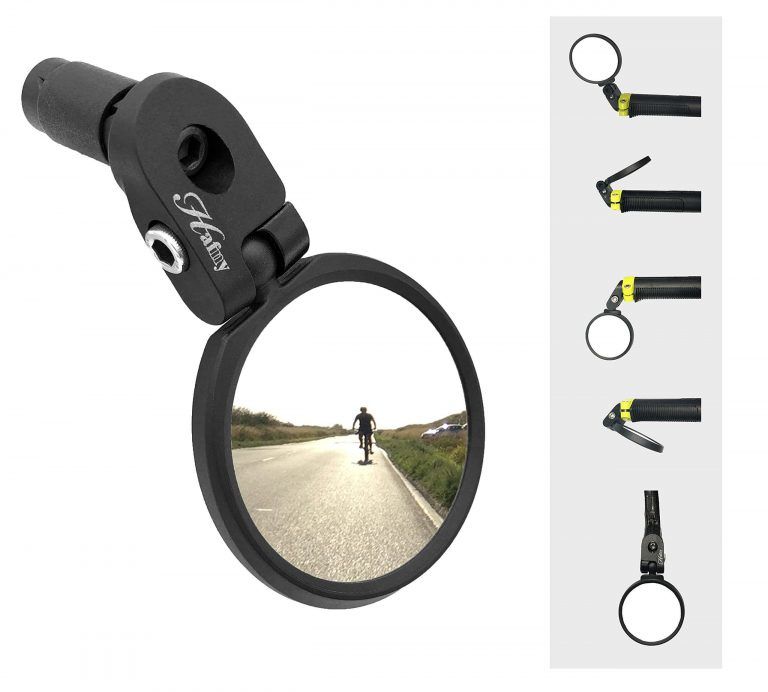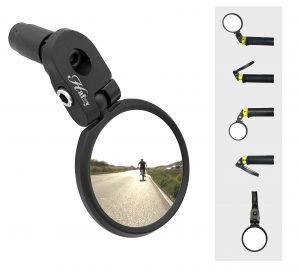 Sometimes, it's best to keep things simple. The Hafny Bar End Bike Mirror is a good example of that.
This unassuming bar end bike mirror measures roughly around 62mm. It's relatively light in weight and is made out of stainless steel with nylon and fiber frame. In addition to this, the material is recyclable and eco-friendly.
Plus, it's versatile. You can use this bar end bike mirror on your bike's left side or the right side as long as the handlebar measures around 17mm to 21mm. You can also adjust the mirror via the 360-degree rotation angle.
If 62mm is a bit too small for you, you can get it in a larger 68mm model. This bike can suits different bike types as road bikes, hybrid bikes, or mountain bikes.
Pros:
Available in a larger 68mm diameter model
Stainless steel construction
Eco-friendly and recyclable material
Well-priced
Cons:
Doesn't come with an Allen key for installation
Slight distortion in the reflection due to glass-like material
Runner Up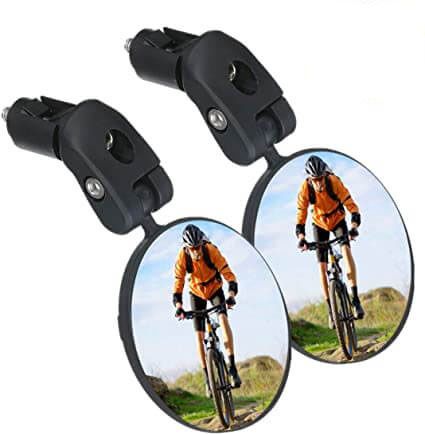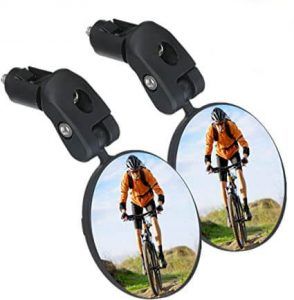 It's hard to beat a pair of bicycle mirrors that cost only as much as a single mirror. Even more so when it has most features the average rider would ever need.
The SGODDE Bike Mirror is fitted with a convex mirror for optimal vision and safety. Furthermore, you can adjust the mirror to your preferred viewing angle.
This bike mirror also fits inside any handlebar. It doesn't matter if it's on the left side or the right side. As long as the inside diameter measures anywhere between 17.4mm and 22mm, it'll fit.
The base of the SGODDE Bike Mirror has a 360-degree full rotation with a 180-degree plan rotation mirror.
As for construction, the SGODDE Bike Mirror is made out of a combination of plastic, nylon, and fiber. This gives it the durability that it needs to withstand its fair share of humps and rough roads while also still being eco-friendly.
As a bonus, this bike mirror is easy to mount and is stable once mounted.
Pros:
Sold as a pair
Affordable
Wide viewing angle
Recyclable materials
Cons:
Requires a 4mm Allen key for installation
Best for Lightweight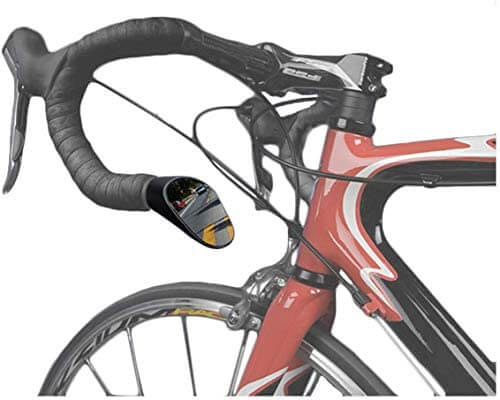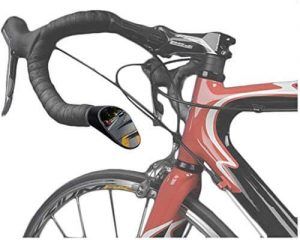 The Sprintech Road Drop Bar is lightweight, shatterproof, and easy to install. It's a strong contender as the best road bike mirror out there.
We're highlighting the ease of installation part because it's important. All you need to do is to replace the end cap with the included cap. This way, you can fit the female cap receptor inside the male insert of the bike mirror.
Another characteristic that sets the bike mirror apart is its reliability. It won't spin out of control or rattle. It will hold steady and remain stable. This is a very important feature, especially on rougher roads.
This is mostly thanks to how strong and steadfast the hold of the bike mirror is. Also, minimal rattles mean you're less distracted while driving. This allows you to focus more on the road ahead and if there are incoming vehicles behind you.
The only con we see here is the premium price. But, for those who are willing to pay a bit more, this bike mirror is an excellent bar end bike mirror.
Pros:
Lightweight
Stable hold and grip
Easy and convenient installation
Ideal positioning for racing bikes
Cons:
Not a good fit for bikes with straight handlebars
Narrow frame
Best Handler Bike Mirror
Best Overall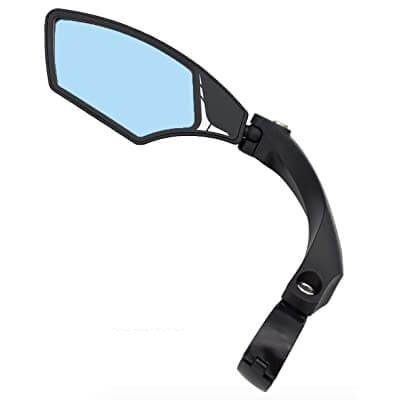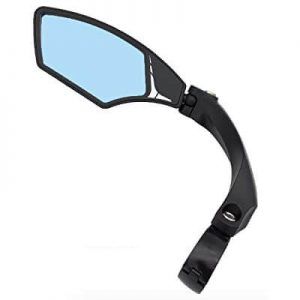 The Hafny New Handlebar Bike Mirror is built to withstand a lot of abuse. It features an automotive-grade and shatter-proof or blast-resistant glass lens.
It also helps that it's made out of a sturdy and high-impact nylon and fiber frame. It has an aluminum black clamp that fits in handlebars with sizes between 21mm to 26mm.
All these features combine to help add durability to the bike mirror and guarantee its stability.
The bike mirror also has an anti-glare lens. This minimizes your chances of getting blinded when riding at night. This is very dangerous since blinding car lights have been known to cause accidents.
Speaking of safety, the printed reflector on the back makes sure that cars and other vehicles can see you better even with limited visibility.
Unfortunately, just like the other bike mirror we recommended from Hafny, it doesn't come with the required 5mm Allen Key for installation.
Still, this is a small compromise to make. In return, you'll be getting what might just be the best bike rearview mirror.
Pros:
Made to resist high impacts
Automotive-grade glass lenses
Recyclable materials
Printed reflectors for added safety
Cons:
Best for Sturdiness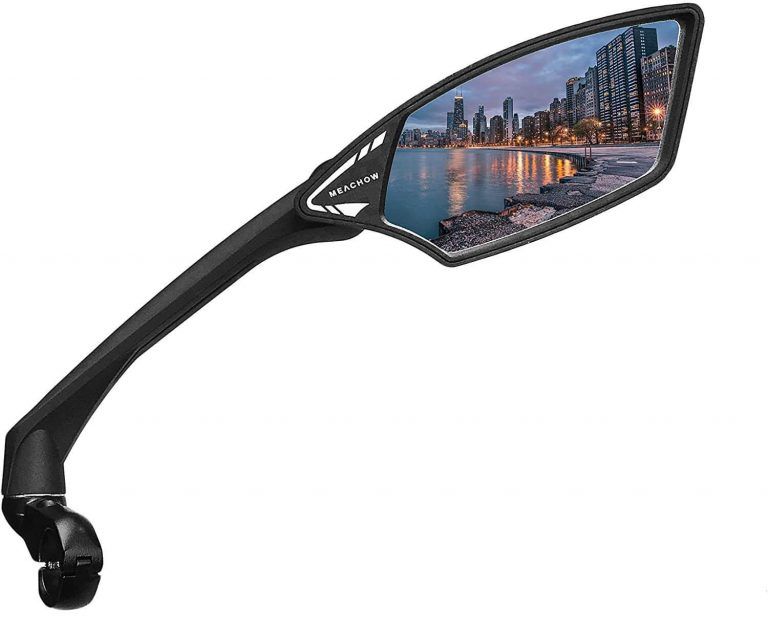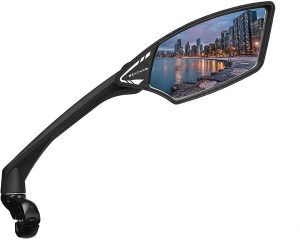 Durable, sturdy, and affordable don't usually go together. Most of the time, one gives, and that's usually the price. The MEACHOW Bike Mirror is one of the rare times when this doesn't happen. It's a product made to last and yet doesn't cost an arm and a leg.
That's not even the best part. The main selling point of this bike mirror is that it looks absolutely gorgeous.
Install this on your bike, and you'll have people complimenting you on how good it looks. Just don't mistake that for the lack of functionality.
This bike mirror has a blast-resistant safety glass lens. The said lens also has 50% anti-glare coating for the silver-colored ones. Meanwhile, the blue-colored ones have a 75% anti-glare coating.
For added safety, you can rotate the lens assembly 360 degrees. This allows you to get a complete view of your surroundings. At the same time, the fiber-reinforced nylon arm makes sure that it can withstand even significant amounts of impact.
All of this is then anchored on an aluminum alloy clamp that makes sure that it stays on your bike, stable, and not wobbling about whenever you speed up or find yourself going over less-than-ideal roads.
Pros:
Foldable
Quick and hassle-free installation
Stylish looks
Streamlined design
Affordable
Cons:
Will be a tight fit for taped handlebars
Best for Mountain Bikes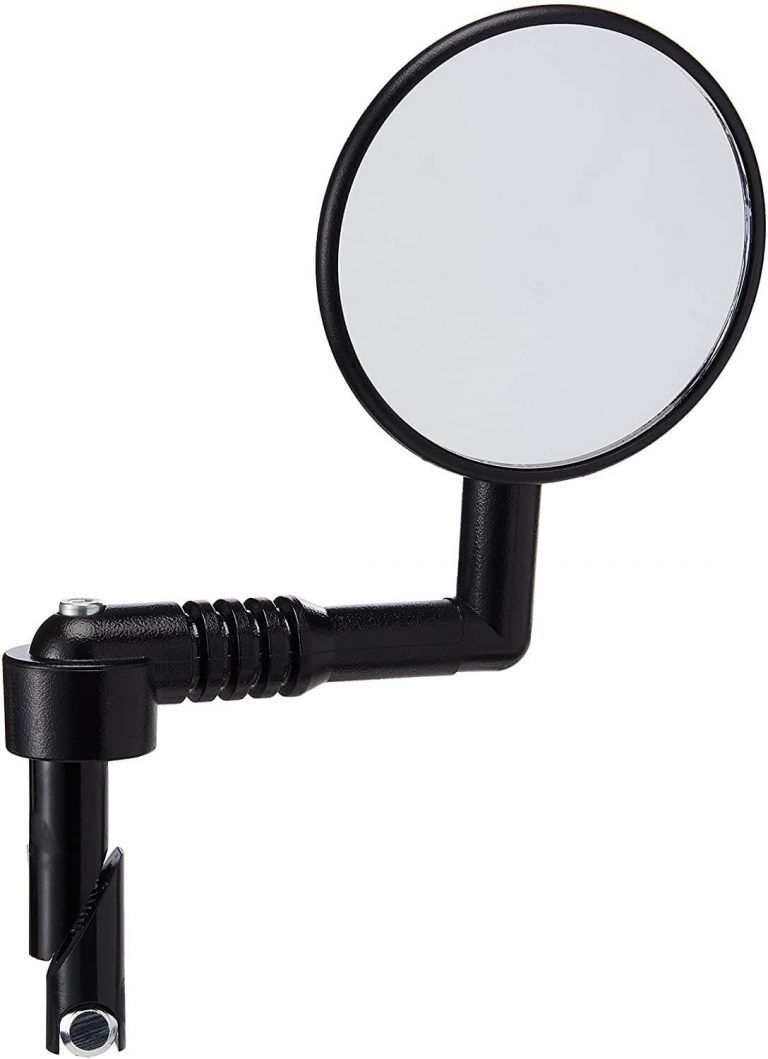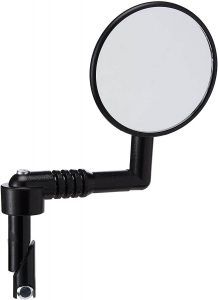 Not everyone minds having a bland-looking bike mirror on their bikes. Some just want the safety that comes with it. If you're one of those, we recommend getting yourself the Mirrcycle Mountain Bicycle Mirror.
Built for mountain bikes, the 3-inch round rearview mirror can be mounted to pretty much any handlebar. The only requirement is an inside diameter between 13.75mm to 22.5mm.
Also, because it has a wide-view convex mirror, you can pivot it to your preferred viewing angle. You're free to adjust it according to how much you want to see behind you when you're out riding.
Because it mounts onto the bar end of your bike's handlebar, it won't interfere with the majority of your bike's components.
This lets you install two if you want. Although we do think that two bicycle mirrors is too much.
Finally, it ships with its own hex wrench. You can put this on your bike right out of the box because it has the tools necessary for installation.
Pros:
Large and round rearview mirror
Ships with necessary installation tools
Convex mirror with excellent view coverage
Cons:
Definitely not the best-looking bike mirror
Best for Minibike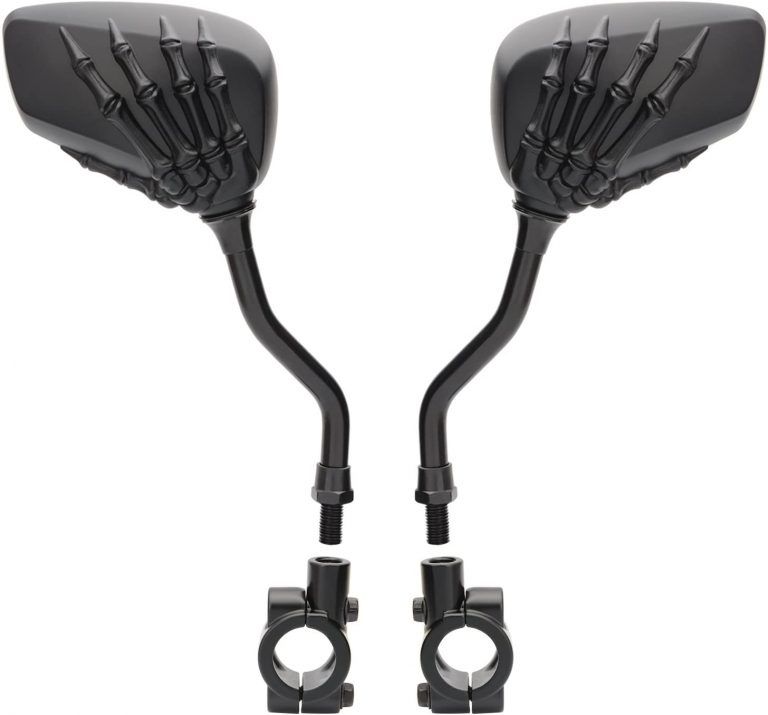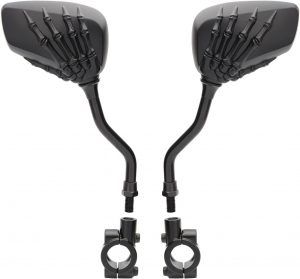 The TOPCABIN bicycle mirror is one of the best bike mirrors for your minibike.
It is very easy to adjust and fully adjustable up to 360 degrees. It's also just as easy to install. However, one con is it tends to get loose every now and then.
We recommend making sure that you retighten and refasten the screws regularly. This is to prevent it from getting loose and, in worse cases, falling out when you're on the road.
The bicycle mirror comes with a stainless steel long arm. This helps add much-improved coverage of your rear. It also fits on bike handlebars with measurements of anywhere between 21mm to 25mm.
In addition to the long arm that's made out of stainless steel, it also has an ABS plastic optical frame. The frame also has some aluminum alloy material thrown in it.
This is to help make sure that the mirror doesn't break easily when bumped.
The bike mirror is also backed by a 30-day refund for added peace of mind.
Pros:
30-day refund
Easy to adjust, even while riding
Long arm for extended rear view
Sold as a pair
Cons:
Not as adjustable as most would prefer
Feels cheap
Best Helmet Bike Mirror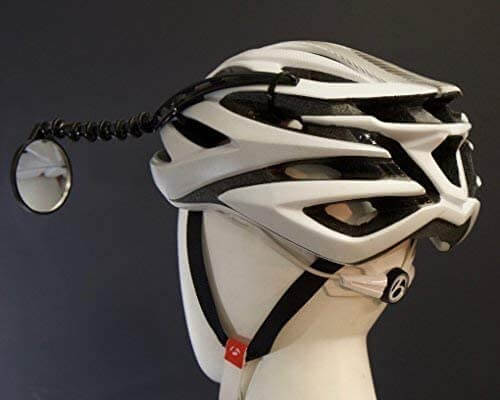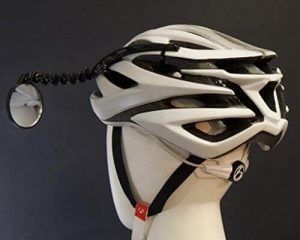 The EVT Safe Zone Bicycle Helmet Mirror is the only helmet mirror on our list. It might also be the best bike helmet mirror available today.
The mirror itself has a diagonal measurement of 2.25 inches. This isn't the largest, but it's more than enough to give users a good view of what's happening behind them.
The bike helmet mirror also has a near-universal fit. It just might be tricky to attach to bike helmets that have a visor.
Once attached to your helmet, this bike mirror will likely stay there until you remove it. It is also very easy to adjust. Even when riding, you won't have to take a long time to adjust it to your preferred viewing angle.
For added peace of mind, the Safe Zone is backed by a 5-year warranty by its manufacturers.
Pros:
Backed by a 5-year warranty
Minimal vibrations
Near universal helmet compatibility
Cons:
Can be tricky to mount with helmets that have few vents
Makes helmet look bulky
Best Eyeglass Mirror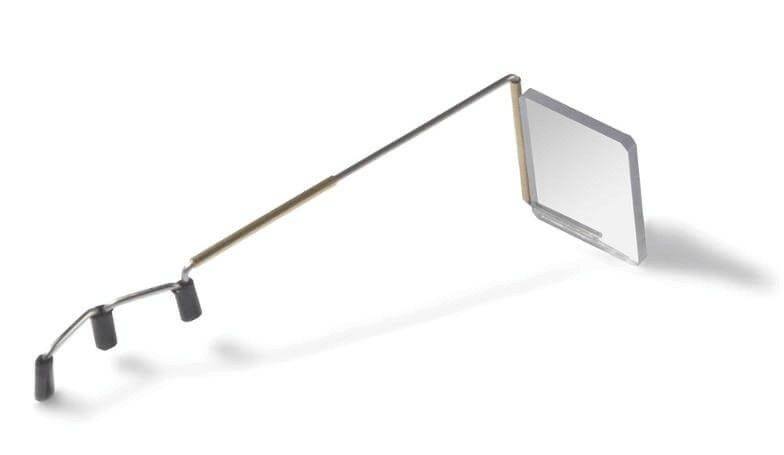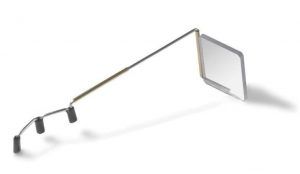 If this is your first time seeing this kind of bike mirror, you're not alone. Most people are unfamiliar with eyeglass mirrors. However, while the unusual design might look odd, it's surprisingly effective.
The Bike Peddler Eyeglass Mirror, in particular, can be mounted on both eyeglasses and helmets alike. You can also rotate it up to a 90-degree angle so you can find the best viewing angle on either side of your eyeglasses or helmet.
Also, because it has a three-point adjustment system, the attachment is secure with minimal vibrations if any at all.
The bike mirror is available in a "normal" and "compact" version. The former extends up to 85mm and the latter can extend up to 50mm. Their size dimensions are 28mm x 37mm and 20mm x 37mm, respectively.
We recommend the "compact" version if you plan on attaching it to your glasses since it's lighter and smaller. But, if you plan on mounting the bike mirror onto your helmet, the larger "normal" version is an excellent choice.
There is also the option to permanently mount the eyeglass mirror onto your helmet by drilling holes into it and using a strong adhesive.
Pros:
Very lightweight
Minimal vibrations
Attachable to bike helmets and glasses
Highly adjustable 3-pivot attachment system
Cons:
It takes a while to adjust to having a helmet- or glass-mounted bike mirror
Bike Mirror Buying Guide
To buy the best bike mirror, you need to know what to look for in a bike mirror first.
Here are a couple of factors that you'll want to consider when shopping for a bike mirror.
Bike Mirror Type
In general, there are four different types of bicycle mirrors, which are: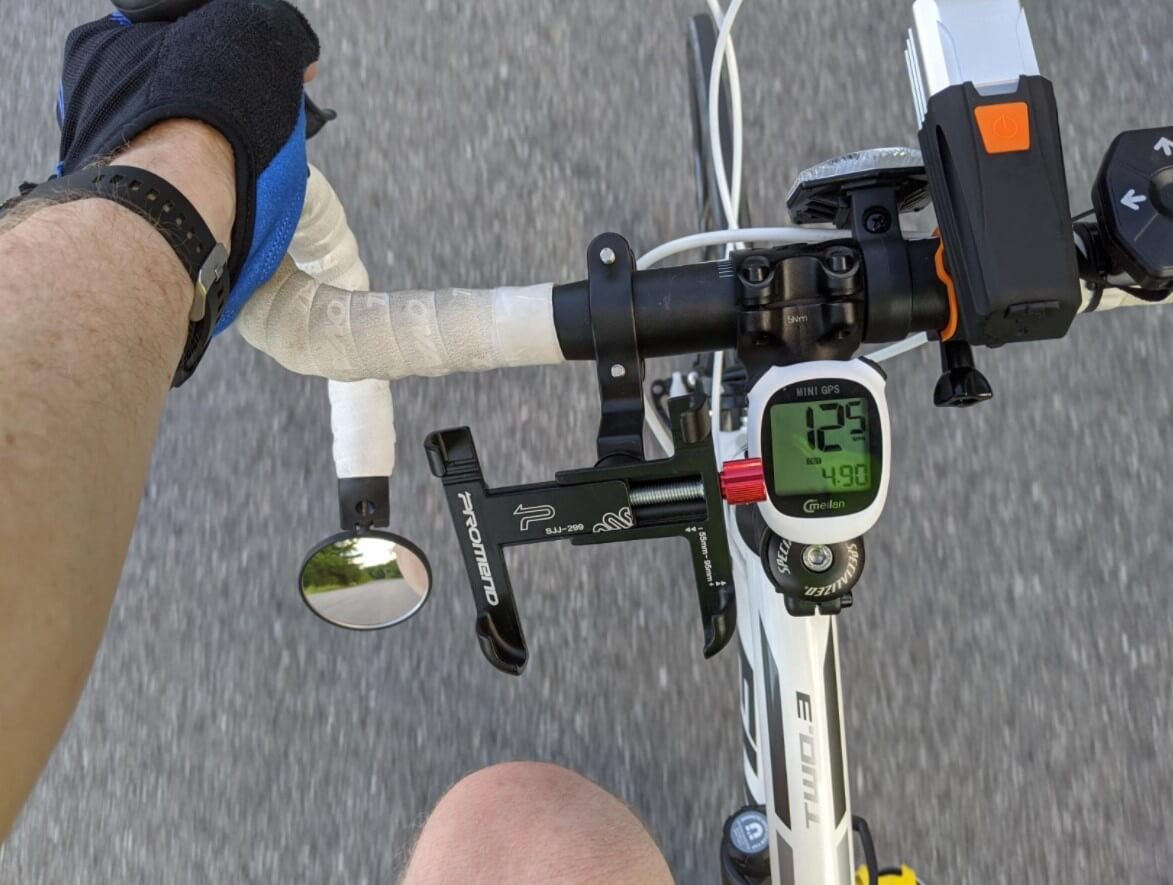 Bar-end bike mirrors mount directly onto the end of your bike's handlebar, hence, the name.
Bar-end bike mirrors provide an extensive view of your rear side. A common issue is that most models are prone to vibrating.
As the name suggests, handlebar bicycle mirrors mount onto the handlebar of your bike. In other cases, it mounts onto the frame of your bike.
They're great because most of them have convenient attachments. This makes them easy to install without needing a lot of additional tools if any at all.
Another added benefit of handlebar bike mirrors is their convenient placement. Because of this, you can easily check your rears while keeping your eyes firmly on the road.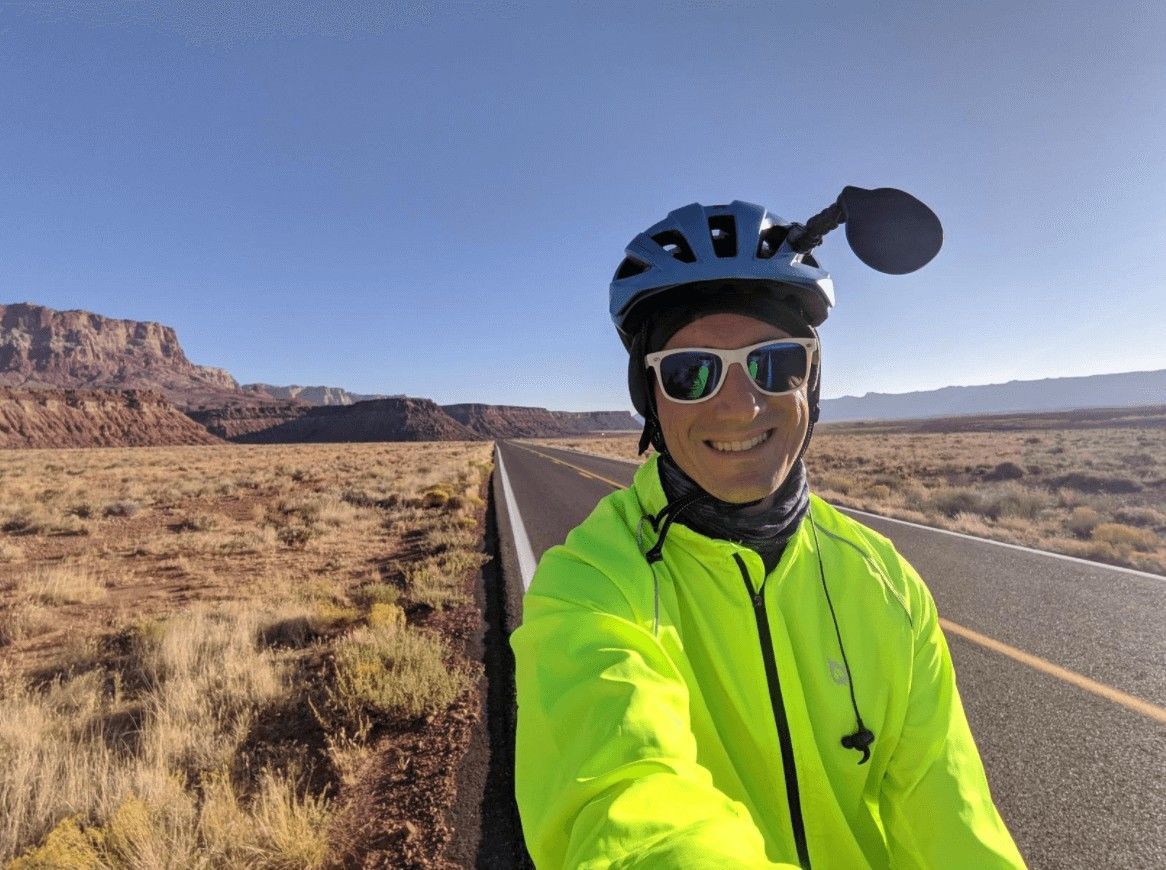 Helmet bike mirrors mount directly onto the visor of your bike helmet or even the helmet itself. Most come with adjustable poles that you can extend depending on your preferred viewing angle and are easy to attach to pretty much any bike helmet.
In terms of convenience and versatility, helmet bicycle mirrors are considered the best bike mirror.
The only problem is that the added weight of the helmet bike mirror can make long rides especially painful and hard to adjust to.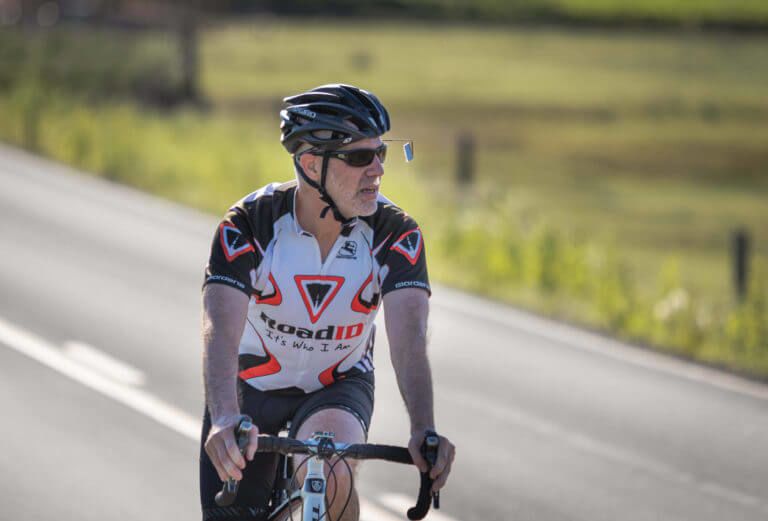 The eyeglass bike mirrors are perfect for those looking for a small and lightweight solution to their bike mirror needs.
In terms of safety, it's hard to beat a bike mirror that's at the same level as your eyeglasses. They are also very adjustable.
More importantly, they offer arguably the best viewing angles out of any type of bike mirror. Of course, they're not perfect.
In particular, wearing a helmet and/or baklava can get particularly tricky with an eyeglass bike mirror mounted onto your glasses.
Installment
In an ideal world, the best bike mirror is the easiest to install. However, it's important to keep in mind that, while a particular bike mirror might be easy to install, they might not be as stable or adjustable or might require constant adjustments or retightening.
The ideal bike mirror should be relatively easy to install. It also shouldn't require any additional tools. In fact, if possible, it should come shipped with the necessary tools for installation.
Size
Small bicycle mirrors won't let you see as much behind you. Worse still, you'll have to put in a lot of effort just to check your rear. This makes them counterproductive.
In worse cases, they might even be the reason for you to get into a road accident. On the other hand, larger mirrors can add unnecessary bulk to your bike without adding a wider view of what's behind you.
As a general rule of thumb, your bike mirror should be at least 2 inches in diameter.
Adjustability
The more adjustable a bike mirror is, the better. Ideally, you'll want a bike mirror that you can conveniently adjust even while you're riding.
Compatibility
Of course, you should also check if the bike mirror is compatible with your bike. The handlebar might be too thick in diameter for the bike mirror that you like, so it won't fit. It might also be too thin, but these cases are very rare.
The standard size of handlebars is anywhere around 22mm (flat bars) and 24mm (road or drop bars).
Conclusion
There are very few reasons why you shouldn't think of installing a bike mirror on your bicycle. Most of the time, it's all personal preference.
Then again, everyone wants to be safe. If safety is your priority, then you definitely should have the best bike mirror installed on your bike today.
If you were to ask us what bike mirror we'd recommend, we have two top recommendations. It'll either have to be the Hafny Handlebar Bike Mirror or the Hafny Bar End Bike Mirror.
Both are high-quality bike mirrors that are made out of sturdy but eco-friendly materials. The former, in particular, is fitted with anti-glare automotive-grade lenses for optimal clarity and field of view.
If safety is your main concern, the Bike Peddler Take A Look Cycling Eyeglass Mirror is for you. It provides the best viewing angles of your rear while biking. More importantly, you can also adjust it multiple ways for an even better view.
As great as it is, there is one great trade-off. It's that you'll have a noticeable bike mirror protruding out of your helmet mirrors or eyeglasses.
In the end, it doesn't matter what you choose. All our recommendations make for excellent purchases. Plus, the tips we gave you should come in handy. You'll now know how to choose a proper bike mirror based on proven factors.