Carrying bags while cycling is a great way to solve the lack of storage when using a bicycle.
This is why we recommend the IMBUK2 Classic Messenger Bag for those who commute via bikes to their office.
This messenger bag has everything a daily cycling commute bag should have. This includes everything from a side-entry pocket for convenient access without opening the flaps to a fully adjustable shoulder strap and removable crossbody strap. Of course, the padded insides for the more important stuff is already a given.
Read More:
Scroll down below to find out more about recommendations for the best bike messenger bag, as well as tips on how to choose the ideal bike courier bag.
Best Overall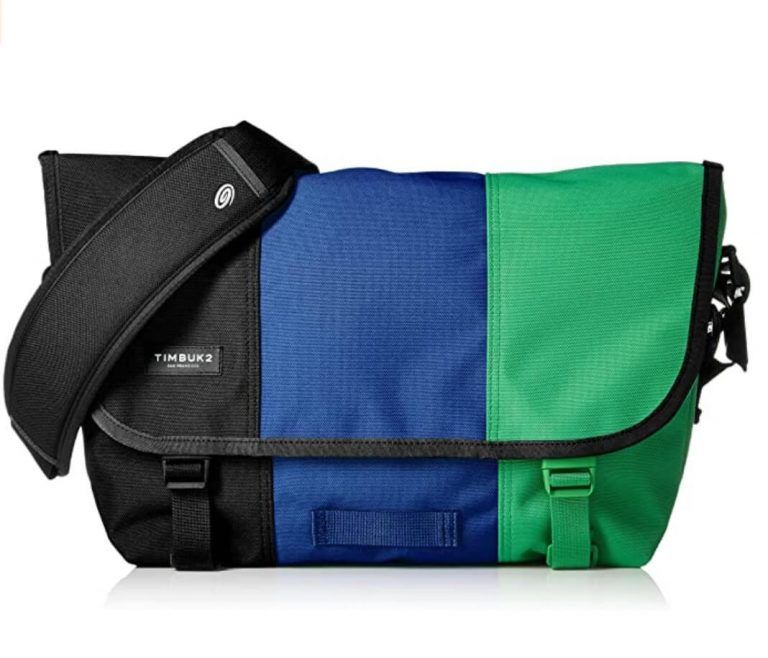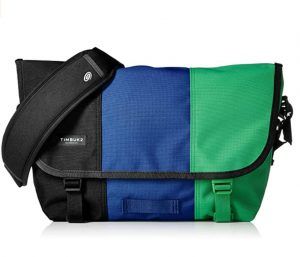 "If it ain't broke, don't fix it."
That's probably what Timbuk2 thought when they made the Classic Messenger Bag.
"Improved by 25 years of experience", or so they say, the Classic is the go cycling messenger bag for a lot of couriers. It's available in 4 different sizes, as well as a whopping 34 colors.
More importantly, it's got sufficient amounts of inner padding to help keep whatever you put inside safe and sound. At the same time, it's got enough pockets outside for convenient access.
The low-profile grab handle at the top makes for easier carrying. Meanwhile, it's designed to partially conceal the flap buckles.
As a result, it looks stylish and smart, with a loop placement helping reduce any sweater piling. Plus, for added safety, you can attach bike lights to the vista loop so other riders on the road can see you at night.
The main body of the Classic is made out of a rugged 150D poly tweed fabric with an easy-to-clean TPU material lining the insides.
It also has a shoulder strap that's fully adjustable. The air mesh strap pad then helps make the messenger bag much more comfortable to wear.
Pros:
Vista loops support bike lights
Easy to clean
Weatherproof
Backed by lifetime warranty
Cons:
Best For Those On a Budget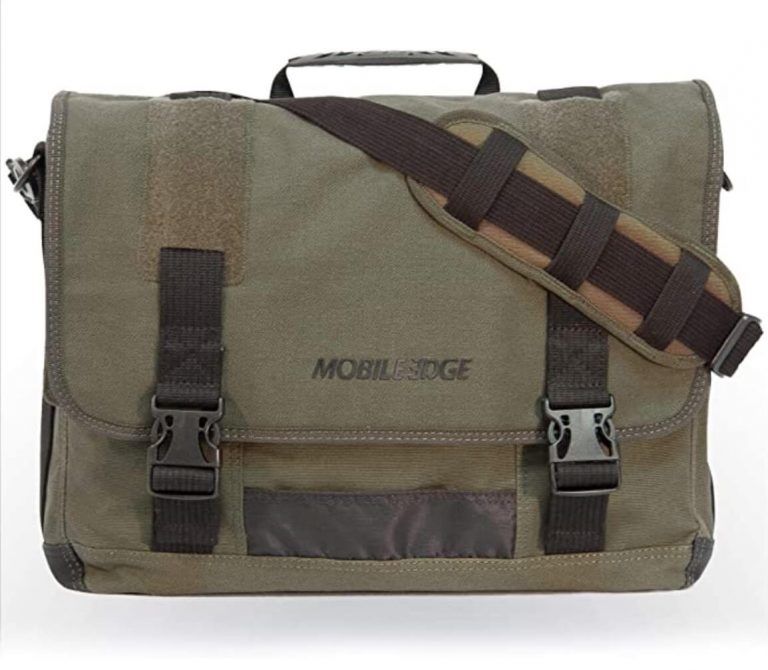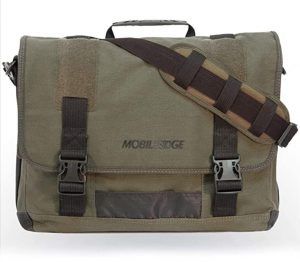 The Mobile Edge Laptop Eco Messenger Eco-Friendly is the best bike messenger bag for the budget-conscious.
This bike messenger bag costs less than half of what most bike messengers go for. Yet, it doesn't make that too many compromises. The all-natural cotton canvas feels premium to touch.
Meanwhile, the dedicated padded computer compartment is large enough to fit even 16-inch laptops. It even has a removable ID holder with a swiveling shoulder strap.
The integrated workstation is also a nifty organization tool. You can use this to keep your accessories organized.
For safe-keeping, this bike courier bag has rugged molded clips. This helps keep the front flap in its proper place for security.
Pros:
Made out of eco-friendly materials
Affordable
High-quality construction
Cons:
Carries awkwardly
Thin bottom padding
Best for Durability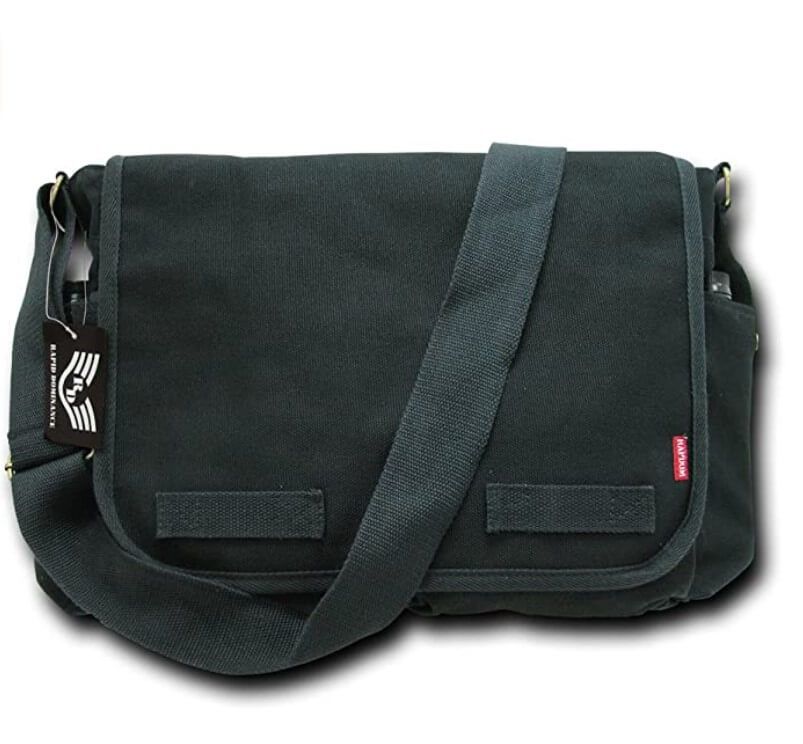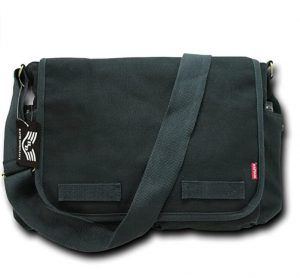 The Rapiddominance Classic Military Messenger Bag might not be a looker. However, it is built like a tank. Although that is an exaggeration, the fact that it's built up to military specifications proves that it's not your ordinary messenger bag.
The 100% cotton canvas material is backed by reinforced seams all over. Meanwhile, the 100% polyester lining guarantees that the insides are just as durable as the inside.
Speaking of the insides, it has a 16L capacity and comes with a total of 7 accessible pockets. This includes a front pocket for keys and MP3 players.
The 2-inch strap of this classic messenger bag is just wide enough for daily use and it's adjustable for added comfort.
Pros:
Built to meet military specifications
Cheap
Reinforced seam stitching
Large side pockets for water bottles and umbrellas
Cons:
No padding on the strap
Zipper quality is so-so
Best for Camera Storage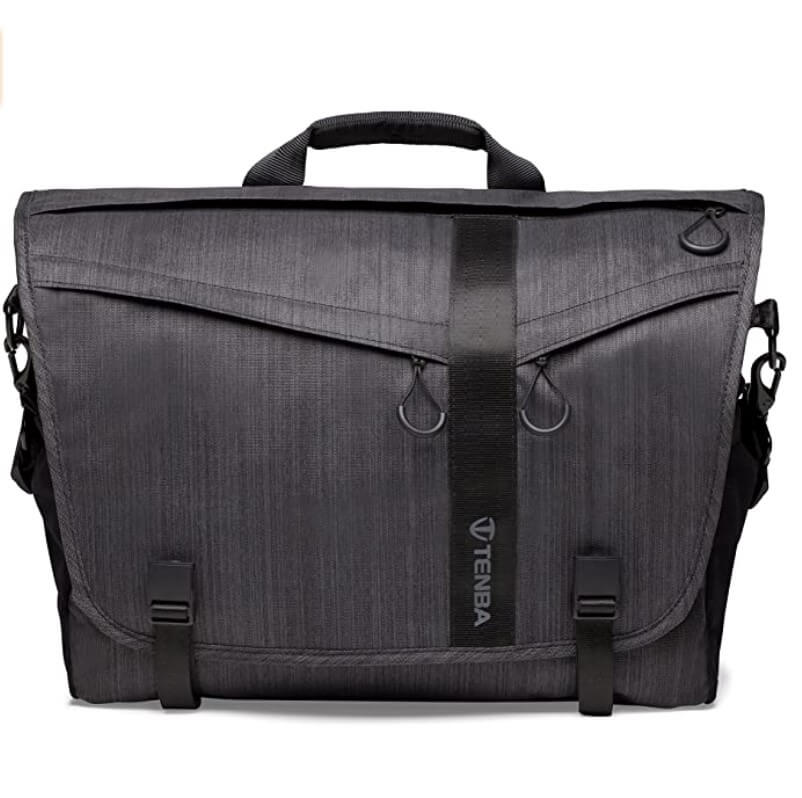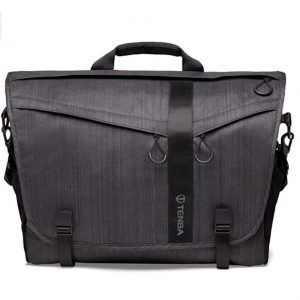 Everybody's riding a bike to work nowadays. This includes photographers and videographers. Unfortunately, most bike messenger bags don't come with enough protection for delicate photography equipment.
Enter, the Tenba Messenger DNA 15 Camera and Laptop Bag.
The DNA 15 was designed for professional photographers. It comes with enough space for an entire day's worth of shoots.
This includes a professional DSLR camera with additional accessories like flash, audio gear, and up to 3 lenses. It can even fit a full DSLR camera that has an attached 80-200mm 2.8 lens to it.
This messenger bag also has enough space for other gadgets. This includes two padded interior sleeves dedicated for a 15-inch laptop and a tablet.
For convenience, the DNA 15 features what's known as the patented Fidlock magnetic clips. These are designed for one-handy use. Even if you are wearing gloves or the bag is behind you, you can easily open the bag.
Also, when you're riding your bicycle, you have access to an adjustable security strap. Connecting this to the D-ring found on the rear can help anchor the bag in place. This way, it won't slide around when you're out on the road.
Last, but definitely not the least, the DNA 15 has excellent weatherproofing properties. The sewn hinge not only makes it easier to close, but it effectively seals the bag from water and moisture.
You also get a removable and reversible cover known as the WeatherWrap that can either reflect heat (silver side) or look cool (black side).
Pros:
Loads of pockets and storage options
Comfortable strap
Accessible top zipper department
Deep and wide inserts
Cons:
Expensive
Front pockets are unusually deep
Best for those Commuting to Work/School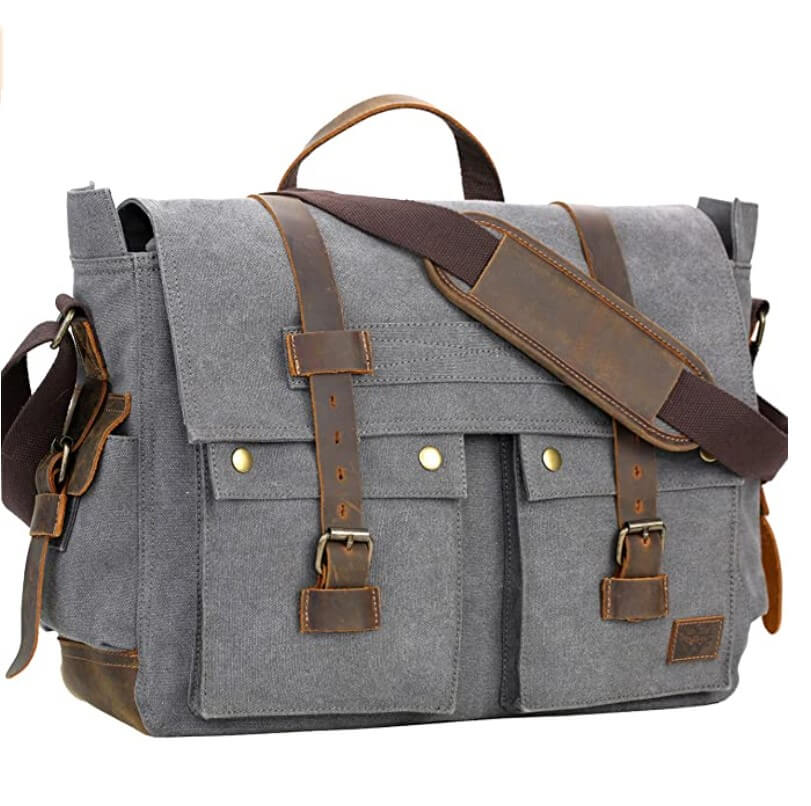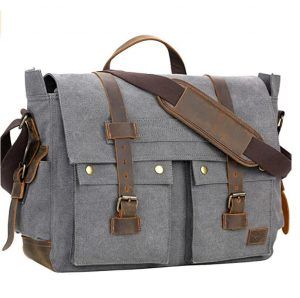 If you need enough space for up to a 17.3-inch laptop, then look no further than the WOWBOX Messenger Bag for Men.
Despite its relatively low asking price, this messenger bag is made out of high-quality materials. This includes a combination of genuine cowhide leather with canvas, stainless steel buckle, as well as SBS zippers.
This durability is extremely useful since this messenger bag can support laptops up to 17.3-inches.
To keep the laptops safe at all times, the laptop compartment comes with thicker anti-shock material.
Speaking of safety, the messenger has a full-size anti-theft zipper pocket in the rear with two accessible side pockets. The side pockets come with genuine leather flap and buckles. This allows you to organize and secure your stuff better.
In total, this bike messenger bag has 5 external pockets, 5 internal pockets, and a zipper compartment with a separate laptop compartment that's thicker and with its own velcro closure.
Pros:
Vintage aesthetics
Cavernous internal space
Looks expensive
Genuine leather material
Cons:
Buckles are just for show
Best for Crossbody/Over the Shoulder Bag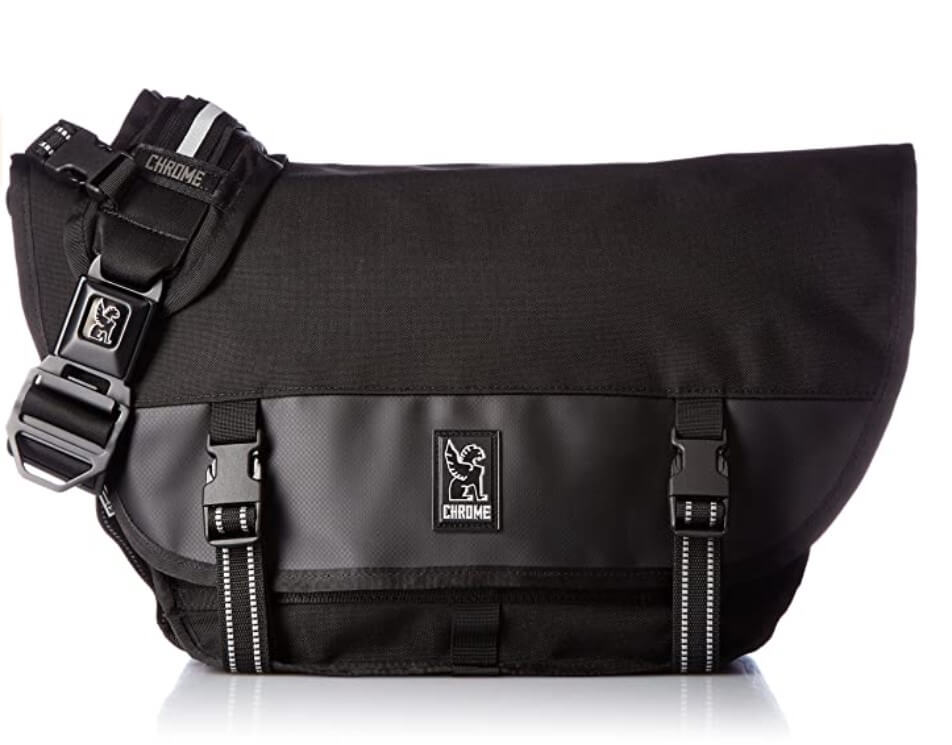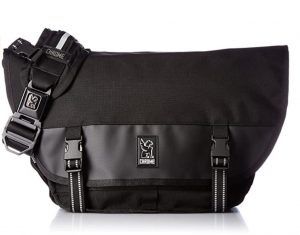 Professional messengers love the Chrome Industries Mini Metro Messenger for a good reason. One of the biggest ones is that it's very versatile.
You can wear it over the shoulder or across your body. This allows you to switch things up depending on your preference.
The now-iconic quick-release buckle of this messenger bag comes with a built-in bottle opener. It can fit laptops as big as 14 inches with ample protection.
This is thanks to the durable nylon shell material that's lined with a weatherproof tarp. You can also attach a carabiner to the daisy-chain or a bike light for added safety.
As a bonus, the shoulder strap has reflective strips. This allows other drivers on the road to see you better at night.
This is a useful feature for people who ride their bikes every day, especially at night.
Pros:
Convenient quick-release buckle
Waterproof fabric
Built-in bottle opener
Versatile
Top-notch durability and build quality
Cons:
Pricey
Won't fit laptops larger than 14 inches
Best for Camping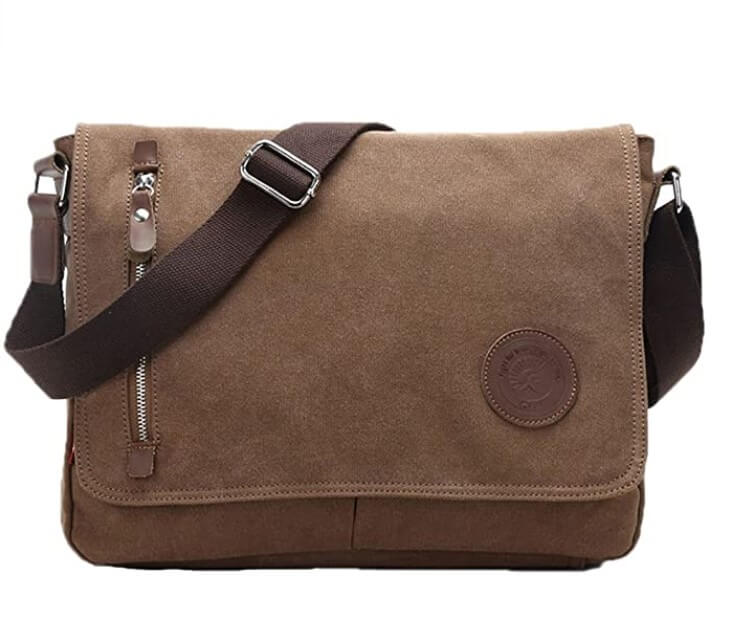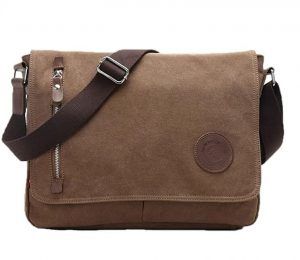 The Egoelife LB-BBPHF18 Canvas Satchel Messenger Bag is an ideal choice if you need a bicycle messenger bag for occasional use or short travels.
The build quality is excellent relative to its price. The cotton line works effectively to give the messenger bag ample protection.
It comes with numerous pockets for better organization and the 5-foot shoulder strap is easy to adjustable. You can also remove it if you want for some reason, although you can't exactly hand-carry the messenger bag.
So long as you don't plan on putting anything heavy or large, this bike messenger bag should do fine.
Pros:
Budget-friendly
Equipped with lots of pockets
Lightweight
Cons:
Not suitable for large and thick laptops
Best for Vintage Design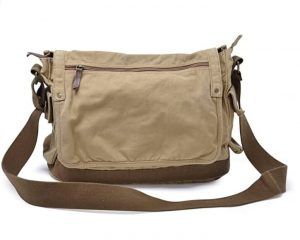 There's just something about vintage messenger bags that make them appealing to a lot of people. The only issue is that most vintage-looking messenger bags aren't really of high-quality.
Those that are made out of top-quality materials are far too expensive as well.
The Gootium Canvas Messenger Bags presents an excellent compromise.
Not too cheap, but not too expensive either, this heavy-duty messenger bag looks like it was made decades ago. But, at the same time, it benefits from modern design features.
This includes a secure main compartment that comes with a nylon hook and loop strap, as well as a zipper closure.
The large main compartment comes with tons of storage options. Perhaps the most important of all is that it can fit a 15.6-inch laptop or even an entire set of DSLR cameras. It's ideal for both work and play.
The excellent construction quality of this messenger bag is evident in how its made. In addition to the high-quality materials, the manufacturers paid close attention to the little things.
This includes a well-made zipper with a leather trim puller, as well as smoothly reinforced stress points and seams.
Pros:
Convenient side and back pockets
Spacious
Neutral vintage design
Reasonably priced
Cons:
Bike Messenger Bags Buying Guide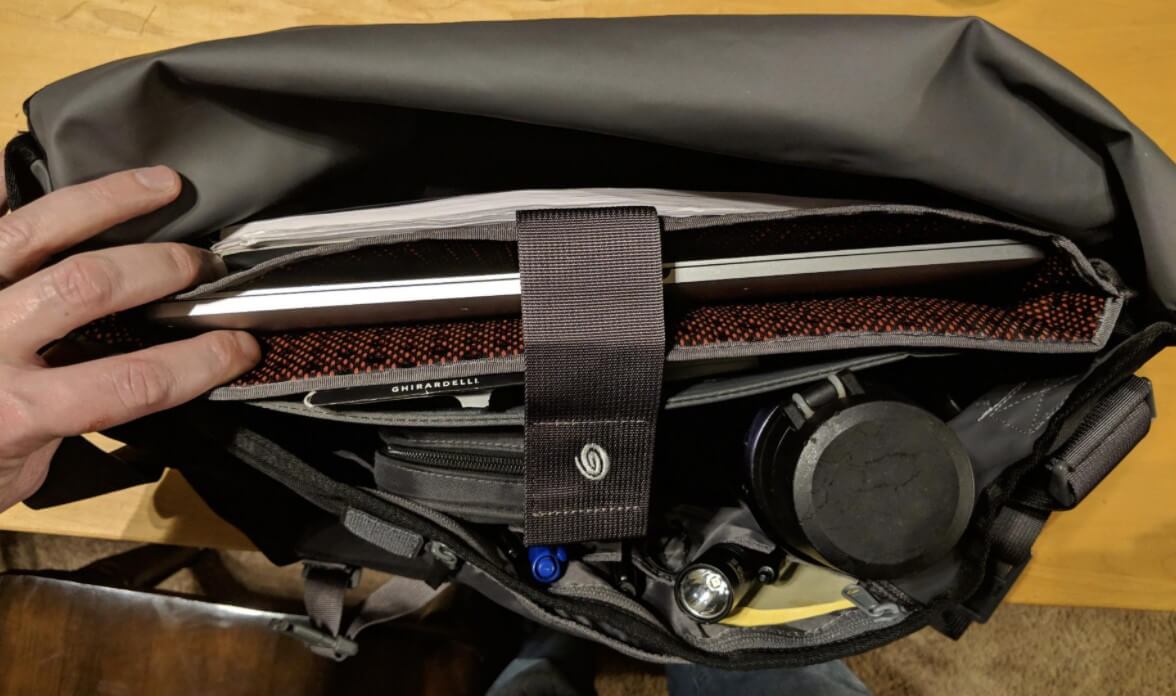 Larger bags can have a huge impact on your daily rides. Even if they're empty, the fact that they have more space usually means that they weigh significantly more. This can affect your mobility while on the bike.
So, unless you really need to carry a lot of stuff, make sure that you buy a messenger bag that's fit for your needs only. Otherwise, you'll just end up carrying additional and unnecessary weight.
It's always better to be safe than sorry. In this case, the best bike messenger bag is the one that is waterproof or weatherproof. Because, if the material used is not, then moisture can and will seep through, especially if it rains while you're out biking.
Also, for added safety, it's best that your bike messenger bag have reflectors on them.
Even if you already have reflectors on your bike or bike light, doubling up on safety never really hurt anyone.
The durability of a bike messenger bag is important. This is especially so if you ride a lot. Like, for example, you're a bike messenger, or your daily bike commute takes an hour or two.
In these cases, it's better to invest in a more expensive bike messenger bag with durable material. Also, if you're carrying valuables, a bike messenger bag with extra padding should come in handy.
Think about when and how you want to carry the bag with you.
Do you prefer something that looks good on you even when you're already spruced up in office attire while at your workplace? Or do you prefer something that's more functional?
Also, how will you wear the bike messenger bag? Do you plan on wearing it like a shoulder bag or like a crossbody bag?
These are all questions that you'll want to answer so you can choose the best bike messenger bag.
Conclusion
When it comes to bike messenger bags, the Timbuk2 Classic Messenger Bag is the best. It looks good enough to pass for an office messenger bag.
It's also built tough. It has a weather-resistant design to help keep all of your stored gear safe inside.
If your needs are more specific. Like, for example, you're a photographer or a videographer, then only the Tenba Messenger DNA 15 Camera and Laptop Bag will satisfy your needs.
However, for a more budget-friendly alternative, the Mobile Edge Laptop Eco Messenger Eco-Friendly isn't half-bad.
This eco-friendly messenger bag comes at an affordable price point. Yet, it doesn't compromise on quality and storage. In fact, it's on par with other more expensive messenger bags out there.
Perhaps more importantly, because it's made out of eco-friendly materials, you're helping save the environment with every purchase.
In the end, it doesn't matter which bike messenger bag we recommended you end up buying.
We made sure that every one of these is the best bike messenger bag for someone out there. In case you want to look for a bike seat bag, which is a very essential item for any rides, please check out this article.