These days, there are no shortages of bike thefts. When you least expect it, a simple whoop, and your bike is gone, costing you time and money to get a new one. Therefore reinforcing the security of your bike is extremely vital.
One of such accessories to make your bike safer is a bike alarm, which warns you of a potential petty thief. It is definitely a must-have.
If you are looking for a quick choice among the plenty of bike alarms, I would suggest the Wsdcam Alarm. It has the best overall statistics, you can freely customize how loud the alarm can be and how sensitive it is, besides it is cheap.
Now let's get into the bike alarm review, showing the best bike alarms around.
Best Overall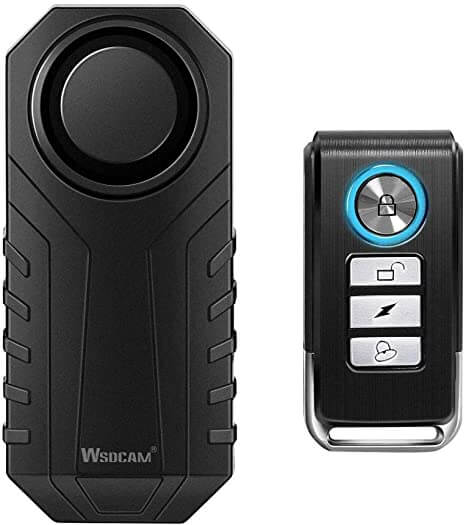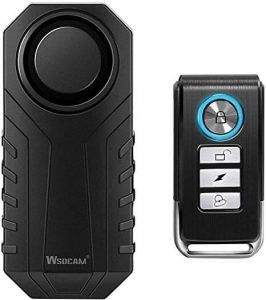 I can confidently say that this Wsdcam bike alarm is top-tier. You might be amazed at how many functions there are. It is not only suitable for bikes but many other vehicles and even doors, windows.
You can freely adjust how sensitive you want the alarm to be with 7 levels, how loud it can be with 3 levels and 6 different bell sounds that you can switch. On top of that, it is waterproof, fitting to be used outdoors, and great durability.
Furthermore, it can be controlled wirelessly by a remote, up to 66 feet. Straightforward installation with a double-sided sticker or tying it with a strap and if you do run into an accident, there's an SOS function to alarm people.
Pros:
Plentiful of awesome features, including an SOS function.

Loud alarm

Waterproof

Wireless control

Cheap
Cons:
Might malfunction sometimes
A Premium Upgrade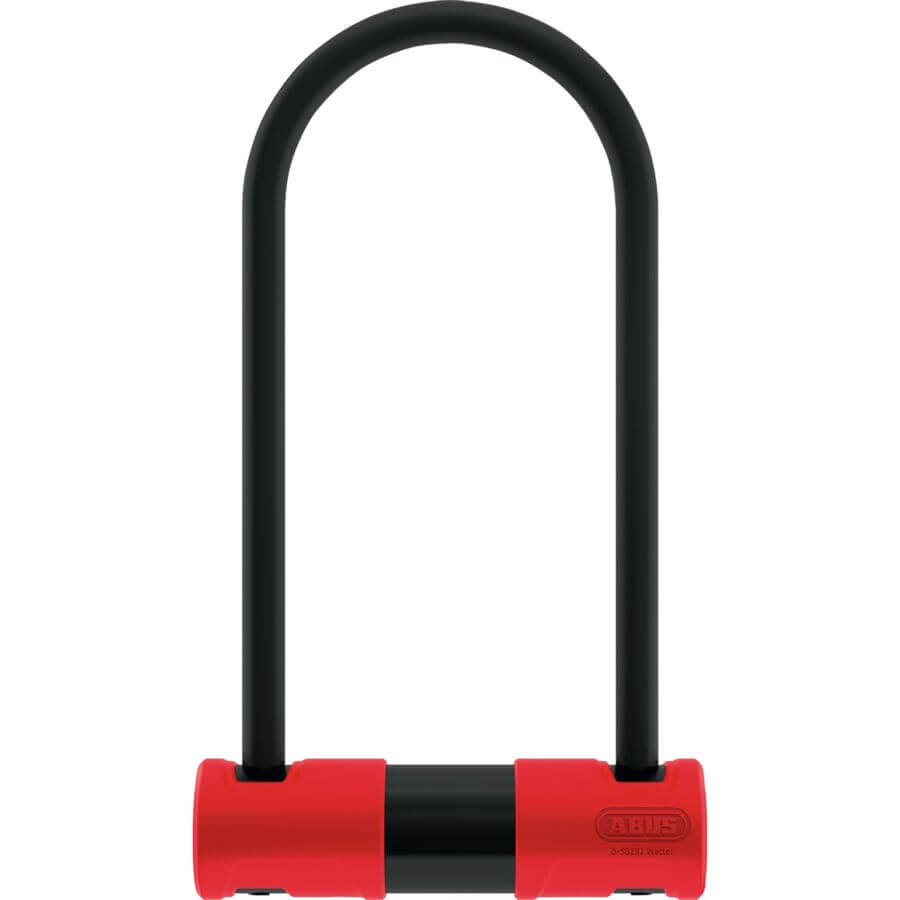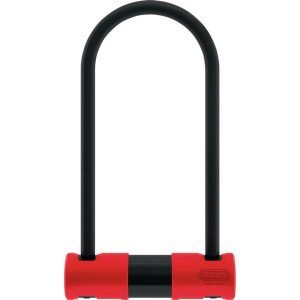 Up next, this bike alarm lock may look like a simple lock but the inside is what matters. The alarm has a U-lock design that can emit up to 100 dB (decibel) sound when it detects movements nearby.
Because of its hardened steel construction and modern lock cylinder design, Abus Alarm 440 U is utterly difficult to destroy and protects against lock-picking.
It is a premium bike security system, so obviously, the cost isn't so cheap.
Pros:
Loud alarm

Extremely hard to destroy

No lock-picking

Compact
Cons:
Best Disk Brake Bike Alarm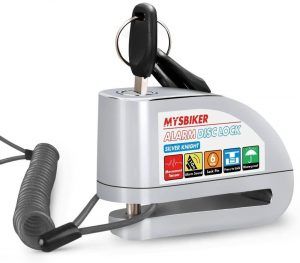 This Mysbiker bike alarm is a great investment if you are looking for a disk brake lock mechanism. It will be locked-on tightly to the disk brake, if there are any vibrations, it will give out a warning "beep" first. Then a continuous blaring 10-12 seconds "beeping" if messed with once more.
When you need it to stop, just use the key. It also has a reminder cable in case you forgot to remove it before riding.
And you don't have to worry about it being pried or destroyed, its durability is top-notched and is waterproof.
Pros:
Unique design

Loud beeping, up to 110 dB (decibels)

Very durable
Cons:
Very sensitive, might be annoying
Best Multi-Functions Bike Alarm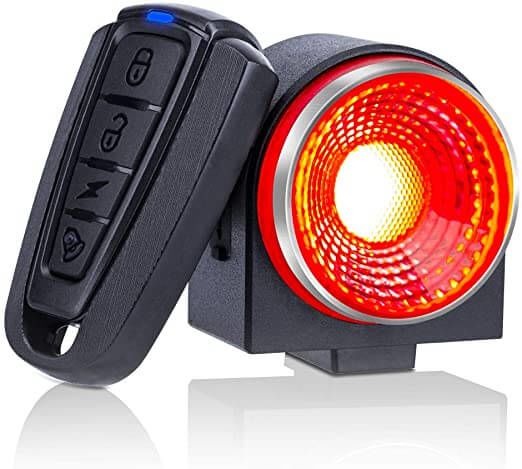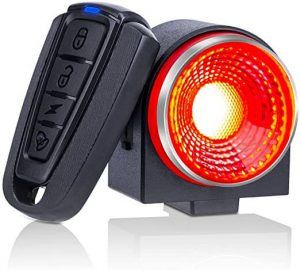 This best bicycle alarm not only has the purpose of alerting thefts but also as a safety accessory when you are riding.
It consists of a tail light COB Led that can make you visible for others on the road to see, especially riding at night. Not only that, when you brake, the light will automatically light up, amplifying your safety.
And when the alarm is triggered, it will also light up to draw people's attention with many different options of bright flashes too. A great utility!
Another great feature of Onivian is that you don't have to buy batteries to charge it. It can be charged through a USB port and can last for a very long time.
Pros:
Light feature that can be used in many different ways

Chargeable

Wireless

Easy to install
Cons:
Very sensitive

Slightly expensive
Most Durable Bike Alarm

This "behemoth" of a bike alarm is super sturdy and I mean it. Being made from 5mm steel bars which are specially hardened steel and resistant to corrosion, it will definitely be long-lasting. And no thieves will think of breaking or prying or picking it.
The soft-touch coating on the steel bars and silicone body give a great cover, protecting your bike's paint job.
Moreover, it provides a 100 dB (decibels) sound that surely will alarm the whole wide area around.
Pros:
Extremely durable

Great alarm sound

Very sturdy
Cons:
Utterly overpriced

Heavy and bulky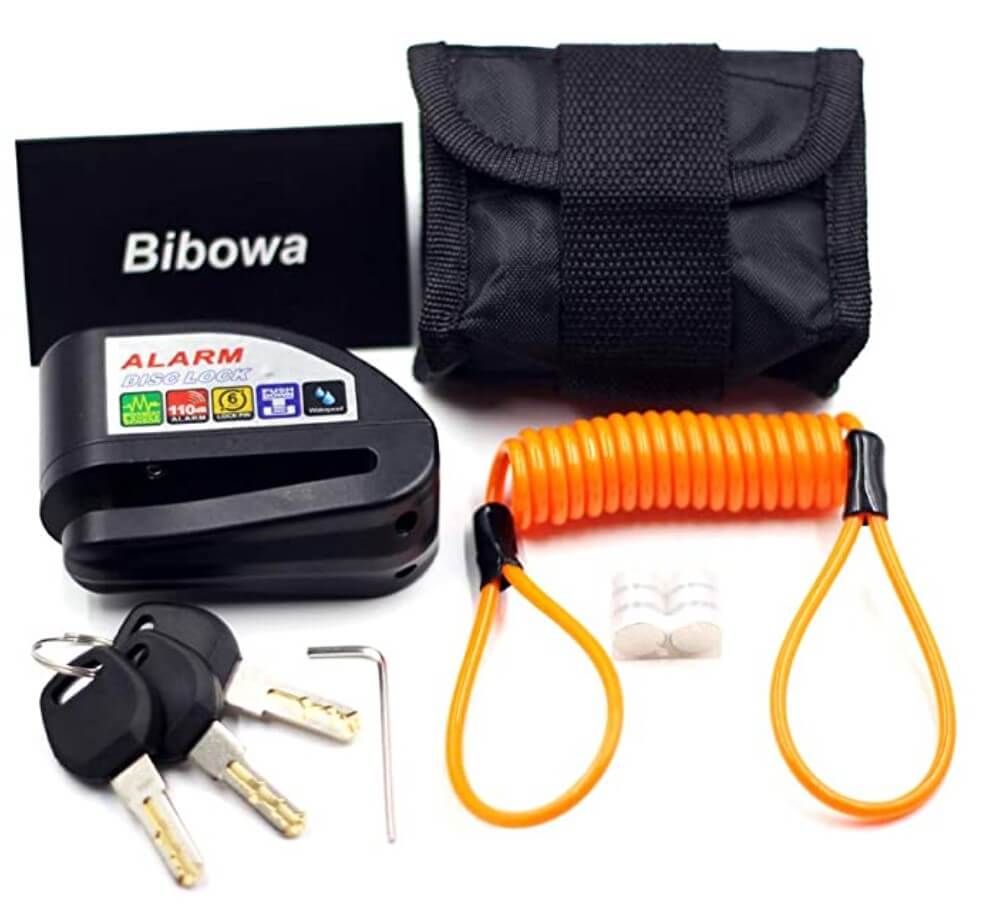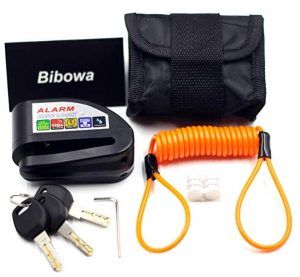 The Bibowa Disc Brake Lock is a rather simple disk brake lock but with its smaller pin diameter, it can fit into tinier vent holes. It does its job well by emitting a 110 dB (decibels) sound when there are any vibrations around.
The high-quality material that it was made from can resist cutting, sawing, chisel attacks, and corrosion. The best part is that it comes with a package of multiple tools, including a wrench, 3 lock keys, 12 Zinc batteries, a carrying pouch, and an orange reminder cable.
You can also choose which color you want with 5 options: black, green, yellow, red, and white.
Pros:
High-pitching alarm

Very durable

Comes with lots of tools when bought

5 colors option
Cons:
Slightly hard to install

Not actually waterproof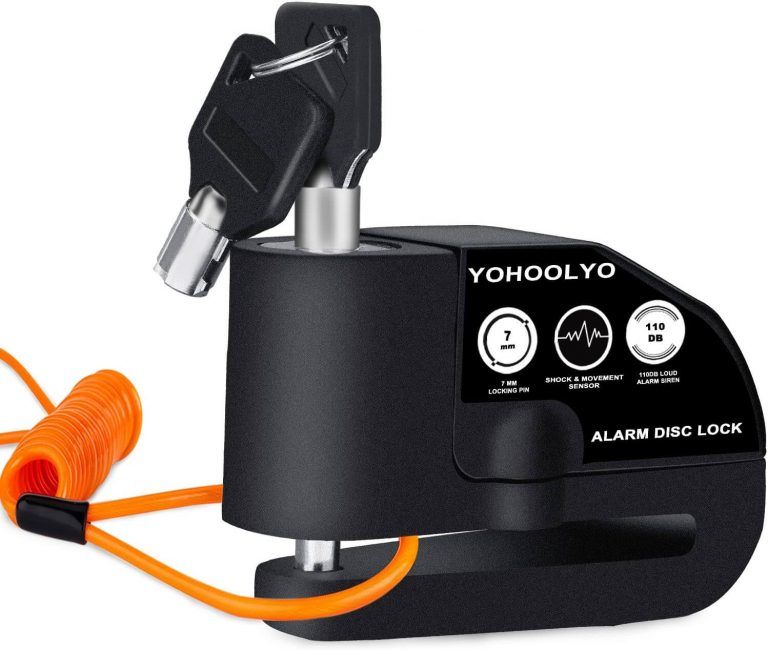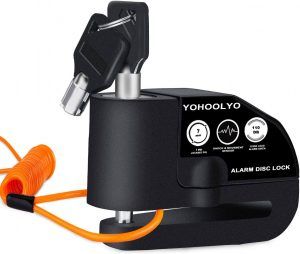 The first version of this bike alarm has a terrible bike security alarm and bike alarm locks, along with batteries dying so easily. But through many updates, it is now a fully-fledged and awesome bike alarm.
Just like many other bike alarms, it features a deafening sound when it senses any motions around. Being made from a much more high-quality metal,it can be resistant to harsh weather conditions, rust. And because of how hard it is, prevents thieves from breaking or prying it.
Pros:
Deafening alarm

Durable against grating weather conditions and rust

Remind cable
Cons:
Terrible if you bought the first version of it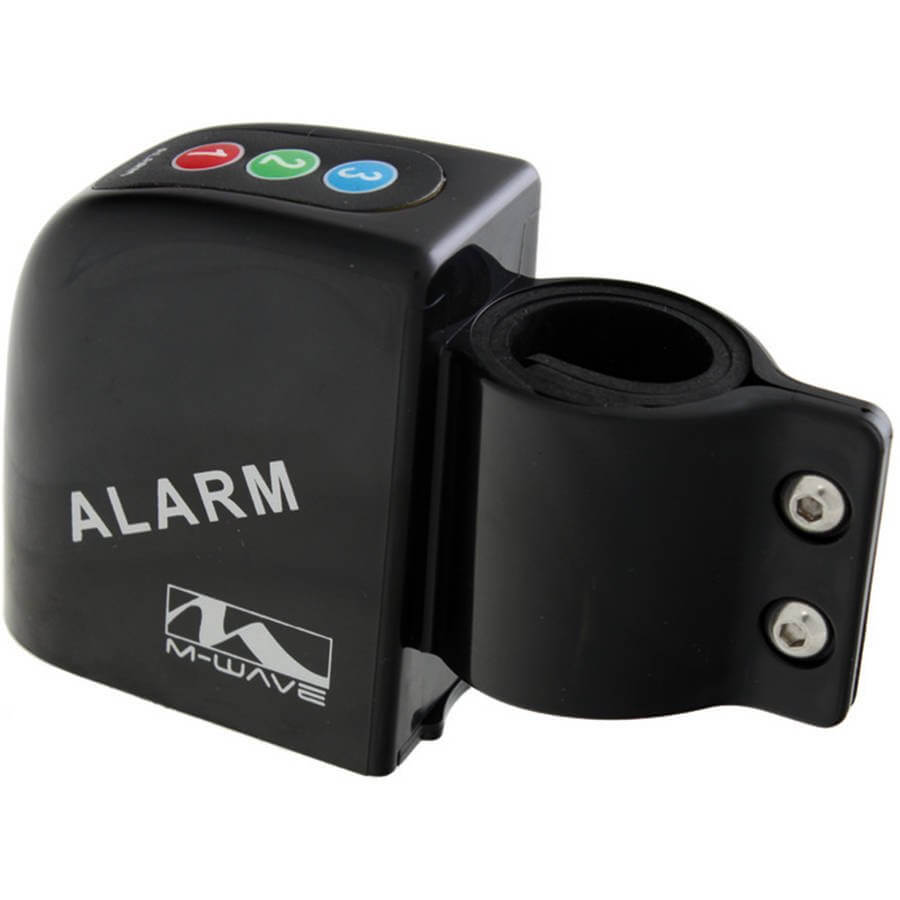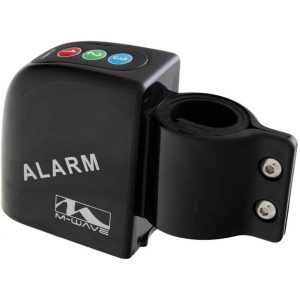 The Ventura Bicycle Alarm is a simple piece of bike alarm, despite not having any unique features, it still delivers excellent performance in preventing thieves.
You can freely adjust how sensitive the motion sensors you want to be with 3 levels, great if you don't want it to be annoyingly sensitive. It also comes with an adjustable mounting bracket.
Pros:
Simple but effective bicycle alarm

Adjustable sensitivity

Comes with mounting bracket
Cons:
Best Concealed Bike Alarm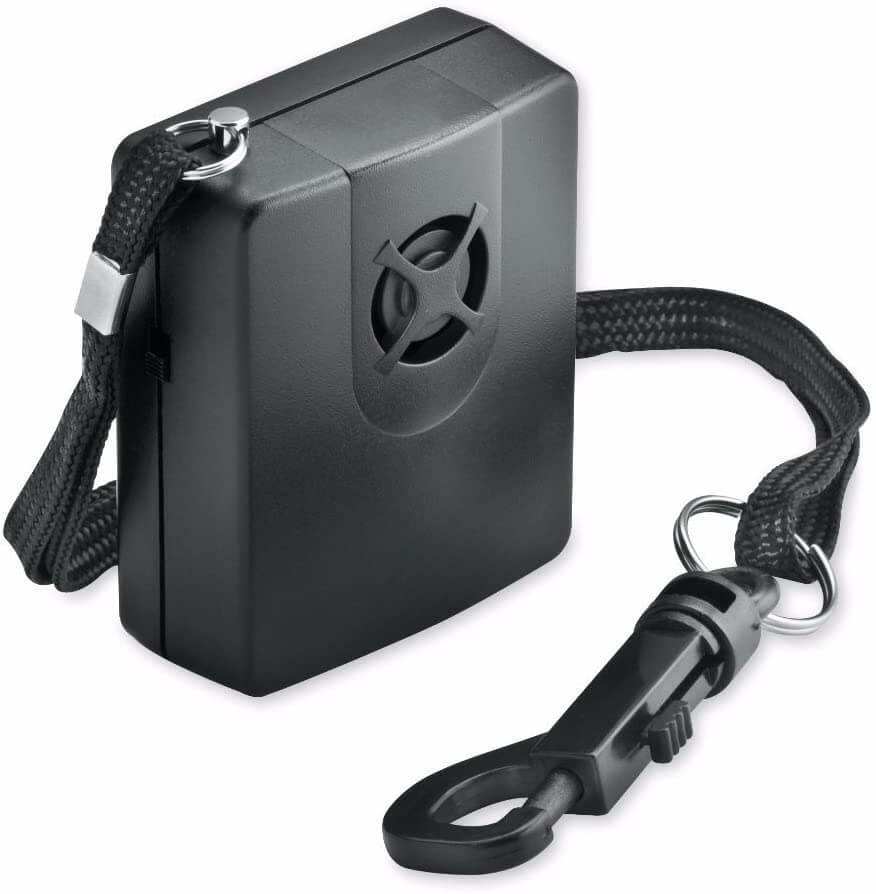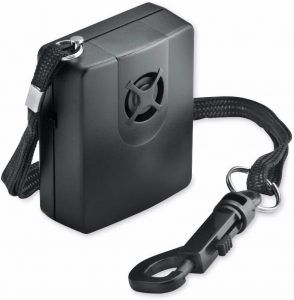 What's unique about the Dowco Guardian bike alarm is that besides attaching it to any parts of your bike, it will be hidden and concealed inside sewn-in pockets or tethers. Meaning, the thieves wouldn't notice the alarm and the bike seems unsecured. This way, the thieves will be struck when they least expected.
With an astounding 130 dB (decibels) sound, it will surely alert the whole place around it. On top of that, it is so easy to install with no special wiring or tools.
Pros:
Unique design

130 dB ear-piercing alarm

Easy to install

Works on a 9V battery
Cons:
No sorts of reminding to remove before riding

Low durability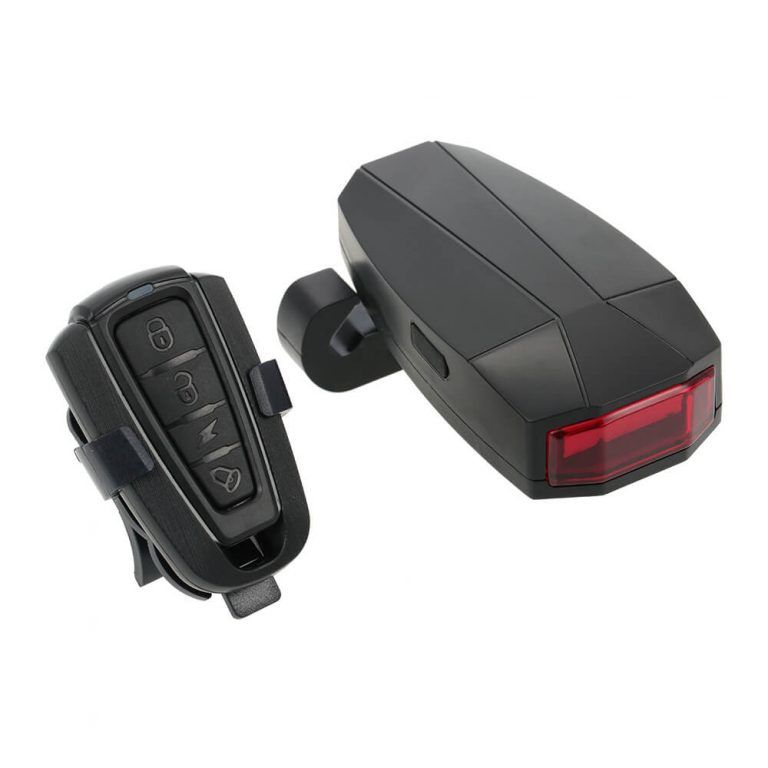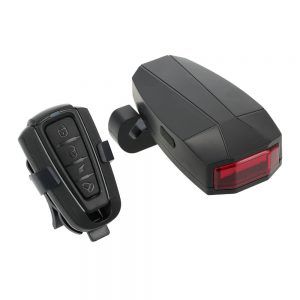 You can say this is the little brother to the Onvian 2 In 1. The eccentric take on having a tail light as a bike alarm is great. You can keep yourself safe and secure while riding as your bike.
This bike alarm features a remote control that you can control up to 4 functions, including a flashing light so that you can find your bike easily. And the roaring sound it makes goes up to 120 dB (decibels). Furthermore, the taillight has three modes: flash, slow, and normal so you can customize how you want it to be.
With that, you can charge it using a USB cable, no need to waste money to buy extra batteries.
Pros:
Loud alarm

Taillight can help you find your bike and makes it safer to ride at night

Chargeable

Very durable
Cons:
What To Consider When Buying A Bike Alarm?
Alright, if you are still skeptical about what bike alarm to buy after our top 10 list, this buying guide will show you the vital factors that you should consider in order to pick the best bike alarm for your personal taste.
Area
Based on where you live, you can choose to buy simple and normal bike alarms that tend to be cheap. Which are good choices if you are living in a low crime rate area or your anxiety about thieves is minimal.
Or more expensive choices that can have multiple cool features, way more durable if your area is populated with crimes, or you have to leave your bike unwatched for a long while.
I would say try the Wsdcam Alarm. It has plenty of features and well-made despite being surprisingly affordable.
Compatibility
Check carefully how the bike alarm can be attached and where to attach it. This is a less concerning factor as most of the bike alarms these days are easy to install and use. But still, it is still better to spend more time being cautious than wasting money.
Style and Design
There are many designs when it comes to bike alarms, some even do more than just alerting thieves. And if you are looking for a style that you prefer, it won't be difficult to find the right one as there are dozens of styles that will surely be the right one for you.
FAQ
1. What is a bike alarm?
Well, a bike alarm is a piece of accessory that keeps your bike way safer and more secure from thieves. It emits a high-pitched sound that alerts the owner and perhaps people around there These systems can be installed on any part of your bike, most particularly the frame to detect motion or vibrations easier.
2. Why do you need to install a bike alarm system?
Obviously for the safety and security of your bikes from being stolen. There are some bike alarms that can do more than just alarming you of thieves. They can be in the form of locks, or a taillight too.
And they are quite cheap to get, depending on the quality so it is best to install one if you are scared of having your bike being stolen or you live in a location where crime rate is high.
3. How do bike alarms work?
They detect any motions or vibrations nearby. If people come to touch the bike, it produces a loud noise to alert the owner and the bystanders of a potential thief. Like I said, they can come in other designs, having more purposes than just an alarm.
In A Nutshell
When it comes to the best of the best bike alarms there are, the Wsdcam Alarm will definitely be the best choice. You will be stupefied by how great this thing can be with its awesome customizable possibility. And it's cheap too.
If that is not your favorite style and design then the Onvian 2 In 1 is a second top option. Providing safety to yourself when riding and security to your bike just like in the name.