Since the day bicycles were invented in Europe, people have developed a bunch of bike types servicing in daily life and recreation as well. A good bike is a good combination of each components.
In this editorial, we concentrate on the best 3 speed bikes. Those use internal hub gears to provide three gear ratios. Accordingly, we have listed the 4 best 3-speed city bike and 6 best 3-speed cruiser bike. This is to provide you a stress-free and clearer approach for the one you need.
Come first to our choice is Priority Classic Plus. The 3-speed City bike comes from Priority brand which is much easier to control for its super lightweight and other prominent characters as we describe below.
Read More:
Here below is a list of 10 best 3-speed bikes that you can buy today
Best City Bike
Best Overall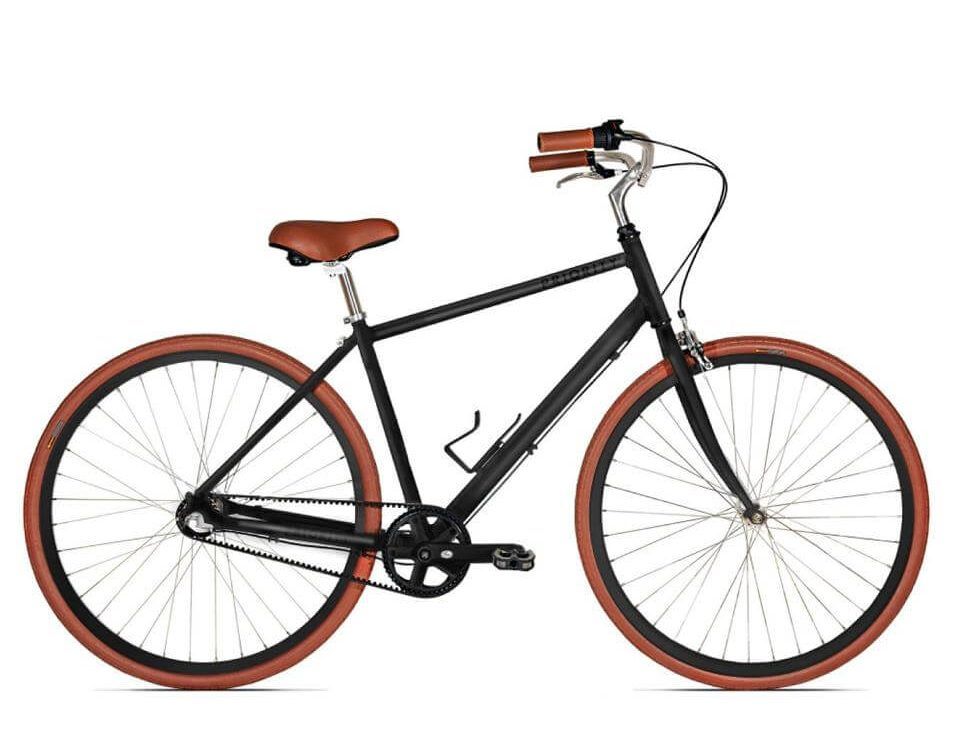 Priority Classic Plus releases you from the worry of maintenance for its Ultralight Rust proof Aluminum Frame and Free Gates Carbon Belt Drive. This belt drivetrain lightens your pedaling up the wind resistance.
The bike integrates both front hand and rear coaster brake. This means it is very convenient for you to handle every situation on the road. Sometimes you have to answer the phone while driving and at that time, foot brake comes into play.
There are two bike styles for Priority Classic Plus. If you find a diamond frame is harder for you to get on and off, then the step-though is available for you. You will also be satisfied with the elegant color options which are Matte black, gross blue and gross white.
Pros:
Ultralight
Suitable for both genders
Wide range of color
Cons:
Runner up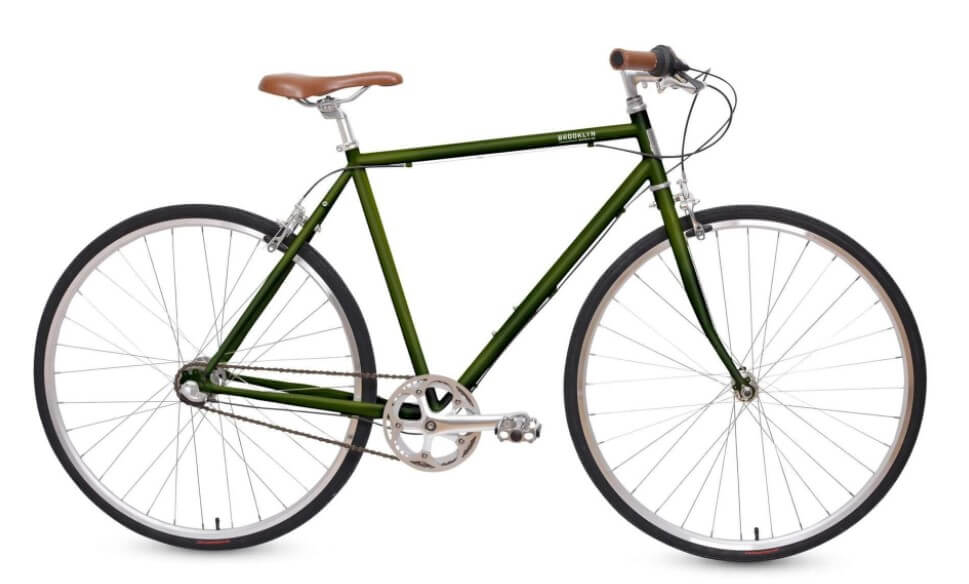 Bedford 3 speed is a second good choice if you favor the classic diamond frame style. With 3 clean colors of matte black, army green, and silver, the bike brings you a sleekly masculine outlook.
An economical bike but adapts to all your high demands is the answer from Bedford 3 Speed. Regarding technical terms, the bike equips durable steel frame and puncture-resistant tires and most importantly, the internal gear hub.
All of them allow you to enjoy a smoother, more reliable, and more comfortable ride: Cruising, commuting, or racing. Simple but meticulous designs are all compliments the bike got.
Pros:
Masculine sporty style
Lightweight
Simple shifting
Cons:
Only diamond frame
No rear rack
Best Sport Bicycle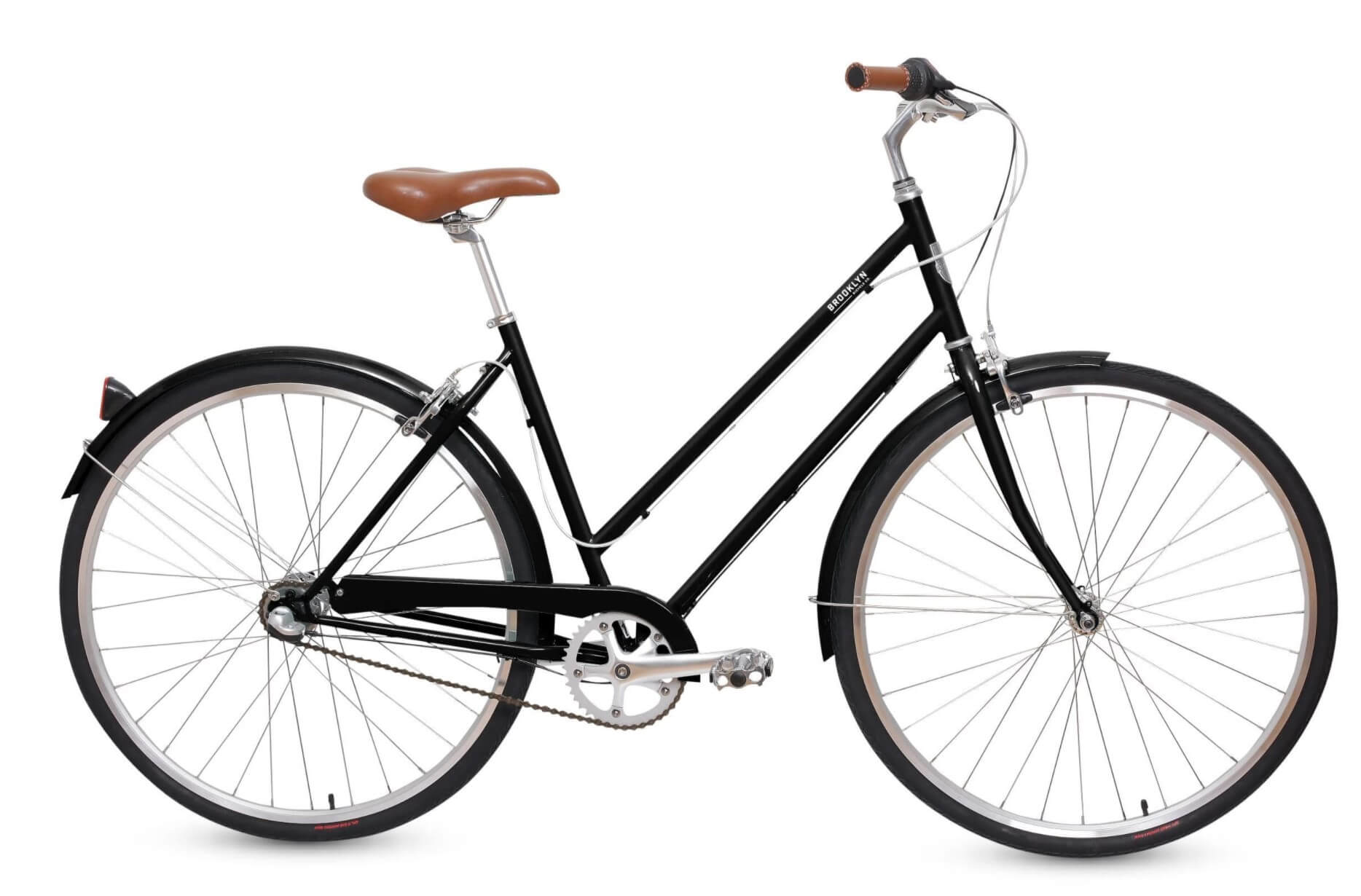 You can find at Franklin 3 speed another version of Brooklyn Bedford for step-through frame bikes. The two color options of ivory and gross black which suit both genders are very eye-catching.
The bike also got a lot of positive comments for its high quality as its Bedford counterpart. Name some features such as a 3-speed internally geared hub, puncture-resistant tires, and vegan leather saddle.
Brooklyn is a stylish and well-built brand bike. That brings you a lightweight, simple, and comfortable ride. For the riders who often have the hill riding, the bike allows you to enjoy cycling with the feeling of no problem.
Pros:
Easy assembly
Feminine style
Cons:
No rear rack, no mud guard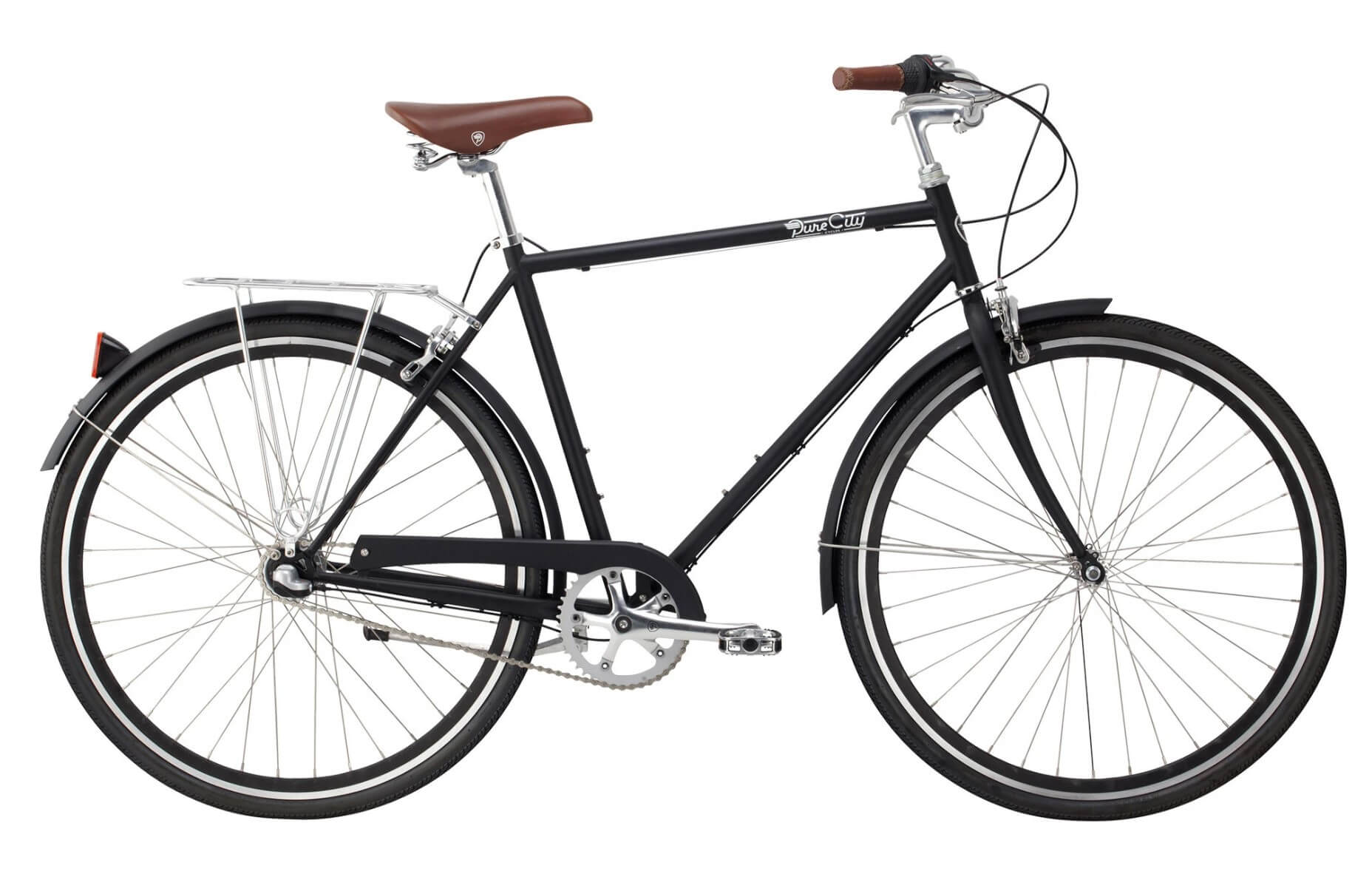 The next recommendation for a city bike is Pure City Classic Bike. This pedal-driven vehicle has a simple but firm fabrication. With a diamond Hi-ten Steel frame and two masculine color options, the bike may be preferred by males.
With a weight of 30 lbs for 54 centimeters in length, Pure City Classic is rather light and easy to carry on the subway. Riding around the city, touring is as easy and simple as the way that you assemble the bike.
Other necessary includes a luggage carrier of water bottle screws, kickstand are ready for you. In addition, the chain guard protects your body from dust, mud, grime. The alloy riser handlebar, Shimano Nexus Revo-3 shifters, and 3- speed internal will bring you a buzzy feeling while enjoying your ride.
Pros:
Included rear rack, mud guard, lights
Lifetime frame warranty + one year components warranty
Cons:
Difficult for female to step on and off
Best Cruiser Bike
Best Cruiser Bike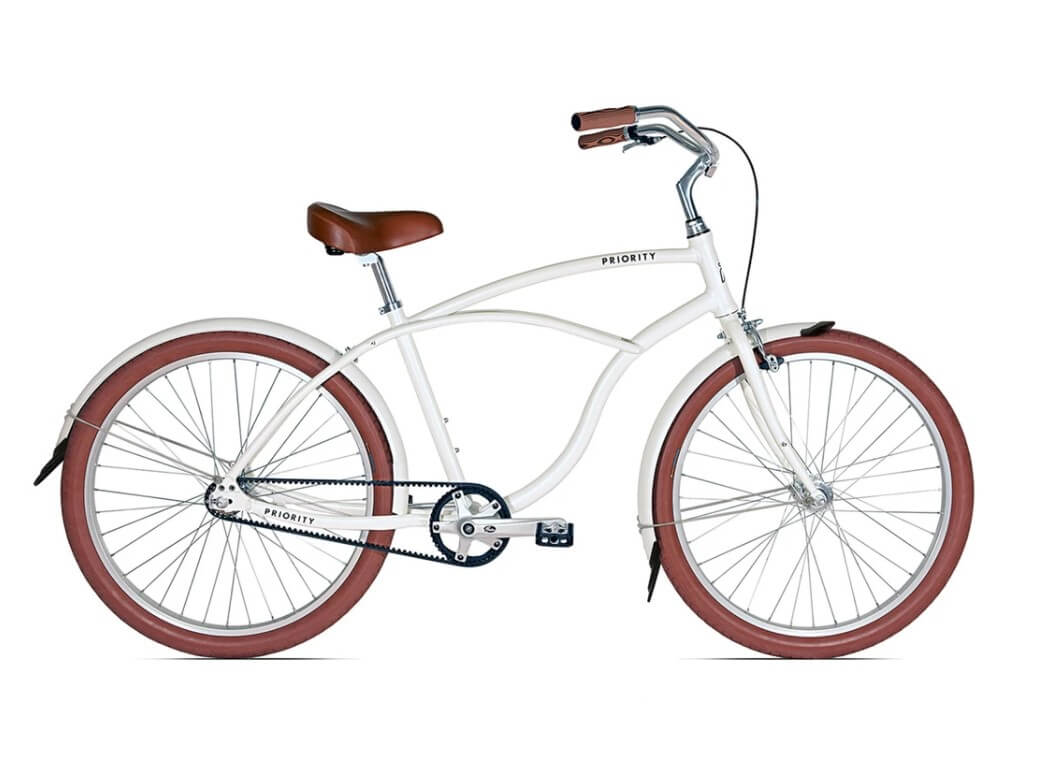 Most cruiser bikes, in terms of utilization, look like hybrid bikes. In which they have a comfortable, upright riding position but they serve a more recreational purpose.Priority Coast is extremely safe because it is designed, tested, in coastal climates.
That's why Priority Coast sustains the especially rugged condition of salt, sand, and water at the beach. Examples of this are Gates Carbon Drive Belt and rustproof frame and fork, combined with sealed bearings.
There are also fresh and youthful colors and bike styles that open your choice. The system of coaster rear brake, front hand brake, and a double kickstand to secure your ride as well as deal with sudden stops.
Pros:
Eye-catching color
Convenient for both genders
Lightweight aluminum frame
Cons: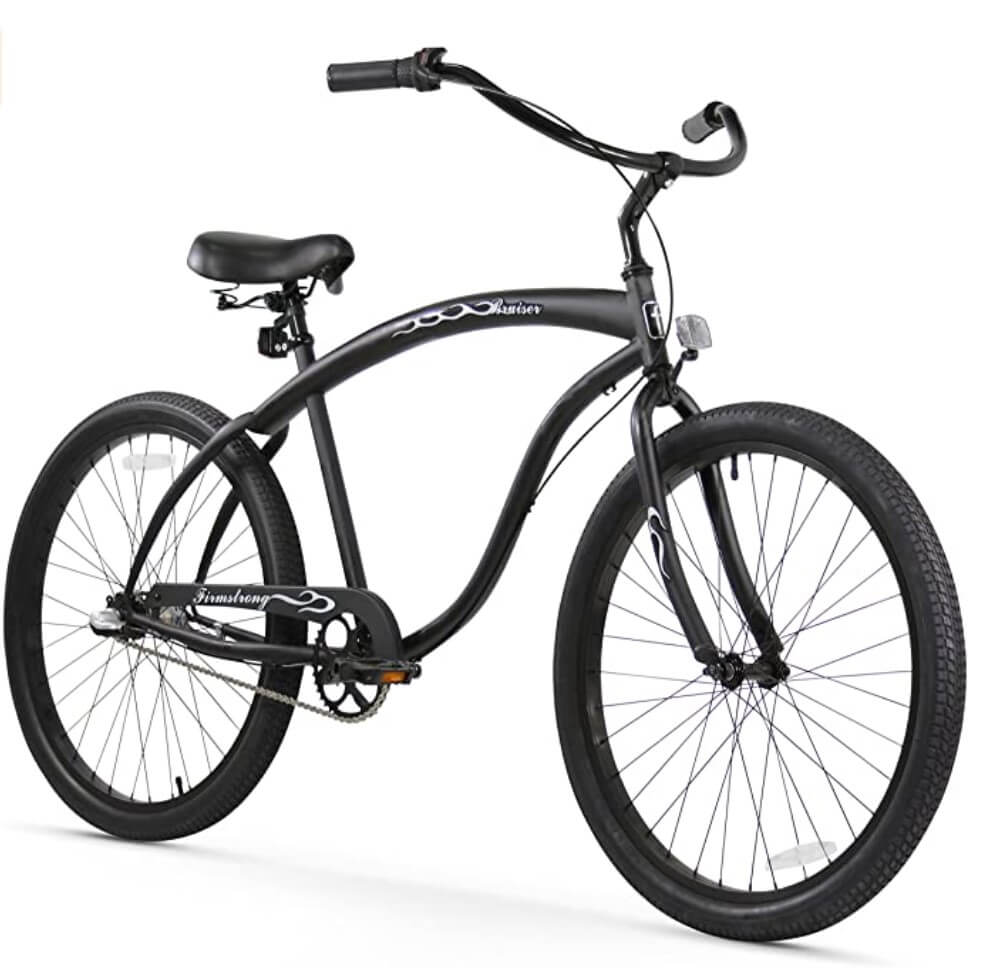 As its name, this recreational human-powered means of transportation has a simple and firm appearance. You can see thoroughly in the design of the thick top tube and extended steel frame which comfort your right sitting position. Because they broaden your arm extension.
The wheel size is 26 inches which fit well with the men from 5'4'' to 6'4''. With the Stitched synthetic grips and comfort cruiser saddle, the bike is perfect for exercise and commuting. Moreover 2.125-inch black tires certain your smooth with its weight of only 43 pounds.
The package comes with 80% assembly and it takes you only 20 minutes for completion. The bike gets 5 stars for its breezing shifting and beautiful color of frame, rims, and fenders. Not only easy to adapt short-distance errands, but Firmstrong Cruiser also works well with the hard-packed trails.
Pros:
Included lamps and chain guard
Oversized seat
Modern style
Cons:
Limited color for choosing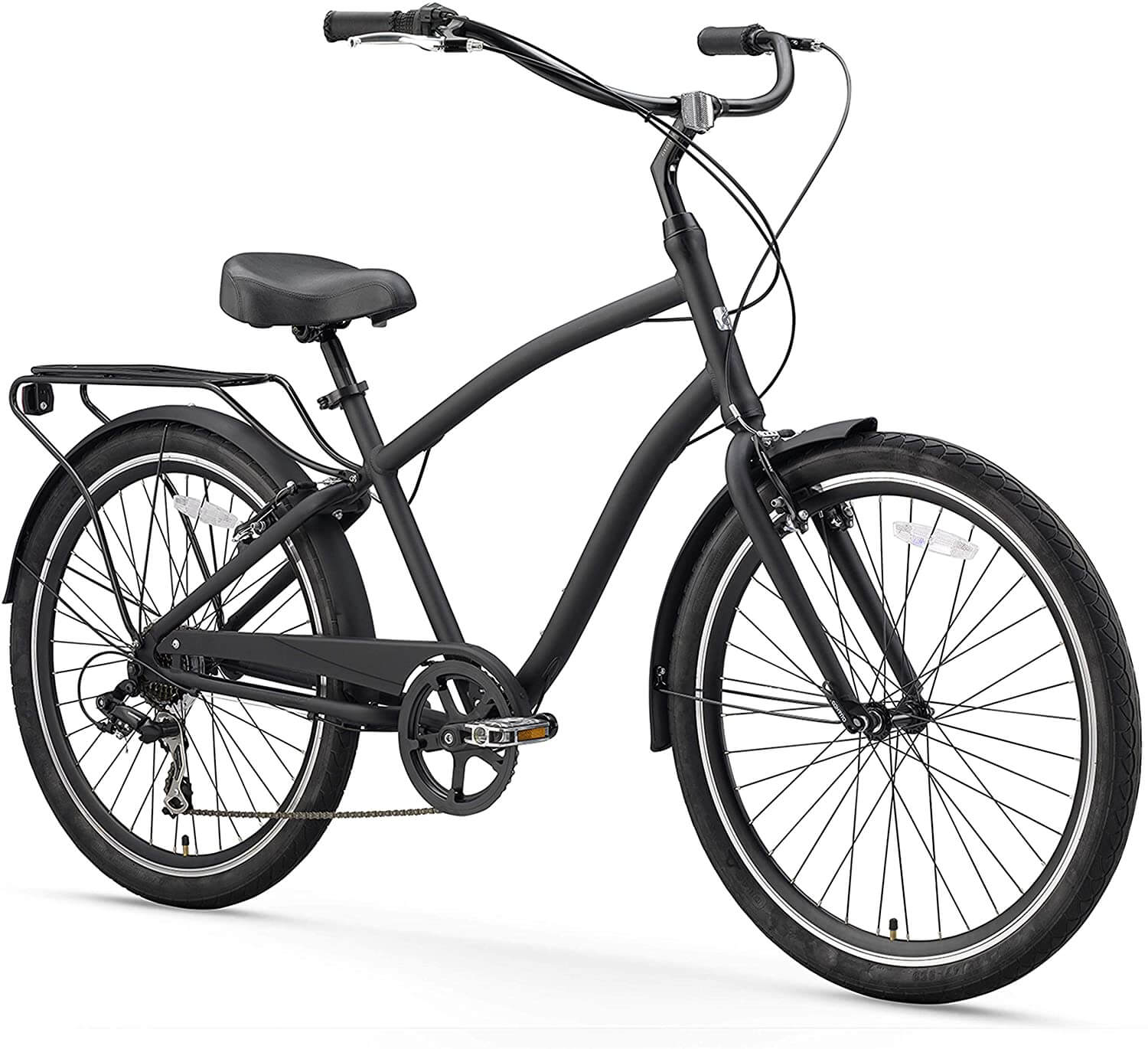 Sixthresszero EVRYjourney supplies another affordable cruiser bike line. It appeals not only for its low price tag but also for its modern and youthful style. Belonging to a hybrid cruiser stream, the bike owns high gloss chrome components and a lightweight steel frame.
It is really a grace bike for females with the charmingly color tones of cream, navy, and teal. The 3-speed EVRY journey and 26-inch wheels with 2-inch semi-slick tires deal well with uphill roads. The bike is ready for you with fenders and rear rack while coaster pedal brakes stop easily.
What's more, the extra-wide saddle packed with foam and the synthetic leather grips helps you to ride in the upright position without any muscle tensions. Nevertheless, the bike is rather heavy for a woman to bring because it weighs up to 41.6 lbs.
Pros:
Cheap
Easy entry on or off
One year test ride + lifetime warranty
Cons: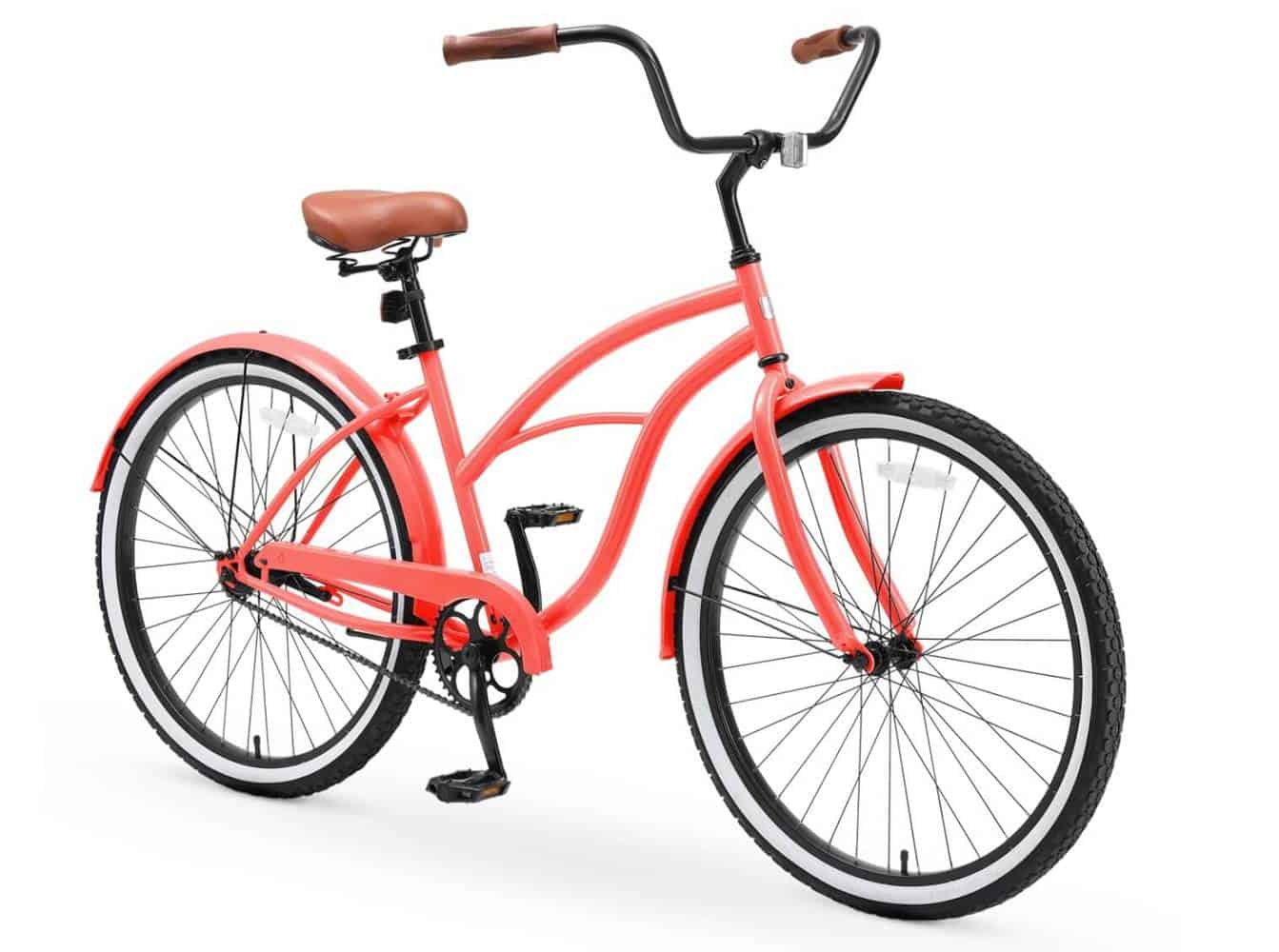 This bike has a masculine classic configuration with a good performance. Specifically, two 26-inch wheels combined with large waffle-tread tires help to increase your pedal. And reduce weight resistance while cycling.
In order to bring you the best comfort, the manufacturer launched the combined geometry of seat and handlebar which extend the rider's arms. This also ensures cyclists in an upright position with relaxed heads and shoulders.
You can enjoy your casual ride up to 20 miles with the cushioned dual-spring bike seat and high-density foam hand grips. There are two brake modes: a front handbrake and a rear coaster brake for better smooth stops. Assembly is easy with 85% already completed from the package.
Pros:
Rear seat included
One year test ride + lifetime warranty
Cons: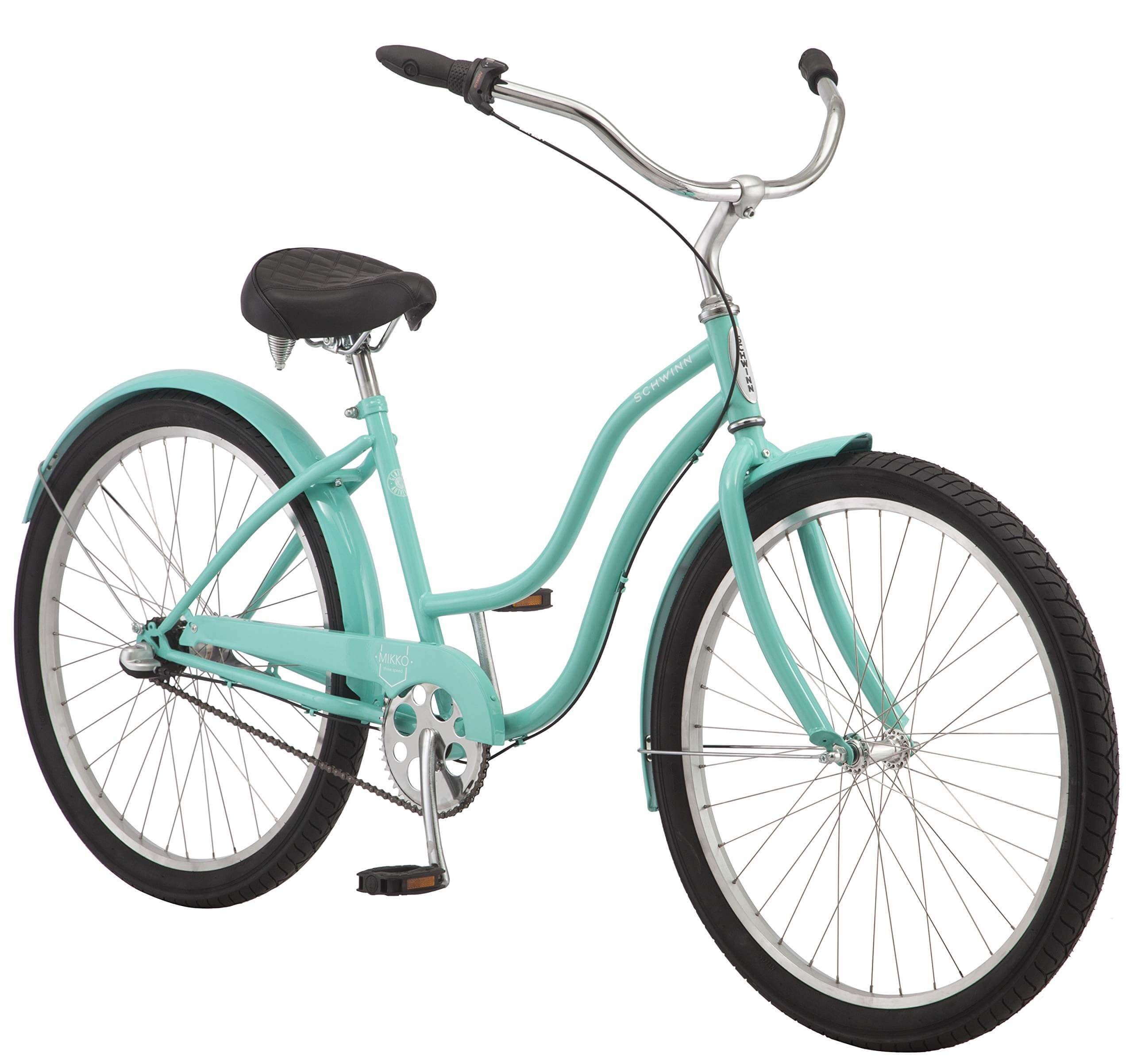 Another nomination comes from the Schwinn for your step-through cruiser bike. The Illinois bicycle company which founded in 1895 in Chicago has brought you a retro-style bike. There are many options of color and frame forms that suit both genders. My favorite color is navy for a calm personality like me.
The steel material for the frame and fork catch your eye with certainty and stability. Meanwhile, the dual-spring padded seat and classic cruiser handlebars leave you the comfort in cycling.
You will be confident with the full front and rear fenders system because they will keep mud and dirt away from your body. With the internal 3-speed shifter you can easily twist your hand to get in from the first, second to the third level.
Pros:
Wide handlebar
Many color options
Cons:
Best Step-through Bike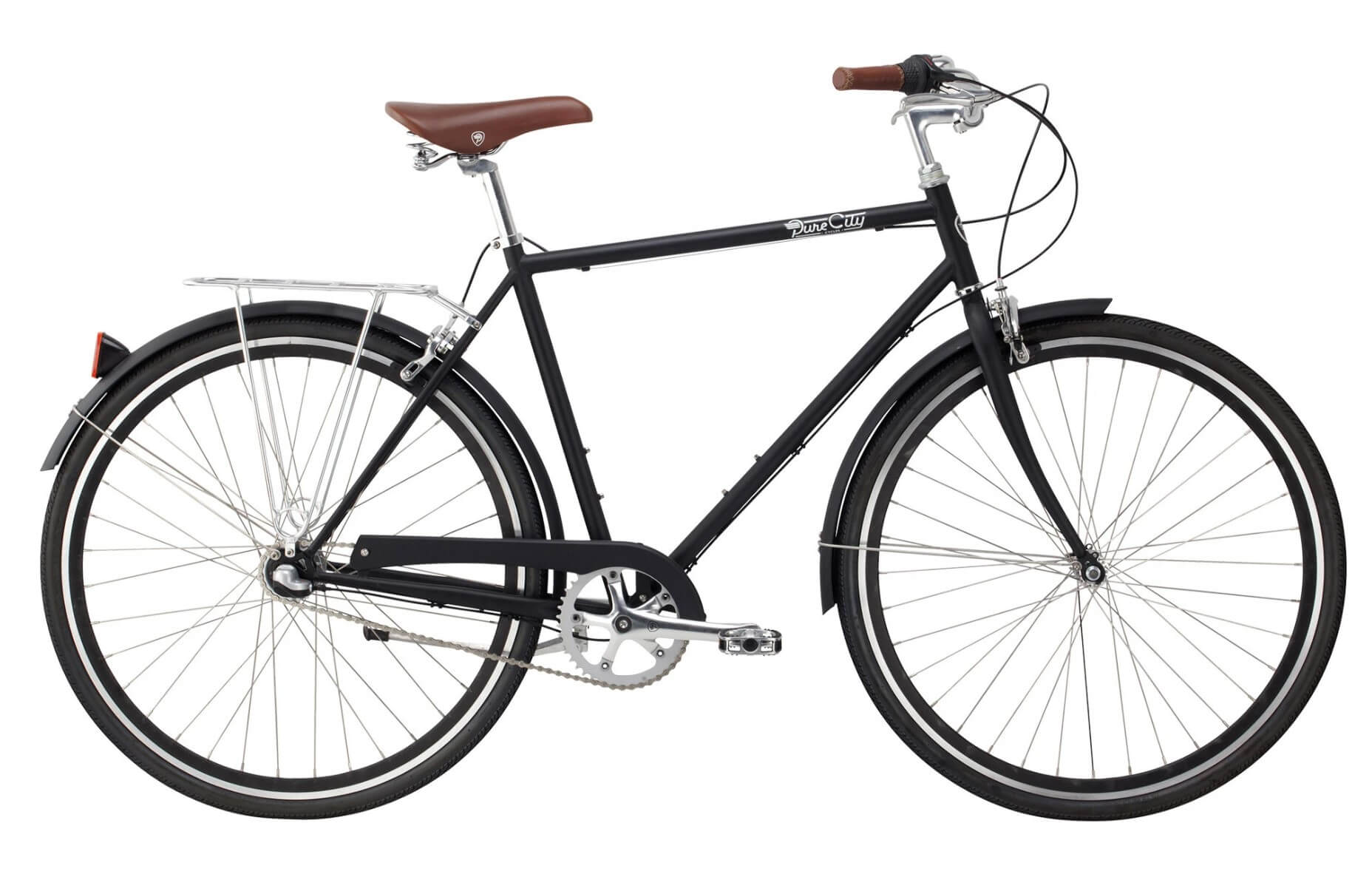 Pure City Step-through Bike offers you one more cruiser option for the 3-speed bike. This pedal-driven means of transportation adapts well to all the requirements of multiple leisure rides. With all accessories included like cargo rear seat, chain guard, full front and rear fenders to keep you clean all the time.
Your stop-and-go riding will be smoother with the Alloy Dual Pivot front brake and Pure City comfort saddle with the springs. The vintage fabrication with the size options that suit you most. For instance, the Small size (43 cm) for the riders from 4'9'' to 5'6'' while the medium (45 cm) for the one taller.
With the Pure City Hi-ten steel frame and adjustable alloy seat post, the bicycle keeps the riders in a healthy upright position and a relaxed move.
Pros:
Rear seat included
Mud guard included
Lifetime frame warranty + one year components warranty
Cons:
Things To Consider When Buying A 3-Speed Bike
Bicycle types
City bikes refer to urban bikes or commuters and they are usually the upright riding position of riders. As its name, the bike can be used mostly for riding around the neighborhood and commuting in a city. If you live in a kind of uphill or mountainous trails, then you should check either the strength or smoothness of the shifters and the fenders.
As the name suggests, cruiser bikes are those that are mainly for leisure purpose. The cruiser goes with a padded seat and thick tires that can roll over the pavement or the beach easily. Going to the beach with your cumbersome stuff or a long surfboard on the bike is going to be complacent with this multi-speed cruiser.
Frame
Cruiser bikes tend to have sloping curvatures. It's kind of a reminiscent style. Most of the time they are made of steel, therefore they are often heavier. These make you a bit difficult for long ride or uphill uses.
In contrast, city bikes are more suitable for urban environments. Its utilization is principal. They have the top central frame bar designed going down in order to conveniently step on or off. City bikes might have a back or front frame for carrying the items. If you want a lightweight aluminum frame, then don't hesitate with Priority Classic Plus.
Seat
There are not too many distinctions of the saddle between city bikes and cruisers. Typically, for casual, leisure rides, wide, cushioned saddles are prominent. This kind of saddle requires cyclists to sit high over the seat so that their weight is directed down onto the seat.
However, the saddle of a city bike is typically lower, whereas, cruiser bike might focus more on suspensions to absorb the shock. My favorite one is sixthreezero EVRYjourney, the city bike with the soft packed and extra-wide saddle.
Brake
For city bikes, it is stricter for brake requirements. For riding around the city, which means the riders have to stop very often because of the crowd. Sometimes, they stand on the traffic lights. That's why they usually have hand-operated brakes for easier handling with sudden stopping.
On the contrary, Cruiser bikes have coaster brakes which means you pedal backwards to stop. And this kind might not be advocated for the uphill or downhill ride or a riding at very high speeds.
Handlebar
Handlebars are often manufactured with the bike's shape and the rider's goal. If your bike is a cruiser bar, the accompanied handlebar would be drop handlebar and cruiser one. Kind of wide curved handlebar. The flat bar, riser bar, upright bar often go with the urban bike or commuter.
Pedal
People might not care too much about pedaling. With the role of propelling the vehicle forward by pushing the user's feet on them, the pedal usually consists of a spindle and a body for the foot rest.
There are also many types of pedal depending on whether your ride is recreational or is for utility. Most common one is flat and platform pedals.
Conclusion
Priority Classic Plus is definitely the best city bike for short-ride around the city or neighborhood. The bike gets the award-winning for a comfortable bike with its low maintenance and larger array of sizing. 25 pounds is all the weight of this lightweight transport means.
After all, another bike that adapts well for commuting around the city will be Bedford 3 speed. Just twist the shifters for controlling the speed properly, the lightweight deceptively sporty bike is rather easy for handling.
If you live not far from the beach or recreational places, then I would recommend Priority Coast for many specifically leisure rides. Shimano 3-speed hub and easy assembly is what this excellent bike brings to you.
Pure City Step Through is an affordable choice for both genders. Doesn't get you flustered when getting on or off with a step-through frame, this retro-bike is also an efficient stop-and-go riding vehicle.