The best way to encourage your small kids to participate more in outdoor activities is by getting them a small bike to play outside. We've gathered a list of famous 20-inch bike brands so you can decide whether to purchase one of them for your 6-year-old children.
My preference goes to the Precaliber 20 7-speed as the best 20 inch bike for your kids. It has an intuitive, easy-to-use twist shifter for gear changing, a lightweight aluminum frame, and can be passed down to other siblings in the family.
Read More: 10 Best 14 Inch Bike
Here below is the list of 10 best 20 inch bike that you can buy today for your child.
Best Overall Boy's Bike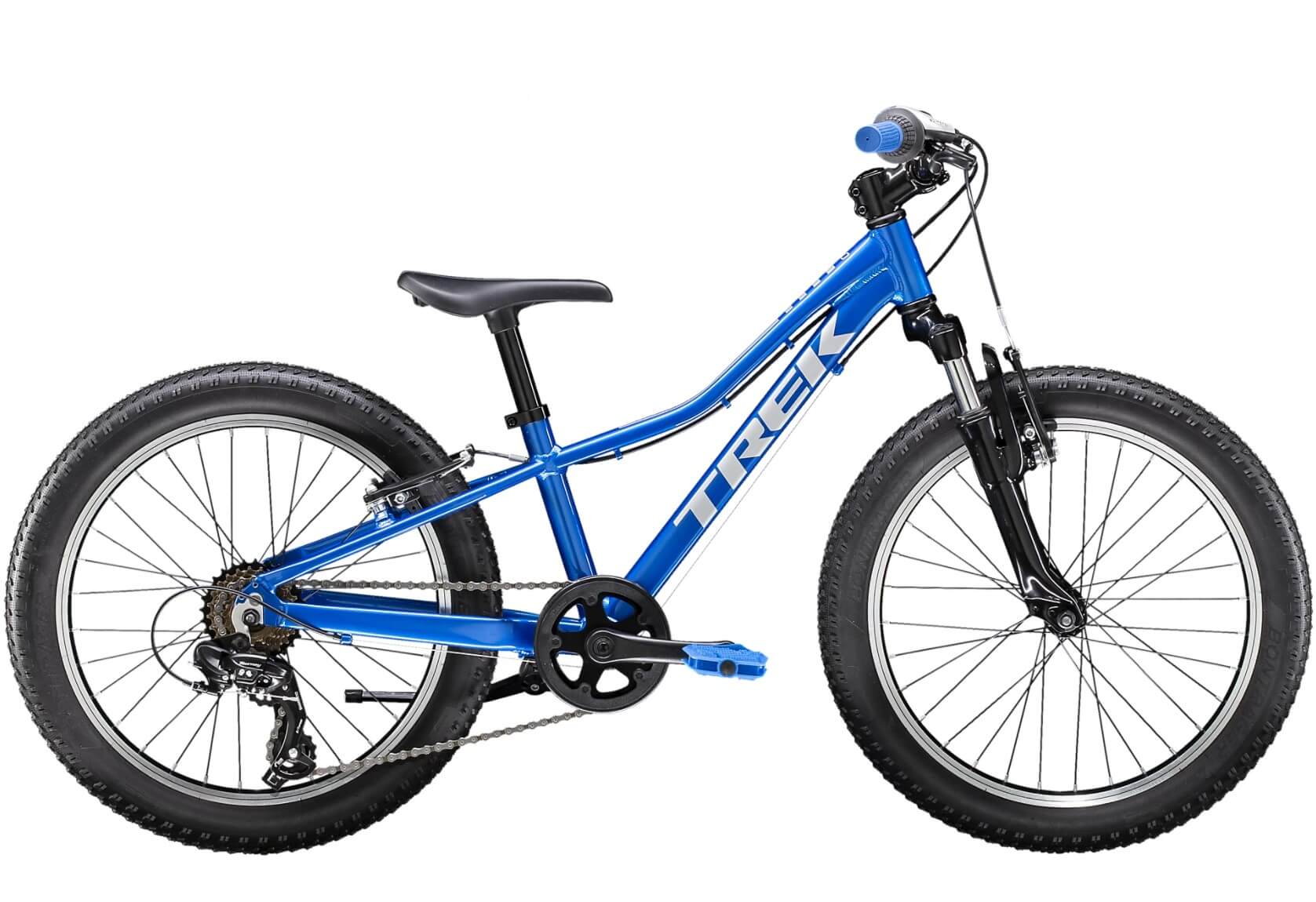 Wheel size: 12-26" | Ideal height: 45-52" | Frame material: Aluminum | Number of gears: 7 | Weight: 24.07 lbs
Out of all competitive models, I believe that the Precauliber 20 7-speed bike is still the finest option for little children from 6 to 8 between 45-52" tall. It is made from a lightweight frame so kids can handle the unit better with enough control.
The twist shift of this 20" bike is quite intuitive to allow boys to change the gears easier when encountering different terrains. Its hand brakes have been designed to be smaller and this size certainly fits little riders more.
If you want to have more visibility of your kid on family trips, you should replace the handle of its saddle with an integrated mount. Because this bike is built to last, you can hand it down to younger siblings of your children.
Pros
Lightweight frame.
Intuitive shift to change gears.
Smaller hand brakes.
Replaceable saddle's handle.
Can be handed down.
Cons
High price.
No hanger for bottles.
Best for Those on A Budget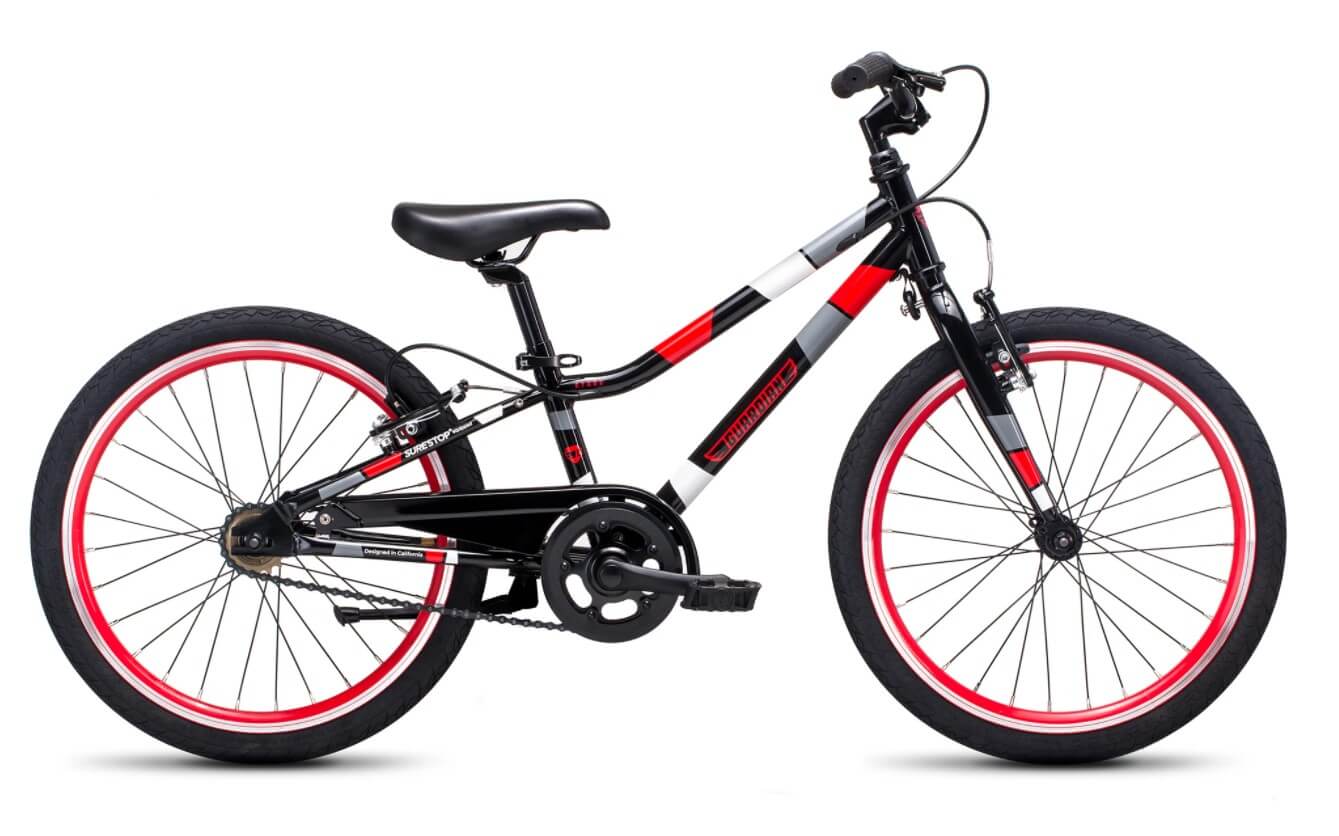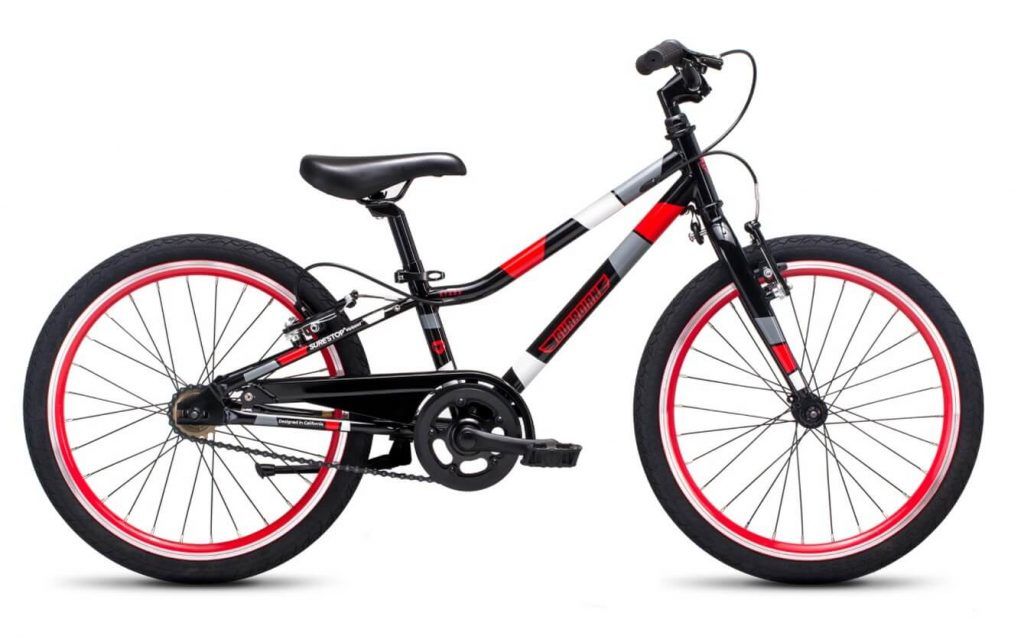 Wheel size: 20" | Ideal height: 43-51" | Frame material: Steel | Number of gears: 1 | Weight: 20.7 lbs
With an economical budget of less than 300, you can have the Guardian Ethos 20" bike at home for your small son or daughter. This bike only requires 5 minutes to set up and no training wheels needed. The seat size ranges from 20.8 up to 26.8 inches.
Its SureStop brake system ensures that the single lever doesn't confuse kids when they need to stop the bike. While most 20" bikes for 6-8 year-old kid have an aluminum frame, the steel material of this unit helps reduce a serious amount of weight.
I like the low crossbar, which causes no hassle for them to get on even in a hurry. Its double-walled rims have been tested plenty of times to go through extreme beating and external conditions, without any bends or buckles.
Pros
Economically-friendly price.
Takes a 5-minute setup.
Safe, single-lever brakes.
Lightweight steel frame.
Comfortably low crossbar.
Rigorous double-walled rims.
Cons
Low, non adjustable handlebars.
Most Popular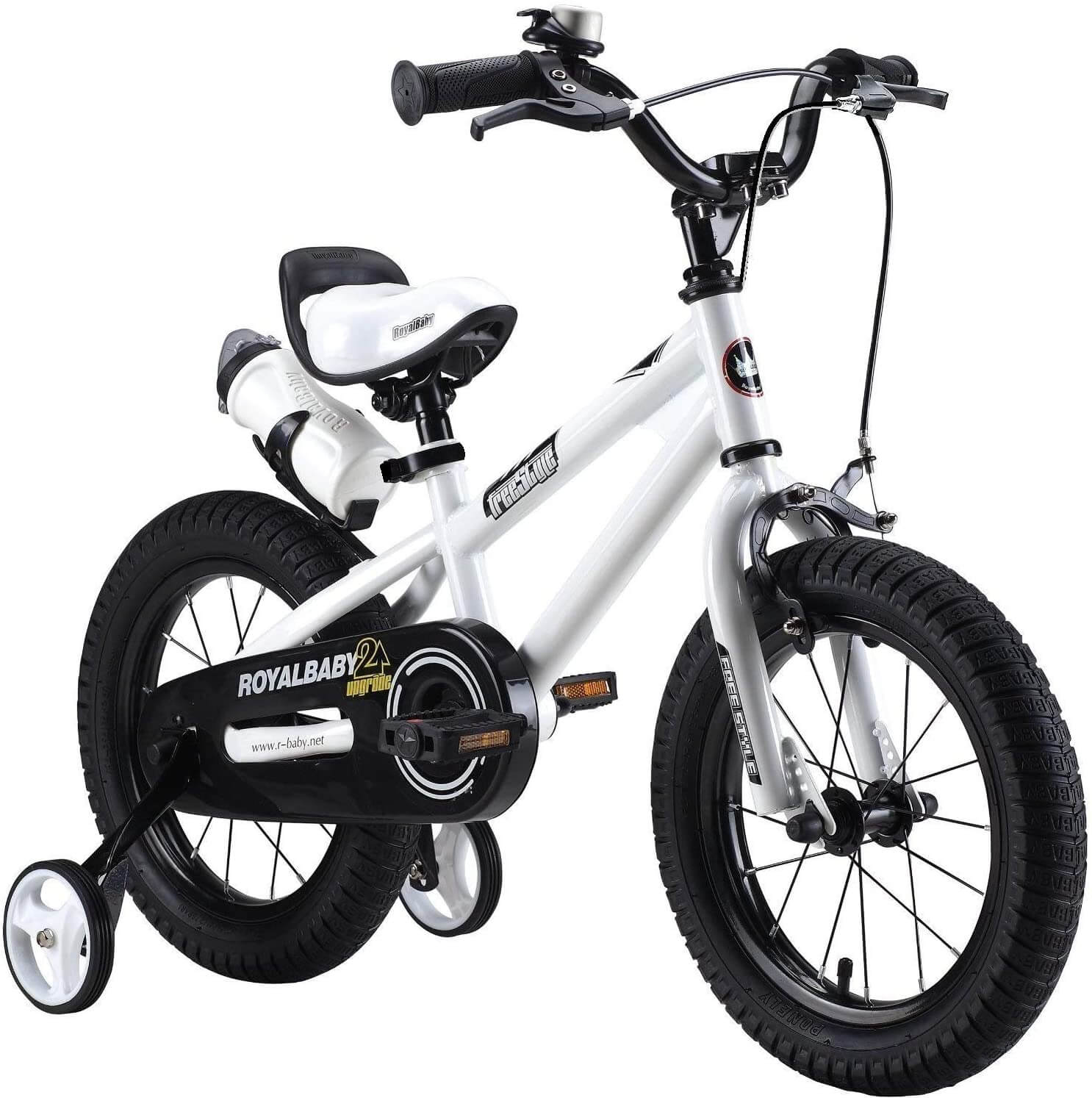 Wheel size: 12-20" | Ideal height: x | Frame material: Steel | Number of gears: x | Weight: 34.55 lbs
As 95% of the RoyalBaby Kids Bike is already assembled, the installation process of this best bike for 6 years old would take much less effort. There's a wide range of wheel size selections from 12 to 20", with kickstand and training wheels included.
The grips and handbrake of this 20-inch bike are safe for small children to make use of. Plus, its pneumatic tires are really wide of 2.4 inches so young riders would have more stability and precise control while using the unit.
Even the resin pedals are designed to be non-slip to ensure a fulfilled cycling experience at home or in the park. The bike bell and DIY decal decoration may be side features but they can be the fun details that add extra fun and joy to this ride.
Pros
95% is already installed.
Variable wheel size range.
Safe grips and handbrake.
Wide 2.4" pneumatic tires.
Non-slip resin pedals.
Fun bell and DIY decal.
Cons
Loose chain on gear wheel.
Best BMX Bike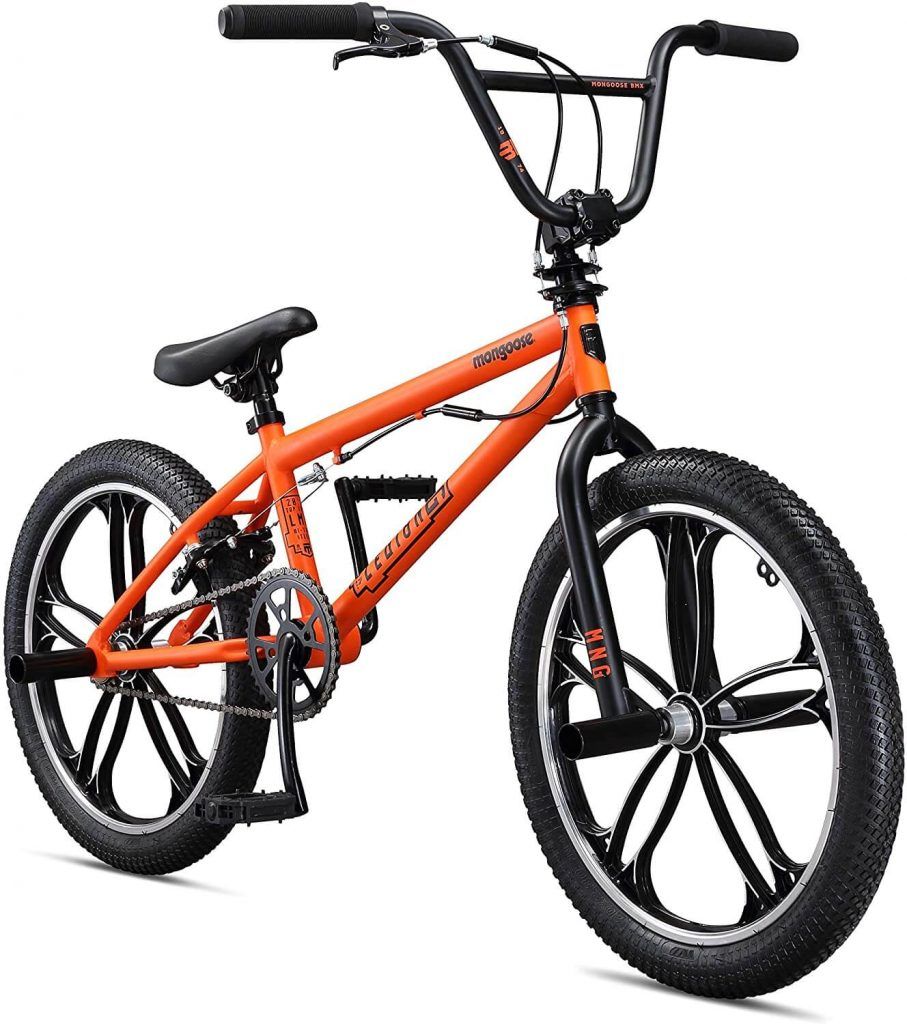 Wheel size: 12-20" | Ideal height: 4'8"-5'4" | Frame material: Steel | Number of gears: 1 | Weight: 32 lbs
While most 20-inch kid bikes are made to play around with, the Mongoose Legion Freestyle model is a fantastic BMX one to always be ready for action. The alloy caliper brake and its rear U-brakes are meant to enable a highly secure stop.
Thanks to 4 freestyle pegs, this bike offers unlimited trick potential so your child would love to spend time cycling outdoors. The aluminum mag wheels have been machined to be tougher and handle a lot of different terrains.
Although the bike looks small, its maximum weight capacity is made up to 250 lbs. Therefore, this kids 20" bike can grow up with your kids and handle their weight. Its high-tensile steel frame delivers lightweight, effective performance.
Pros
Always ready for action.
Safe front and rear brakes.
Unlimited trick potential.
Machined aluminum wheels.
Max 250-lb weight capacity.
Lightweight frame.
Cons
Best for Trail Riding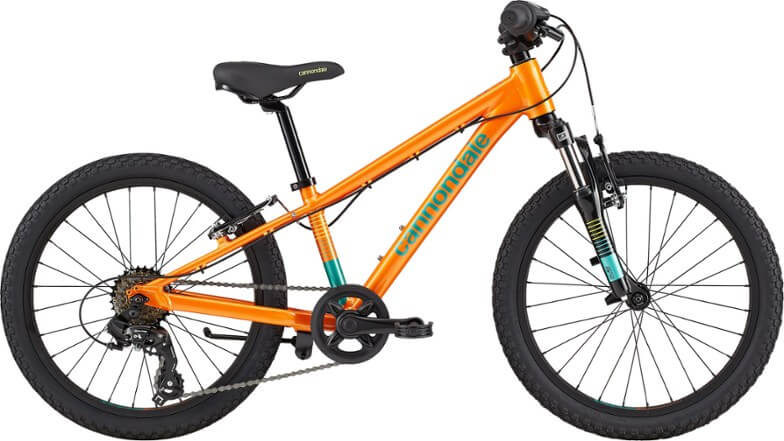 Wheel size: 20" | Ideal height: 42-49" | Frame material: Aluminum | Number of gears: 7 | Weight: 24 lbs
Just like all of the other bikes from this manufacturer, this Cannondale Trail 20 Kids' Bike is made to exceed strict standards and achieve the highest quality level. There are 7 numbers of gears in total and the frame material is premium aluminum.
This trail-riding bike supports parents to run alongside the young cyclist with a steadying hand. A 6-year-old kid would not feel any hassle in riding on this unit to pedal on flat roads and then climb up hills with its low range gear ratios.
Because a majority of kids' bikes run into the problem of long-distance pedals, I am glad that this one has managed to resolve it. Its appropriately narrow distance between the bike pedals is kid-size to promote easier pedaling operation.
Pros
Offers 7 gear speeds.
Premium aluminum frame.
Good for parents alongside.
Low range gear ratios.
Narrow pedal distance.
Cons
Might be smaller than 20".
Best for Gearing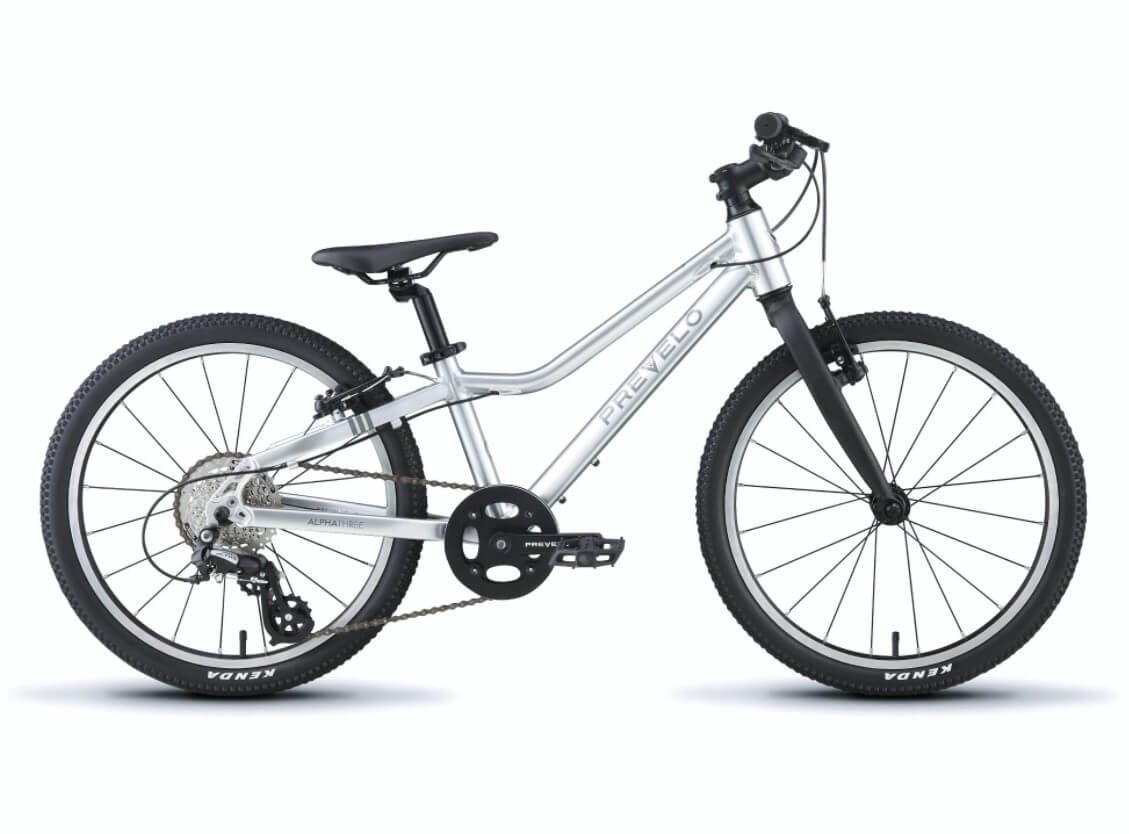 Wheel size: 20" | Ideal height: x | Frame material: Aluminum | Number of gears: 8 | Weight: 18.9 lbs
Nearly all of the Prevelo Alpha Three has been installed from the start and what's left for you to assemble would be the seat post, handlebar, pedals, and its front wheel. The front and rear wheel skewers guarantee a secure wheel assembly.
Its smart and narrow overall geometry is able to keep the small rider perfectly balanced and in control with a low seat. To eliminate difficult twist shifters, this 20-inch kid bike includes smooth thumb shifters that small hands will operate easier.
I like how its routed cables are entirely internally to enhance a clean, impressive appearance for the child's bike. Furthermore, the seat can be adjusted quite fast to suit a variety of different riders' heights, from at least 5 up to 8 year olds.
Pros
Secure wheel assembly.
Narrow and low geometry.
Smooth thumb shifters.
Internally routed cables.
Quickly adjustable seat.
Cons
Best for Comfort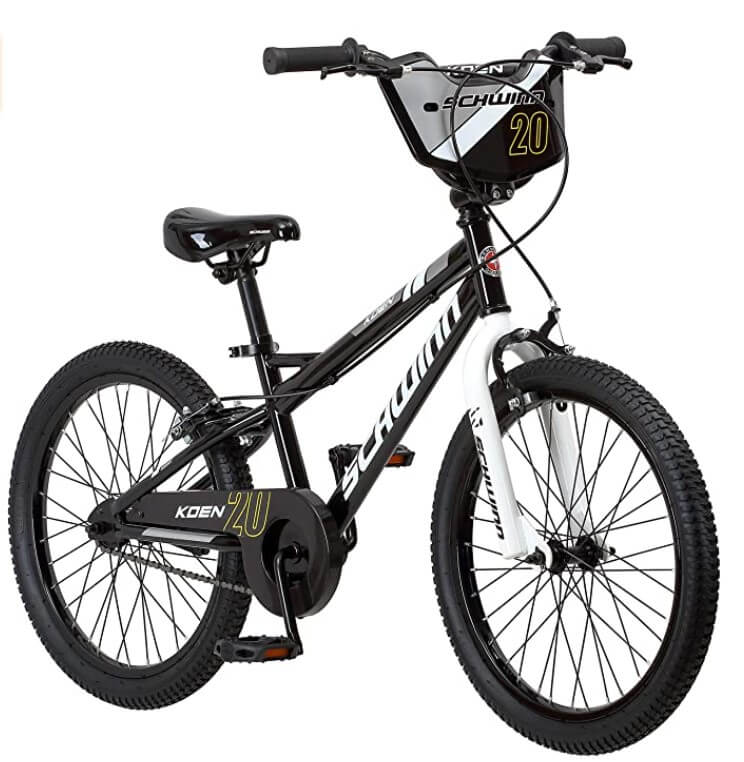 Wheel size: 12-20" | Ideal height: 48-60" | Frame material: Steel | Number of gears: 1 | Weight: 27.05 lbs
The most comfortable unit for small children to cycle around the neighborhood has got to be the Schwinn Koen. 2 types of brakes are available for this bike, which are a rear coaster brake (reverse pedals to stop) and a front caliper one (normal hand brake).
Its crank and pedals are positioned forward with kid-style gearing to enable an easier starting process for small riders. The 20" bike package comes along with a kickstand and number plate so your daughter or son can identify their bikes better from afar.
This comfortable, steel-framed 20" bike is a fantastic choice to get your kids to prepare for their full-size bicycles in the future, especially when it offers extra training wheels.
Pros
Good for trail riding.
2 front and rear brakes.
Enables easy starting.
Has a number plate.
Extra training wheels.
Cons
Weak, not durable joints.
Best with Plus-size Tires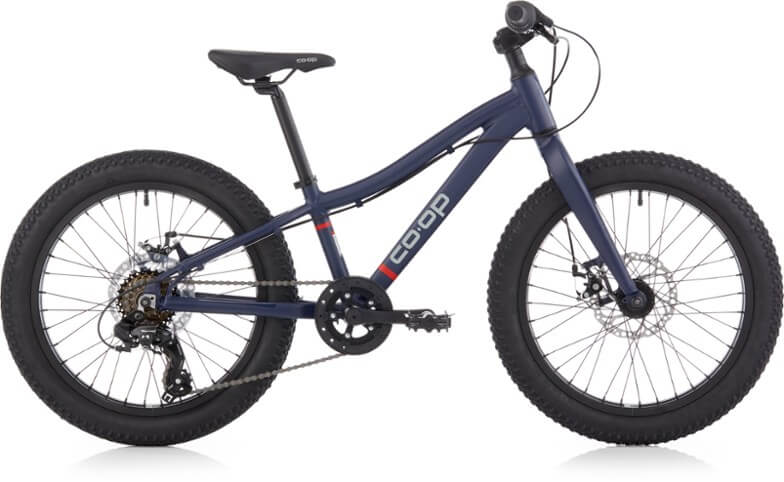 Wheel size: 20" | Ideal height: x | Frame material: Aluminum | Number of gears: 6 | Weight: 23 lbs
To enable a safer and quicker response for little kids in need of stopping their bikes, this Co-op Cycles REV 20 is engineered with mechanical disc brakes. Its extra-wide tires are made to cover all terrains with great traction to smoothen road bumps.
In spite of the frame from 6061 aluminum material (which is usually a little heavy), this bike is actually lightweight and powerful at the same time. Riders will be able to control its 6-speed drivetrain with a single, intuitive, and easy-to-use twist shifter.
Even if you count the total weight capacity of the rider, the gears carried on this kid 20-inch bike, and also on the rider themselves, this unit still has a weight limit of up to 80 lbs.
Pros
Safe mechanical disc brakes.
All-terrain tires.
Lightweight frame.
1 twist shifter for control.
80-lb maximum weight limit.
Cons
No quick release on wheels.
Best for Low Maintenance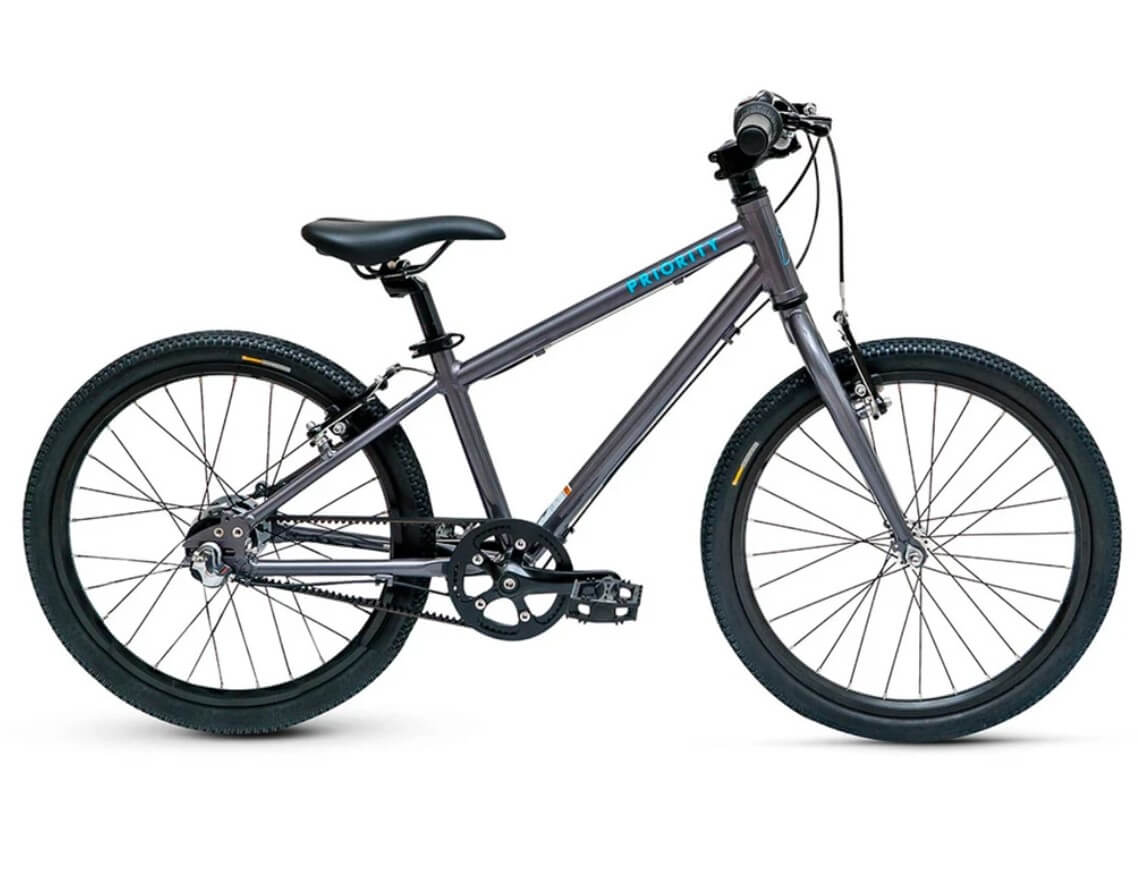 Wheel size: 16-24" | Ideal height: x | Frame material: Aluminum | Number of gears: 3 | Weight: 19.5 lbs
This Priority Start 20 bike for children delivers a joyful riding position with an all-weather seat and grips to guarantee the highest level of comfort in use. I bet a lot of parents would be fond of its rust and grease-free belt drive during maintenance.
There are 3 different speed levels for small kids to climb up hills and cycle on flat paths without getting tired too soon. Also, its supporting grip shifter only has a single one to avoid confusion whenever children need to stop this 20-inch bike.
For the 22-28.5" seat height to best fit with your kid, they should be identified as novice or advanced riders in the first place. These 2 types of young cyclists will have different inseams so they ought to be measured before purchasing this bike.
Pros
Fun riding position.
All-weather seat & grips.
3-speed levels.
A single grip shifter.
2 inseams for seat height.
Cons
No errors discovered so far.
Best for Safety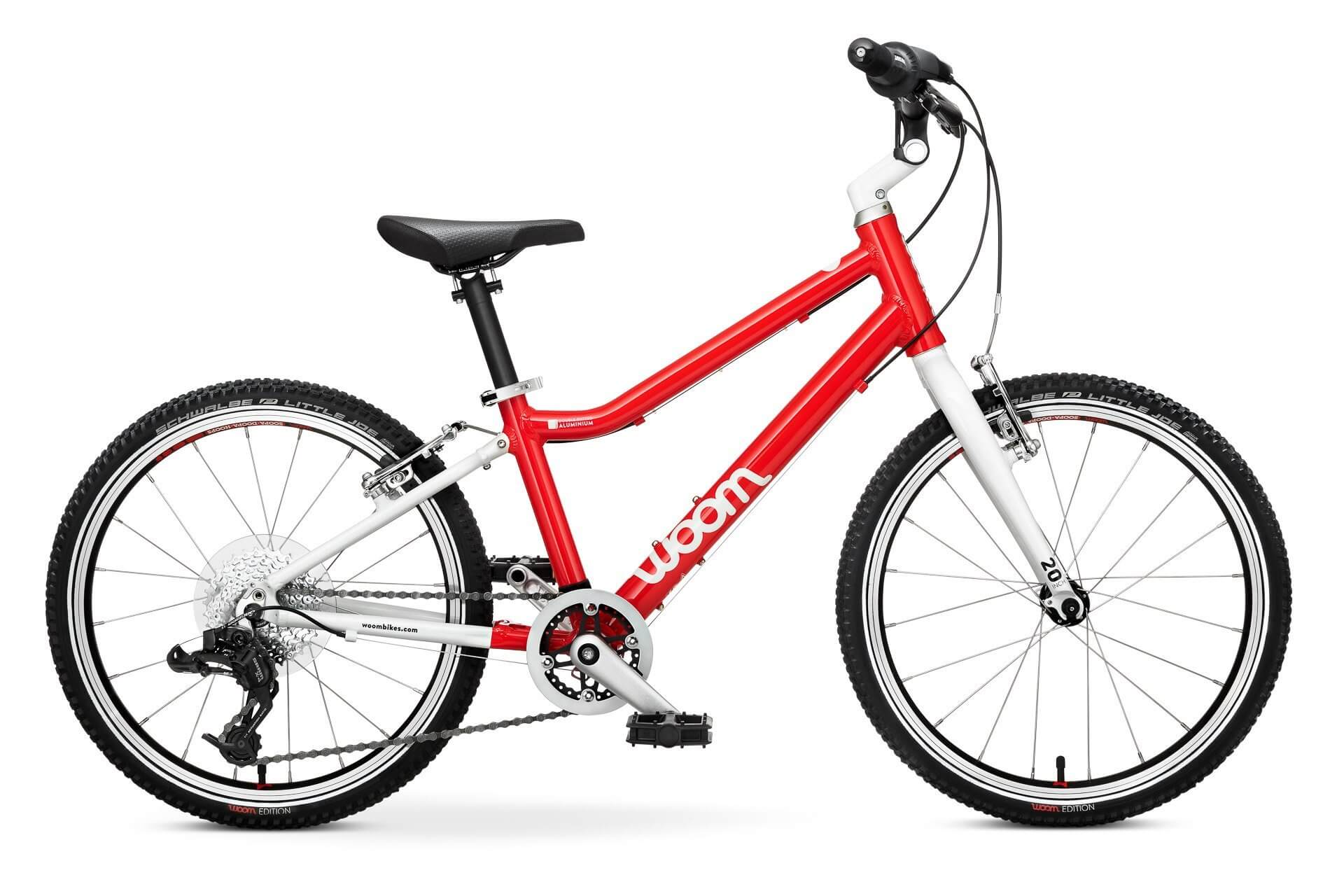 Wheel size: 20" | Ideal height: 45-51" | Frame material: Aluminum | Number of gears: 8 | Weight: 16.1 lbs
Many parents are concerned about safety when allowing their 6-year-old kids to ride a bike on their own, and the Woom 4 is born to clear that worry away. The narrow geometry is a smart feature for little kids to have an easy entry on and off this bike.
This unit focuses on making an ideal saddle to support all upright positions of standing, running, or sitting. You may not be aware but the saddle significantly affects the kids' feeling when riding and should be properly rated like this.
Moreover, a steering limiter is available to prevent the handlebar from overturning and helps kids ride straight, which minimizes the risks of accidents. Its stem is knee-friendly because it doesn't comprise any protruding bolts.
Pros
Smart, narrow geometry.
Supports upright positions.
Safe steering limiter.
Knee-friendly stem.
Cons
No errors discovered so far.
What to Look for When Buying 20" Bikes for Kids?
Aside from the special additional features of each 20-inch bike model, here are the common criteria for you to concentrate on when choosing this type of bike.
Most 20" bikes for 6-year-old kids include a low, comfortable seat from the start but it has to be adjustable and easy to lock down when required. Eventually, the bike seat needs to change its height as your child grows but still rides the same unit.
The simplicity of adjusting a 20" bike seat also relies on its well-manufactured seat post and long seat tube to support the process over time. The better these parts are designed, the longer you can extend its seat height.
Common 20-inch bike frame material would either be aluminum or steel, in my opinion, aluminum lasts for longer while steel is more lightweight. But both options will work out alright as long as the unit is preserved alongside its daily usage.
You will need to pick a suitable frame size with narrow geometry for small children from 6 years old to make an easy entry on and off the bike, for example, the Woom 4. My advice is to check out the provided specifications and measuring board of each model beforehand.
Because this type of bike is specifically designed for small children, the model has to be as lightweight as possible. Often, the bike would weigh around 20 and no more than 40 lbs for little riders to handle and carry along with ease.
So far, the highest maximum weight capacity of a 20-inch bike for boys & girls that I've experienced is 250 lbs of the Mongoose Legion Freestyle. This amount includes the rider themselves, the gears carried on this bike together with accessories on the rider as well.
An optimal bike should include a rear coaster brake (reverse the pedals to stop) and a front caliper brake (hand brake like adults' bikes) to better prevent accidents like the Schwinn Koen. Both of them need to provide ergonomically, all-weather safe grips.
You should notice whether its front brake is short and close enough for better reach of kid-size hands. And it's recommended to have only one lever to avoid confusion for small riders when things happen fast.
These kids bikes mainly deliver 1-speed level, although a lot of advanced models still offer more than 5 gears to enhance their experience on different terrains. If there are multiple gearing, the bike would come along with a single intuitive twist shifter.
Conclusion
The best 20-inch bike for kids is the Precaliber 20 7-speed that enables simple gear shifting and can be passed to other siblings. While the Cannondale Trail 20 Kids Bike supports parents to run alongside and offers a short distance between its pedals. For safety standards, get the Woom 4 with easy entry and no overturning.
I hope my personal experience and thoughtful reviews will help you in the process of finding the finest 20-inch bike for your little kid. Follow the tips in my buying guide to choose the unit wisely.